Extra details from Beneteau Website; (FOR STANDARD specification single set up)
Hull
Composition: Monolithic laminate (Polyester resin - Glass fibre) -
White gel-coat - Counter moulding of integral structure hull in
monolithic laminate (Polyester resin - Glass fibre) -
Flexible propeller guard strip in galvanised steel on keel extension (NOT ON THIS TWIN ENGINE BOAT)
-
Semi-floating hull with deep V-shape on forward section - Bulbshaped
bow - Side stabiliser skids -
Deck ;
Composition: Sandwich (Polyester resin - Glass fibre / Balsa
core) - Counter moulding of integral structure deck in monolithic
laminate (Polyester resin - Glass fibre) - White gel-coat - Diamond
tip type non-slip surface - Joining hull / deck with sheer rail
aluminium -
Mooring / Equip
Stainless steel bow fitting - 2 Aluminium forward fairleads - 2
Aluminium aft hawser posts - 5 Aluminium mooring cleats (L
300mm: 1 Forward cleat, 2 Spring cleats, 2 aft cleats - Selfbailer
Personnel Guards
Closed stainless steel pulpit surrounding the cockpit up to cockpit
steps - 2 Natural solid wood handrails on deck house -
2 Stainless steel guard rails on the peak - 2 Access handrails on
catwalk steps Stainless steel -
Cockpit
Cockpit dimensions = 2.05 m x 2.80 m
Self-bailing cockpit - Gunwales decked in plain solid wood -
2 Fishing rod holders - 2 Plain solid wood pin racks to each side
of cockpit - 2 Lockers in cockpit bottom gas piston assisted and
lockable - Removable storage case in cockpit bottom - Cockpit
steps decked in plain solid wood - Deck hole for access to emergency
tiller system (In single engine version) - Gas cylinder locker
- Cockpit gate in transom - Aft swimming platform decked in
plain solid wood - Integrated swimming ladder -
Saloon
Height to deck beam: 1.90 m.
U-shaped bench seat convertible to double berth (1.90 m x
1.20 m) - Two seater copilot bench facing forward - 1 Storage
cupboard - Storage space under seating - Height-adjustable
veneer table - 2-leaved aft window door with black lacquered
aluminium frame - 2 Gas piston hoods for access to engine compartment
- 1 Battery access trapdoor -
Galley
Height to deck beam: 1.90 m.
Starboard kitchen opposite saloon - Includes: Synthetic resin
worktop - Polyester sink - Mixer tap with hot/cold water under
pressure - 2 hob cooker - Front-opening 42L icebox, Supply
200 V/12 V (refrigerator optional extra)- Cutlery drawer - Bar
cupboard - Storage - Rubbish bin (25 l) -
Steering Position
Clear glass windscreen with aluminium frames - 2 Electric
windscreen wipers - Windscreen washer - Grey-tinted PMMA
sliding side windows with aluminium frames - Inside curtains
(Side, Aft window door and windscreen) - Opening porthole -
Instrument panel with navigation compass - Engine counters -
High console for fitting electronic navigation equipment - Engine
dials: Rev counters, fuel gauge - Electric windlass control,
Navigation lights, Electric windscreen wipers - 2 x Engine
control - Steering wheel - Steering compass - 9 funtion 12 V
electrical panel - 1 Adjustable pilot seat(s) on slide rail -
PORT COMPARTMENT
1 Seating on storage locker - 1 Large hanger closet - 1 Opening
porthole -

WASHROOM (TO PORT)
Height to deck beam: 1.75 m.
Marine toilet - Rigid sewage tank (80 l) - Basin - Pressured hot/
cold water mixer tap - Storage - Mirror - Electric pump for
shower draining - 1 Opening hull porthole -

OWNER CABIN (FORWARD)
Double berth (2.00 m x 1.35 m) - Marine mattress - Hanging locker
- Storage lockers - Side cubbyholes - Starboard side bench
seat - 1 Opening deck hatch with fitted mosquito net - 2 fixed
hull portholes - Separation door -chain locker with clench eye,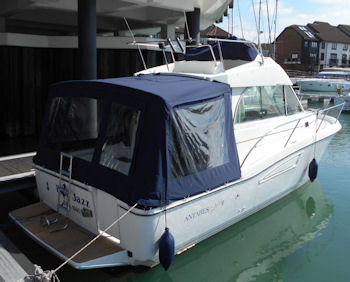 Recent full aft cockpit enclosure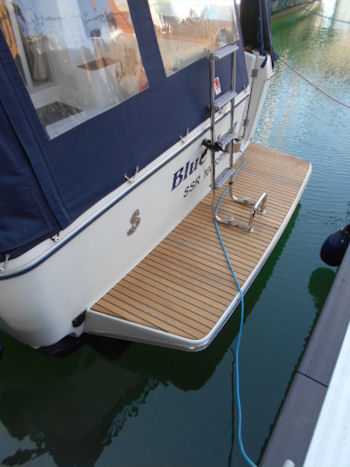 The teal on the platform is in super order, note decent swim ladder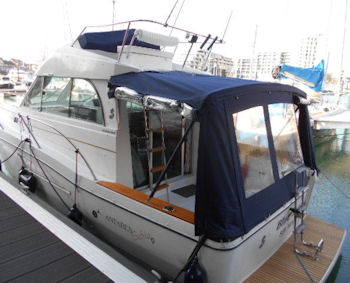 sides and back will all roll up
the owner has also prepared and finished the side capings rather better than standard!!, note fish rod holder,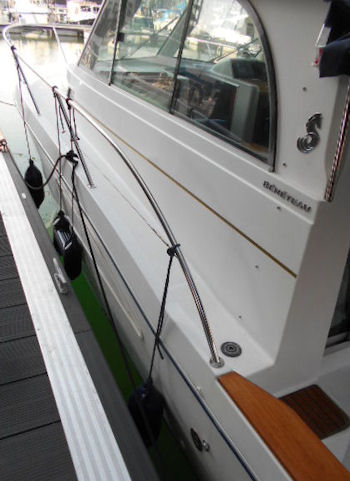 easy step up to side decks, deck diesel filler, also note Diesel fired central heating boiler exhaust in hull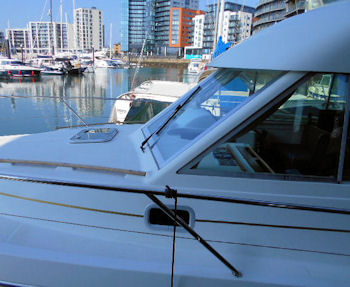 easy flat screens are best to see out of, grab rails on foredeck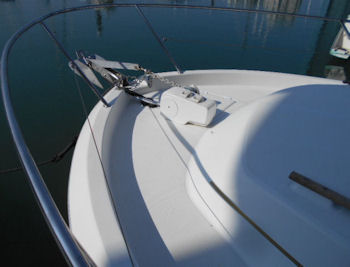 plenty of deck space, and really good windlass, with deck and remote controls.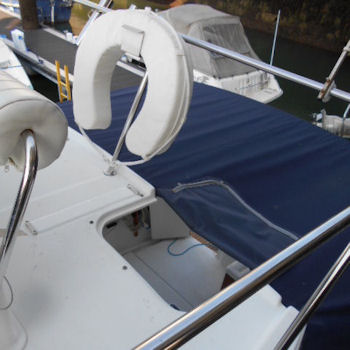 cover has a "hatch " in it to gain access to flybridge,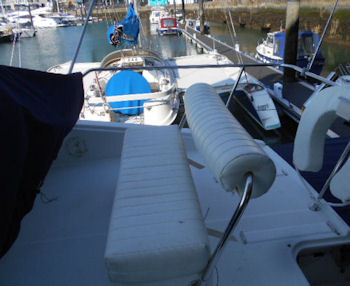 simple bench seat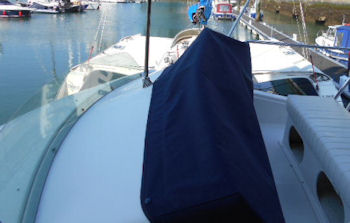 recent dash cover,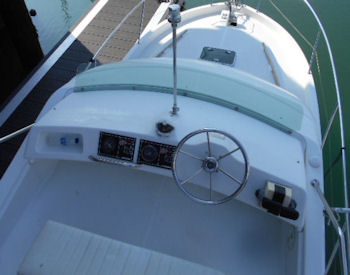 simple dash,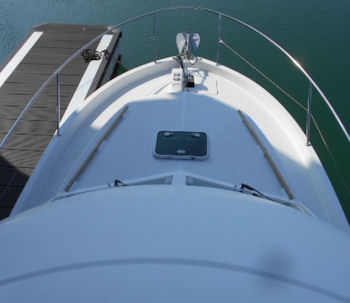 Nice view forward,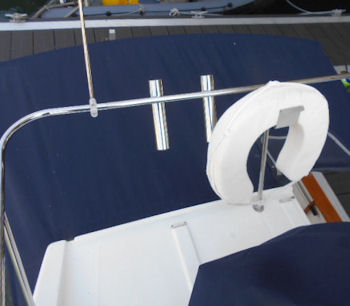 rod holders on aft rail, obvious life belt,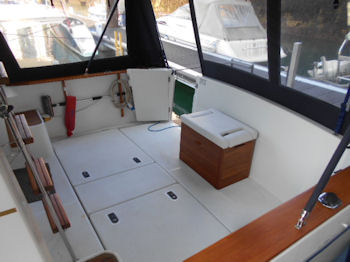 fabulous cockpits on these boats, and with this big cover this is a real boon,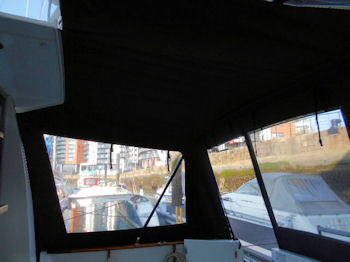 this photo does not really work, I was trying to show the smart recent cover..
but at least you can see the window panels are nice and clear !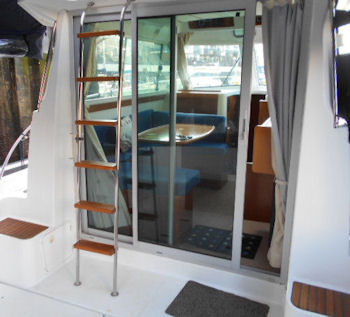 sliding glass doors aft,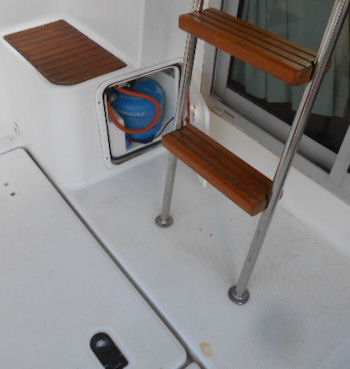 gas locker to port, Note all the teak in view is normally raw.. this owner has cleaned, and coated and it does look rather smart.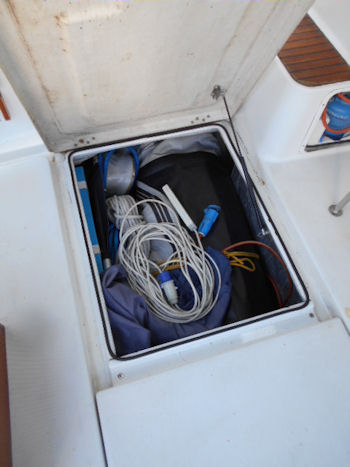 huge under deck lockers each side,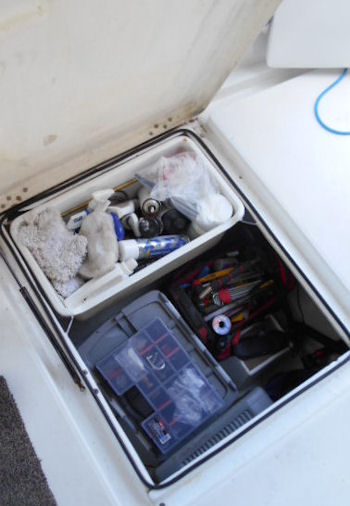 and this one has a sliding box ,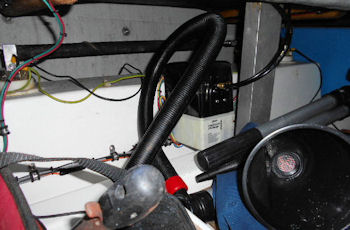 easy access to aft steering kit, note trim tab motor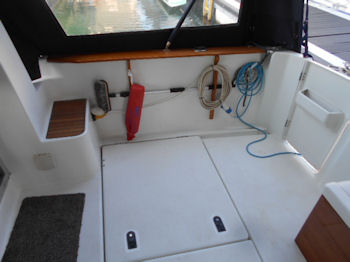 Handy Rack in side for brushes, boat hooks etc, and manual bilge pump left of step,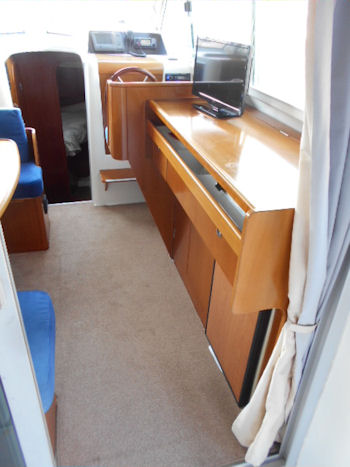 galley down starboard side, with helm ahead, ( ALL recenty Loose bound carpets fitted )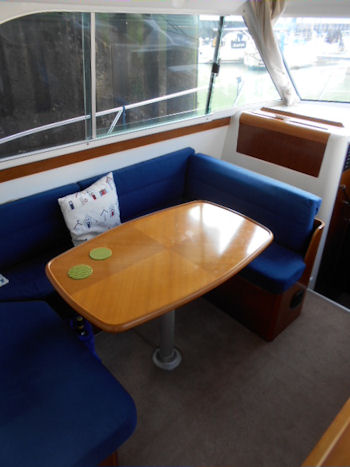 dinette set to port, will drop and infill, Great Tall windows offer excellent vision, and big opener each side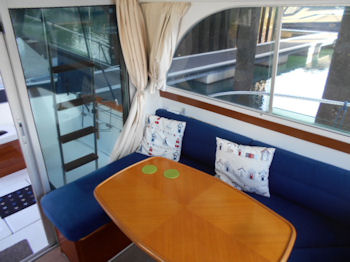 recent curtains,
the Tv will not be staying,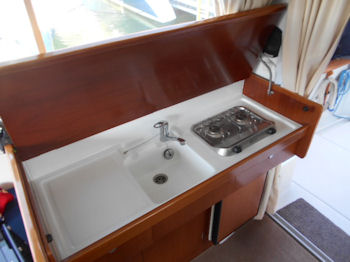 simple galley, with twin gas burner, hob, hot water , fridge under,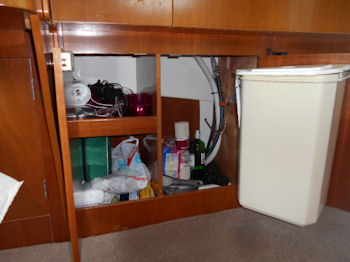 Under sink Lockers, and swing Bin,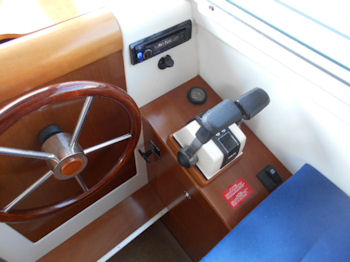 Helm with Hydraulic Steering, Nice stereo CD, 12v outlet, change over to Throttles
just under the Throttle levers base,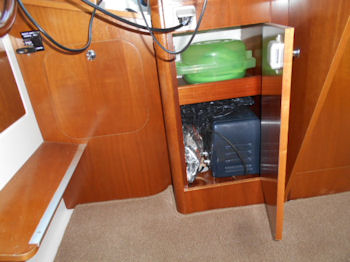 more lockers under helm seat, and 240v outlet,
RECENT trim tabs fitted with "auto" function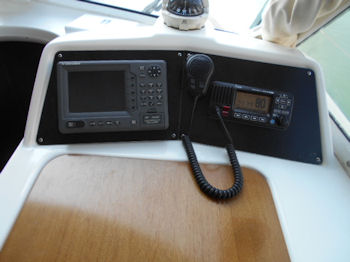 Furuno GP 1650fGPS plotter/ Sounder , and recent Icom IC-M503 DSC/VHF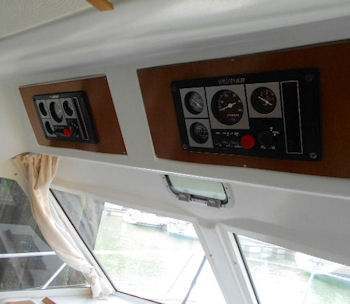 standard Yanmar control panels up overhead, and you can see the neat opening port just under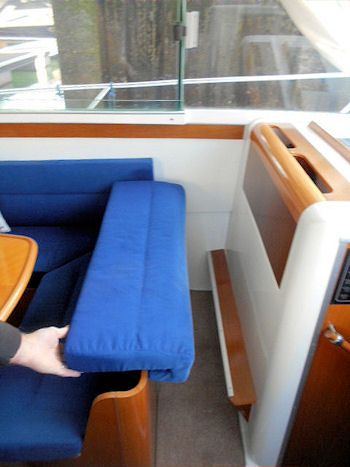 folding / hinged "perch" for copilot, is back rest for dinette, simple but effective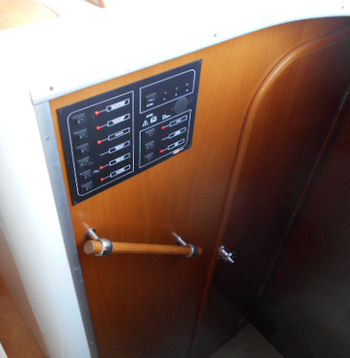 main domestic breakers, and another 12v outlet
looking down to lobby outside fore cabin ( door open ) and heads (left of shot,
good big lockers here to starboard, and on top the dinette infill cushion is stored,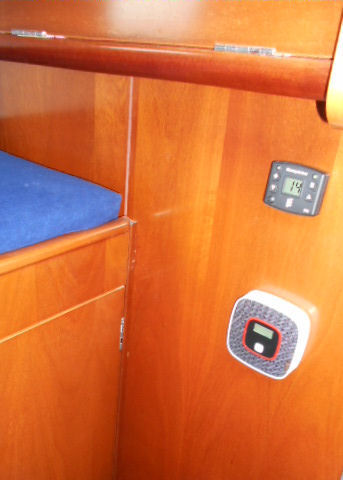 Diesel fired central heating control recent addition! very nice
I didnt check the lower unit , I think it is a gas detector?
lots of stowage,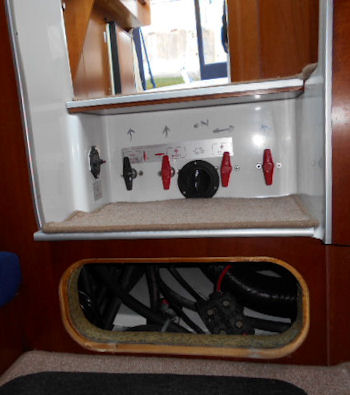 battery switches and hot air outlet, and inspection panel in to engine space removed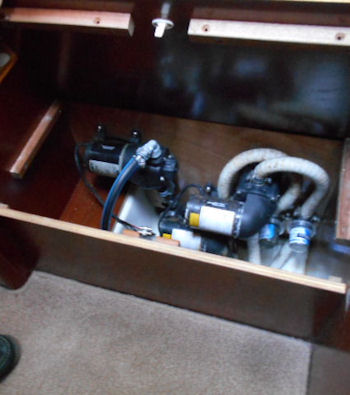 water pumps under lower step,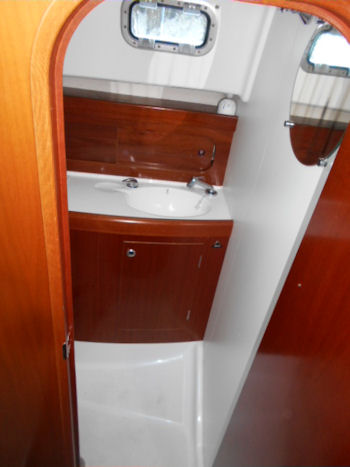 easy clean heads, lift out tap is shower, opening port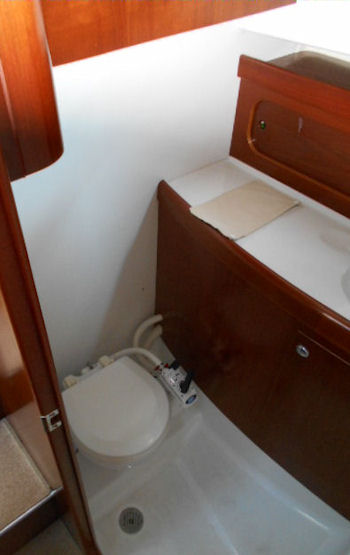 manual heads, note shower drain in floor,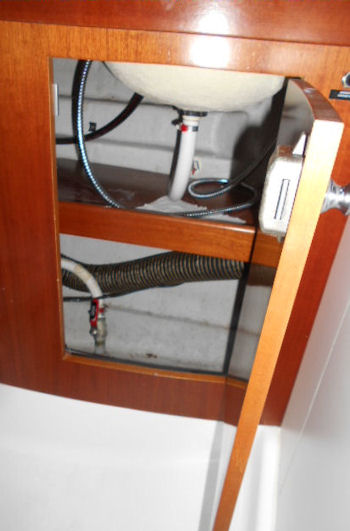 sink waste seacock easy, and water in easy to toilet,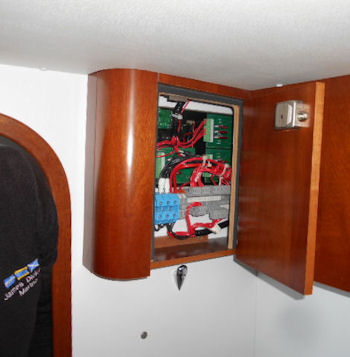 access to back of domestic panel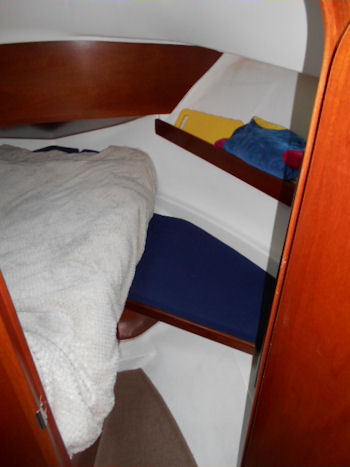 fore cabin, offset berth to port, GOOD size, with dressing seat to starboard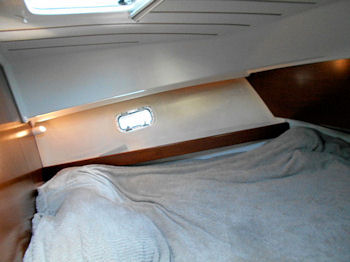 Hatch over, two opening ports, sun blinds on hatch,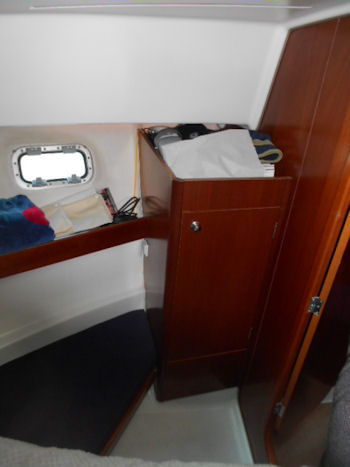 hanging locker to starboard, nice big shelves as well,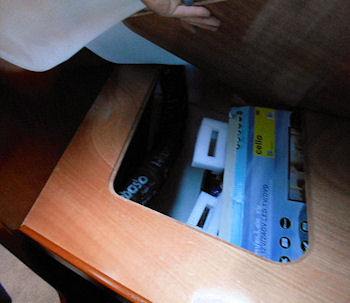 Huge stowage under berth, ( left is webasto heater outlet hose for this cabin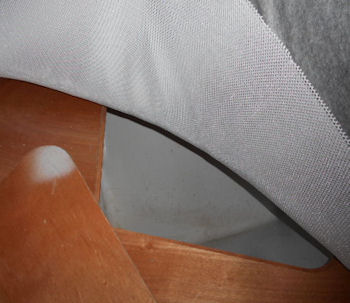 again more space in bow, note Matting under mattress to keep air circulating
saloon floor with carpet out, table lifted, and aft seat lifted,
which now allows good access to the twin Yanmars,
looking aft from ahead of starboard engine, white battery box lid,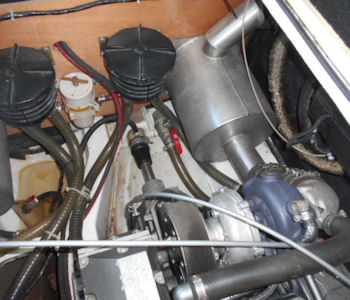 aft end of port engine, all nice and clean in here, FULLY refurbished turbos, (both sides)
fuel system fully cleaned through,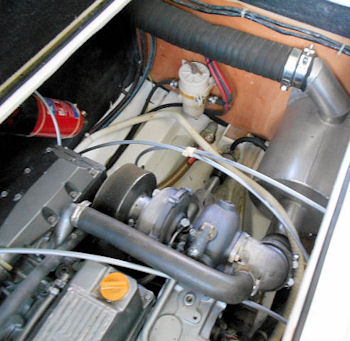 starboard engine, recent fire extinguishers, etc,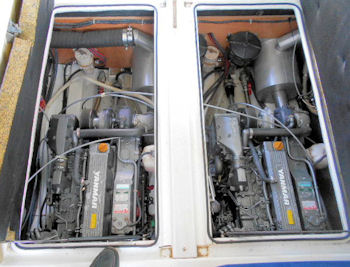 they run beautifully these Smaller 136hp version 4LH-HTE Yanmars smooth and quiet.
NOW a few recent shots since her lift ashore May 2019,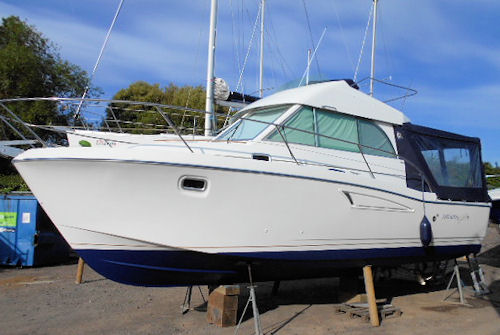 Her underwater form, note the three quarter length Keel, straight shafts through bronze "P" Brackets to her four bladed
bronze propellers, Note Shaft and Shaft end anodes, as well as transom anode,
Twin Rudders as she is a twin engine boat.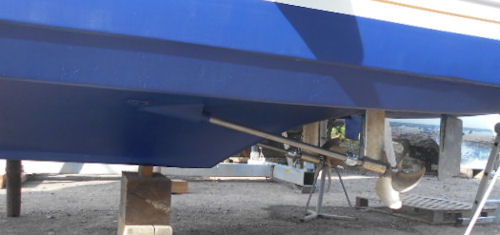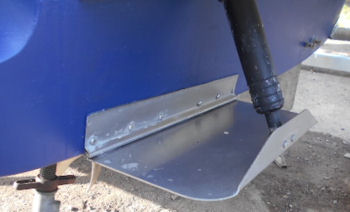 new anodes just being fitted to recent Trim Tabs.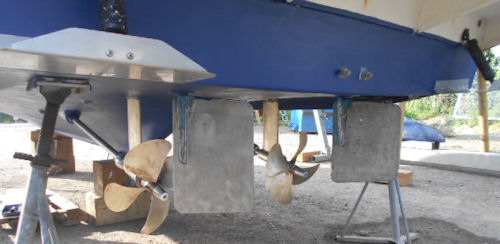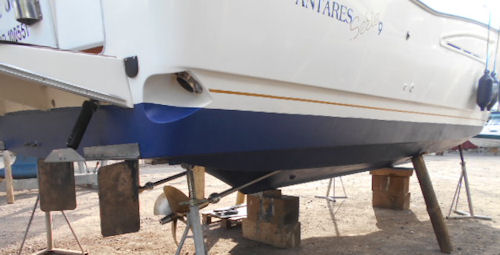 The keel is NOT deeper than the stern gear, so it does offer a deal of directional stability
around the marina/ river at slow speed, you can not "take the ground" on it.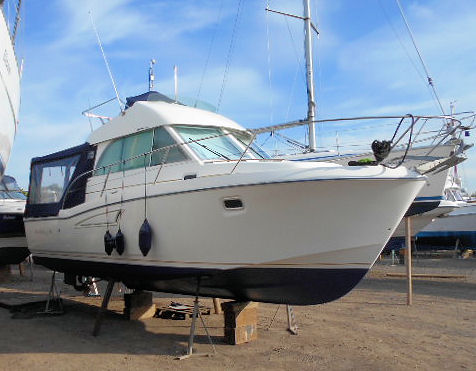 Ready for the season ahead.
Hull polished May 22nd 2019,