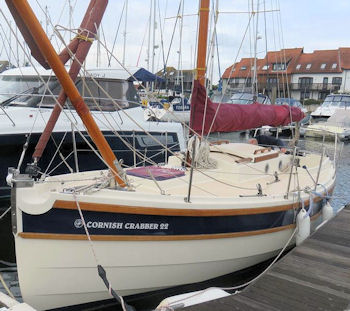 Sat at her berth Earlier in the Year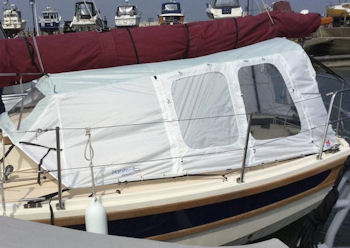 Fabulous Cockpit cover enclosure, ( "Habintent" ) option, makes a huge difference is cruising , little used and in excellent order.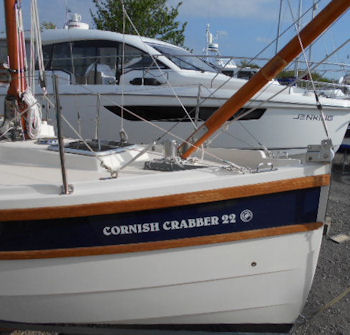 The bow sprit is lifted to reduce her length and get it out of the way when not in use!
Control lines run aft from mast, simple decent Static deck ventilators
notice guard rail Gates shown open,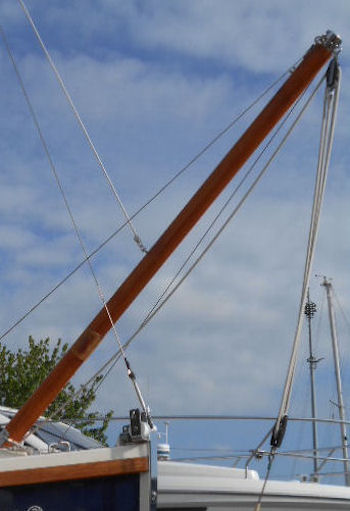 All the spars look in superb state of repair, here you can see the Pole topper mid bowsprit, with 4/1 on the bobstay, all adjustable from cockpit.
Main mast, nice to see halyards pulled away to stop chaffe and annoying Clatter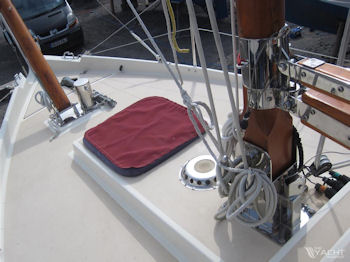 cover for forehatch ( reduce UV degragation, ), good view of wonderful solid stainless Tabernacle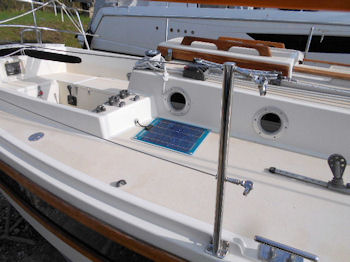 Starboard side deck, solar panel fitted
Aft end, note cover on Tiller, and decent Pushpit, engine throttle lever to port side
starboard view,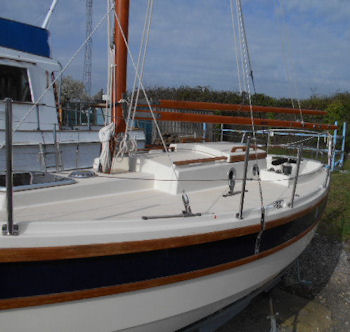 POrt side view,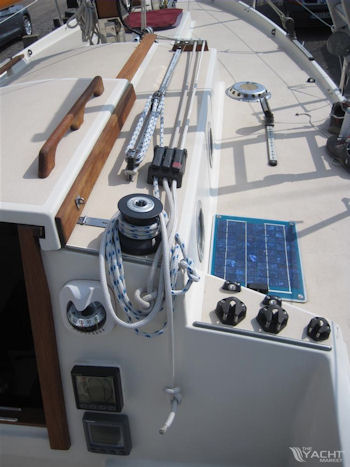 neat control handling, and note bulkhead compass, with wind instruments and tri data below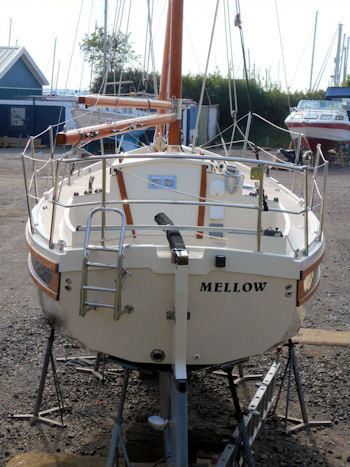 Aft end,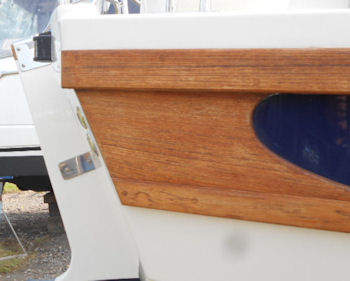 External Teak badging all in super order,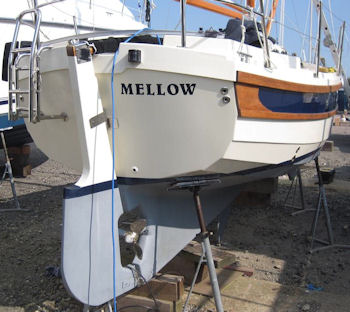 Transom hung rudder ( super solid Gudgeon and pintle)
The Darglow Featherstream Self feathering prop, is recent , you can see it has arecent anode as well, the prop is enclosed between the keel end and the rudder, so protecting it to a large degree from certainly any grounding, but helping stop ropes, or pots getting caught..you can see the bottom heafty set of attachment fittings,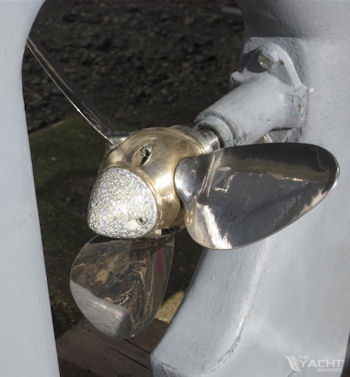 Skin Fittings are in bronze.. which is rather nice
better view of that keel down. ( part way)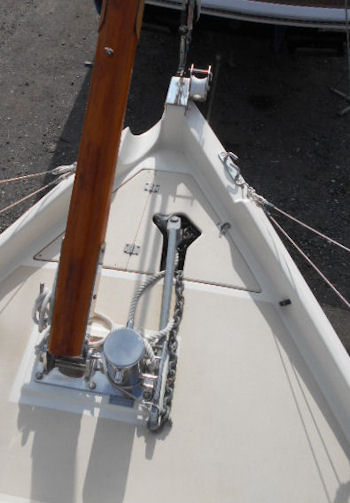 Neat anchor stowage, reduces how much of a Nuisence it is to feet, ropes, sails etc, note the Bow sprit is offset to port,
Good Plough type anchor with a chain tail and then Nylon line,
"Parral Beads" on this boat which is better than standard, from spar ends round back of main mast,
general view aft, main hatch slid open,
wonderful simple solid beautifully finished Stainless work all around the boat.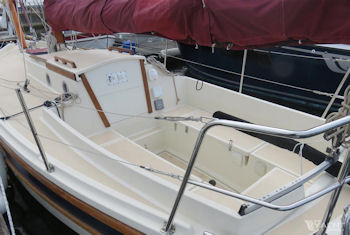 Cockpit will take four with little trouble, Hatch shut, washboards in,
Cover off tillee, which is immaculate like the rest, ,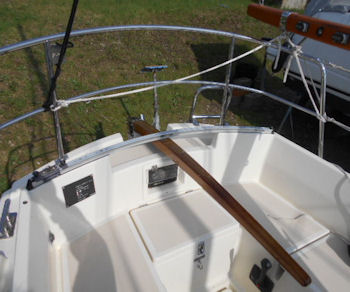 Main sheet horse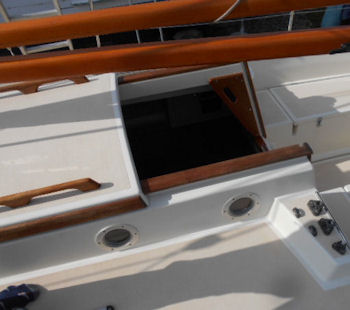 Main cabin hatch
note wear strips on hatch threshold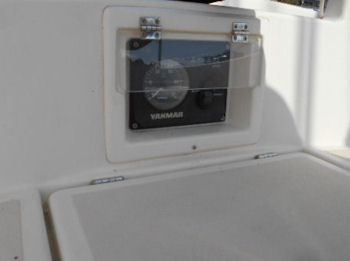 Engine panel inside transom,
Aft to starboard, note top, socket for tiller autopilot, with power supply socket below, and two
white fittings are bilge pump and 220-240v socket for shore power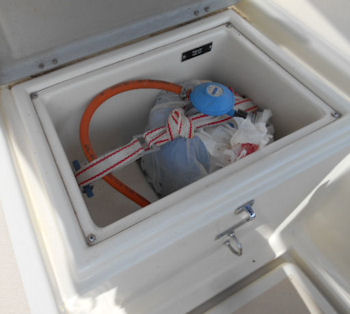 Camping Gaz 907 bottle, and the bottle is wrapped to protect , typical care
also note strong eye, below ( harness attachment point)
starboard locker forward, battrery charger and shore line,
with big locker aft, and note the bilge pump handle under lid
with strap to hold open safe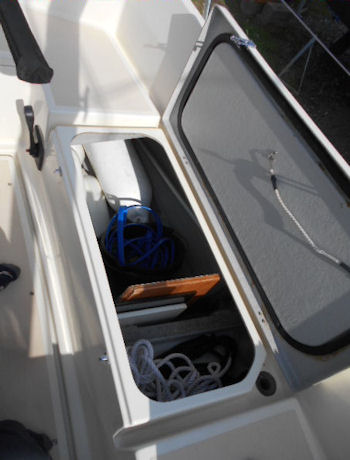 More lockers to port, Over centre clips, pull hatch down on to rubber seal.
and decent big scupper drains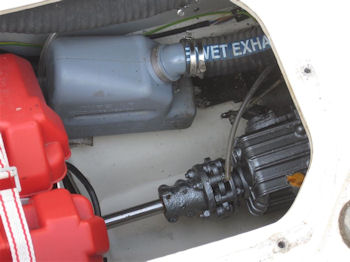 access through floor to shaft exit, gearbox, exhaust wtare trap, and batteries,
NOW inside;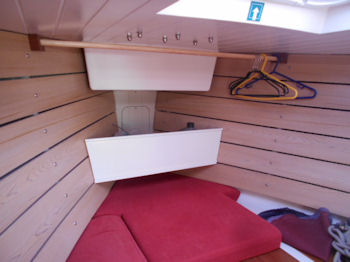 Bow, the lower shelf is an addition, which could easily be dismantled should you wish,
manual seatoilet central, note, this has been lifted from standard to get external water level
BELOW bowl top, which seems a VERY sensible modificaton,. The toilet is covered and cushioned over to make up forward berth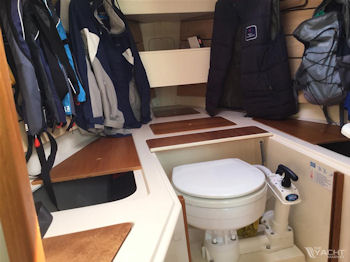 Lockers under all
the owner has rigged a second water pump forward and pump soap dispenser
to a Plastic bowl, ( velcro attachment) as a forward wash facility, this can all be easily removed should you wish, to enable the full forward double Vee berth to be used.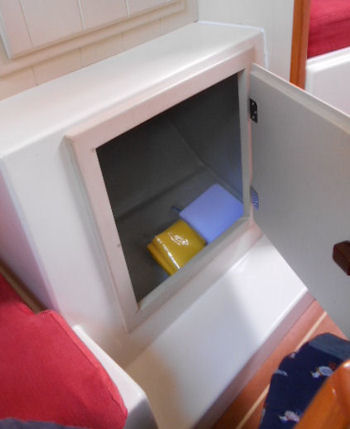 super clean and tidy throughout, ( port saloon locker)
and above, clever velcro use,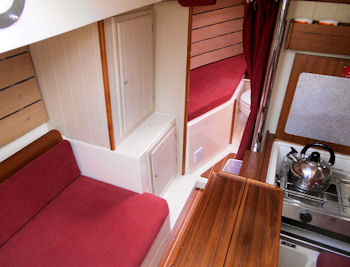 Saloon port side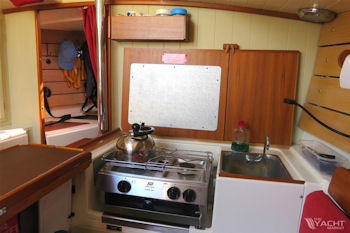 galley set across the boat behind main bulkhead,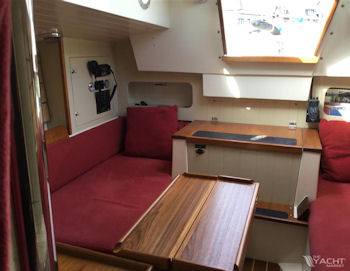 Looking aft, double leaf table, two quarter berths, extend beyond the cushion in photo,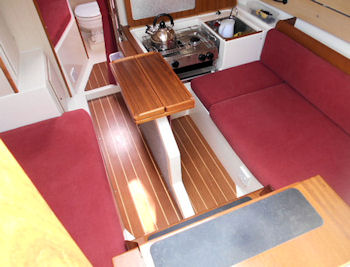 View in from cockpit, table atop the Drop Keel box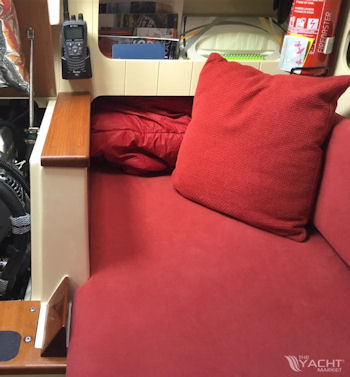 port side looking aft, with engine box open
"Nav station" with domestic controls and Gauges etc with DSC/VHF radio,
ALL lighting LED Type in both cabins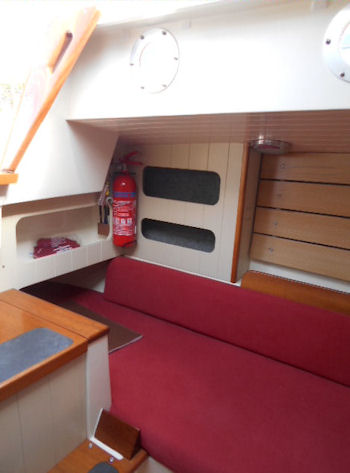 Port side,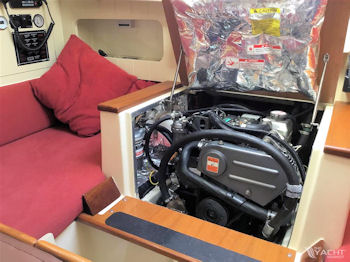 One of the best feautures of THIS one, is her upgraded engine choice, The 19hp
Yamar gives this boat plenty of Punch if she needs it, It also allows relaxed cruising
without the labouring Engine Note of a smaller engine. BIG PLUS.
And of course it is beautifully clean and tidy, and has correctly had its water pump impellor removed whilst not in use.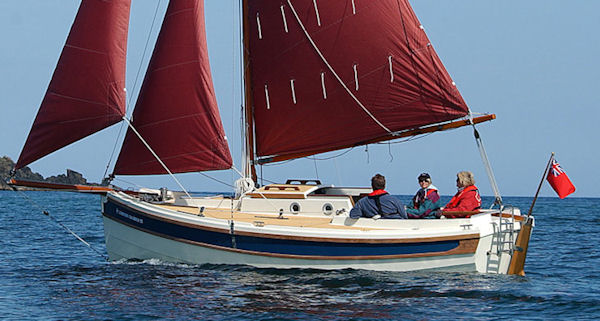 What a super looking craft,
NEW jib and staysail in 2017, with UV strips
The mainsail has a full boom cover and is original but still in excellent shape,
note the ensign sits in a stainless socket on rudder head.