following is the standard Spec from Hanse.. she has several extras on top of this impressive standard spec as well !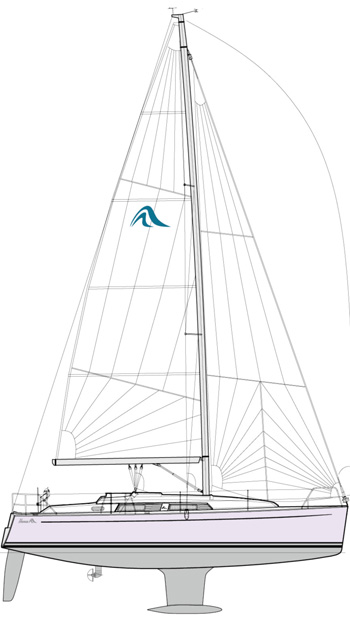 Mast length above WL approx. 16.43 m | approx. 53´9˝
Total sail area approx. 64.86 m² | approx. 698 sq ft
Main sail approx. 35.25 m² | approx. 379 sq ft
Self-tacking jib approx. 29.61 m² | approx. 319 sq ft
Rig I 14.10 m | 46´3˝
J 4.20 m | 13´8˝
P 13.18 m | 43´2˝
E 4.45 m | 14´6˝
Twin swept spreader rig, with self tacker you get slightly taller main to jib ratio. bulb fin keel, Main sheet well forward from cockpit,

twin double cabins aft, with extra portholes in to cockpit as well as standard ones to hull side.. to add light in here. simple light layout.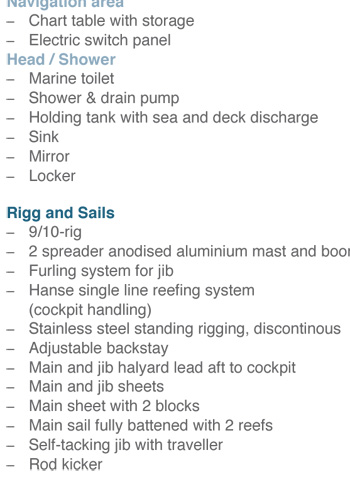 Tall rig, quiet back water berth , so the bow thruster come in to its own getting in and out of her
mast head, fractional rig, note hawk wind indicator, as well as full wind speed and direction information. Mast head VHF antenna.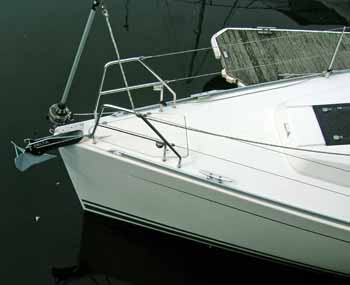 forward. Plough anchor in offset roller. Open pulpit so if board from over the stem it is reasonabel easy..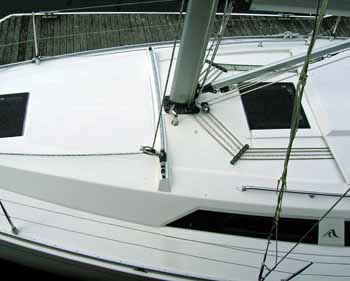 mid section. all lines running aft under deck garage to cockpit
covered cockpit,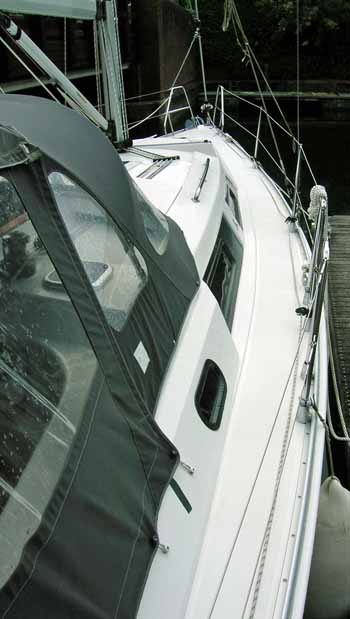 stb side deck, note stainless grab rails.
self tacking jib track, deck stepped mast.
toe rail is a return angle note fender cleats outside.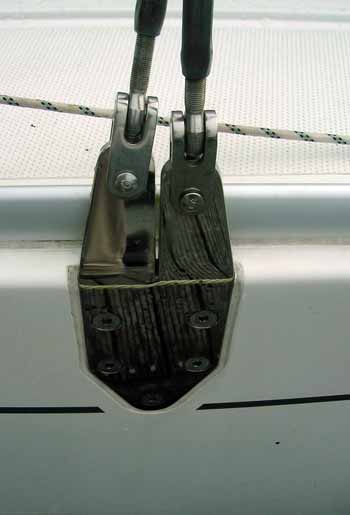 shroud plates.. look solid.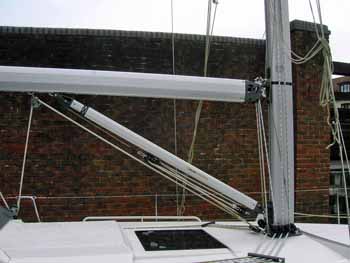 rod kicker, deck hacth under helps spread light below.
port transom, heater exhaust up high left, and shore power socket inside, note transom access door gains access to aft berth, and services.
transom stb side, deck shower (hot cold) two white hatches, with fuel filler on platfrom,
wonderful teak clad cockpit area , wheel steering on pedestal, easy gate in transom has an infill
right hand side..
gas locker to stb,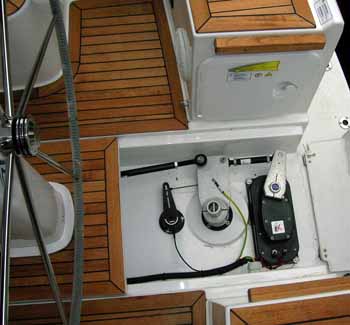 steering gear under aft hatch, with rudder reference unit for autopilot sender etc..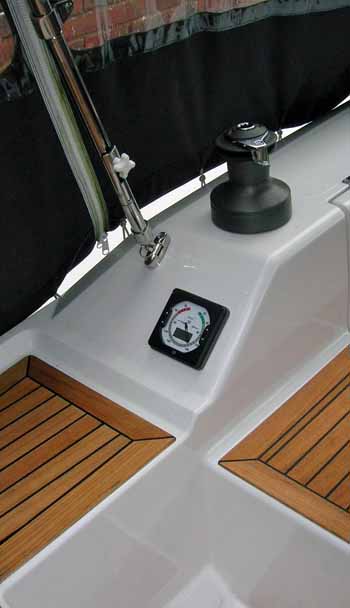 wind instruments to port,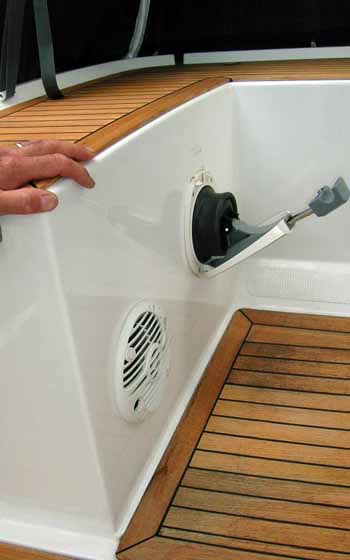 manual bilge pump aft to port by waterproof stereo speakers
and to stb, engine controls and panel
Nice big latest Simrad display GPS PLotter interfaced to pilot.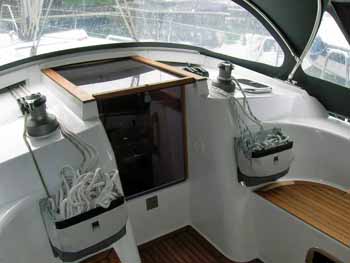 companionway, rope tidies each side, clear perspex hatch panels..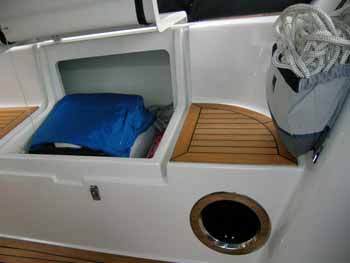 port side locker, port side cabin EXTRA window fitted.
Cockpit table option with extra window to stb cabin as well
view down to cabin, smart Teak/Holly laminate floor
Galley set to stb, nav station to port ahead of the Heads, with saloon beyond,
gas hob/ oven with grill, twin sink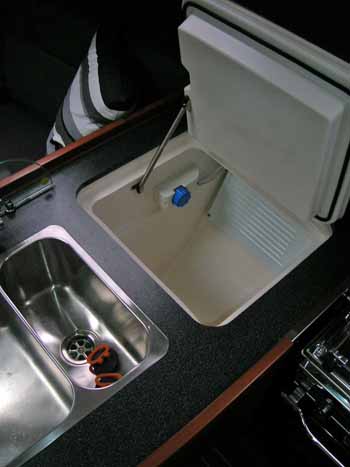 and top loaded fridge box
reasonabel stowage for stores.
stb aft cabin,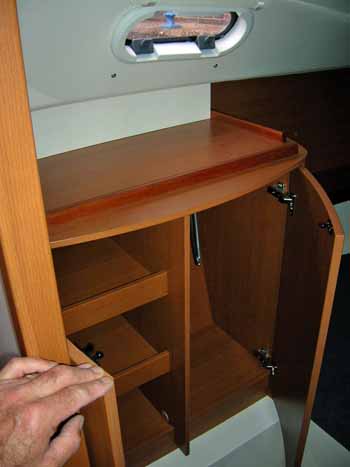 stowage as well as under and along shelf, two opening ports,
looking aft
under berth central easy access to all servcies heating hoses and exhaust here
looking forward, water trap, and back of engine, all as new in here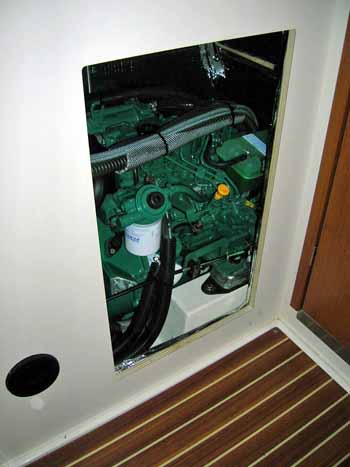 stb side access panel. heater outlet aft,
fuel tank under berth,
sail drive unit access also,
looking in to port aft cabin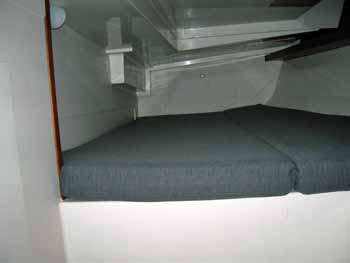 another good double, with two opening ports for extra air and light in here.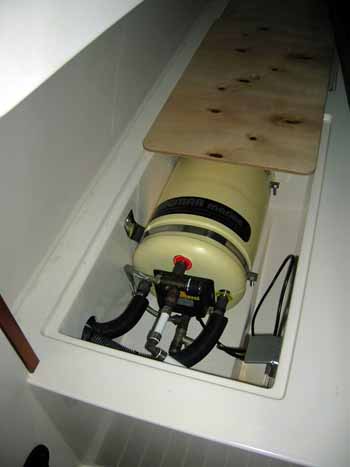 again easy services access, hot water from calorifier as well as 240v immersion,
transom access at berth end,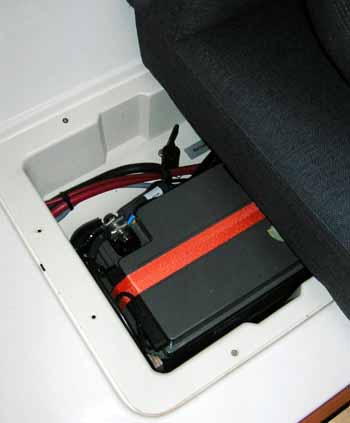 under berth battery stowage in box,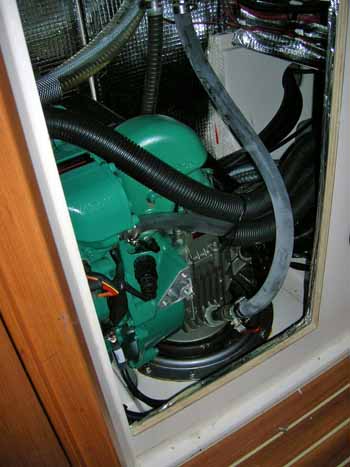 port side access to engineand water intake on saildrive obvious
washroom set to port aft in saloon,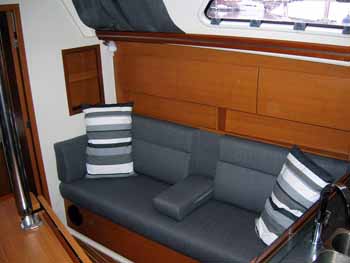 stb saloon
port saloon,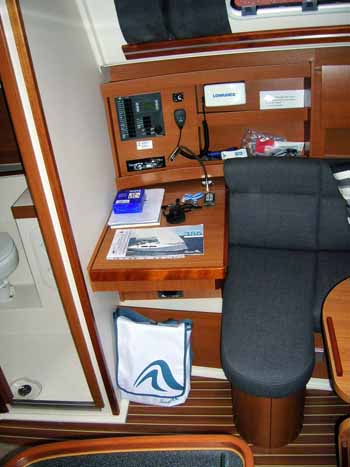 aft facing nav station
overhead lcokers along under side decks.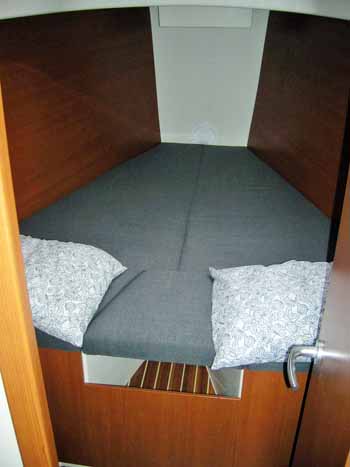 forward berth with infill in place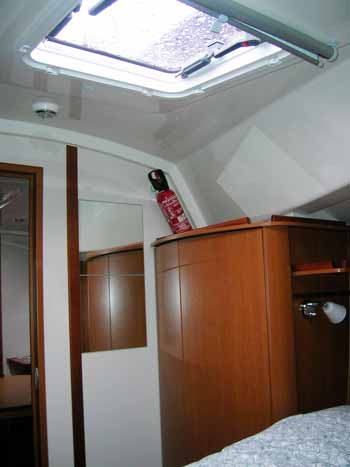 looking aft in forward cabin
and to stb side,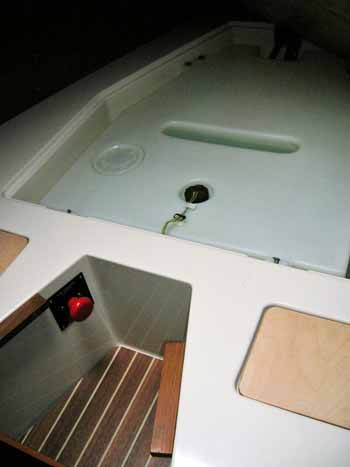 water under berth, bow prop button red unit,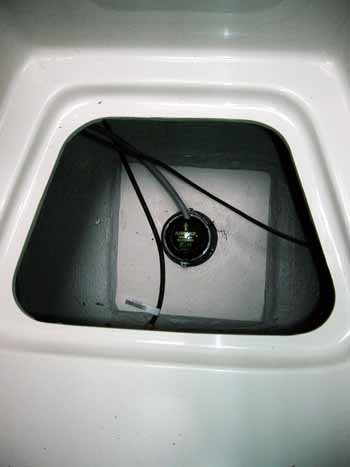 speed log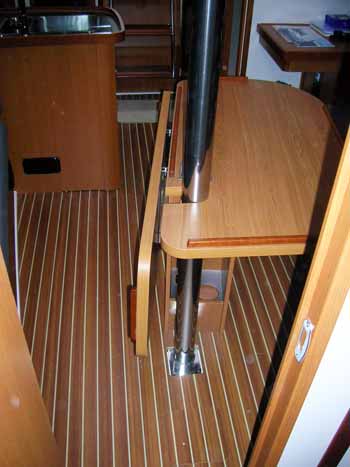 double leaf drop down table
makes big table when up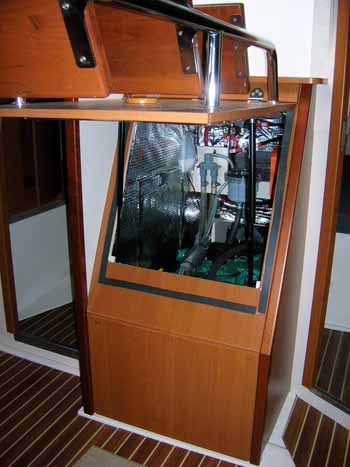 gas struts on engie access / steps unit,