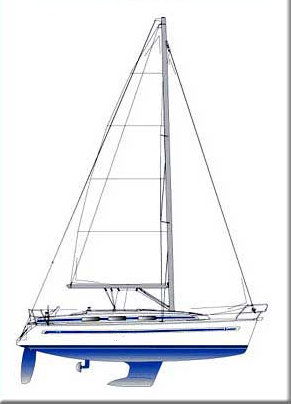 RIGGING Original Fractional rig with all Selden Alloy Spars Including Spinnaker pole ( she has the full spinnaker option)
SAILS; Original Dacron Main Cruising Laminate Genoa, andtandaard spinnaker.
Bulb Type keel In Iron (TBC) with spade rudder,

Simple easy layout all berths are of a good size.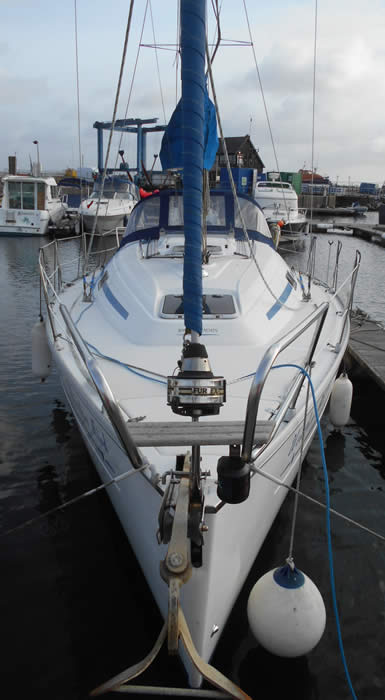 Walk through Pulit, with FURLEX roller furling to genoa, CQR anchor sat in Bow roller.
Low level nav light
Fractional rig with twin swept spreader set up,
Aloy toe rails, large deck hatch to anchor locker under, ( No Windlass on this one)
clean foredeck.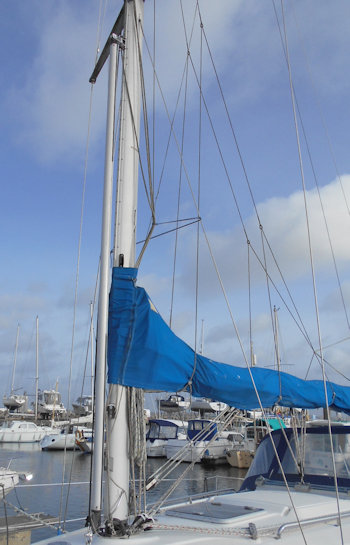 Spinnaker pole stored in place on mast,
Saloon deck hatch behind mast adds light below
Wheel steering, auxillary on pushpit bracket is included, Note four to one back stay tensioner
small sugar scoop transom with swim ladder and walk through o cockpit with lift out sections,
normal garage arrangement, control lines back to deck clutchesand two haliard winches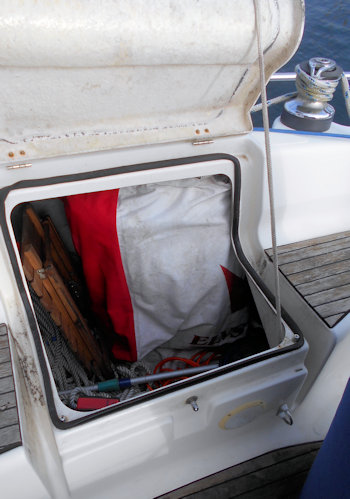 Deep cockpit locker starboard side,
wheel cover off, exposes, Tridata units, and autopilot head and drive wheel, note engine panel lower down, Plotter (recent) sits in a bracket right by Throttle control lever
waterproof VHF speaker left next to Harness strong point , various winch handle pockets about cockpit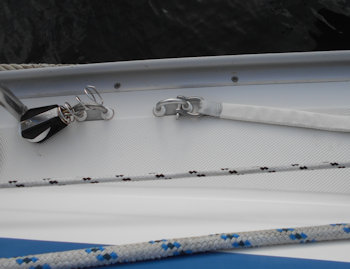 sprung Guy Blocks part of spinnaker kit, note deck safety lines for harness attachment
Nice recent Spray hood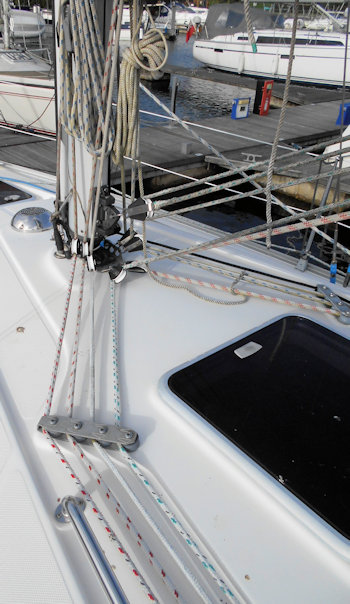 control lines run aft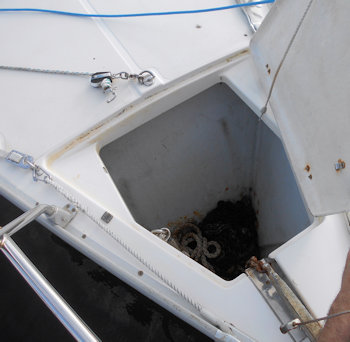 chain locker, has room for a couple of warps and fenders ( Note Spinnaker pole down haul just aft)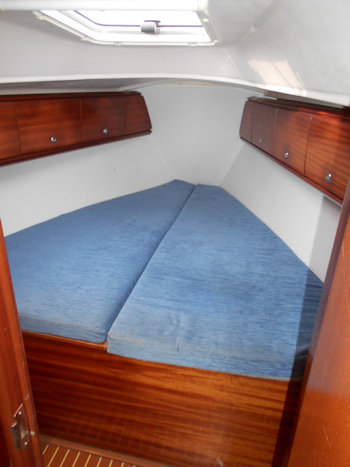 starting forward , good double with neat under deck lockers each side,
dressing seat to starboard, with locker behind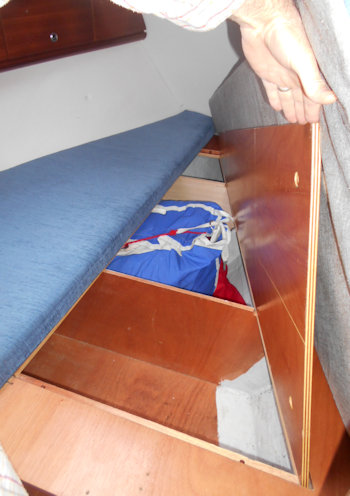 spinnaker stowed, LOTS of space under berth,
and access to log and echo sounder transducers
starboard hanging locker
looking aft, from fore cabin
looking forward from galley, boat has been cleared and is now about to be Valeted so she should look rather good !
simple single berths each side, with locker behind back rest and under hinge up bases, as well as more under deck lockers all along
Opening windows add lots of light AND air flow sat at rest
th
the double leaf table is enormous and eight can sit , and exaggerate stories easily !!
note cap shroud Hull attachment , behind back rests,
lots of simpe stowage under,
same to starboard
and has easy access to massive Domestic battery and smaller engine start behind
Forward facing nav table ( GOOD FOR ME ! and prefered by many
has VHFm Nav tex domestic breakers etc, as well as 240 controls )
Small battery charger plugs in when required,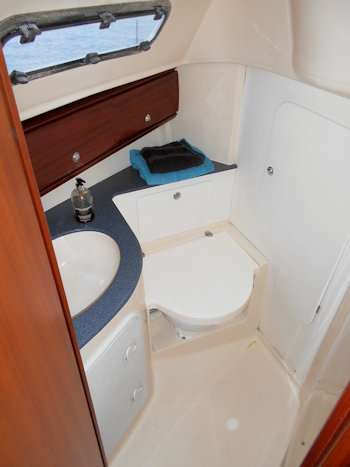 heads/ shower aft starboard side, simple manual sea toilet opening window, and wet locker aft
said wet locker,
under sink access to water pumps and seacocks etc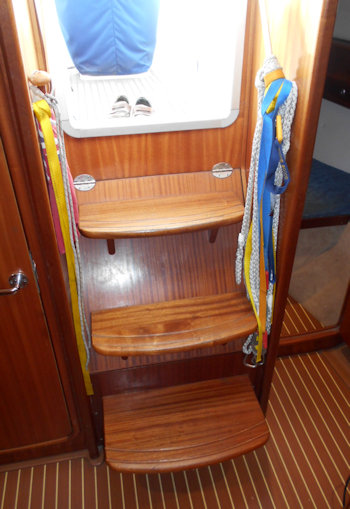 cabin entry steps, (lift to access engine
and to right is another drop out access panle, ( Fresh water cooled motor)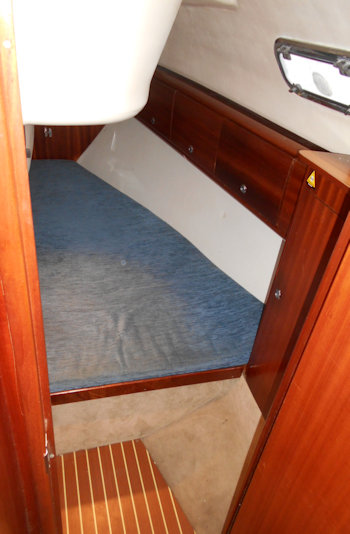 aft cabin looking aft, set to port,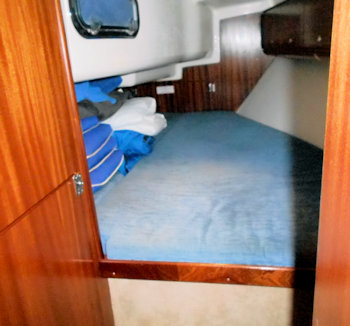 window to cockpit,
left of shot above is side access to engine and sail drive unit top ( YES the sail drive unit Diaphragm is probably due a change )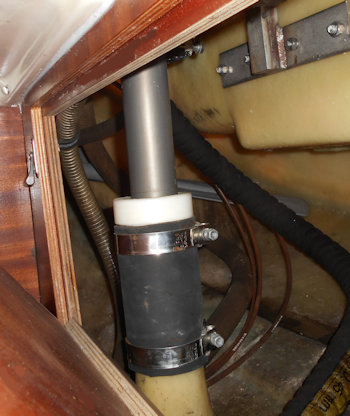 aft end access to rudder tube, ( end of port aft cabin berth)
Water tank beneath aft berth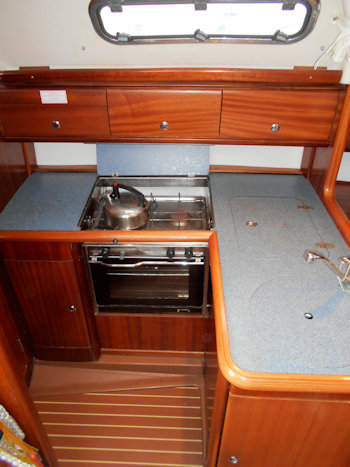 Galley set to port,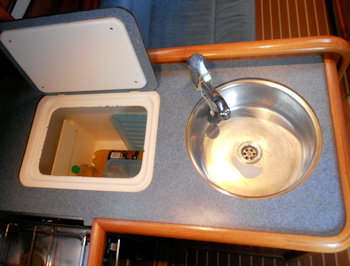 deep top loader fridge,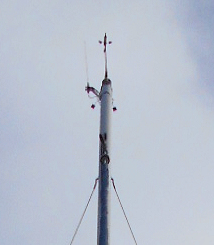 Wind Hawk aloft as well as VHF antenna,