FIRST OF ALL SOME RECENT ONES ASHORE JUNE 2019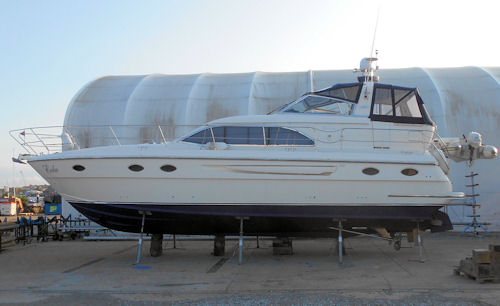 Ashore at Shamrock quay, she had her engines given a full service just before she came out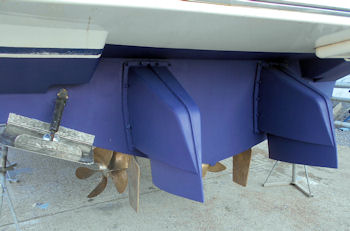 Under water exhaust pods, reduce noise dramatically , the trim tabs have been polished clean, and new anodes fitted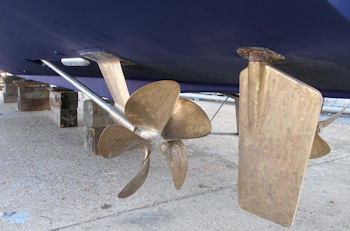 FIVE bladed props give her good performance with much smoother transfer of power, Note the Nice Yellow coulour and no pitting apparent.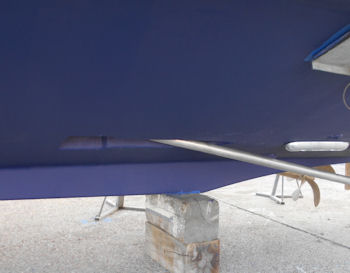 The shafts exit through Logs, and also note the all new Hull anodes,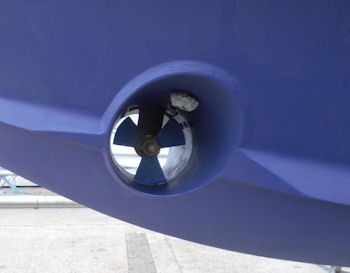 bow thruster , and an anode in the tunnel.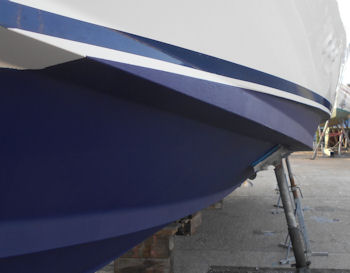 Note the Big flat knuckle and second chine above. which help the water get knocked away .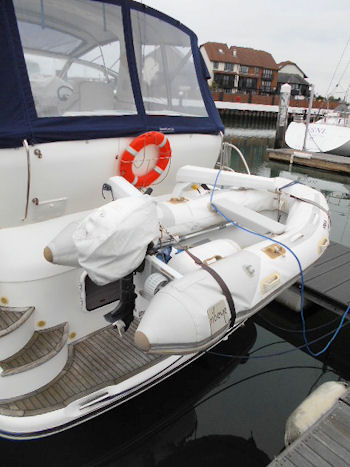 Ribeye Rib 260tl with yamaha 4 hp 4stroke Outboard , note the drop down wheels on the transom, very handy up the beach! the single point lift davit is a clever piece of kit, designed between Broom and Cooney / Simpson, it is a fixed "Fork" hinging about a pin at the base. at the forward end of the bathing platform, and lifted and dropped by a winch on a belt at the top of the unit.
This is strong, way to do dinghy handling amd takes the load further forward on the main boat, at the front of the Bathing platform rather than as usual levered off the transom. See below.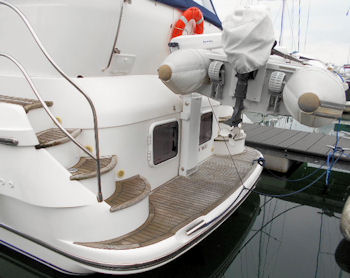 note there are two sets of steps from aft pltform up each side. all with LED lights, two opening hatches to aft cabin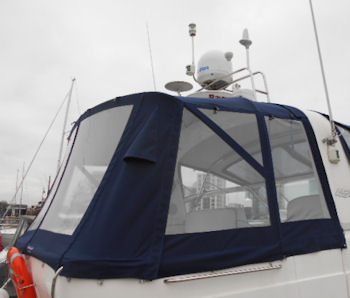 ALL new cockpit cover work fitted August 2018, Navy Acrylic with PVC backing / lining, including vents etc.
Both fore and aft sections of cover. ( (£3,200!!)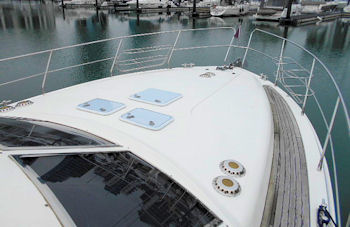 nice big clear foredeck area,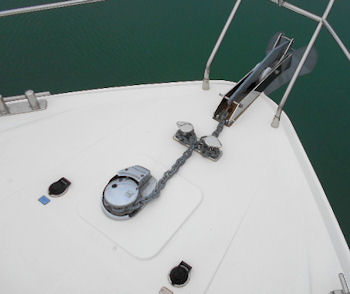 Simple anchor arrangement, with Pin through roller, and bollard to tie off on to take load off windlass, ( controls at helm station as well as here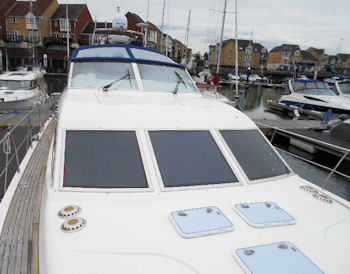 flat windows, ( all with Oceanair blinds.. note three easy deck hatches, all have blinds, and insect screen belwo.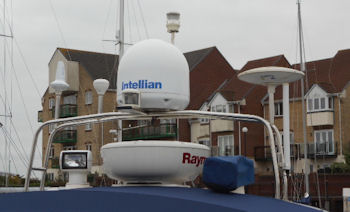 Aloft, S/S frame, neat and tidy with obvious Intellian Sat TV dome, and recent Raydome radar scanner. (2016)
remote Searchlight, Navtex Antenna, SPARE Garmin gps plotter (stand alone spare) Omni directional TV antenna, Horn (under blue canvas bag)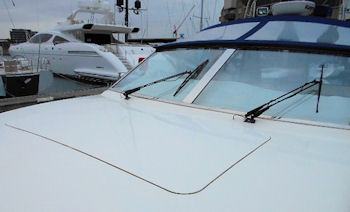 removable hatch to lift a full engine out (IF ever required!)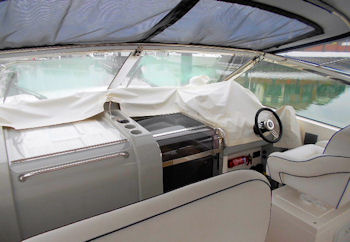 main helm area, Note the smart sun nets built in to the new cockpit covers, and also note dash cover , helps keep sun damage down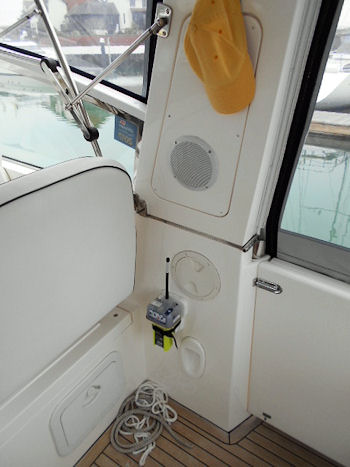 Starboard side, gate to side deck, hinged main arch.. note folding forward canopy section with pram hood, works really well,
Rather smart 406hz Epirb included,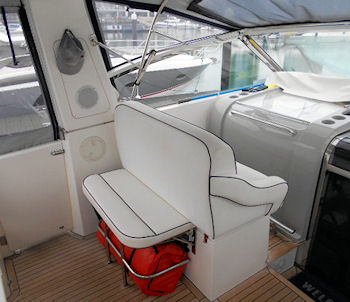 port side big bench seat with huge locker under, note the "Jockey" seat aft which will fold up or down, and houses the Valise Six man AVON liferaft,( last service 2009 so may or may not be worth servicing)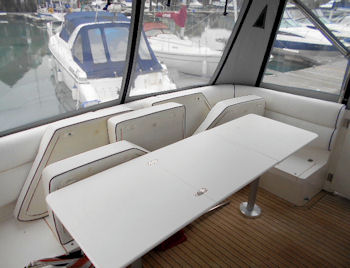 all the aft seat cushions are stowed up on edge to keep them well ventilated, and this owner has gone for the double Nylon table with hinge middle section. Real Teak on floor,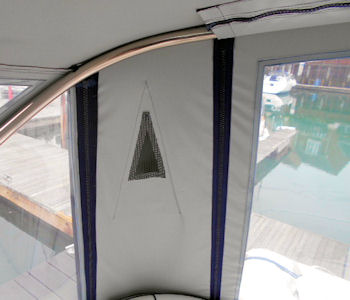 Smart new Lined canopy , has vents buiilt in, very smart..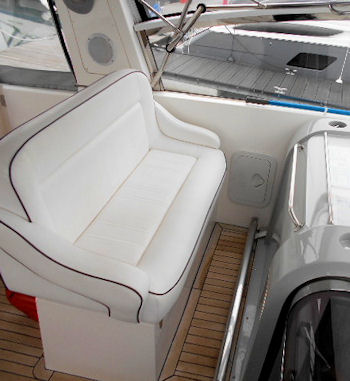 copilot seat will take two / three at a push, with smart foot brace rail, and grab handle ahead and decent size chart area,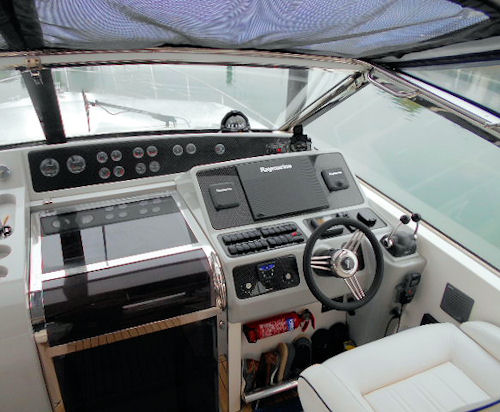 WONDERFUL helm stations on Broom boats with easy read angles, and all new carbon finish fitted here a year back.. with all new Ray marine Kit, very smart indeed, Note the middle clip to let canopy frame hinge up, and another each side by Grab handle top right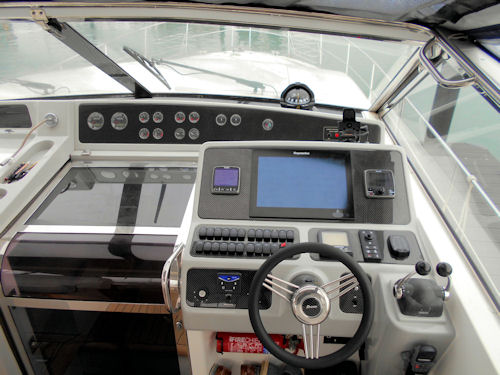 WOW, super smart new Raymarine kit, with remote key pad,i70 Multifunction ( Touch screen) colour display, AIS 650 Class B transceiver, and active splitter,
Raymarine 4KW Digital raydome, Raymarine Evolution, Autopilot, with P70R control, new navionics UK and Ireland Upgrade card,
(£ 12,000+ )
All fitted in spring 2016, AT the same time all new Carbon Fibre Dash console panels were made and fitted, and new switches suppiled and fitted where required. Looks superb, (£ 2,000)
Add to that the Intellian Sat dome, and various TV and DVD units, and the Boat is VERY well equipped with some of the latest kit.
ALL the switch gear was also replaced so it looks like new..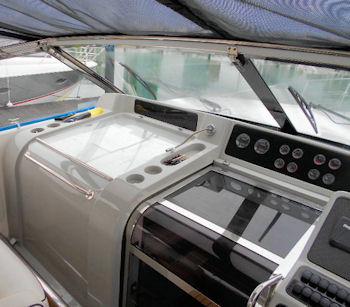 the cabin door slides under the chart area left,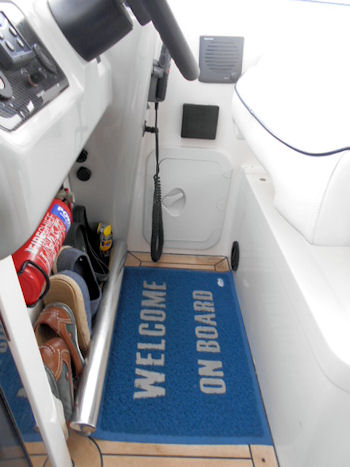 foot rail for helm, and extension to VHF speaker as well as stereo, note heater outlet at feet, LUXURY indeed, The helm seat is adjustable electrically.

general layout, Not To Scale,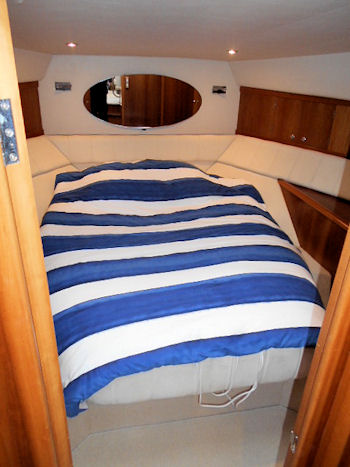 fore cabin, mirror has chain locker behind it ( hinges)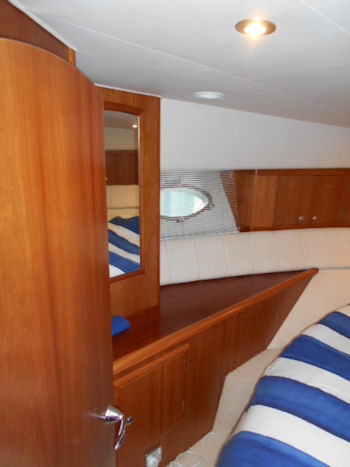 port side, lockers, and en-suite to heads/ shower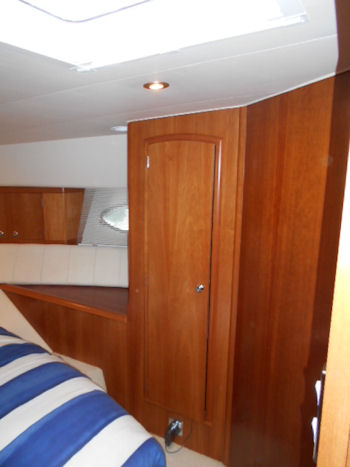 starboard side, Hanging Locker, hatch over,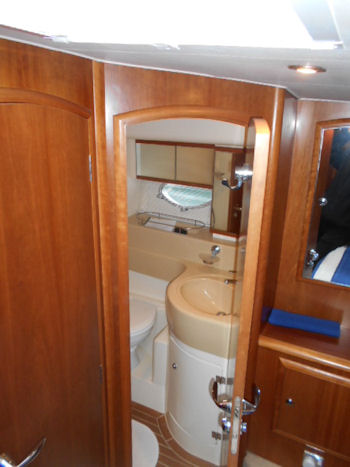 en-suite door to heads shower port side, beautiful Cherry timberwork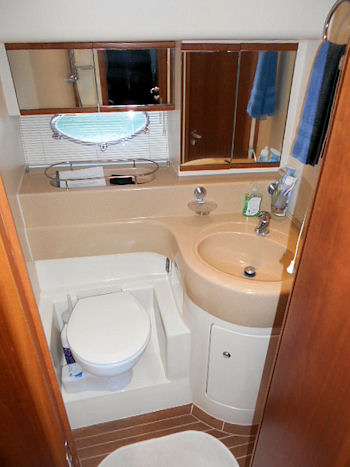 Port Heads/ Shower, with en-suite door to forward cabin, Of Note like the rest of the boat her seacocks and pipework have been well maintained.
with New piping where required, New "Y" Diverter valves, and all new seacock fittings through the hull Late 2017)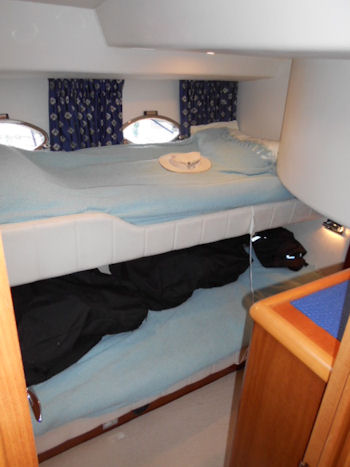 starboard twin bunk cabin,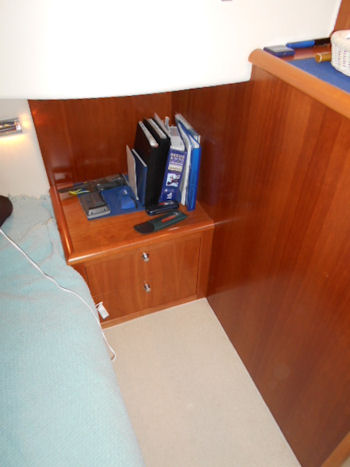 looking aft at small dresser ( back of crockery locker right)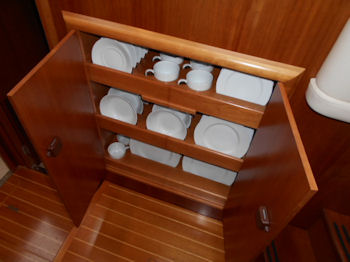 Crockery locker all included,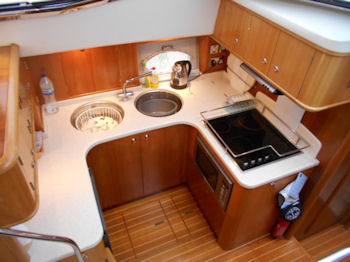 galley set to port, NO GAS, four burner Ceramic hob, Combi microwave oven/grill, extractor infill cover both sinks in Avonite worktops,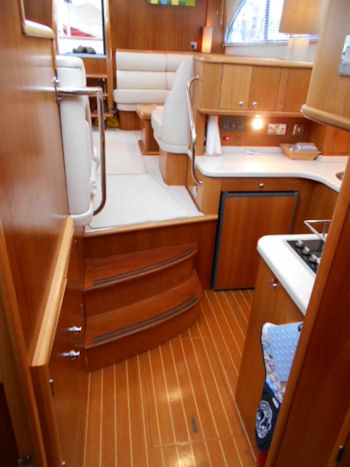 Looking aft, fridge under counter, generator controls under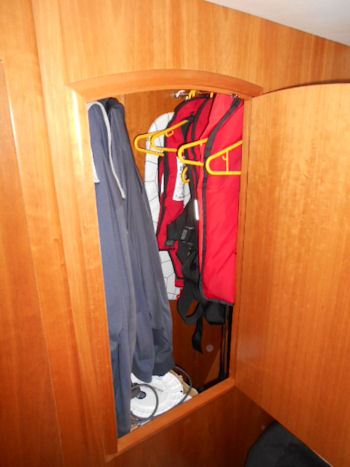 hanging locker in bunk cabin forward bulkhead,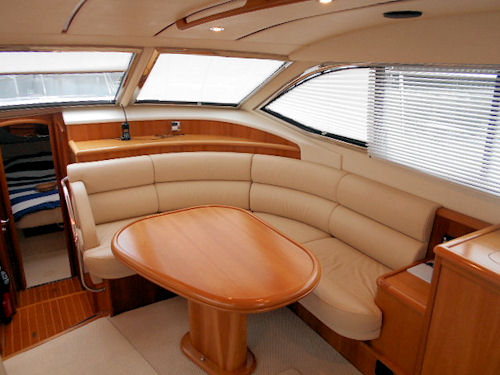 Wonderful Dinette lifted on starboard side forward in saloon, all leather. Note oceanair blinds at front and side windows,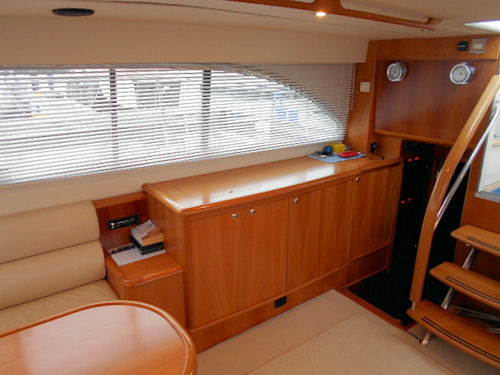 saloon starboard side units. House Tv second fridge etc. Stunning woodwork.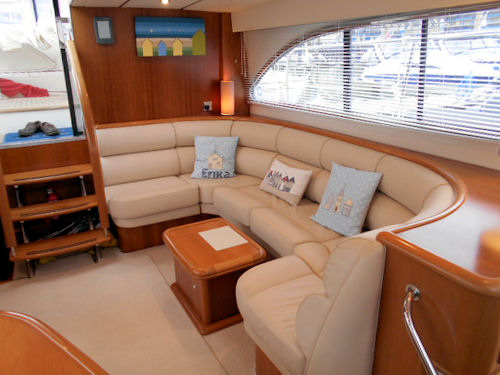 looking aft, wonderful leather sette area port in main saloon, ( The PALE Ivory Leather does look superb with the Natural Cherry interior) The piece of Art work ( beach huts) is being removed.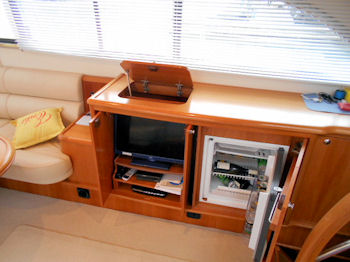 TV, DVD Intellian Sat unit etc, as well as second drinks fridge,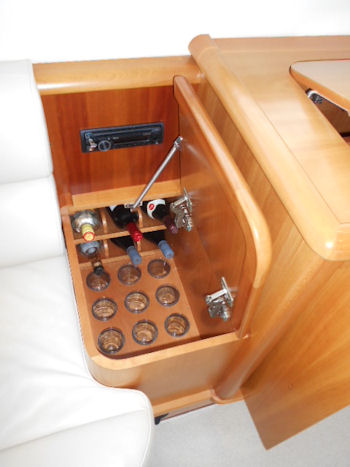 Decent Sony Stereo with Blue tooth and CD stacker unit, above wine rack, and glasses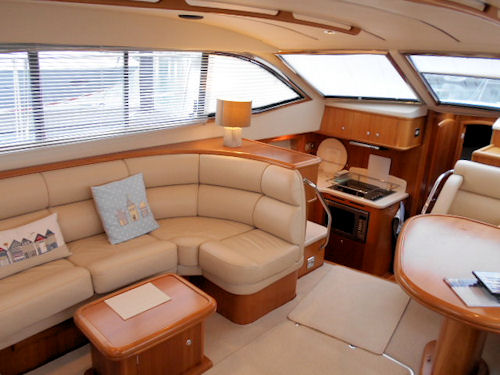 general layout saloon / dinette/ Galley , note runner/mats on floor, Loose coffee table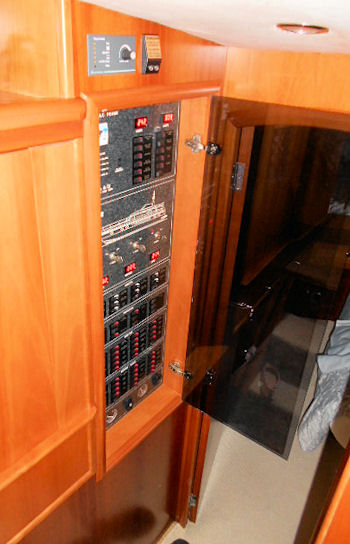 mai switch panel aft starboard side on way to aft cabin,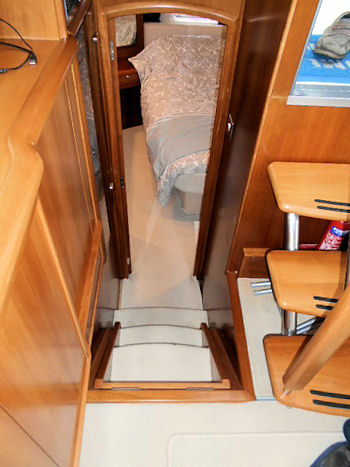 steps down to aft cabin, These steps lift to give a view in to engine space aft starboard side.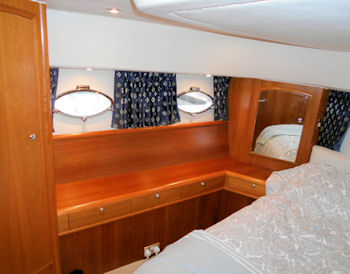 starboard side aft cabin, wonderful stowage, two opening ports this side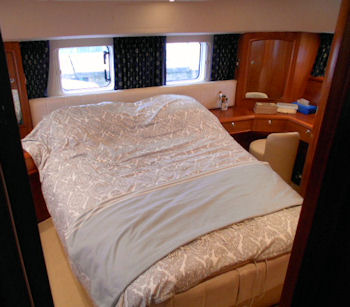 Main beth MID ships.. Loose Leather Dressing chair sat at table aft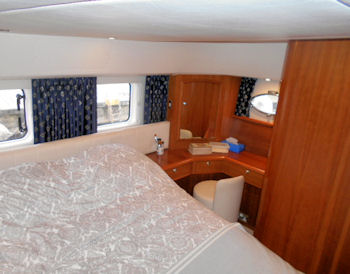 twin opening hatches aftwith black out screens as well as insect nets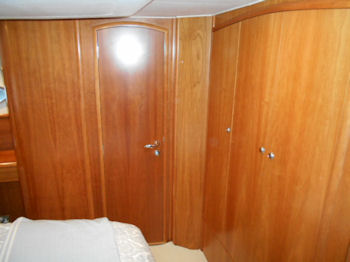 right is forward cabin bulkhead with lockers, hanging and shelved, and ahead is door to Heads/shower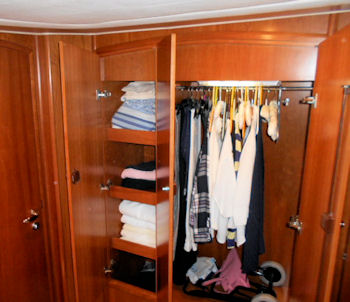 all self lit
starboard forward, big extra hanging locker, with electronics access to back of domestic panel.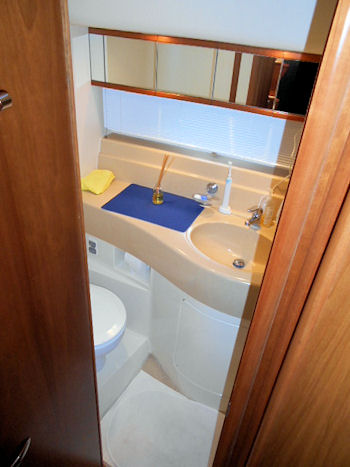 aft heads,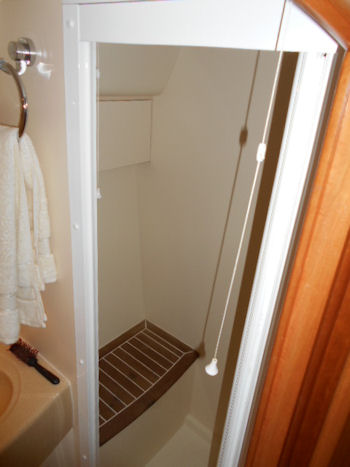 with shower cubicle forward with folding solid Perspex door screen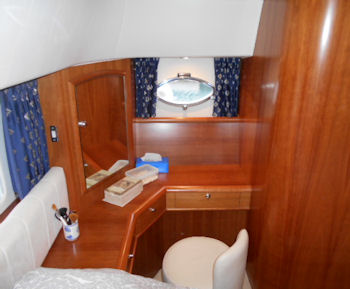 the aft corner mirrors have good size locker behind them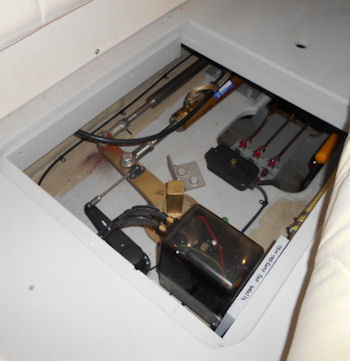 Under head of bed, Rudder Tubes greased up by Dealers Spring 2018, trim tab motor, all nicely labelled up,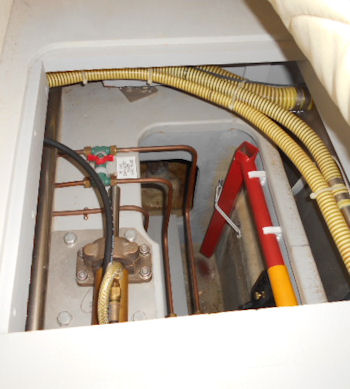 emergency Tiller clipped up, next to main stainless water tank under aft berth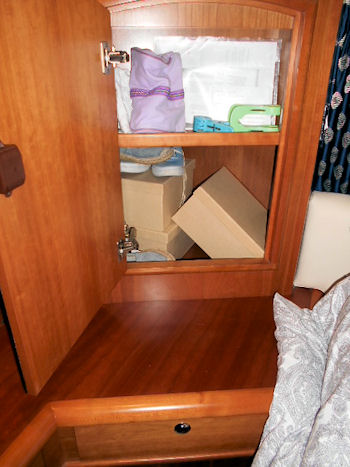 again aft mirrored lockers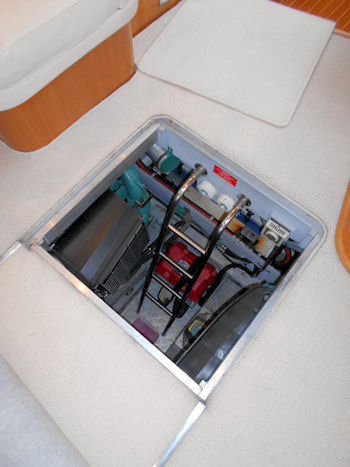 Back up to saloon to look at the engines, The WHOLE floor can be removed on a broom with little effort, but for most occassions the hatches supplied allow all you need, here just the forward section of two, between the engines with ladder down,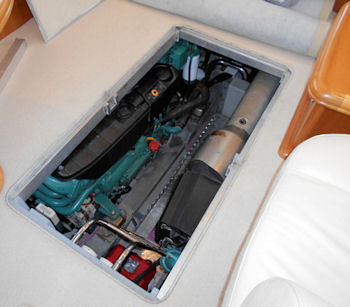 Looking aft, Good history of main dealer service works 2018 and 2017 (I have seen and I am sure there will be far more available)
to engines as well as generator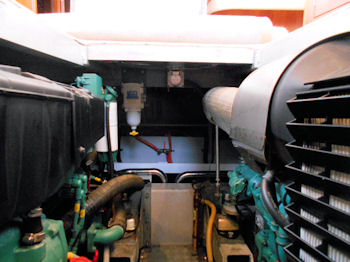 Looking aft,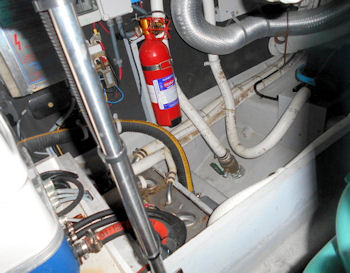 Forward end , note holding tank with white piping, generator cacoon left NEW Seafire Canister fitted by Golden Arrow
September 2018 ( Good for 10 Years)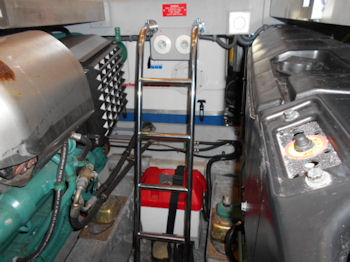 11.9 KVA generator fitted in Its cacoon forward in the engine room , ( Fisher Panda)
This was Fully serviced By RK marine May 2018,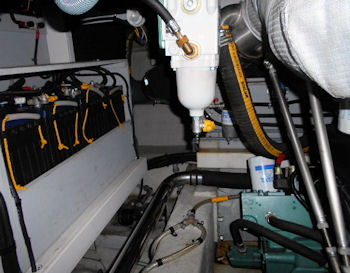 aft end view sideways from lifted steps, note battery stowage left, and main primary fuel fliters easy to access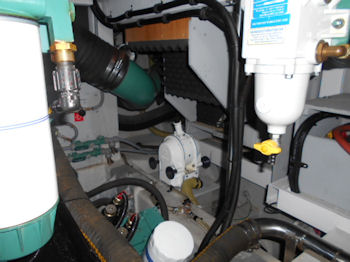 and here looking across to starboard aft, with lifting steps lowered, see big manual emergency bilge pump,
Washed at least every month, serviced when ever it needs it, She is in totally "Up Together" order.
A VERY nice example.