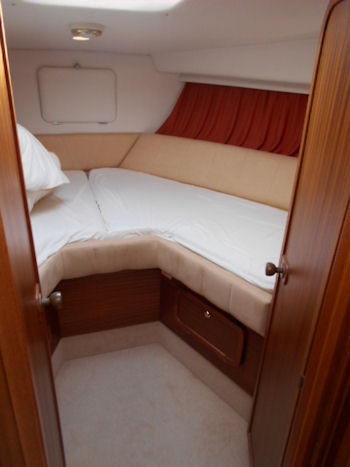 decent big adult singles forward, locker to chain, and noite recent upholstery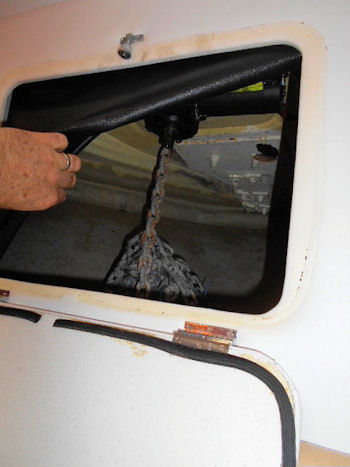 chain locker has a weighted curtain to protect from wet chain..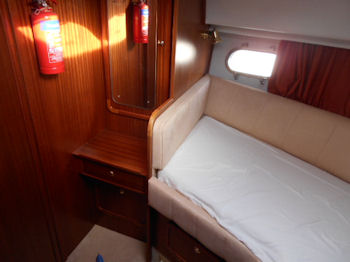 port side nice hanging locker with mirror and lockers drawer etc under
note two opening ports,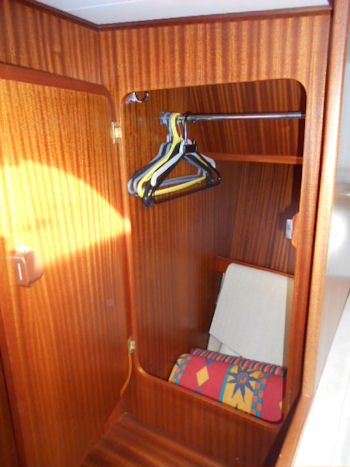 hanging locker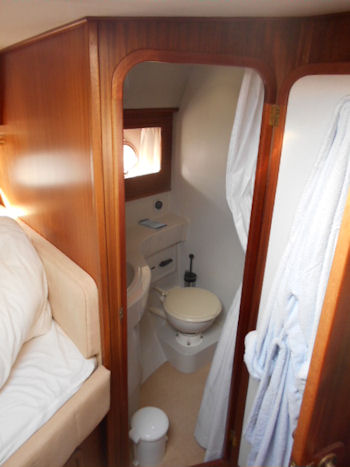 starboard side en-suite door to heads/ shower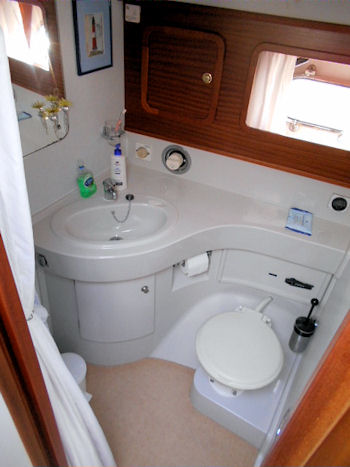 Nice simple heads ( vacuflush) note Y Lever behind toilet to right, "To Sea / To Tank"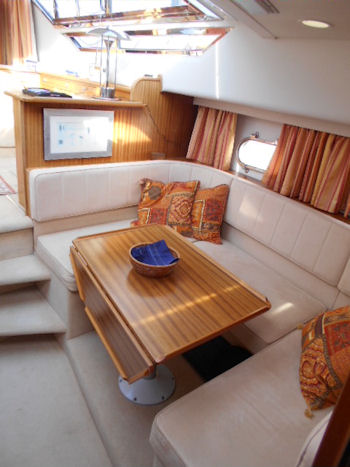 Dinette set to prt, lockers under seating, two opening ports, table folding extension, and will drop to infill berth here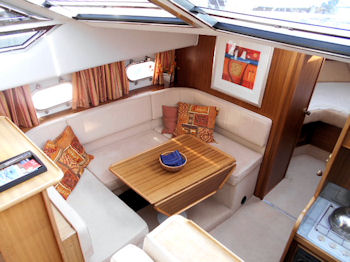 view forward over galley to dinette, pleasing colourways, ( Fairly recent upholsteries, carpets etc.)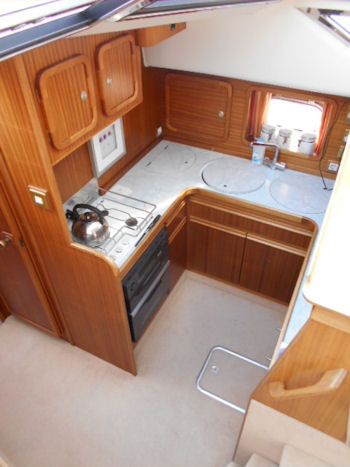 Galley with Gas oven/ grill and three burner hob,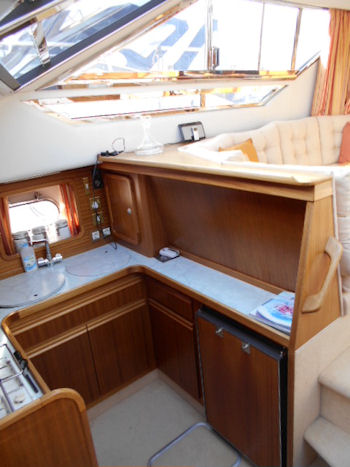 fridge under counter aft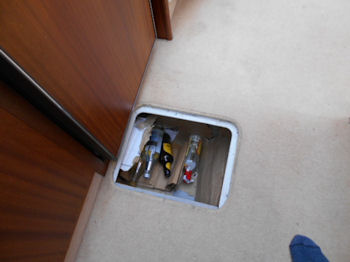 hull stowage lockers all over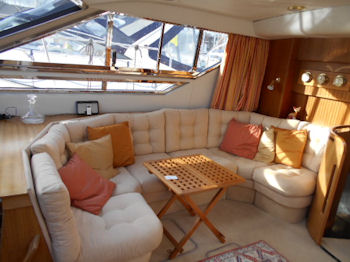 saloon dinette lovely and light set to starboard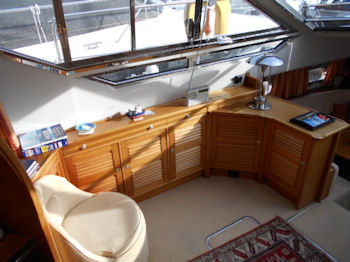 port side lockers and units, note smart free standing bucket chair,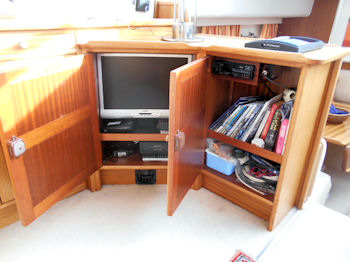 Tv and stereo hiden away..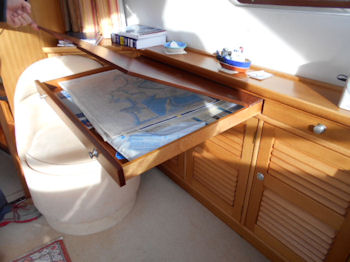 clever slide out chart table and stowage,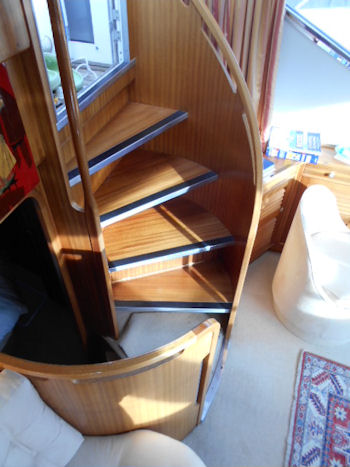 curved Cold moulded timber screen with hand hold cut in, typical good boat building from Broom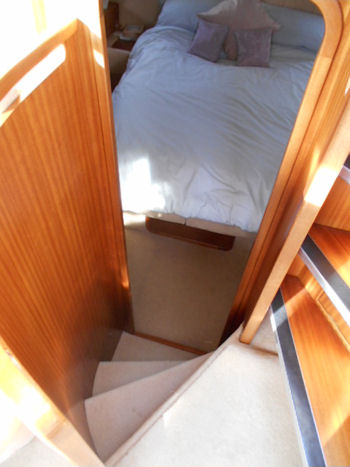 steps to aft cabinand central berth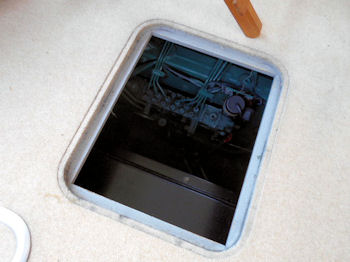 various access point in saloon floor, THE WHOLE FLOOR WILL LIFT under carpets, if required , but for day to day checks dips etc, these hatches do the job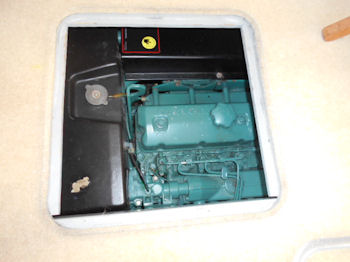 Nice and clean in here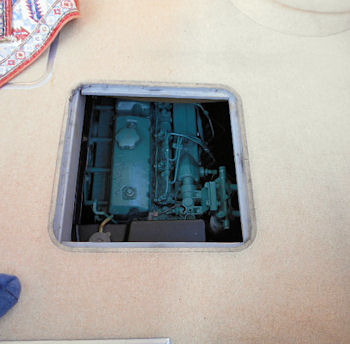 dip and fill points on each engine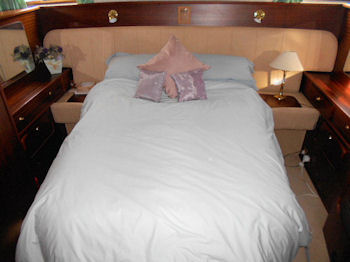 BROOM .... Island aft berth, always good.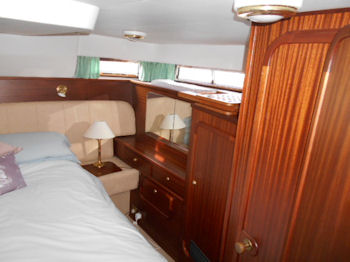 beautiful Mahogany woodwork all round, looking down starboard side aft,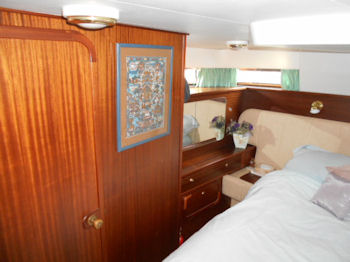 and now down starboard side,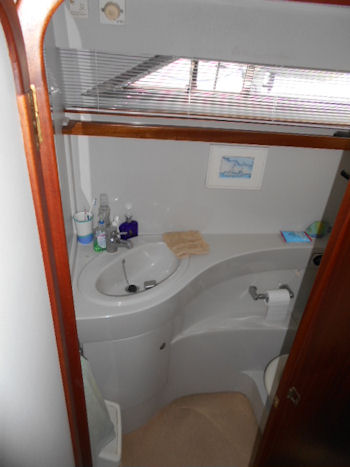 starboard side Heads,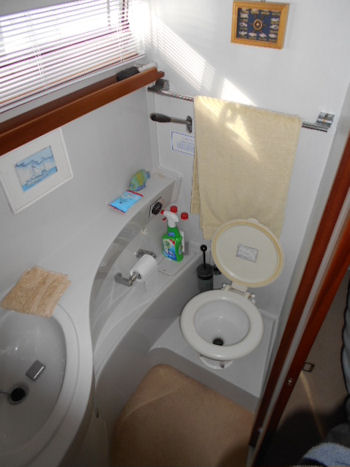 again Vacuflush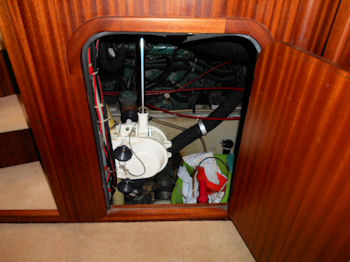 forward cabin bulkhead has engine access locker.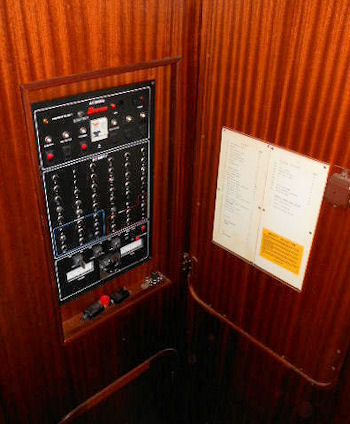 and above domestic electrics.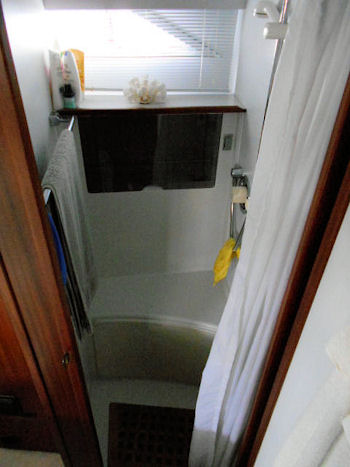 shower cubicle to port, moulded seating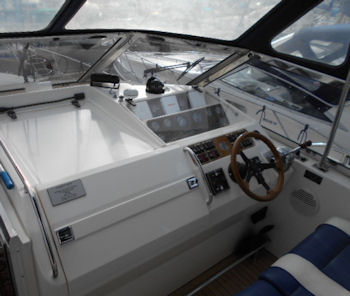 as usual with broom, great main helm station,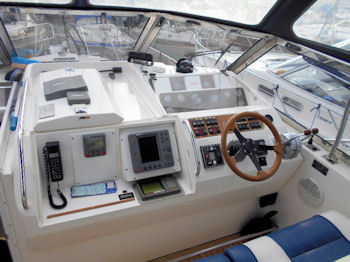 GRP electronics cover removed..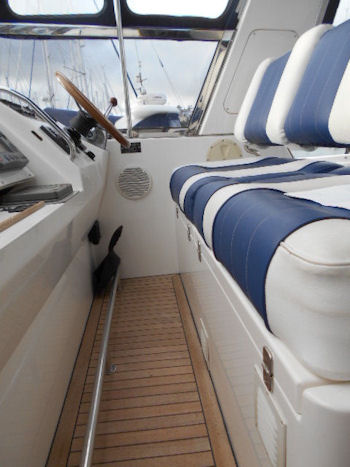 TEAK to deck, note big lockers under seating..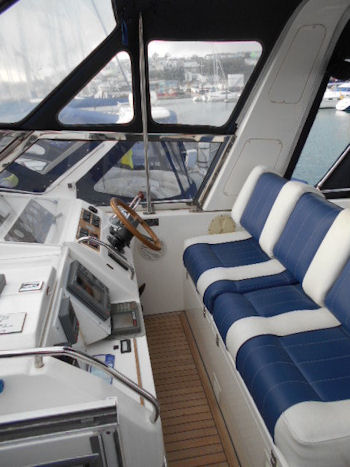 nice seating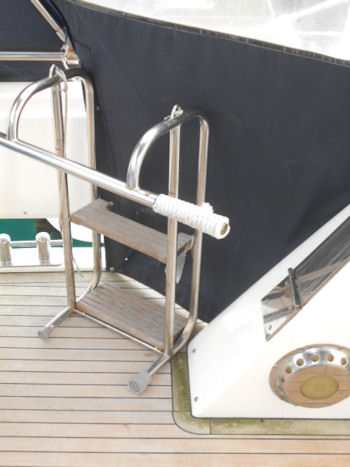 decent drop in side ladder, and note strap hinge right of shot, as arch folds down.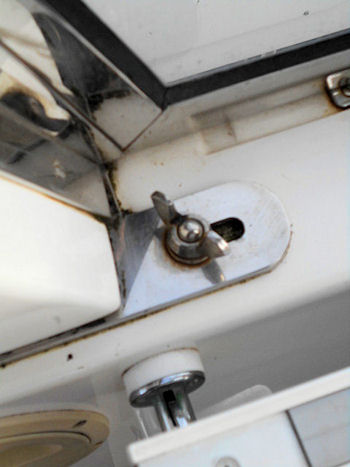 release this wing nut, and arch can drop, and on this boat SO CAN THE SCREENS which will get her air draught down very well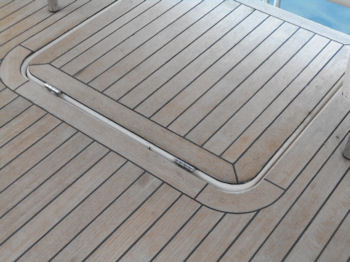 escape hatch up from aft cabin through aft deck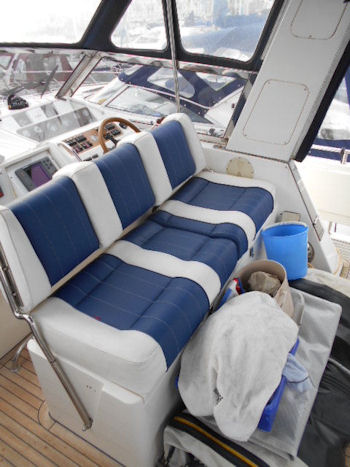 back rest to helm seat flops forward to allow sitting facing aft in harbour, note dinghy etc sat on aft deck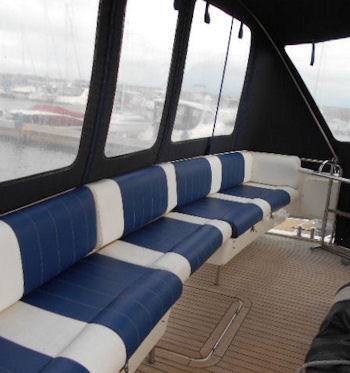 wonderful full width sating across transom, drop in seat at aft access ladder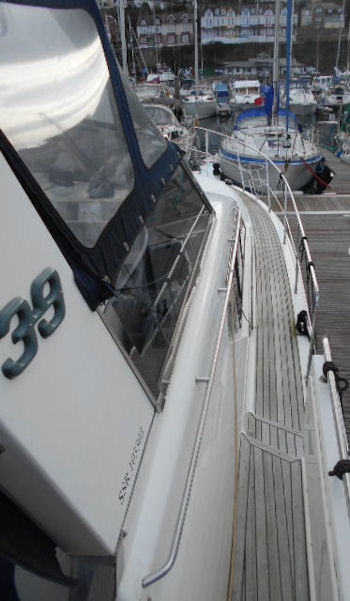 easy side decks, Teak covered, with nice grabrails all round, ( The teak was recently replaced)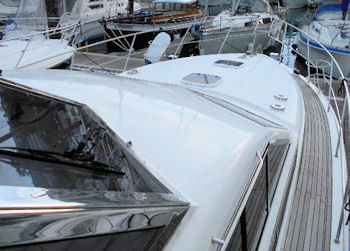 Stainless frames, and good state of shine to Coachroof GRP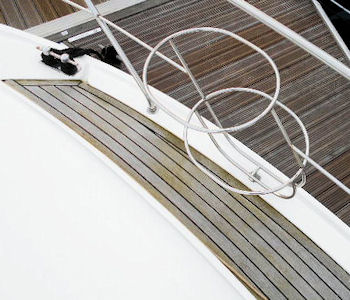 Fender baskets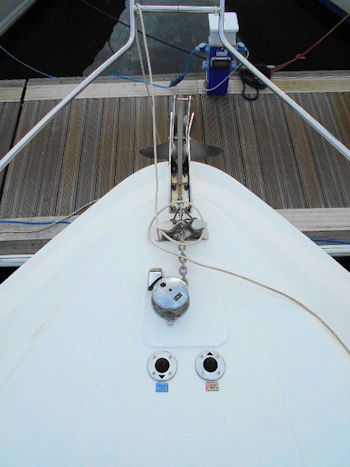 simple anchor arrangment, Bruce, and has helm switches as well as these deck switches, Note snubbing Bollard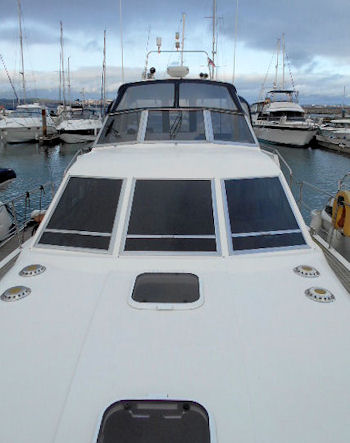 View aft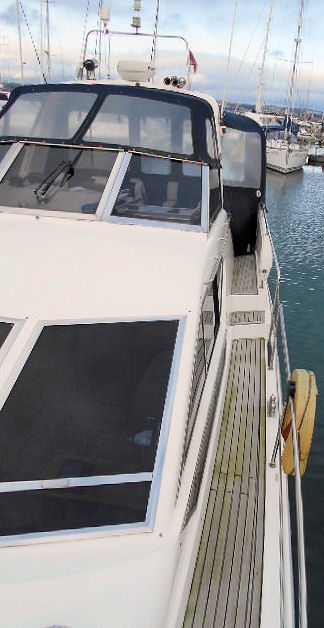 port side deck,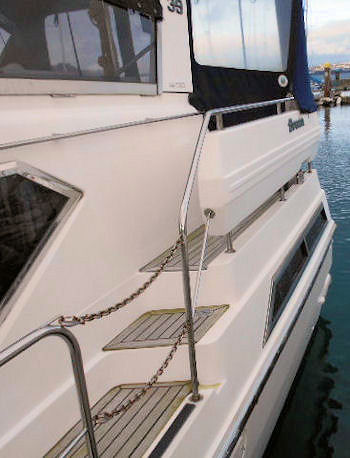 side gates each side, Moulded step in hull each side also.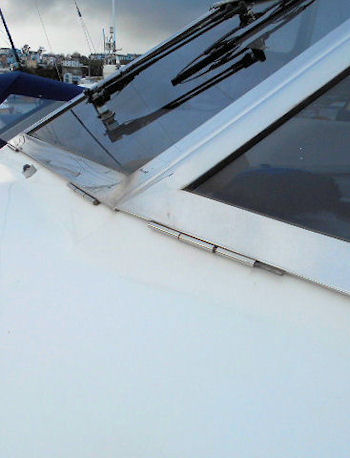 hinge down screens
Makes her air draught low enough to get to some of the prettier bits of smaller French canals I am told.