AIR draught
I am often asked so here it all is!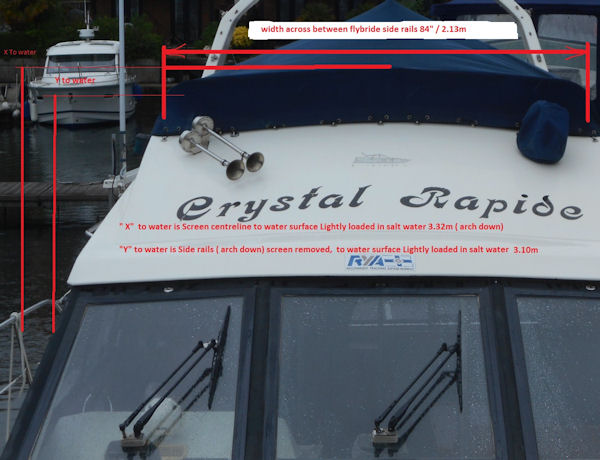 Hope you can make that out, so arch folds down.. easily.. then middle of screen is next highest point at 3.32m above water level when sat lightly loaded in salt water
then if you remove screws ( self tappers from screen 0 you can drop it to 3.10m which is basically the height of the side stainless rails, and those rails are 2.13m apart
critical when looking at tight arched bridges..on canals. you might be able to load the hull down some with water in bilges, but probably only reduce by 2 cm AT MOST..
and she will float slightly lower in fresh water anyway..
(after that you have to take a run up at 20 Knots and make the boat bridge shape!! ! JOKE)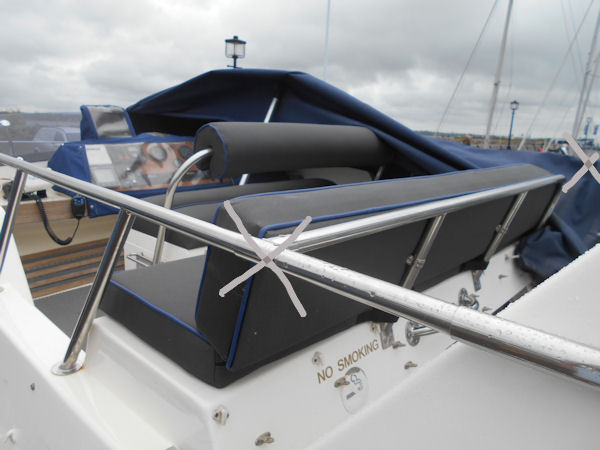 side rails as mentioned above, You can see the seat back and plotter in bracket might have to come off, then these rails are next difficult height to reduce without cutting Stainless work, and very shortly afterwards the GRP dash is only 1 cm or so lower anyway..( on centerline)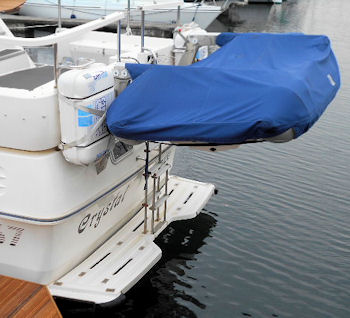 Aft end, note drop down swim ladder and ladder up to aft deck,
Extending arm Whittall davits hold an Avon 2.8 Rib , and a Suzuki 2.5hp (2006) INCLUDED!
You can see the custom cover also included. The liferafts are on a hire contract at £600 including a good "grab bag "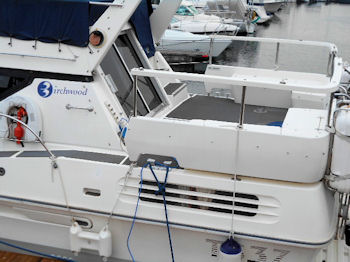 aft deck area, with lifted rails around.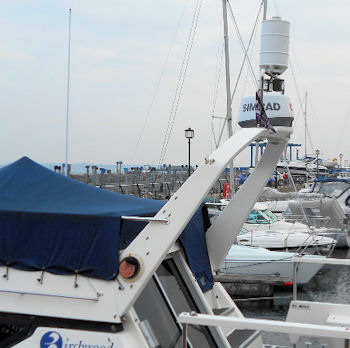 Hinged radar arch drops Air draught down to French Canal requirement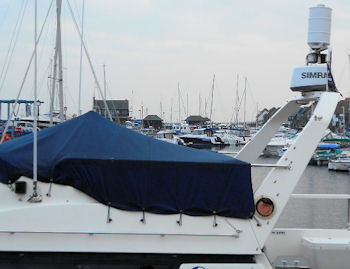 full custom cover , note trowing lines each side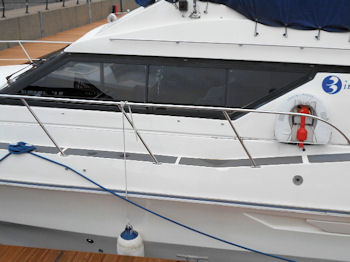 no steps on side deck so walking around the deck is easy,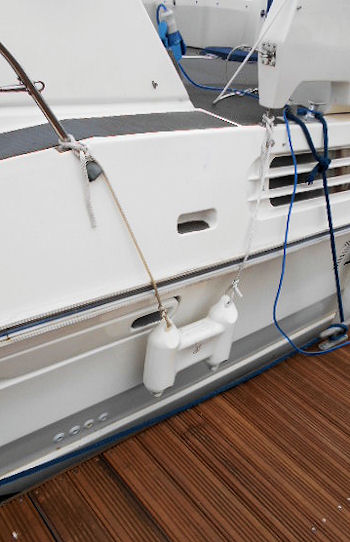 moulded steps in the hull help side boarding either side.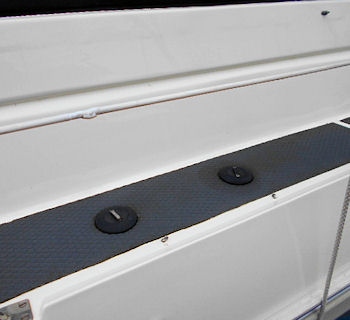 water and fuel fillers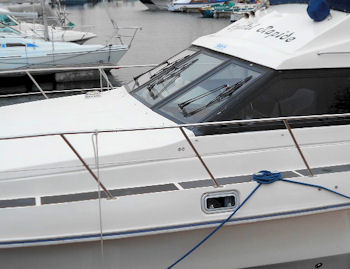 flat glass to screen panels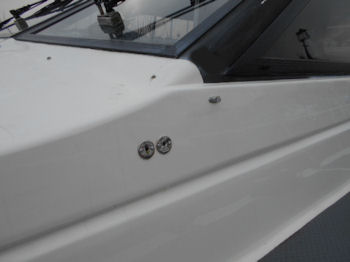 screen gutters inside collect condensation and this has been drained out to the side deck.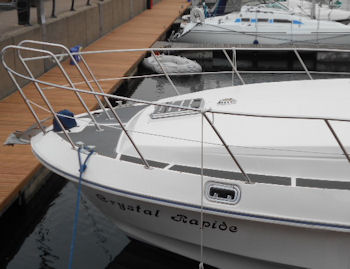 fore deck, note anti slip on hatch top,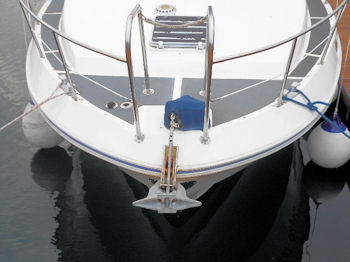 walk through pulpit, and electric windlass and deck switches as well as controls at both helms,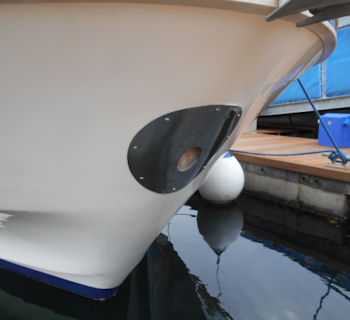 Original design had anchor up through a reinforced tube through stem, but this owner wants to be able to see The anchor arrive at the roller, so the bow roller was fitted
nice rails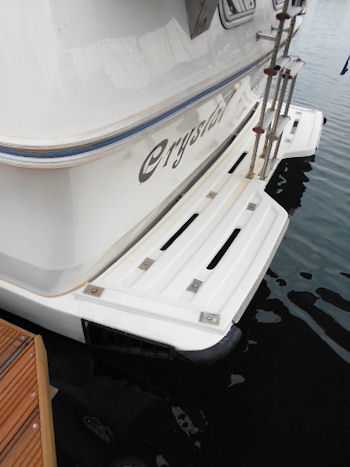 side aft exit to exhausts, this was found to stop or reduce any "Vortexing" of soot around the transom,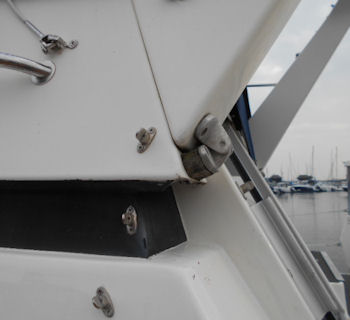 hinges on arch are easy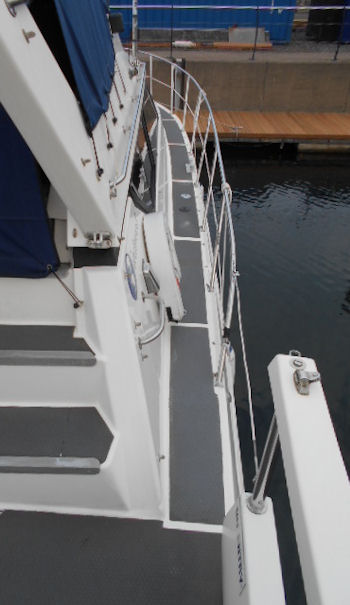 starboard side deck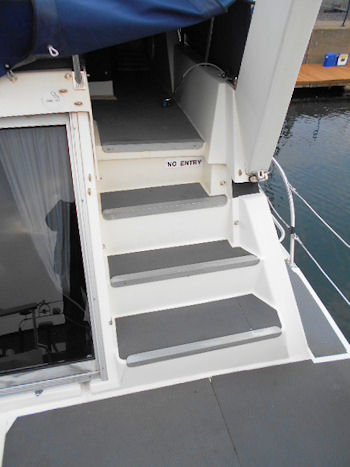 easy steps to flybridge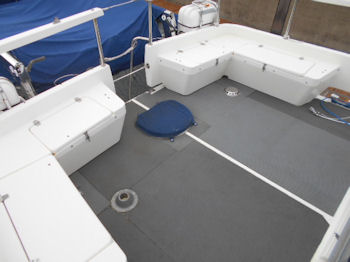 easy aft deck with moulded seat / locker boxes, table base left, and escape hatch aft under canvas cover
and a few on a sunny day when we took covers OFF !!
New upholstery up here looks very smart, and seat bolster bar rolls forward to sit facing aft should you wish,
plenty of room for 5 up here.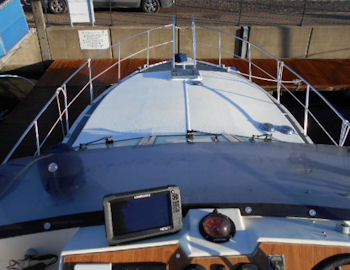 forward facing wind deflector screen was replaced a few year back.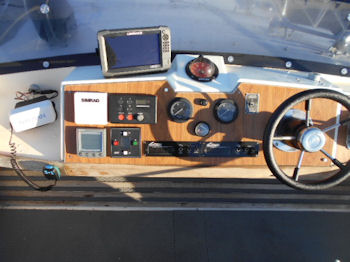 dash has been replaced in its time,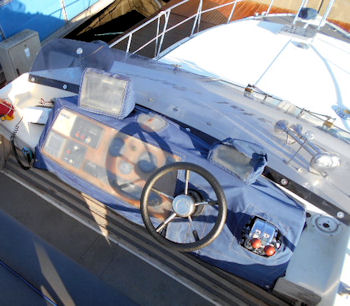 neat instrument cover sits over dash and under the main covers.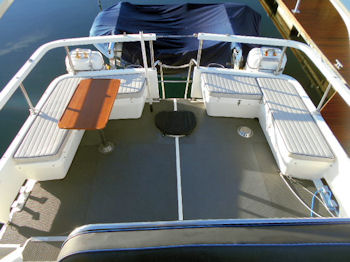 NEW vinyls aft as well. and note table in place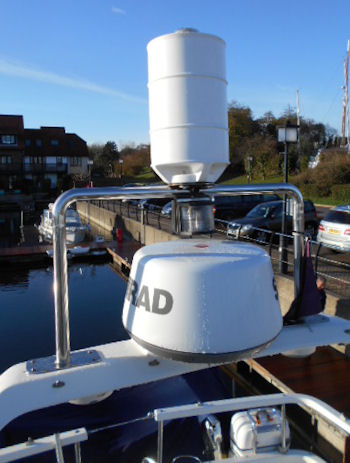 recent Digital Simrad radar, and Blipper radar reflector atop recent solid s/s hoop.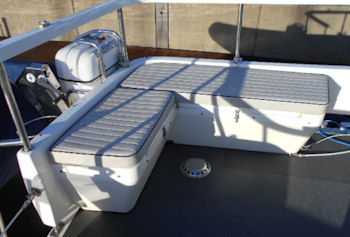 port seats with lockers under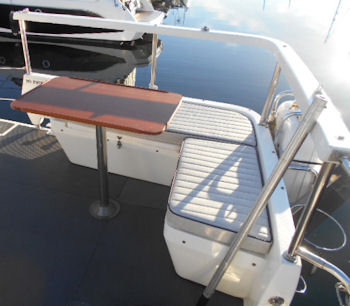 same to starboard , also houses Gas bottles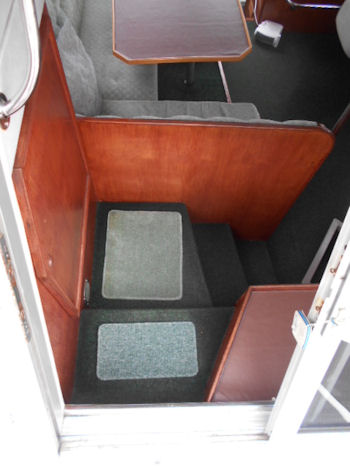 sliding cabin door in to port,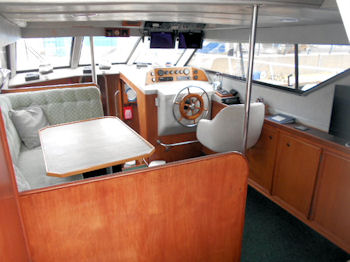 view forward across saloon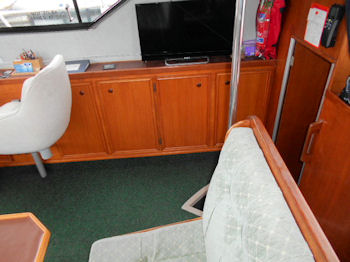 Large recent flat screen TV included, on top of drinks cabinet,
Note helm seat on pole mounting can be rasied or lowered and turned to face in to saloon, in harbour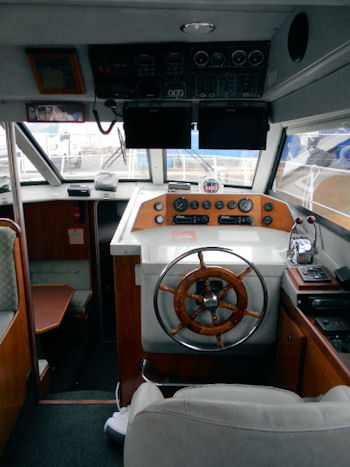 easy dash and helm, recent demisters under screen, nice simple Morse control levers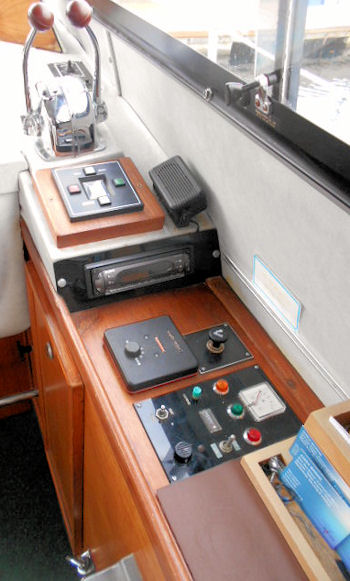 Generator is a 3.5 KW Faryman stereo and ahead Trim tab controls,
Note the Auto Pilot is not currently working.. so may or may not be worth fixing, This owner
just does noit need an auto pilot, so he has never bothered to look at fixing it, it all exists, and will be left , but currently U/S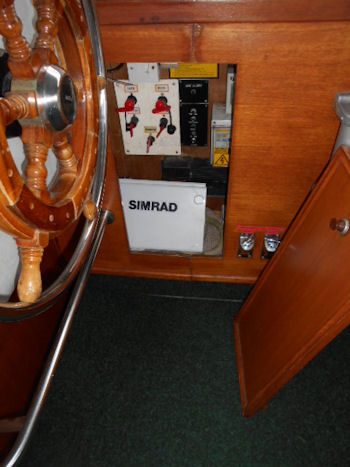 starboard side ahead of Helm, side access locker to battery and mains controls and MRC box, also note remote shut off's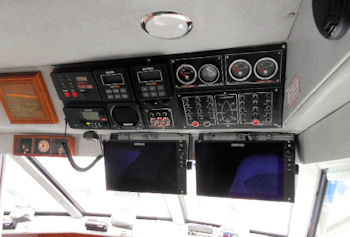 ONE of these two Simrad screens will not be staying, but one screen will do all jobs..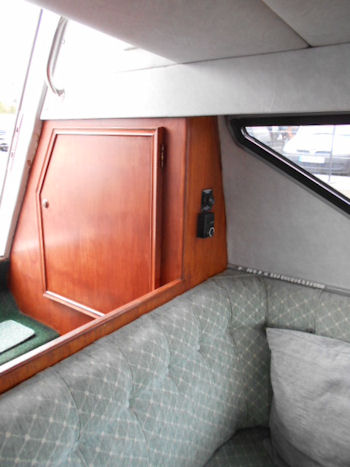 wet locker door /cupboard just inside cabin door, and heater controls ahead, ( Mikuni 3.5KW diesel fired)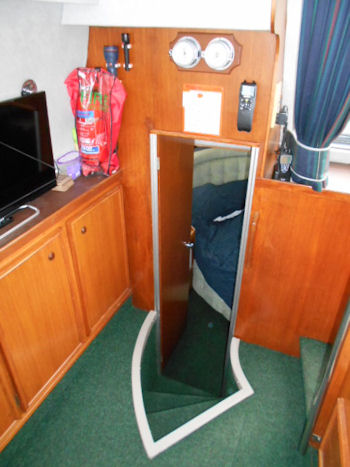 aft of saloon, steps down to aft cabin, most extras seen in these photos will be included, hand held VHF,s etc,, Fire extinguisers are all up to date !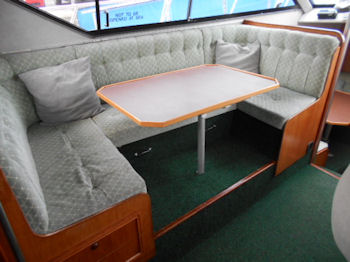 port saloon dinette, this converts to a berth by simply removing table leg, and pulling section out from under side deck, infill cushion is under the step flap.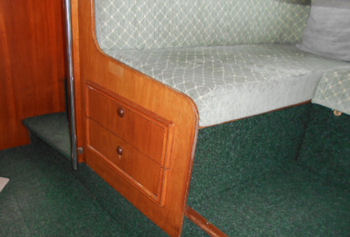 handy set of drawers aft of sette,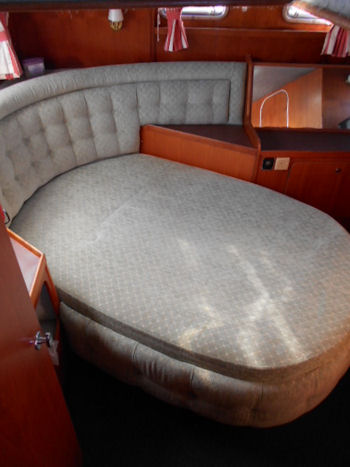 aft cabin double is offset to starboard aft corner, water tank beneath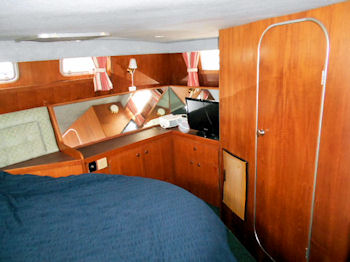 another falt screen 19" Tv on dressing unit, (included) and closed door to wc/shower note, radiator heated panel (pale tan colour)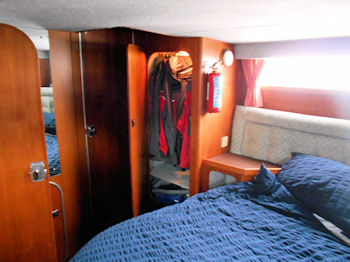 looking forward to starboard at entry steps, the wardrobe, self lit, and you can just see the aft engineroom entry door left of shotunder the mirror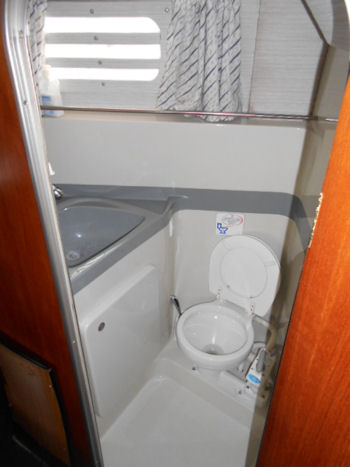 Manual Heads , pull out tap as shower head. all GRP lining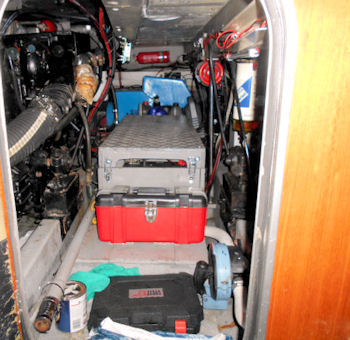 clean tidy engineroom,
the whole floor above lifts out in sections , but often bits can be done and checked under way through this door which is a super ability.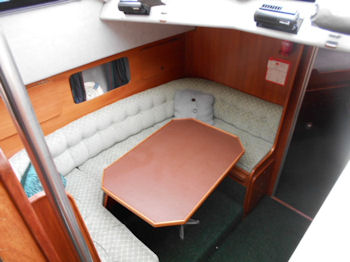 lower dinette, set to port, table has a cover on it, Teak beneath, and this drops and infills to a berth,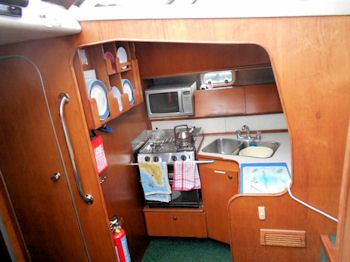 Galley set to starboard gas cooker ( neptune 3000 2 burner with oven and grill) , and microwave oven, neat plate rack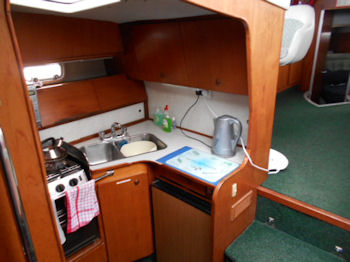 fridge under counter,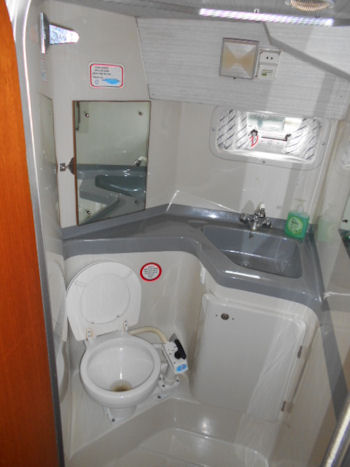 Day heads set to starboard, also a shower head, etc ( new inlet pipes in 2018)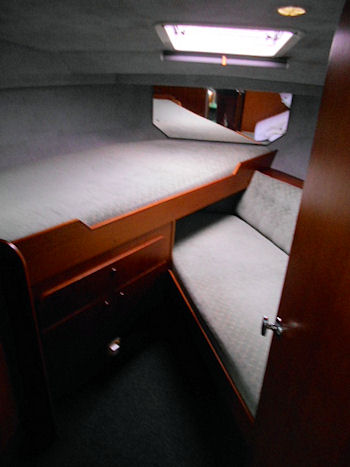 full adult size cross over berths forward, Clever,, and good size. achor chain locker access behind the mirror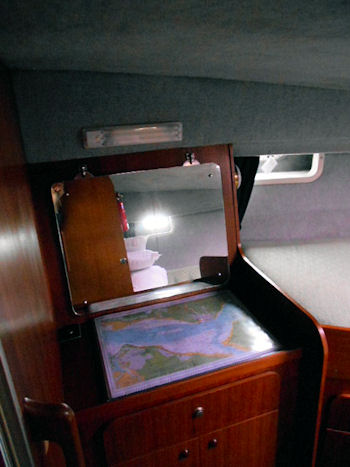 dressing unit to port, with drop down mirror locker behind,
all in all a very well presented boat, and ready to USE .. and GO places, well equipped and well maintained.
Currently MCA CODED 12+2 Cat 2..