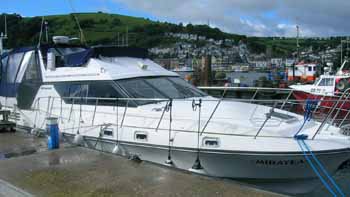 along side Mid river Pontoon, well fendered!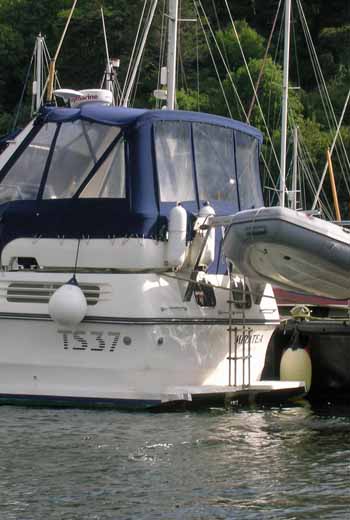 The aft canopy is a wonderful useful space and the canopy is in Decent Order,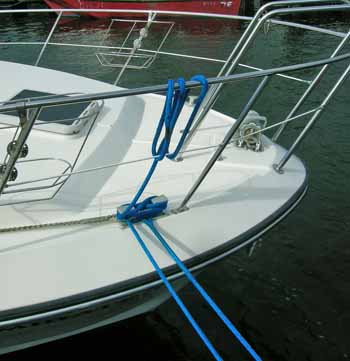 electric windlass, with remotes at fly as well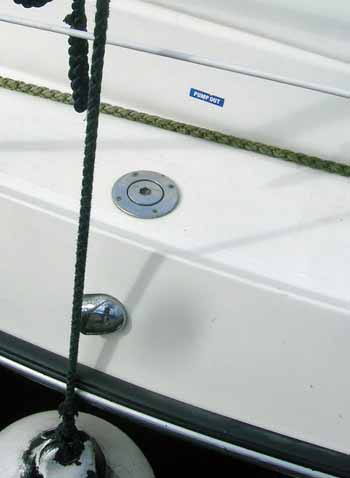 deck pump oit to forward holding tank,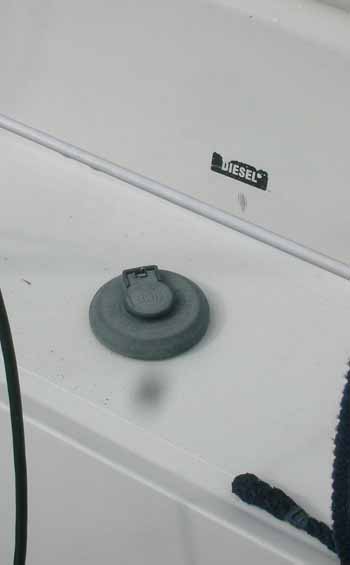 Lockable fuel filler caps,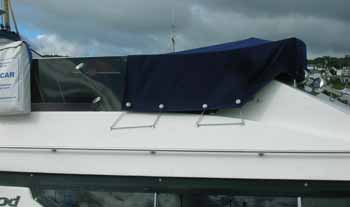 NEW flybridge cover to return screen and over helm and flybridge seats,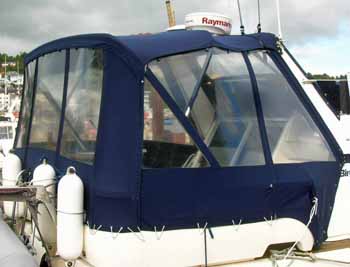 Nice to see the supporting frame has material sleeves over the S/S tubes, to prevent Sweating rust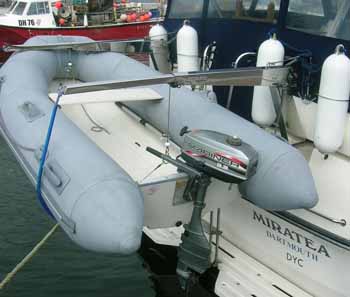 Simpson Davits, with avon 2.8 rib and little 3.3 marine
GRP radar arch is easy to fold aft,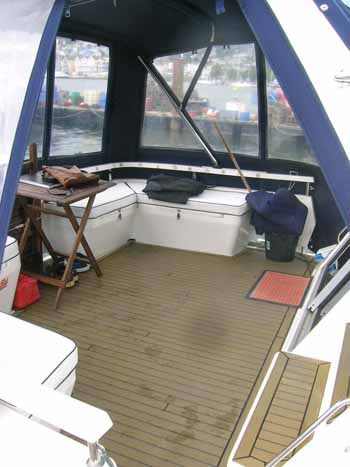 aft deck area has Synthetic teak, huge socail space.. locker boxes under seating, steps right of shot to fly bridge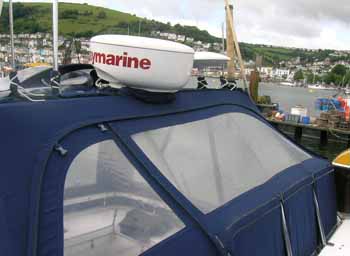 forward fact of aft canopy to fly bridge, very neat, and note NEW Digital scanner 4KW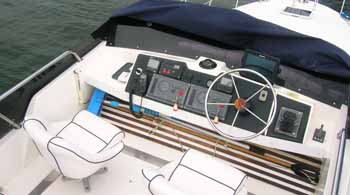 upper dash, New Ray marine screen ahead of wheel, ( Connects by Blue tooth to Ipad at lower ( Ipad not included!)
Foredeck, These older boats did not have groovy Curved screens, just flat toughened Glass, BUT easy to look through, and wipe with wipers, etc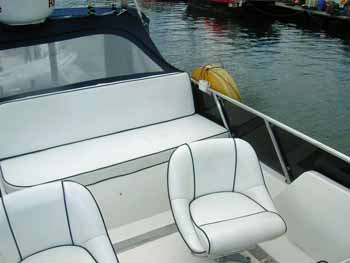 seating behind helm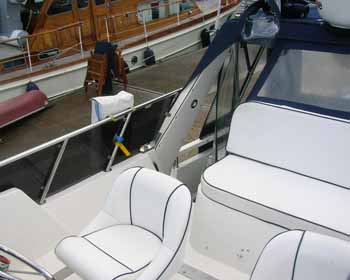 step access to starboard side,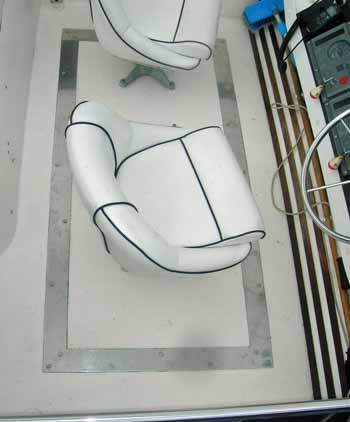 Full engine removal hatch was installed when engine were fitted in 2001, but is a usefull ability now.
aft canopy extends out to outer grp combings around deck aft,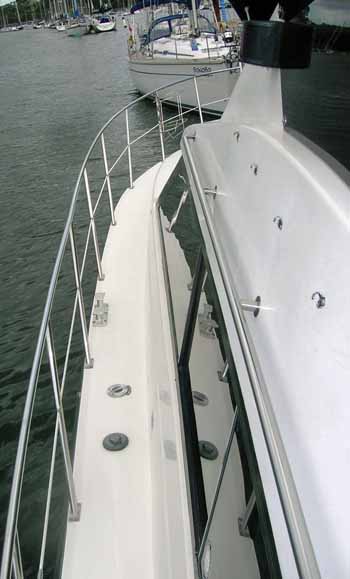 Port side deck, good shoulder width, and high grab rails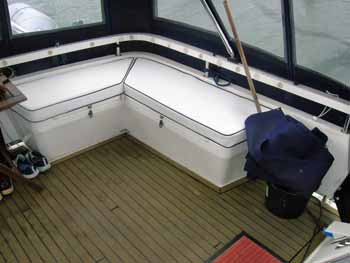 aft upolstery is not NEw but is not original either, good order.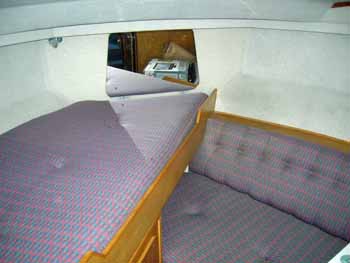 so from forward , great cross over berths,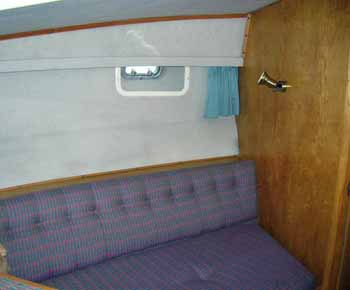 head of starboard berth, opening ports as well as Hatch over,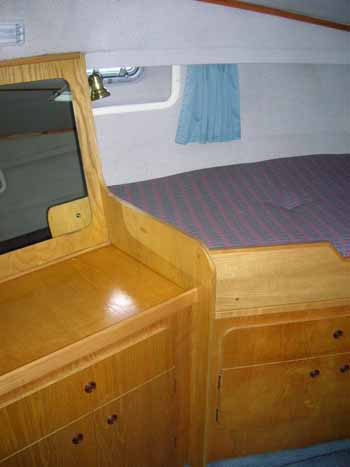 port side, Nice lockers, and vanity unit.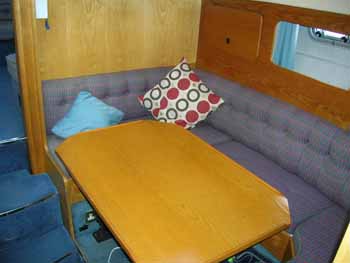 Dinette set to port, ( Looking aft) The table drops and infills)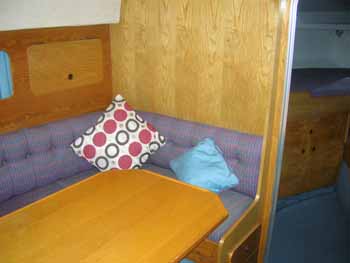 Looking forward,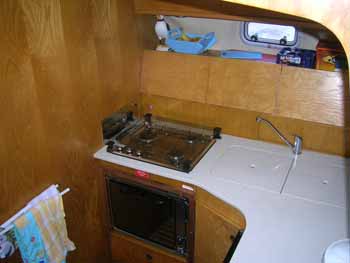 Galley set to starboard, ALL new really, New cooker, new oven, new worktops, ( Corian Type) new twin sinks, new taps etc etc. new splashback, and new layout better than original.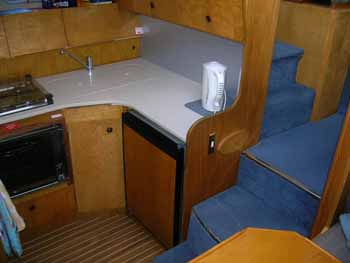 aft end of galley, steps to saloon,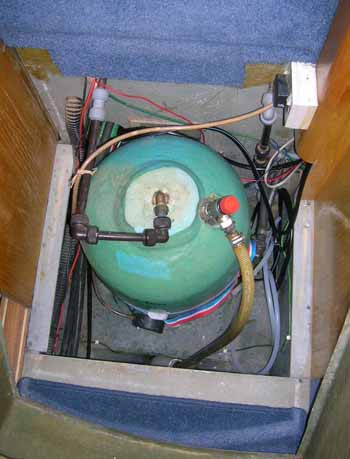 with Hotwater tank under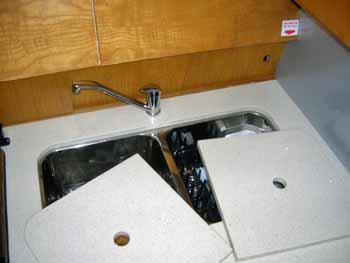 infills for both sinks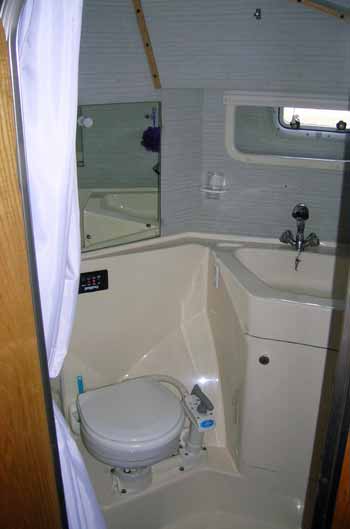 forward heads set to starboard, manula toilet, "Y" valve choice for waste to sea or Tank.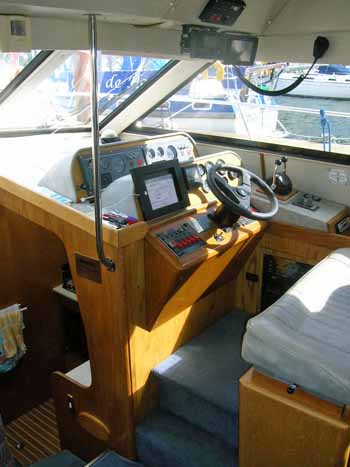 Lower helm set to starboard, bench seat, opening windows, sunblinds on screens, Good kit fitted, Note Electronic controls were fitted with new engines in 2001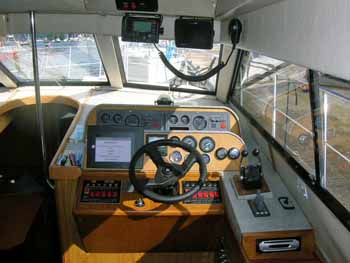 better view of dash layout, note bow and stern thruster joy sticks bottom right. above stereo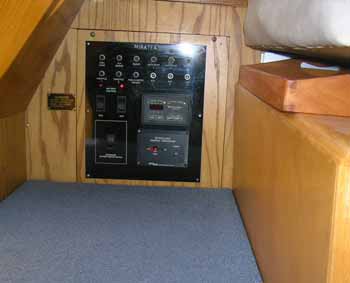 locla controls to domestic breakers, etc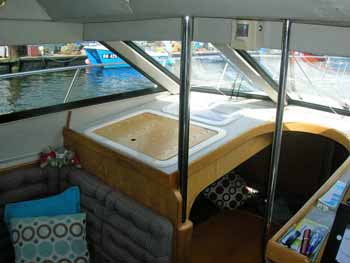 looking across to port, chart area, with Translucent panels ahead to add light forward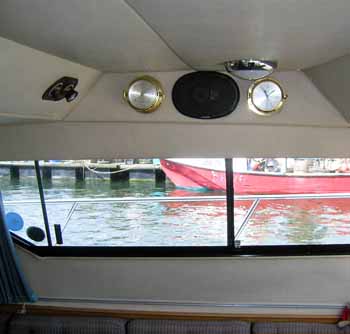 opening windows to both sides, Good speaker for stereo..!
recent LED cabin lights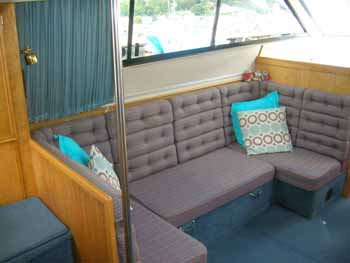 saloon has simple pull out section to make berth,
aft looking at cabin entry steps, and heater controls right,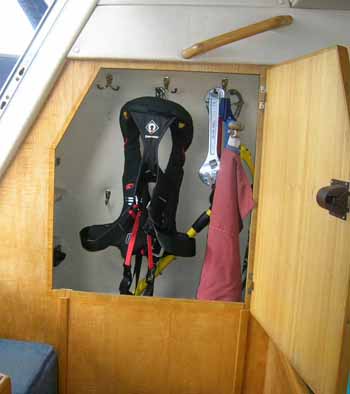 wet locker at top of steps, note the Spanner is for quick drop of radar arch if required..( Two dome nuts only)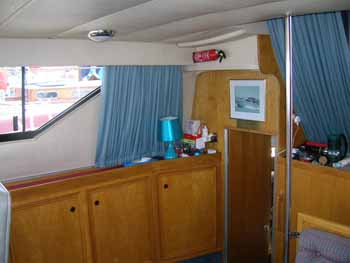 starboard side of saloon has big lockers, drinks locker, etc, steps down to aft cabin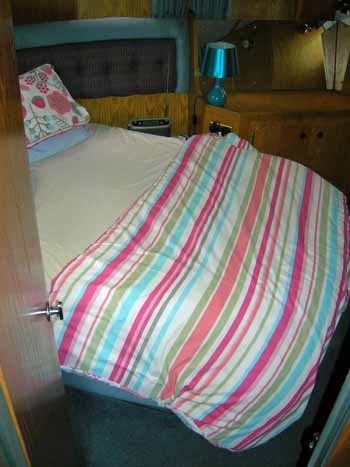 offset double berth , with head at aft starboard corner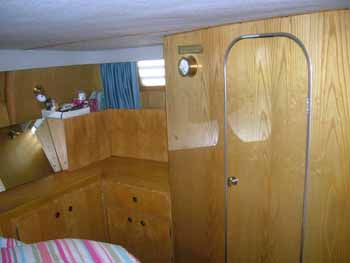 port side, Closed door is heads/shower, vanity and stowage aft
manual aft heads, also with Holding tank.
cabin entry door, ( shut) with hanging locker right,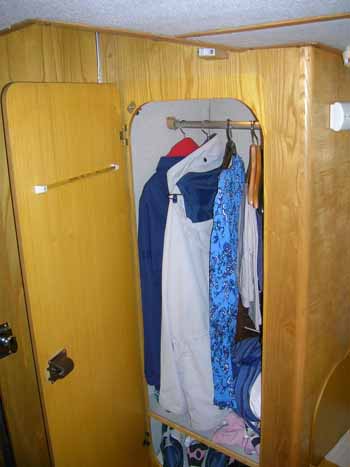 Good size,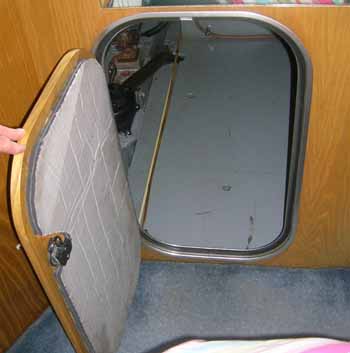 Popular feature always was on these boats, Engineromm access aft as well as full floor removal above. so running check under way or oils, Seacocks, Fuel fliters easy.
View forward, batteries in grey box, note two red thruster button right, generator forward in cacoon,
manula bilge pump, easy access to seacocks, and sgaft exits,
starboard side, same, Note cables gearshifts, run from electronic actuators boxes further forward then on to Electronic controls, NOT electronic Boxes, so if it all goes wrong,,, You can push manually the gearboxes into gear..comfort.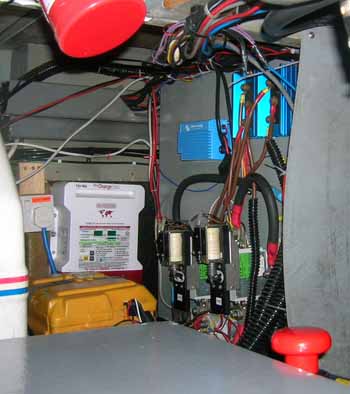 new smart/intelligent charger fitted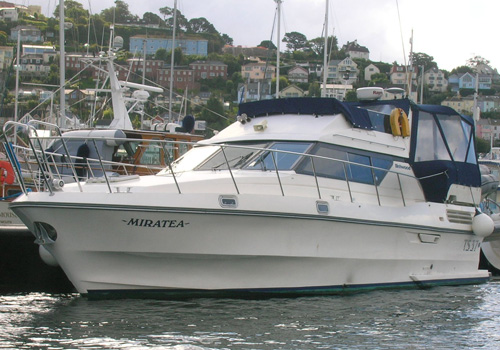 All In all a Lot of Boat, in Good order, with excllent spec, and Complete History..
(When I think what new Boats £79,000 would by you its amazing!)