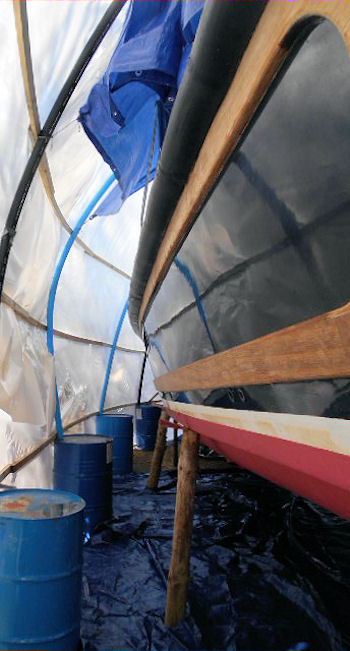 In the tent february 2019, timber work all being stripped back to bare,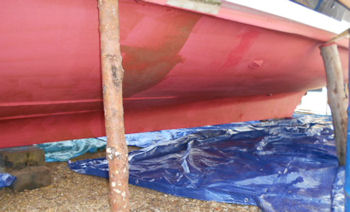 nice deep long keel, allowing her to take the ground should you wish, ( against a wall, )
it would be easy to fit a steel shoe to her keel and beaching legs if you wished to take the ground often,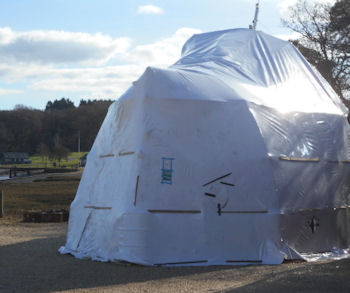 tented , just before she came out,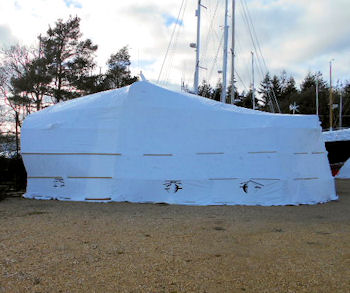 Its a great way of ensuring DECENT work, dry, warm and no wind, no matter what its like outside,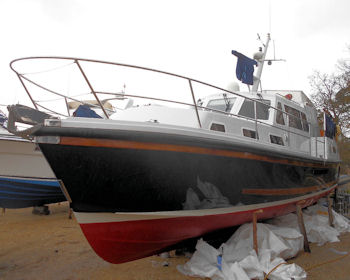 and here she is just as the plastic was all cut away, you can see the reflection on the topsides,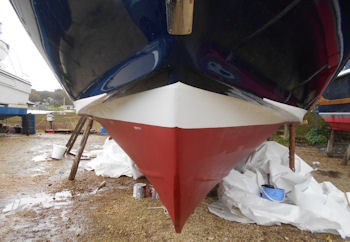 Nice soft landings with fine entry and note the good size return on the knuckle that helps throw water down as she lands
Note also the S/S stem plate adds protection from a swinging anchor, as well as any pontoon "Nudges"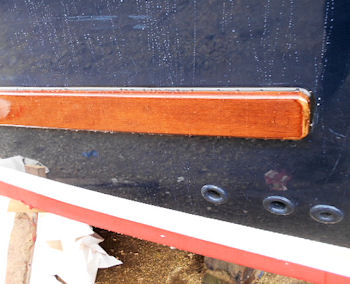 Pouring with rain the day I took these, but it does illustrate the wax on the hull, and the gleaming Varnish,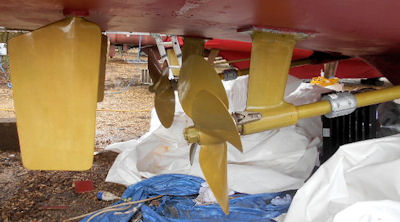 all the stern gear was beautifully cleaned down, prepared, and coated with a multi layer system "propspeed"
HIGHLY expensive ( and done for the owner by a specialist company) but does offer excellent resistance to growth of any sort.
Note also the NEW Rope cutters, on each shaft, and new shaft anodes fitted ( NEW CUTLASS BEARINGS 2018)
"Propspeed" to the trim tabs ( twin ram, decent powerful specification,) and again new anodes all round,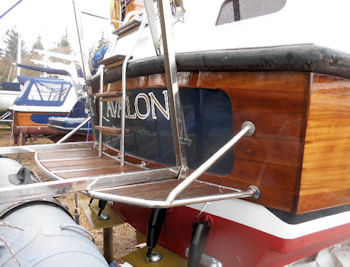 aft end Swimming Platform was removed, now refitted, together with the clever S/S dinghy hinge frame arrangement.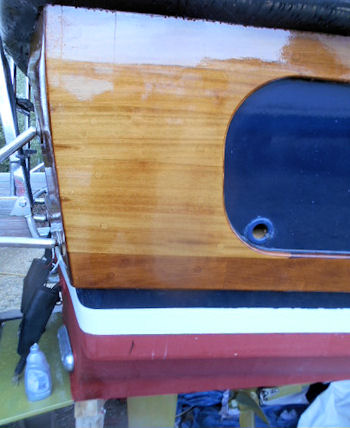 Varnish should be good for easy maintainence each year now for a while,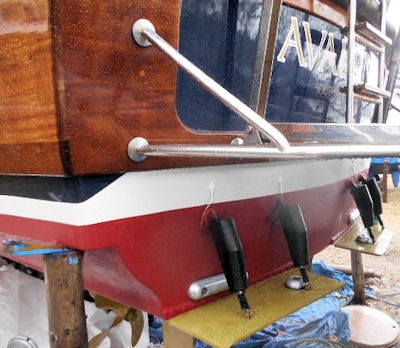 port side view, Note the chine Knuckle on the hull, as well as a lower chine down by the trim tab edge, these help offer better lateral
stability and resistance to roll , the faster the boat is moving forward , the better ( "stiffer") she is..
back afloat, looking every bit the purposeful able seaboat .
Twin decent Bow roller ( hanging on a swinging mooring is often such a difficult thing without a second roller.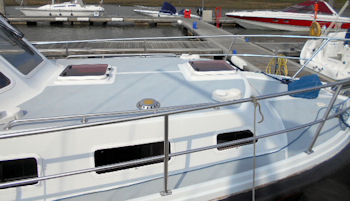 foredeck area, , note twin solid S/S rails. also note there are two extra vents forward currently still with winter blanks fitted,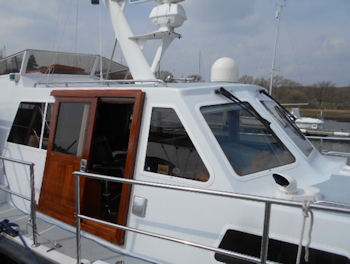 here you can see the vents with the top cowls in place which clip in to the lower durade system ( idea being they can take a green wave and not leak), also note cabin entry door starboard side, ( also re varnished) Sat TV dome on roof, The three forward screens at Tripple glazed! Low centre deck gates each side to board.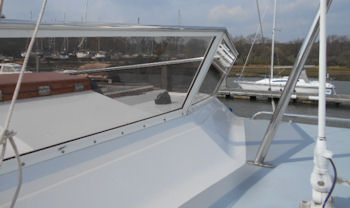 nice solid return screen to upper helm, with Stainless frame,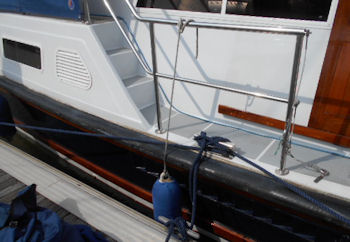 steps up from side deck to aft,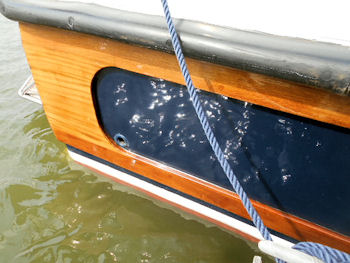 More smart Varnish on her Teak Badging, and the reflection shows her topsides are rather good.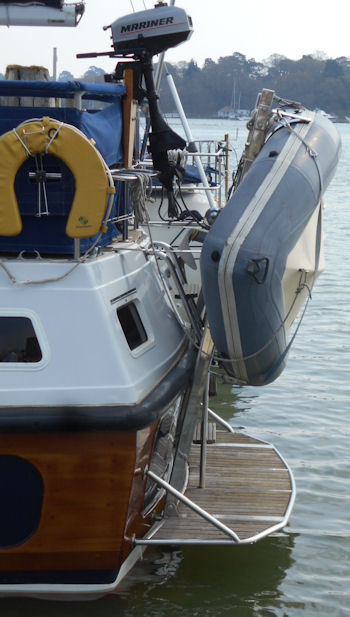 dinghy in travel position, this brings the weight further forward on the transom, and will not allow the dinghy to fill with water,
to launch you release the two hinged arms and slowly lower them, the dinghy clears the aft platform , great simple strong system, similar to the single arm system Cooney developed with Simpsons, and Broom boats. and underway the dinghy is well away from the water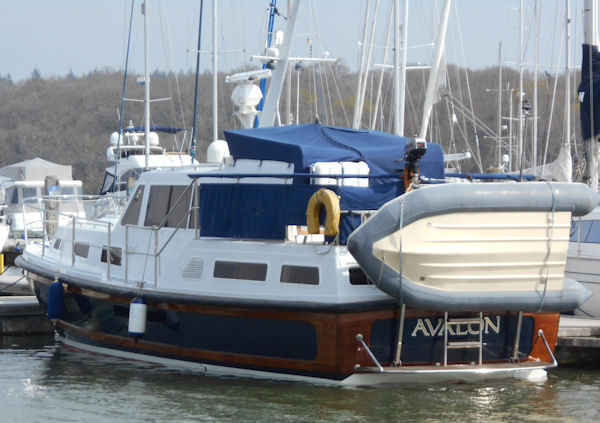 aft quarter shot, with covers in place.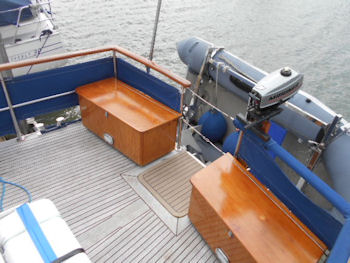 aft deck stowage boxess, ( these have covers I have removed, hatch by aft gate is escape from aft cabin,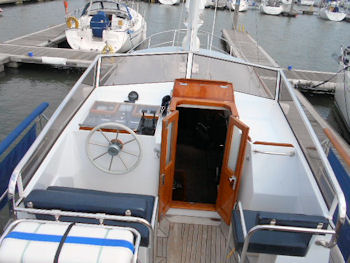 upper helm, raft left in cradle,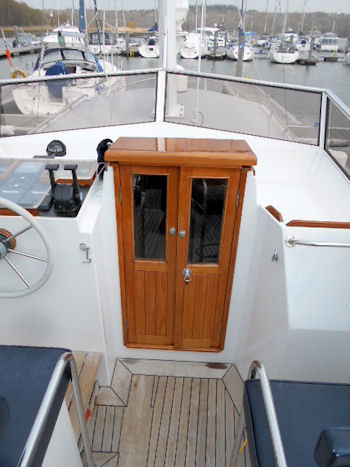 handsom double cabin access doors , nice teak work all round decks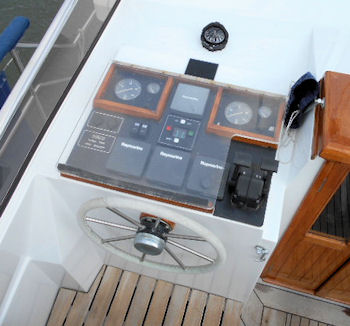 dash under a solid perpsex lid, note new Ray marine instruments, electronic microm commander controls,
There is no Radar/ Plotter "Screen" up here , but the new Axion System below has Bluetooth ability, so the owner actually uses an Ipad
up here if he wants a plotter up here,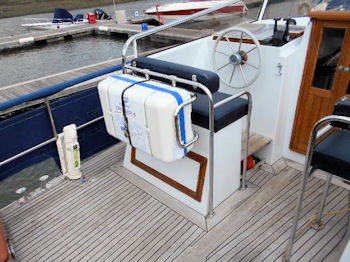 nice solid rails, locker under each seat, these are all under canvas at her berth,
Starboard side deck, covers removed from the Hand rail capping,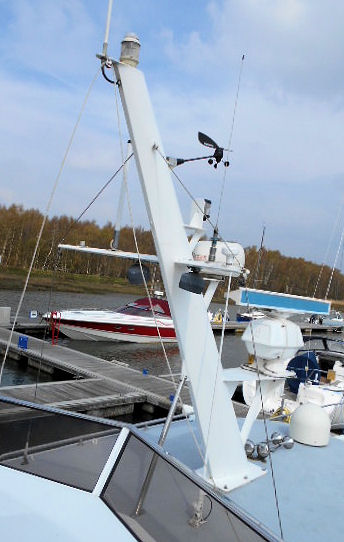 Nice solid Mast, yes at present this is fixed.. but if a lower air draught was sought , there are several ways you could alter this current arrangement. either hinging the top half of this mast, or fitting the Base in a track perhaps that could slide forward?
On a nelson 45 we sold recently, they just made the release bolts easy, and would lay the whole lot on its side on the upper coachroof
in some chocks, to allow them to pootle down the french rivers , as really he though he was quite happy to do without the radar etc.. all the time he was inland.. which is a fair point.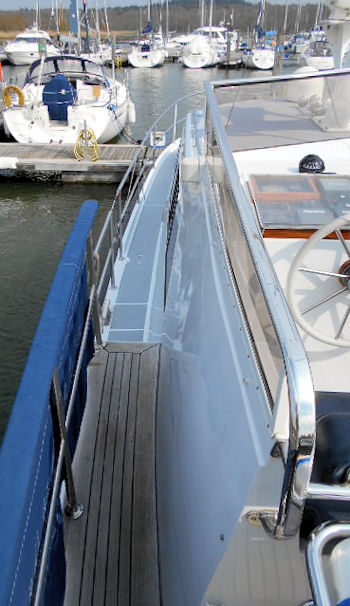 port side deck, showing capping covers on..note the solid s/s edge to that screen.,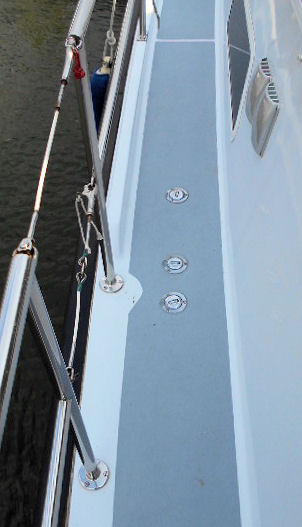 deck fillers and waste pump out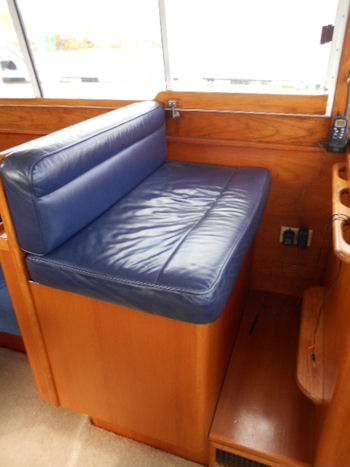 so inside , port side copilot bench seat, with extra fridge under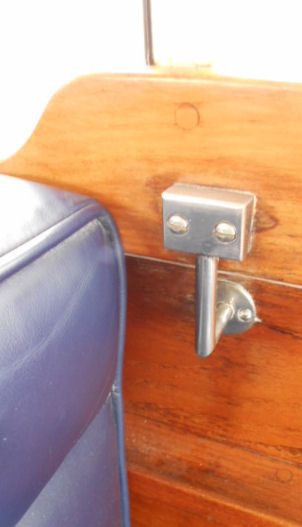 small detail but worth a mention, solid Stainless window frame gutter drains ..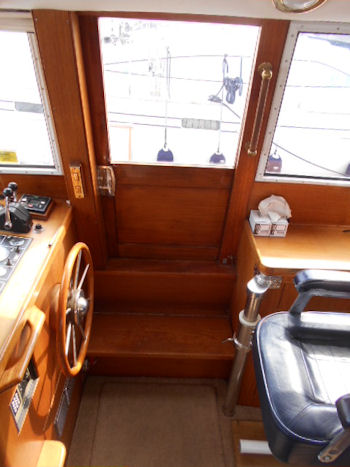 inside of starboard side door, helm seat folds out of the way aft,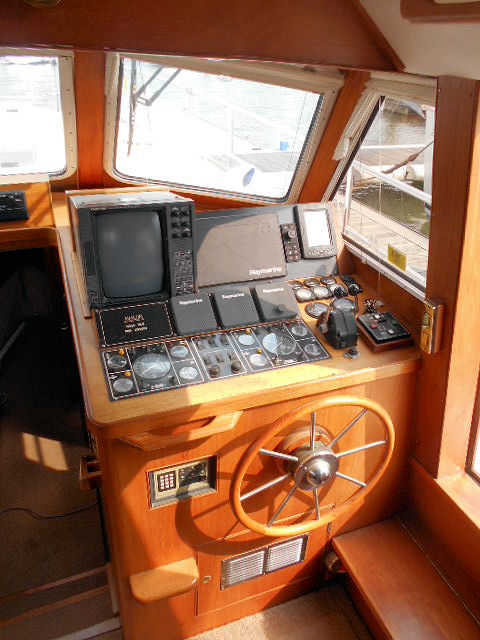 Great array of kit, and good angles to read screens,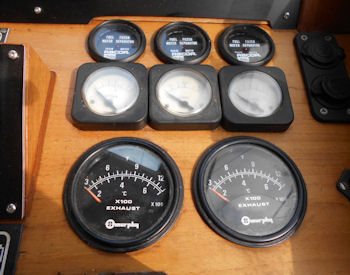 Exhaust temperature alarms, Fuel filter pressure guages.. wonderful stuff, and shows the kind of boat she is,
She has a third filter system with change overs so you can change from a dirty filter (underway) should you need
and that allows you to get home and then sort it.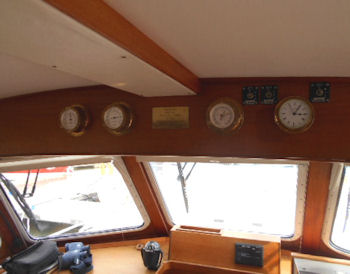 Overhead, neat and tidy,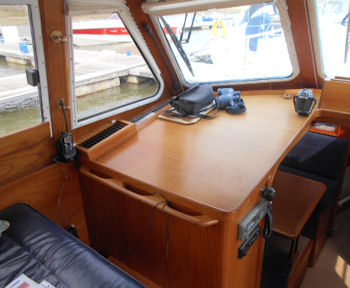 Nice co-pilot chart area, note air con outlet left of table,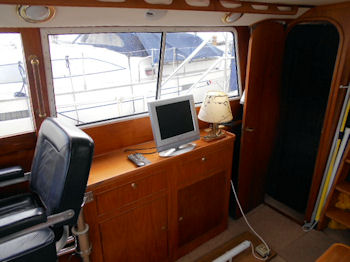 saloon starboard side,
and the saloon dinette to port, looking aft, Blue smart Alcantara upholstery.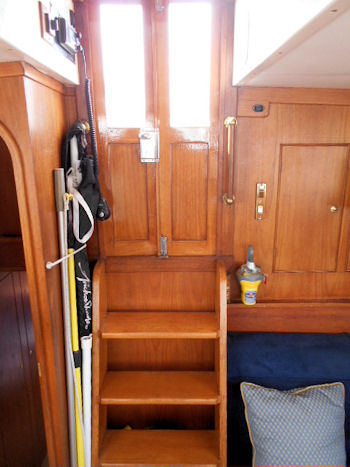 steps up to aft deck and upper helm station, note second VHF left,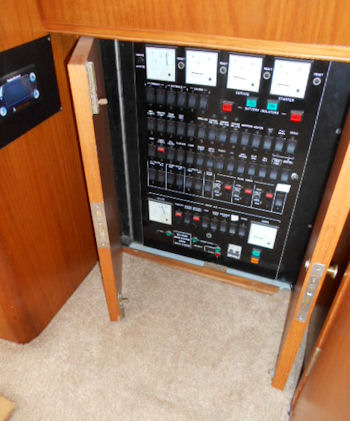 domestic panel on starboard side aft end of saloon, and left of shot the control pannel for the brand new 8 KVA generator ( fitted by Fisher Panda )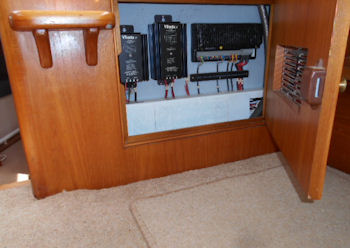 under the lower helm, vented access to eletronics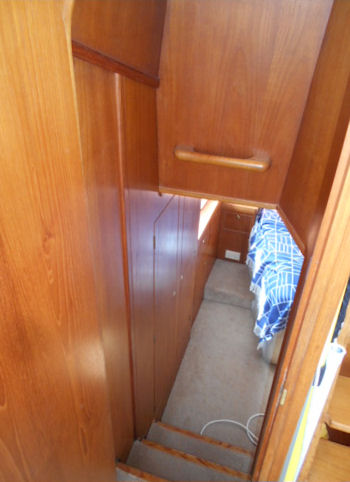 passage down to aft cabin, set on starboard side,
lovely cabin, and the larger than usual windows give welcome light in here, deck hatch two opening ports aft,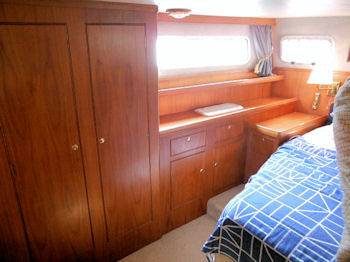 nice big hanging lockers set to starboard,
and they have natural light from window in hull,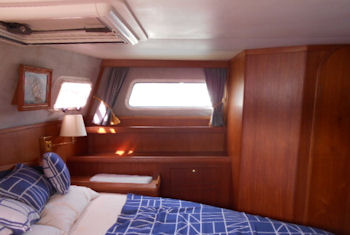 port side aft,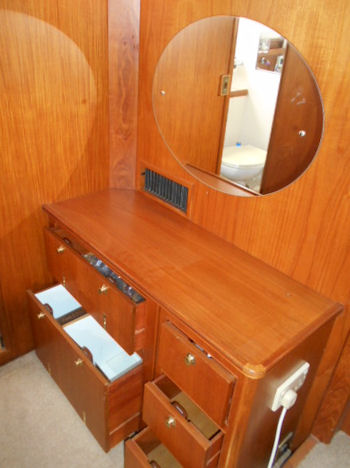 forward bulkhead with mirror, and rather nice unit below, (Note aircon outlet grill)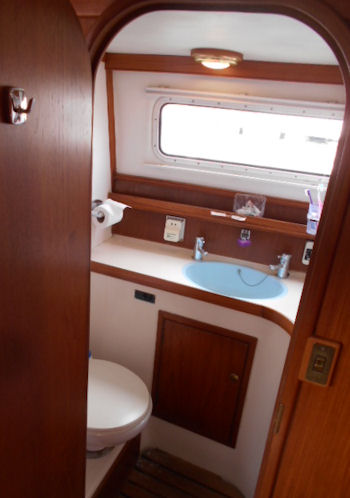 aft heads /shower en-suite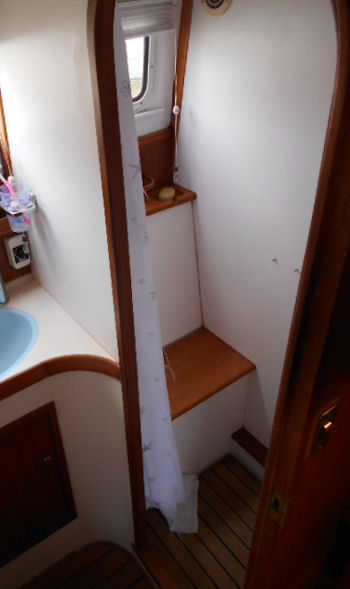 and shower cubicle forward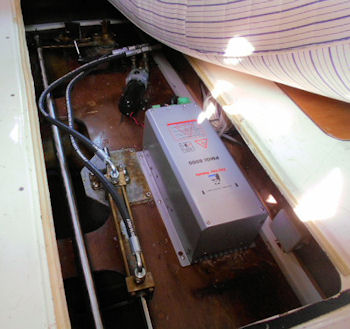 easy access to steering kit under head of bed, (Grey box is generator Power management unit)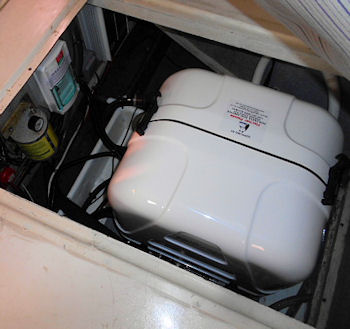 NEW 2018 Fisher panda 8 KW in a cacoon, under aft bed,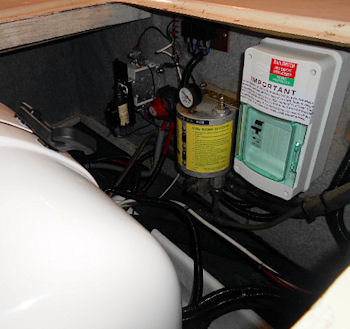 also access to steering hydraulics pressure accumulator,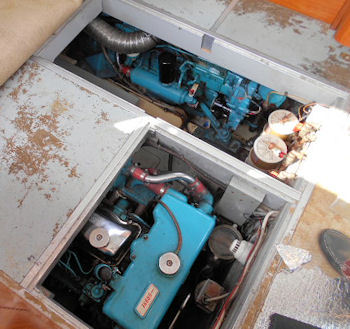 back up in saloon, carpets rolled back and some hatches removed,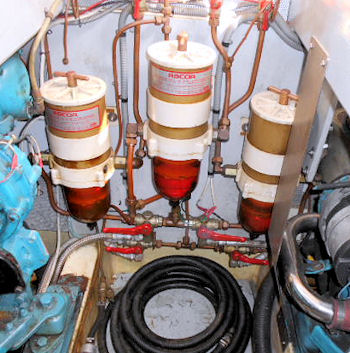 Nice big fuel filter system with a "spare" third filter, and tap system so you can swap over from either engine supply should you need.
Also the black pipe is an Engine drive fast bilge pump, ( in addition to usual electric and manual pumps,)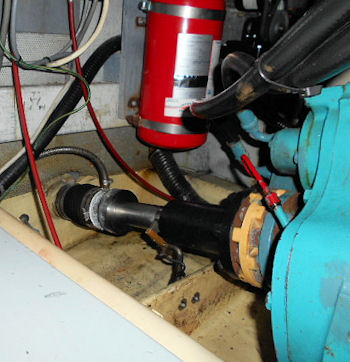 water lubricated shaft seals, note sea fire extinguisher system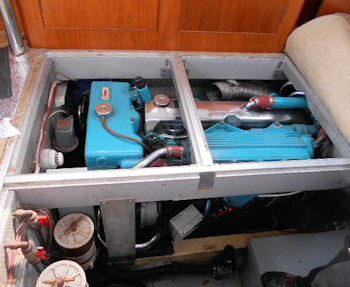 starboard engine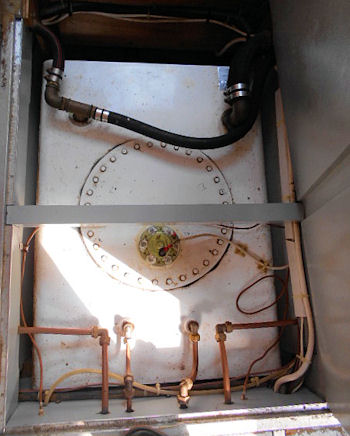 central fuel tank Top, note nice big inspection hatch should it ever need a clean out,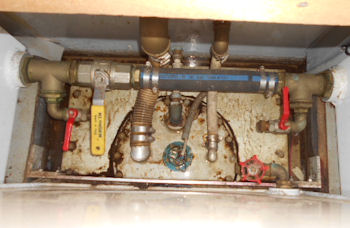 forward tank, ( just ahead of previous tank photo, before you drop down steps to dinette area)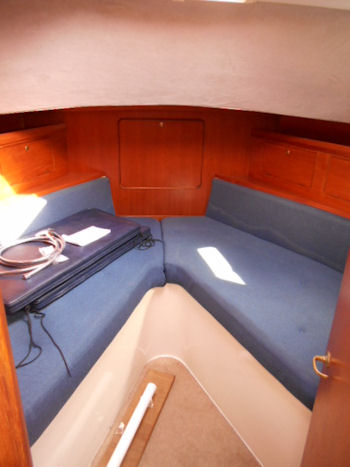 starting from forward, Two nice big single berths, with under deck lockers and access to chain locker)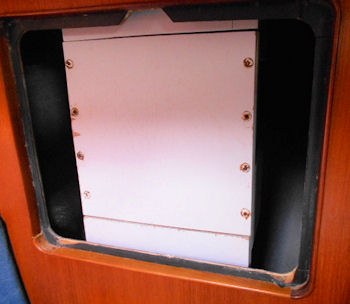 Second panel, to remove which helps stop damp in here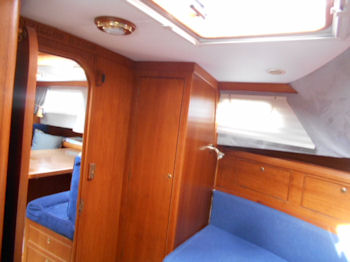 looking across to port side head of berth, Hanging locker, hatch over with black out and insect screens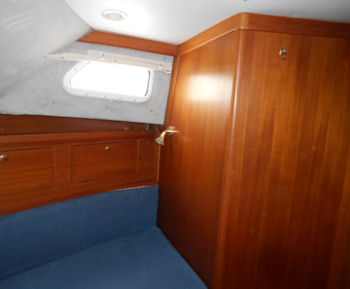 starboard side, fold up window blinds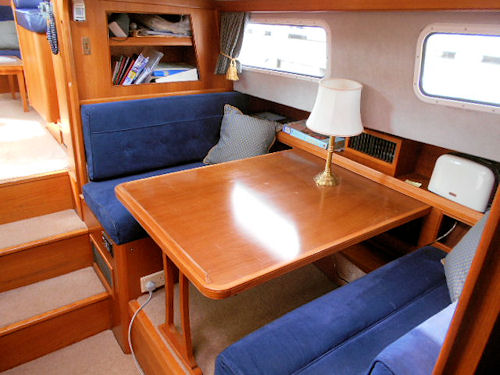 dinette set to port, (Photo looking aft), note aircon outlet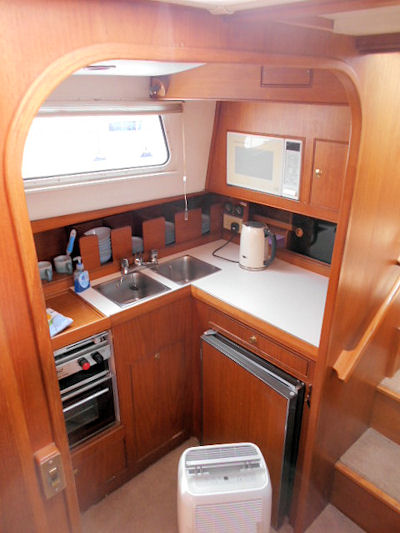 Galley set to starboard, microwave in at high level,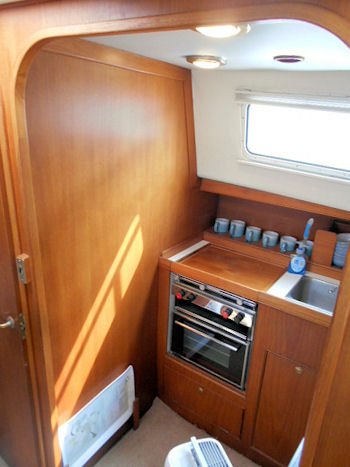 Gas hob, grill and oven,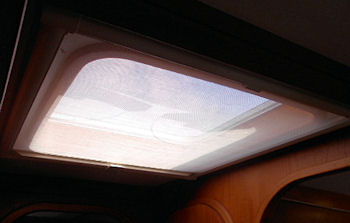 second deck hatch with insect blind drawn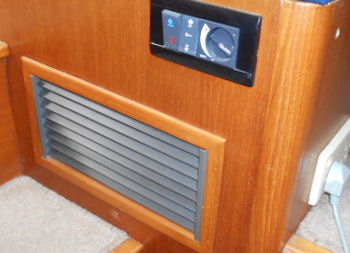 heating/ aircon controls under aft seat in dinette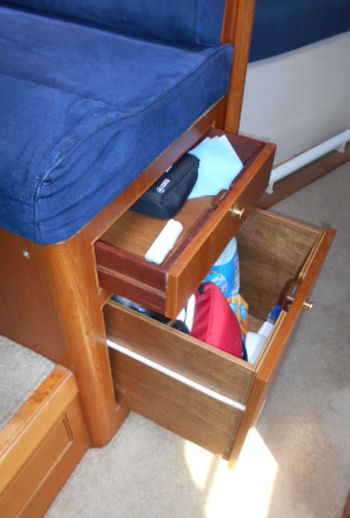 drawers under front seat base in dinette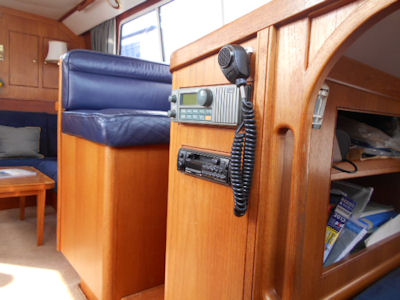 nice SECOND VHF radio and stereo to port,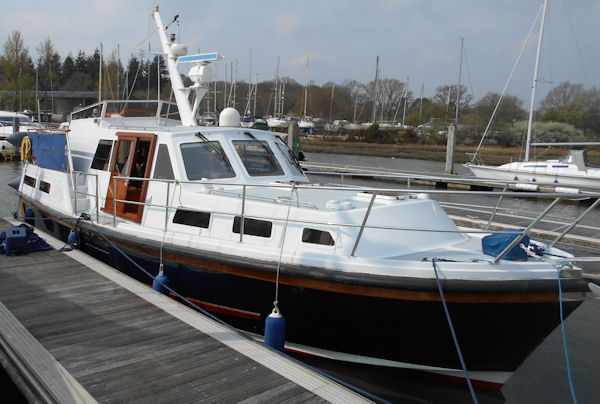 Covers all removed, very smart
Recent works carried out by the owner and a few bits of note..as listed below.