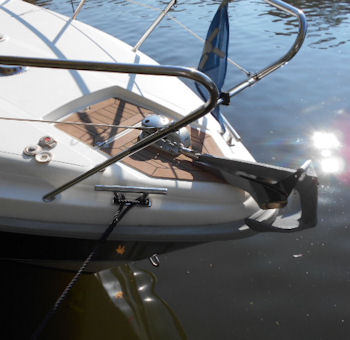 Bruce anchor, electric windlass with dash remotes as well as deck switches..new teak deck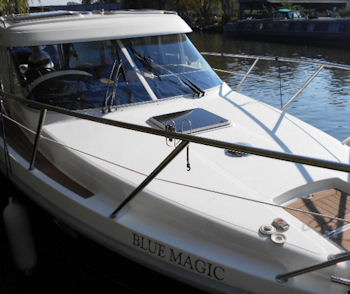 decent twin arm wipers, teak side decks, ( new synthetic teak)

Opening top hatches, NOTE radar arch was removed to drop air draught right down for Ely.. that is all fitted back now.. but nice to know it is easy, incase you wish to explore some of the Upper reaches,,,, or small French canals.. etc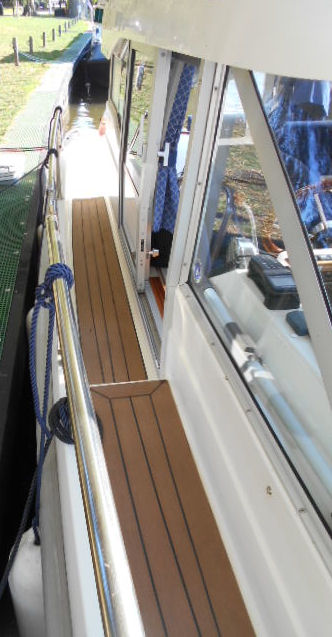 starboard side door, It is these side doors that are so very popular,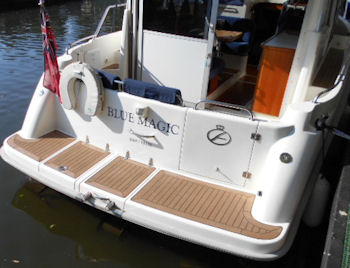 aft end, good big transom gate to starboard, drop out swim ladder
New stern thruster,, very worth while as it does not have to deal with exhaust pods etc, like a Nimbus..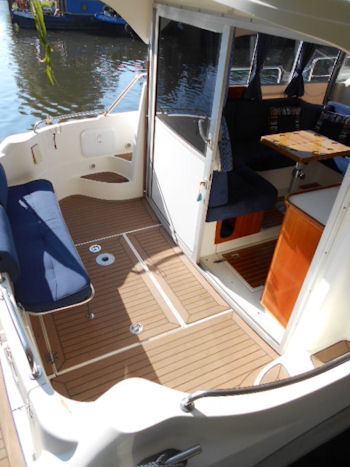 nice big easy cockpit, with folding aft seat option with cushion,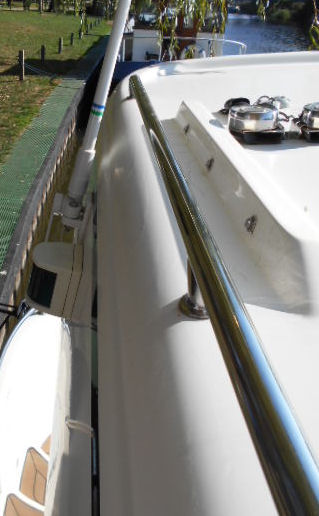 three arch attachment points on moulding upstand,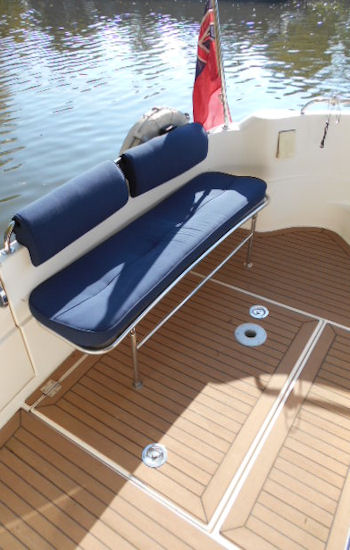 big hatch to aft store and steering kit etc..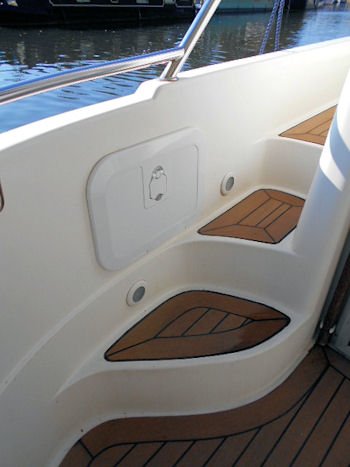 led step lights, to easy side deck access steps, Access lockers fitted both sides 2018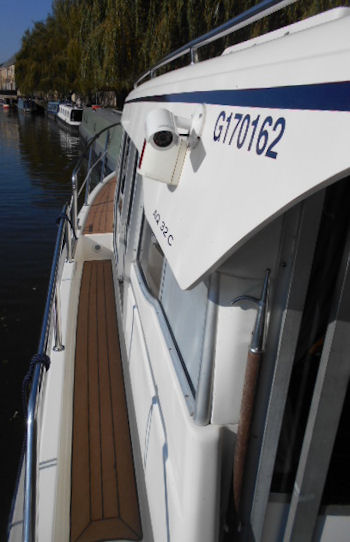 aft facing camera..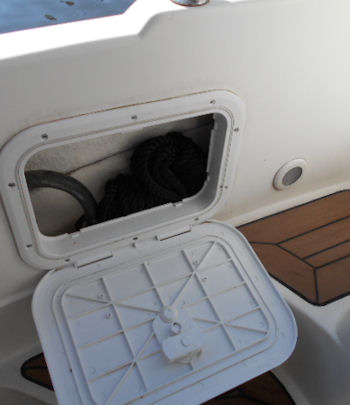 access to vent fittings, and single warp storage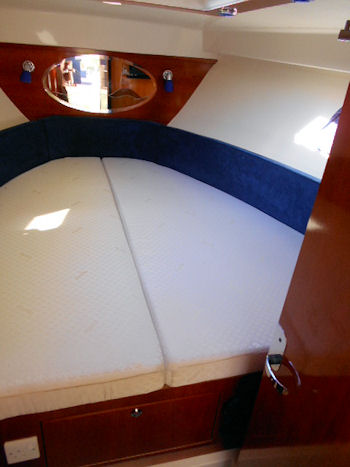 forward , big double with foam topper, reading lights, hatch over, lockers under etc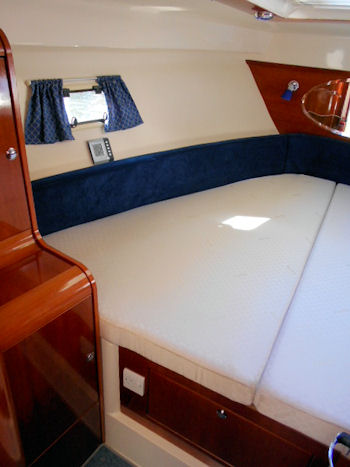 two opening ports, hanging locker port,,240v point,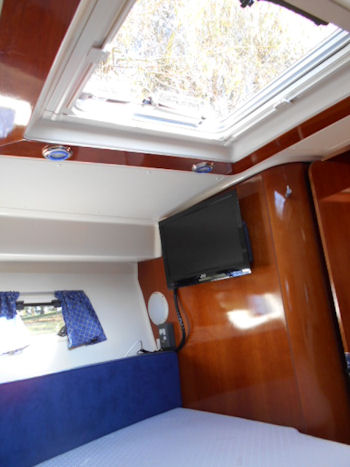 recent JVC Flat tv with DVD player, and recent antenna, booster etc. note hatch has black out and insect blind built in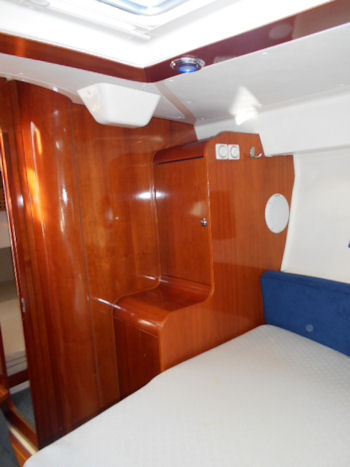 beautiful woodwork,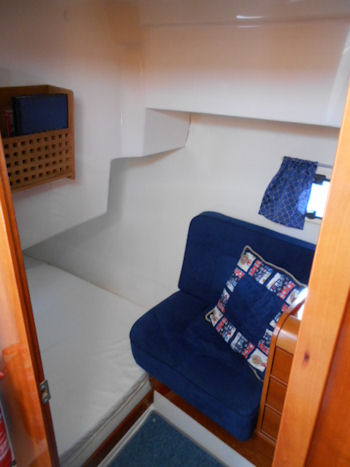 port side cabin, dressing seat aft of hanging lockers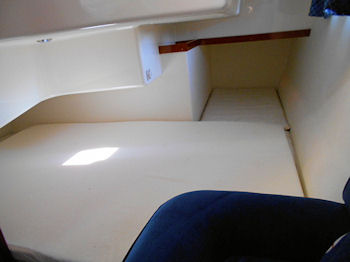 athwartship double with single fore and aft if required, foam toppers in here also,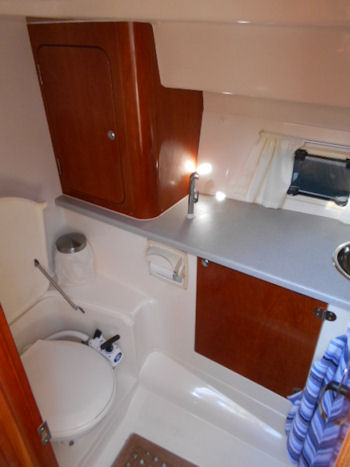 heads shower, Manual heads,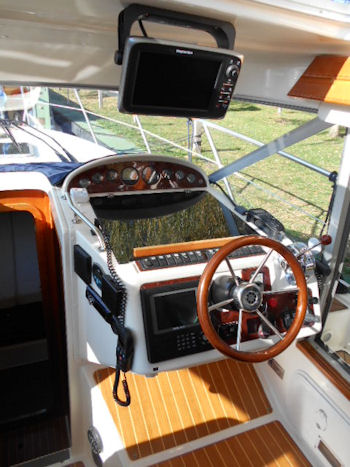 helm station set over to starboard, great vision out of "Ertech" toughened Glass screens, oddmenst locker under hinged perspex chart area..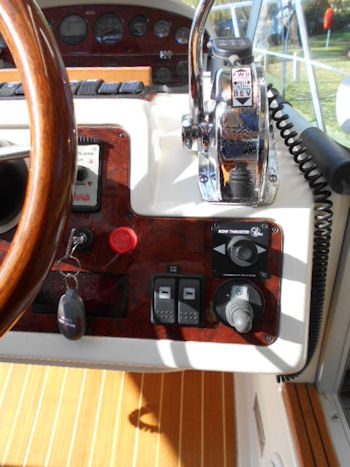 windlass controls above key, then Trim tab rocker switches, then bow and stern thruster joy sticks, below nice simple Morse cable control.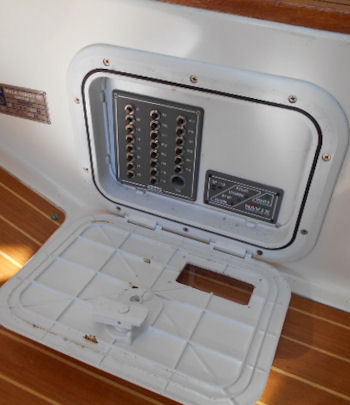 Breaker Fuses on all domestics to right of helm feet,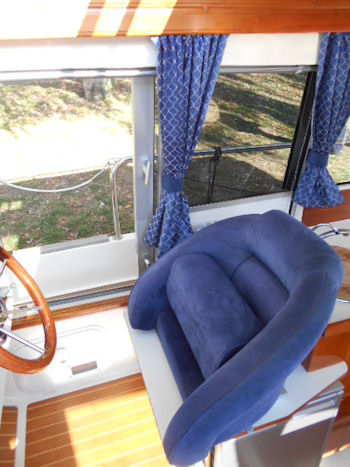 opening door big feature, and note the seat front bolster lifts to give room to stand at wheel,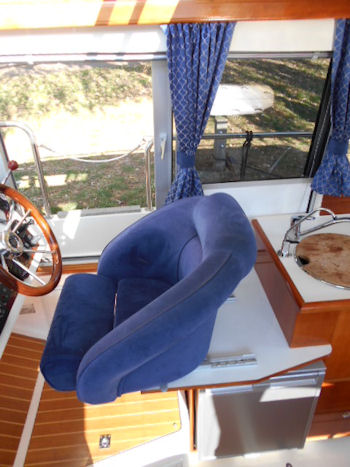 it also is on sliding tracks, (locker below floor at helm to services and quite a lot of storage area)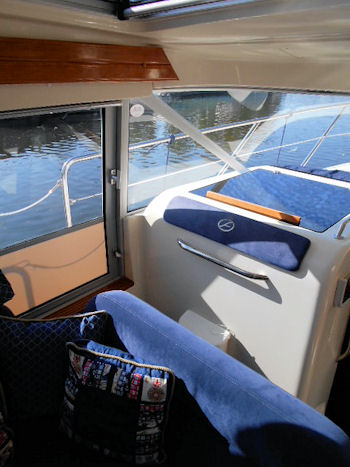 copilot bench seat rolled to face aft, good chart space with storage under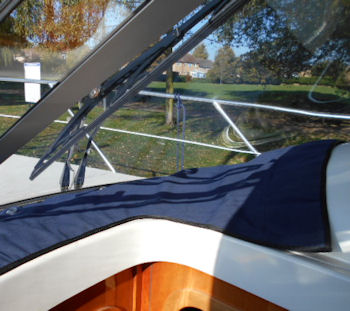 nice detail the owners had a dark "sun reflection killer" Made up, you can just see the left hand side nozzel for screen demister outlets,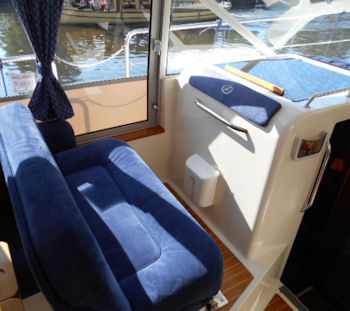 co pilot seat rolled to face forwards, two at least can sit here, and that is best way to stop seasickness, good view of Horizon!
Bino case is remaining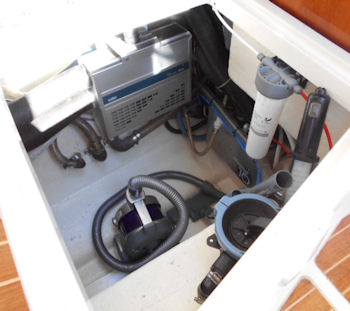 under helm, access to Heater system ( all working beautifully!) and manual bilge pump, and right white tube is a High Spec fresh water filter to an extra tap at galley,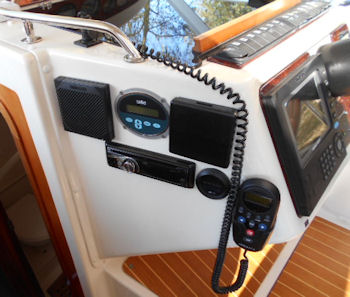 left of helm, extension speaker on VHF, Wallas heater controls ( oval) then cup, holder fold down, with Smart Steroe CD player under ( 4 speakers,
bilge water alarm then Remote hand set to Autopilot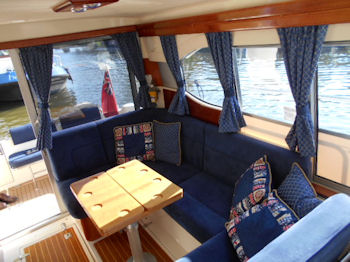 saloon looking aft to port, fold out table, shown folded up, smart new curtains all round and The upholstery is VERY good indeed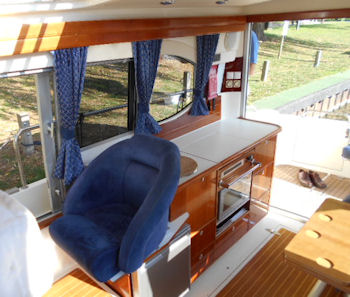 starboard looking aft at Galley,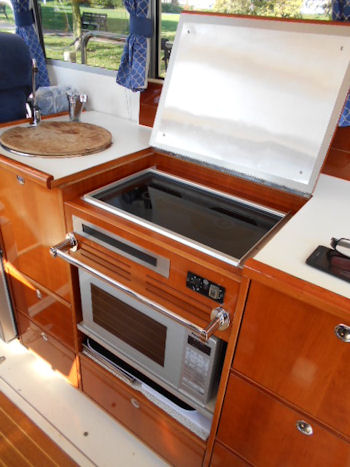 twin Diesel hob, working fine, with recent Microwave Grill under, (recent) The diesel oven is available loose in the boat, but it is flashing with an error message , The owners have no dealer near them so have just not bothered, but form some home work, it seems this is probably easy enough to sort out should you want to do so, anyway , the diesel oven is included loose,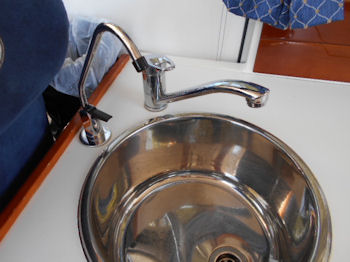 here is the usual hot/cold mixer tap together with the new posh filtered supply, Healthier I am very sure!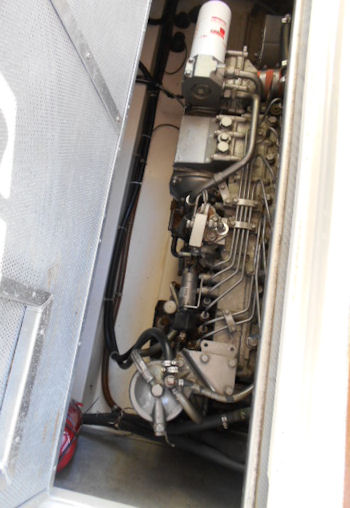 starboard side of floor hatches lifted by galley, the engine space is very good and clean,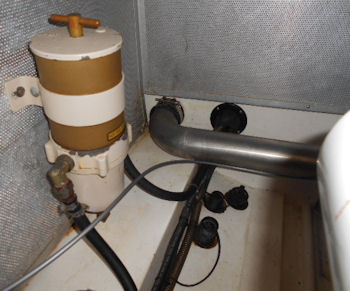 primary on starboard side aft, note the transducers as well as the recent Heavy duty Stainless exhaust tube manifold replaced around two years ago at great cost, but this should now be good for many years to come, (far better than the original Aquador fit)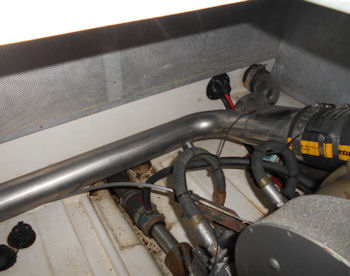 shaft exit, and here you can see how the large exhaust from engine is split in two with the stainless manifold.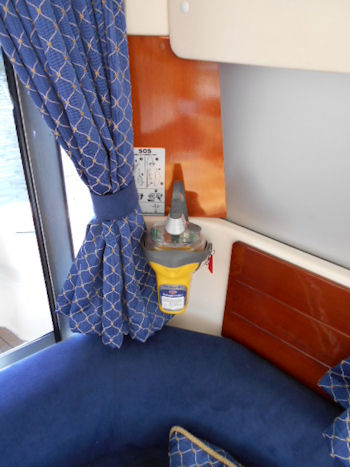 EPIRB, is registered to current owners but needs a new battery..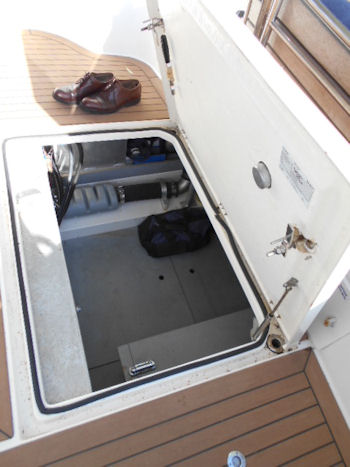 aft deck store note manual pump handle clipped up,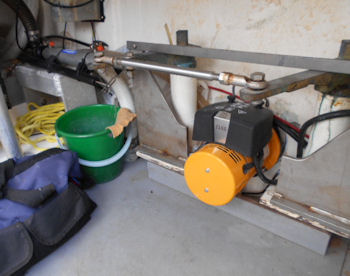 NEW stern thruster, and good access to servcies, steering etc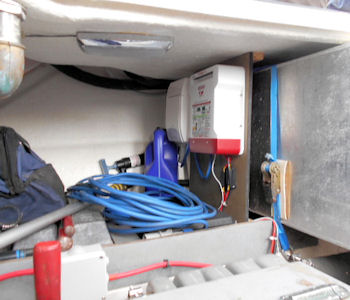 port side, new intelligent battery charger, light overhead,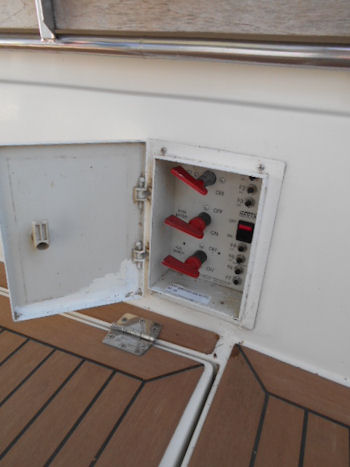 main battery switches are brought up and aft so they are easy to access, The synthetis Teak is very good indeed.