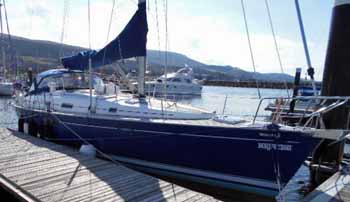 smart proportions,
Danforth Type anchor in place at roller, ( twin) smart Hull decal stripes and waterline tapes etc all intact.
blister over the windlass beneath, deck hacth in to bosuns locker forward, ( sail store etc)
note local switches, and rope drup as well as chain gypsy.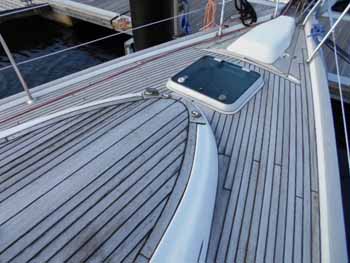 Teak in pretty good shape, could be flatted back a little on coachroof, But Teak deck on all these boats is really just a cosmetic add on, and it works well as a non-slip finish which is its primary task, and does enhance to look of the boat a lot,
two deck hatches forward of the mast, in each forward cabin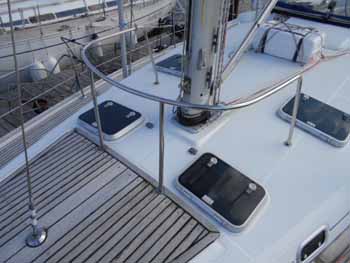 Crash bars around mast base, add lots of added security working up here, Through deck mast , baby stay left of shot, aft two hatches are at the forward end of saloon,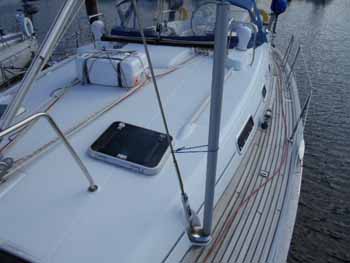 alloy tube covers over Shrouds/ rigging screws, help sails,
Selden Rig , mast, boom, spinnaker pole, Kicker ( gas), spring cleat on capping top mid ships,
recent upgrade to Harken traveller etc on main sheet track, typical of these keen sailers, note also more handy Grab rails over Vent boxes, ( note the main traveller is ahead of the spray hood, and so the cockpit and companion way are clear of sheet etc.. safe but also very convenient, one of the nice things about a bigger boat..!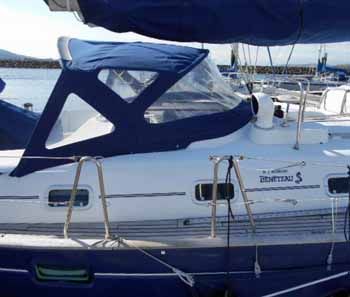 gatesto guard wires, ( NEW 2016!) each side, and really nice recent Spray hood ( 2017!) , with aft leather trim,
said trim..Note boom end quite well forward,, make most of cockpit free from "Gybe" danger,
controls virtually all run back to cockpit
all new Harken cars on the recent fully battened main as well, wonderfull easy operation!
Single ,line reefing system,
aft end, cover on wheel, (NEW 2017)
RIG, double spreaders, slight swept, with all 1/19 S/S standing rigging, this was re-newed in 2016, Lazy jacks to boom, nice new covers to main, new genoa UV strips 2016 as well,
SAILS NEW fully battened Main and Genoa in 2016 by Sanders sails, Cruising Spinnaker. Lasy Jacks
all recent Running Rigging
aft port decent two speed Lewmars on sheets, Outboard of storage braket is not included,,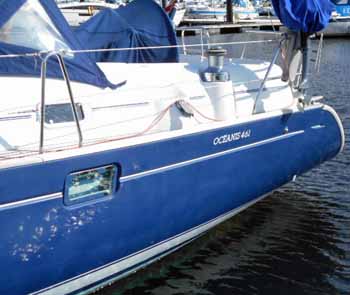 port aft quarter,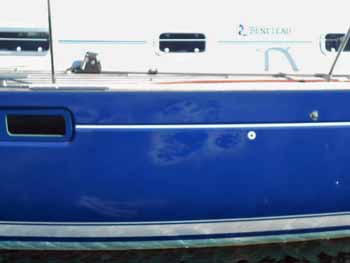 mid ships port , old gelcoat srape, repair shows a bit after a while , but nearly disapears again when waxed, polished etc,
port forward, all neat.
new cover on new main with Lazy jacks, very much "Up Together"
smart, well maintained and ready to go, "at the drop of a hat", is how she is kept,
port transom locker , ( the spray is a detergent that reduces "Green Growth" around the deck, certainly seems to work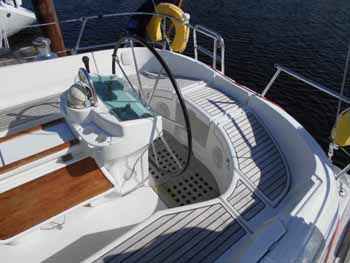 covers off, big wheel, nice shaped seating, Teak duck board in good order
clean as you like,
lifting mid section to transom, allows walk through aft, deep swim ladder right of shot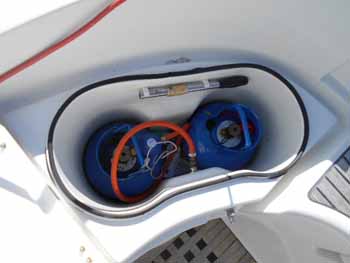 port aft cockpit, two Calor 4.5KG bottles, ( even they are CLEAN)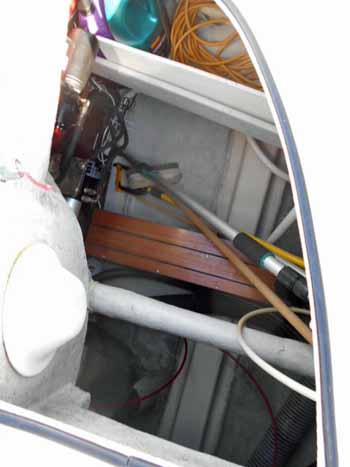 starboard aft locker, DEEP
grey tub is cockpit drain running aft, rest is hydraulics around steering rams etc, easy access,
and here is the rudded tube and stock, again easy access, Note the "Chassis system Reinforcing Beams / sections,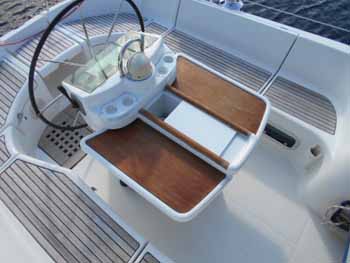 fabulous cockpit for socialising and dining "Al fresco"locker in the middle,
good lockers each side even through there is a double cabin each side aft, starboard side,
port side, ( NOTE DECENT ropes in here, no "junk" is allowed aboard!)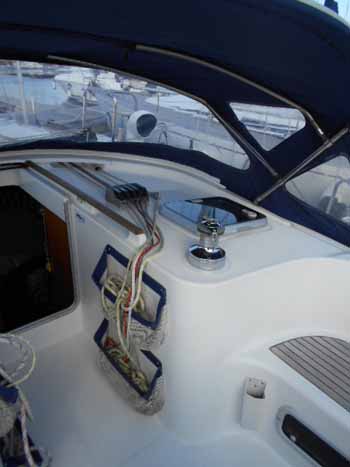 rope tidy bags, hatch to aft cabin starboard side, and note window to cockpit also,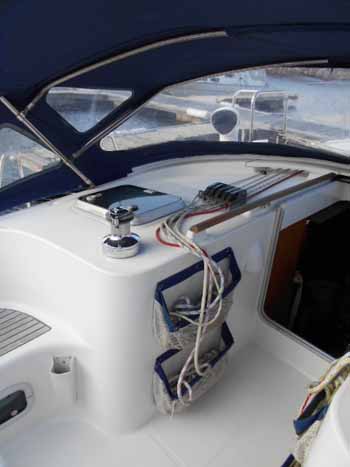 same to port, very neat

Four double cabin layout,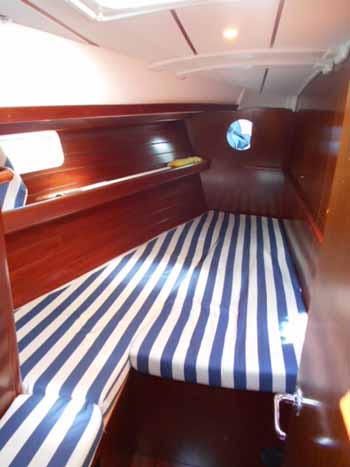 OK below, port cabin forward, infill to double, and note port to "Bosuns locker" area forward (with deck hatch access)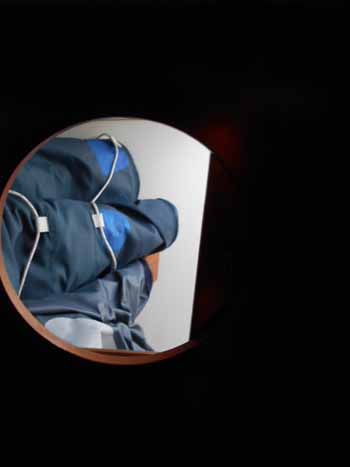 old covers have been kept for winter use,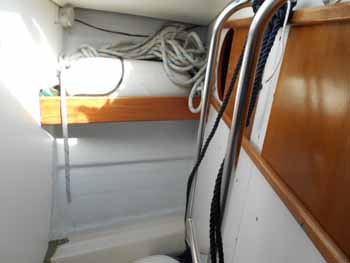 Bosuns Locker, this space is very handy for sail / warps, fenders etc..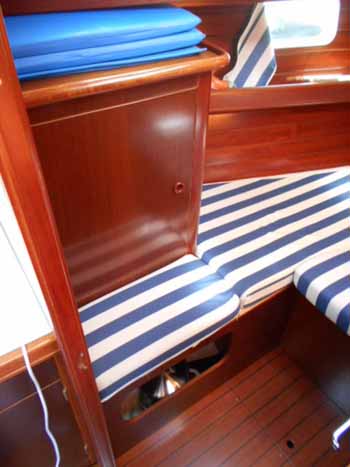 hanging locker, note port covers to all windows , Ive "unpopped" them for light
there is a Bunk that locks in above the berth so it would be possible to sleep THREE in each forward cabin if required!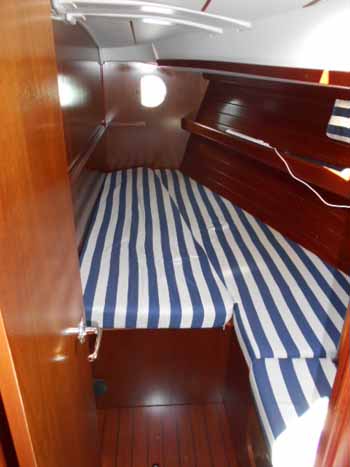 mirror cabin to starboard,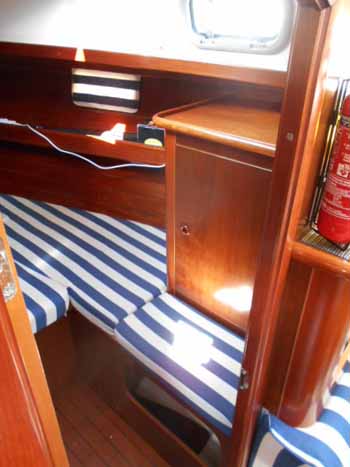 again hanging locker overhaed deck hatch and opening port
all clean under floor hatches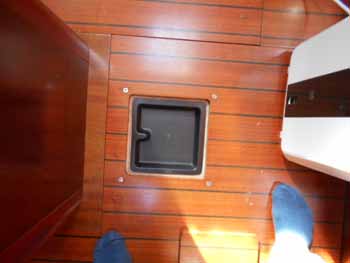 forward end of saloon ( note dehumidifier keeps it all dry in here..) this is the "dust tray" which lifts out to access below,
bilge pump, and neat clean Keel bolt tops,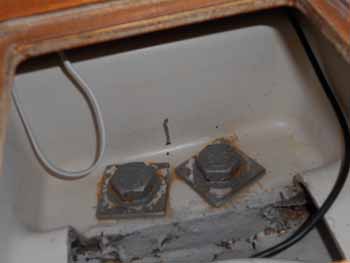 better view,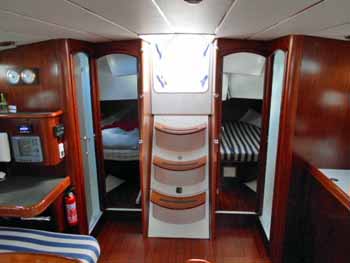 main saloon looking aft, dinette to left of shot (starboard) and linear galley right of shot, nav station looks aft left of shot, cabins each side aft, heads/shower each side,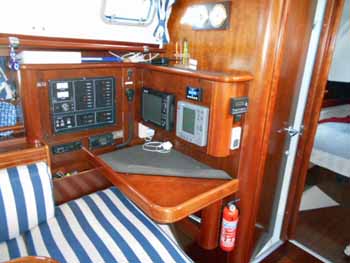 well equipped nav station, cover over table has kept this nice
dinette easting backs cover cave lockers all along sides, and handy storage where ever possible
Galley has good stowage,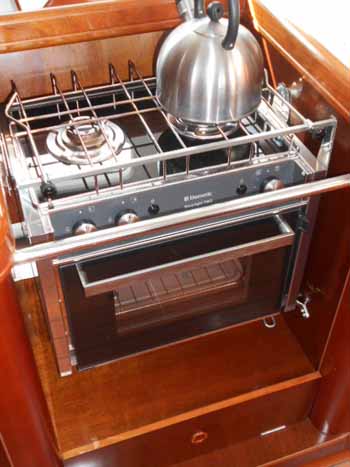 recent cooker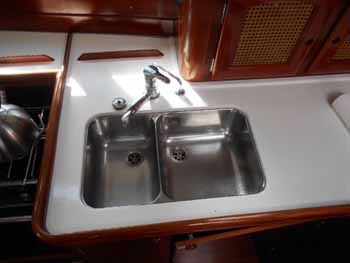 twin sinks,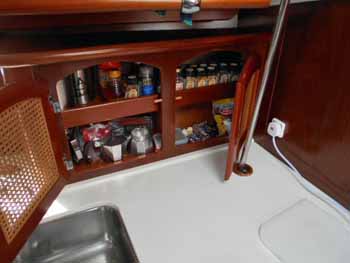 under side deck lockers,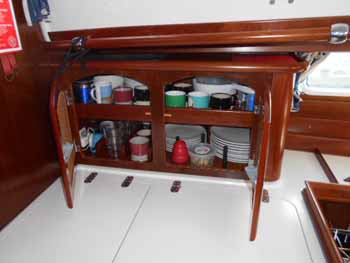 aft end, with top loader fridge under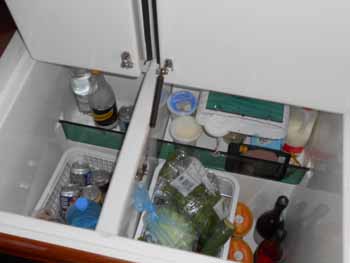 good size to cope with family cruising
under floor aft of table,
access to tank tops twin leg table, is solid,
the central fore and aft seat has stowage beneath, and easy water pump access,
port heads,
starboard heads,
starboard double
hatch over, and two opening ports,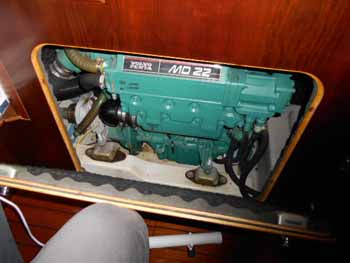 side access to engine, note tube heaters,
under starboartd aft bed, access to fule tank, stern gland etc
Volvo Lip seal gland, on straight shaft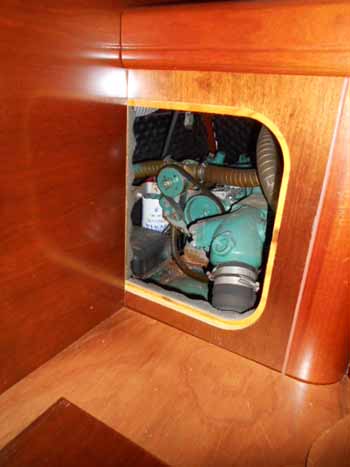 aft engine access to Pump belt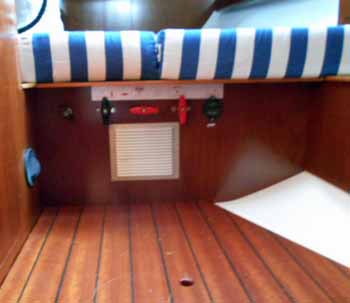 port cabin houses batteries as well as switch gear, note heating outlet,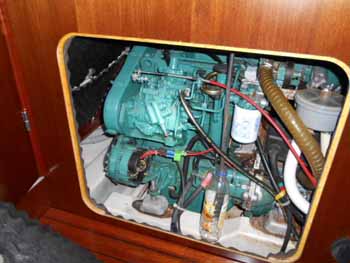 port access panel. clean and dry in here, note lemonade bottle to expansion tank, Typical of owners
forward of engine, bilge immaculate
under floor in cabins equally clean
easy battery access
and again access to batteries stern gear and fuel tank
smart order throughout, Great value BIG boat , serious cruising ability.