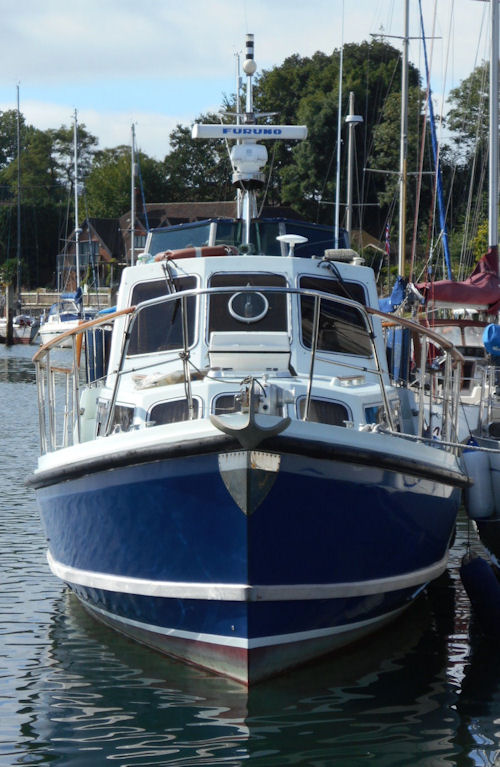 The Fine entry the "Nelson" is so renowned for, soft cutting stem and forefoot, there are few boats that are sofetr into a head sea.
the lower chine Teak Spray rail is in Raw Teak, with "D" rubber fender at sheer.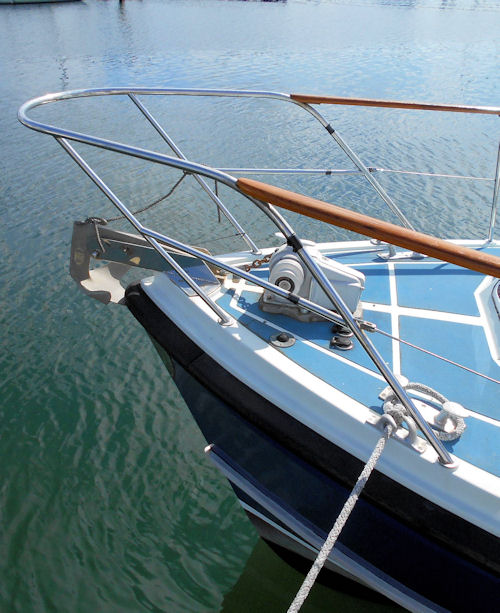 20KG Bruce anchor, with electric windlass. Lofrans Tigress 1200W , Soft Pattern "Treadmaster" over all deck areas,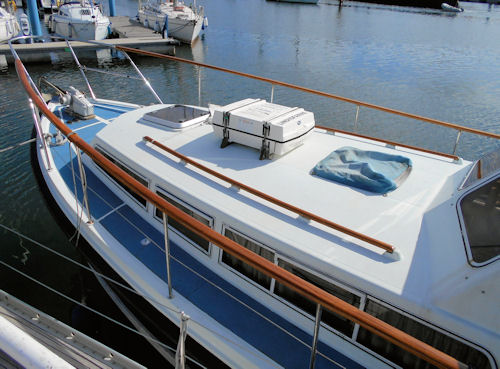 OLD raft in chocks, Probably now U/S, but chocks etc are good, note hatch covers over NEW deck hatches, teak grab rails and capping all good and just re varnished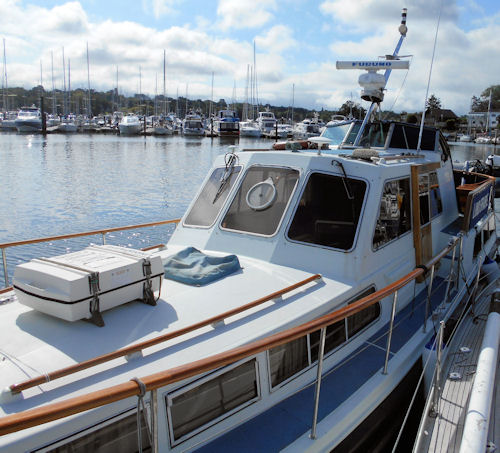 Wipers on lower screens, and a "Kent Screen" to central window. the spinning glass disc remains clear no matter what water / spray you throw at it,
(and having entered a tight harbour in very grotty weather I can totally confirm the value of this bit of kit!)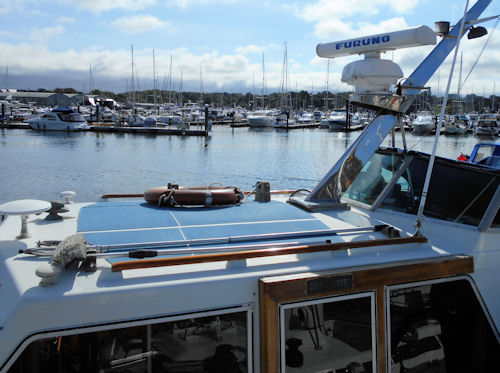 saloon / wheelhouse roof, note Tv antenna, left, Fabulous mast arrangement, more pics coming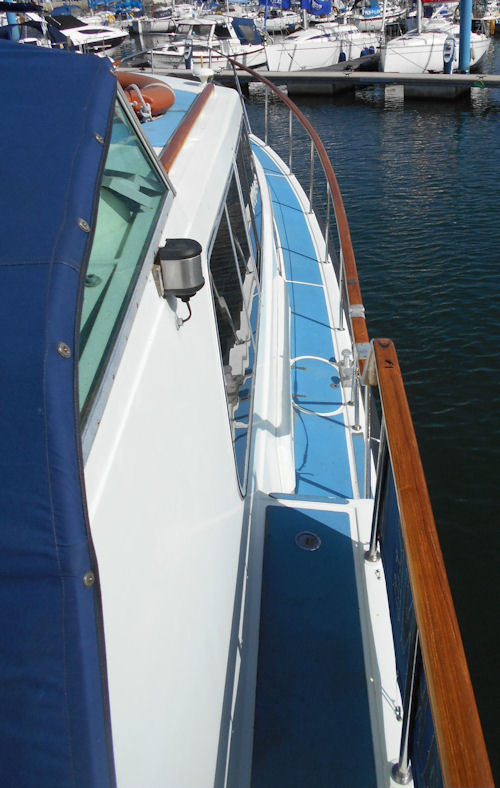 starboard side decks, gas locker oval in deck, un used as the owners has no gas requirement aboard on purpose. note gate each side in cappings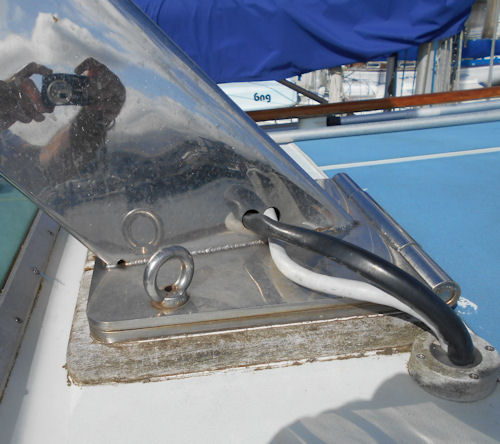 mast base, huge construction in Stainless, with folding ability.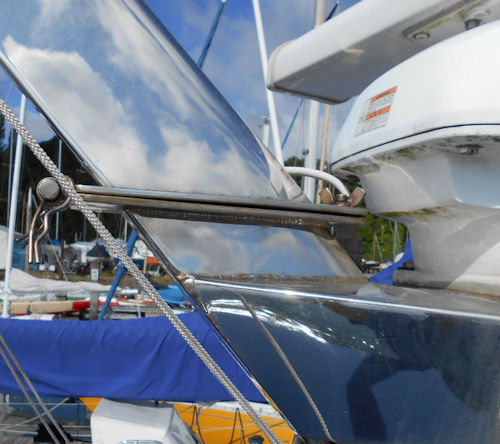 and can be folded in sections.. depending on height required..
Visiball radar reflector, with Tricolouir top light, Open array Furuno Radar 4KW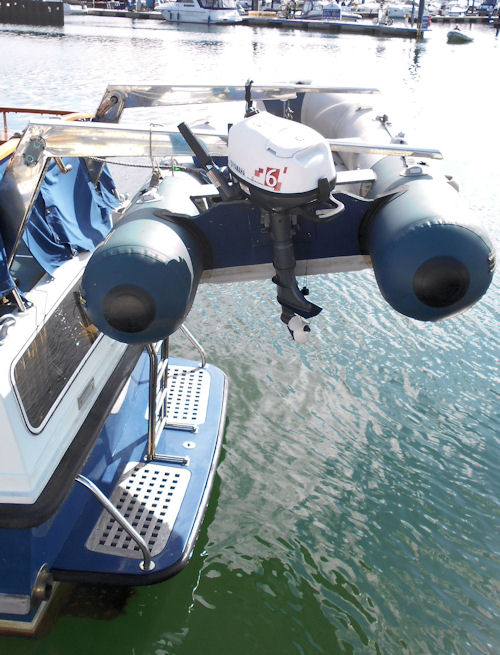 Inflatable dinghy with 6hp four stroke Yamaha. ( both recent) Extended arm simpson davits with manual winches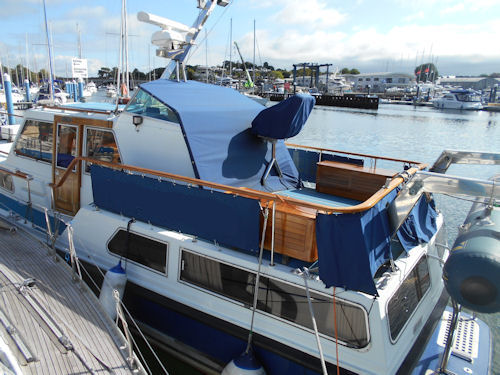 very smart aft deck with dodgers, neat aft control tonneau cover,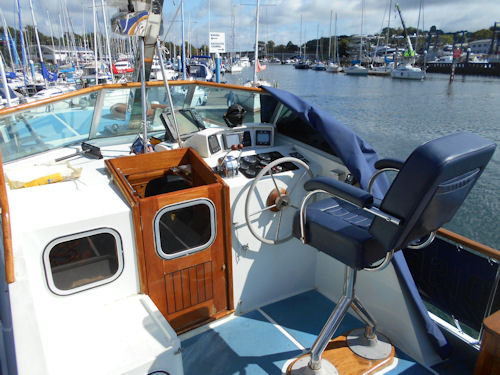 cabin entry, top hatch just having last varnish applied in workshop! Helm seat in reasonable order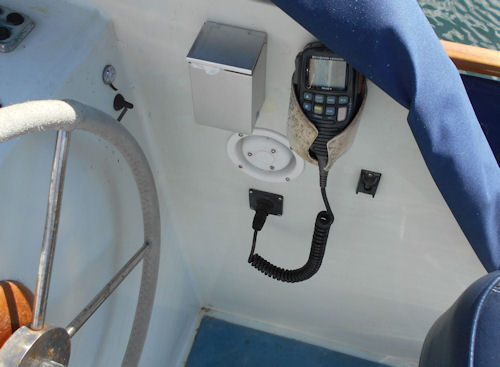 twin hand sets to Standard horizon DSC VHF radio, as well as external speaker,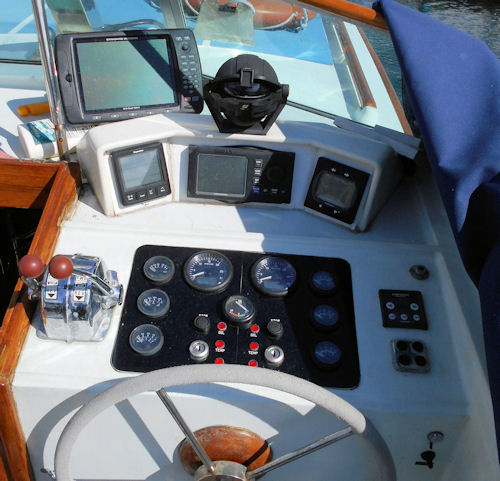 upper dash, simple manual Morse controls with cable cross over gates below, recent GPS plotter,
and Simrad Autopilot, with Log echo etc Note Bow thruster vetus controls right with bennet trim tab controls below.
New engine instrument panels with Rudder angle guage middle
AFTER varnish work has been done ! from here on..19th Septemebr 2018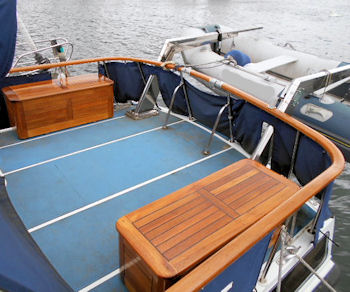 wonderful deck stowage boxes, (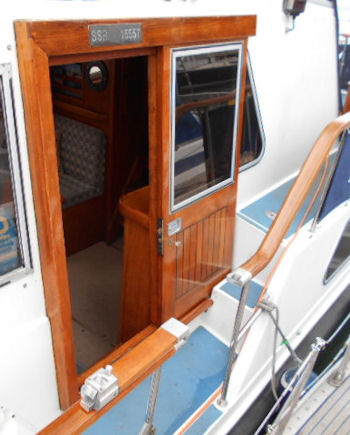 port side door entry,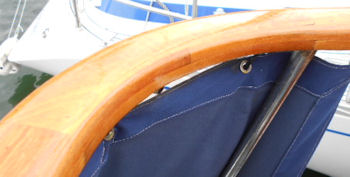 cappings look super, and curved sections Jointed as only good builders do..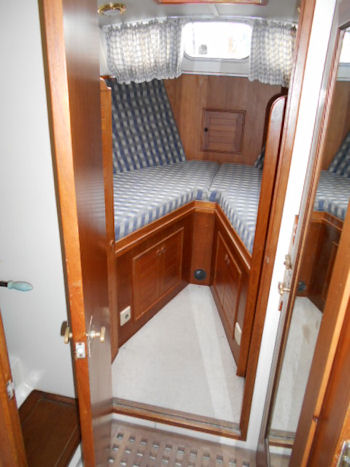 fore peak, access to anchor chain, simple twin singles with support rail for an infill panel if required, note heater outlet at floor
New hatch over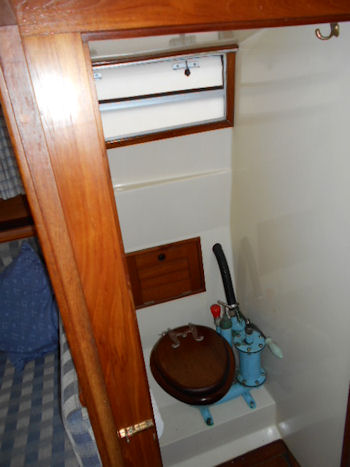 Heads set to port forward , Half drop windows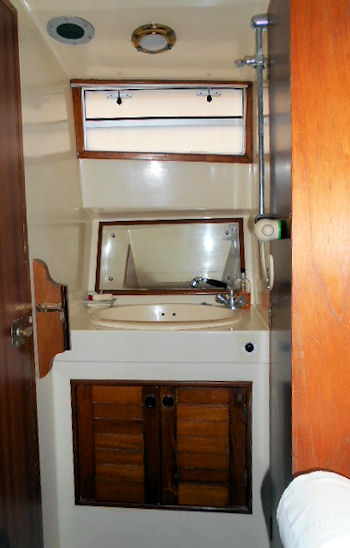 shower opposite, Door open "jack and Jill" to close whole space across ship, half drop window,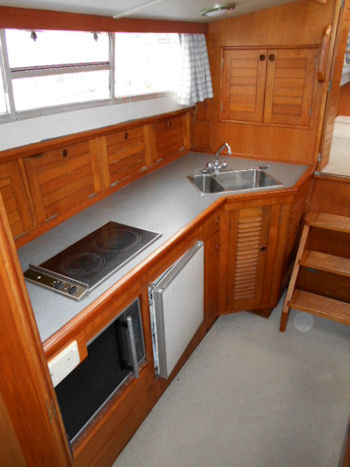 looking aft at galley set to starboard, note twin hob ceramic Electric, with microwave below, and fridge, NO GAS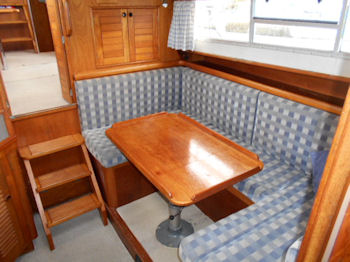 dinette set to port,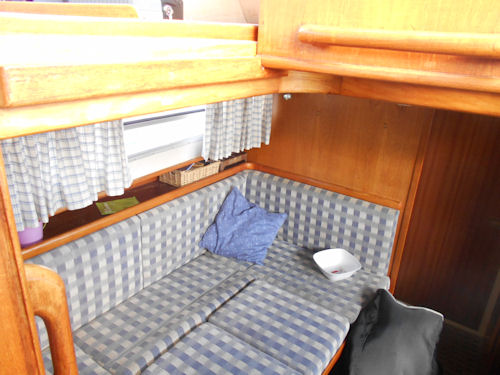 infills to double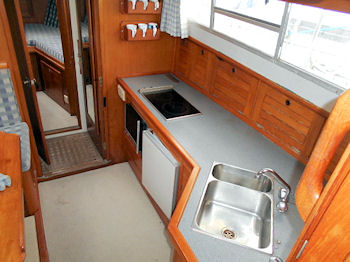 Galley looking forward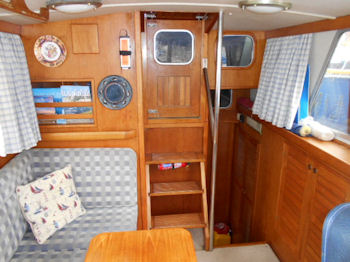 up to wheelhouse saloon looking aft, steps and door up to aft deck, access down to aft cabin right of shot,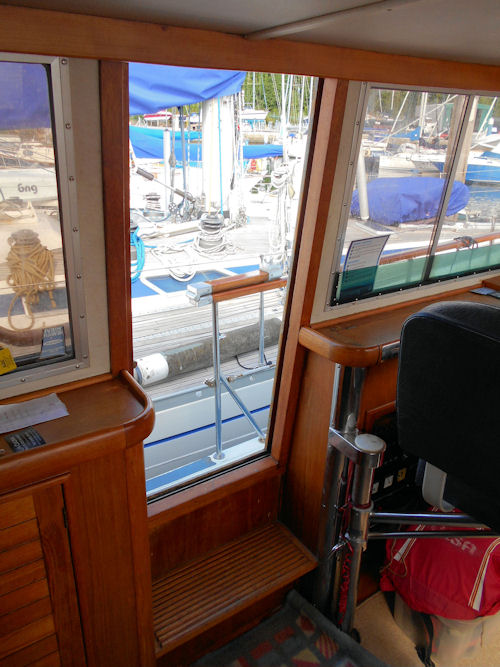 side entry door to side deck, helm seat post attachment with various positions posible,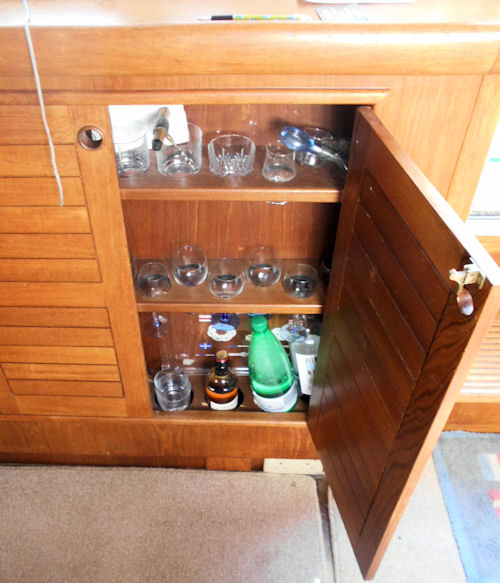 solid simple woodwork, Typical of Booker build.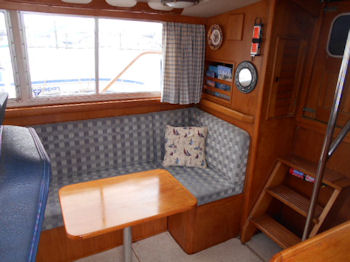 starboard side,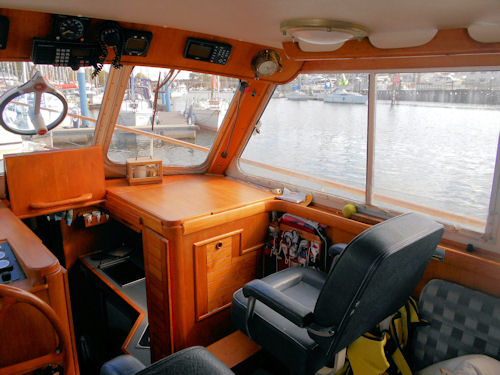 copilot side , note code flag set built in .. nice,, good chart area, with stowage under,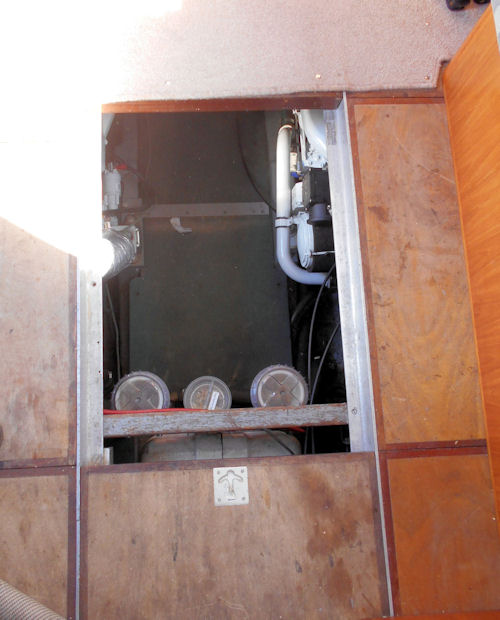 Loose carpets lift and allow whole floor to come out as required off Steel support frames
new strainers fitted with new piping etc during new engine fit,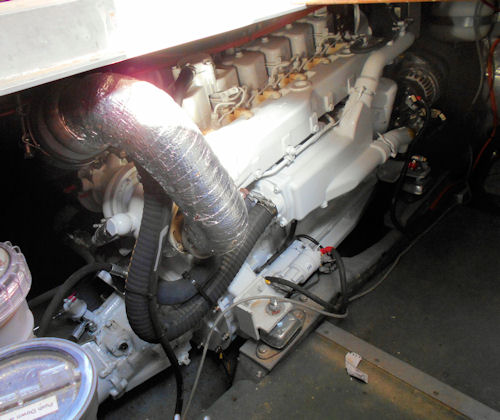 port engine, new everything..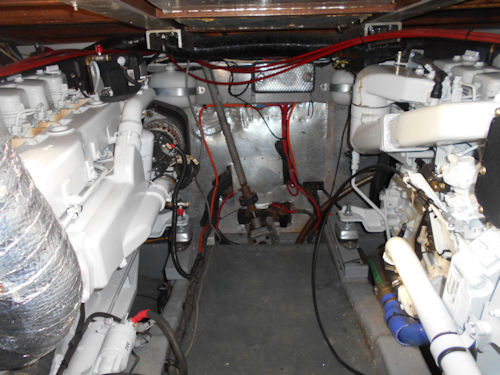 Looking forward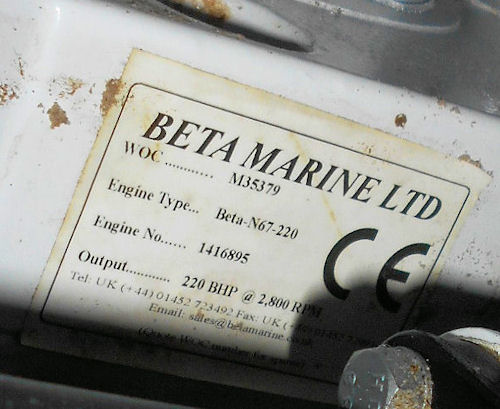 Type plate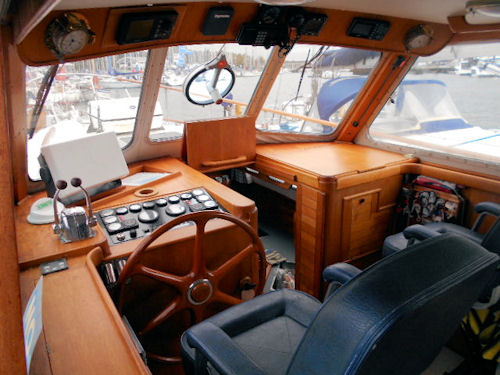 dash area, beautiful Laminate helm wheel,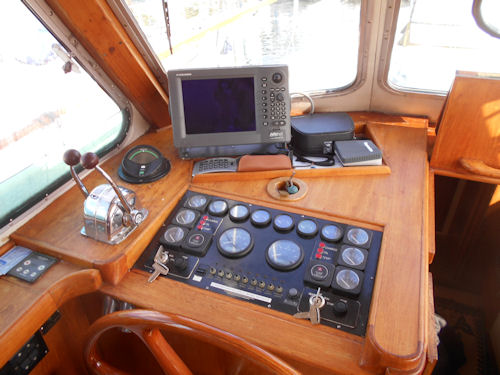 new instruments, azimuth compass, bow prop left of shot, Furuno radar screen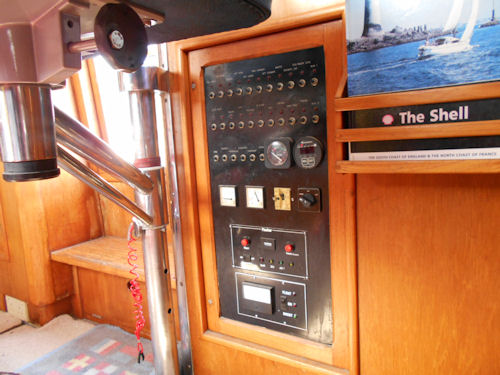 Domestic control panel port by Helm and fisher Panda generator start panel
view aft down steps, not louvered door right of shot in to Giant "Boasuns Locker" well lit by window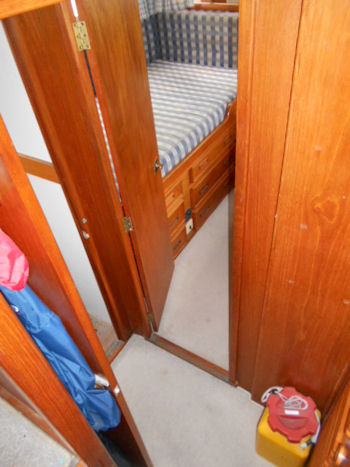 aft cabin ahead, with en-suite left of shot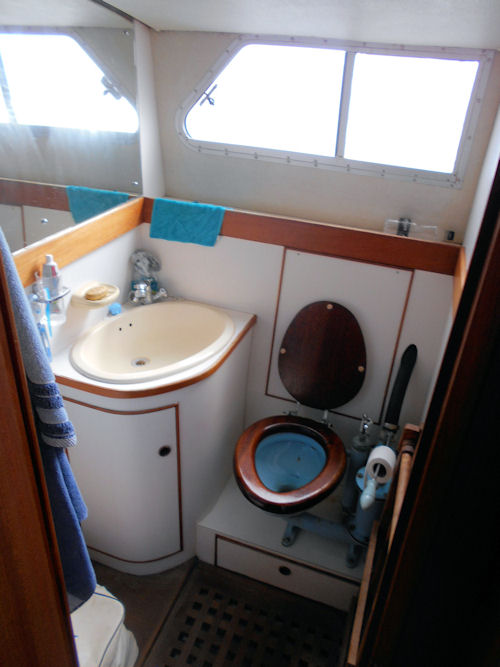 Wc /Shower,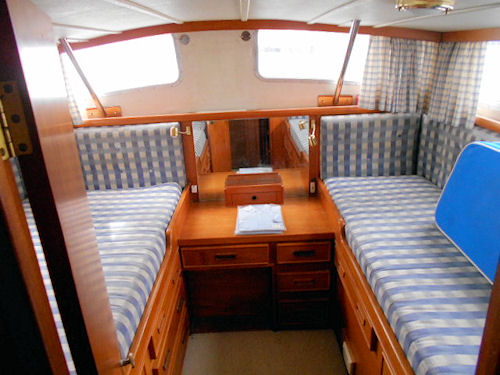 good single berths each side, lots of good solid simple Cabinet work from Booker, durable unlike todays boats! aft deck cushions blue on right,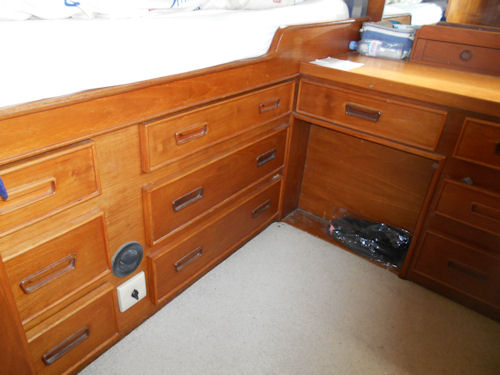 note heater outlet, Lift drop locks on drawers,
ashore May / June 2019 having her Topsides Painted.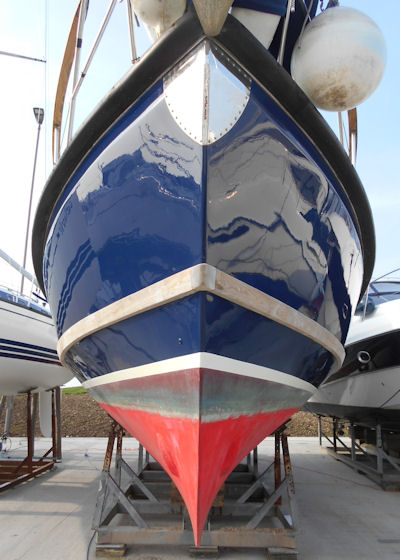 Stunning fine Entry, and wonderful paint finish
Reflection shows it all,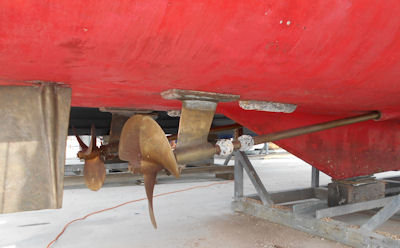 stern gear being cleaned,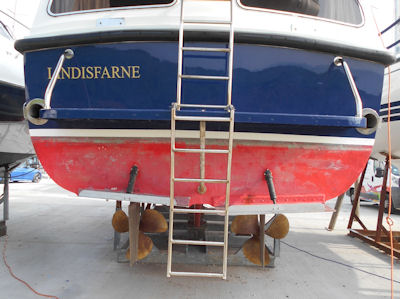 aft end view.. deep ladder, decent size tabs. Now back afloat July 2019.