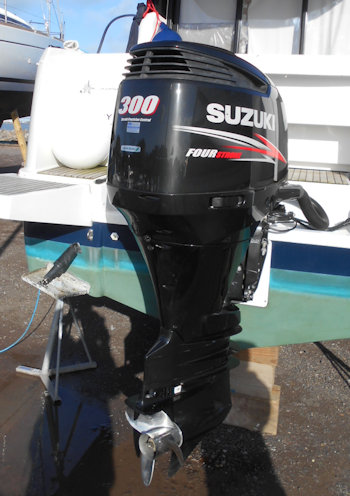 this engine has been serviced at every interval required and with this wonderful single engine she should make you 32-34 Odd knots ,
(This boat can also be supplied with a twin rig 2 x 110kw , personally I think a big single 221kw (300 HP) is far more effecient and no doubt dramatically cheaper to servcie and maintain.
at around 22 knots she is burning 9 gallons per Hour / 4000 RPM ISH, (max 5500 Approx)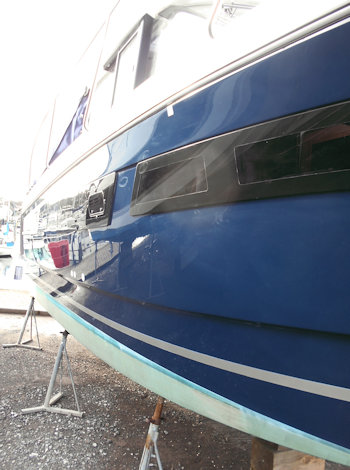 l etc.)
starboard side just polished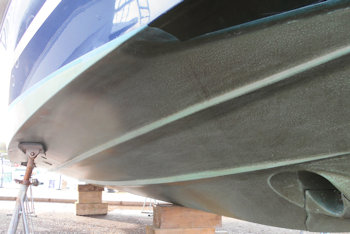 Copper bottom should make antifoul un required for some 10 years or so, it also helps prevent water ingress in to the gelcoat, so handy extra if using on fresh water for long periods in particular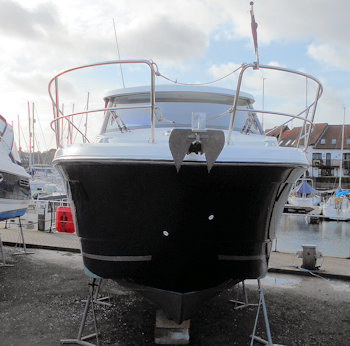 opening guard rails across pulpit,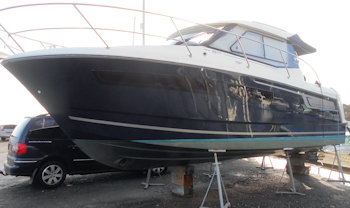 port side just polished,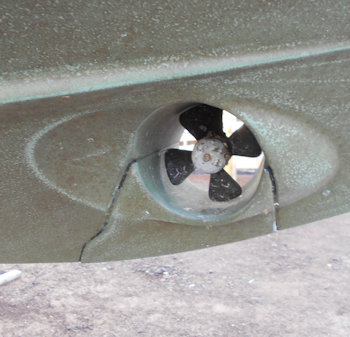 Bow prop does make life easy in marina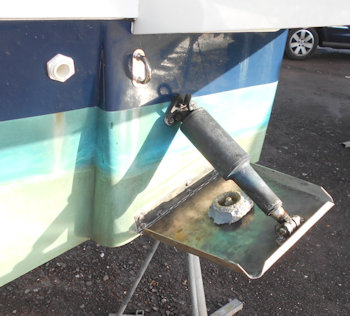 Stainless trim tabs, just been burnished clean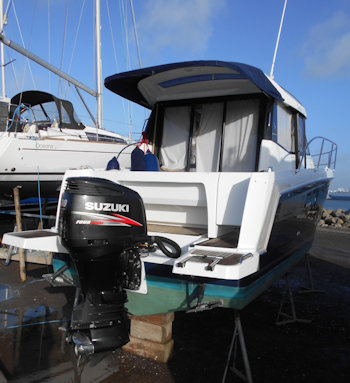 aft end view, before we fitted full cockpit canopy, drop down swimming ladder on starboard side,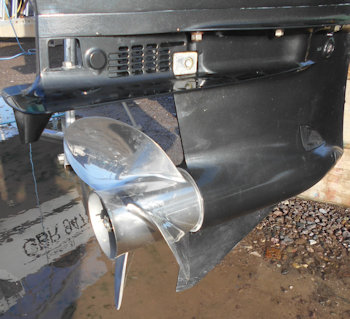 lower unit is virtually as new.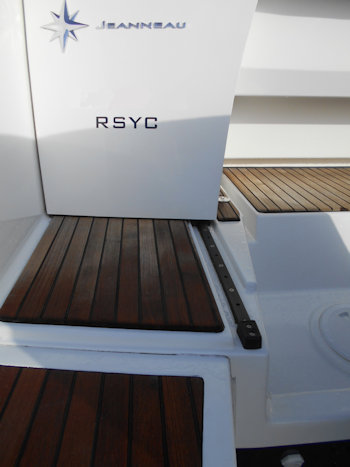 port side aft, the whole transom seat moulding slides aft on tracks,
The cockpit roof extension has a clear panel in it which adds a good lot of light in when the covers are on.. and with the "roof section of canopy and cover on there is an amount of shade to be had from strong sunshine out here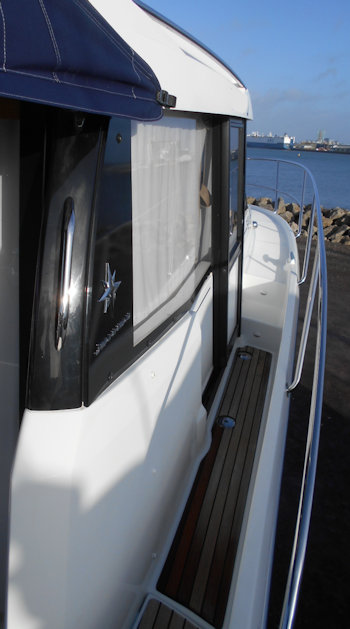 deeper / wider deck on starboatrrd side to access opening side door,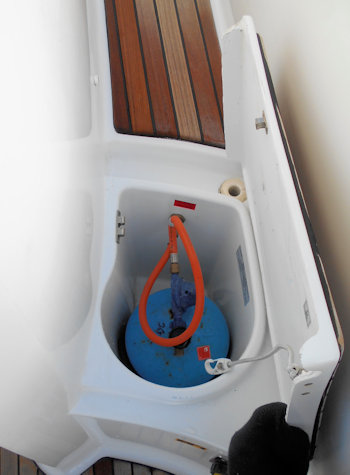 Camping gaz 907 Bottle starboard side,
waste tank pump out point aft, fresh water fill forward ( Up Hill !)
TEAK option added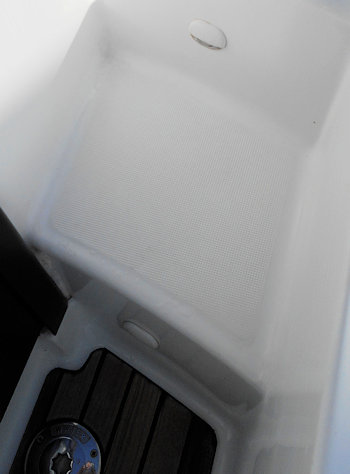 Neat deck step lights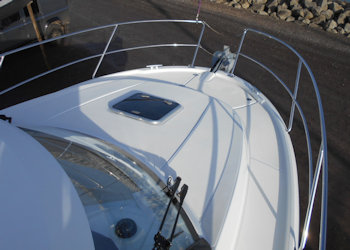 foredeck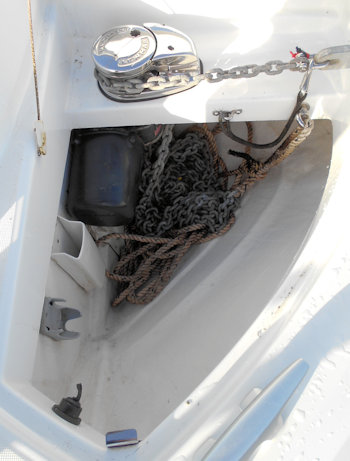 very nice big windlass, and plenty of room in locker for mad fisherman who want long cables..note safety chain on anchor, and remote controm plug in etc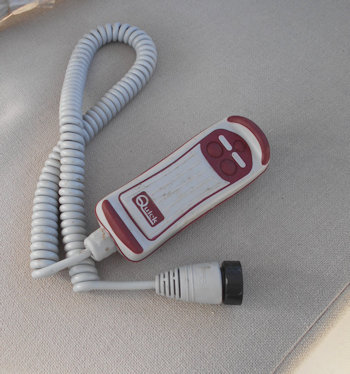 kept in saloon (to keep it clean and dry )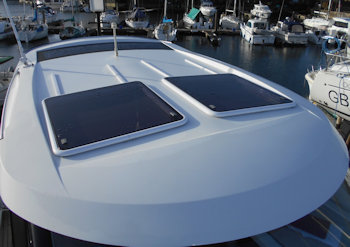 nice big solid roof, with two opening hatches that slid aft
Lovely ability to stand with head clear of roof, nice for the helm too have head clear in bad visibility
or just fun on a nice day !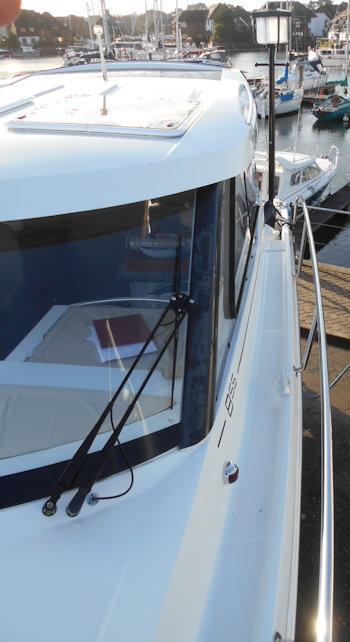 port side deck looking aft, Narrower that starboard but can be negotiated with help of grabrails on roof,
note the fresh water line to the wiper for screen wash ability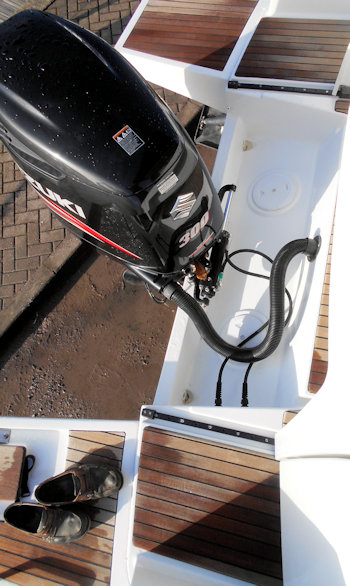 aft end, with the transom slid forward,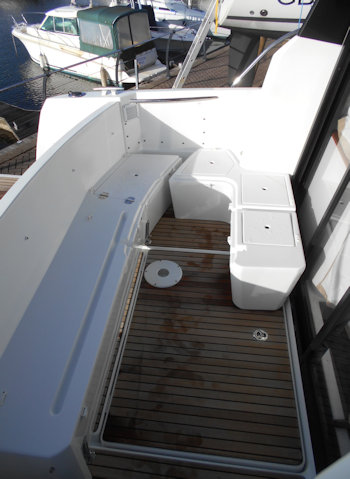 cockpit with aft section slid forward, and no cushions etc..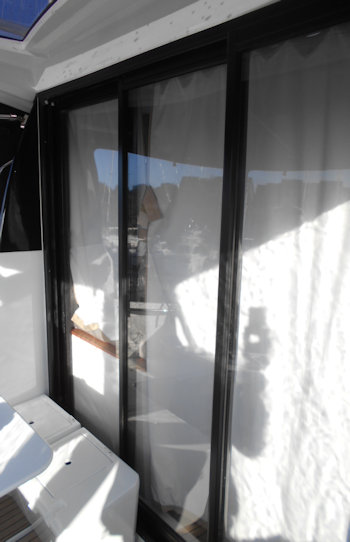 Tripple doors open up fully,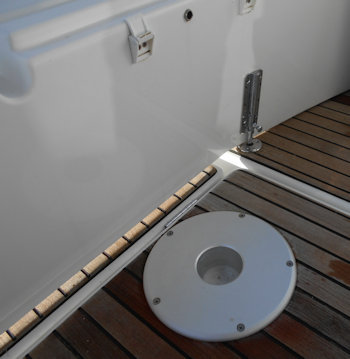 table base socket, and note the shoot bolt to release the transom section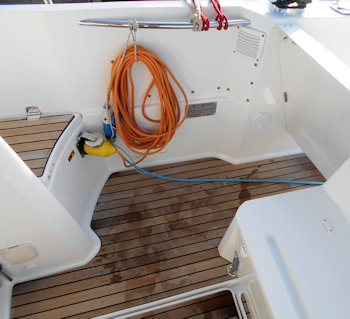 starboard side, shorepower lead and socket point, alos note manual bilge pump left os shot, and aft deck fresh water shower
just inside gate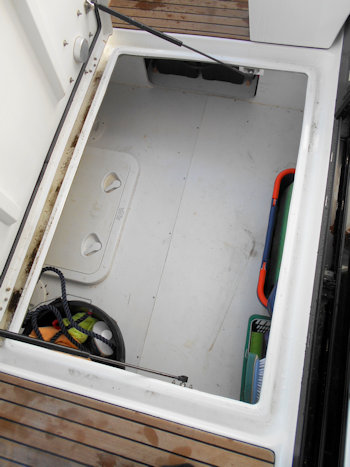 great big under deck store area, and access to fuel and water tanks batteries etc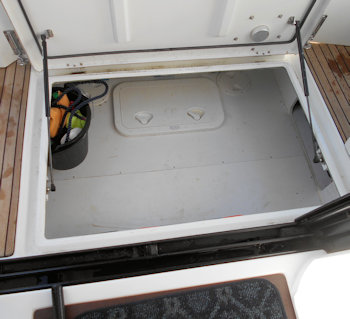 looking aft,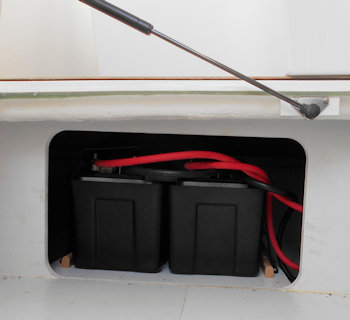 batteries to port
fuel aft, note extinguisher fitted aft (auto)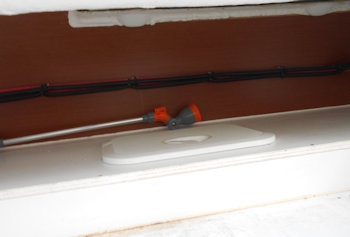 Lokkn forward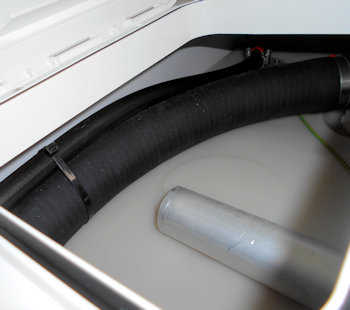 access to water tank top, short leg for use wih ssu padlp ec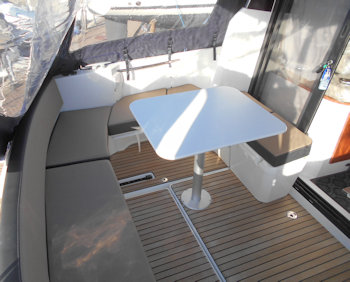 very smart with all cushions in place and cover on, nice socail area.. or remove it all and its a good fishing cockpit
TEAK cockpit extra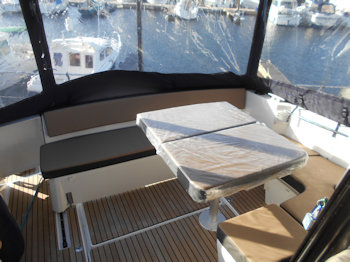 infill cushion set ( still in PVC wrap. sat loose on table )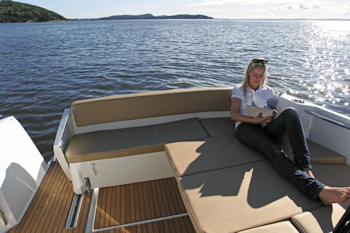 brochure shot of the sun pad / bed conversion in place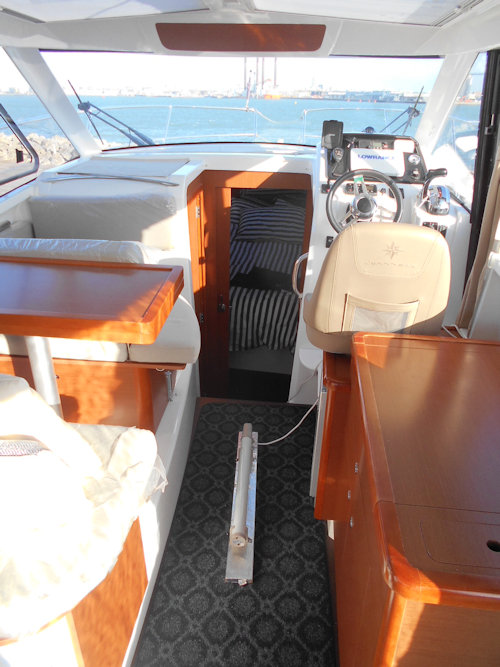 general shot forward, note the boat has heaters and dehumidifiers aboard and protective over carpets here to keep original carpet as new!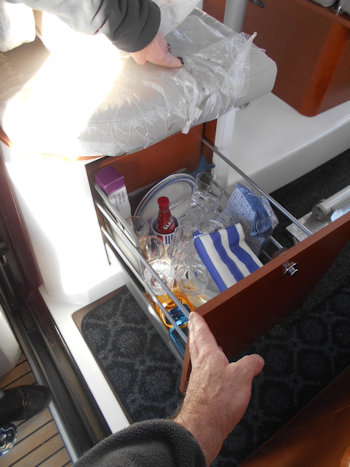 slide out drawer port under aft seat , still in pvc wrap
table opened out to "In Harbour Position" forward seat slid forward and back rest removed, big opening slide windows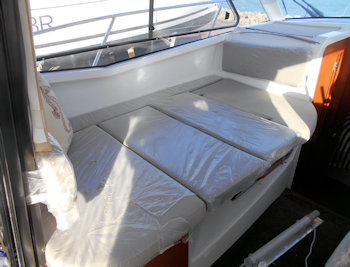 this area also has a conversion, (never used or even unwrapped)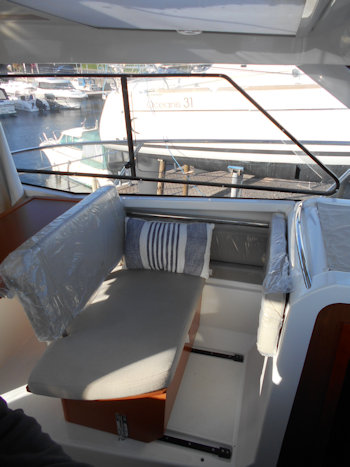 under way set up with co-pilot seat slid aft, and back rest in place,
seat slid forward, NOTE the support bar and side cushion neatly stowed at edge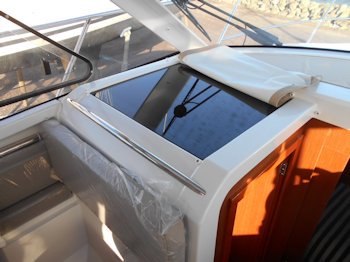 chart table area, has clear smoked perspex panel to cabin below,
makes great area for small chart range,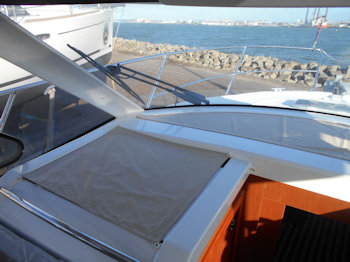 and there are covers when not in use. note one further forward under screen also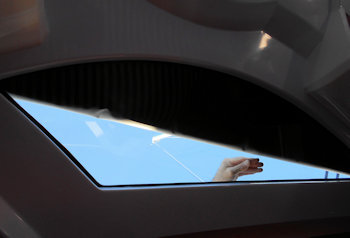 from below, take the covers off and light floods in to forward cabin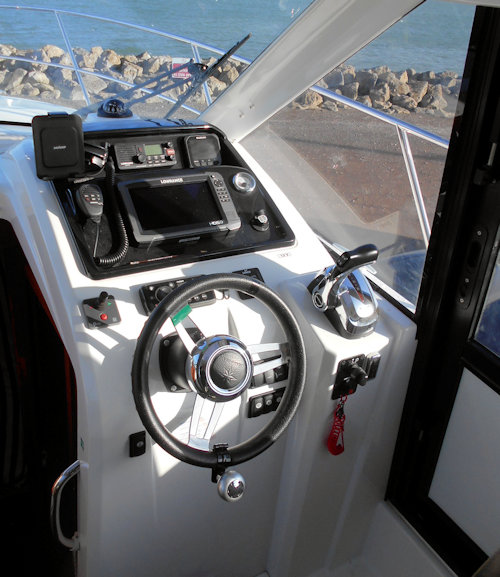 Helm set to starboard has all on offer !!"Legende" extras, ( Lowrance GPS Plotter and additional fish finder Fusion Audio Pack) plus, DSC VHF Radio , Autopilot, BOw thruster left of dash, opening door right of shot,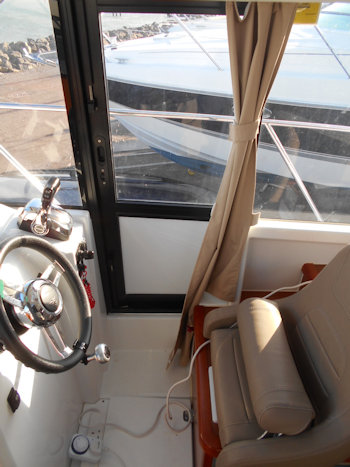 seat bolster lift back and floor rest will lift allowing helm to stand if they want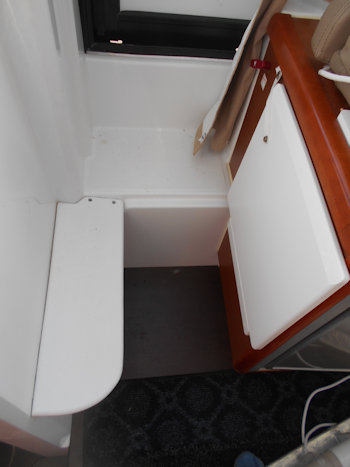 useful some times in grotty weather, or if reversing some people prefer to stand to see aft better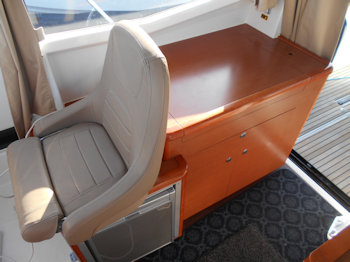 fride under seat and galley aft,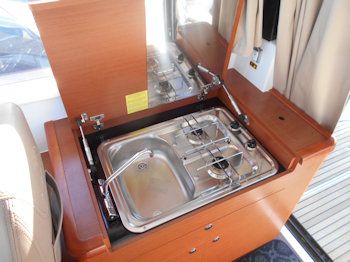 as new, twin gas hob, and hot water at sink,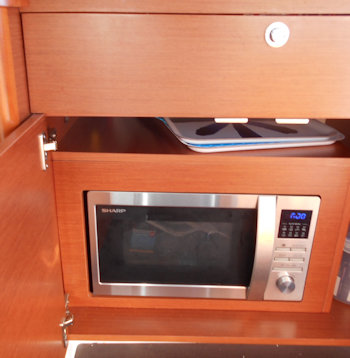 Microwave option below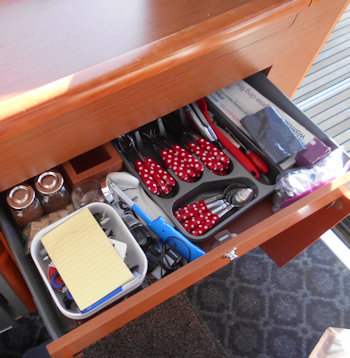 neat cutlery drawer below,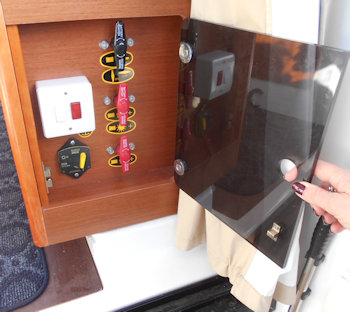 aft end of galley are the battery switches and windlass breaker etc
and the red button I THINK is immersion heater ( check shortly)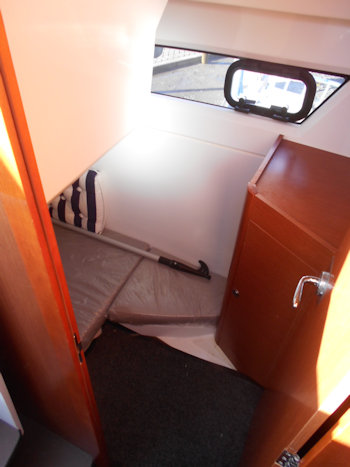 port side Cabin , with opening window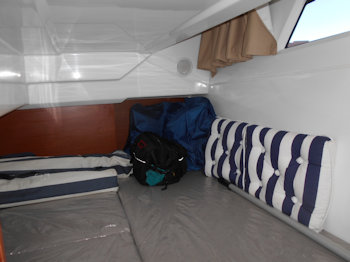 note speaker up by curtains, There is good sitting headroom at head of bed.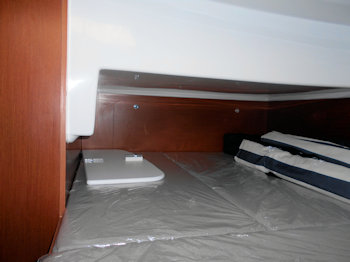 Looking down bed ( across the ship) there is a servcies access hatch at the end, and note the cockpit table/ bed infill panel laid on bed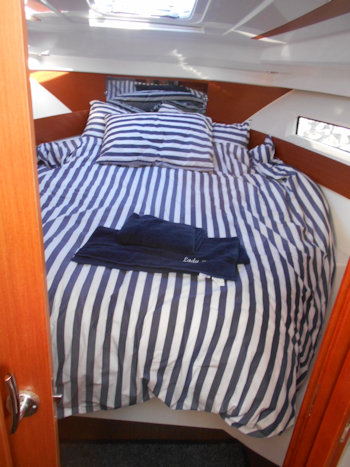 Fabulous double berth forward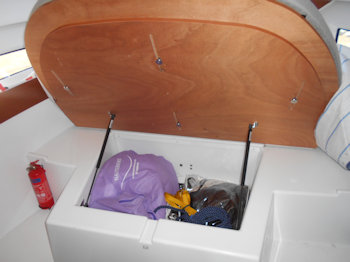 aft end lifts on gas struts to access a nice big locker under, and there is access to bow truster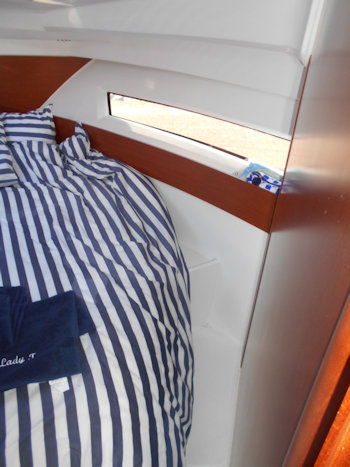 side access step,, and shelf under window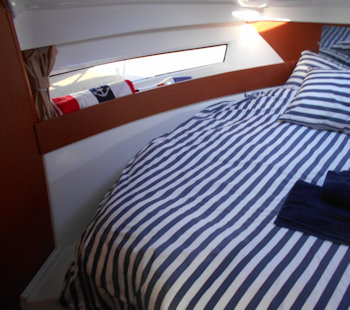 same to port, as well as decent hanging locker
there tis natural light in here , very nice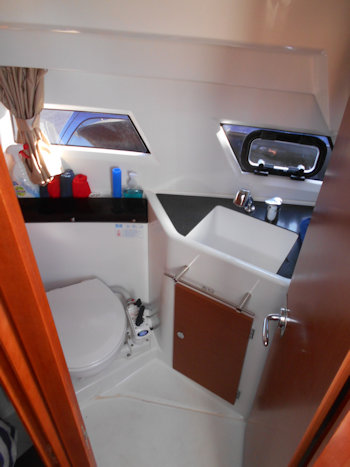 heads set to starboard, Manual sea toilet with waste tank fitted , again opening window,
and lift out shower head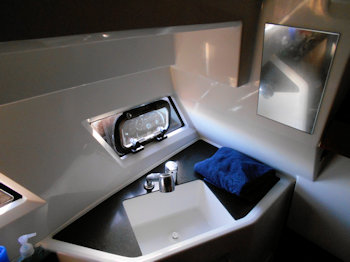 aft end,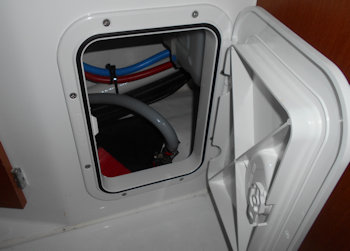 seacock access under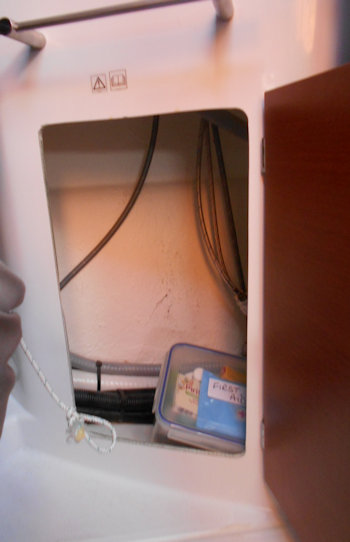 and reasonable storage locker as well
Ready to be looked at, a very clever design and versatile layout.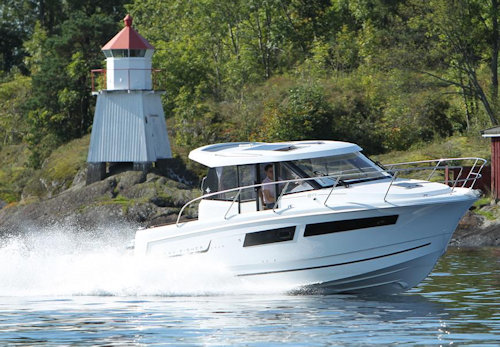 Brochure running shot of a white one obviously !.