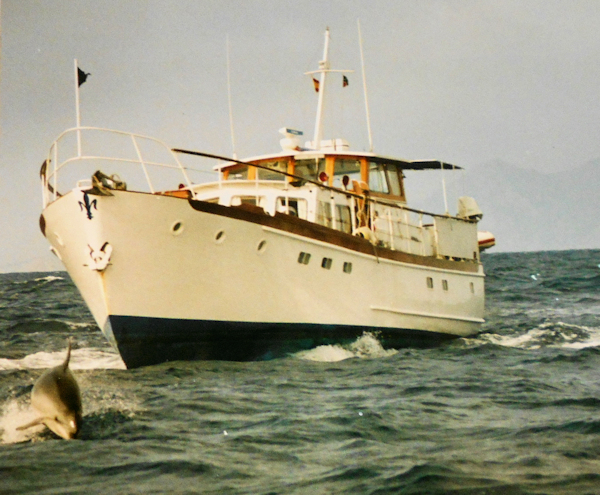 What an amazing shot of her ( and scouting Dolphin) while she was still down in the Med with her very happy Third owners ( 1980's) ,
who bought her from the second owners who were the Captain and his wife who had looked after her for the first owner!
She was sailed down to Estapona Spain in the late 70'S and they had a very nice season in Porto Banus, then following a refit at Gun Wharf
( GIBRALTAR ) set off to Pollensa, Mallorca, She ran 69.5 hours beautifully at 7.5 Knots , she cruised the islands for some years , before being sold on and she returned to the uk
Note in this photo the hull square shaped ports were all slide opening, These have all been replaced. The toe rail and rubbing strakes have had paint removed, but otherwise she
looks very much the same ., Very Hansome.
Here is Porto Benus In 1986 That huge aft deck with shade must be JUST the place to sit and drink your beer I would think !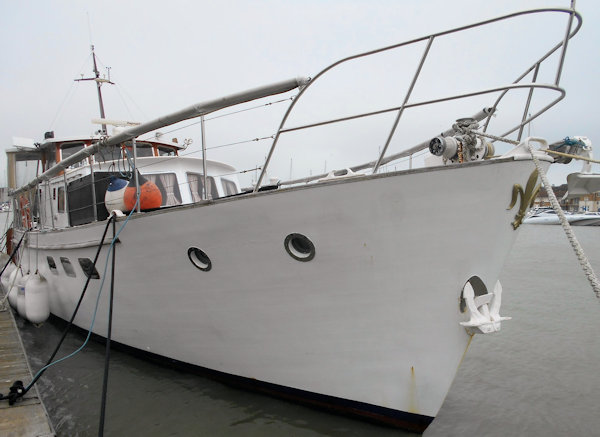 March 2020, Dull GREY day I am afraid..and all her lovely Varnished capping rails are covered to protect them
But she is in excellent shape and ready to be cruised locally or set off on more long adventures.
Opening Port holes forward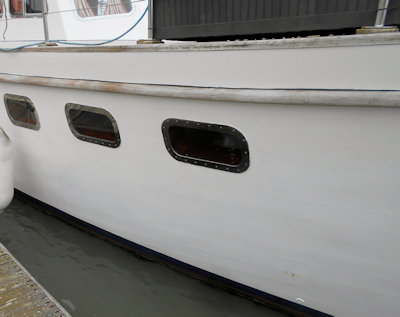 Fixed ports further aft..( Mid ships)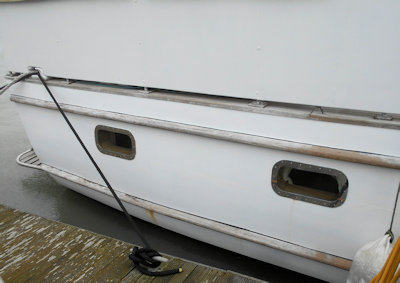 and fully aft also fixed.. Non Openers. Note the toe rail, rubbing Streak and lower rubbing rail all in Raw teak,
Wonderful full enclosure to aft deck area. under solid cover, Only needs a post winter wash down..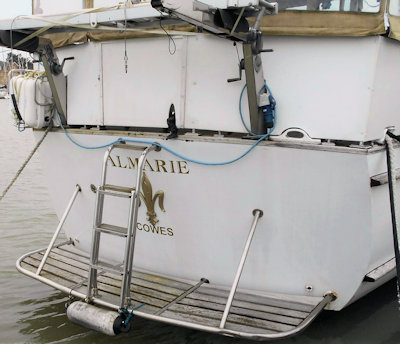 Solid Trasom and aft deck dodgers, with gate aft to extending swim ladder on, decent solidly attached platform, note liferaft cage to port,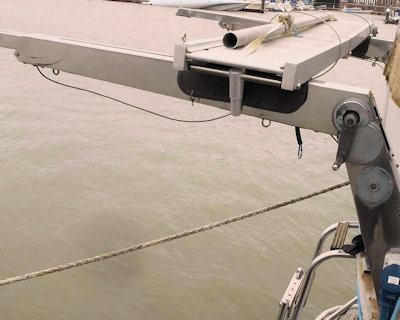 extending arm davits , Manual , note the Pasarelle atop, for use aft in warmer climates!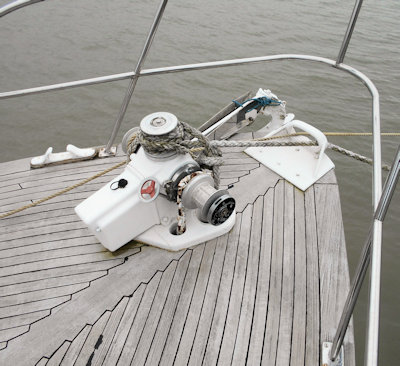 first peep at her wonderful recent teak deck. Fabulous Windlass, and enclosed hoop bow roller, with second anchor and bow roller fitting to port.
Main anchor comes up through stem in to a tube.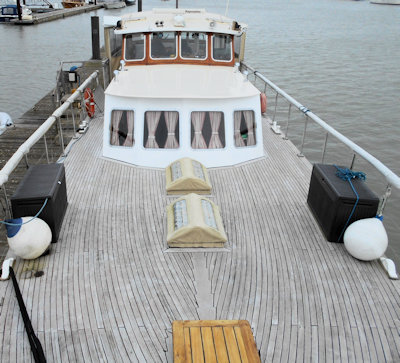 swept decks, over new structure below, and all new marine ply on top of that,
Two beautiful Glazed deck hatches with covers. and fore hatch in foreground.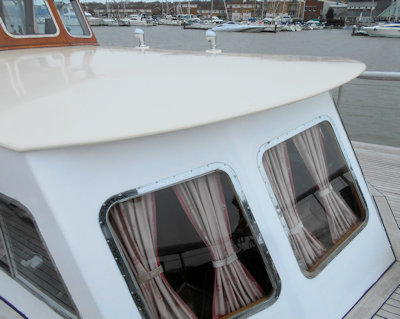 ALL this superstructure is new.. (10 years old I mean!). Still looks very good indeed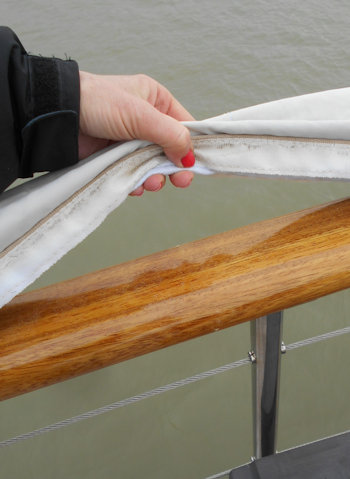 Capping rails beneath covers, note recent stainless staunchions and lines. also ..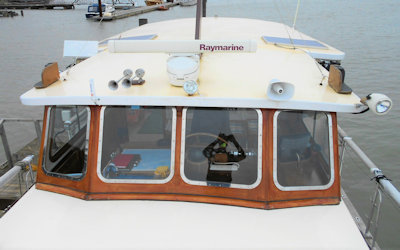 main wheelhouse and aft deck extension,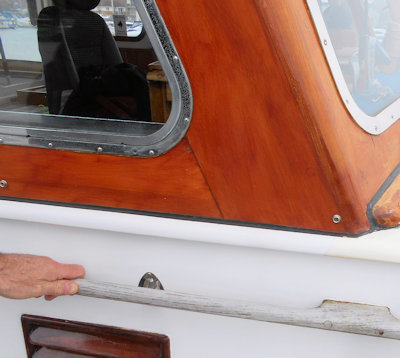 Windows look excellent, and no sign anywhere of any end grain water creep,
two solar panels on top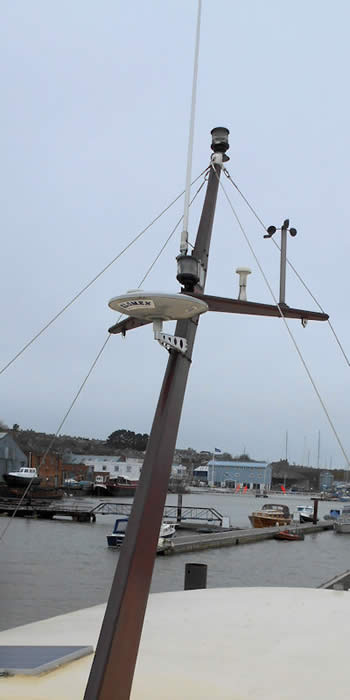 Tall drop down Mahogany mast,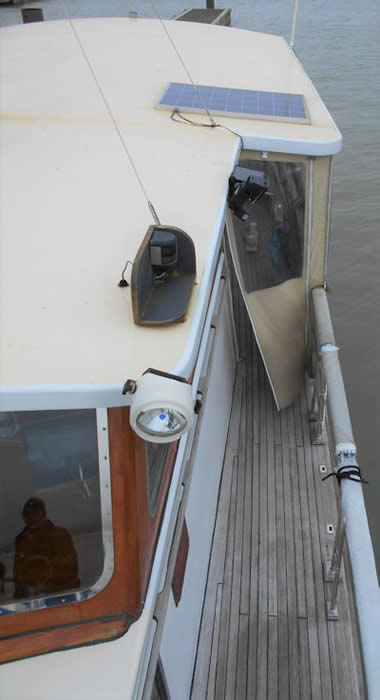 port side deck detail, Halogen spot, Proper nav light boxes, side cover zip door to aft covered deck, note side gate with ladder key holes .
very nice addition, when new saloon was designed, it had an escape Door fitted port front , which is also useful to load kit or supplies aboard when port side to.
Note the gloss finish to the coachroof. (Not rain.... It was DRY!)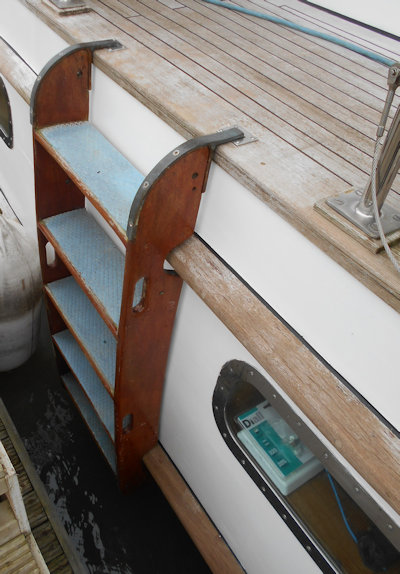 side boarding ladder hooks on either side,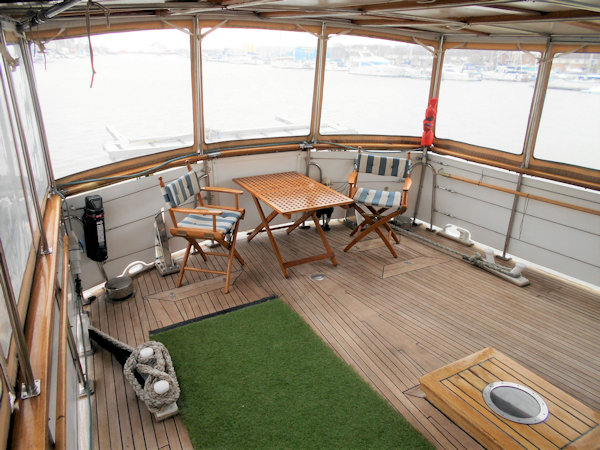 splendid aft deck area, Hatch right in to aft cabin, Note large deck furniture,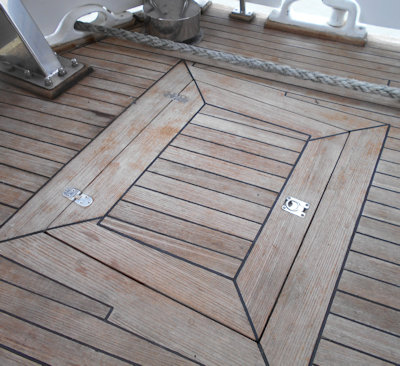 aft deck access hatches to aft store areas, each side, and access in to sterring kit etc through here
Also note the stainless steel cylindrical mushroom deck vents top of shot,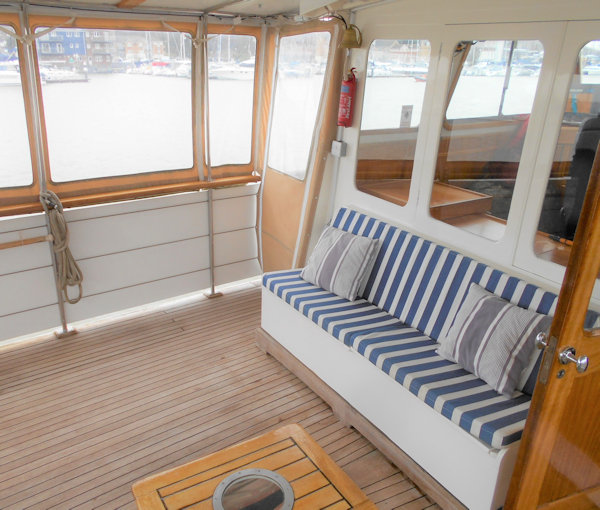 aft facing seat aft of wheelhouse, store within,
Wheelhouse/ cabin entry main door on starboard side,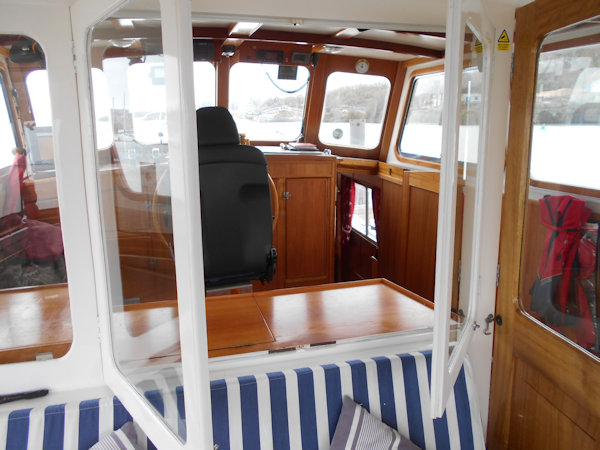 wonderful ability to fully open up the back of the wheelhouse to the rest of the aft deck area.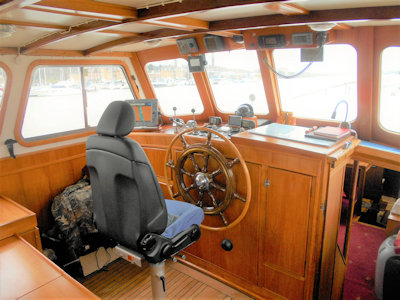 smart wheelhouse with refittted electronics, at big refit ( now 10 years approx) but all good working kit, Decent Modern helm seat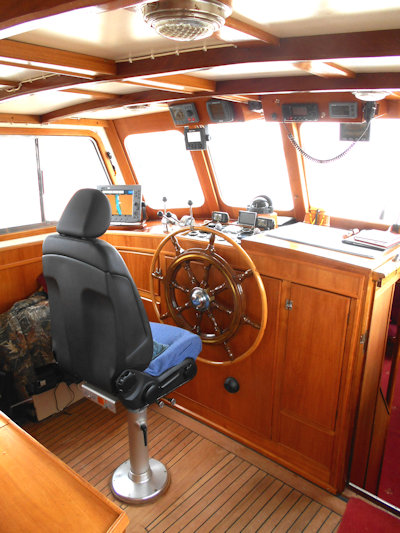 slightly closer shot,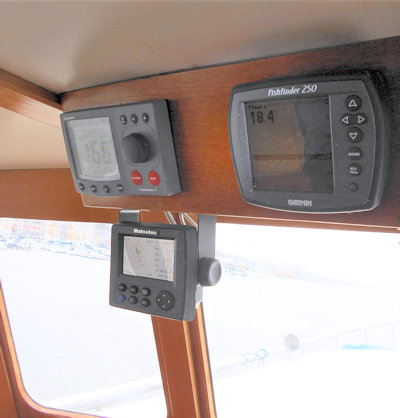 For instance, Pilot left Garmin Fish finder echosounder right, with GPS unit middle,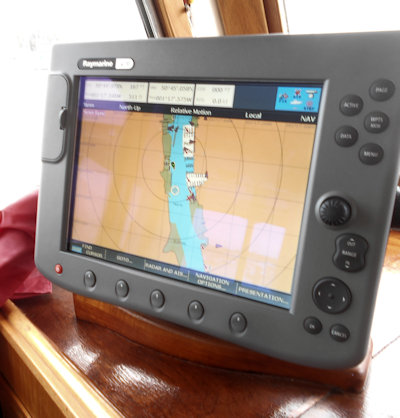 Ray marine 120 Radar / Plotter screen Coupled to 4KW open array scanner,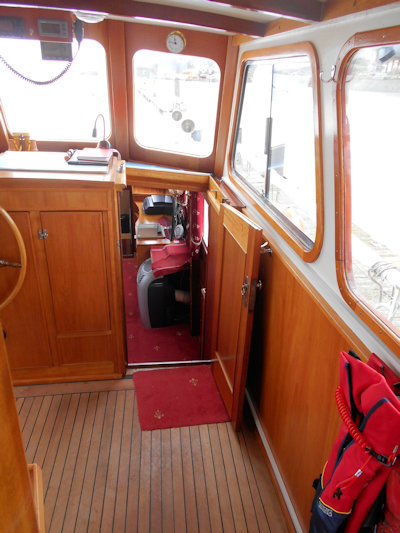 starboard side entry door to saloon, note big side opening windows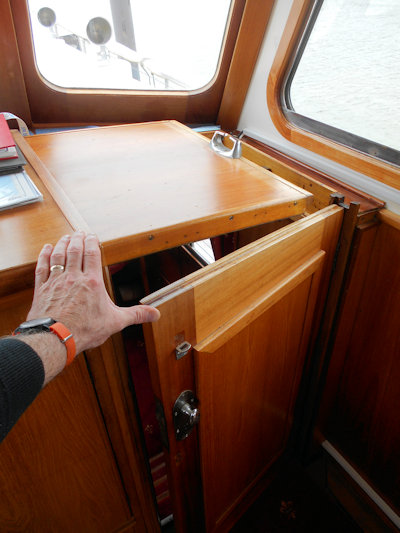 Cabin door with slide across top section from under the dash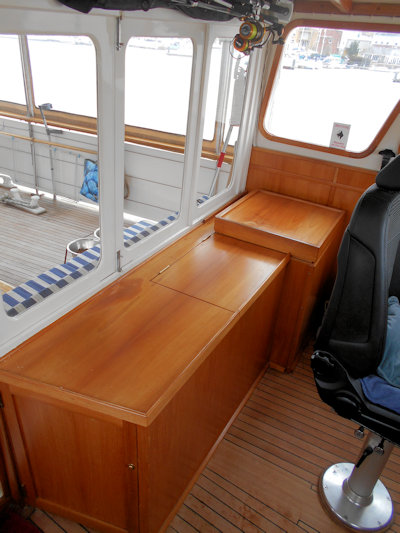 aft of the wheel house, great occassional seating. storeage. also ...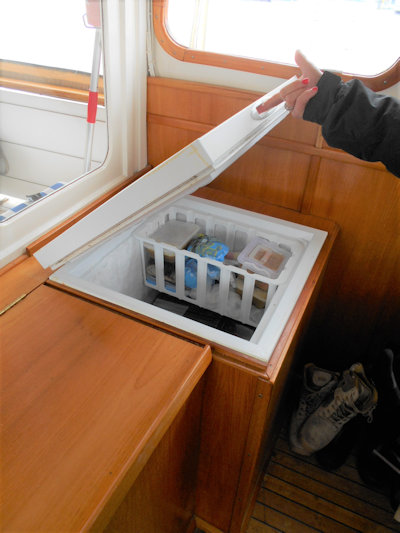 Contains Top loader Freezer, Port side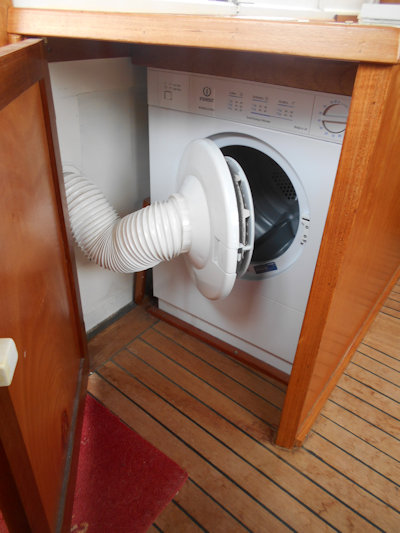 and tumble drier over to starboard. ( AS a live aboard she would take some beating) Note the condition of the "NEW"/ Recent teak deck in here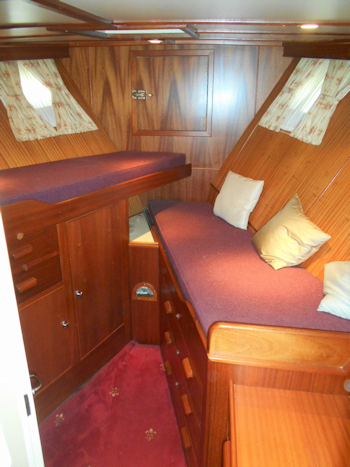 Starting from Forward,
Twin single Cross over berths, beautiful joinery, and custom Carpets throughout,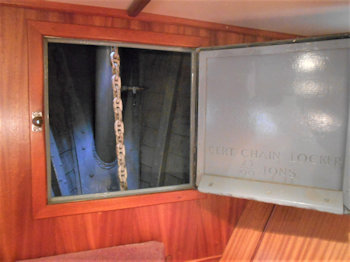 access to cahin locker, and Anchor pipe through stem, Origina Part One l Registry number carved into the door..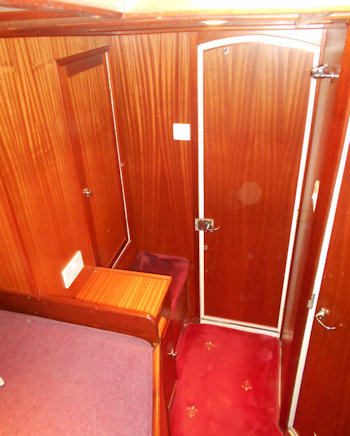 Looking aft, door right of shot to heads / shower, left hanging locker and dressing seat , very civilised.
Stunning Sapele Mahogany timber work mainly with solid Mahogany edges mouldings etc.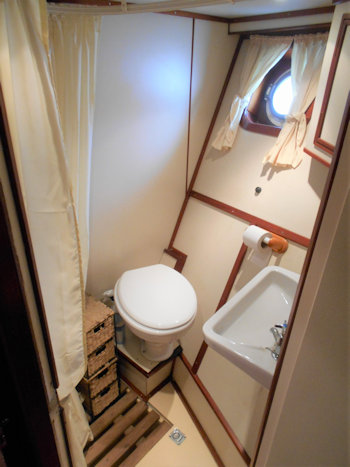 En Suite heads looking aft , opening port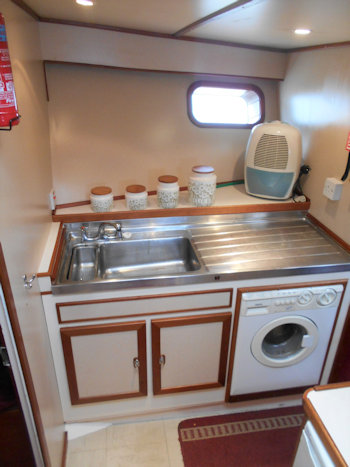 next section aft, this is looking to port side,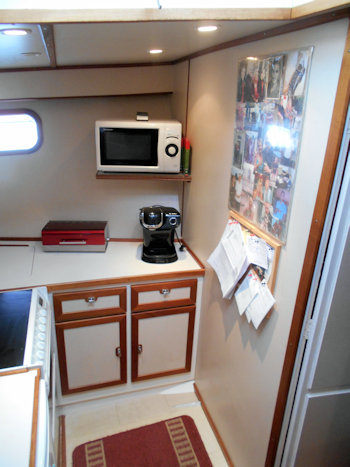 and straight across to starboard side, fantastic galley , full width, well appointed, and refitted, very much in sympathy
with original.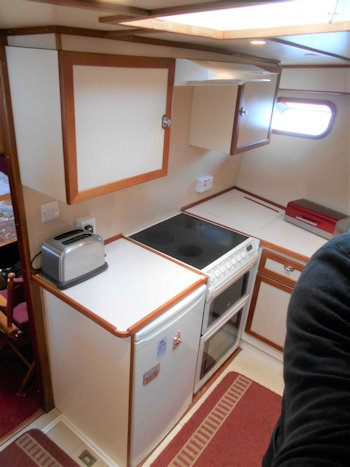 aft side of galley, modern ceramic hob with grill. oven and second oven with extractor hood, First of the two beautiful "Butterfly Hatch / skylights (timber built)
which shed light from above and offer really good amounts of ventilation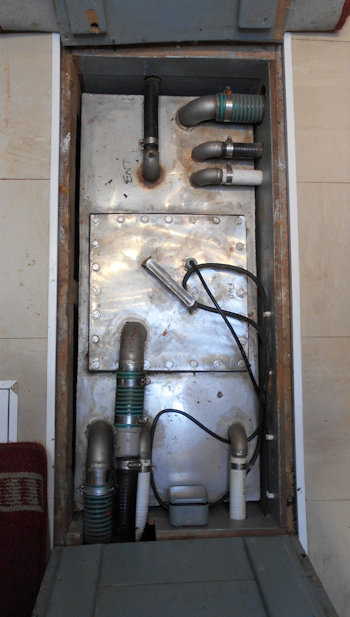 athwartships first of two black water tanks in stainless, with big access inspection hatches, etc.. All new with piping at full refit, ( The "works completed" list goes on !)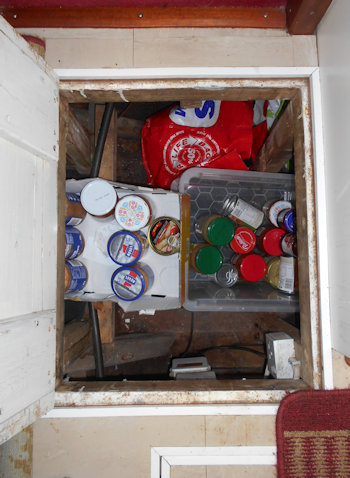 under floor holds, offer huge volumes of storage, they also offer good access to the bilges of the boat.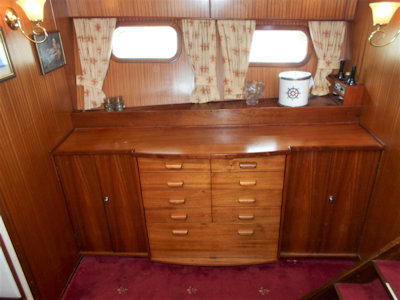 back one more section, before we go up stairs to main deck saloon, starboard side wonderful drawer units,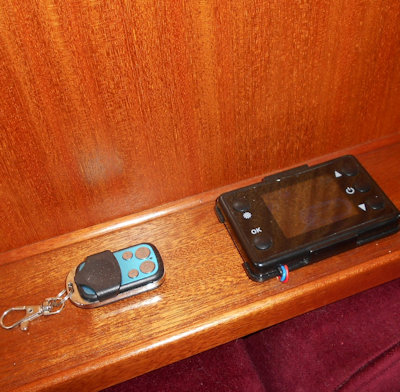 recent Heating system, ( diesel fired air blown ) with remote controls and even a remote control FOB..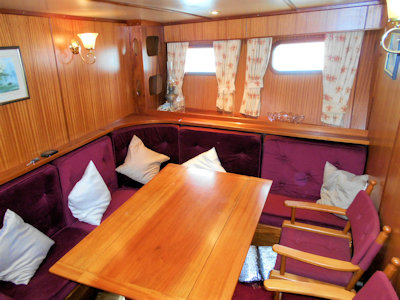 this unit can just be spotted, behind the aft seating at this snug lower dinette area.
many a story and no doubt a few Tall ones told round her with a bottle of something,
the table can be fixed down.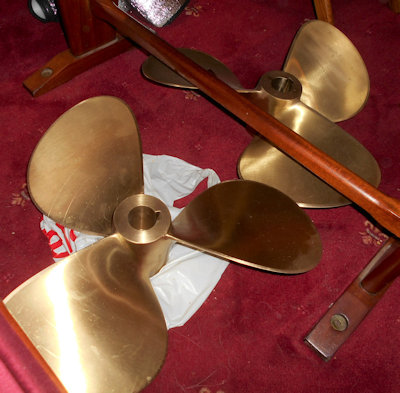 aboard awaiting fitment shortly are some brand new props with a slightly different pitch than existing to optimise performance ,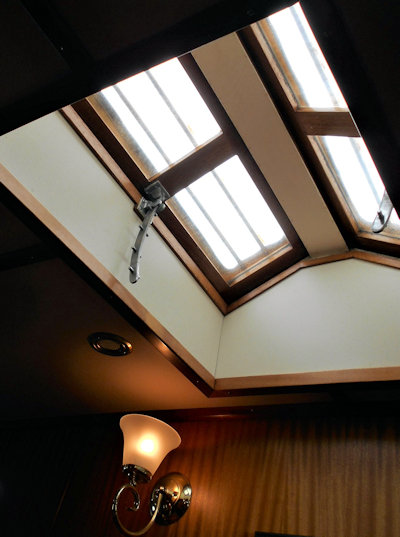 second of the stunning Butterfly deck hatches, shown here with the external covers still over it, but still letting in reassonable light,
you can see that with the long stay bars they will open quite wide.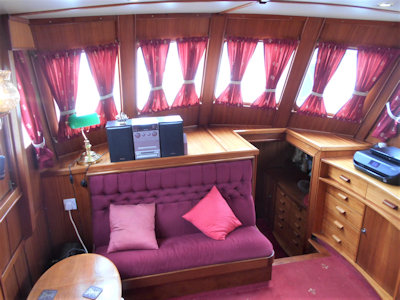 forward end of main saloon, aft facing two seater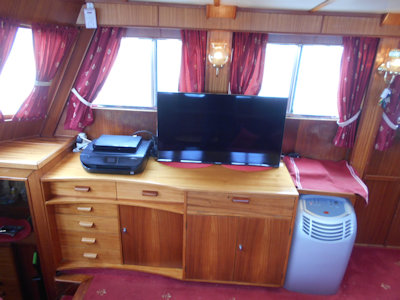 nice units to starboard, Huge flat screen tv printer etc etc obviously personal effects, , note the wonderful tall opening windows,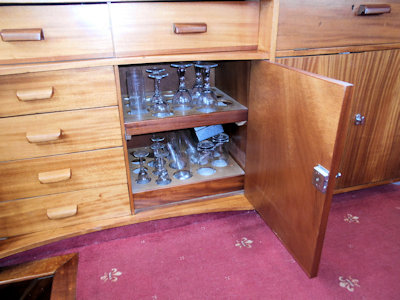 neat storage,, all drawers are "Lift lock"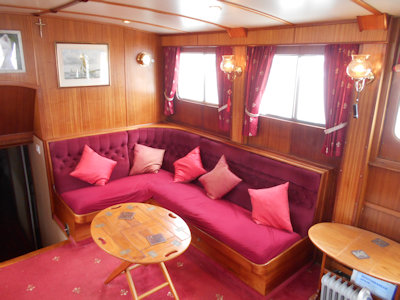 settee area saloon aft to port,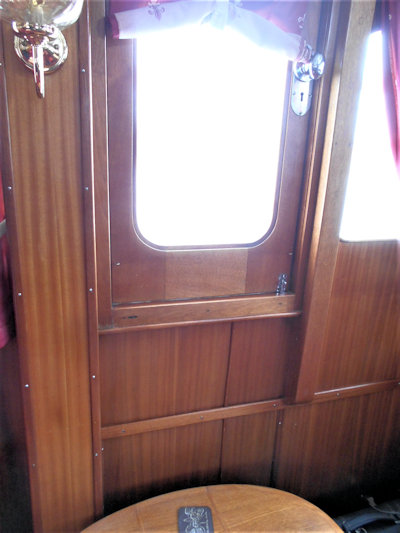 at refit this was added, very smart thinking , escape door, port front of saloon, but also extra ventialtion, and very handy
to load stores aboard in port if port side to.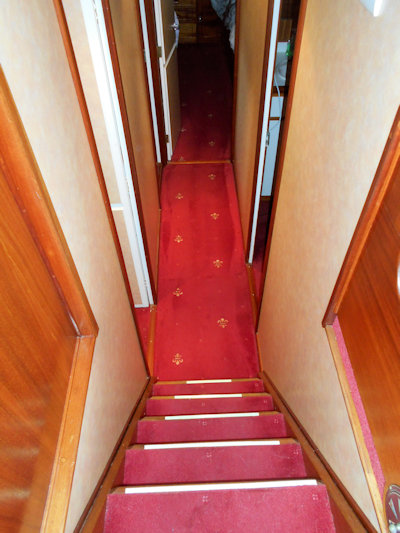 steps aft down from main saloon,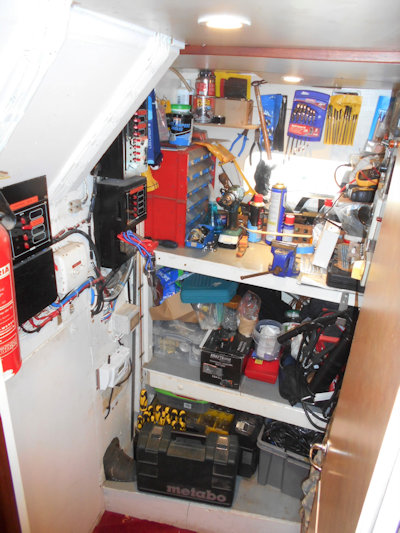 first door way starboard side, WOW , proper Bosuns locker/workshop and services area,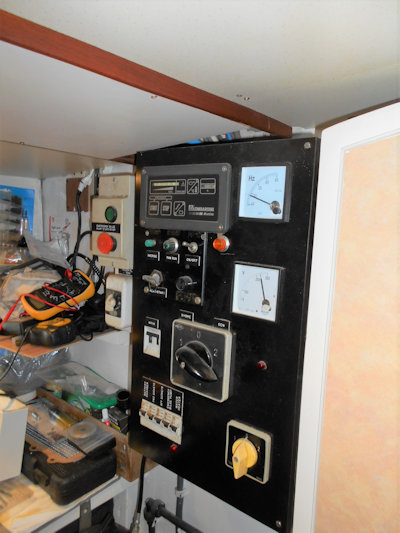 Main electric distrubution and supply options and switching, load and votage metres, Generator start panels ( two off)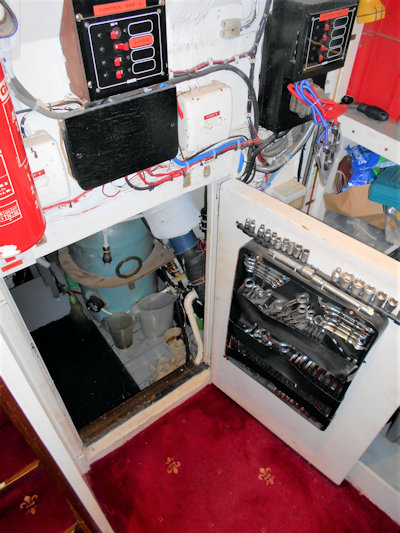 Door in to engine room,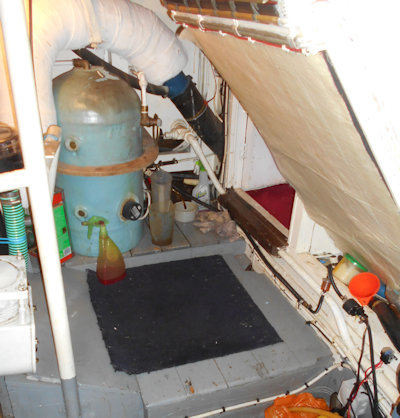 hot water tank, immersion as well as calorifier, mat as you enter right of shot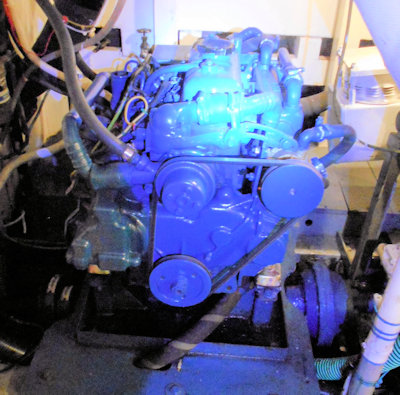 one generator straight ahead at aft end of port engine, ( this is a rebuilt Mitsubishi 12 KV unit, UN-Cacooned obviously)
THIS lomardini unit is cacooned , fitted in 2003, and has very low hours, it is also a 12 KVA unit, and is sited ahead of starboard engine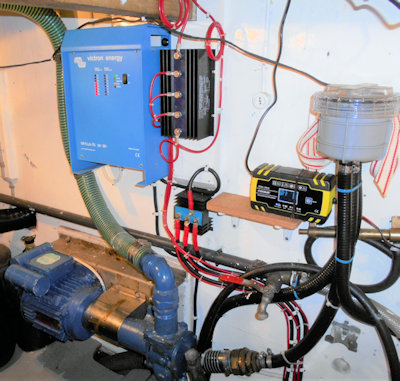 recent chargers etc forward bulkhead, the ship is 24 volt, in general with a few 12 volt systems, The engines have recent upgraded alternators,
recent rewire throughout,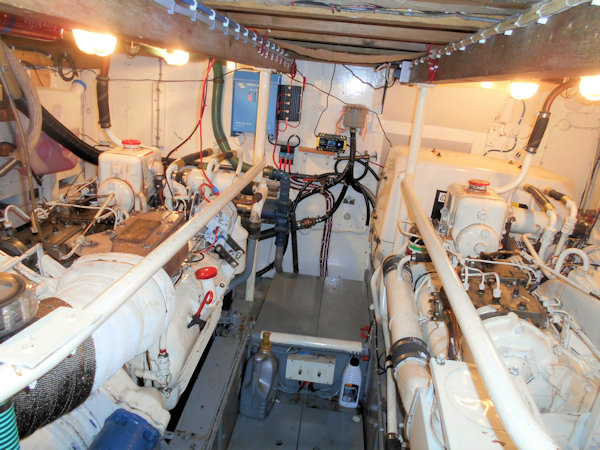 Looking forward , nice Big Ship Grab rails to protect crew from engines. etc.. DECENT lighting in here,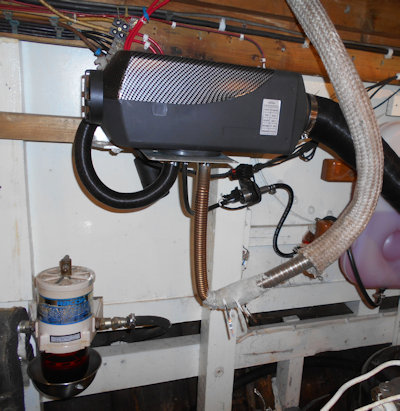 Recent Heating unit port side,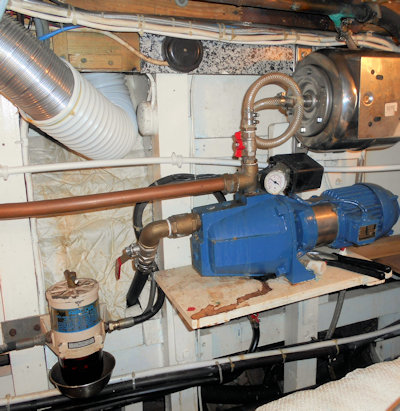 Water system pumps etc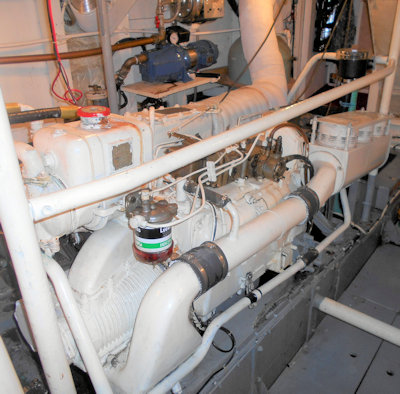 starboard engine looking aft,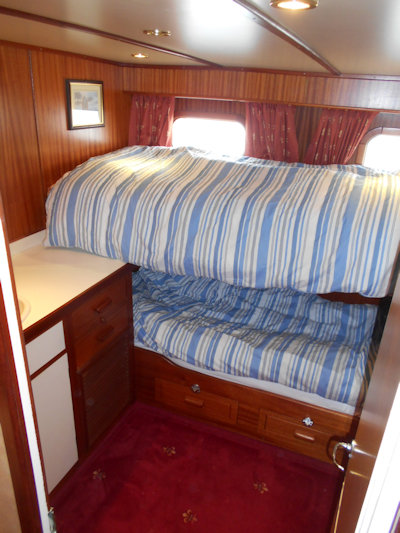 so back out of engine space and opposite is the twin single bunk cabin,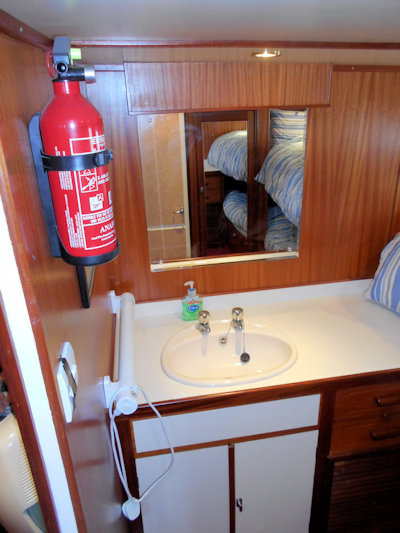 vanity unit , and heated towel rail Gorgeous Fit and finish, real solid quality feel.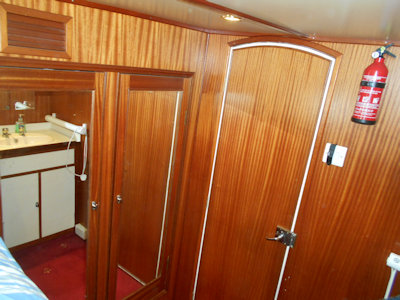 cabin entry door shut , looking aft at mirrored doors on hanging lockers on aft bulkhead.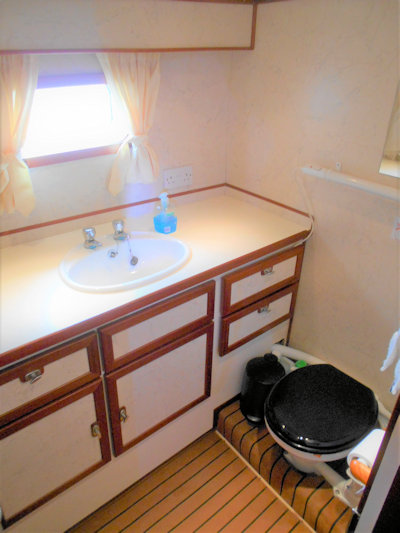 forward heads port side, looking forward,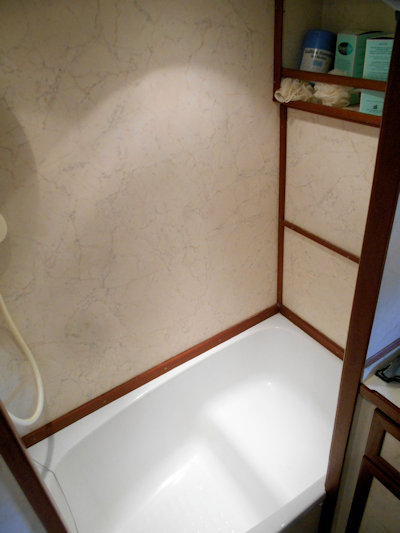 round to your left (aft) as you enter , is a hip bath beneath a shower, very nice.
The main aft cabin boasts a fabulous bed set to port side aft, note deck hatch over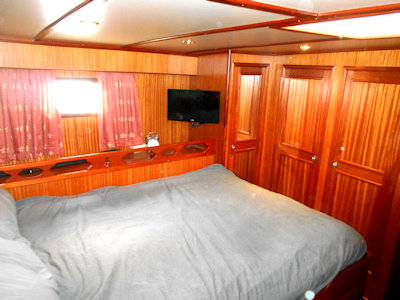 wonderful lockers all round and hanging set forward, small fitted tv on bracket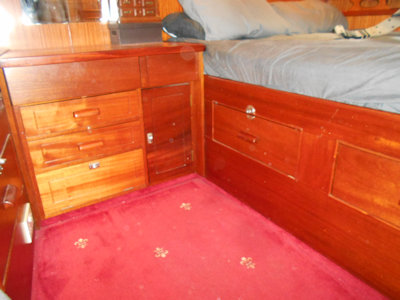 Lovely woodwork all round , endless lockers drawers etc, more "Fleur De Lys" Custom carpet,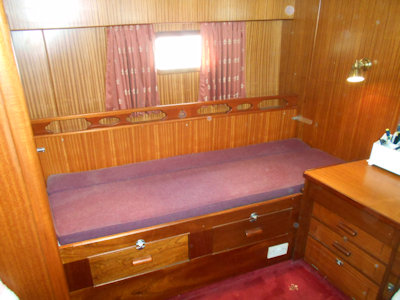 over to starboard aft, is an occassional single for, Kids... grandchildren, etc.. or can have the back rest folded up and it becomes
a lounger seat in the cabin to dress on.. etc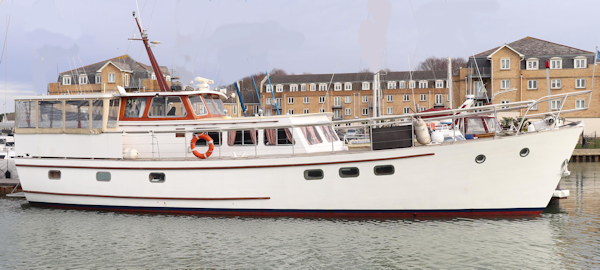 She really is an elegant craft , and with her extensive works and refitment she ought be a wonderful sound Cruising yacht or spendid
"Flat" , she has no need to be a "Marina Queen" she is well equipped and well able as a sea boat, and has proved that to be the case ,
A True "Classic" in the making and in unusually Sound order.
She represtents amazing value for money when you think a 7 m rib from Scorpion with decent extras will be much the same !