RECENT SHOTS ( September 2019) ASHORE HAMBLE for a short while , NOW (Jan 2020 back afloat in Poole)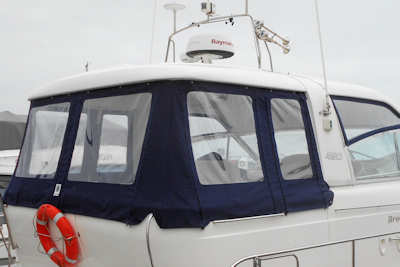 BRAND NEW AFT CANOPY fitted Jan 2020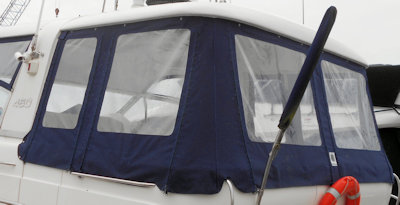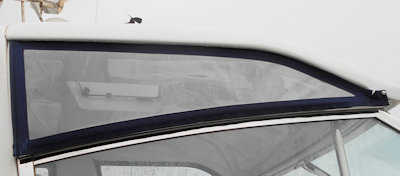 including the forward sections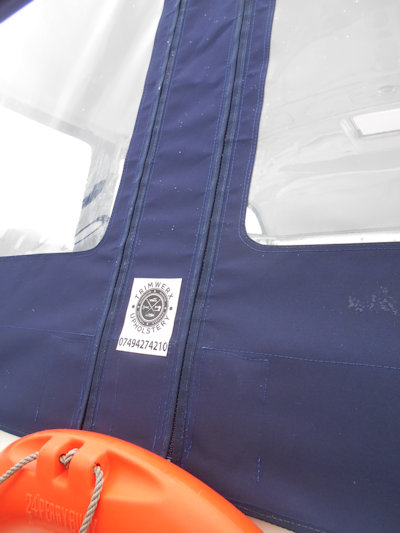 Local cover maker has made a super job, The existing Canopies are still at least 8/10
so will make a super second set for winter use in the future.
Now a few while she was ashore Hamble in September 2019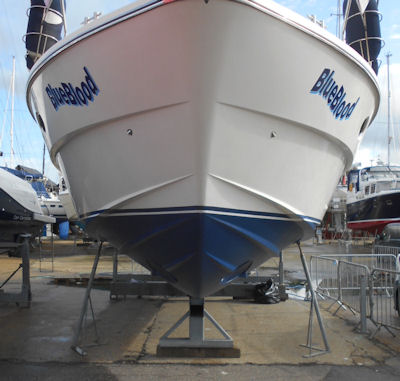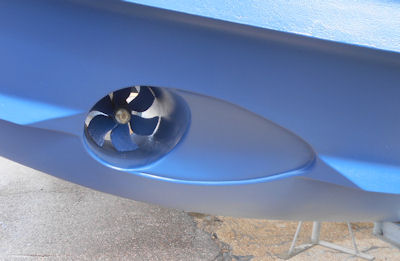 powerful Bow thruster, UPGRADED installation.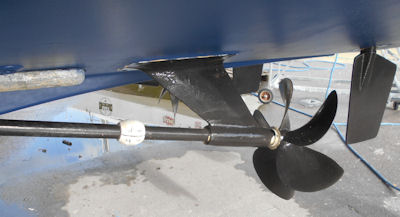 Five bladers, make power smoother, note the Propspeed type product applied at huge cost, every effective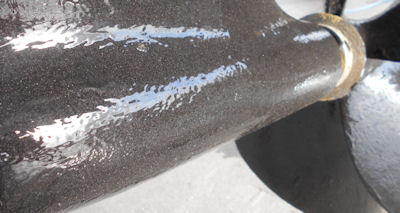 WIERD stuff, feels like silicone.. certainly works though! Note Razor cutter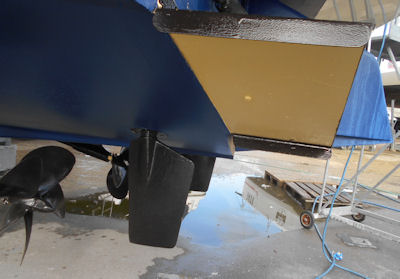 Tabs coated on underside as well.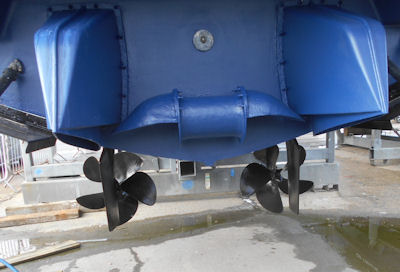 exhaust pods, reduced in depth to increase efficiency of stern thruster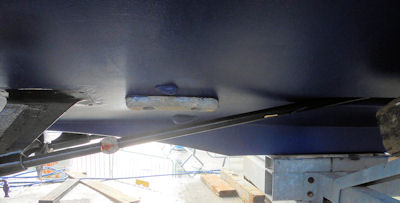 useful amount of keel, does make slow speed ability easy..
Now earlier shots;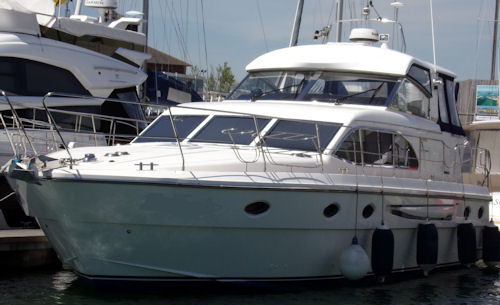 taken June 2019, afloat at her berth in Poole.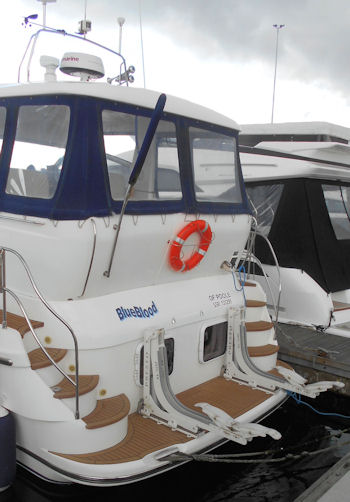 Aft end, note steps up each side aft, helps versatility of berthing, note the hard top, makes the aft canopy / curtain pack become near vertical which makes the aft seating areas FAR more freindly, also note the superb Swedish High Teck electric/hydraulic dinghy handling system, NO dinghy included, but the system will cope with up to MAX 500 KG, personally I would put smaller unit on here for trim of the main boat, She has had increased Trim tabs fitted with greater Cord, and twin rams etc.. so even with heavy rib, you can trim her decently,
the synthetic Teak looks very good all round,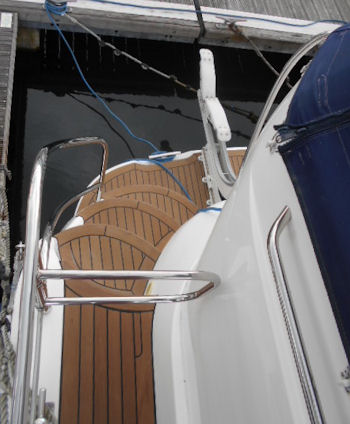 deck gates at each aft end before steps to aft platform.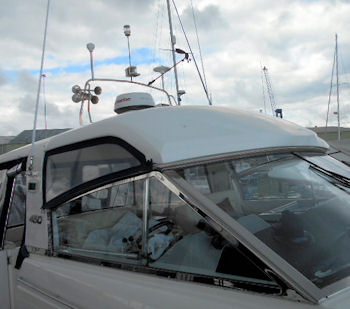 the Hardtop has a kick up forward to allow decent headroom,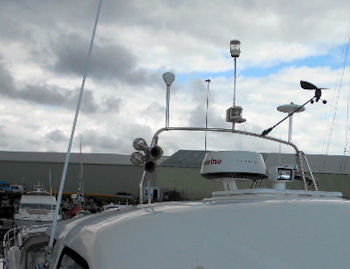 aloft, Stainless hoop rail holds horns, GPS antenna, Nav lights, wind speed and direction , and then TV antenna, with remote searchlight and new digital Quantum Ray marine Radar dome on a small cake stand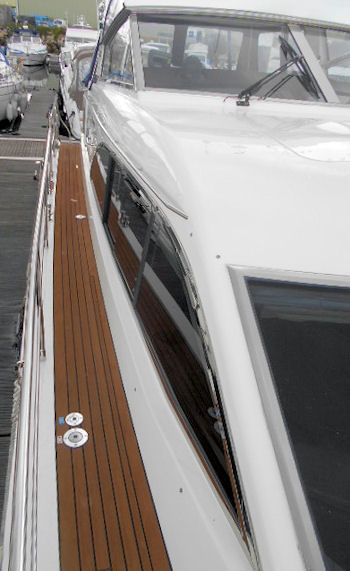 side decks with nice grab rails all rounds, note waste tank outlet and rinse point.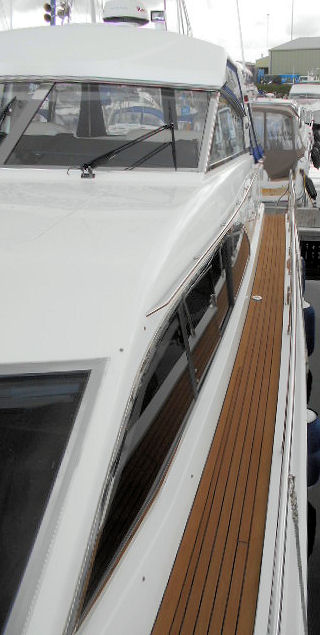 portside , note the shine on the coachroof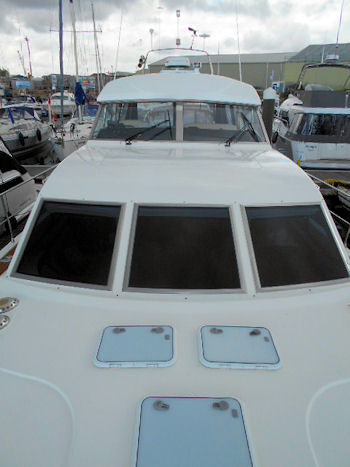 three deck hatches, all have sun blinds built in, lower saloon screens, have oceanair blinds inside there is an external cover as well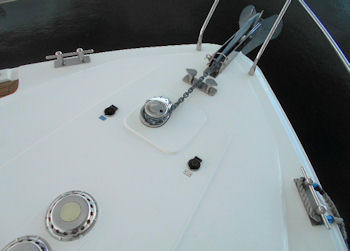 anchor arrangment, Plough type with all chain tail. ( little used) and deck switches to windlass as well as remotes at helm, note snubbing bollard to take weight off windlass at anchor. 12 fathoms of 9 mm calibrated chain,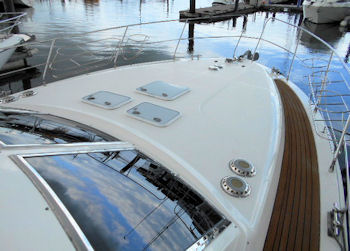 easy flat foredeck, and note SIX static vents, note additional fenderbaskets fitted to standard,( Four each side)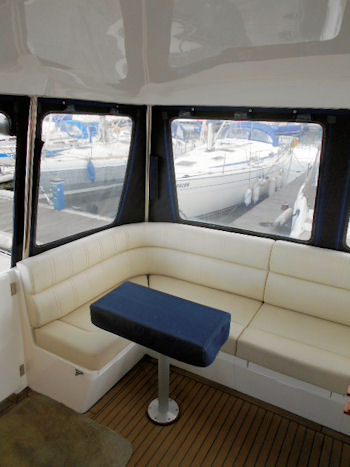 cockpit starboard aft, table folded and covered neat and tidy,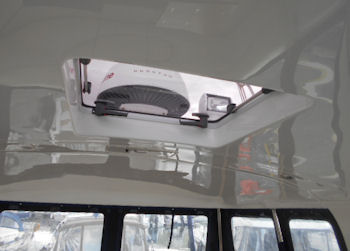 Quality of finish is excellent, with hatch offering extra ventilation as well as light.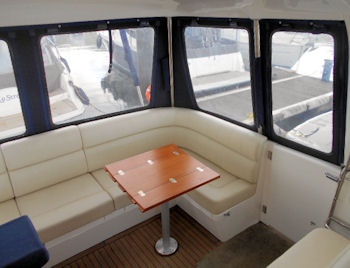 port side, table opened, there is an infill between the tables as well, note side gate to side deck each side,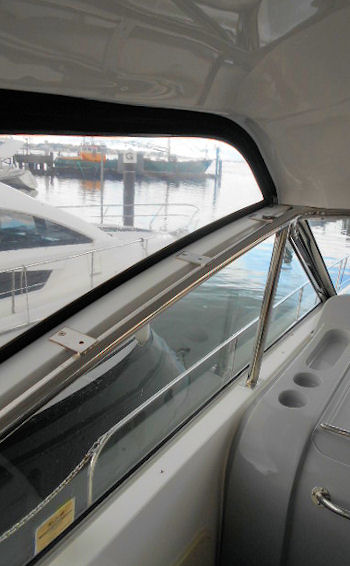 Typical detail, the stainless framework to beef up the screens to take the Hard top, beautifully executed. , top canvas window panel will slide out for extra ventilation on nice days!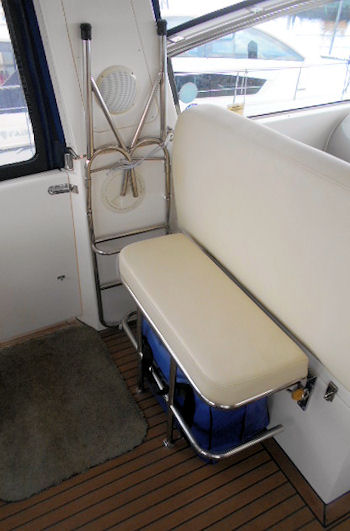 aft facing Jockey seat, with recent raft (included) this is JUST due its first service and the owner has committed to have this done for any new owner. note the smart side boarding ladder with stand up handles that mean it is actually very easy to use.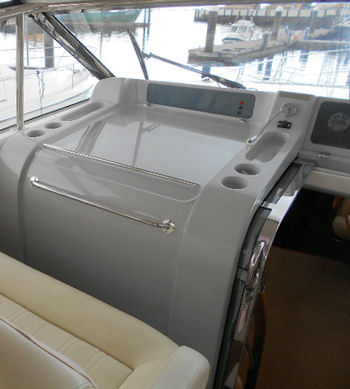 usual decent Co-pilot chart area,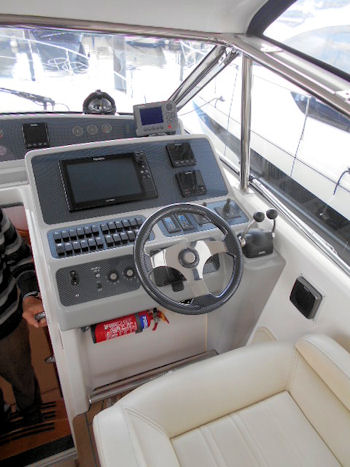 Wonderful helm station set to starboard,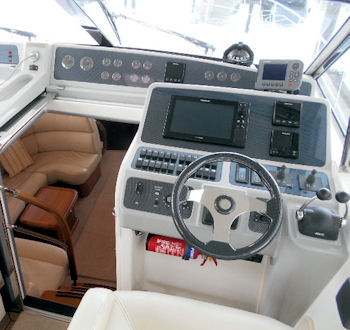 ALL new Raymarine system Fitted during 2018-19 , hybrid touch Screen, digital Quantum radar, New auotpilot head, wind instruments, Tri data, and in a bracket a new stand alone raymarine Gps plotter as a "just in case" . ALL new Carbon dash panels were installed with all this new kit, and look excellent. note ahead of the throttles the joy sticks for bow and Stern thruster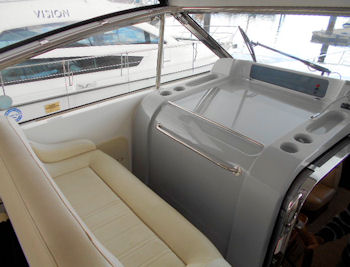 The copilot seat will hinge forward an has a large storage locker within the base.
and now inside starting from forward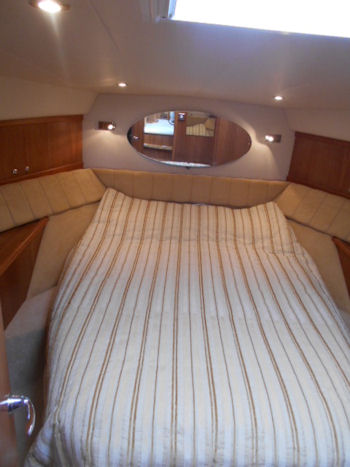 double on the centerline, note mirror is hinged access to chain locker, Fitted bedding is included, Bed is upgraded with sprung Marine matress,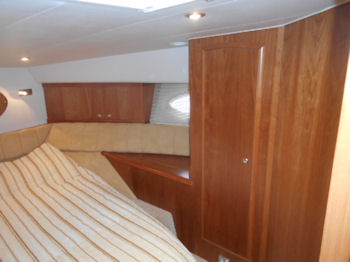 starboard side lockers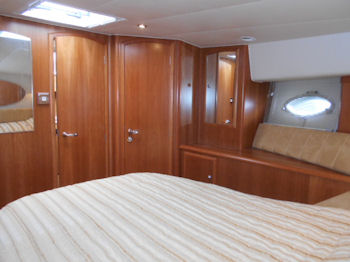 port side looking aft, with cabin entry door, then en-suite door to forward heads/shower, and again nice hanging lockers etc 2 opening ports and hatch over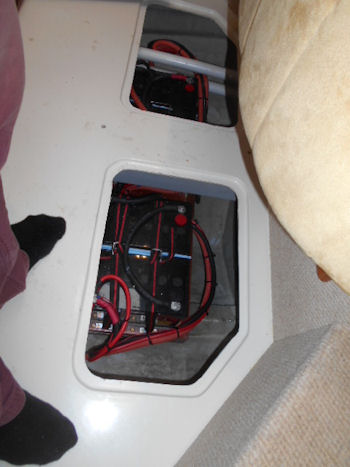 This is well worth a mention and typical detail from this owner,
The standard bow thruster fitted works fine when all is perfect..
BUT there is a long run and even being a 24v boat, the Bow thruster was often a bit "lame"
So the owner had his electronics guy have a proper look and they suggested a Big bank of decent batteries local to thruster, ( 4 x 110amp Batteries) and a stand alone charge for them , this he did and a new shelf was fitted, batteries installed etc, The result is a superb bow thruster in on ALL occassions
decent Victron charger just for bow thgruster set. ( theyalso suggested upgrading the standard ships charger at the same time and that was upgraded with a new bigger Victron unit as well!)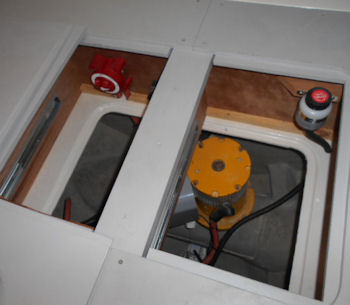 Bow thruster access easy under floor of bed lockers/ drawers.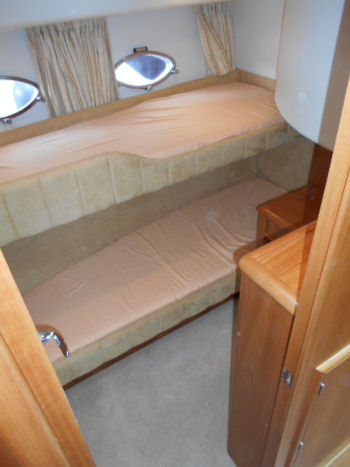 starboard side guest cabin, two full size bunks,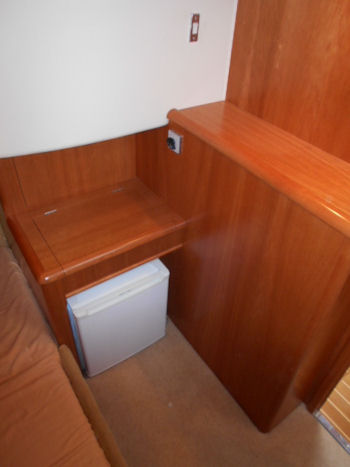 Freezer under the desk,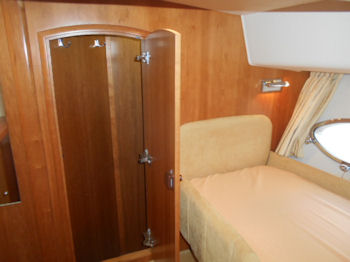 big hanging locker in here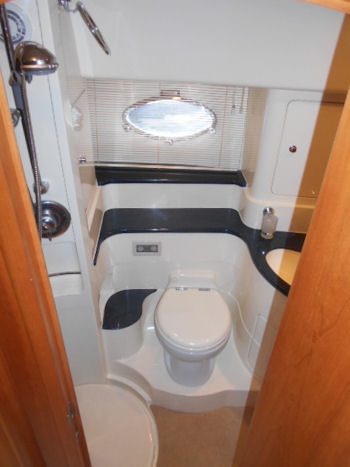 Forward heads view in from lobby, note shower with curved Smoked perpsex screen left of shot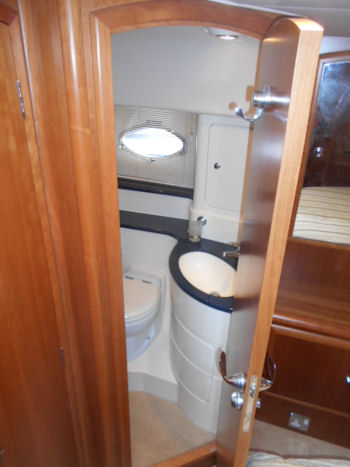 View in from Forward cabin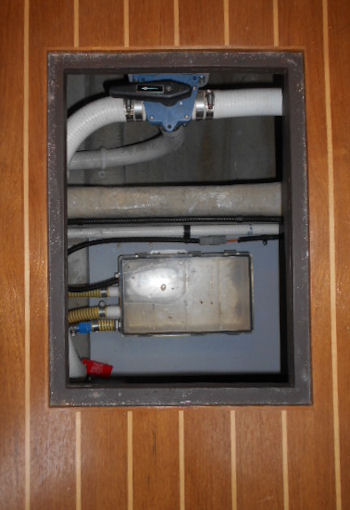 Under floor in lobby/galley, easy access to waste / diverter valve, and shower pump box, (Bilges dry)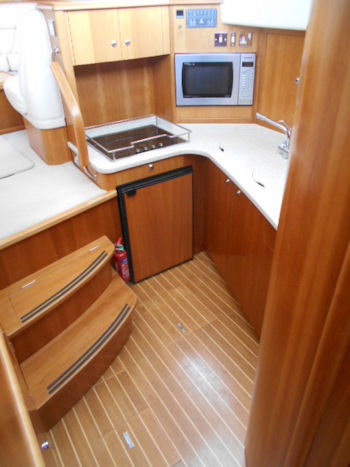 galley looking aft, smart teak and Holly floor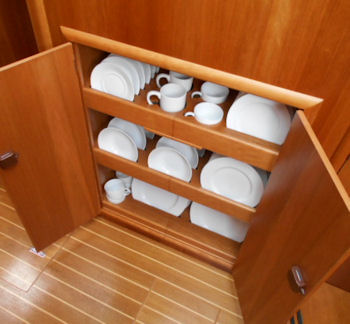 Crockery locker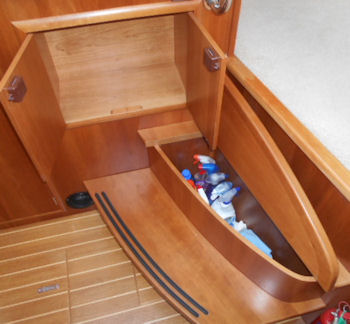 with additional storage under steps,
and under floor lined lockers
four burner ceramic hob, with combi microwave cooker above, twin stainless sinks with infills, Fridage under hob,note generator start panel over microwave to 12KVA fisher panda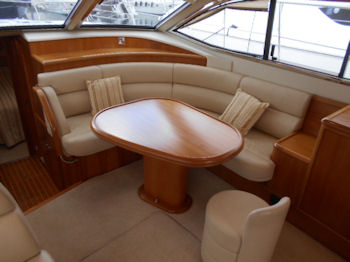 forward dinette, with Connerly Hide upgrade. and loose stool.
starboard side units,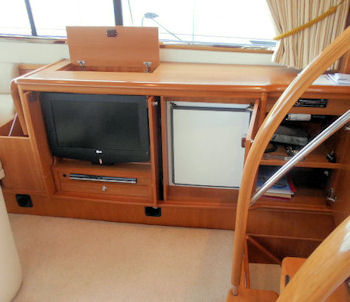 contain, Flat screen tv with DVD player etc, drinks fridge, and stereo etc aft of that
two drinks, glasses lockers
saloon sette area set to port with loose coffee table
Chart stowage under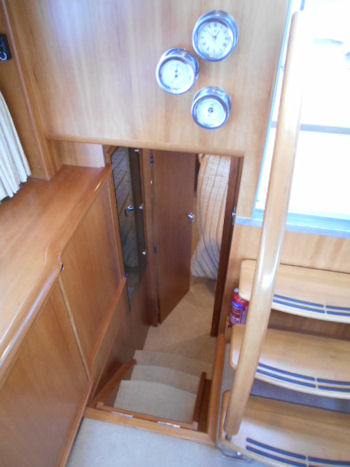 paassage steps down to aft cabin,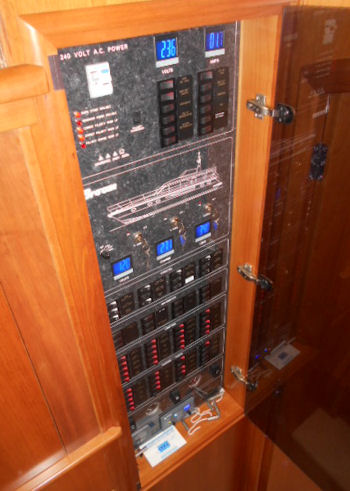 main switch panel, beautifully organised, New charger panel at base,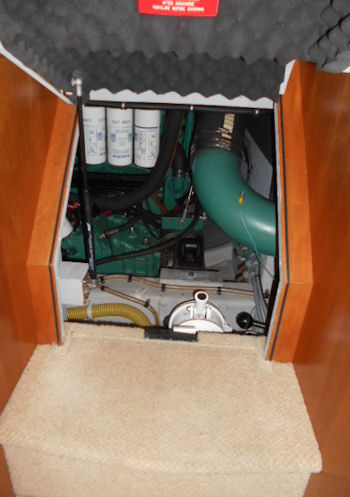 these steps lift to give a useful peep in to engineroom, starboard side, with emergency bilge pump in view,
Fabulous aft cabin, with plenty of light and air, again shaped bedspreads
starboard side stowage, and two opening ports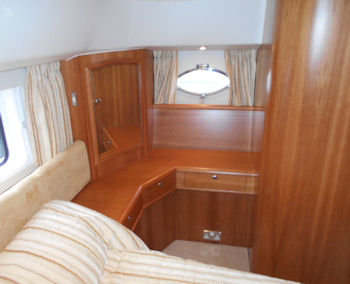 vanity unit over to port side, and another port,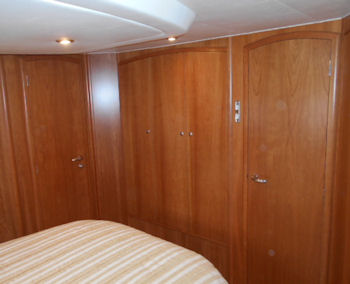 Forward bulkhead has cabin door right, and then hanging lockers left, far left En-suite entry door,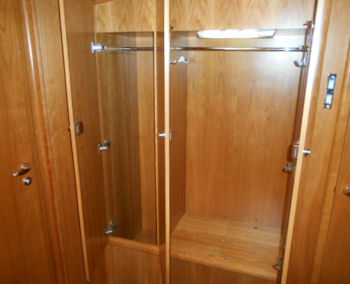 plenty of hanging ability,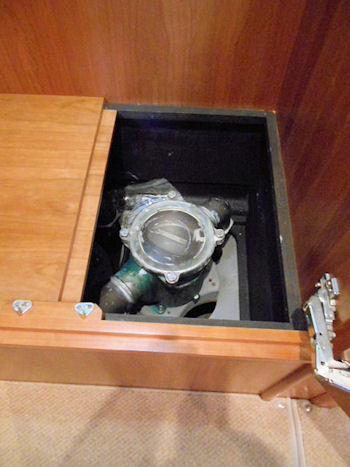 sensible engineering with raw water strainers moved here to enable easy check, clean etc.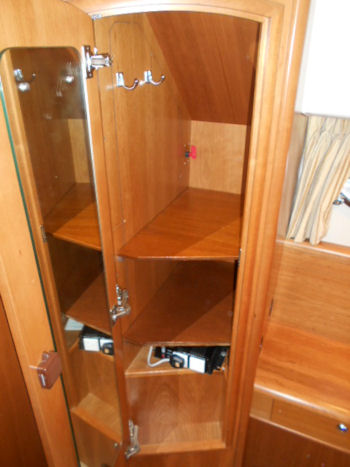 starboard side forward ,locker contains Inverter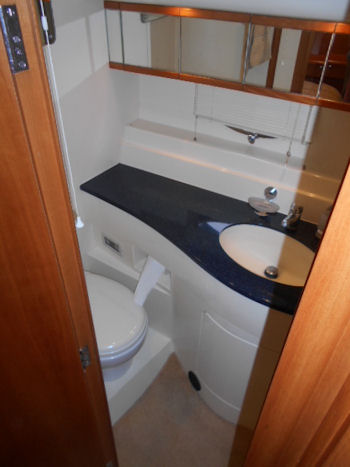 ensuite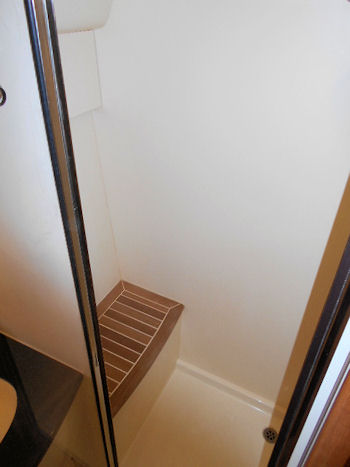 with shower forward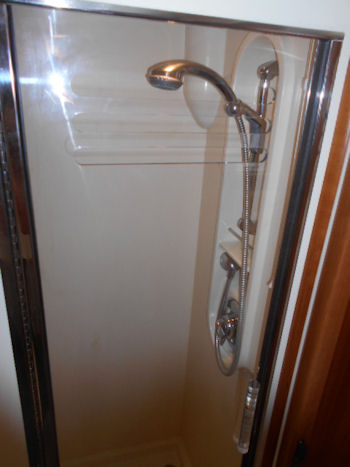 behind solid perspex door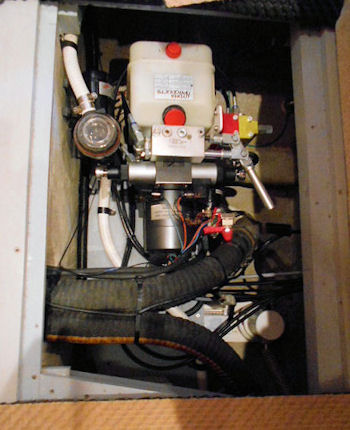 Here is the Hydraulic drive units for the dinghy handling system, (under the floor forward of aft berth) note engine water intake seacocks are in here far easier than getting down in to engineroom.
under bedhead, access to steering gear etc, clean and dry in here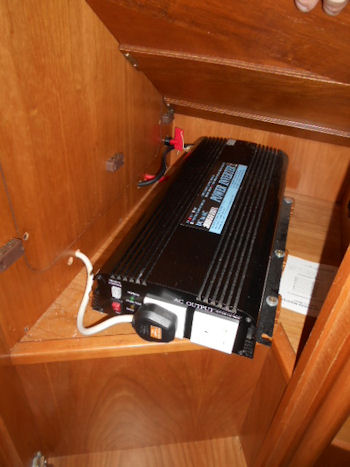 better view of that inverter 2,5Kw.. plenty to run the freezer forward which is a 240v unit, as well as some extra capacity if required direct from 3 pin plug on face plate.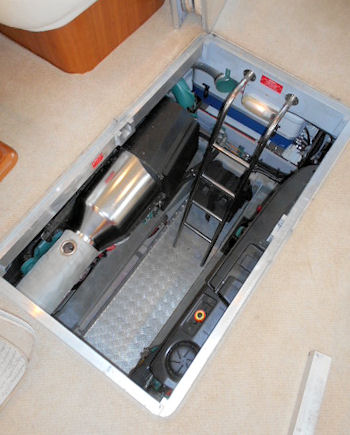 Engine access mid saloon, all very clean, The Upgraded gearboxes were fitted to these engines ( ALL D9's infact)
a while after delivery under warranty.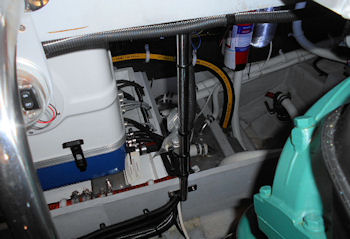 looking forward, generator left in cacoon, stainless holding tank right of shot,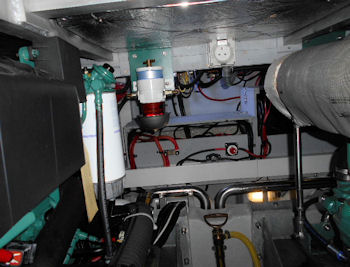 Looking aft , all clean bright and tidy,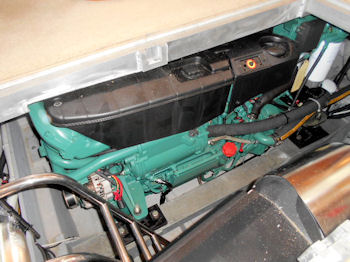 D,9's 500 hp, oil was still golden on dip!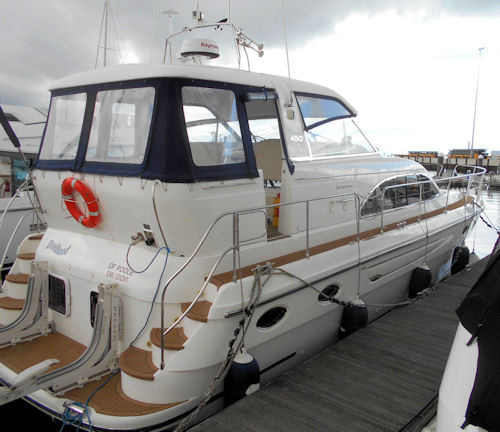 quite a boat, and certainly WELL MAINTAINED,