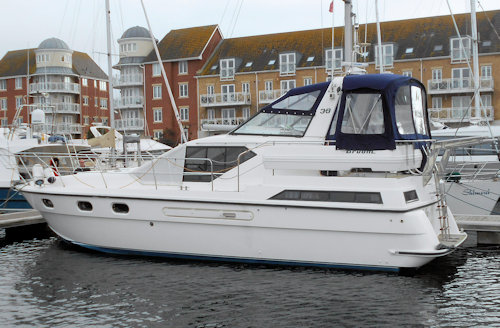 RECENT aft deck full canopy, very smart !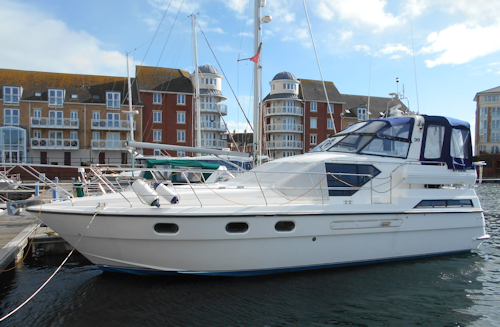 and some sun came out,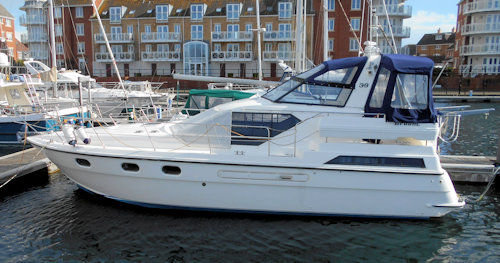 The aft deck inside that Full canopy is a popular and sociable space to sit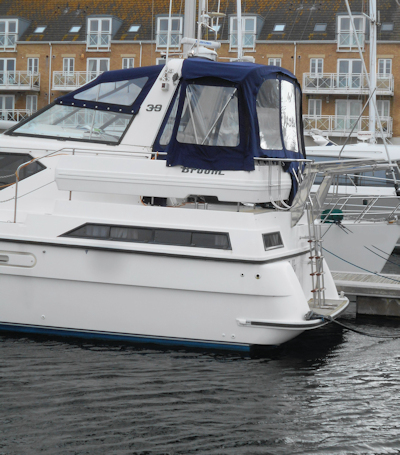 better view and note extending arm davits,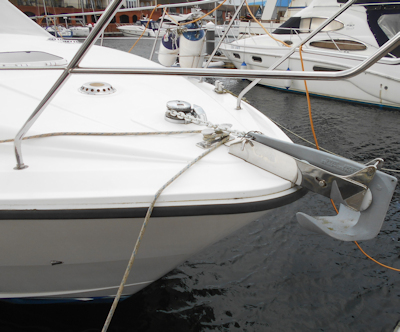 bruce anchor with manual windlass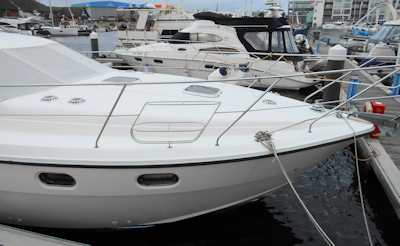 fender baskets fitted (factory options)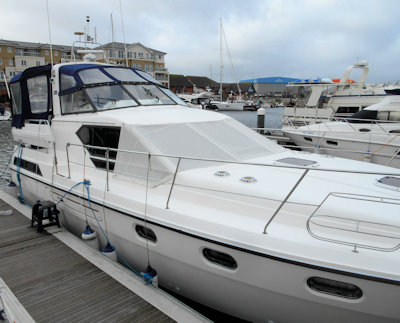 Clean boat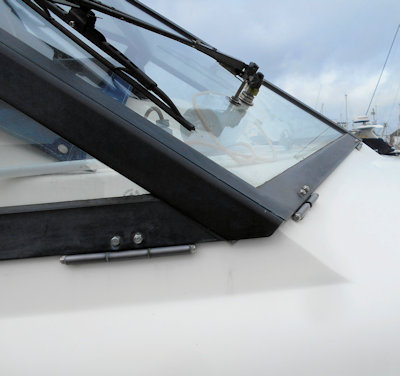 Fold down top screens in case a wonder through Europe might be on the plan.. radar arch drops also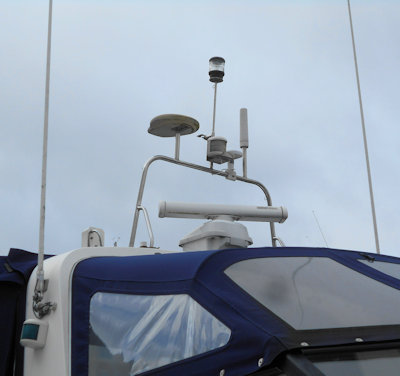 Aloft, open array scanner as well as TV. GPS and nav tex antennas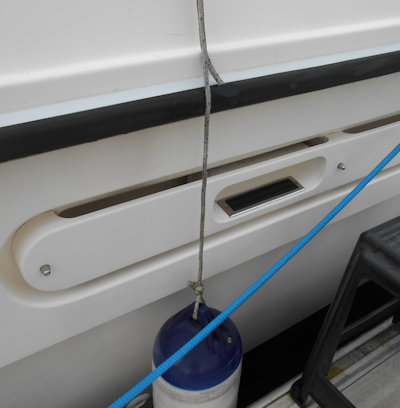 side steps each side to gates on side deck both sides.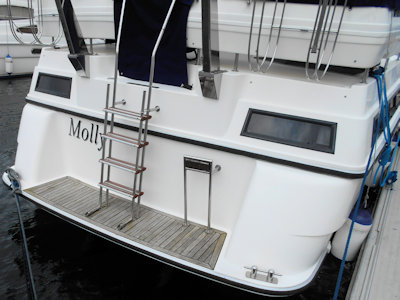 Factory option auxillary bracket, and decent drop down swim ladder, extra low level cleats are handy, Teak on aft platform an option,
as are extra fender cages above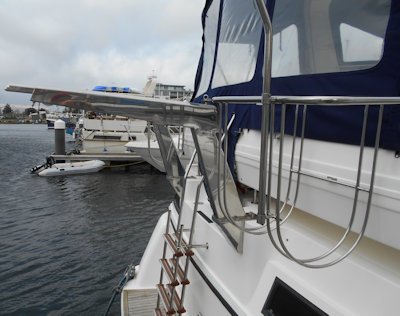 better view,
cosy aft deck under full canopy, lockers under aft seat,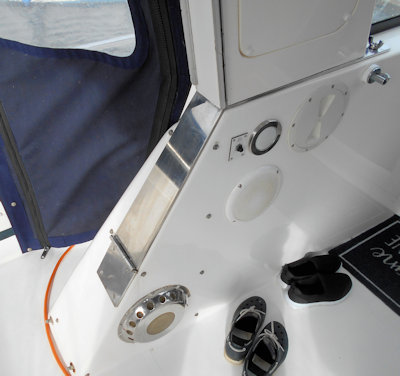 strap hinge to radar arch, with wingnut forward to release,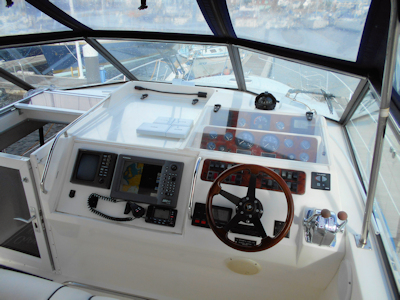 Dash with sun covers removed, the walnut effect dash panels are in good shape. ( I think they must have been replaced a while back as they are too good for original) Note the Electronics screens are exposed and turned on, and the GRP cover has been removed , The Perspex panel above gives room for a chart, note chart light, Recent (very) bow thruster controls are just ahead of the Morse throttle controls
close up to help !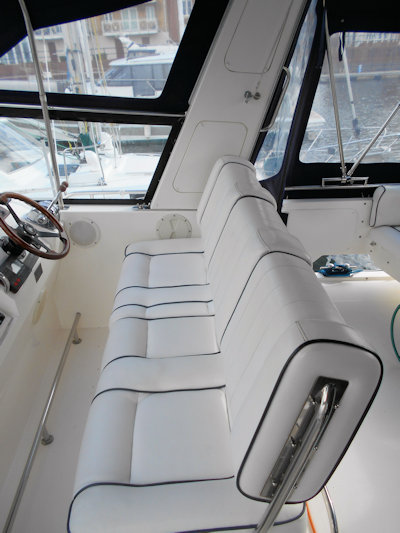 The tripple seat has a folding back rest that will "flop" forward so you can sit and face aft in harbour
note the nice Stainless foot rail, there is one aft of the seat unit also.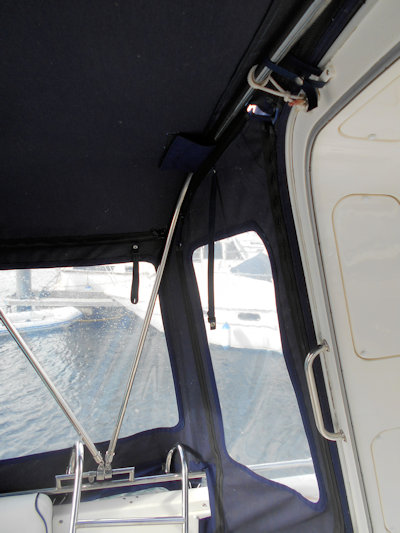 very recent canvas work.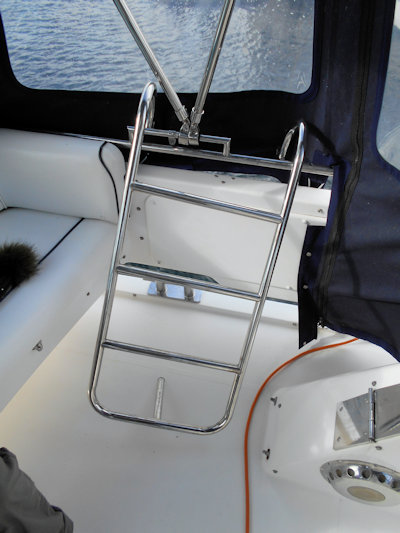 Factory extra the side ladder sits in hooks each side at gates. Note the long stand off leg so it sits at a decent angle
General arrangement NEARLY ! no interior helm to port, this is all extra lockers on a standard boat,
very few boats had the interior helm. those that did virtually never used them.
fore cabin and first glimpse at the more modern design of the all new soft furnishings including head boards and
berth surrounds etc.,.Generous berths, 6'5" down the middle , access locker forward to chain, BIG locker under berth forward and easy access to Bow prop under floor
Diesel fired central heating, note outlet at floor.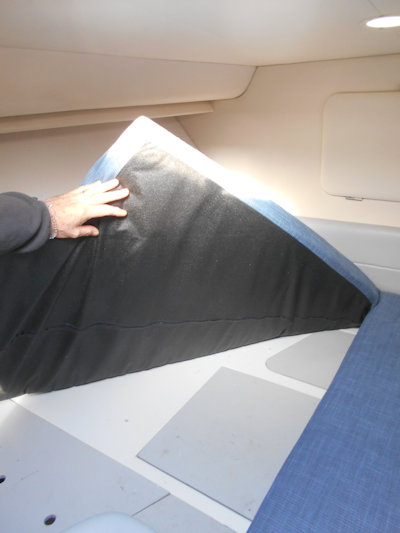 Said big top loader lockers. In the passed I have seen this hold, Lined out with rubber car mats! and has housed a couple of fold up bikes! )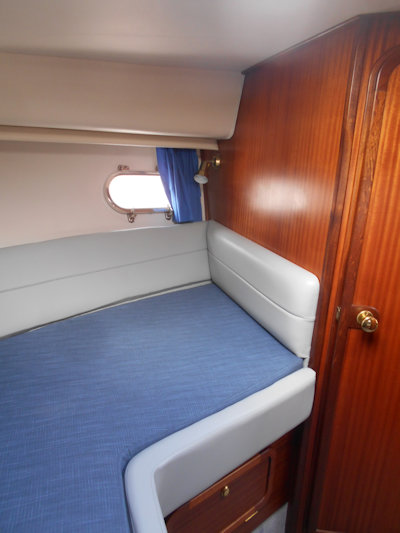 starboard berth head end, opening ports each side, ensuite door right of shot
NEW Oceanair blind set, with insect and black out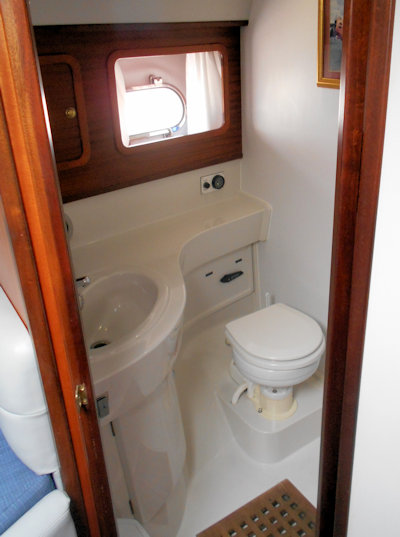 ensuite looking from forecabin,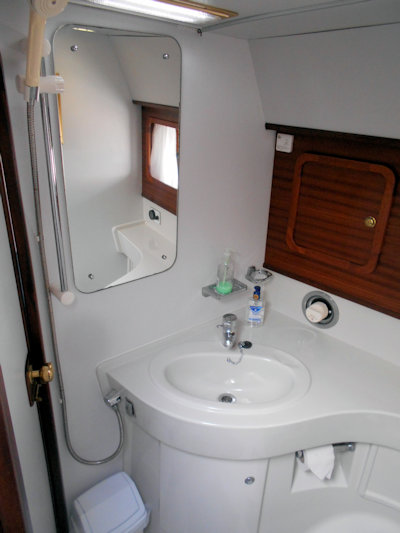 and looking from aft door in dinette saloon, note the shower, Simple GRP moulding is clean and easy to keep so!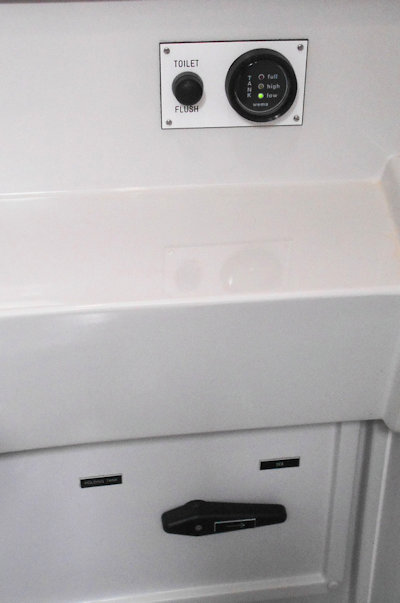 electric heads, and pump out options to tank or to sea.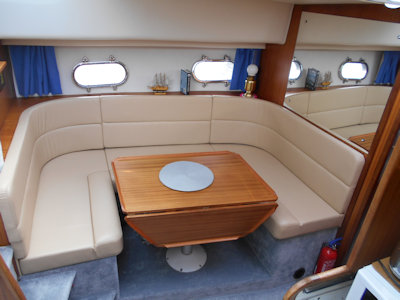 dinette, lovely new upholstery, ( " Ultra leather") and again modern design, nice drop table with extending leaf infill cushions to a double berth are store under the outboard seat base.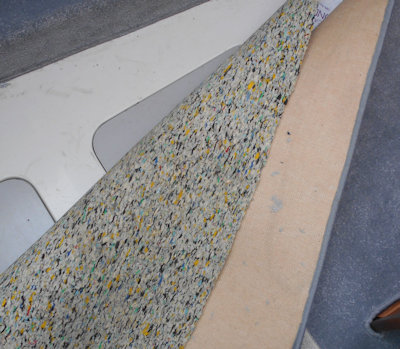 ALL new edge bound carpets throughout with new underlay also. Through floor hatches under carpet
allow access to bilge, and shower box pumps etc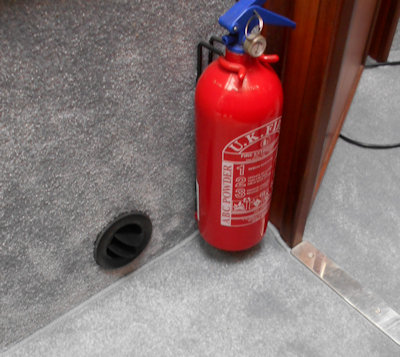 recent extinguishers, note hot air outlet, and typical solid detail the Stainless plate Threshold that stands proud allowing the bound edge of the carpets to neatly tuck under.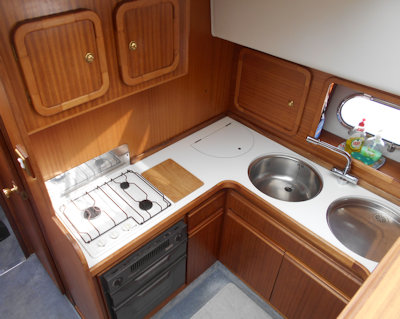 Galley set to starboard, three burner hob, grill and oven all Gas,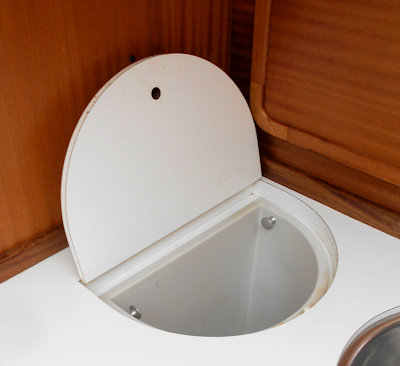 Lift out GRP "Bread Bin" (often seen with some ice and a bottle of something on the aft deck )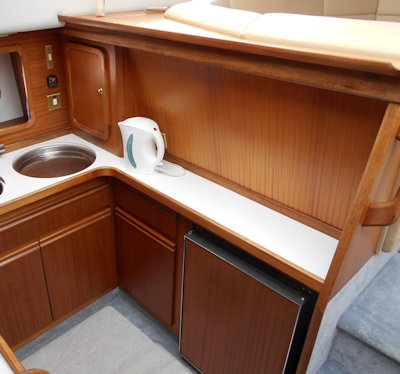 looking aft, fridge with ice box, and two 240v points, Lots of good lockers all round under worktops
Under step access to Air hoses and various trunkings. (This is where a Generator would fit should you wish one)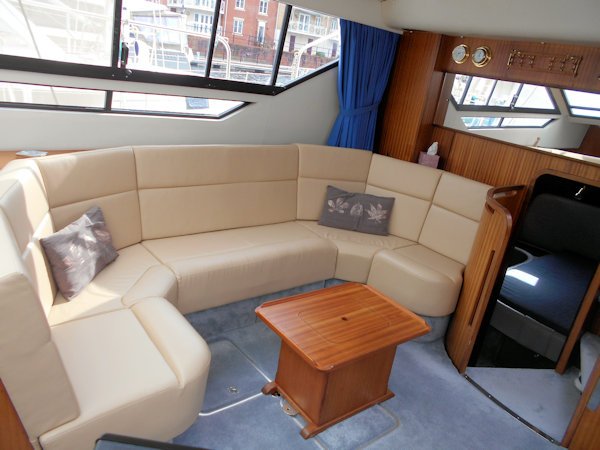 Bigger shot of the main saloon sette area set to starboard, Lovely and light with good glass area, and Mirror placement, aft cabin just visible right of shot, loose coffee table with locker within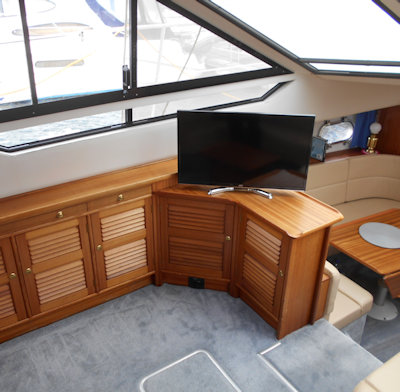 port side, (In place of interior helm!) extra lockers with TV atop. ( owners are keep the TV)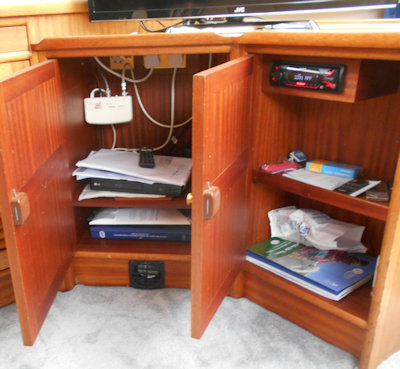 Power supply , powered amplified antenna etc is in locker under, so easy to replace, Smart stereo CD right of shot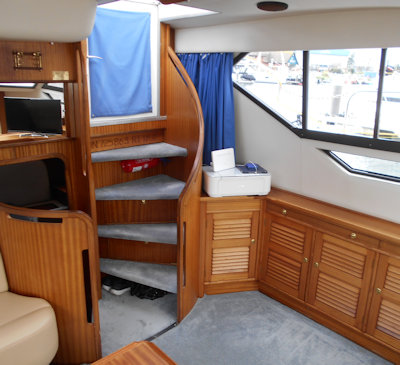 cabin entry steps , with beautiful Louvered doors all round.
and note the smart cold molded stair surround with grab handles built in. typical Broom boat building.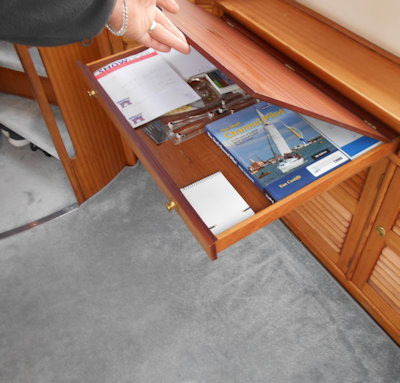 chart drawer slides right in under side deck ,
drinks below,
loose coffee table can be tethered to the floor with screw points each end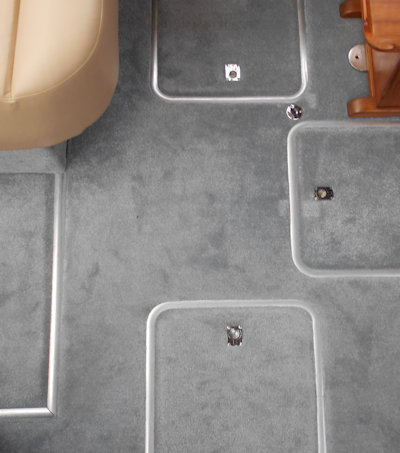 standard daily check hatches.. Looking from port across to starboard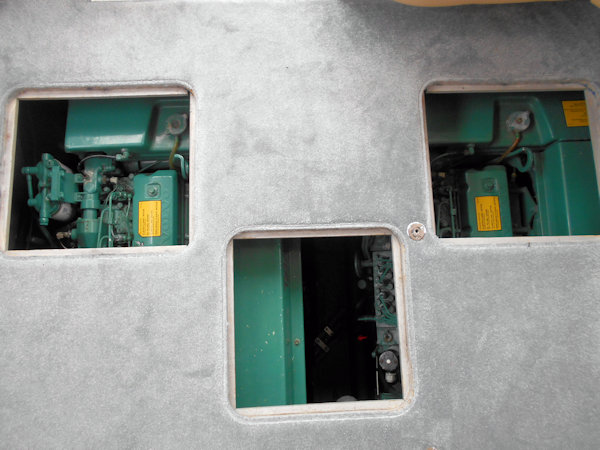 here looking forward, as with most Brooms, The whole floor will lift, all loose bound carpets, and there are no fastenings in the floor boards,
so to have an engine fully exposed is just a few minutes only and a full engine can be removed through the purpose made saloon exit hacth over head, Not that you want to, but the boats were built with future use in mind as they last so long ! Somebody will want and engine out one day, and even if it is just for cleaning and sorting things, some owners have them lifted as it is an afternoons work to remove them to a bench in a workshop, .. why not ? and clean the engineroom while they are out !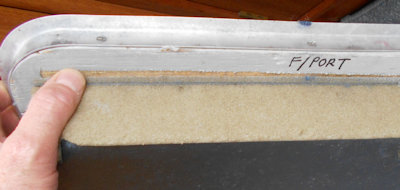 Sound proofing is an upgrade from standard, that foam has a high density Barrier in it and is approx 3" thick.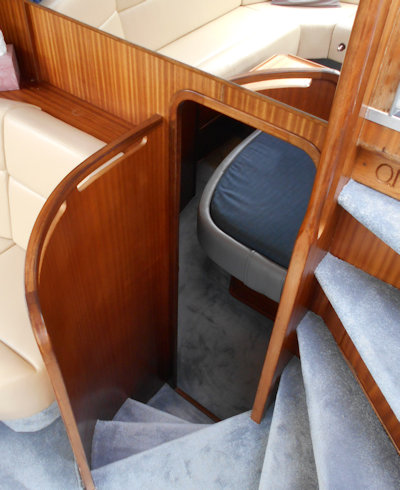 looking aft down aft cabin entry, you can just see under the steps that she has been on the part one register in her time, now lapsed, but useful non the less.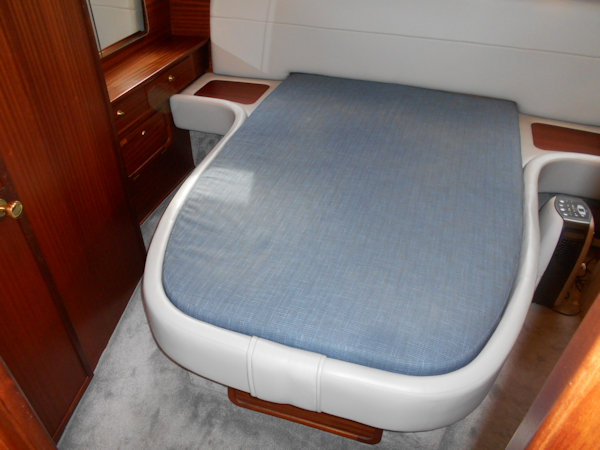 fabulous aft berth, again all new surrounds and back boards super smart, great lockers and note door left of shot is to aft heads
port side , looking aft, shower door first then hanging locker and more nice storage
note the heater and dehumidifier not included but keep her warm and dry all the time.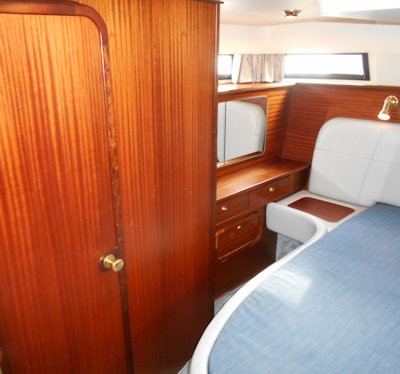 better shot of starboard side.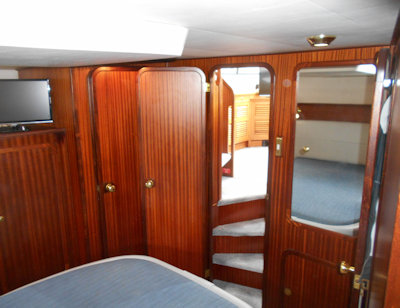 forward bulkhead with door open,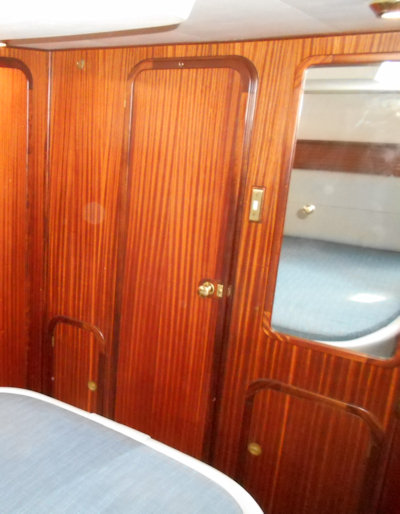 and now closed, with mirrored locker containing switch gear, note the two wonderful lower aft engine access doors.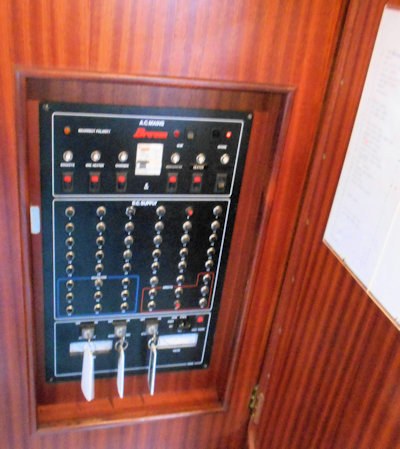 grotty shot sorry, but as usual with Broom neat simple electrics, and battery solenoids, ( manual switches in angine space in case)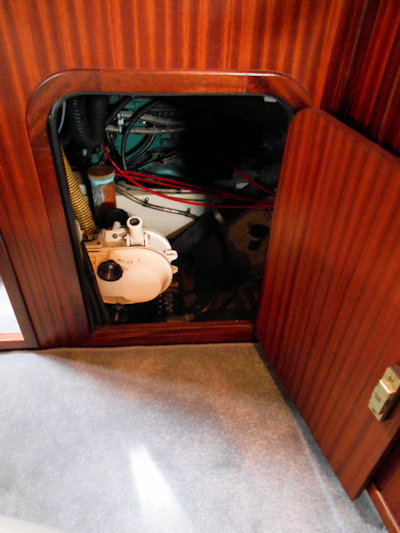 starboard access door with big manual bilge pump at door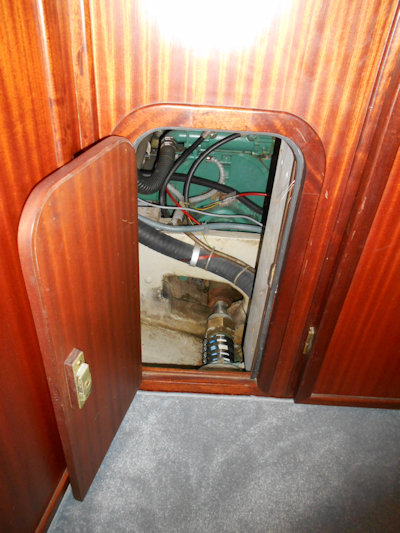 port side, easy access to shaft exit points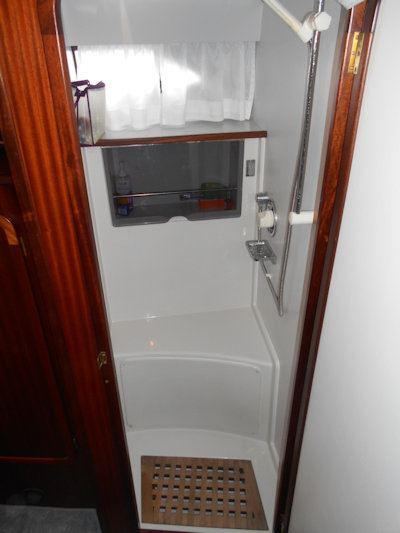 shower cubicle set to port,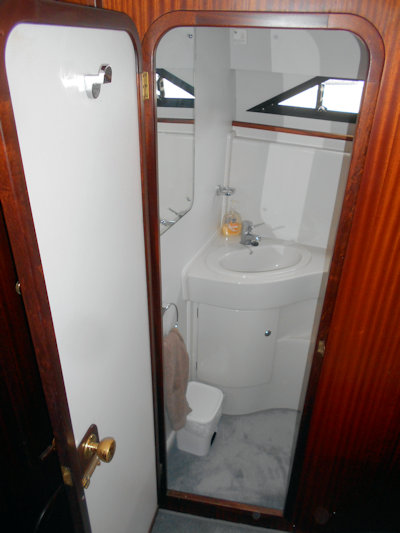 heads set to starboard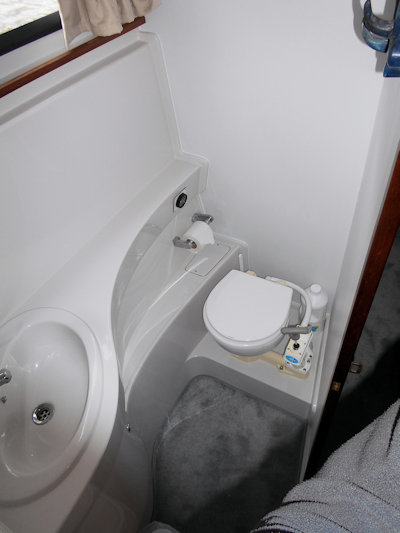 Manual heads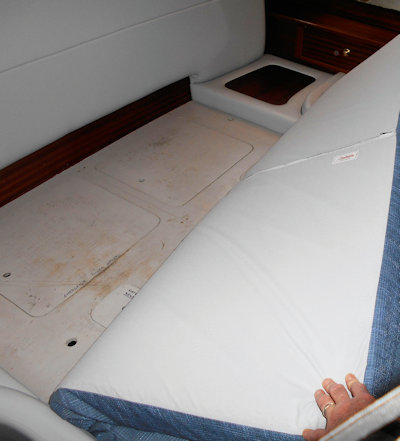 lift new mattress to expose hatches to steering gear etc.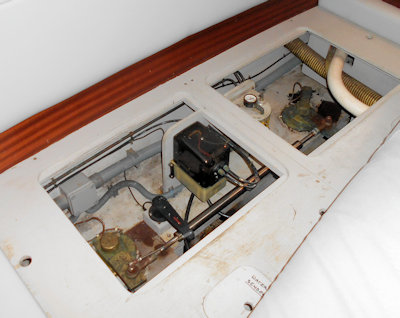 all labeled up, emergency tiller point, trim tab motor etc all accessable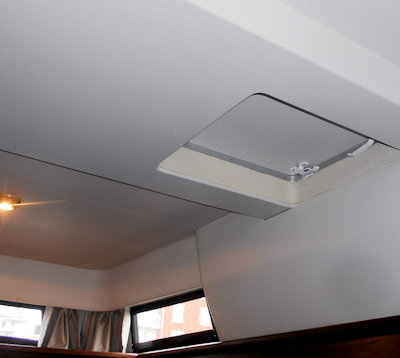 overhead escape hatch to aft deck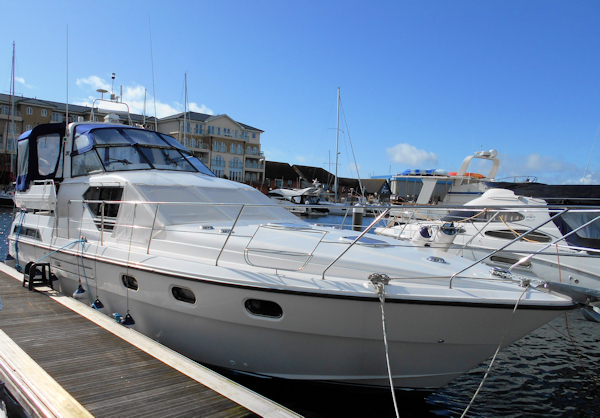 a VERY nice straight clean boat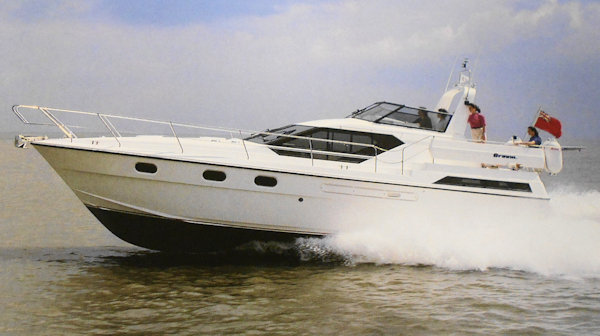 Brochure shots running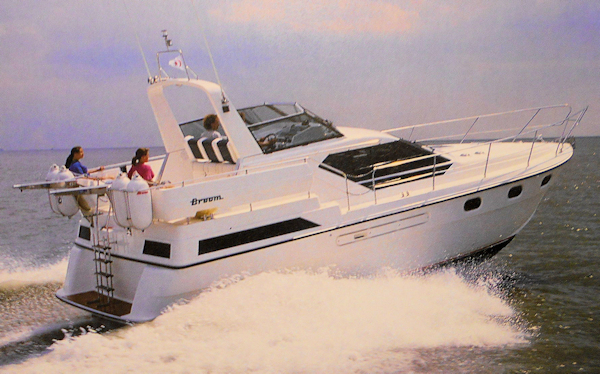 and again , covers off obviously