RECENT SHOTS OF HER FULL PROFESSIONAL PEEL AND EPOXY HULL JOB
taken 8th Jan 2020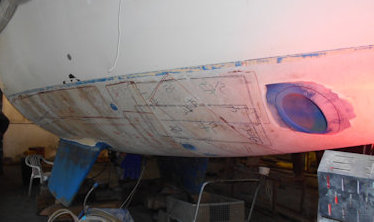 heaters as well as Hot Vac system being employed to reduce moisture after her full peel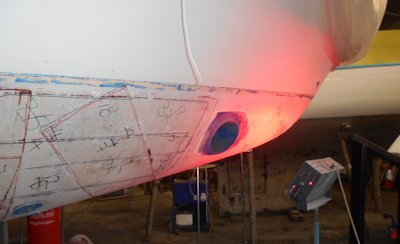 every section taken down carefully,
note the depth of gel removed and some layers of Mat, once dry there will be new laminate applied and then Flow coated
Epoxy layers after that, then new antifoul
One of the Hotvac machines attached to the pads..
SAILS / RIG
Silver anodised Alloy Main mast, boom and spinnaker pole,
Stainless 1/19 Standing rig, with inner forestay,
She has a Rotostay, Furling Genoa, and a mopre recent vertical furling Mainsail,
Cruising Chute,
approximate areas, Total main and genoa, 536 Sq Ft, or 49.82 M sq.
Rather Shortened shot of the rig from this angle!
Single straight spreaders, Masthead, note small radar scanner with Radar "Blipper" reflector above.
Note alos, wind instrumenst aloft, and VHF antenna with wind angle Hawk fitted.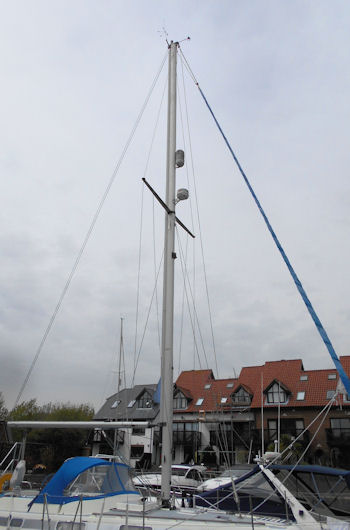 Furling mainsail fitted approx 2013 , whilst the purist might moan about the slight lack of sail shape possible with this stowage arrangement it does make sailing short handed really easy,
wheel steering, big feauture of this sort of boat at her age, note just to left of compass the bow thruster control pad..
VETRY nice extra, you can also see the autopilot control drive wheel on the wheel.
Treadmaster all round cockpit seating.,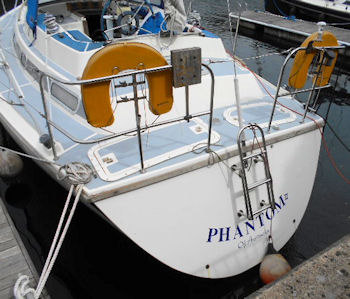 aft end, a year later ( 1988) they added a "sugar Scoop " to the transom,
the grp combings are stepped, and this line break helps to disuise the height required for the aft cabin, note opening deck hatch and two deck hatches to lockers, aft.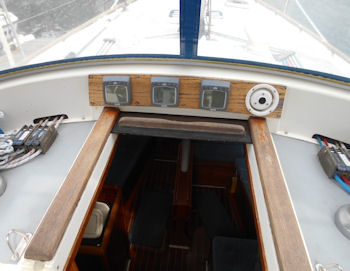 heavy perspex hatch slides in to grp garage, clutches to all lines lead aft, note the extension speaker top VHF here,
Fore cabin, with infill to double in place,
port side looking forward, trooer box for your feet !Nite nice grabs cut in shelf edge,
dinette set toi starboard, will infill if required, twin leaf central table on mast support post,
nav station to starboard aft, facing aft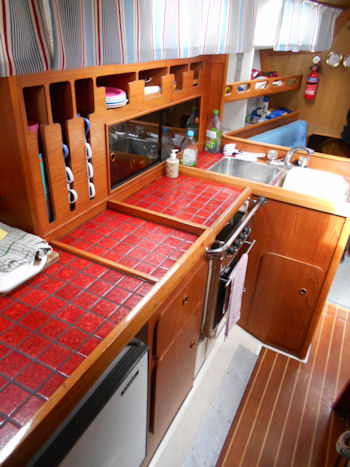 Galley looking forward, , passageway this side through to aft cabin,
engine access behind steps,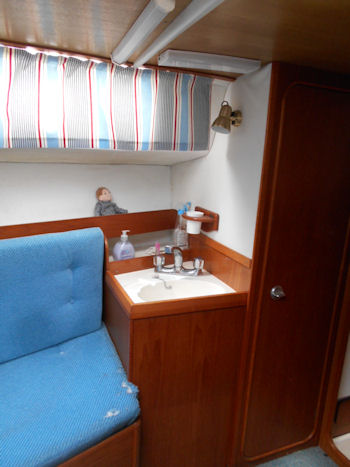 port side in aft cabin, with vanity basin, and ahead a decent locker
said locker ! with mirror on door