well proportioned lines, all clean and neat.
Treadmaster Diamond pattern antislip decking is still "THE" best non slip surface out there, Still used by RNLI on decks I think, and its in good shape. nice slim lines..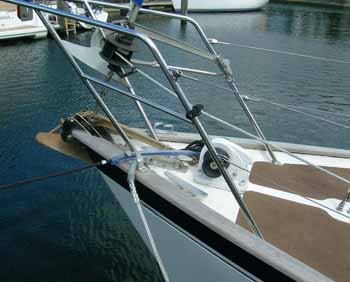 solid Teak cappings, with manual windlass forward,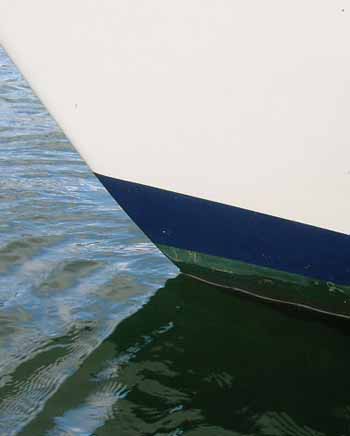 Copper Bottom gel sheild apply from new, which was four new coats were applied in 2009 which appear to still be very sound.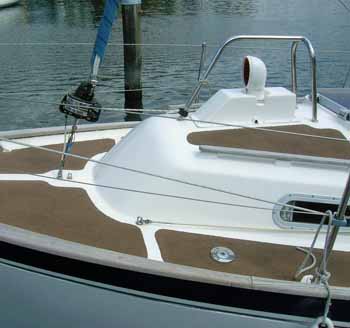 furling inner jib, on baby stay, note the Crash frame round the forward vent, "proper" big boat stuff, and its only crashing round a headland in a blow ,, with a bit of water flying around that teaches you how well sorted these boats are for some serious use, raw teal grab rails down each deck, note alos safety lines down each side deck..for harness attachment
forward hinges on deck hatch,
control lines lead aft to cockpit from mast base, two more decent Durade vents
neat canvas work all round, neat simple spary hood extension pulls aft to give cockpit bimini..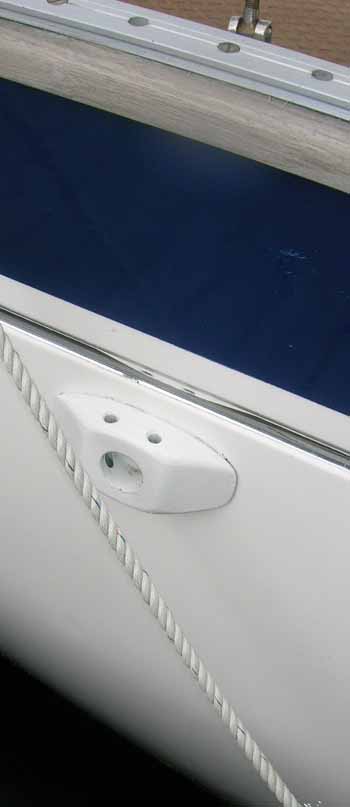 "Yacht Legs " stored aboard will allow her to take the ground when cruising, fabulius ability for fun, as well as to check and work under the hull if required while cruising..
well protected cockpit, note velcrow removable panels in the dodgers, also note "Runners" as well as TWIN back stays. The runners can have some load applied to up wind side , especially if beating up a lumpy sea for a while, to help stabilise the rig and stop it "panting" and inducing fore and aft movement at Spreaders which creates wear, and fatigue... typical of long distance sailing boats, it also adds enormous extra safety in the rig should there be any standing rig failures for any reason, this boat has
probably the most robust set up possible, Two forestays, Two back stays, straight spreaders, ( less wear at roots) as well as runners ( emergency back stays, !)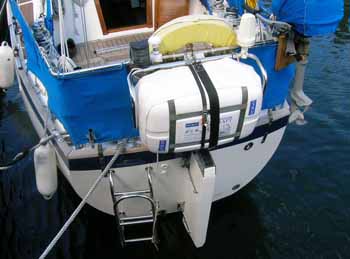 swim ladder deployable from water, decent raft in cradle aft, transom rudder on huge simple Pintals, the foot of the rudder lands in the aft end of the shoe from the main keel so is very well protected
from Lines, or the ground, see below. and you can see with the length of keeel she will take the ground very easily against a wall or on her own legs on sure ground etc.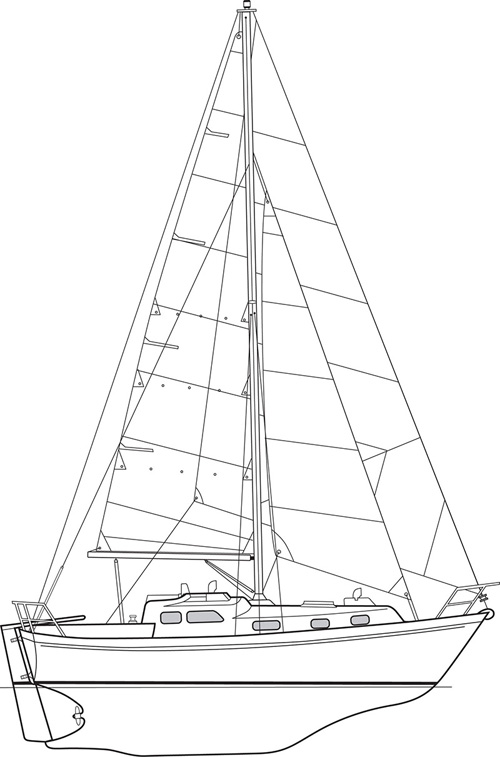 Cutter Rigged, SAILS, Main Yankee, Staysail, No 2 Genoa, Crusing Spinnaker ( hardly hoisted) , and storm jib ( never used) , all in good servicable order with several hardly used at all and the No 2 is also quite recent
Stainless steel 1/19 standing Rig all new 2006, Running rigging replaced as required. believed all totally sound,
Fulrex roller reefing Fore sails, with Slab reefing Main ( from Cockpit first reef) self taileng lewmar sheet winches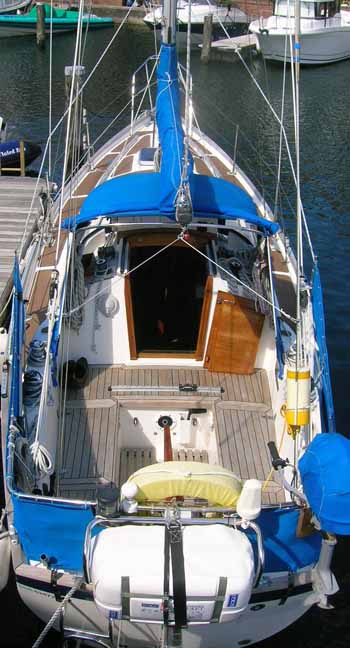 all very neat and tidy, note auxillary aft on bracket with cover, IS NOT INCLUDED.. also note dan buoy right, main sheet track across companion way is unclipped at rest and stowed away..
The canister liferaft is half way through its life and could be available by seperate negotiation, as the owners may take it to the next boat..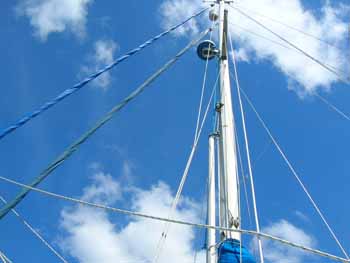 peep up the rig, radar scanner , radar reflector above, spinnaker pole on mast,
starboard side deck,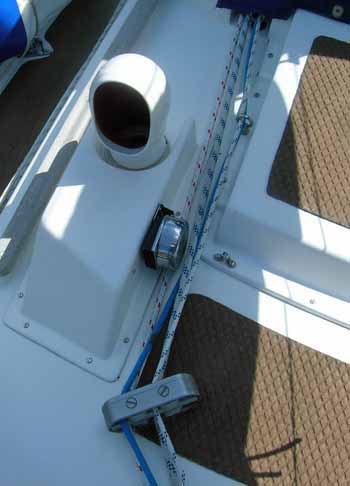 horn fitted out of the way
better view of bow area on deck, THREE good sized cleats, note spare CQR type anchor stored ready to use, but out of the way,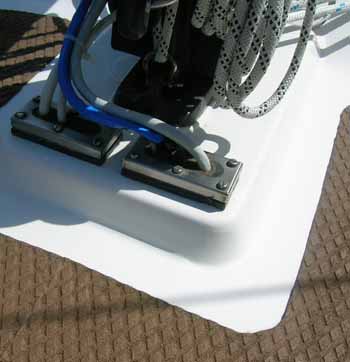 Typical detail.. The mast electrics come through the serious solid Cable Seals through the deck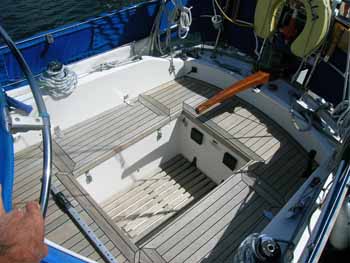 simple cockpit, the teak is FLAT and in superb order, Throughout
Twin 907 Camping Gas Butane bottles aft in drained locker,
starboard locker, again typical detail rig cutters stowed ready, fire extinguisher stored ready, stores etc within all neat and ship shape,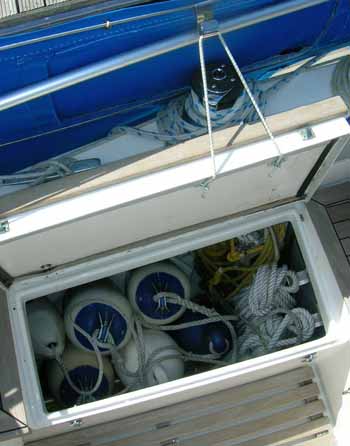 and port side the same note the decent Stainless hooks on rails to hook hatch up to, warp hooks in locker, and good fender collection!
aft starboard, runnder landing point, socket for Tiller Pilot, and power socket, note neat storage basket for danbuoy weight
port aft, note fairleasd aft as well to the side, also neat drop down seat/ Perch..
gives helm a better view if weather allows.. engine control lever just in shot bottom right
Self tailers to both winches,
cabin wash boards, beautifully varnished, and yes , there is a set of nice clear perspex ones as well. I sat the main sheet down witch simply clips in place when required, else is removed to make access easier generally.
usual wind instruments, etc in garage, running rigging all looks good,
Tiny Detail, but "paints a picture" Solid Brass threashold wear plate.. is Polished
View forward,, galley to port, nav station and quarter berth to starboard, saloon berths eaither side of table and heads and stowage forward ( standard layout) see below;

cot berth ( full size) to starboard over saloon sette berth,
This layout suits far better for cruising as a couple with much more storage forward,
all stowed neat and tidy, sails, chain access, ahead of Toilet,
basin set to starboard, lockers under, tap faucet lfts as shower head.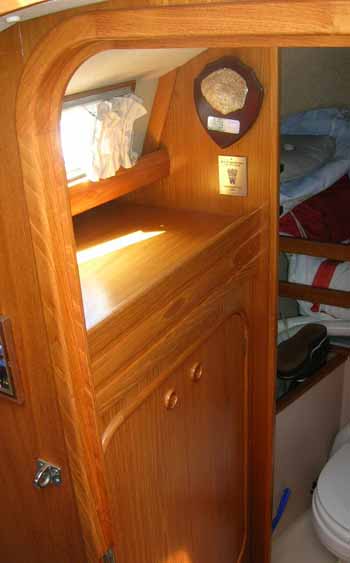 lockers to ports, Beautiful timber work is in amazing order,
port settee berth, double leaf table,
designed to cope with four at most,,, for two plenty of space, !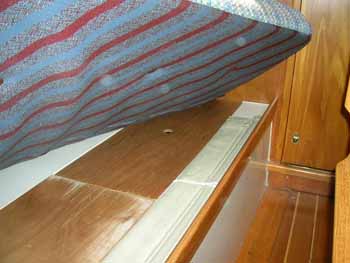 Lockers under all seaths, in fcat in these boats, lockers are fitted where ever thay can be as that is a huge issue on a long term cruing boat, note also the lee cloths that are neatly stowed beneath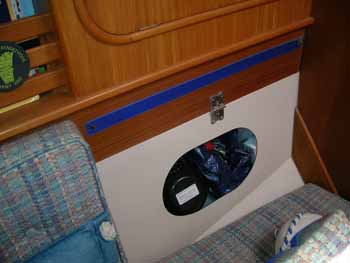 cave lockers behind the back rests
starboard side, lockers over,
floor taches , reveal immaculate dry bilges with good access to log, etc,
and drinkinbg water tank. note the condition of the flooring..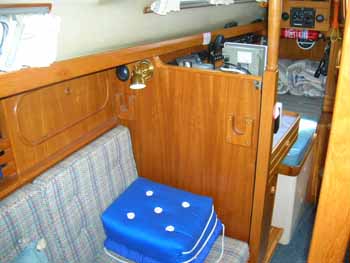 aft end of starboard berth, note cot berth support points, nav station behind and view down Quarter berth,
Galley set to port, with wet locker aft,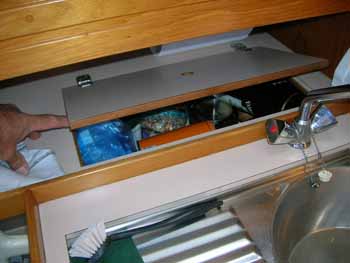 again clever well designed stowage, to make stores safe at sea. and use every available volume aboard.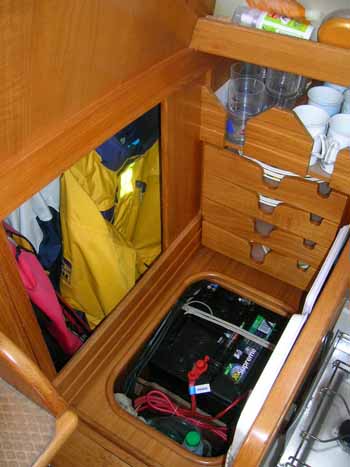 crockery stowage same , simple, safe, batteries easy to access, good wet locker aft,
the full size quarter berth, acts as the seat for nav station, note the new Yanmar start panel aft, above fire extinguisher, in this photo you can also see red night light, and right you can sea lee cloth attachment points on bulkhead right and left of shot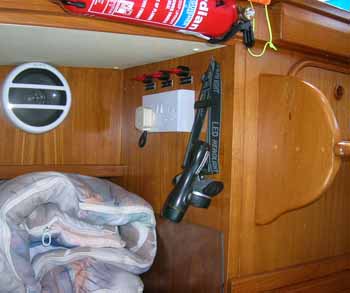 under quarter berth, main battery switches, (3 ) link switch, and 240 socket point, she has full 240 system, , note also decent Sony Stereo speaker.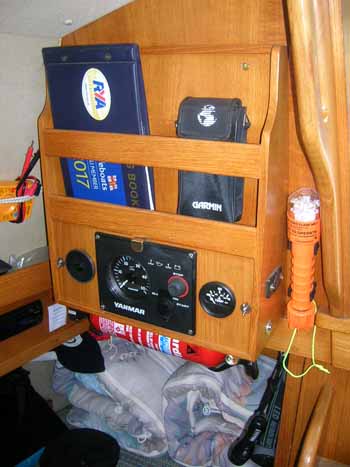 all so ship shape.. its pleasing, emergency strobe, hand held GPS, Log book, etc.. solid Teak work will last "forever"
Big Top loader Fridge under nav seat,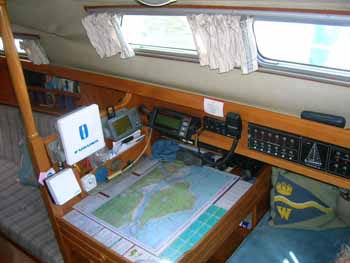 well kitted nav table,
garmin GPS map sits in a bracket under spray hood,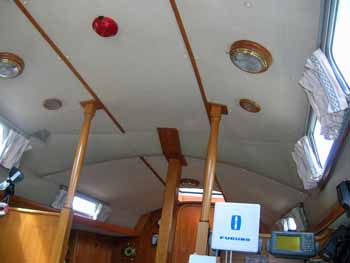 head linings as good as the rest of her..
cabin entry and engine access,
clever use of available space yet again, top step has attched molded locker
then the rest all lifts clear easily, and excellent access to smart clean, well organised engine space. TOTALLY CLEAN..
nice easy fuel primary access, left, fresh water cooled engine , stainless fuel tank look good, all easy to get at and maintain.
water lubricated conventional stuffing type galnd, may occassionally drip.. BUT very rarely gives a major problem like a deep water seal can. so this is the prefered simple servicable option
of the longdistance sailor
delightful.. ,, and in truly exceptional order, a credit to her Loving owners.
You feel like you are in a recent Landrover Defender 110 and you've been asked to drive across a muddy
bit of field.. RIGHT TOOL FOR THE JOB..