Recent shots now ashore June 2018 first few from owner after he had Hull cleaned, and Sail drive/ prop etc cleaned
NOW ASHORE HYTHE MARINA SOUTHAMPTON
18th September 2018 Teak deck and grabrails toe rail etc, has just had all the old stain (" teak wonder") removed and the Tiller has been stripped bare and re varnished as new !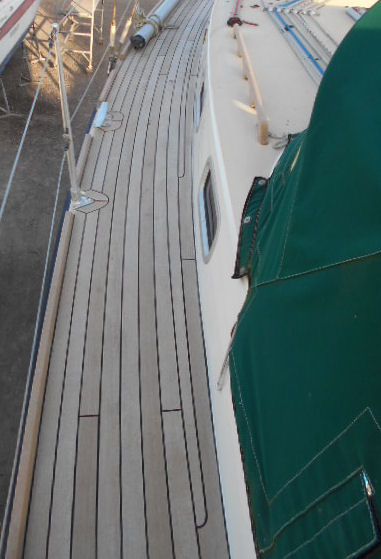 Tiller just about to be re fitted after full strip and new varnish. ( professional) 18th September 2018.
Now some older shots;
First few 11th June 2018 Just before being launched at Portsmouth and brough over to Hythe Marina..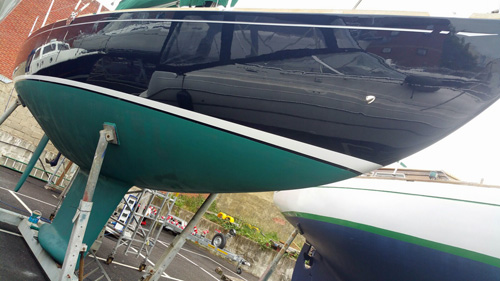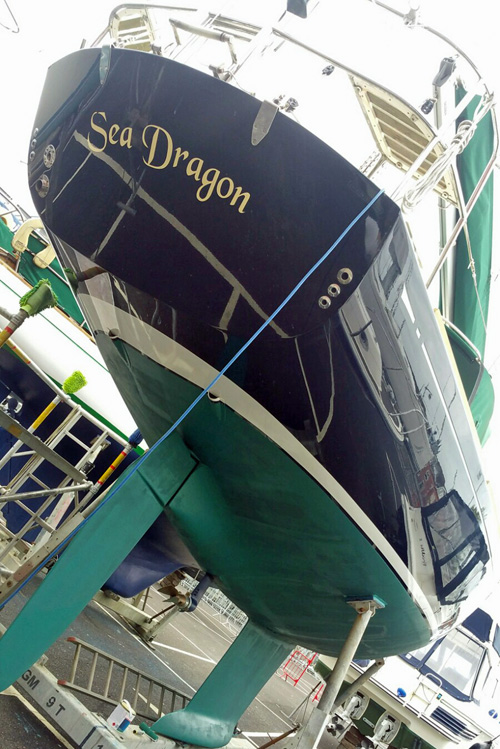 CLEAN as new prop, "GORI" folding type,
sail drive cleaned and antifouled two blaed Ambassador rope cutter
it looks like it has a clear coating of "Pella clean or similar" may just be Water! I'll ask owner
new anode Collar fitted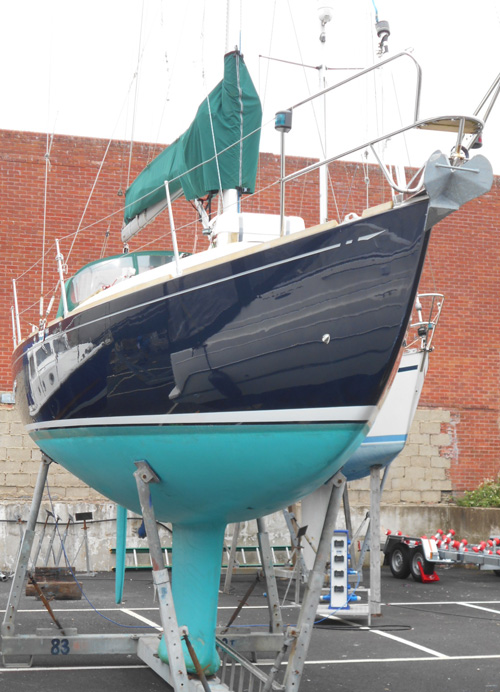 Beautiful Shine on topsides. and a hint at her slippery shape.
Modern Bulb type keel
deep rudder, with long lead in skeg
elegant lines aft,
Arrival Hythe June 12th 2018,
older shots from here onwards, 2017 end..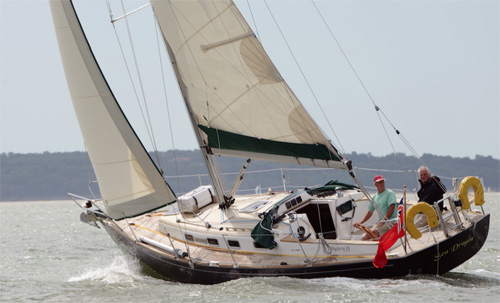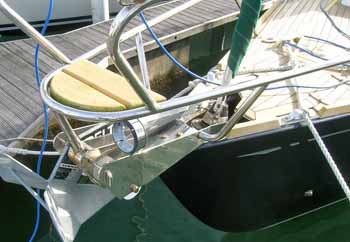 Delta 35lb (larger than standard) anchor, with 50m Chain and 100m rope tail, sits in double bow roller,
walk through Step to pulpit is handy,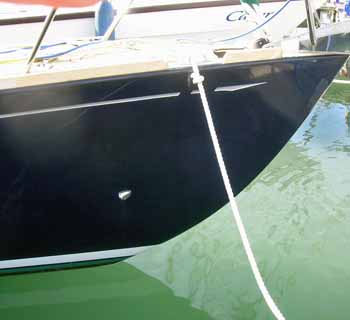 rocker on bow stem, vent cover to anchor well drain
Reflection on hull, note berth has dock fenders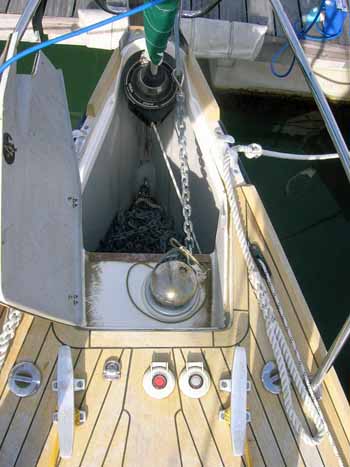 Anchor arrangement forward, with deck hatch access, this covers furling drum, as well as Windlass, and keeps snags to
a minimum, first decent view of Teak decks, which has been coated with a slight stained finish, easy to re apply OR clean it off,
But the decks themselves are in super order, Note the windlass switches, and tank filler and pump out points forward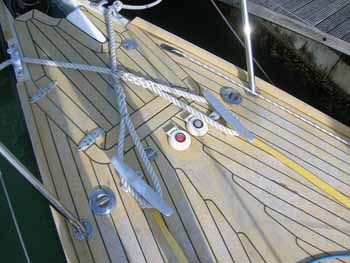 with hatch shut , deck is unclutered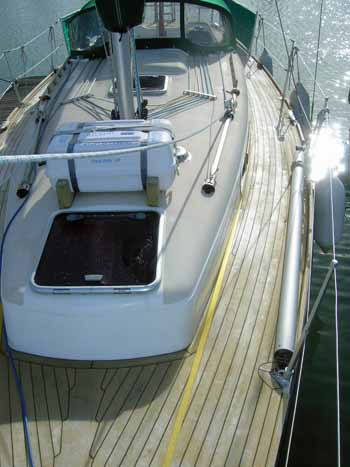 port deck looking aft Note the Cruisng chute pole stored on deck, Raft in Teak chocks, the Jib sheet track cars run on Coachroof,
not the deck, also note the Coachroof antislip surface finish is in Cream, which looks so much smarter than the standard grey,
especially with full Teak deck,
deck safety lines run fore and aft for harness,
Part One carving number board, and shround plates detail.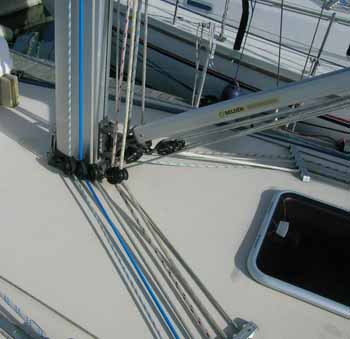 all control lines led aft, Deck stepped mast
Decent size spray hood, drops forward easily if required while sailing, or stays up also,
simple clean line runs
Gates each side in life lines, fuel filler in shot,
Aft deck,
Seats each side VERY popular perch, and note twin Life belt carriers aft, on pushpit,
Deep drop down swim ladder make up mid section of pushpit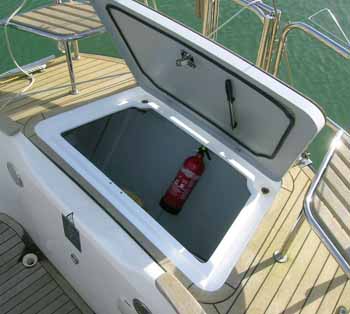 good aft locker, One of three fire extinguishers visible, and handle for manual bilge pump,
looking to port, Engine exhaust to Lloyds,, heater exhaust left, exits transom
view to starboard,
big draining cockpit, can cope with Six.. two aft of helm, ( Main sheet track traveller) four forward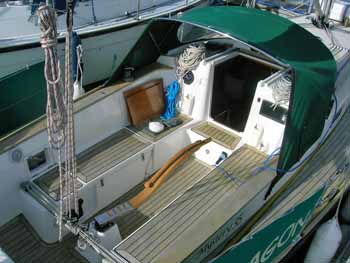 Beautiful laminated tiller with timber extension as well, Tiller Autopilot fixes to under tiller fitting,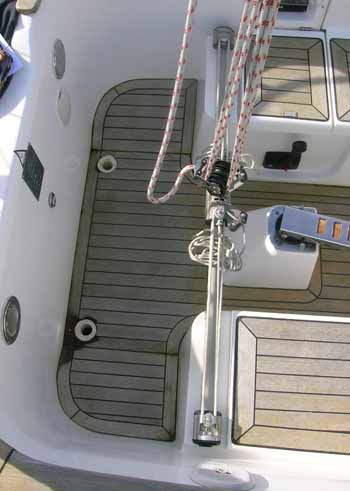 aft cockpit, engine controls to port,
with weather cover, and note waterproof stereo speakers,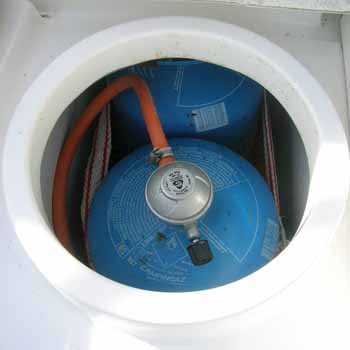 Two Camping Gaz 904 bottles, ( butane) supply Hob and oven
large locker to port,
with fuel shut off valve
Cabin entry, and Raymarine Hybridge touch screen right, bulkhead magnetic compass and other wind, log speed depth etc over hatch.
black socket is for autopilot, , window opens to quarter berth,
main track etc
Satack pack set up on Boom is best way to get decent Mainsail shape with easy of handling..
forward,
access to windlass relays and filler pipes from deck fittings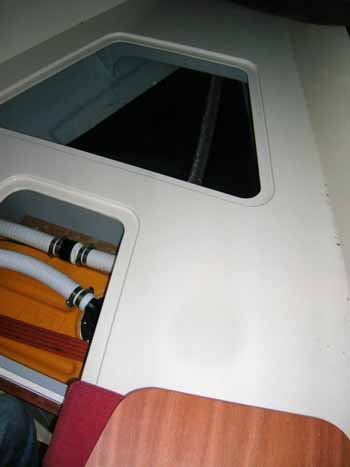 yellow Holding tank, and fresh water bladder tank further forward,
floor hatch to log and echosounder,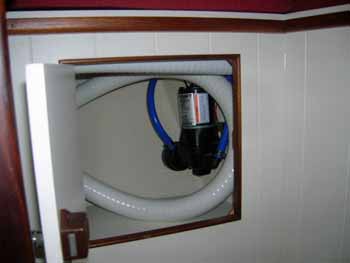 Waste tank electric pump to port locker
starboard side beautiful woodwork to hanging locker and storage generally note grab handle laminated in to bulkhead nosing.
port side bed head forward, note LED lighting, and also Hot air outlet,
Hatch over, with Cruising chute sat waiting.....!
Heads set to port, Bifold door, lift out tap faucet does shower.hot air outlet at floor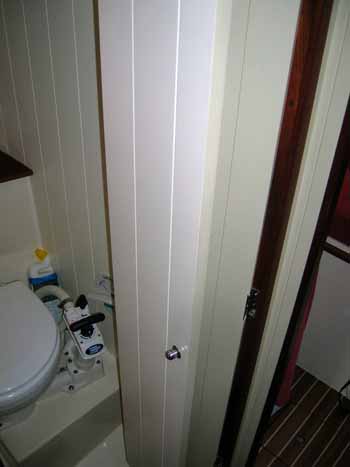 Manula heads, with "Y" valve right of shot, to sea... or Tank..
Mast support post, with drop out deck lining access, ships clock..and forward port main bulkhead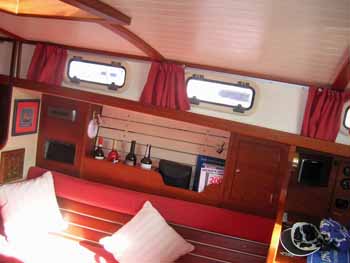 starboard side, strip linings and the Tounge and groove Headlinings add serious Character.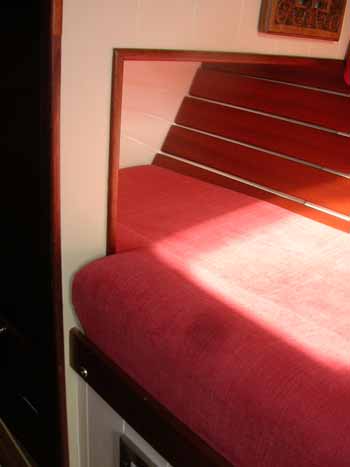 Trotter box forward on starboard saloon berth
with Fusion stereo system, over,
Table folded up,,, will double in size, neat "Teak and Holly" flooring is timber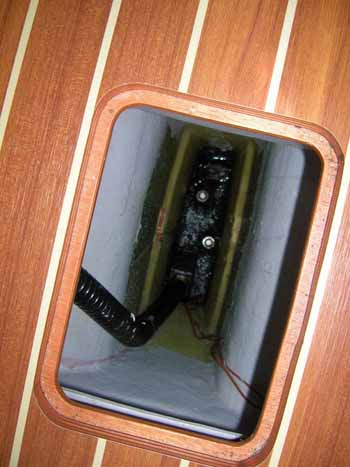 Electric bilge pump down in bilge sump, as well as manula in Cockpit, note S/S keel bolts evident.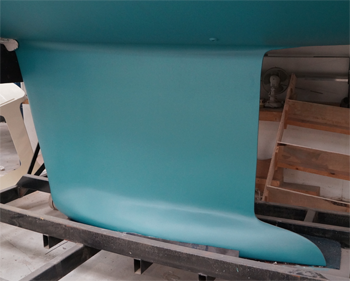 Keel shot, while we are looking inside, ! long enough to sit on alongside a wall.
Extra curtains to windows, and Insect screen to all openers, port side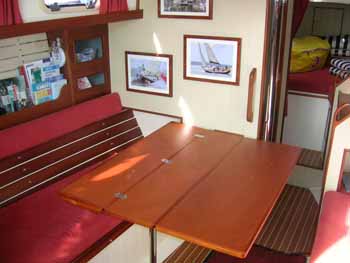 Table folded fully open
pop up extra surface next to galley is handy
Galley , gas two burner, Gimballed, with top loading fridge, ( very effective as the owner says can get to cold!
#
open up..clean like new..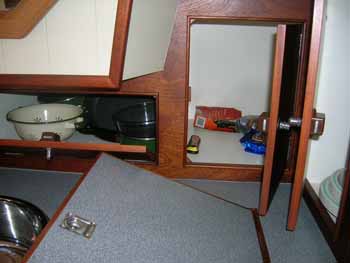 aft facing lockers are deep.
Nav station set to starboard, navigator sits on end of berth, wash boards in place.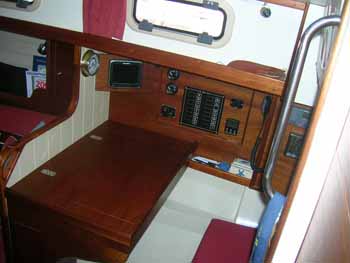 Raymarine plotter down here as well as Larger Hybrid touch screen up top, and neat electrics, heater controls, battery monitor etc,
under chart table is MRC 240 v control box with earth leakage breakers, ( full 240 ring with battery charger and immersion in hot water tank) and another extinguisher,
drop panel access to domestic control panel.. excellent,
looking aft at cabin entry steps,
first view down quarter berth,
3 x 80 AH batteries, two domestic, one engine, ( down quarter berth) battery rollover switch red, in nearer locker, under nav seat.
HUGE.. the builders call it a cosy double.. ( youd have to like them, but it is around 8 feet long!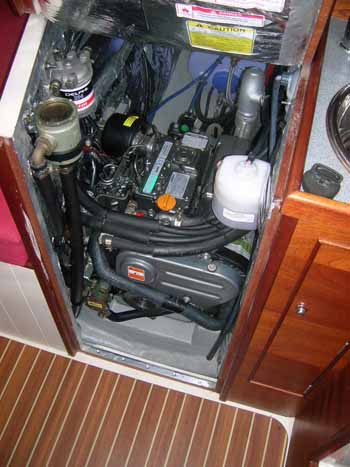 easy engine access,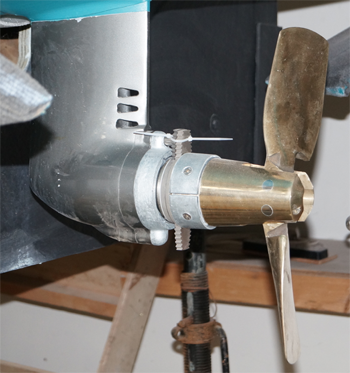 drives out through a sail drive unit, and here (when new), you can see the cutter fitted, and the GORI two bladed bronze propeller.
aft of engine, hot water tank, charger orange, beautifully lagged in here
last typical neat easy boat building detail, is the valves gathered together under aft saloon floor, with mater pumps etc.
AND NOW A FEW SHOTS OF THIS STUNNING BOAT AT SEA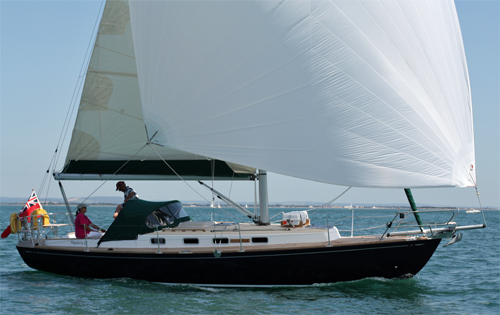 cruising chute , with pole flying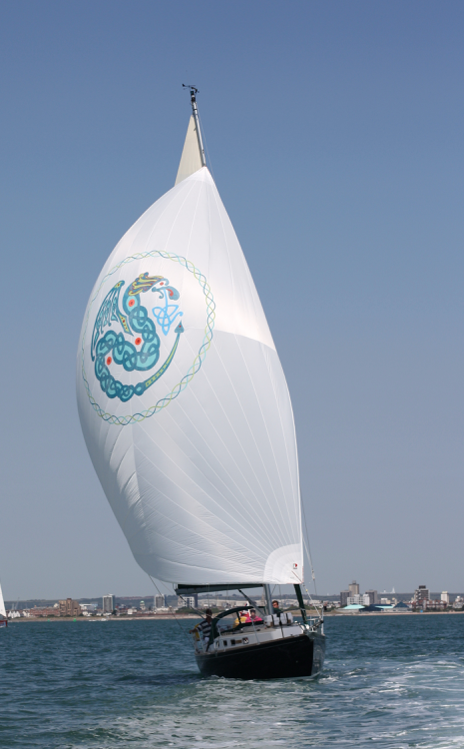 Celtic Dragon Decal on sail is Painted on,, very smart indeed.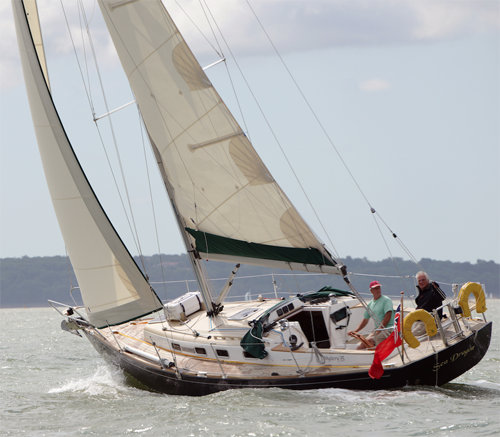 lovely angle showing her nice tight windward ability.
SAILS
Hyde sails in Vintage cream with Green UV protection strips,
JIB is 110% slightly overlapping but then very easy
to tack blade shape with under deck Selden Self furling system led back to cockpit,
MAIN is vintage Cream with 3 Large Slab reefs, The sail has a "Stack pack" system
ideal for Single or short handed use, and ther Original simple boom sail cover is still included as well.
CRUISING CHUTE Jeckells made with Code Zero type shape, in white with Large Celtic Dragon image on it,
It is set on a short Alloy Bow sprit, using a Karver topdown furling system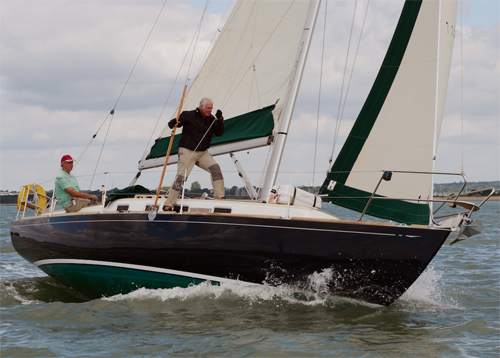 RIGGING
All alloy, Selden Spars with twin swept spreader Fractional set up,
Mast Boom, and Sprung Kicker. Manual back stay tensioner.
Tri Colour Nav lights to mast head and Pulpit/ pushpit, as well as Hawk indicator, , and wind instruments, VHF antenna, deck light forward.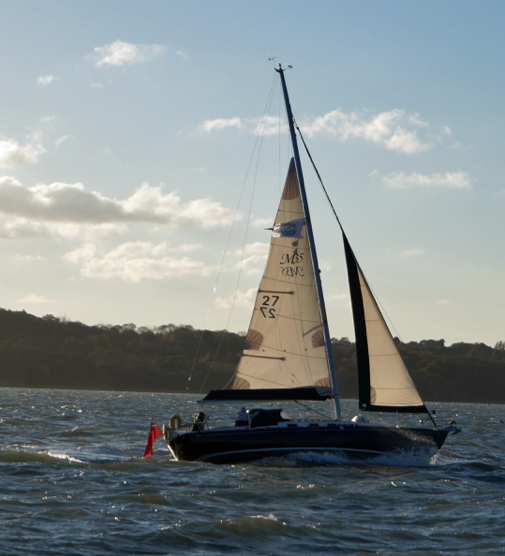 balanced rudder, second reef in, reduced jib, sliding to windward in solid force 6 gusting 7, easy.. and fast..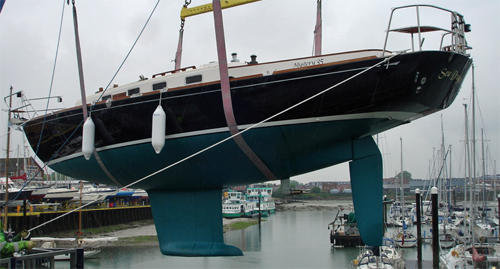 under water, you can see the rudder has a few inches ahead of the pivot point to balance her, and the owner reports she is light in all conditions.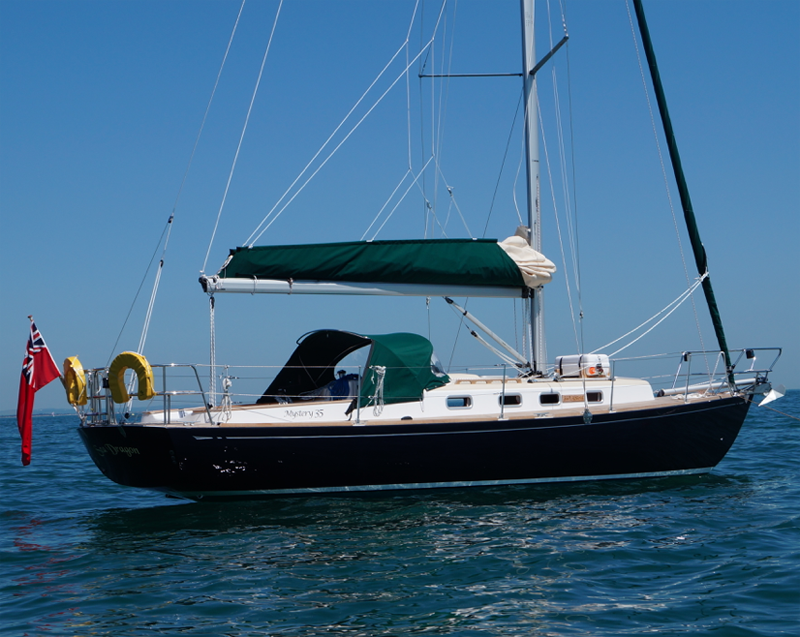 What simple Classic Looks, A joy.
CLICK here "TEST REPORT" to see what Yachting Monthly thought
(You may have to save file to your desk top and open with Acrobat reader..)