SAILS
Inmast furling mainsail, Furling Genoa, BRAND NEW. March 2017, In BAG.. ! , Bowsprit for cruisng Chute, but no sail.
2 x Harken 40 self tailing Winches
2 x Harken 46 self tailing winches
RIG
Fractional double swept spreader rig In 1/19 S/S standing rig, Original but being rig checked shortly, no known faults.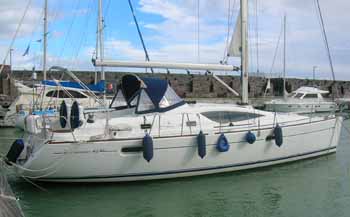 good spray hood, many fenders,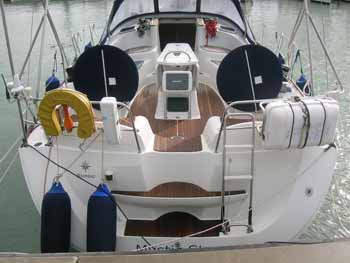 aft end, easy steps up transom, with decent long drop down ladder, dan buoy next to life belt, and recent canister raft in quick release cradle to starboard, , twin wheels obvious, there is a cover to go over the table etc,
navtex antenna, and GPS etc, she has recent AIS receiver, fuel filler at deck,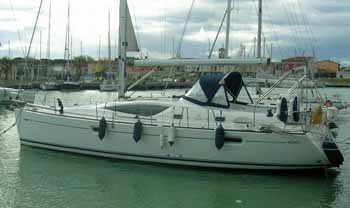 port side, there is a full framed cockpit Bimini, off the back end of the spray hood,
Electric windlass under deck, note two big bow rollers,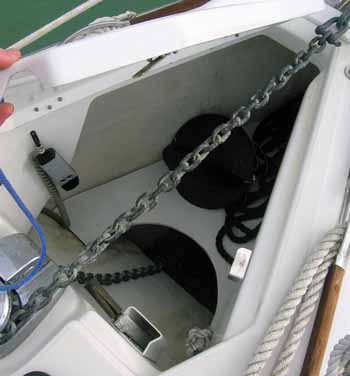 chain drops below loose floor, making useful extra stowage above, note remote unit hung up left,
port deck looking aft, deck safety lines run aft each side deck, note pole at deck (short bow sprit, for cruising chute, )
looking aft starboard side, static vent in forehatch, next hatch over forward heads
two really good recent solar panels, aft of saloon hatch, note control lines ALL run aft under deck covers, making tangles / trips less likely,
Deck stepped mast, Gas strut kicker, and main sheet run to track just forward of spray hood,
furling main with loose foot, yes you loose a few degrees pointing ability, but IT IS SO much easier ( safer) to reef, and control generally short handed
recent INTERNET receiver antenna, owners report it works superbly well.
aft prt quarter deck area, note springs on aft lines as the boat is usually berthed with her transom a few feet away from the Pontoon, in these sots she is pulled in to make life easy
getting on and off,
Shaped seats at each helm seat, and deck is shaped as well so helming at an angle of heel is comfortable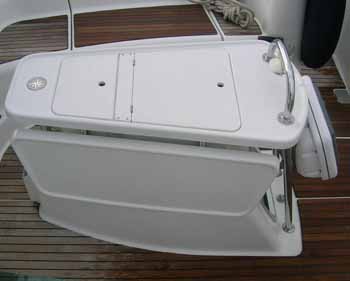 great HUGE cockpit table with locker within, overall cover removed, plotter radar C80 on aft end, there is even a cute plug in lamp for the table
you can seat 8 with ease.. and everyone has some table space..
starboard helm, leather clad wheel, note wind instruments, Tridata, and auto pilot with bow thruster control far right, engine control panel under and VHF extension speaker
near floor, and gear shift lever (black) at base of photo, excellent big magnetic compasses each side, self tailer winches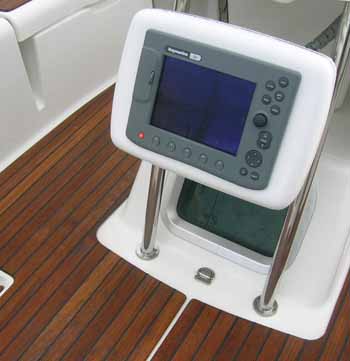 central Plotter / radar screen, strong point for harness under , opening window to aft cabin, one of five openers in there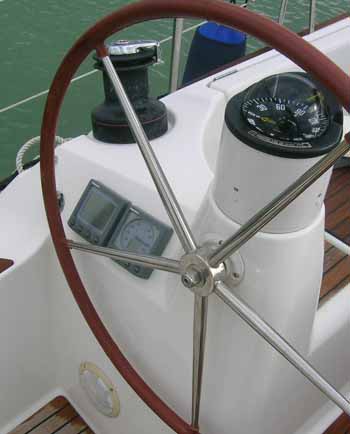 Port helm, with wind instruments, and tridata
deep locker aft to port under seat, note new suzuki fourstroke fits in it easily, leaving lots of space as well,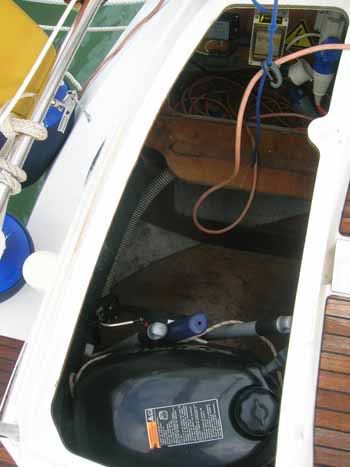 same locker looking outboard, shore power connection,
fresh water hot/cold pull out shower starboard side of walk through in transom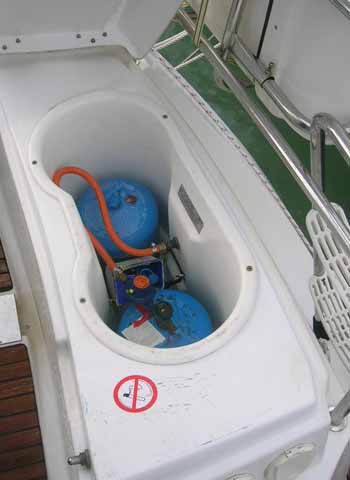 Gas locker set to starboard, take two 907's Camping gaz or will actually take far larger (cheaper 7,5 KG I think)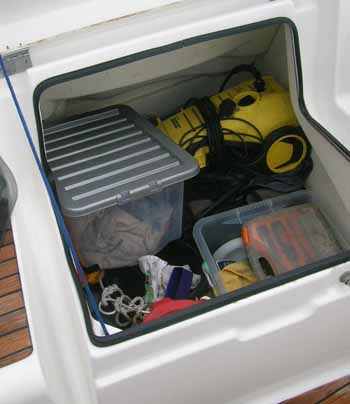 Port cockpit side locker, lots of good spares and even the pressure washer MIGHT be left for the next owner,
starboard control line bank of clutches with self tailing halyard winch, hatch in to aft cabin forward end
port side, with hatch in to aft heads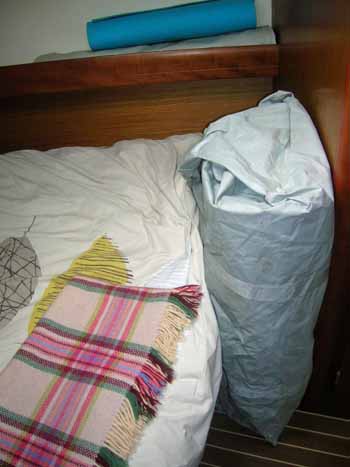 fore cabin, note new Seago 270 dinghy, stowes perfectly in here, and fits so neatly they did the whole bay of Biscay on some lumpy weather and it sat there wedged in well,
good double berth, high level shelf,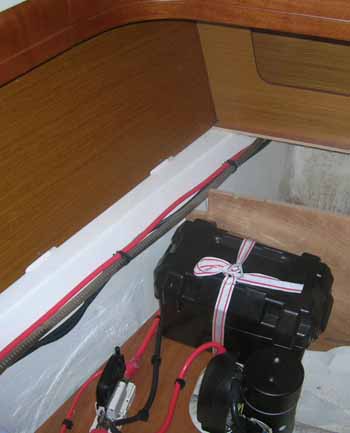 Easy bow thruster access with local battery set up,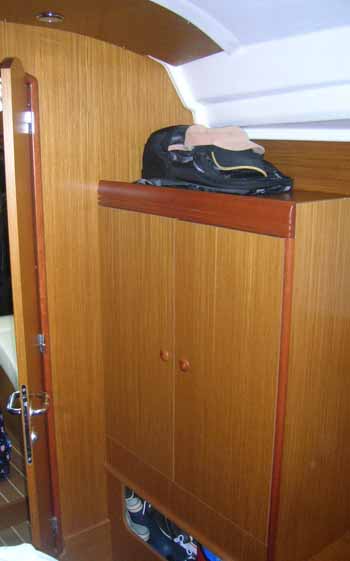 hanging locker to port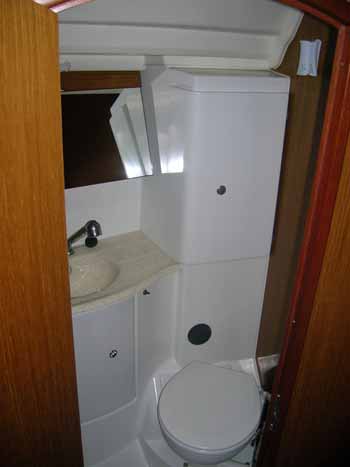 heads to starboard with en-suite door, heater outlet, and holding tank in locker above, manual seatoilet, pull out tap faucet as shower head,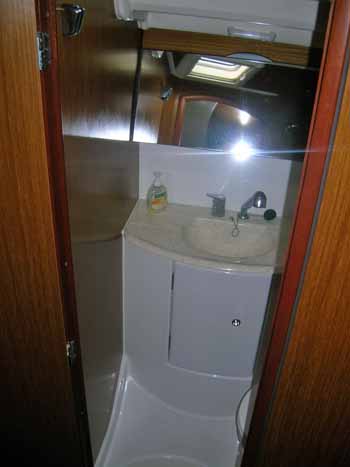 forward end of heads, set to starboard lockers behind mirror doors,
Log and echo heads easy under floor
wonderful light wide and airy saloon, sette set to port, Tv behind,
Starboard side,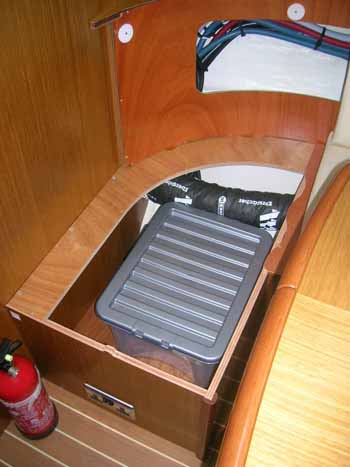 great stowage all around under seating,
aft back rest, reveals water pressure accumulator (red) and water pumps, and various taps etc) these boats, really do make servcies access a "doddle"
stainless hot water calorifier with immersion as well,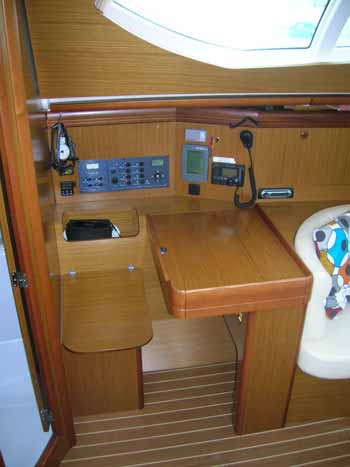 Nav station set aft to port side, facing forward, cushion for seat is removed,, I forgot to put it in place,
grreat set of recent pilots should do the whole MED , and they will be left with boat together with charts, etc, again all recent,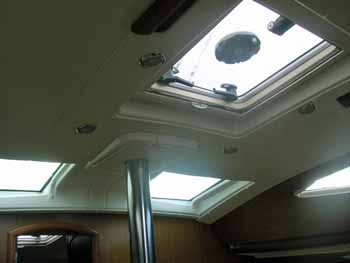 beautifully light in here , no wonder with all these deck clear panels, all with blinds or pull out insect screens, ALL LIGHTs have been updated to LED units , switched individually,
aft Toilet / shower cubicle, is spacious and has amazing headroom, 6'6" +
shower controls with shower curtain each side , far door isn in to aft cabin,
view through heads door to aft cabin, HUGE berth,
steps in, and they hinge forward from the base,
The yanamar 54hp four cylinder NON trubo is in clean order, it has had recent oil and filter change, ( " Not missed a beat" say owners)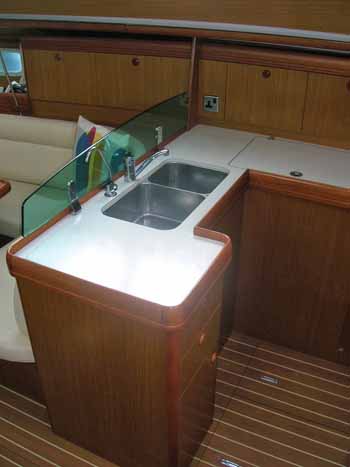 Galley set to starboard, deep twin sinks,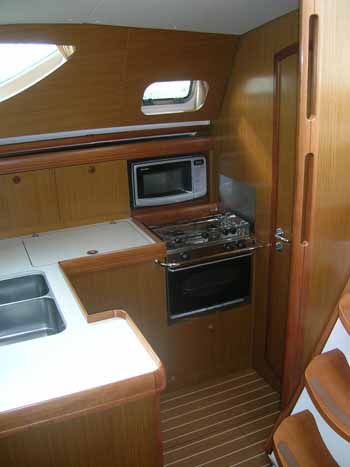 microwave is behind gimballed gas two burner hob, and oven,
fabulous lockers under all the floor lift out sections, again easy access to any seacocks etc floor is all hard wearing "Teak and Holly" effect laminate on plywood,
bilge pumps from a strom collection box, keel bolts all look clean,
in some floor sections they look perfect in fact..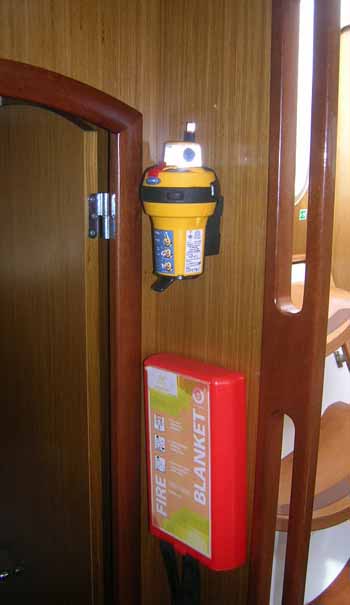 recent EPIRB will be left, this is just behind chef stood at Cooker, note grab handle cut in to step edges,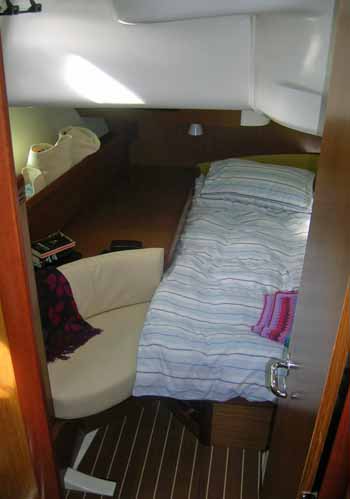 view aft fro galley, dressing seat left,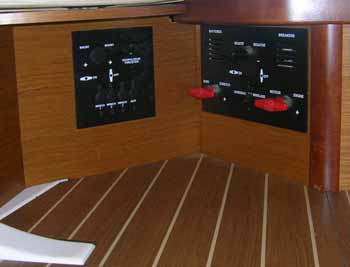 battery switches etc under, (RECENT batteries)
huge berth, with lots of good stowage
starboard side, note lots of windows,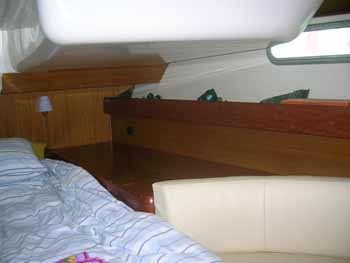 looking aft on port side,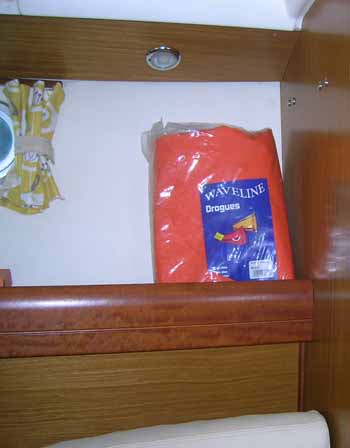 Brand new sea drogue is being left,
aft access panel to engine
easy access to shaft exit,
bed , foot end, hinges up to access batteries, with tanks under bed aft of that,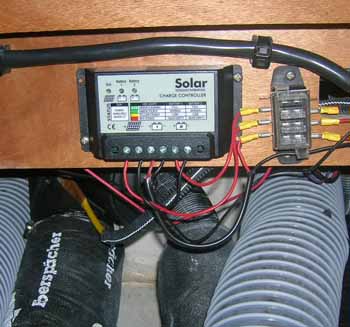 recent solar controller to both solar panels , they are big enough to have real ability. 2 x 80 watt