slippery Shape!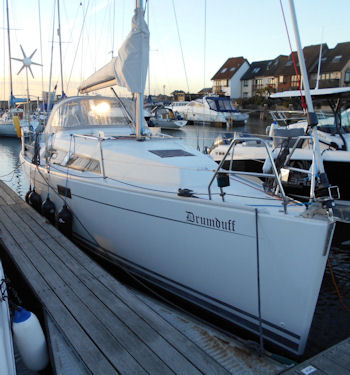 walk through Pullpit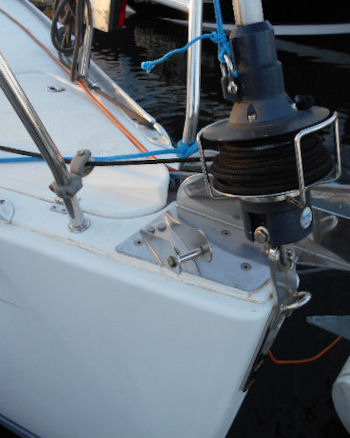 headsail off as she is just about to be lifted ashore. Twin Roller Furling Jib,
Shroud Plates, alloy toe rail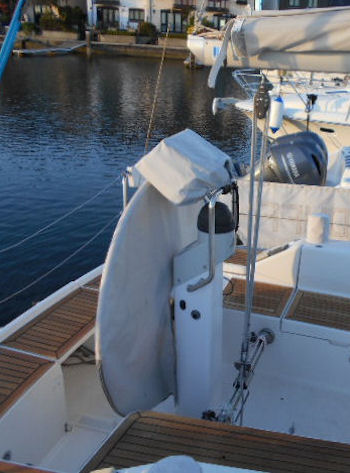 neat canvas covers all round,
Smart wind generator, owner reports he never needs to charge batteries. Note 4:1 back stay tensioner
neat covers even for halyard winches..Nice spray hood
aft end.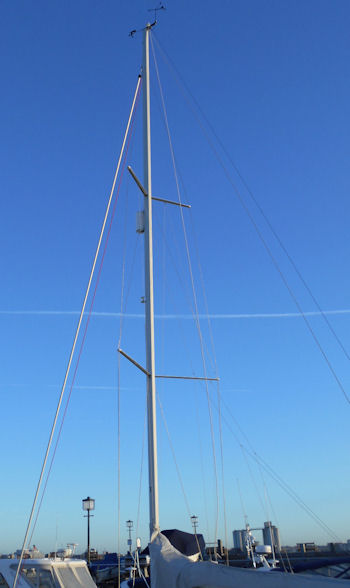 SELDEN 9/10 fractional rigged, twin swept Spreaders, Radar blipper up mast, lazy jacks on boom
mast height 14.77m ( above waterline) I, 12.45m J 3.87m P 11.7m E 4.1 M
Sail, area, Main 28.47 M Sq,( single line reefing) ( furling) Self tacking Jib, 22.87 M Sq,
Aloft,
port aft quarter,
port side, NEW dodgers,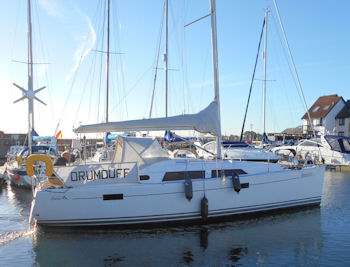 Pottering round to Hoist 1st October 2018
Deep fin with Bulb
Topsides very clean, Note offset anchor in roller
helm, and smart Nav pod, with new Raymarine Axion 90 in it (I say Simrad on Video!), engine controls right,
central seat section aft, hinges aft to both open cockpit and create boarding steps,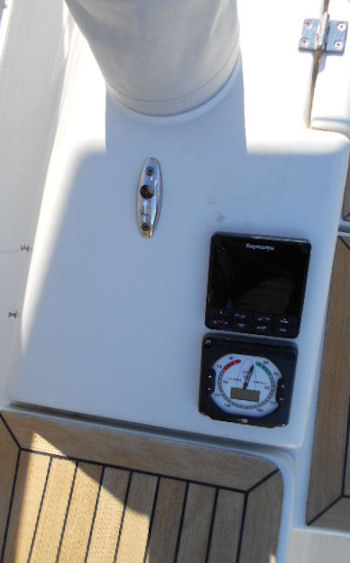 port side, Autopilot head ( 2017) and Wind instruments , Note socket above for full frame used for cockpit enclosure cover,
two speed self tail winches,
all with smart covers,
port side deck,
aft end of spray hood, has zip to attach full cover
saloon top, note hatch adds light and air, Simple stainless grab rails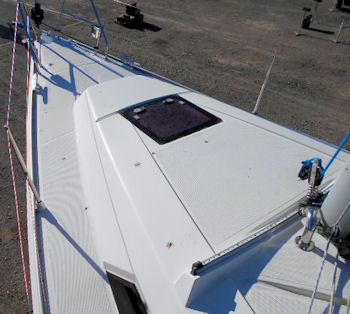 fore deck, flush hatch design. note the self tacking track for the furling jib,
Bow..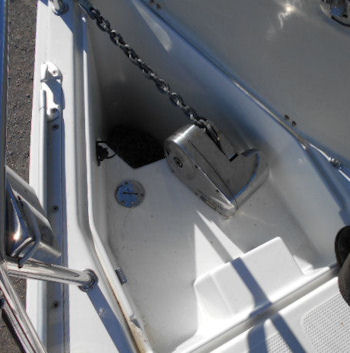 under deck water filler, (tank Forward) and electric windlass,
clean deck layout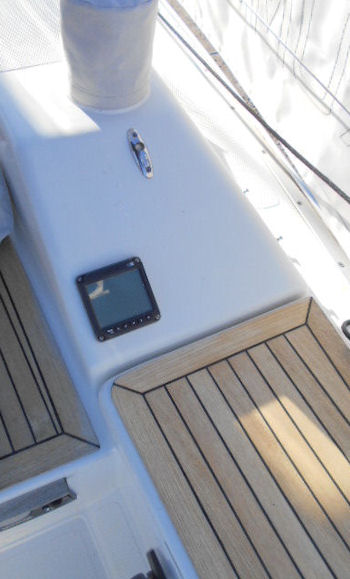 starboard side, Tri data unit,
warp lockers each side,, note diesel filler aft corner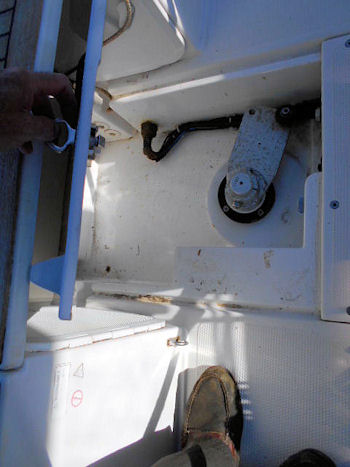 under deck hatch panel easy access to Rudder post,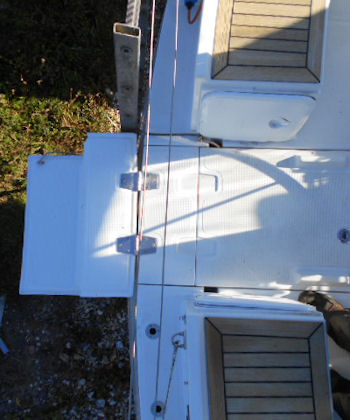 FOLD out aft seat moulding , clever
does work well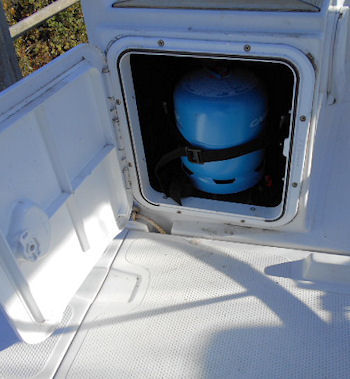 two gaz lockers aft each side, of walk through
note engine controls and panel right
shore lead, and warp locker port side,
Main sheet traveller track option,
clear perspex wash board removed, and top hatch slid home in to garage,
Bright modern interior, SUPER CLEAN.. with evidently very little hard use at all!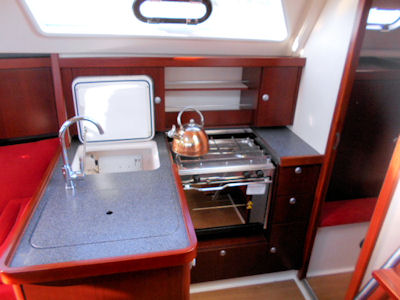 Galley set to starboard,
aft double cabin starboard side, note heater outlet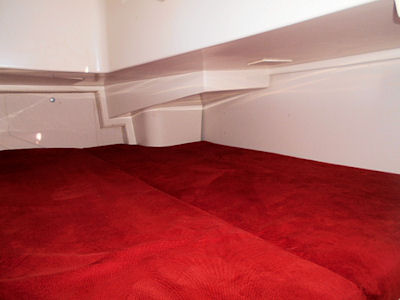 HUGE berth, two openers in here
aft access to engine space,
Starboard side access to engine (3 cylinder Yanmar 20 hp Diesel) on a sail drive unit,
Diesel tank under berth,
easy access to inside transon to access steering, etc. if required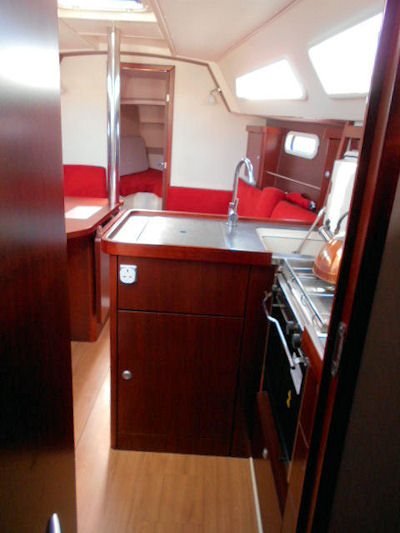 looking forward from aft cabin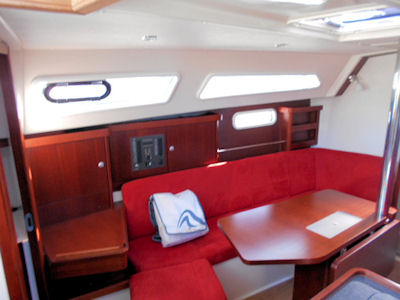 port side of saloon, aft facing small nav table, (or just use the super big saloon table for full charts!)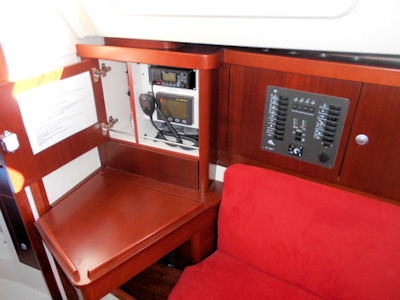 domestic electrics right, with Heater controls at base, in locker is the AIS unit and DSC/VHF (new 2018)
port aft WC with shower, blue bag is Jib in its bag,
Good space in here, Manual toilet pumps to waste holding tank
Under basin, access to water pumps, seacocks etc spare bilge pump and various useful spare parts stored in here.
BIG "Bosuns Locker" aft in WC/SHOWER lots of volume in here all kit aboard included, loose extra power line, etc(OTHER THAN the Yellow Life raft in this shot which does not belong to the boat)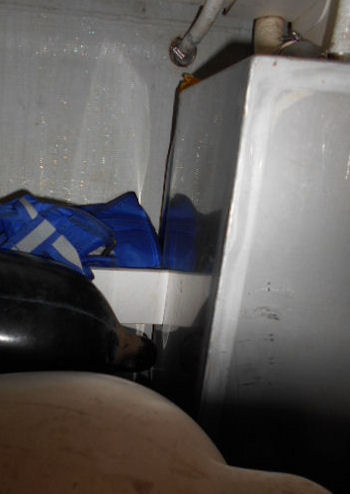 and just round the corner is the Waste tank,
port engine access from WC as well
Galley Twin sinks and big lop loader fridge
starboard berth/settee,
moulded locker under
fore cabin,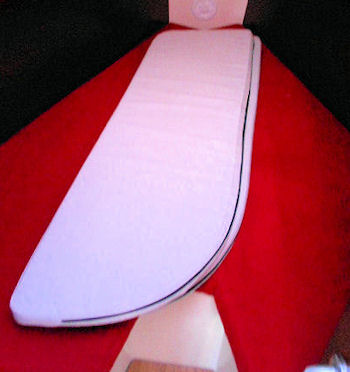 Cockpit cushions option,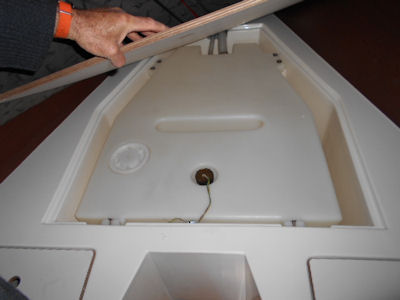 Fresh water tank under
Looking aft
saloon table extended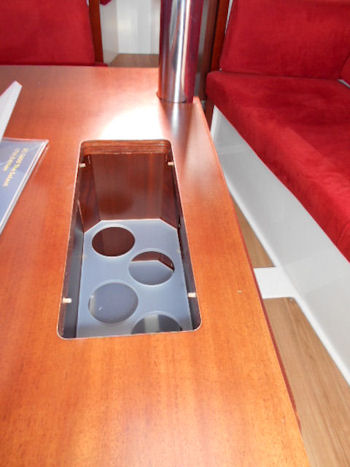 Bottle rack
Batteries under port seating (3 batteries)
Like Beneteau/Jeanneau, they use a Sucker to lift inspection hatches, (does save your toes from stubbing on fittings!)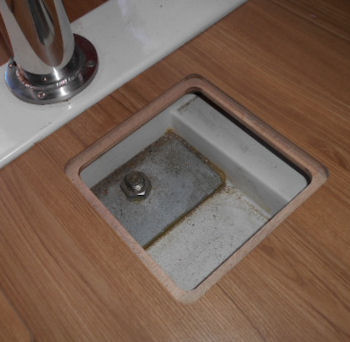 Dry clean keel bolts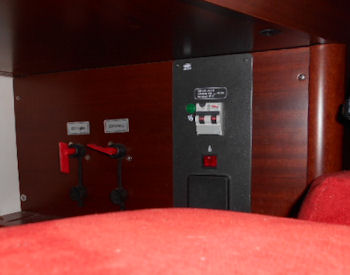 Mains breaker and main battery switches under nav table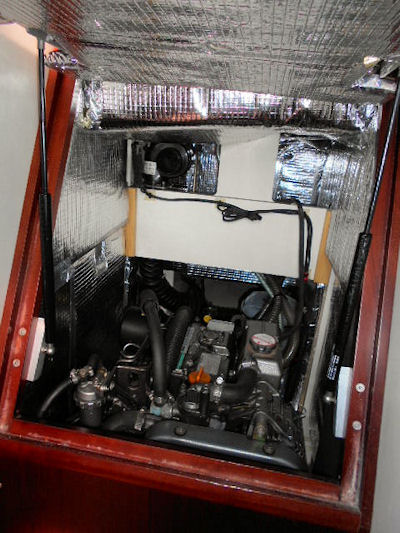 companionway steps lift on two gas struts to access engine, nivce and clean in here
and these modern production boats have easy clean bright interior mouldings that do make life easy (Deck stepped mast note support post)
So there she is, ashore Hythe, just about to be washed, cleaned, given a coat of antifoul, and generally made super!