all her sail wardrobe is neat and tidy, new unused spinnaker, and Genniker, 2007 main and genoa, as well as 2003 set,
cockpit tent, and nice sail cover, and you can see the "Toilet" bucket in a holder.. she has whisker pole as well as Spinnaker pole.
furler on the recent cruising sails with UV strip, and a reef on the main, he still has all the orignal rig to put her back to class for one design racing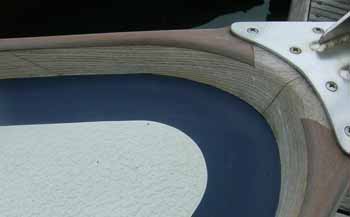 detail shot of the beautiful boatbuilding, super tough "Tufnell " caps cut in neatly round bow,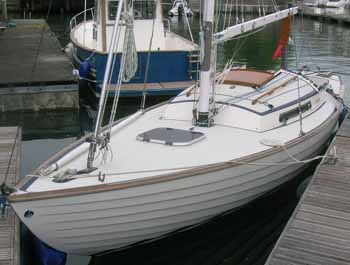 classic "Mock clinker" to GRP hull, and neat low lying coachroof to cabin
Through Deck mast, Sika Spruce as is the boom, all beautifully and professionally painted just last year,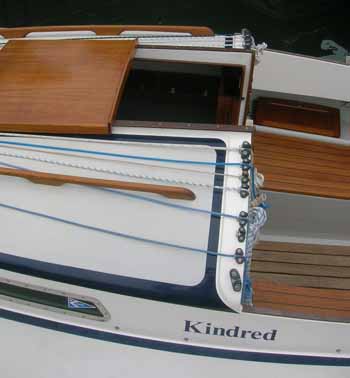 varnish work all good, and note this owner has addes some extra cams to lead several control lines aft to aid him single handing,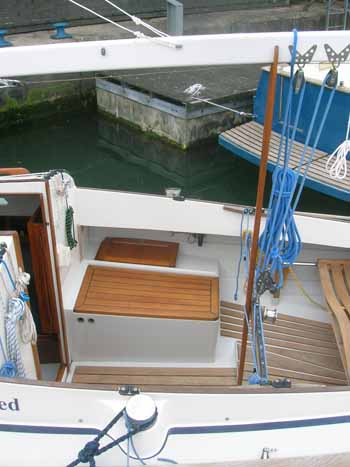 Traditional "Paddle" boom support, although he has also added a Toppinglift to make life easier. you can see the lazy jacks fitted to the boom, agai to aid simple sailing, this can all be removed to class,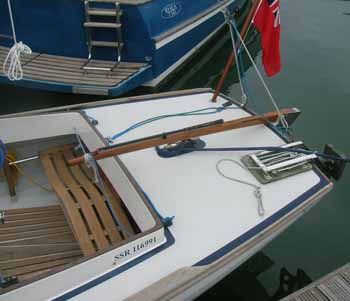 long tiller with extension, note she has the extra slide out hel seat beautifully crafted with laminated slat construction, it can slide forward or aft out of the way, notice also the outboard bracket,
which has a tail with loop, this cleverly reaches to the sheet winch and allows easy lift of the outboard, which will lft fully clear of the water underway sailing.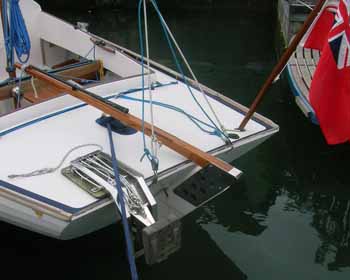 better view on the bracket, aft aft hung full rudder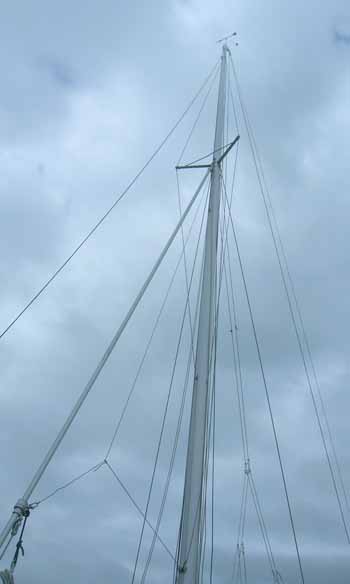 3./4 Fractional rig, diamonds Forward on her single spreader rig, hawk wind arrow aloft,
Sails Two sets, 2003 Saunders, average but useable condition, , and 2007 North set , later has furling Genoa with UV strip, , and reefing points on main ( hardly use this recent North set, all in good order, unused spinnaker and furling Gennaker, both 2007,
New Forestay in 2015,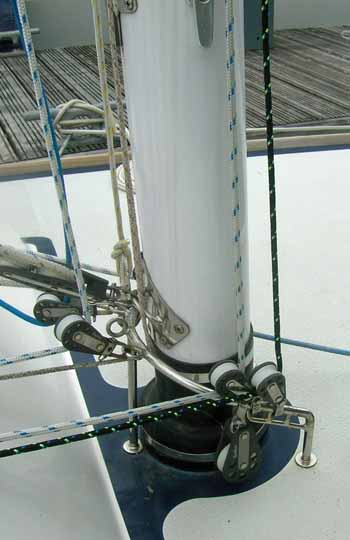 detail around mast base,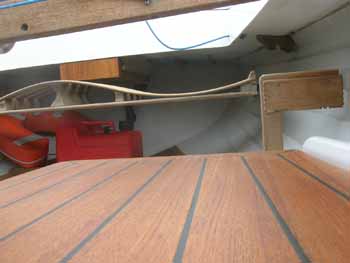 Looking aft under aft deck from cockpit, look at that athwartship sliding shaped seat, wonderful. and the outboard tank can be seen, with a life belt under aft deck,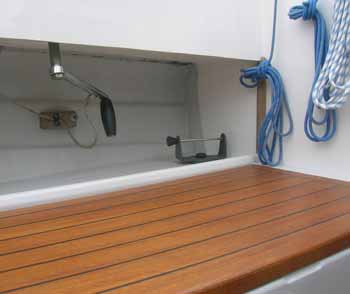 port side, locker lid with under deck winch handles to sheet winches, garmin GPS bracket ,,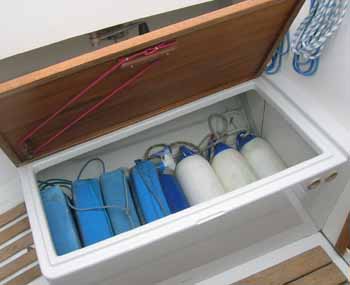 neat fenders and fender pads,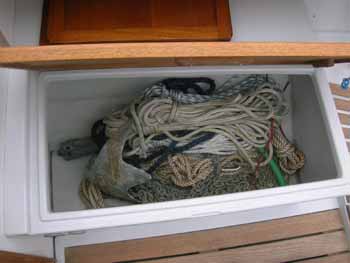 spare warps, lines, and bruce anchor with chain tail and nylon warp. as well as a small folding Grapnel type anchor.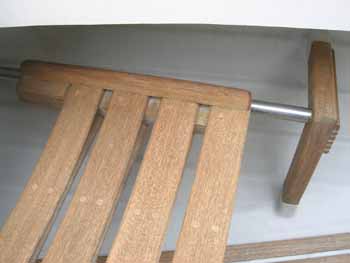 sliding thwart port side, it slide on the Stainless tube, fore and aft,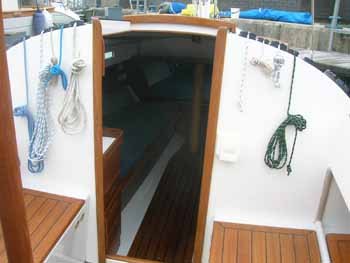 cabin entry,
view in to port, fold out work surface with single meths burner under, port saloon berth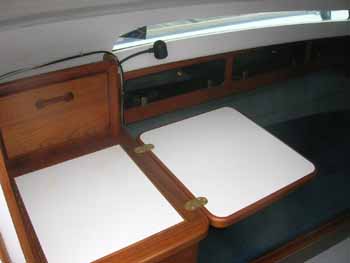 top opens on to a support,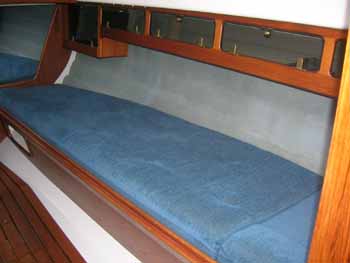 stb side, saloon berth, with under deck lockers both sides with Perspex doors,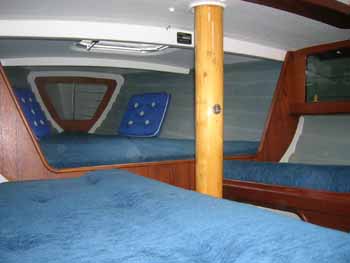 looking forward to double Vee berth, all super clean in here, little slept on,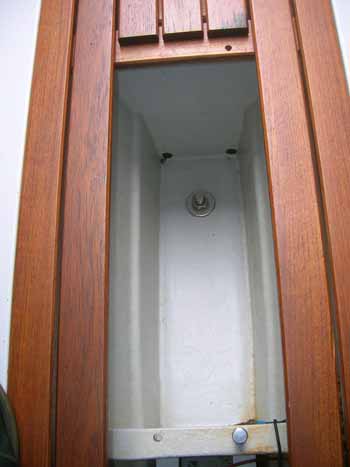 smart floors with easy lift access to bilges, and keel bolts, all neat, and dry !
battery , will run GPS, echosounder, as well as Drop in navlight set, Outboard motor does have a charge ability.
else a simpe solar panle would keep this topped up..
mast foot access, and release
lovely woodwork to drawers, port side, infact all wood work is simple strong, and neat with excellent finishes, and in super condition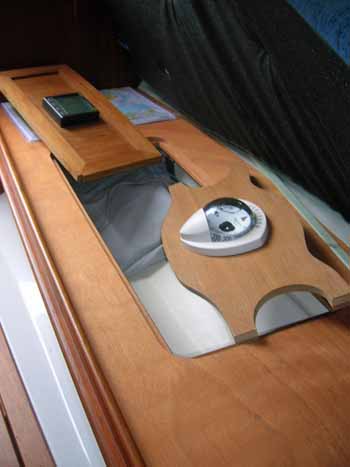 under berth locker store for Drop in Magnetic steering compass, as well as Echosounder, they can both be positioned in companionway, with hatch open,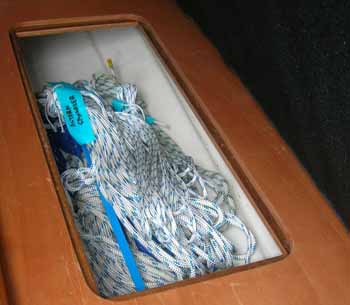 sheets and guys, all clean and recent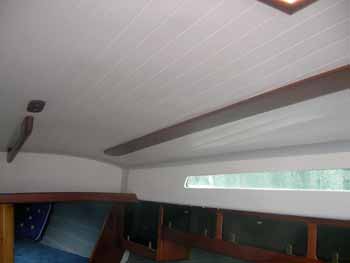 headling as new,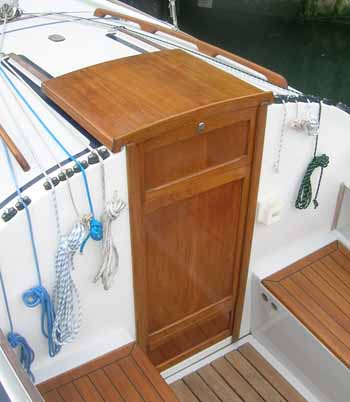 cabin entry wash boards also in super order,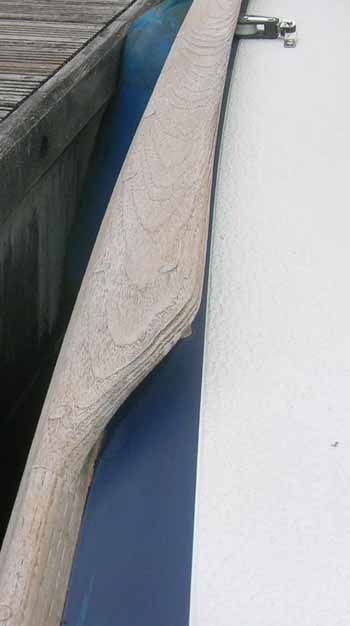 " OLD MAN SEATS" in way of anyone "sitting out" along cockpit edge, they offer a widened and flattened section to a bigger Toerail... so making it FAR more comfortable ! (yes please)
and here is the USED Twice 2016 Outboard motor, obviously as new.
The racing guys have a 2.5hp often which will just about get them down the river !! They only just get deep enough in the water..but struggle to get back against any tide.. often to be pulled in..
THIS engine give serious proper cruising ability and will punch her home against some slop as well as some tide ..very nice.. at gentle revs sliding along at 4 knots..it is quiet and surprisingly economical..
it will give her a good solid 5-6 knots and possibly more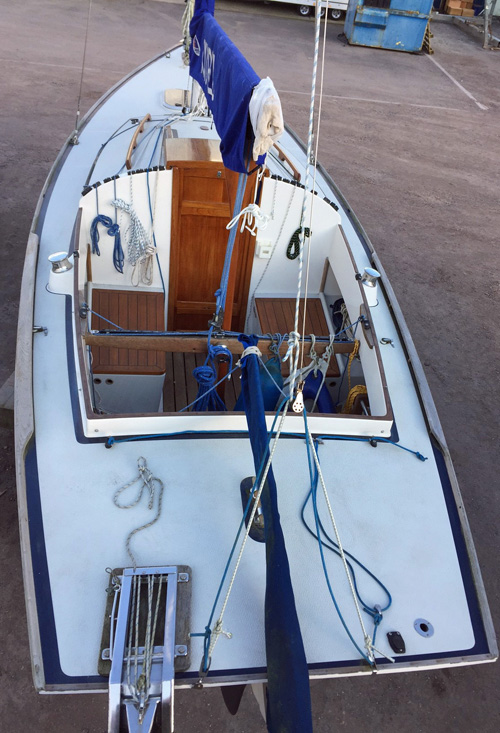 ashore, note tiller cover..
Stunning shape to these timeless classics. sail like a dream, and can cover great distances cruising ..