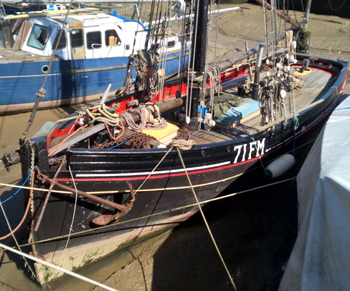 She is in excellent structural order and full photos will be taken around deck and below shortly
from her near "Re-biuld" new Oak frames going in,
Much new Planking and bow patch etc. works completed under cover on the Medway, a three year project.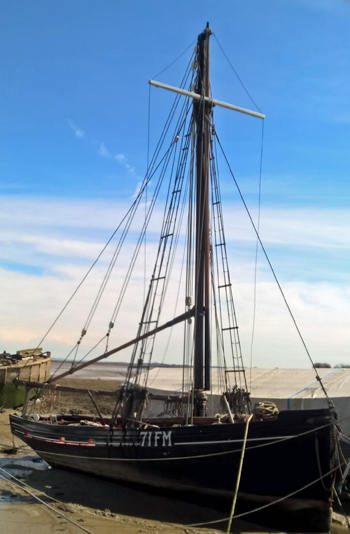 Typical pleasing shape , and sat in a mud ( April 2016) berth keeps her supported nicely and her planking tight.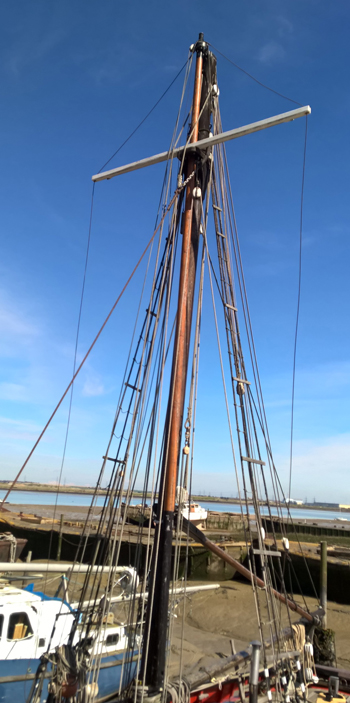 Full details of her rig etc will be posted shortly, But she is in near original set up. so with no engine ( as original) she is a boat that wants to good hands ( forgive me ladies , two Guys!) to cruise , and when racing she had five or six to heave Ropes etc..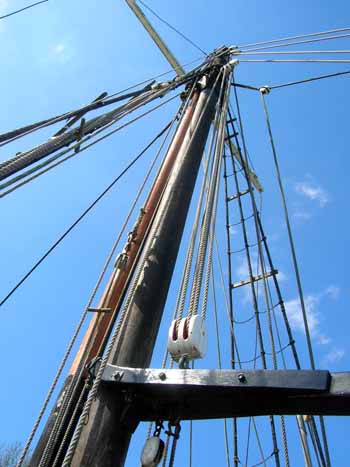 8:1 purchase on gaff halyard makes it possible , infact easier than I expected..
Stunning.. THAT is a top mast...
AND copies follow from Classic Boat Magazine";
"She was built in the north Kent harbour of Whitsable in 1890 by master shipwrights Dick and Charlie Perkins and fished until 1928. And for nearly 50 years she has belonged to Dick Norris, who keeps her on a swinging Medway mooring outside his house at Gillingham in Kent.
CB joined Stormy Petrel for a day cruise in his home waters and to hear some of the smack's 120-year history. Keeping a smack in working condition involves a good schedule of work, and now 77 (in 2013), Dick is starting to feel the weight of the upkeep, but he's still sailing the boat, although only locally.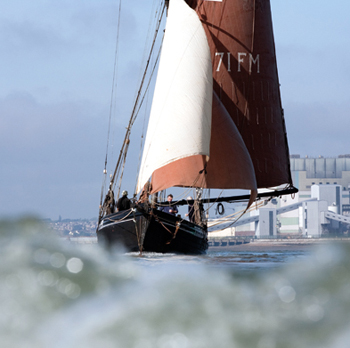 On the Medway
Owner Dick Norris
"When you take a boat like this away from here it's like an alien thing, people don't understand boats like this anymore," he says, as we head out into the sunlit brown waters of the estuary. OK, so let's see if we can explain a bit about her…
Stormy Petrel comes from an era when the Thames oyster was a celebrated delicacy, and no longer regarded simply as a food for poor people. Whitstable back then had become known as oyster town, after it was one of the earliest ports to become linked by railway – in 1830, with a service known as the Crab and Winkle Line, from Canterbury; later, in 1861, it was also linked to London.
Her Lines
Back then the sailing smacks were anchored off the beach, in just about all weathers, or could jostle into the newly built harbour to unload. They were crewed by three or four men and a skipper, and Stormy was owned and fished for her builders, the Perkins brothers. She would have used dredges for oysters in the summer and been used for stowboating in the winter (see CB 262).
The smacks (or yawls as they are also known) of Whitstable were as common as the Essex smacks but far fewer survive. They were built heavy to take the ground on the sandbanks of this part of the lower Thames estuary. Stormy Petrel, for instance is 25 tonnes, at 40ft (12.2m) LOA, while the longer 48ft (14.6m) LOA My Alice, from Essex, weighs 18 tonnes.
"Their scantlings were much larger," says Dick, "and they had evolved that way to be working in the open sea in all weathers. Some, like The Favourite, were a bit finer, with a counter stern of an Essex smack but Stormy's stern is like a kind of knuckle counter, though she has the through rudder post."
Stern Shot
Built on an elm keel, the smack, with her designated fishing number 71FM (Faversham), has pitch pine bottom timbers and oak topsides with 3in (76mm) thick oak binn wales at the turn of the bilge so she can lie on her bottom. Her deck is straight yellow pine. "When she was built she was bronze fastened, and it was the practice to do that," Dick says. "But I rather suspect that was because the Naval Dockyards at Chatham were turning to iron and steel ships and so they were selling off their old bronze."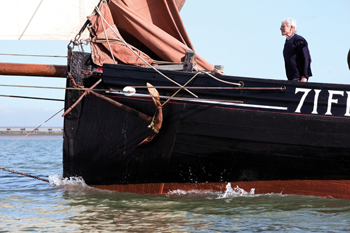 Pround Owner On foredeck
From 1928 Stormy Petrel was used as a watch boat – with a watch house cabin fitted, by the Seasalter and Ham company, moored at the Pollard Spit overlooking their interests in the oyster fishery east of the Isle of Sheppey. "During the war her old skipper Pongo Stroud saw a German mine floating near her and went out and dragged it away with a net so that when it went off it would not harm her," Dick recalls.
The Bob Roberts connection
After war in 1948 she was sold to the famous barge and smack skipper, and author Bob Roberts. "He tried to fish her again (off Essex and Suffolk) for three years but he kept going ashore. It was too much to manage on his own and to make a living in the later 1940s. He wrote about her in Breeze for a Bargeman and he sold her to his third hand Bernard Rosier, who didn't fish her, but kept her registered."
Dick acquired Stormy in October 1962: "It was the most wonderful thing that ever happened to me. I had first seen her as a small boy, coming into Harwich once. Later, when I was in the Royal Navy, The Yachting Monthly had her on the cover and I thought to myself – I had better get a real boat! When I first got her all her blocks had been up in the rigging, probably since the day she was launched! All the sheaves had collapsed and didn't turn so it must have been hard work hoisting sail. She needed new bulwarks and stanchions and I did that myself – I didn't really know what to do, but I had a lot of help."
Skipper, sounding in the Gore channel 1963..
Dick had been a member of the Medway Cruising Club since 1948, and had sailed another smack locally. After the service he became a history teacher, which meant long holidays with the smack. She has become very well known on the East Coast, a legend really.
The Big Refit
Having owned Stormy Petrel for 30 years, and having retired in 1995, Dick decided in 1998 to take her ashore for a big refit. He was in dry dock for three years. "I had never recaulked her in all my time of ownership," he says proudly, "and most of her planking is still original. I had help from Mick Murr, a whizzo shipwright, and we gave her a new deck and deck beams, new stanchions and bulwarks, new walings – upper and lower – and a new rudder trunk in pitch pine. She also had new hatch coamings out of 3in (76mm) thick pitch pine. She had a new mast in 1995 – though the fidded topmast is older; we've lost about three topmasts over the years – one went over the side!"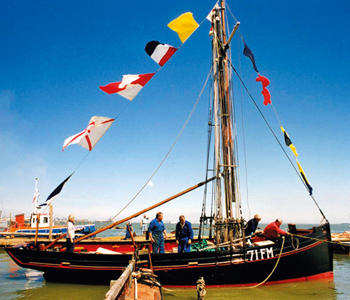 2002 relaunch... superb!
No wonder she slips along, look at the Canvas she can set, Beautiful sight.
these photos are all April 2016, aft end, kedge anchor aft, and rudder stock, Tiller sat below at present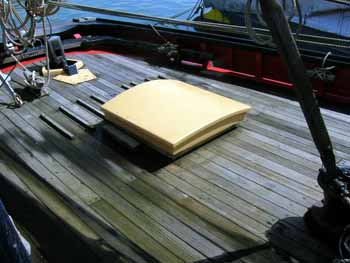 aft deck hatch which is where sails are stored..
heafty scantlings, and good upstand on hatch
bow section , pin windlass, and forehatch under the stowed Bow sprit,
recent Teak boards with stainless bolts.. few bits have been respectfully used...
Main hatch, has a removable teak grating . duck board style, to clear perspex cover ahead of hatch, floods saloon when covers are off
smart larch Deck was all new 2002
view down main hatch, looking forward
looking aft, Fabulous solid cole range..
looking aft stb side, trotter boxes each side..
forward to stb side, look at the deck structure.. massive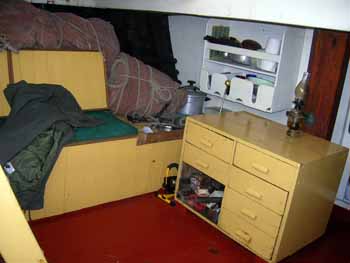 drawer unit obviously non original but is in keeping and very handy, main mast just behind, note mainsail is stowed behind seating to port, usually on deck obviously
and again, seating would sleep five or seat 15 down here!!
New mast 1995,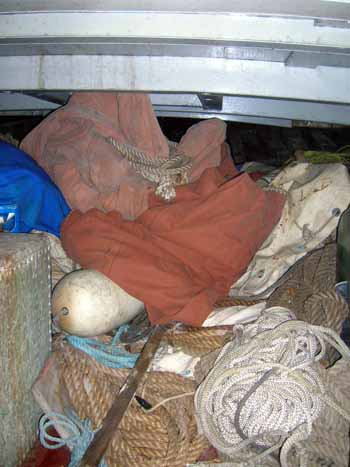 view aft in to sail store, rope store etc.. huge area..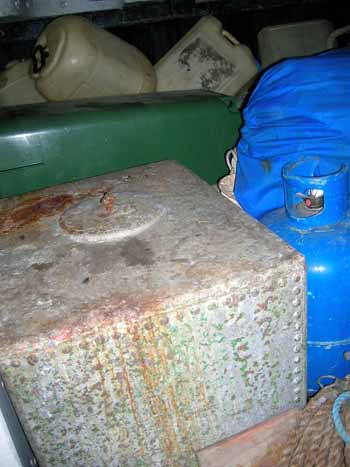 originall Iron water tank.. has been galv painted...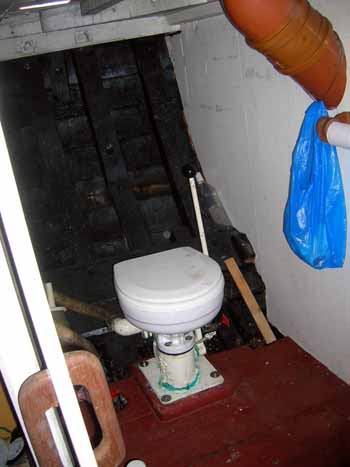 heads is fitted to port forward of main bulkhead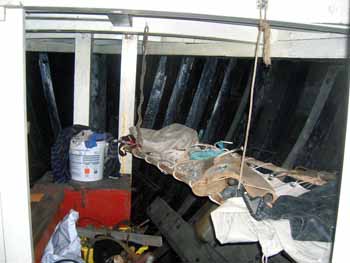 view forward from saloon, to fore cabin.. hanging berth is "Skippers berth" apparently... lots of space in here..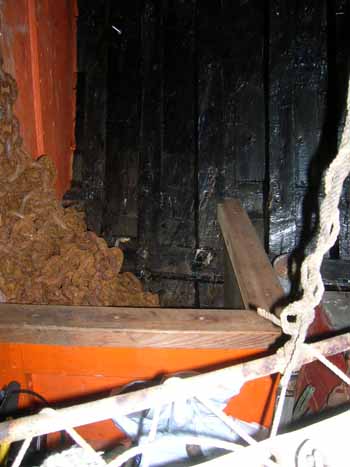 chain bin ahead of heads compartment over to port side of centreline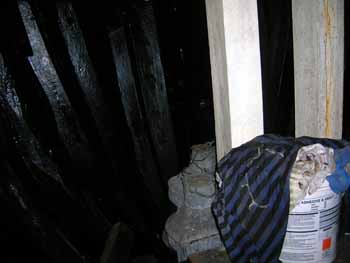 main bits down from the deck , and notice the nice OIl nav lights centre of photo..