general interior arrangment (excuse my crude alterations to show a sette to starboard in place of usual twin seats,
bow prow,/pulpit arrangement with under slung Bruce anchor, note wear plates fitted to protect hull from anchor,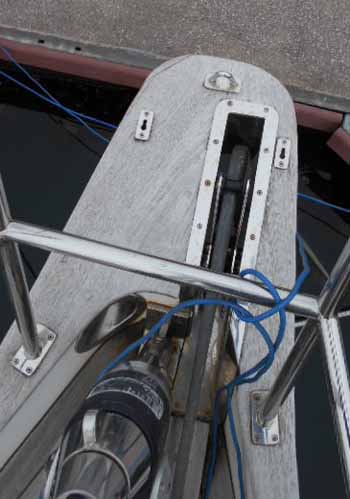 top of prow, notice two keyhole filttings that take the over bow ladder arrangemen( common bow to berthing in Scandinavia.
fore deck area, showing hydraulic furling to genoa forward and manual furling to jib on inner forestay,
deck access to chain locker, ALL the deck teak (14mm, ) has only ever been cleaned with blocks of salt/soap, and circular pads, so it is very nice and FLAT and will come up beauitfully with very little effort. it has never been treated with acids or Alkali which tend to burn the soft flesh of the teak out and so leave it all ridged and uneven.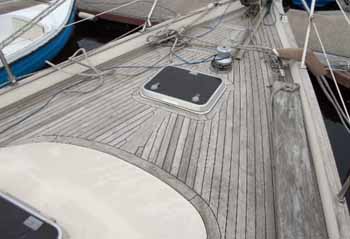 "Proper" teak work, with decent margin boards and king plank arrangement to pattern
foredeck hatch over head of bed
looking aft, forehatch on coachroof to fore cabin, , loose pile spreading plank laid on deck left of shot,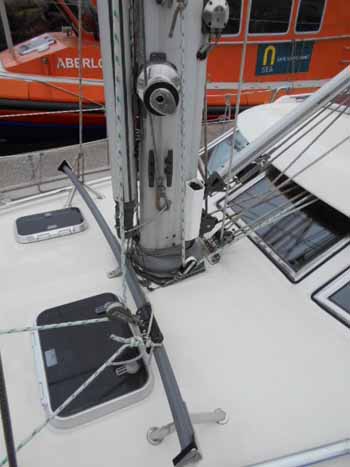 mast base, THROUGH deck mast to keel mount, note spinnaker pole on mast, lewmar 40st 2 speed self tailing halyard winches and self tacking jib track ahead, opening hatches to foreward heads, near and corridor ,far, whellhouse windows have eye broy from roof top, and are solid S/S frames with heavy Double glazed panels ,
Selden Rod gas damped kicker
Lewmar hydraulic vertical in mast, main furling pump.( Main halyard 10mm KEVLAR,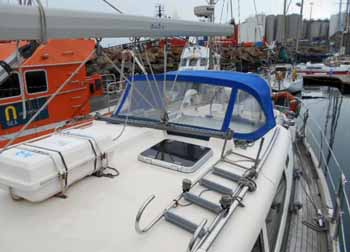 mainsheet runs to traveller just ahead of spray hood leaving cockpit clear. hatch over saloon. deep bow ladder can also be used at both side gates, Life raft, two years out of service.
port side looking aft, heafty filler caps with winch handle drives. nice to see a deck drian in exactly the right place to drain any puddles.
fairleads cut in to the heavy Teak cappings
nice tall spray hood, and teak step to deck outside coambings, mounted winches, larger after one is electric
simple cockpit arrangement, very solid rod steering system.
the after section of this seat lips aft to become aft boarding steps, as brouchure shot to follow,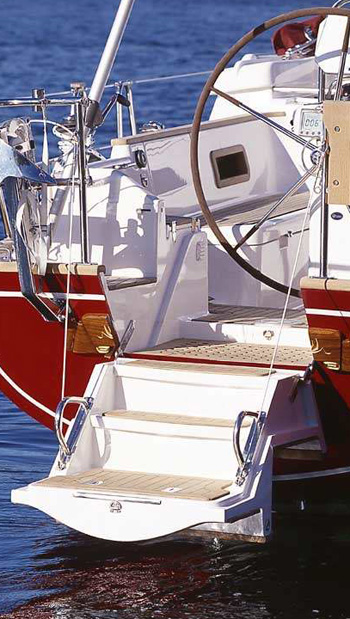 Brilliant arrangement, ( Brochure shot)
Large strong wheel, with binnacle mounting of Bow thruster controls
Forward facing echo sounder, and autopilot etc. VHF cradle right of shot, electric sheet winch buttons left and right,
single back stay split to give clear access to aft boarding steps, see brouchure shot above
S/S radar mast at starboard aft ( canting platform mount) , also houses antennas, for GPS units, and Navtex, alos has Derek for lifting outboard motor fro water aft to storage
Bracket on port side Pushpit, ( always a help if ever you need to get some body aboard from the water, heaven forbid. )
note aft 15KG CQR kedge mounted to starboard. (with 3m chain and 40m nylon line, )
large lewmar 58EST sheet winches ( electric) neat s/s wear plates to teak capping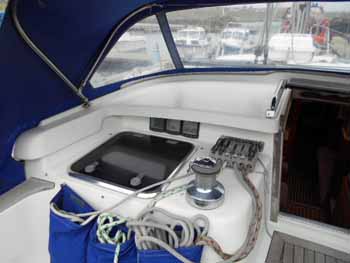 port companionway, hatch to aft cabin, wind instruments with control line clutches and winch
cabin entry set to starboard, note both solid teak and clear perspex wash boards,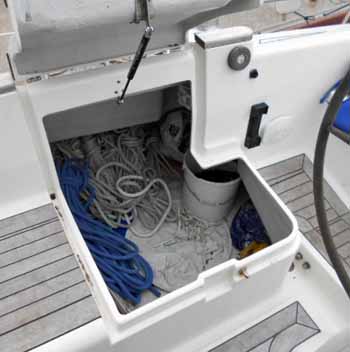 starboard cockpit lockers,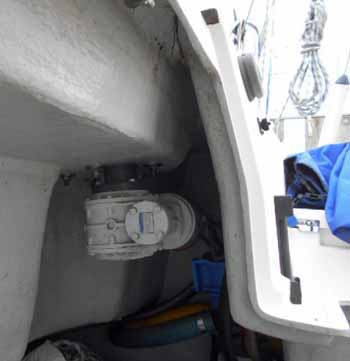 giving access to under deck motor, note the massive layup of this superstructure moulding.
port side, various service tools, including oils and pump for regular changes, gas struts to lids
port aft locker houses Gas, at present two Calour Butane 6KG bottles, (room for a third. ?)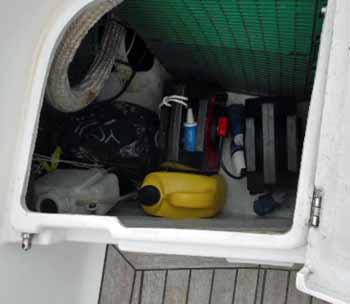 starboard side, house central heating unit.
nice solid S/S grabrails full length of coachroof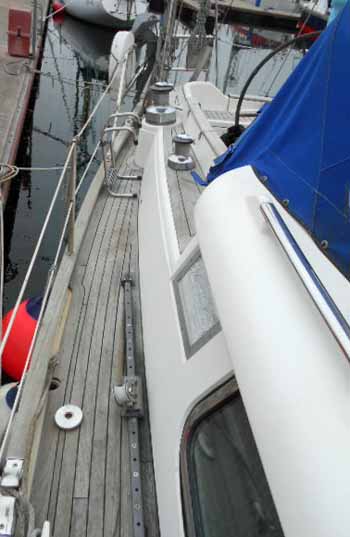 side clip on steps aft,
Selden Mast head rig with Hydraulic in mast self furling to mainsail and genoa, with inner forestay fitted with Self tacking furling jib.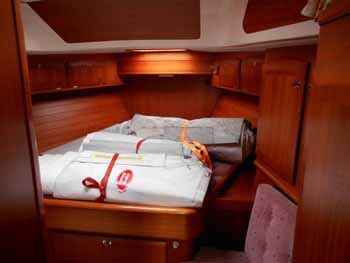 double forward berth, with all sails removed and stored, beautiful Teak timberwork with lockers "everywhere"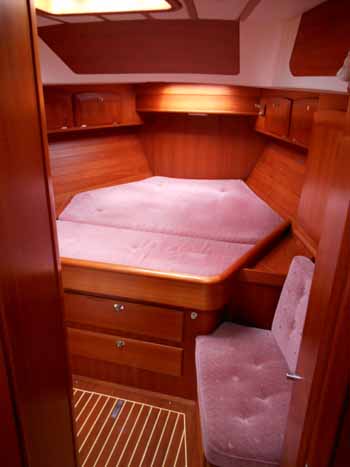 drawers under, dressing seat right of shot, stunning teak and Holly floor throughout, loose carpet overlays,
airation to under mattress,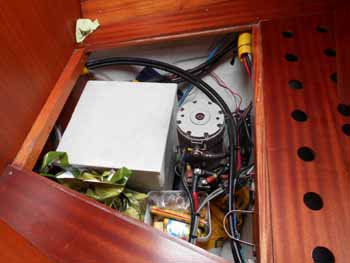 bow thruster forward with its own local battery and battery charger etc,
large store aft under bed,
hanging locker to starboard, opening port over
240v power point, drawers under bed,
fabulous lockers all round, en-suite heads left of shot, note wet heating system has rad at low level inside "slot" under hanging locker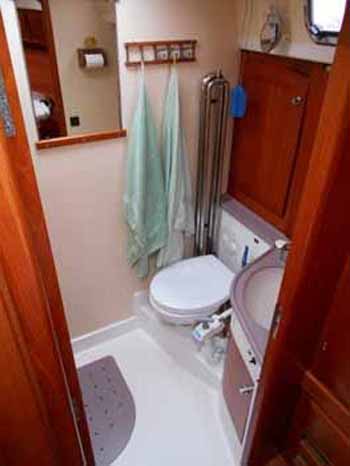 manula heads, Tall stainless steel tubes are anti syphon valves on intake and outlets to heads, "NO NONSENSE"
will not fail approach.
small switches, just inside heads, on sink front, control deck wash pump, and also air movement fan that pumps out just by the hand in shot! fabulous.
decent shower space.,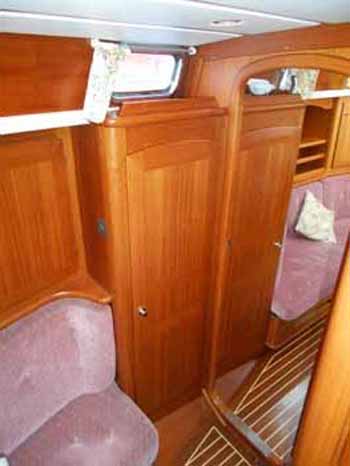 cabin exit,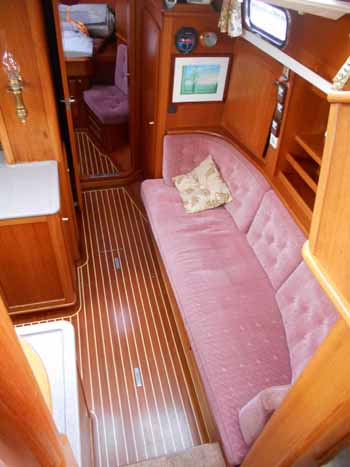 starboard sette berth with lee cloths fitted, ( in place of two single seats, )
galley left of shot,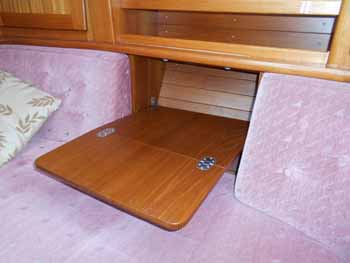 neat drop out drinks/reading table under book shelf
access to mast base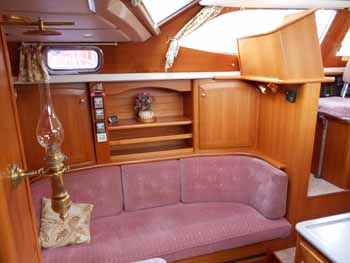 looking across from galley, gimballed parrafin lamp fitted left.
looking to port galley, good worksurfaces all round in heavy Corian. Recent cooker replacement as whilst the "Force ten" unit is bomb proof in reality it proved hard work to use.. so a very good unit has replaced it. Microwave above, freezer to left and fridge to right of shot both through top loaders, note the timbe left is laminated timber back to dinette seating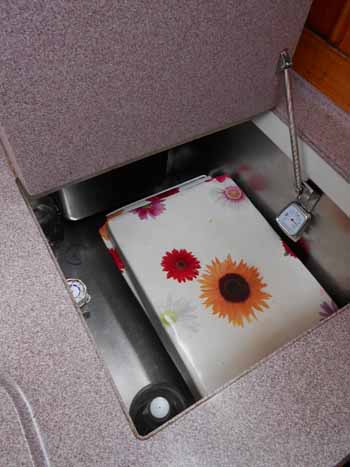 Fridge, ( the floral blocks are added insulation used when extra long periods required extra insulation etc)
looking forward, great working galley
freezer
under deck lockers all round
note extra 12v supply with 240 sockets,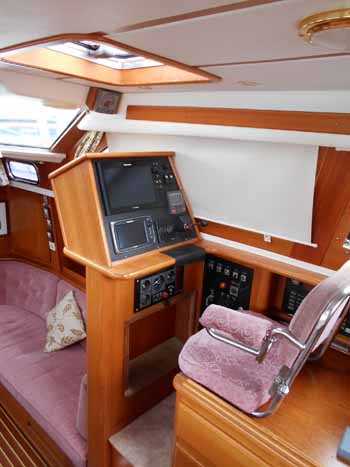 internal helm station, blinds to all windows, this one dropped just to show, new smart Hybrid touch Ray marine screens.. 2017..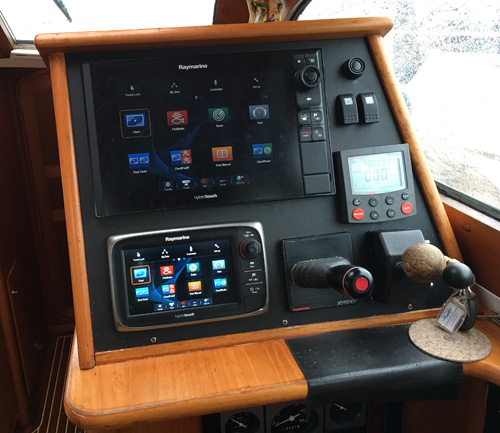 recent screens, with autopilot head, and internal JOY stick steering engine panel below.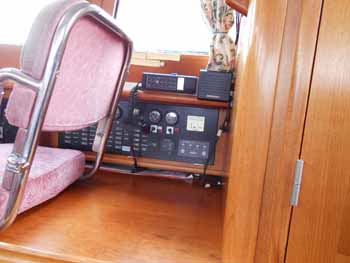 main switch panel, note shipmate vhf, with external speaker,
stunning woodwork, and drawers under helm seat. door to aft heads.
looking across dinette, hatch over, back rest cushions pull away to access huge under deck cave lockers and also create
a single berth with lee cloths, (good passage berth)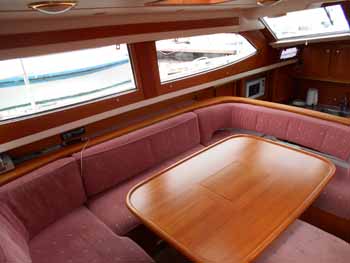 looking forward,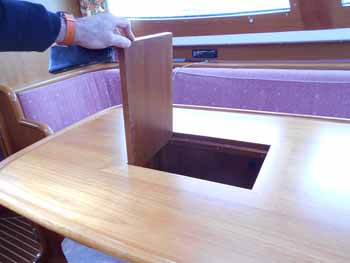 drinks...
cabin entry aft, and tv mounting,
aft heads set to starboard aft of helm,
again decent anti syphon
port aft quarter berth, heater slot under, locker above drawers gives access to steering kit
looking across to starboard double berth, opening window to cockpit,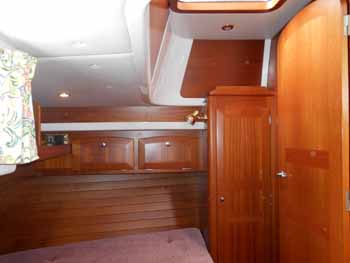 looking at head of bed port side, cabin door shut, hatch over to cockpit under sprayhood
heater slot,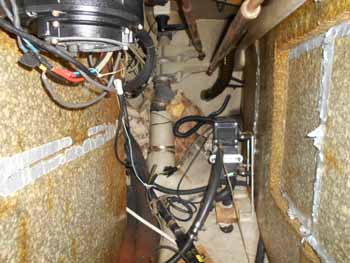 view down under cockpit, shows , nice insulation, with rudder post visible, and rod steering links at top, note the extra access panle fitted right of shot to allow EASY access in here
under cabin floor, shaft and Lip seal to stern tube, great easy access, also it shows the very low down angle of the shaft, which improves efficiency of the power train.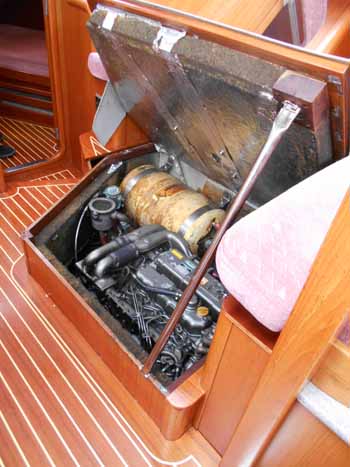 engine access fantastic arrangement with the whole dinette table floor on heavy hinges and solid strut to gain decent access.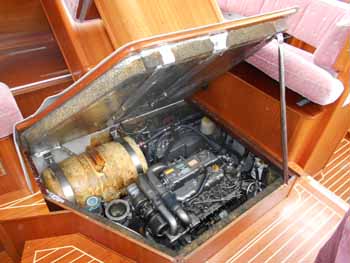 hot water tank left,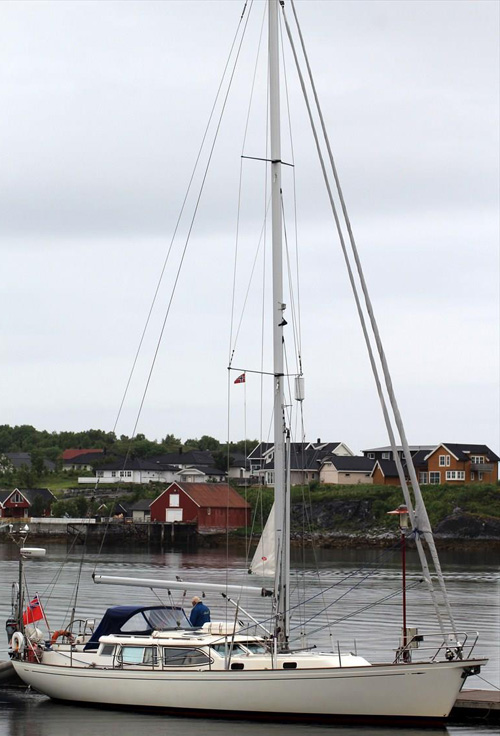 Glorious elegant lines. a real go any where boat, which has been much loved by her one owners from new, she could do with a seasons "wash and brush" up, That's about it, Stunning !
and now some rather nice general shots of her being enjoyed in the last 20 ish years!
She was built with Navy Gelcoats, and in 2006 she was lifted, de-rigged and had a full clean down, and re spary in white,
at the same time she had all her standing rigging replaced.
did I mention they sailed to NORWAY often,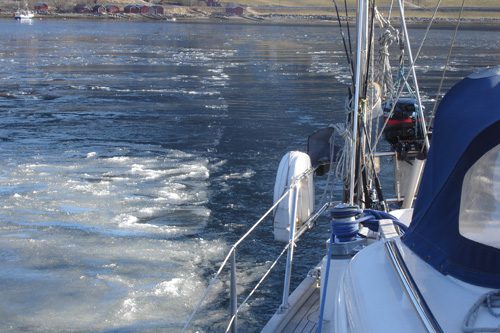 sliding through thin surface ICE, not something for lesser boats,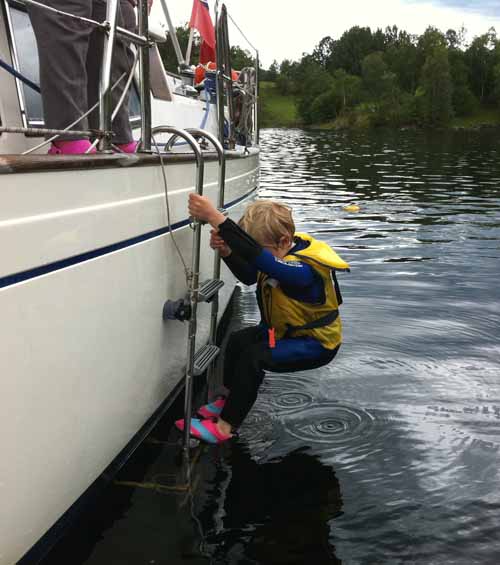 Side ladder in Testing, ( also sits over bow)
Skipper , Catches dinner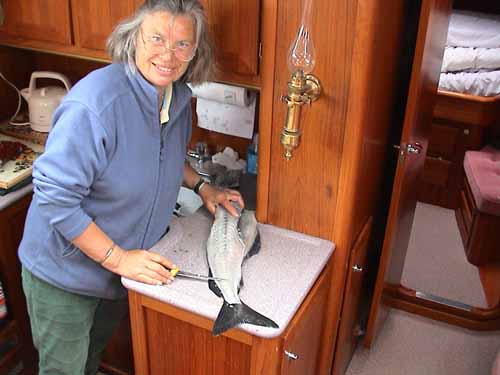 Mrs Skipper Deals with it...
elegant at anchor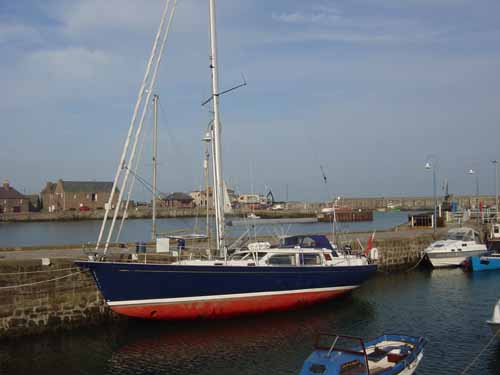 happy to dry alongside a wall, with long keel etc,
keel is Lead ballasted, and has Bulb arrangement to reduce draught, ( it is connected by 20mm Acid resistant bolts, Dividing line between hull and lead keel is Stepped to resist any fore and aft movement, "Shearing"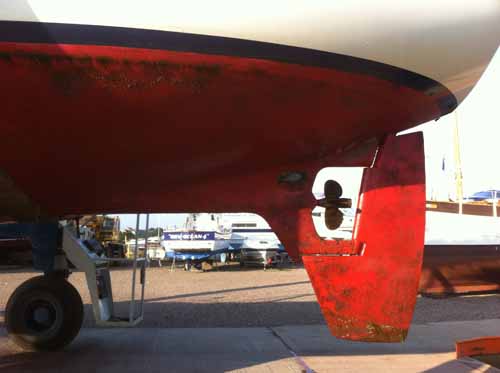 Nice long skeg from aft of keel gives excellent protection to Propeller, Note the area of rudder ahead of the pivot point so ballancing the rudder effort, so I am sure she was never hard work beating to windward with weight on helm,
GRP rudder with 80mm Aluminium stock, roller bearings, and cast bronze mounting, Whitlock Cobra steering with Link arm.
Rig check, covers over hatches note,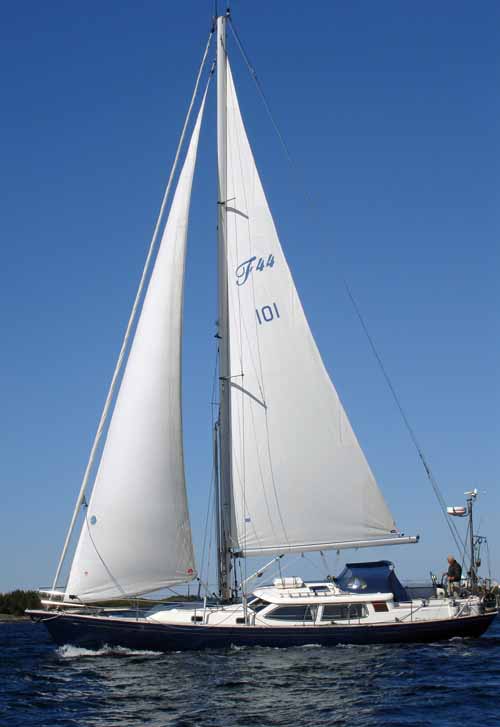 just with furling self tacking jib set, Loose fitted Main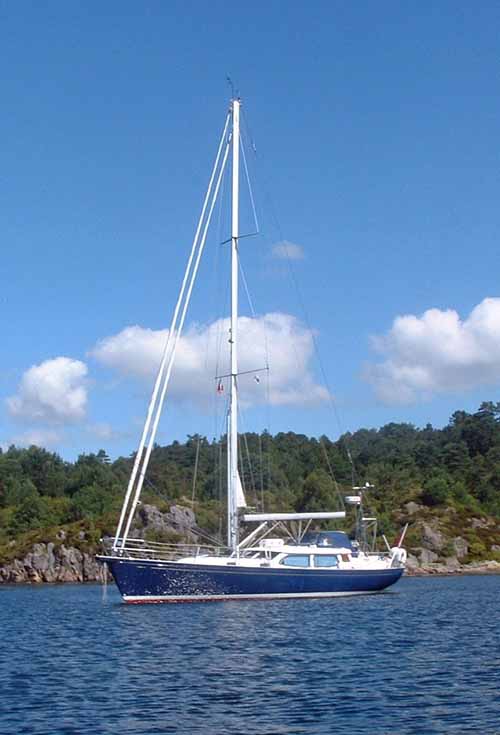 Splendid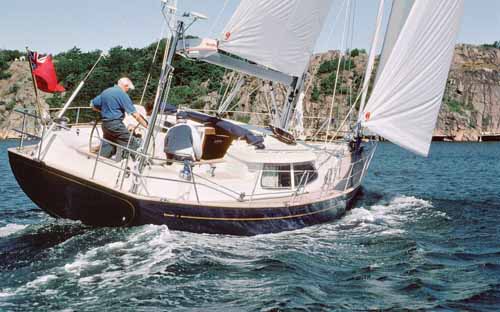 early trails, in the Fantasi brouchure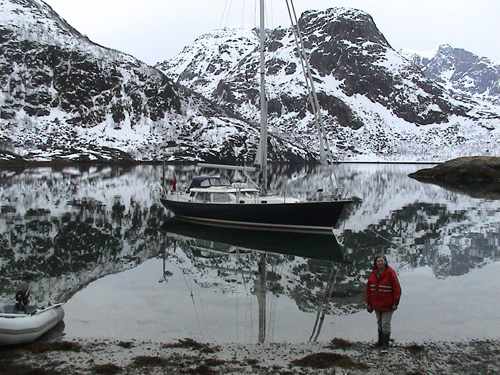 Normal use, for these owners meant going places, and the boat is equipped accordingly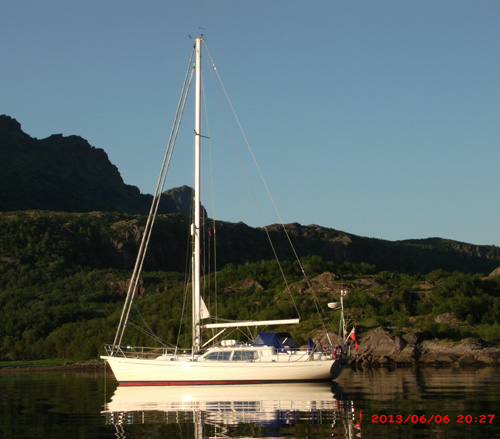 now white,
note the fenders have the Board outside them ready to lay against an uneven quayside
slipalong shape, her performance has delighted her designer as well as her owners, and the yard have gone on to build 20 More of these boats, the last ones however not at the original Yard.