Sail Plan , Note encapsulated Lead keel, Skeg hung rudder,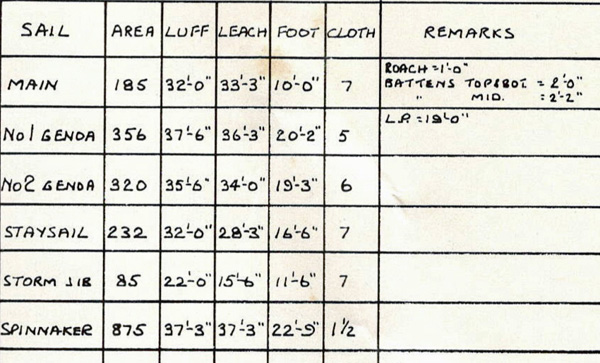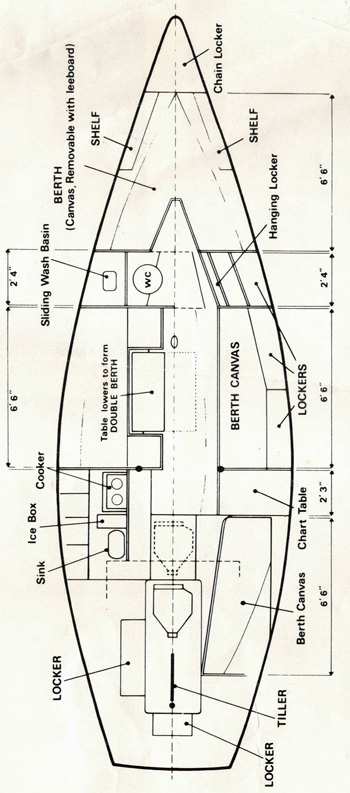 Sorry this is sideways, but we can have a bigger File, then ! ,, standard layout,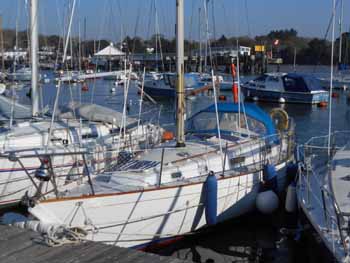 Sat March 1st at her Lymington River berth,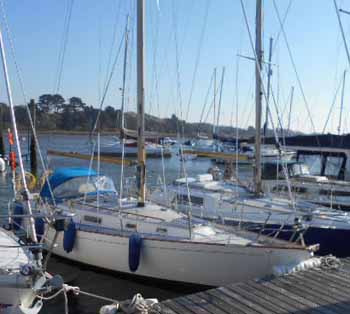 Elegant Lines,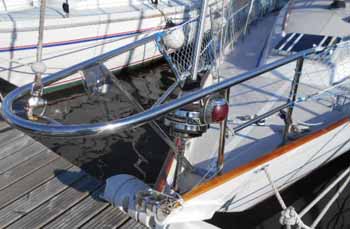 Fine Prow, Note the headsail Foil has no sail wrapped round it, it together with the main are away for the winter, Double bow roller
Safety netting all round life lines,Low level Nav lights on pulpit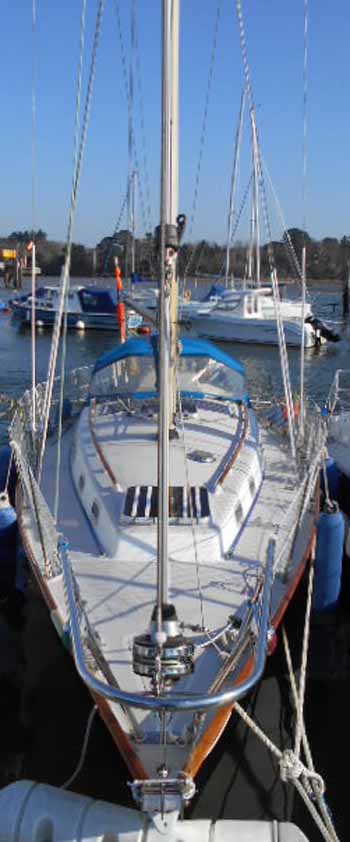 Early clew as to the ability of these boats, super slim tear drop shape.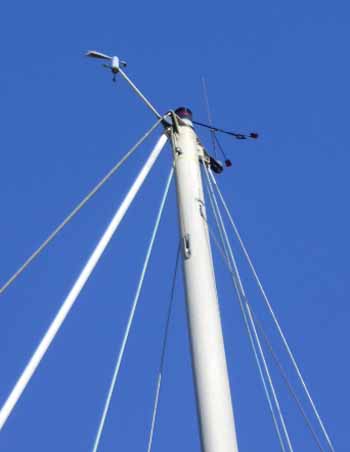 All round Tri Colour at mast head, with wind instruments as well as Hawk wind angle. Simple mast head rig with single straight spreaders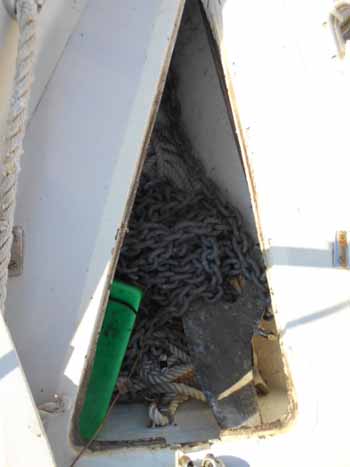 Anchor locker with CQR and long chain tail with Nylon warp makes up 10 fathoms
looking down port side deck, note the Spinnaker and jib poles are away in store for the winter, as they sit in those deck chocks and clip to end cradles. Non slip strips on Fore hatch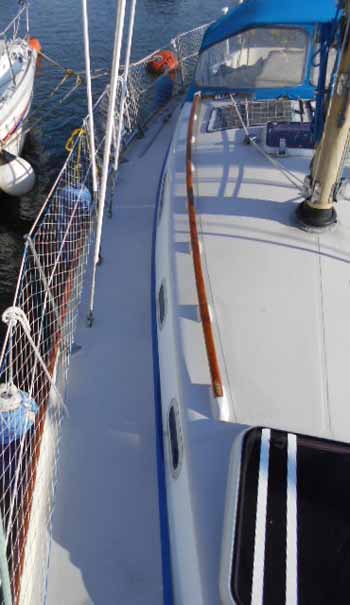 starboard side deck, varnish work in fair order, ( a constant battle..) Note the Through deck mast with Gaiter.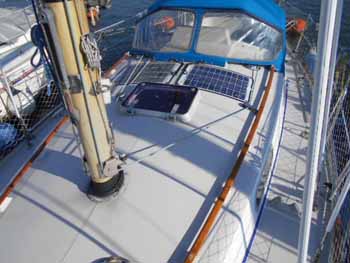 some controls do run aft to cockpit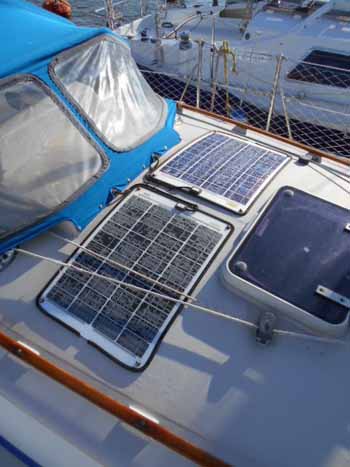 saloon hatch ahead of two fairly recent flexible Solar panels. These work very well. and actually maintain your batteries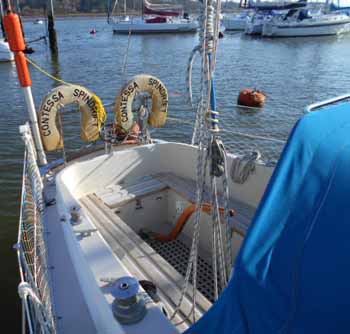 Simple cockpit with swept tiller aft,
Winches, Lewmar 40 's 2 speed for sheets, 2 x Lewmar 25's 2 speed for halyards,
Rig all Alloy Gold anodised, with Alloy Boom, spinnaker pole and jib pole,
Rigging all Stainless steeel, 1/19 6mm running rigging renewed 2005, Standing rigging age Unsure)
SAILS Main, no 1 Genoa, ( usually on Furler) No 2 Genoa, Staysail, Storm Jib, Spinnaker,( with snuffer) all old but servicable,

Nice detail the aft deck capping corners are plated over with rather smart Smooth S/S cheek Plates. acting as a Fair lead to warps aft, and generally adding simple strength here.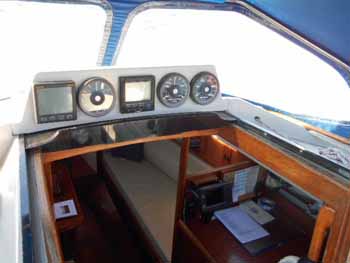 garage over hatch, with log echo wind etc..Clear perspex hatch is shown slid away forward,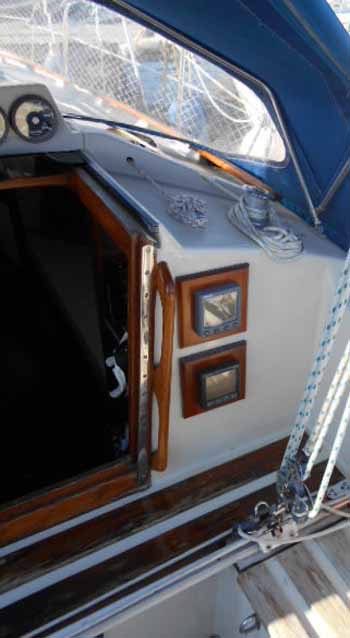 More Recent Raymarine ST50's,( 2015) Clipper Echosounder (2017) Note the main sheet traveller runs across the companion way, so whilst you have to beware in and out under way, then it is in quite a safe position for crew whilst sailing.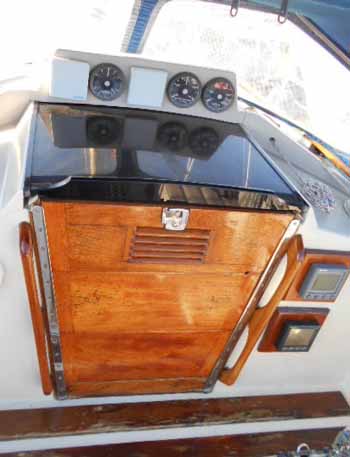 Drop in Solid Teak wash boards in good order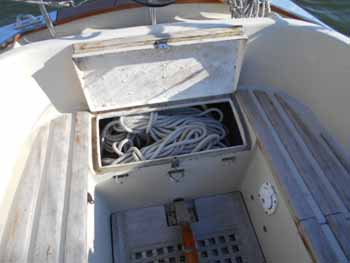 locker behind Rudder post, note manual bilge pump right of shot, Thick Raw Teak cockpit seating cappings are in good order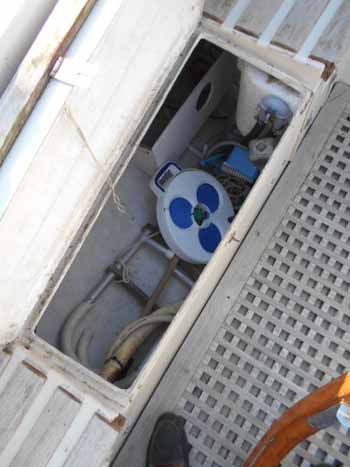 Port side locker, anti cyphon on exhaust forward , Nice Teak Duckboard cockpit sole.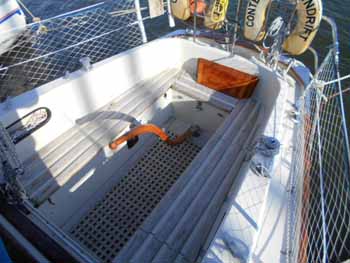 Classic simple cockpit,
Spray hood in good servicable order, Gold anodised Alloy Spars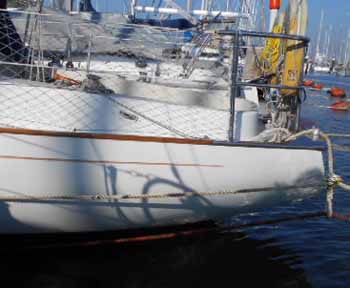 Elegant lines aft,
forpeak, Replacement , decent thicker than original Upholstery in here are in super order, Infill in place to make double, Lockers under, Hatch over, cockpit cushions shown right in shelf, Canvas roll/zip down door screen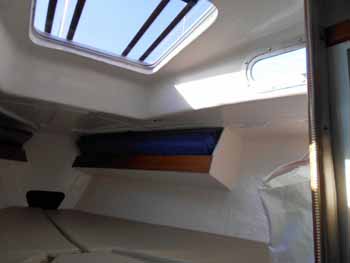 clean interior no signs of window leaks
heads set to port, with slide out sink arrangement, ( half pulled out Just to show)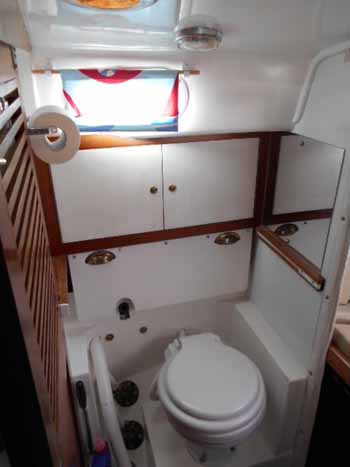 and slid home, recent Manual heads, with Decemt seavalves. Sliding door to main saloon (works in here by Rogers in 2005)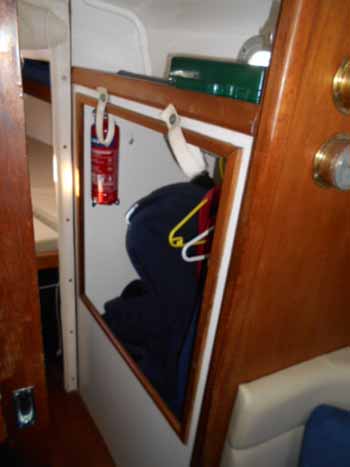 and opposite, hanging space, Teak faced Marine ply generally through Boat witn Solid Teak "Mouldings"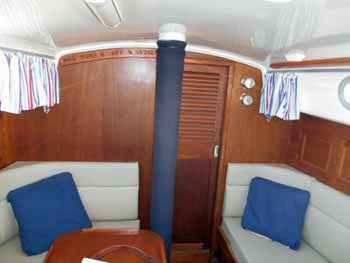 Clean lined headlinings in GRP. Mast has a sock round it, Door shown slid shut, nice replacement upholstery all through cabin as well.
locker under deck, nav station aft to starboard
Solid Double leg Table to port, can be converted to "Double Berth"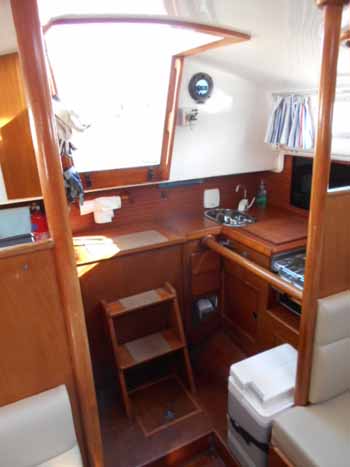 cabin access steps, galley set to port, all re fitted by Rogers since 2005 onwards together with various other things,
including the Cooker, Heads and basin etc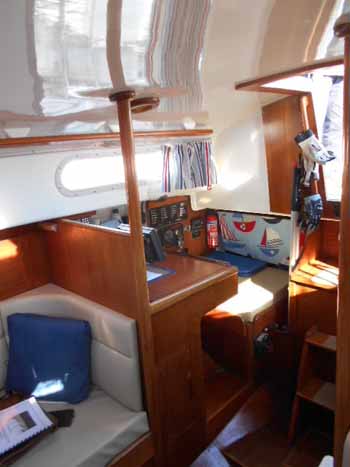 Nav station set to starboard, Note headlinings
forward facing table is best to work at, replacement upholstery to seat/quarter berth runs aft from here
Galley with top loader cool box lid removed, and recent sink left, two burner hob and grill ( 2005)under lift cover, decent crash bar fitted.
floor / bilge access hatches.. so nice not to even have to think about old keel bolts etc.. Water tank is in aft section, Extra cool box fitted could be removed. but .. why would you, very useful.
SO nice to have a recent Engine.. and with this 20 hp she has plenty of power, the fixed three bladed prop drives well.
2012 Fitted NEW gives her 7 Knots Max and 6 Fast cruise..
Tried to get a shot of shaft exit gland etc which is just under the exhaust hose, nice to see with the new installation they fitted decent water trap etc.
autofire extinguisher fitted to lift off front panel over engine ( shown laid on floor by table leg)
batteries set under to nav seat, recent. and well maintained by Solar system
Not new, ( far from original ) Garmin 220 colour GPS/ Plotter with cockpit repeater, works fine,
Lea Cloths fitted to all berths
behind back rests in saloon there are lockers all round, You can access every little void generally,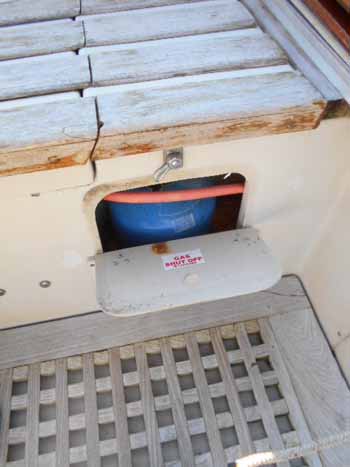 gas locker forward end of cockpit, Camping Gaz 907 bottle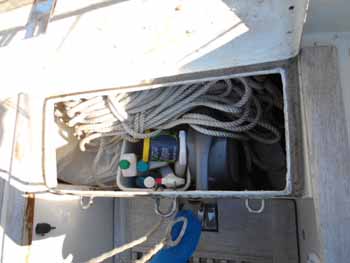 aft locker again, note the three strong points fitted for harness attachment , and you can see the Tiller pilot plug left of shot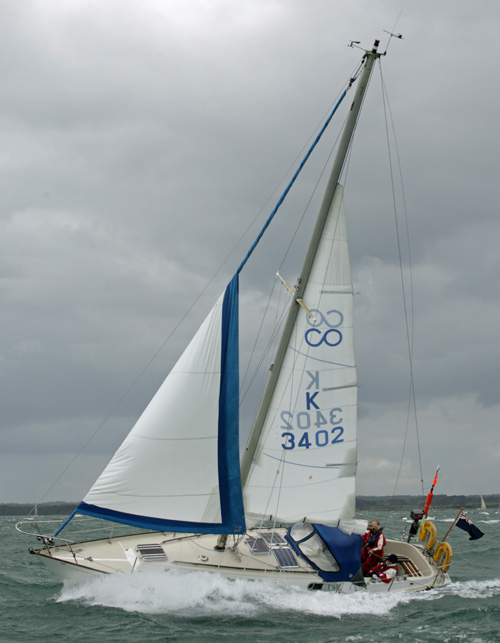 Cracking sail boats, Strong, elegant, and very able, they has done long trips and have to be one of the Yachtsmans "Go To Yachts"
keen Racing Scene, and massive cruising ability, they have done Atlantics, and Long short handed cruisng trip for many years now.
You can just Cruise round the Solent happily, enjoying her rewarding "Feel", with the occassional Cross channel Jaunt if that suits you..
But the boat is well capable of more and they always feel like they can cope if the going gets rough.
JUST LIFTED MARCH 7th 2018 these photos were taken as she was power washed, off, and had just been chocked off. so forgive no preperation at all, on the Plus side you can see whats there!
ashore Lymington,
no wonder they slip up wind rather well. ( Nice view of twin bow roller!)
starboard side "Tumblehome".. on topsides,, and topsides in geral look very good.
neat skeg and rudder arrangement with well protected three blade fixed bronze prop,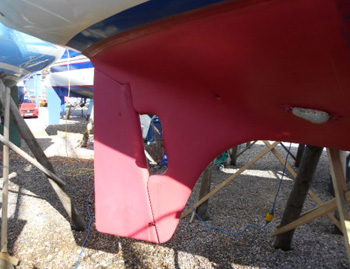 starboard side, note There are half a dozen blisters on the rudder, this side.. Very common... and they are being cleaned off, washed, filled etc. as usual.. Rudders do suffer as they are far more likely to get water ingress. Not structural. and NOT on the hull etc..which on first inspecion looks in Very nice order under her antifouling..
nice long , fully encapsulated keel.
decent anode bonded starboard side,
few small detatchments round her of flaky antifoul, there is no huge build up here so it could be fairly easy to clean her down, The substrake looks excellent, having had her epoxy treatments re coated by Rogers in 2005, but I did not run a moisture meter over her, the boat has been lifted every year for several months whilst these owners have had her..so I would be surprised if her moisture content was excessive.