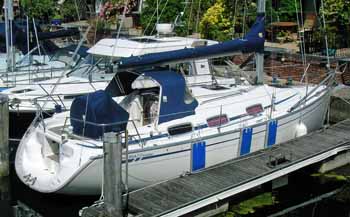 from aft, smart flat style fenders are very good.
Selden Alloy mast, single spreader rig of 1/19 Stainless steel wire, , with Alloy Boom and spinnaker/ jib pole.
Sails, Genoa with slab reefing, and Mainsail. ( Little used..) Combined sail area 48.6 M sq, Mast height (above waterline) 14.1 M
Furler on the Genoa forward, step through Pulpit, with Teak Tread, Plough style anchor in roller below,
Looking aft, note pole in storeage position, two deck hatches,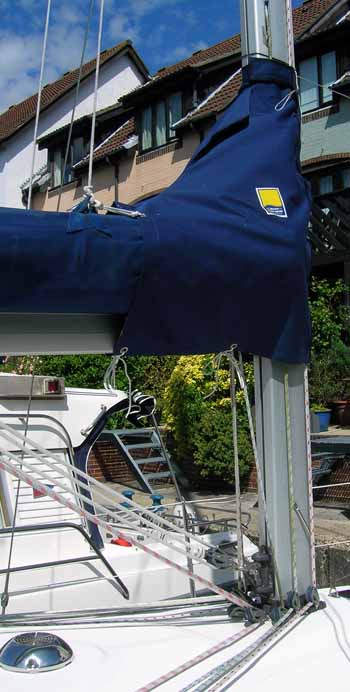 recent sail cover mast end, deck stepped mast, with all controls lead aft to cockpit, 3-1 Kicker,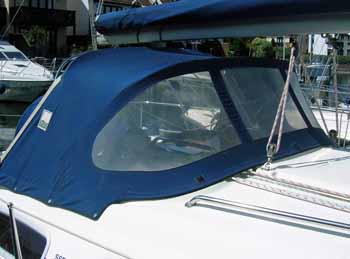 nice big spray hood, mainsheet in twin blocks forward of hood, keeping cockpit clear, stainless deck grab rails.
aft stb side, clutches for sheets, Guys etc Fuel filler on deck, nice covers for winches.. GPS antenna aft on rail.
Self tailing sheet winches..
Transom, has shallow sugar scoop, shape, with drop down swim ladder, pull out fresh water shower, back stay split in two with adjuster.. helps ease access aboard here..
covers over the central pedestal, and cockpit table. Teak covering to cockpit sole and seating areas.
deck access to chain locker, no windlass.
quite a slippery shape. Bi colour bow light at port pulpit rail , anchor locker drains lower down stem,
leather clad wheel, nice instrument display, note engine controls at right, and panel feet, Teak cockpit fold out table has locker in the middle..
Plastimo Olympic 135 Magnetic main steering compass,
very BIG boat set up for a 30 Footer..
Mainsail is in Lazy jacks.. so easy to deal with, some have furling Main which is easier to deal with.. still, but some sail shape is compromised.... better sailer like this..and with the easy zip cover. its simple to stow.
clear perspex Washboards and hatch flood light in side.
stb BIG cockpit locker, you can jump in here its large ! , emergency tiller on bulkhead, with two extinguishers.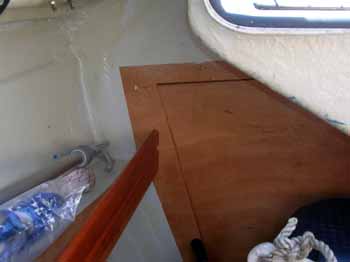 looking aft, some kit in here is still wrapped up !!, very clean Nice high level shelf.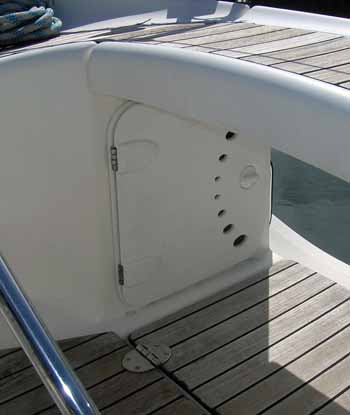 gas ( camping Gas 907 bottle ) is stored in self draining locker under the aft end of the cockpit, (lift out seat section above)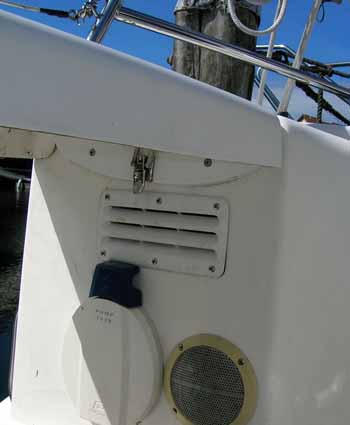 and on the other (port) side, manual bilge pump and VHF speaker extension, note the clips that hold this seat in place, so it can be lifted away if boarding or playing of the Transom.
View in, galley to port, nav station to stb, The steps treads.. are hardly marked.. The "Teak and Holly" floor laminate is also "As NEW"
Galley set to port, standard arrangement, all immaculate, Gas twin burner with Oven,on gimbals, Weaco top loader fridge, round stainles sink with hot and cold pressurised water.
nice double cabin aft to port, with hanging lcoker, two opening ports,
I've had to alter this photo ! No Flash for what ever reason , so I've wound it up on the computer so ignore the colours!..
window to cockpit, shelf to side, locker door at the end allows access aft.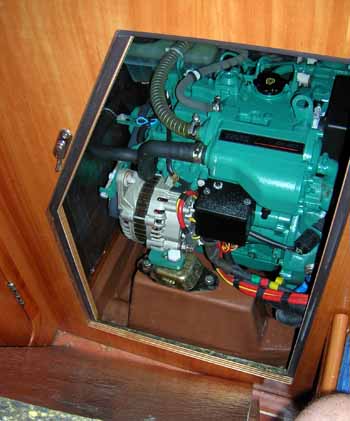 there is a good access point to the engine in here
aft locker door off, in to transom area.., Thats the Rudder post central, with pipes from cockpit drains and enginme exhaust access etc
view forward from aft bed.. two opening ports and good light
settee berth to port, high level lockers under deck each side, , the table is huge with drop leaf lifted.. upholstery unmarked
Under floor, immacualet, dry dusty clean..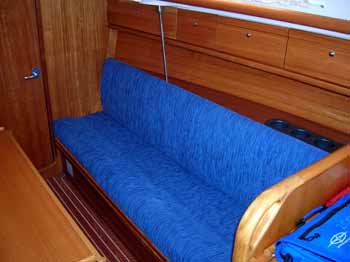 stb side, similar..
I removed the back rests to reveal immaculate lockers, behind etc.. charger aft , note S/S shoud plates/ Rod bearers. down to a rib in the hull.
and under the bases. hinge seats reveal more clean locker space, and the engine start battery aft,
port side, is the domestic battery, and again super clean locker space.
fore cabin, I forgot to open the hatch blind.. which also has an insect screen on it,
hanging lcoker to port, high level shelf under deck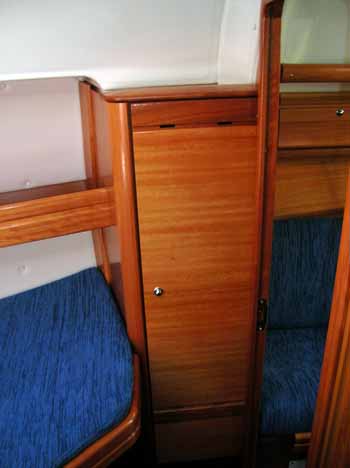 and starboard sides. again all spotless.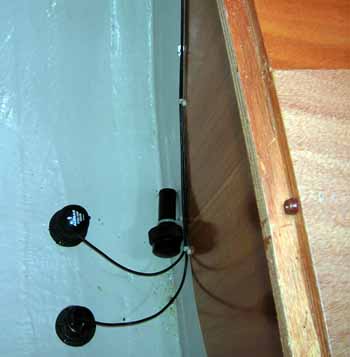 under berth, log , echosunder transducers with blank plug for paddle wheel.
all clean and empty throughout in here, lots of room for sails. or stores..looks unused..
Geneoa is clean and in a bag in saloon,
Nav station to stb side, forward facing, Raymarine DSC/VHF obvious, domestic and Mains panel to right. door aft to heads,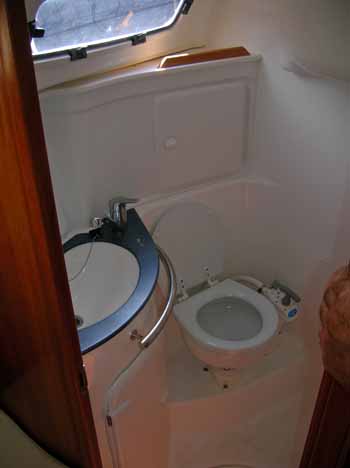 Heads shower, manual sea toilet with waste tank option, Hot and cold Mixer tap,
seacocks etc in locker under sink..neat labels, note loo roll on inside of the door.
access hatch to port side of engine.. handy for filters by the look of it.
companionway steps lift on a gas strut to reveal what looks like a new engine ! it has run 85 hours from new..
steps shut back down,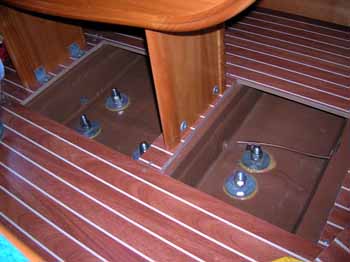 more floor lifted to reveal keel bolts.. under saloon table.. " As New"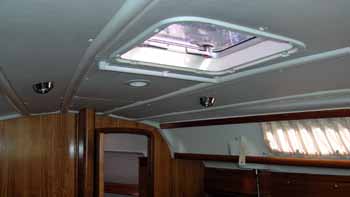 last overhead shot, four roof lights in here as well as hatch make it light day or night. Headlinings all look clean and undamaged