Note the aft deck "Curtain pack covers) a few were recently lost to the marina in the storms !!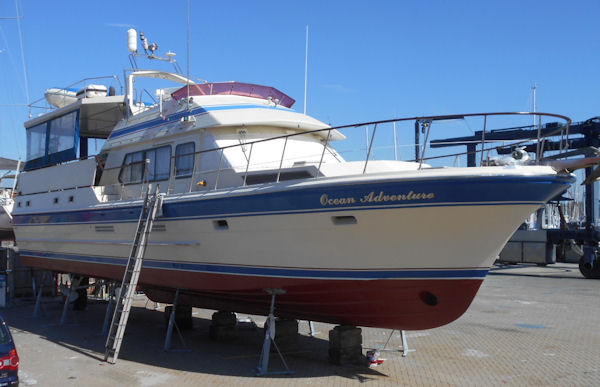 Topsides had a cut and wax whilse she was out, as well as new antifoul anodes etc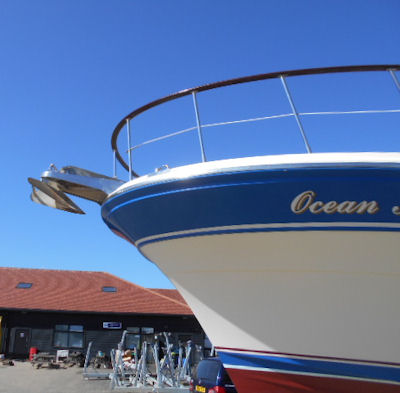 Lots of Flair on hull at bow, note twin Bow roller.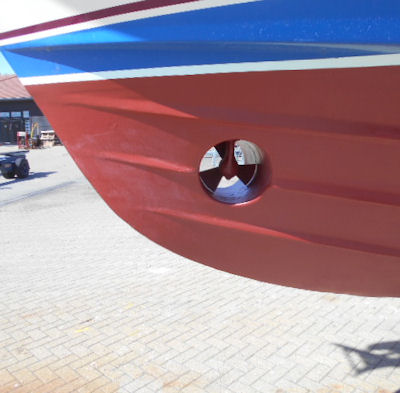 Decent Bow thruster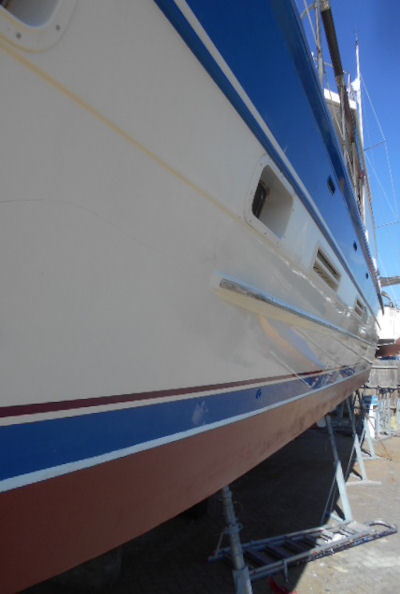 Quick Topside polish.. few sratches but in pretty good shape.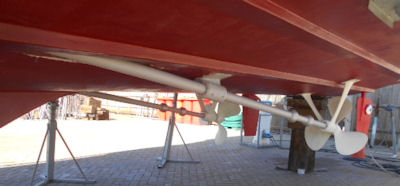 Well supported Shafts, all cleaned off, and have Trilux applied.
New shaft anodes fitted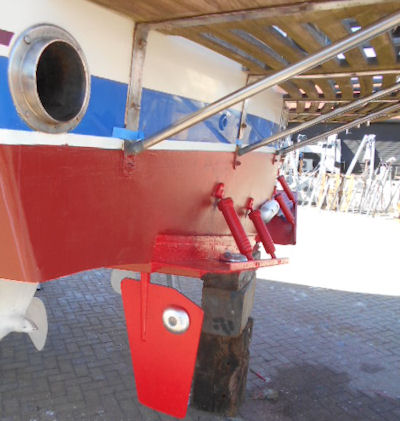 Twin Ram Tabs,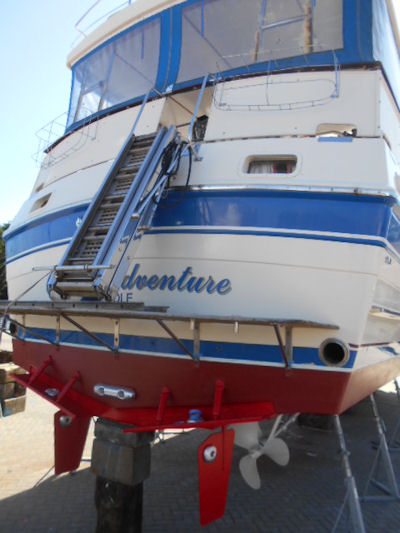 Aft end,. Big hydraulic Passerelle ( all working properly) , note all NEW anodes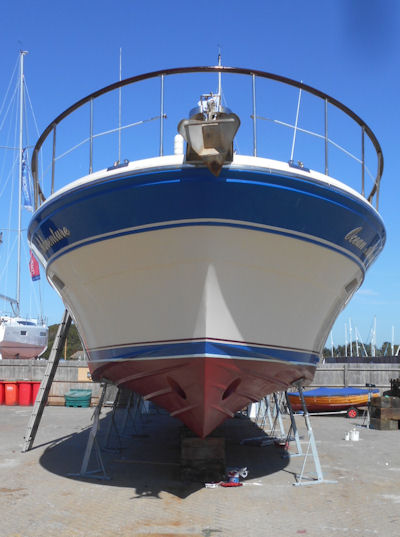 soft entry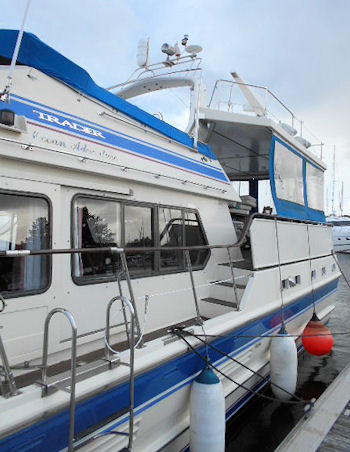 The Custom aft deck canopy was designed and added at great expense in The med, and is far better than the more standard offerings you might have seen from Trader themselves, This is in Box sectioned Alloy, and has far greater support structure so it can easily carry the jet rib and crane..
note the drop on side ladder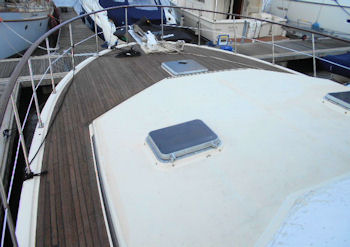 fore deck teak is rather tired.. but as usual great space up here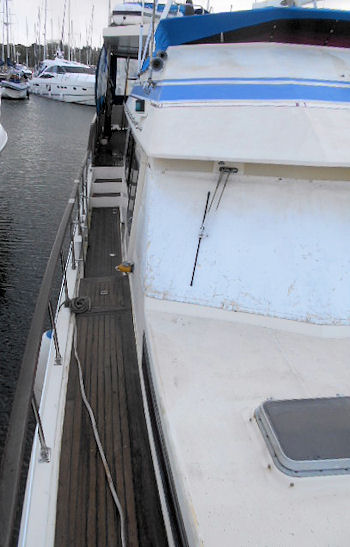 #
starboard deck looking aft,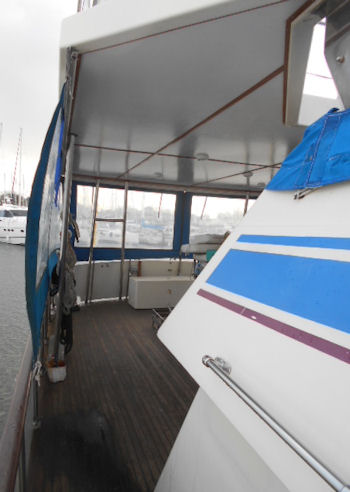 alloy cover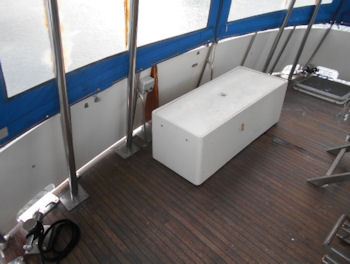 grp locker box, loose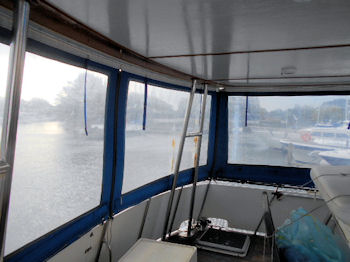 full curtain pack ( few lost since storm !!)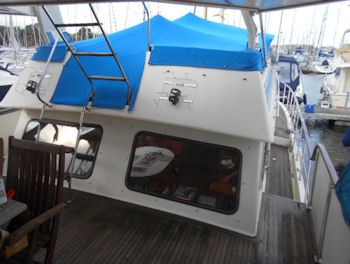 No aft saloon stair entry so little wasted space inside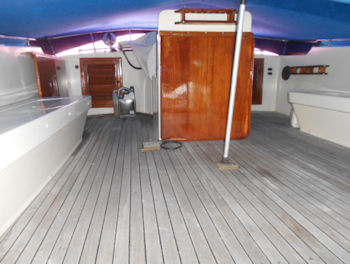 Flybridge under covers, two fold up tables. ( watch flybridge videos,)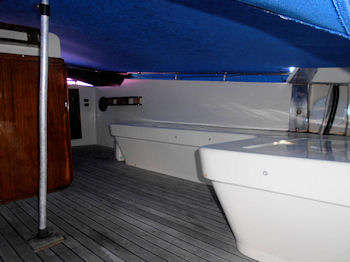 lockers in all seats, and good cushion set in fair order,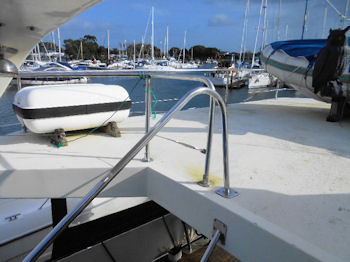 raft I expect to be beyond servcie date,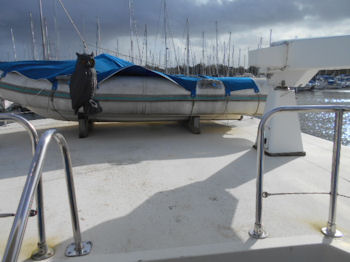 The fabulous custon alloy aft deck cover is very strong . so the jet rib and crane are no issue at all.
The jet rib has not been run for two years so is bound to need so looking at
But Did run two years back when it was last lifted to its cradle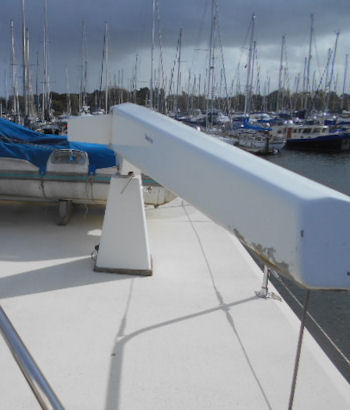 Big Simpson Crane Capacity 450 KG Ish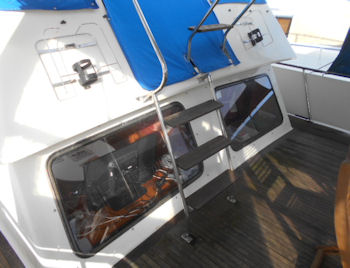 flybridge steps,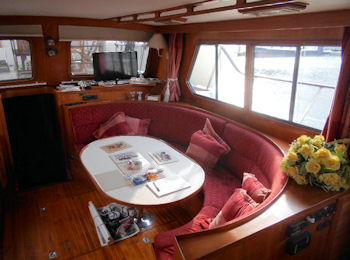 port saloon, main table looking aft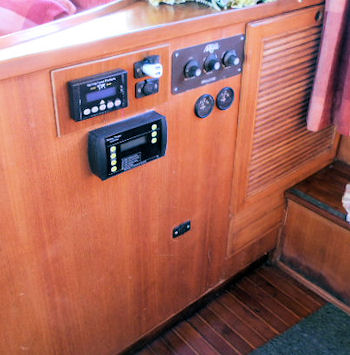 battery management, recent intelligent charger and two systems for 12 and 24 volts,
in behind louvred door, right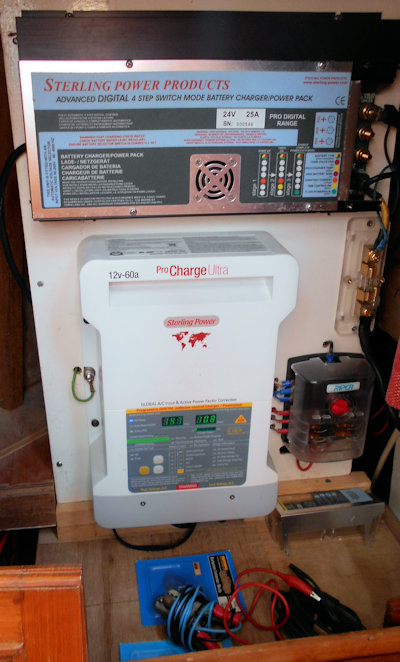 decent systems,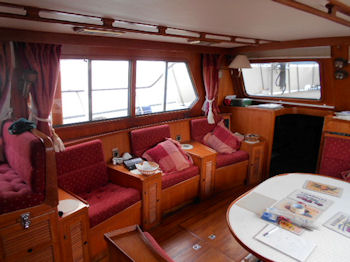 starboard saloon, triple seat layout,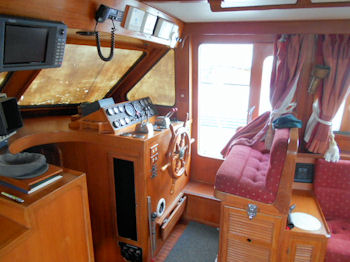 helm with opening door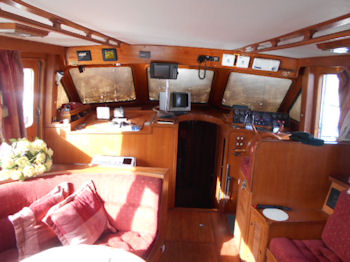 looking forward from aft saloon,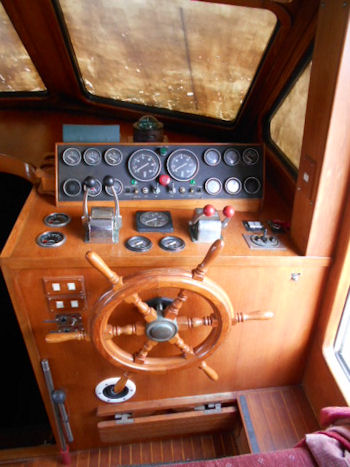 helm, with lift step floor, note twin lever controls ( Tatty looking Screen sun cover, but it does the job !)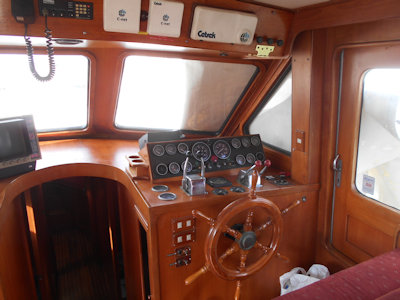 and copilot side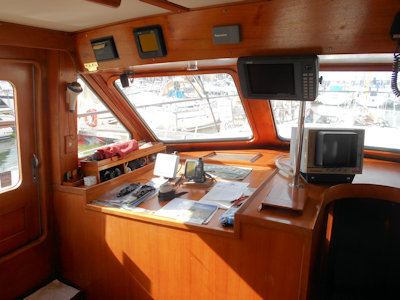 screen cover removed.. Nice chart area, and loose plotters from Fly bridge sat here,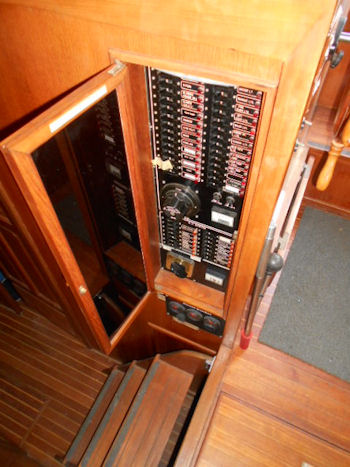 Domestic panel, generatot start panel at bottom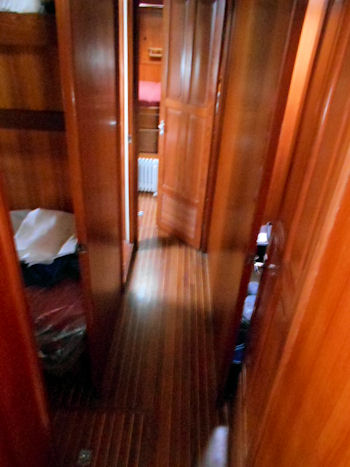 Looking forward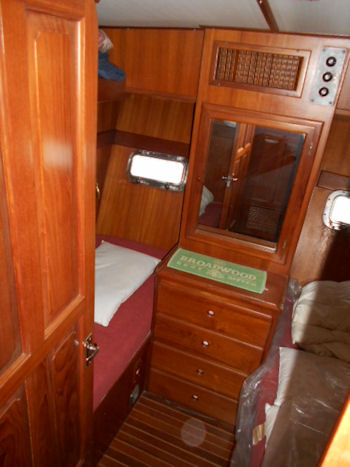 port twin athwartships berths,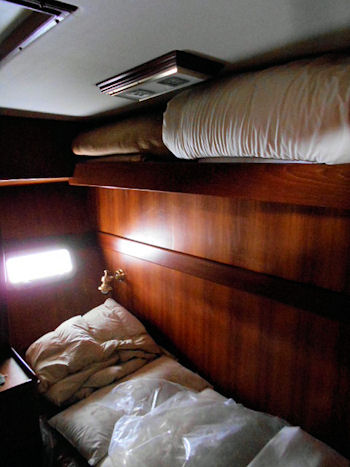 lots of storage
starboard cabin currently single berth, did have a top bunk removed..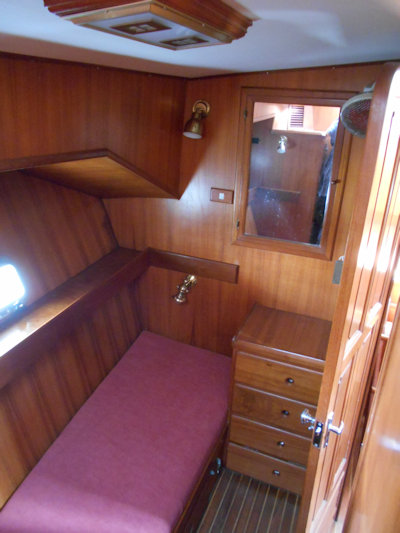 looking aft access behind mirror in to electric behind dash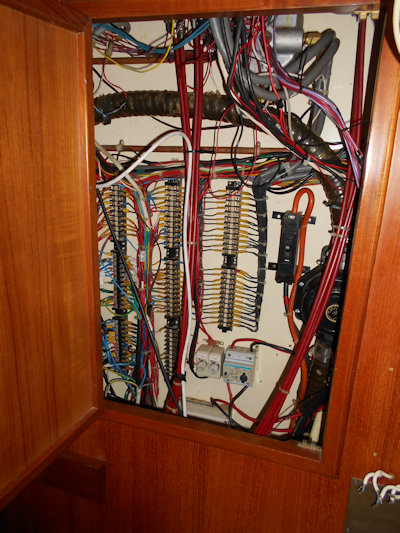 forward heads / shower with twin access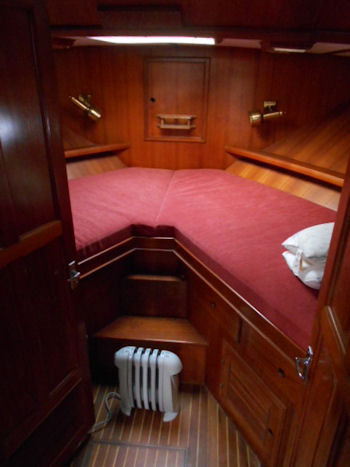 forward vee berth, Bow thruster easy to access under steps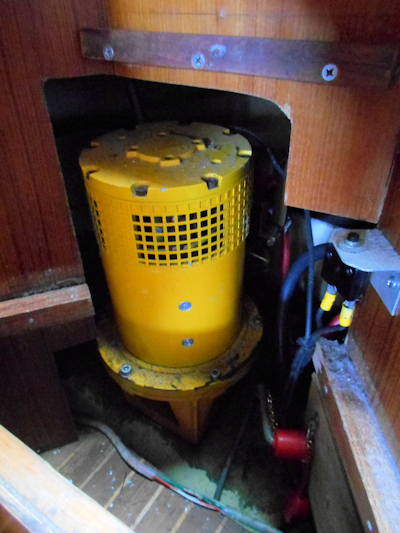 works well !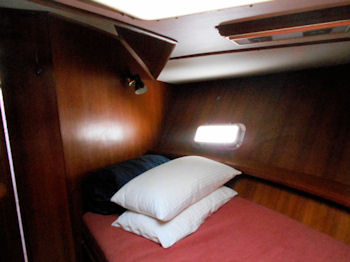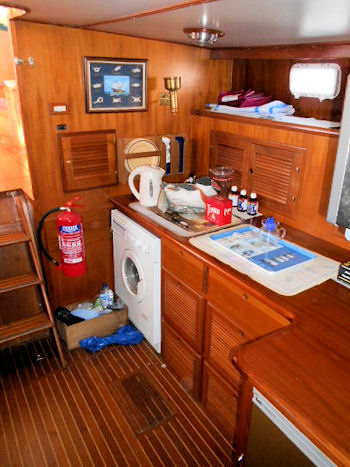 aft down steps, with galley set full width across ship, here is the starboard side , looking forward,
washing machine, freezer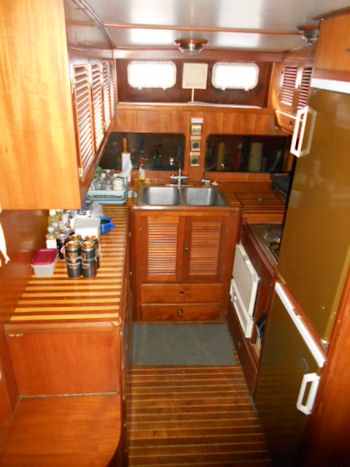 and opposite on port side, fridge over fridge, and beyond, twin sinks,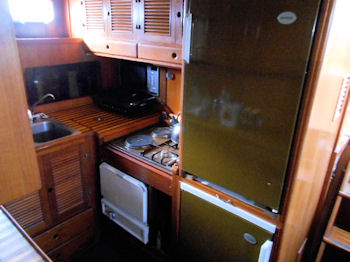 Dish washer under, Twin gas twin electric hob, and microwave in far corner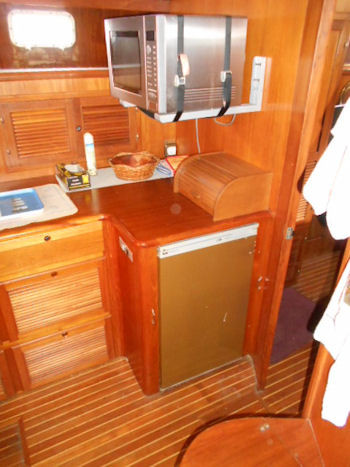 as well as anothe combi oven out over freezer on starboard side.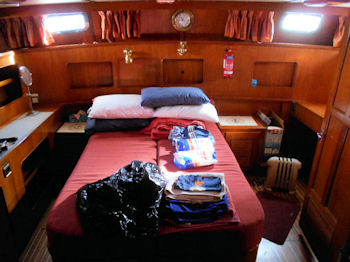 view aft in to NOW central island beryh cabin ( berth was moved and reworked cabin by Yard shipwrights
by current owner at gerat expense as he didnt like the standard corner angled arrangement.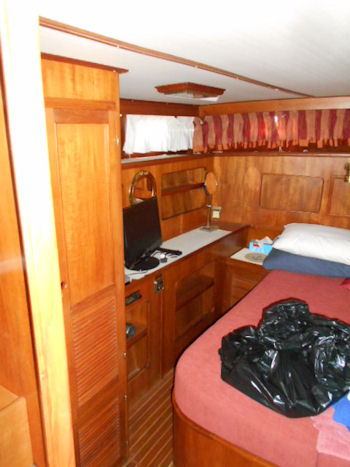 aft starboard corner with new lockers etc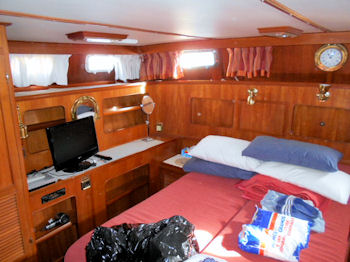 better overall shot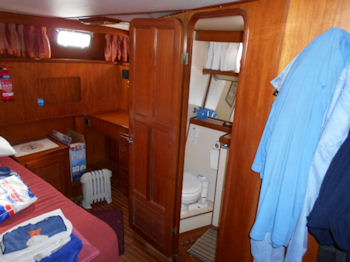 port aft corner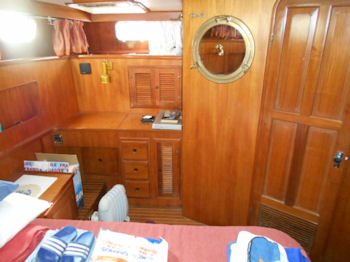 lots of lockers, and door to aft heads Bath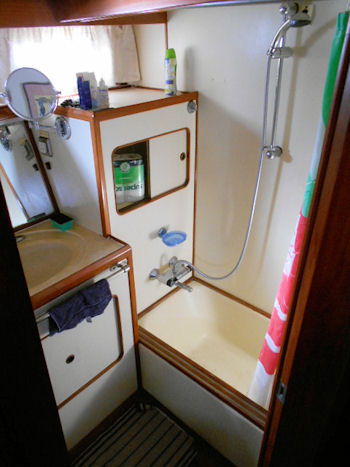 hip bath / shower tray as well as electric heads
quick peep below aft of starboard engine, looking forward, ( Just servcied march 20202,)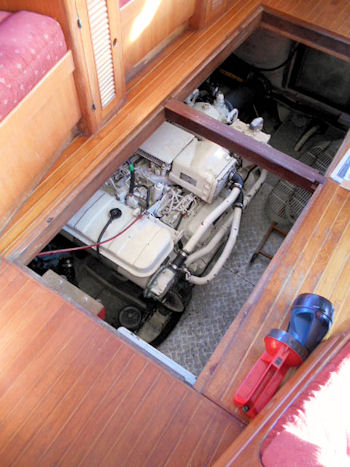 two pieces of floor out now looking aft, starboard engine,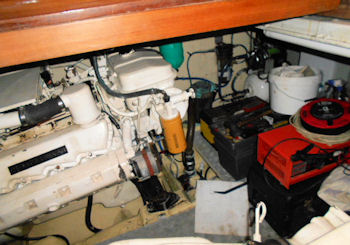 looking across to port engine,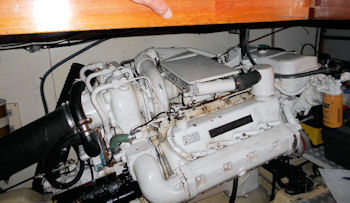 these Cat 3208 have a reputation of lasting very well. certainly they start easily, settle to a tick over well. and produce minimal fuss or smoke on start up cold. drop straight in to gear both ways.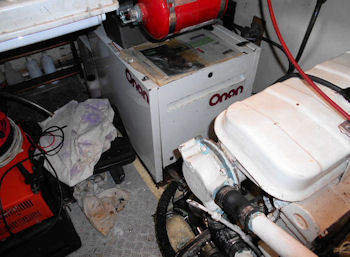 Rather nice more recent than origional Onan 11 KVA generator. that starts and runs very well.
view looking forward from saloon floor level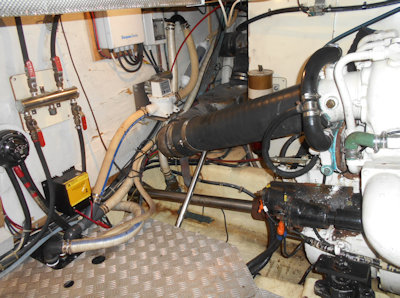 aft end. Fuel change over system
door access aft left of shot by Galley ,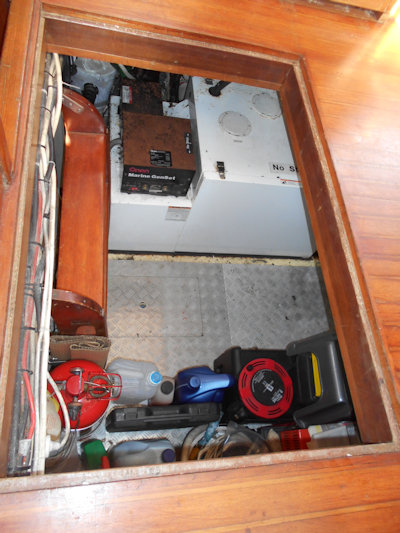 forward floor by Helm looking across the ship. Onan cacooned generator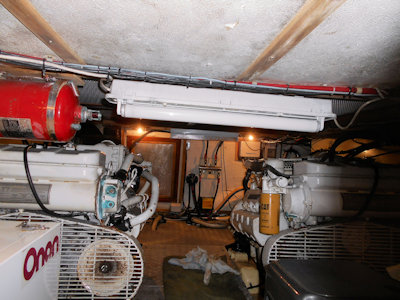 Looking aft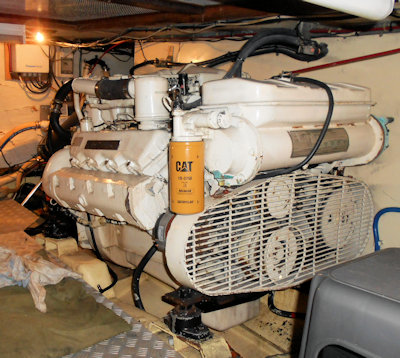 port engine ( Just serviced March 2020)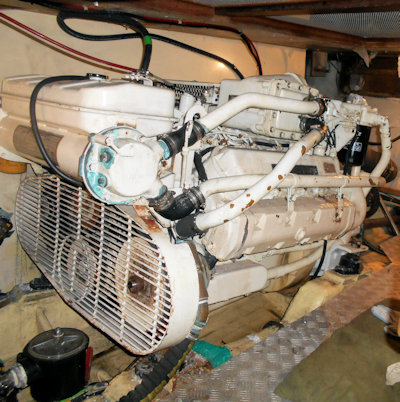 Starboard engine ..
Videowalks
Hull; https://youtu.be/ZqYmHOG6Z3s
Flybridge ; https://youtu.be/ZqxTpKEjuJ4
Exterior; https://youtu.be/eirbR7PtIcE
Interior; https://youtu.be/lSxYUCM0yHw