recent shots first , Now ashore Lymington, Jan 4th 2020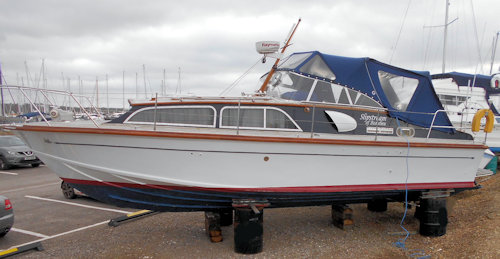 Jan 2020, ashore Lymnigton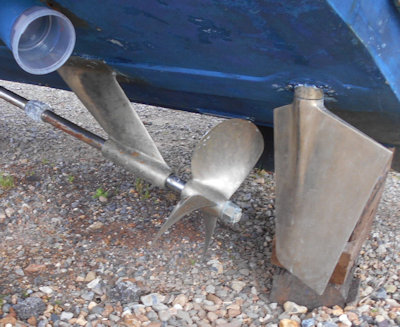 port stern gear, clean and polished, note exhaust under water top left with plastic tub blocking it for winter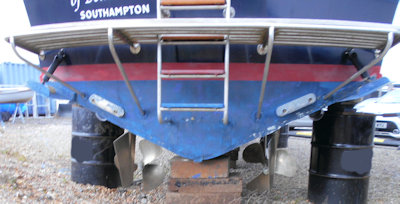 wonderful deep vee..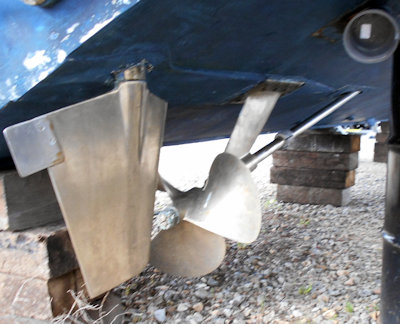 starbaord side, note tiny trim tab to rudder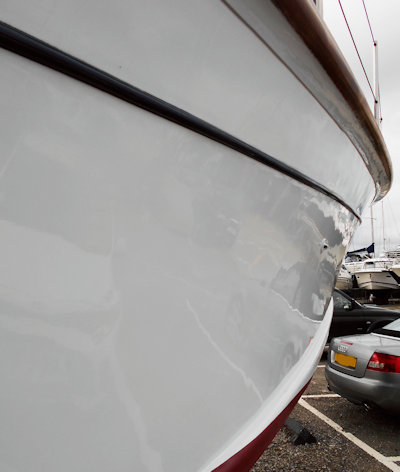 amazing "awlgripped" hull still good
great entry with tripple chine rails
and now older shots last 2019 whilst ashore Lymington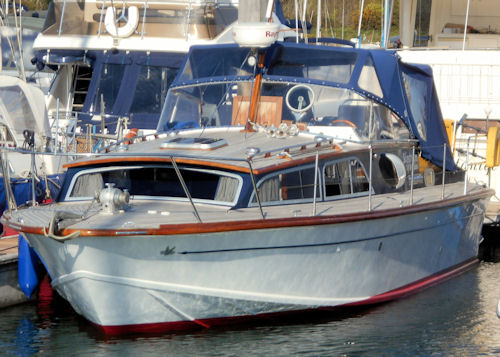 What fabulous Look, I personally prefer the "invisible" look of the aft cabin "Swordsman" over the possibly more functional "Super Swordsman" with a larger aft cabin and more windows aft etc..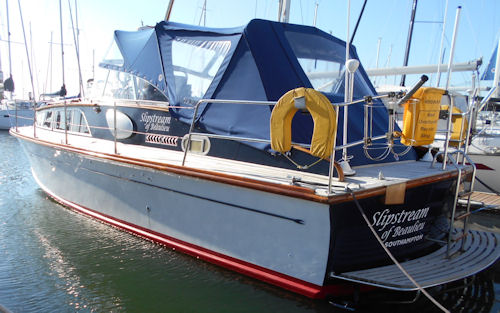 even with the big cockpit canopy her lines are beautiful, You can just spot that she has an aft cabin by the small window with opener on the deck line aft of the side vents,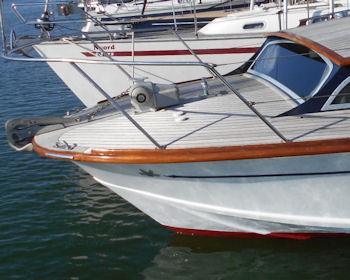 decent electric windlass fitted in recent years,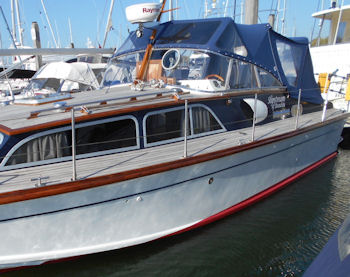 Reflections off the water hint at the great condition of her Topsides and the two pack paint system holding up very well indeed,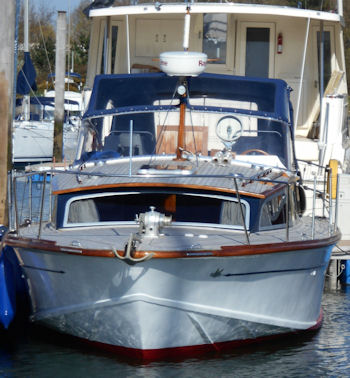 clean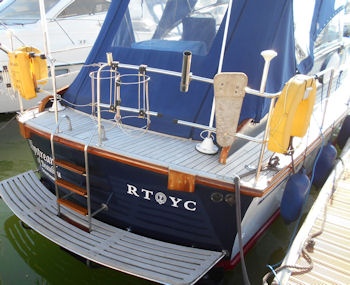 decent aft platform, with transom ladder, note Davit fixture pads, these have been removed, and are not included, along aft rails you can see GPS antenna, Outboard pad, fish rod holder, fender cages, life belt and safety line/sling system, deck mounted tall antennas aft keep these away from forward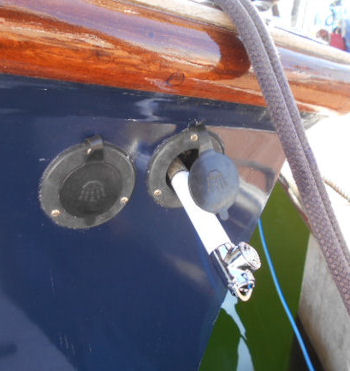 hot and cold fresh water shower , fitted in recent years,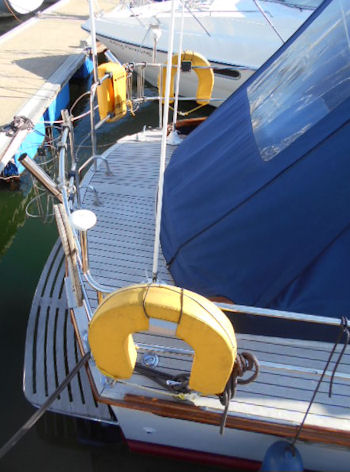 water filler under starboard life belt,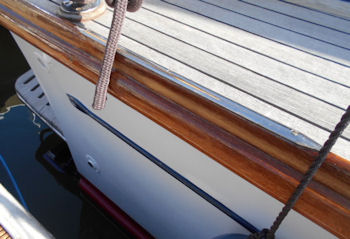 wear plates at all deck fairleads etc
mast has been reinforced, and carries the 2 KW raymarine raydome, with an LED spot below, and active Transponder antenna above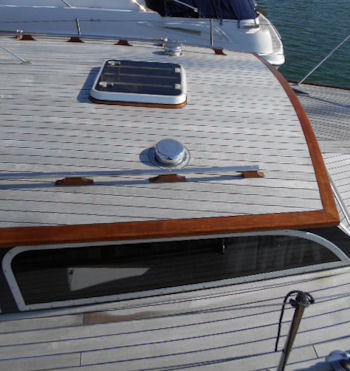 simple mushroom vents with replacement deck hatch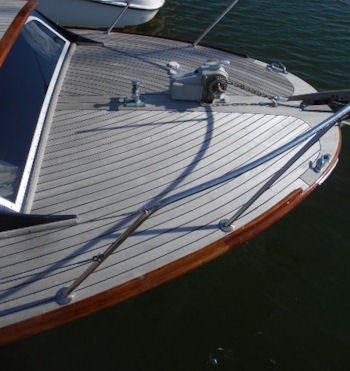 beautiful teak deck work,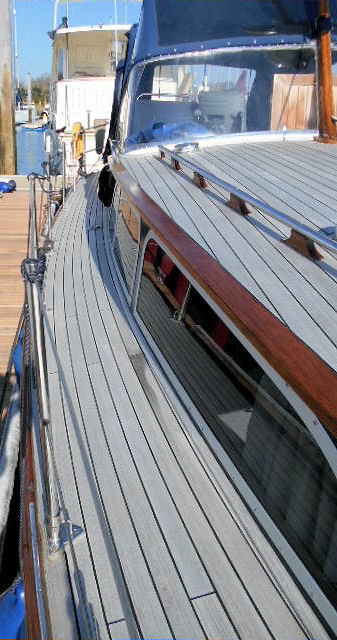 all very "Flat" and clean,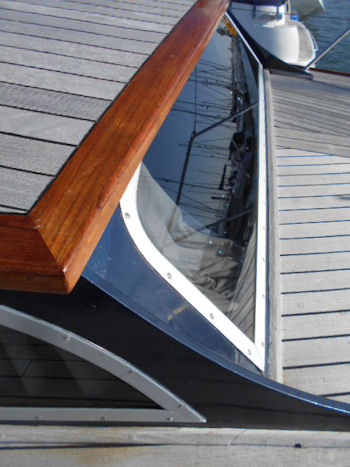 bright work looks good, windows seem pretty good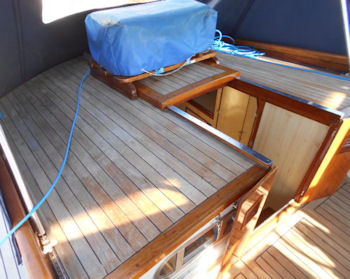 aft cabin top, aft coachroof deck, with Liferaft atop the aft hatch garage,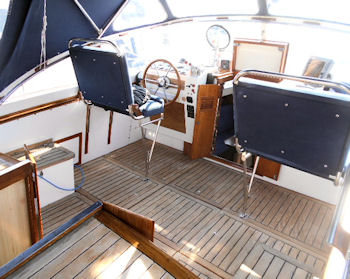 cockpit, all nice raw teak to floor hatches,
Co-pilot seat,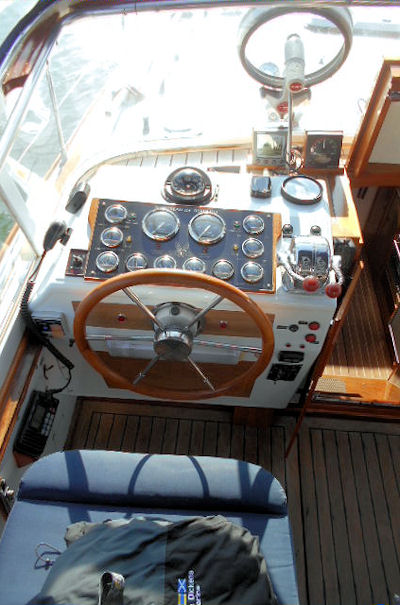 replacement Dash put in with engine overhaul 2011 and then various new bits of kit fitted over the years, all done as sympathetically as possible, whilst remaining a functional Offshore cruising boat. No "Marina Queen" this boat. "Kent Screen" (high speed spinning disc) iconic extra on boats that go out when its "bit breezy" so you always have at least a small patch of screen you can see through whilst waiting for the next sweep of the wipers!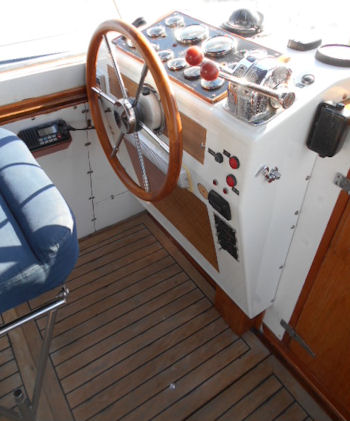 easy to stand at the helm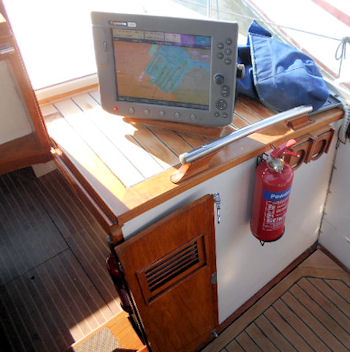 Nice big C120 screen on copilot side, Radar and plotter,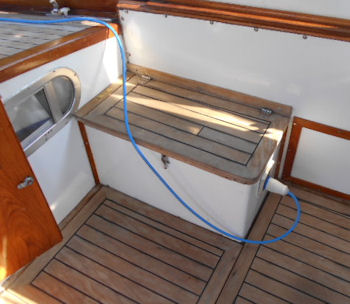 port side, note window in to ensuite heads in aft cabin
starboard side, gas locker and again window in to aft cabin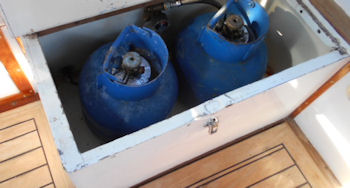 Two 4,5KG bottles, These are drained overboard (the surveyor missed the drain which is clear and fine?
not sure how he missed it). We have a recent survey available if you wish, the owner thought it sensible after she was ashore for a while to check there was nothing serious being missed in her ashore service works.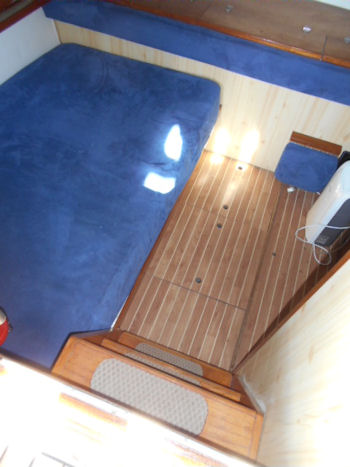 view down to aft cabin, NEW DEEP (6") upholstery matteresses etc,, new timber floor finish, new pale timber lining, lightens it up in a here a bit,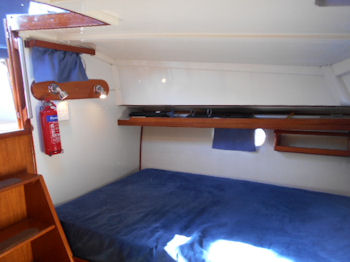 starboard side, recent LED reading lights,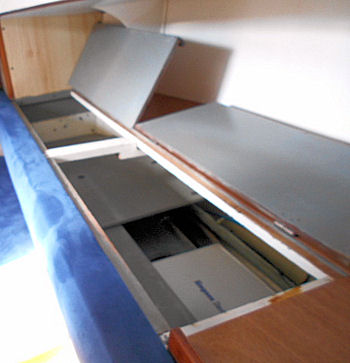 access to stowage aft with second access through to steering kit etc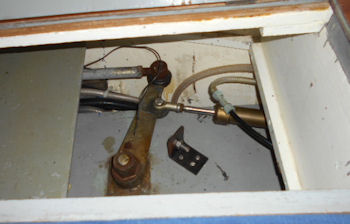 Hydraulic steering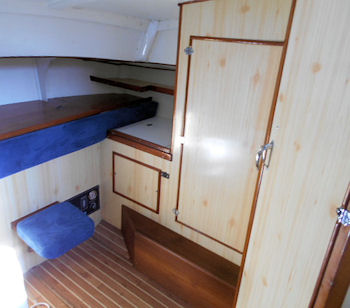 port side vanity unit aft, hanging locker, then heads door forward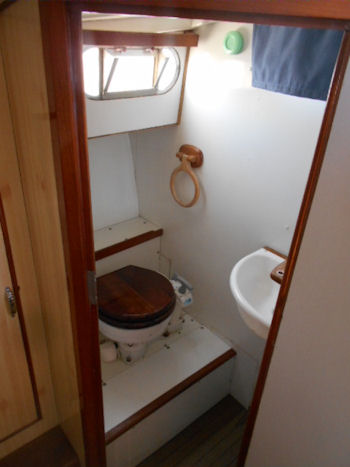 Simple Manual toilet,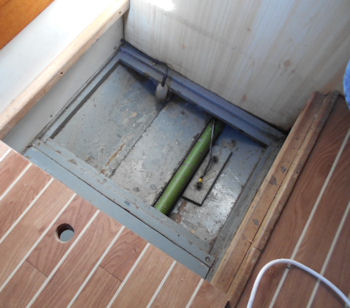 aft floor section, Anode bolts next to Bilge pump pick up pipe, DRY in here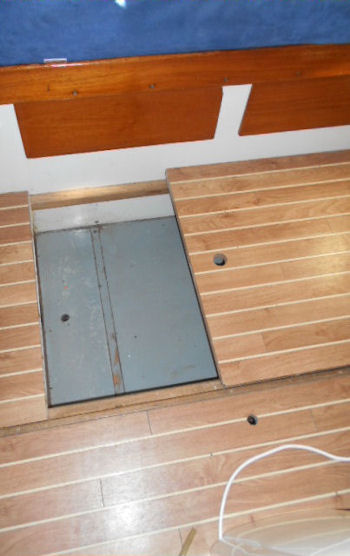 stowage under floor , then second floor under that to bilge,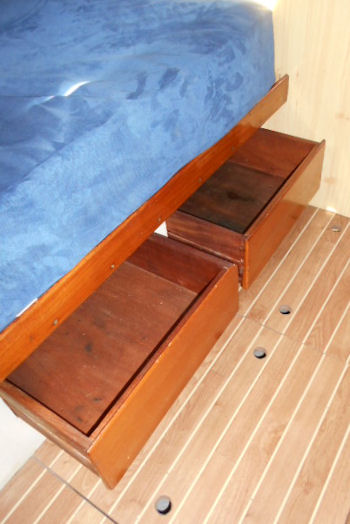 Lift drop locks on under berth Drawers,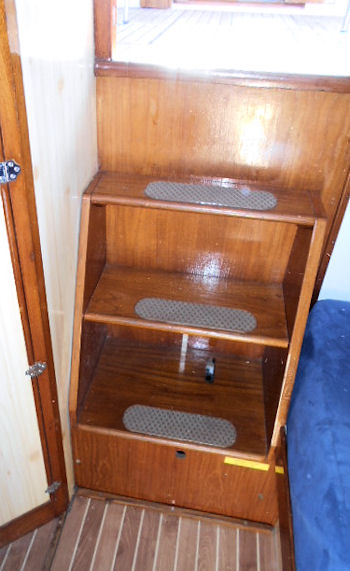 cabin access steps,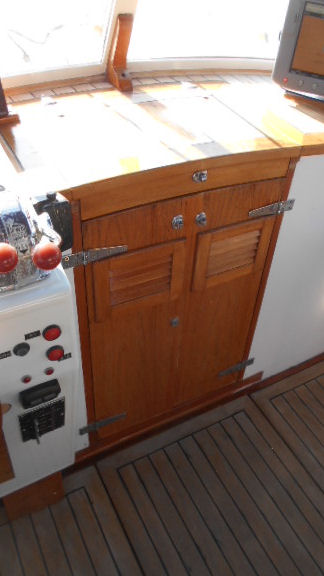 closed cabin access to forward saloon,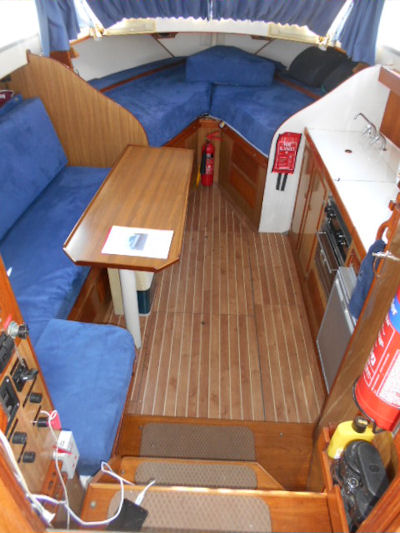 general view, again nbew fllor laminate, all new thick Upholstery etc,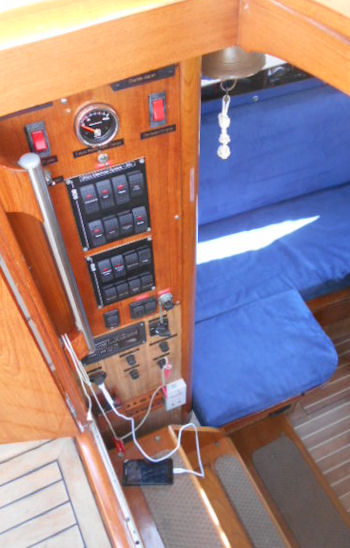 refit new switch panels, whoops, I left my phone charging here and forgot to move it!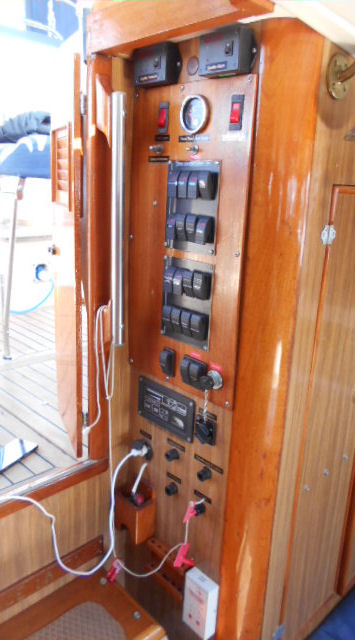 well organised, reassuringly recent kit,
starbopard side, mini compass holder, and easy reach fire extinguisher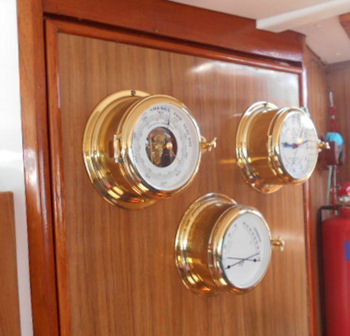 Nice set of Brass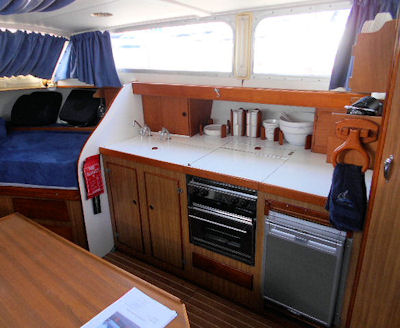 galley set to starboard, recent Fridge and replacement Cooker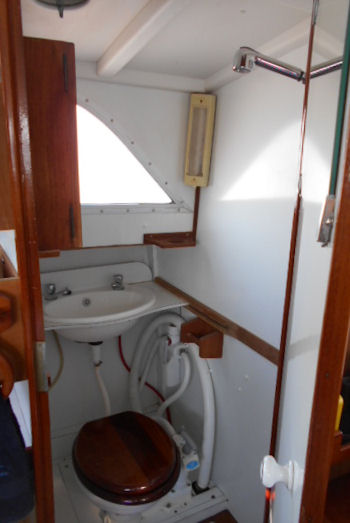 heads/ shower, with slide out basin,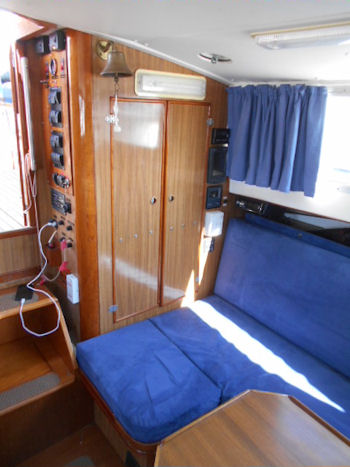 port side dinette aft ,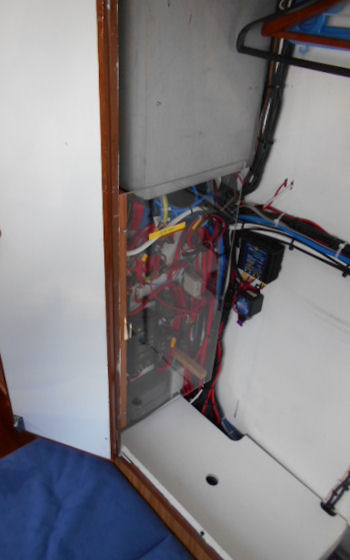 inside locker access behind the control panel,
good stowage in here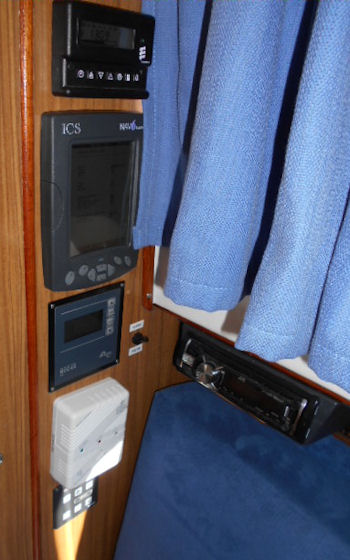 and more evidence of recent upgrades, Eberspacher diesel fired central heating digital timer control panel, ICS Navtex unit under, then there are controls for the new Voltage management unit, and 2 KW inverter, recent stereo under window,
Here is the super dooper charger. management unit,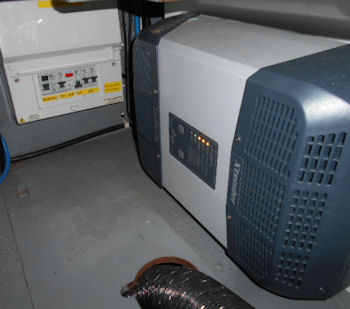 mains consumer unit aft, with 30ma trips,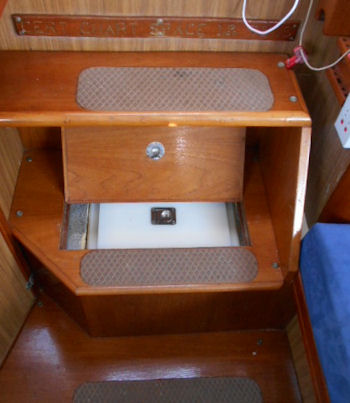 recent powered cool box under steps,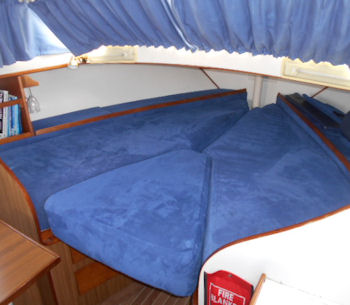 forward double berth, with infill placed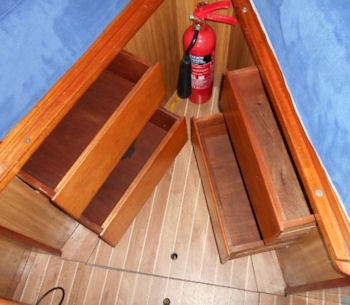 drawers under berths,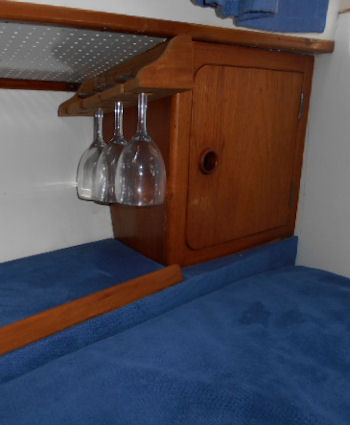 starboard side neat locker with glasses rack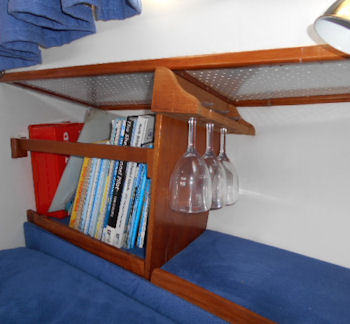 smae over to port , note the Drilled lining boards to circulate air,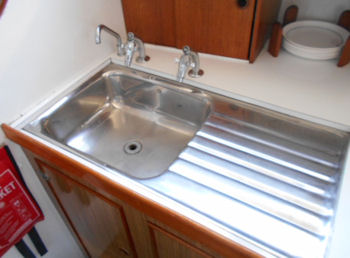 galley sink/drainer, note third tap left from the onboard water maker (2012)!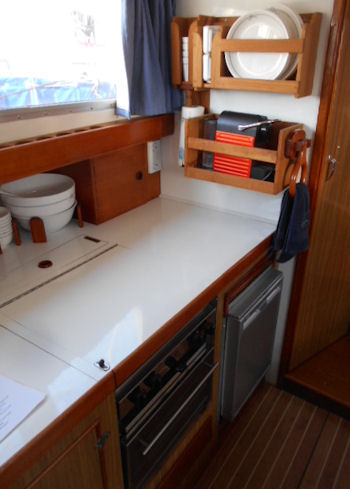 neat well organised stowage
hot water with calorifier and immersion under cabin sole,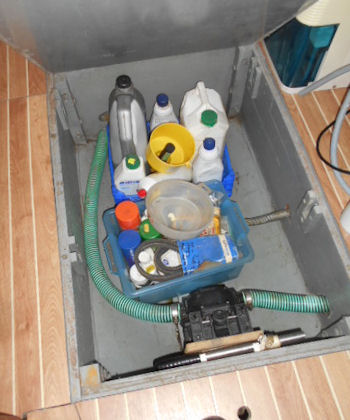 manual pump ( one of Three!) as well as at least three electric ones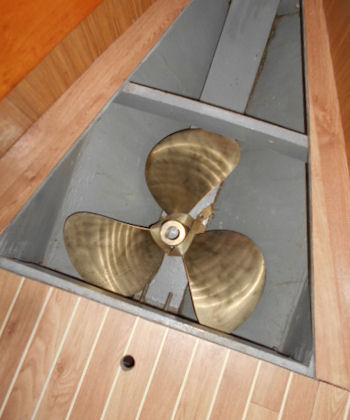 Spare new prop, ( as she is not counter rotating this will suit either side, One upside!
Bilges all appear virtually dry throughout,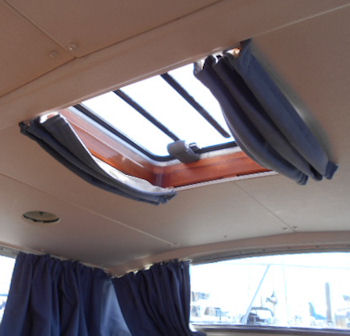 hatch over, some time replacement since new,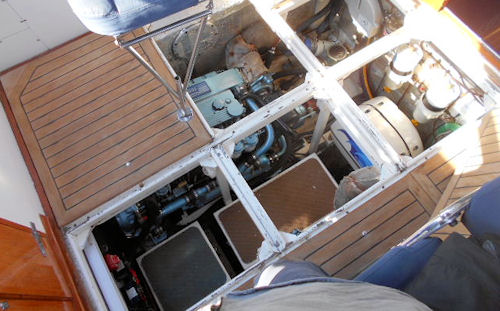 some of the cockpit floor up ( It is possible to remove the east bases and so EVERY floor,)
Recent generator aft , nice big Racors to fuel primaries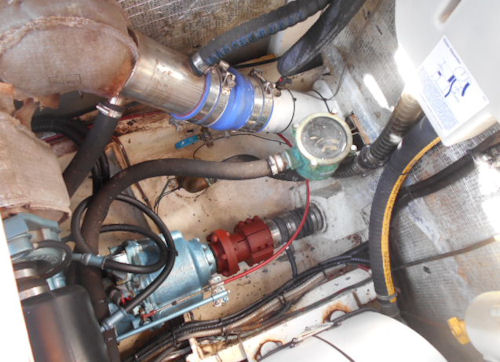 starboard side, note the sweep of the exhaust, which aft of visible goes down to a custom stainless unit taking the exhaust out under the hull, reducing niose, and soot, Recent shaft Gland system fitted,
also note the anti-siphon exhaust splitter on the generator exhaust right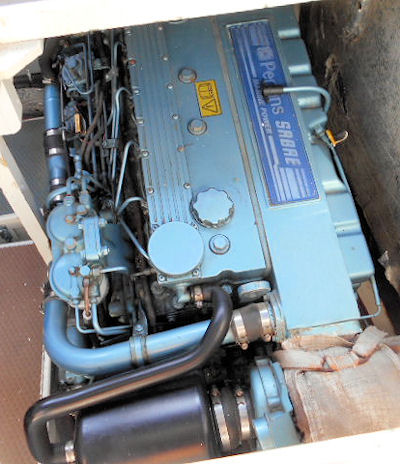 these lovely Perkins Sabre M225 ti's are a simple robust engine, straight six cylinder, with very Low running hours since thier fittment in 2001, (578 Hours showing)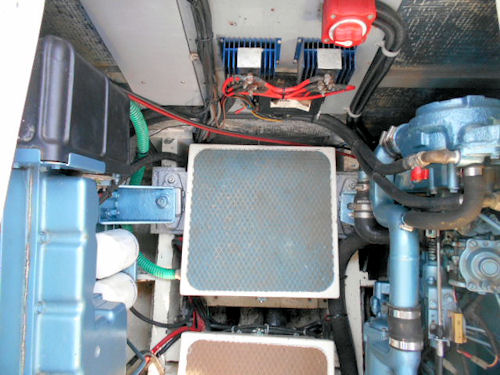 forward end, NEW batteries to domestics and engine starts 2019,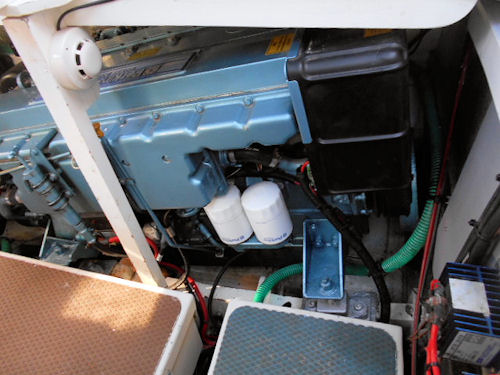 battery boxes under treadmaster non slip, nice detail to see the Mounts have been cleaned and painted, typical care.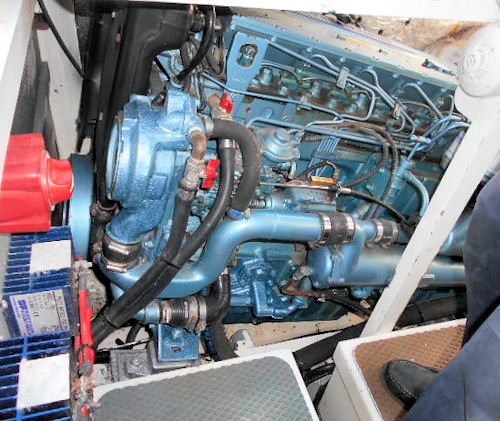 starboard engine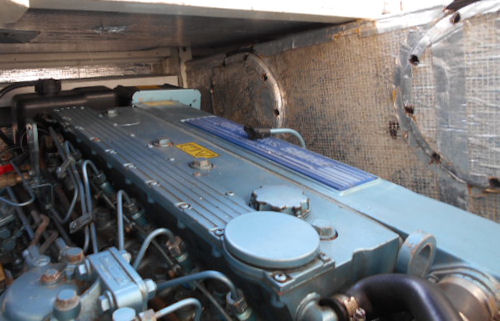 NEW fuel tanks were fitted with new engines, and they have decent inspecion panels right,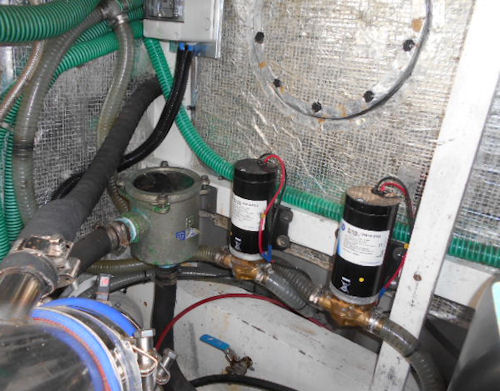 Decent Webasto water pumps,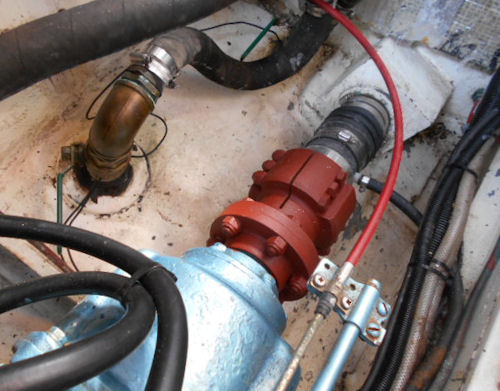 bonded Seacocks, and nice clean shaft coupling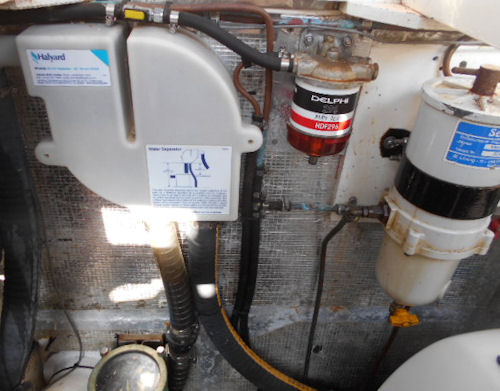 better view of the generator splitter and fuel filter,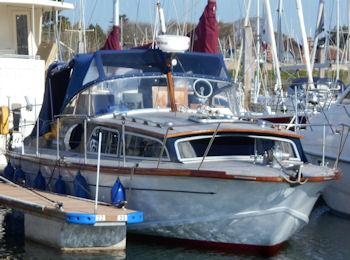 Will never be anything but a wonderful looking Sports cruiser with real offshore ability,
and a drawing stolen/borrowed from Charles Lawrence the "font of all knowledge" Fairey Marine related!
Classic, I personally prefer the line of the aft cabin being consealed below the side combings aft (as above) , some prefer the big windows and more space of the "Super Swordsman" ( see below) each to thier own.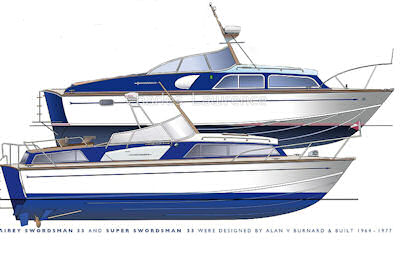 here are the two aft cabin options..