A little bit of Storebro website history to start with;
"The Storebro Royal Cruiser 420 Baltic was developed in parallel with the SRC 380 Biscay. It represented the successor to the SRC 400 Baltic, but had a more modern hull construction for higher speeds. Compared with the previous models, the seakeeping was again significantly improved and because of the greater length and the weight she drove more comfortable than the smaller 380 Biscay.
In 1993 the Biscay variant was introduced. It was based on the layout of the Baltic, but had no aft cabin. She was in fact the successor of the Storö 40 Biscay. In 1997 she was replaced by the SRC 430 Biscay.
The layout of the SRC 420 Baltic corresponded to the SRC 400 Baltic. The interior layout was identical and the structure resembles that of the SRC 400 astounding. Only the flying bridge has been completely redesigned. Side panels on the height of the deck covered the still clearly visible step to aft deck on the SRC 400 (Although these panels were already part of the first drafts of the SRC 400). Also, the air intake for the engine compartment on the first drawings corresponded to the SRC 400.
The SRC 420 Biscay was a relatively low-cost development. With new construction but largely the same layout large areas could be transferred. The modified pantry became standard for Baltic and Biscay series. However, the front cabin (originally intended as a guest cabin) had to be sold as owner's cabin. The bed of the owner's cabin was narrower than that of the 380 Biscay. The hull of the SRC 380 was drawn in fact a bit more voluminous in the bow area. Very spacious and elegantly was the layout of the deck saloon of SRC 420 Biscay, which was separated from the cockpit by a all-glass stainless steel sliding door, which has never previously been installed at Storebro. Slightly smaller was the toilet area after they had changed the original U-galley into an L-galley to allow passengers in the cabin guests to direct access the toilet area.
With the SRC 420 Biscay several compromises were made, which were then partially removed with the SRC 430 Biscay.
For the SRC 420, there were at the start of production the brand new Volvo Penta TAMD 72 with 430 hp (flywheel power) available. This engine harmonized perfectly with this ship, allowing speeds up to 30 knots. In the German price list of 1997, Caterpillar 3126 diesel are listed with identical performance. But the SRC 420 was never equipped with these engines. Only in 1997 two SRC 430 Biscay were equipped with Caterpillar engines. Volvo supplied the TAMD 72P EDC with electronic control at this time. "
Now a scan of the "standard equipment list".. Bear in mind various extras were fitted by the factory to this boat and the owners have fitted other extras since new as well. ( waste tank, top covers, generator etc) But a useful guide none the less;
Following scans taken from Storebro Standard Baltic 420 "Specification" Sheet.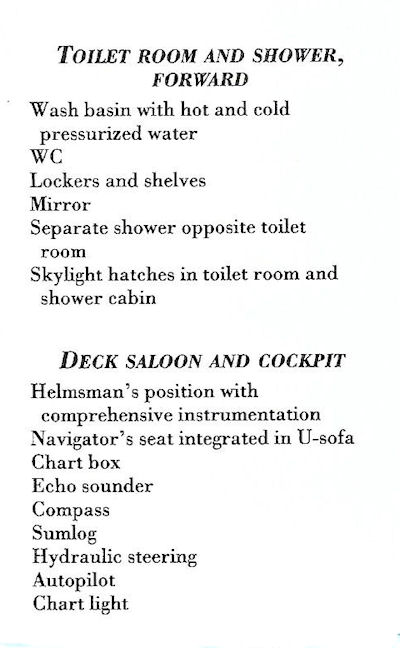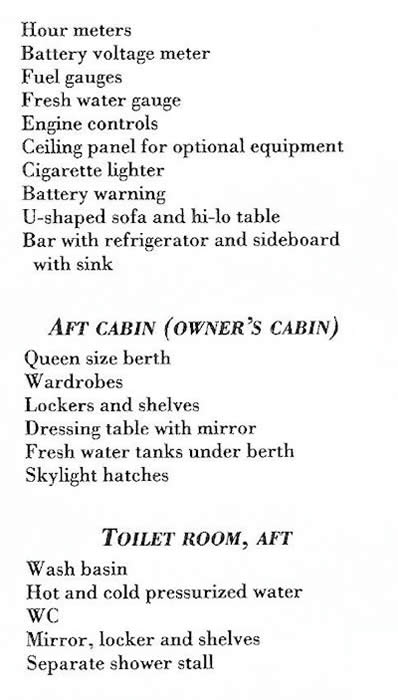 General Layout

Nice fine entry Medium Vee hull, note the good sized Bow thruster tube. photo taken at last lift ashore.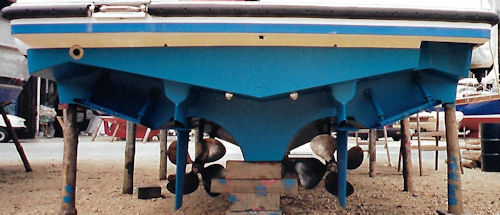 Semi tunnel's allow a better down angle to shafts so more efficient drive, Note also the underwater exhaust pods just above the trailing edge of each rudder, , also note twin ram trim tabs, The cut away in aft starboard Hull is for the oprional fitting of an aft anchor and windlass set up, Common in Scandinavian waters.
Four bladed bronze propellers.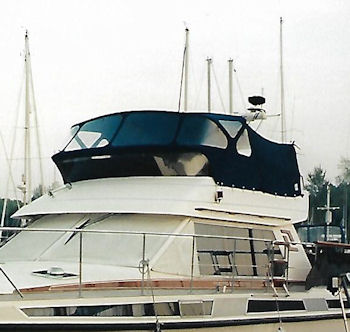 Rather nice addition is the framed Flybridge canopy that allows Comfortable use and passage making from the flybridge
even in Grotty weather. also note the lower screen covers to reduce sun fade inside. You can just see the drop down side boarding ladders built in to the rails, nice feature.
Interior shots ;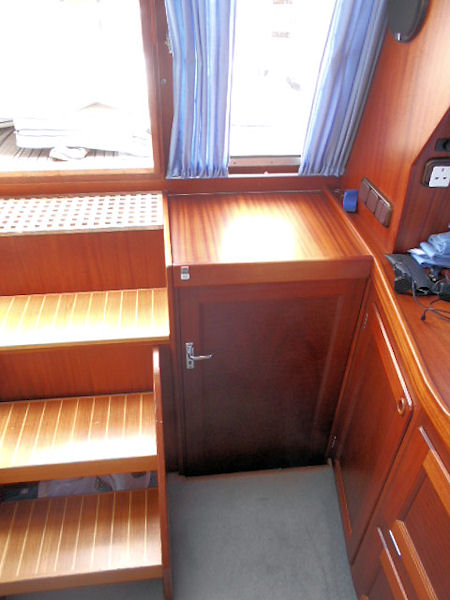 looking aft, aft cabin access door/hatch shut,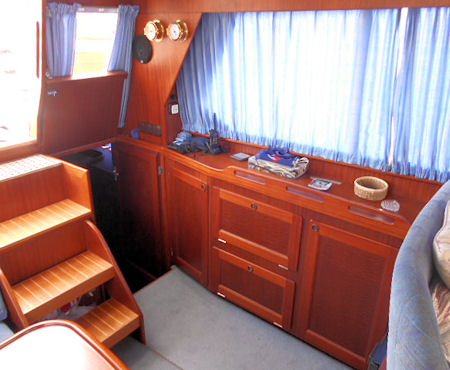 port saloon side units, and aft cabin door open, beautifully intergrated grab holds all around Woodwork.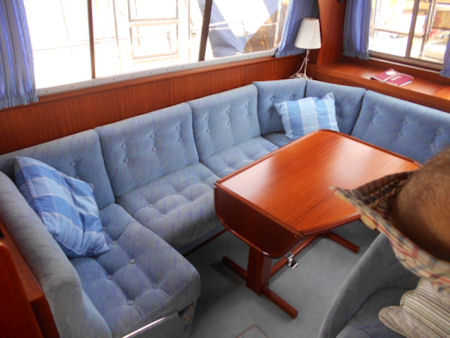 settee are to starboard, with "Loose Table" seat left in shot "rolls forward" to create two person copilot seat.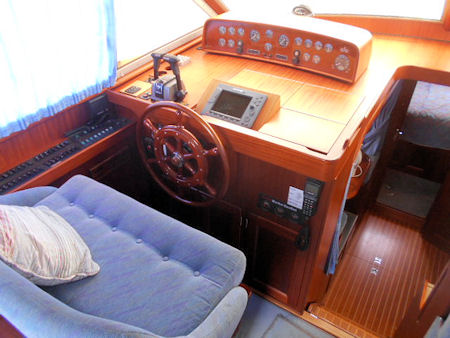 helm set to port, Seat accommdates two, and will slide forward aft on tracks.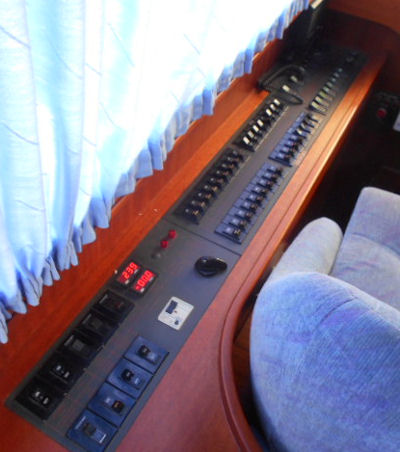 wel organised Switching gear for whole boat, Typical good engineering from Storebro.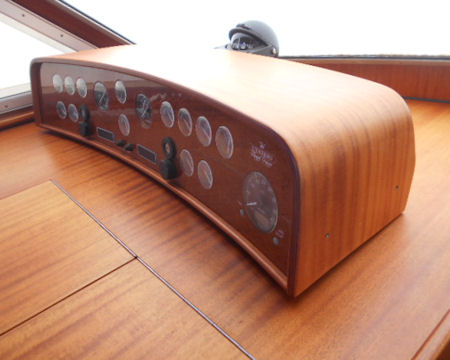 Beautiful Cold Moulded Instrument Dash POD,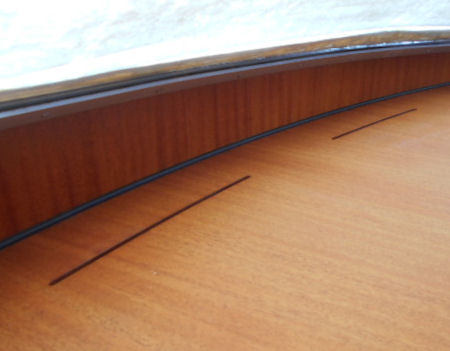 de mister slots cut under screens,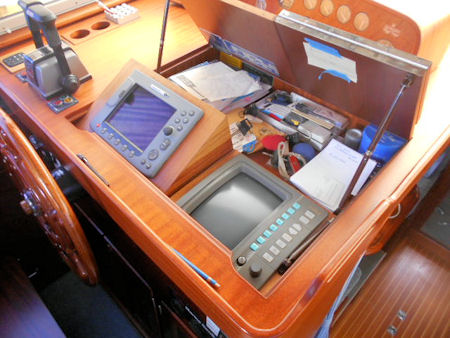 dash folds open to reveal Radar and stowage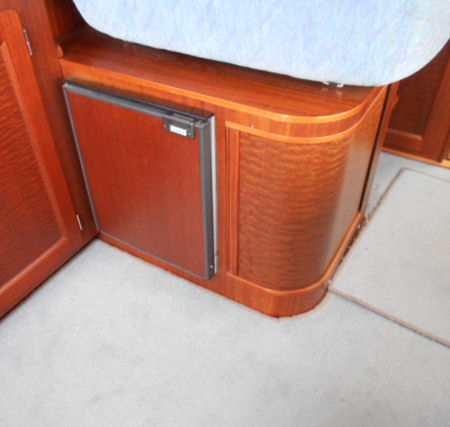 aft under helm seat, Drinks fridge and Glasses behind roller door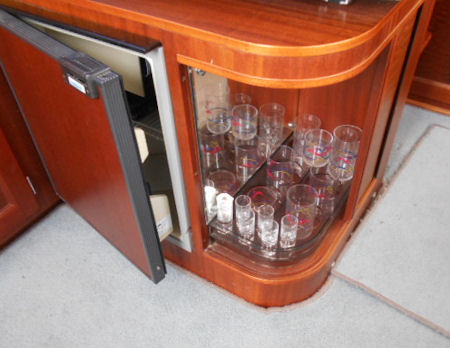 including Storebro SHOT glasses..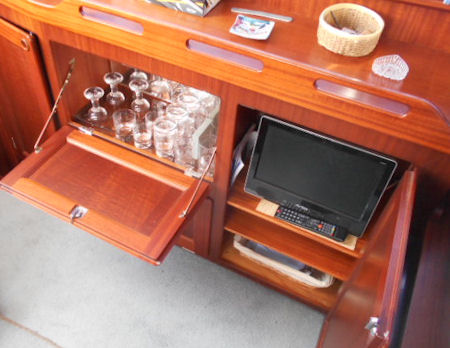 and more drinks ability in side units, as well as decent TV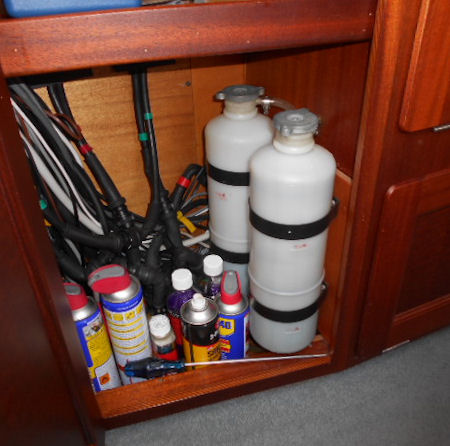 here is good engineering/ design, the engine Expansion bottles are lifted to saloon locker.. HOW sensible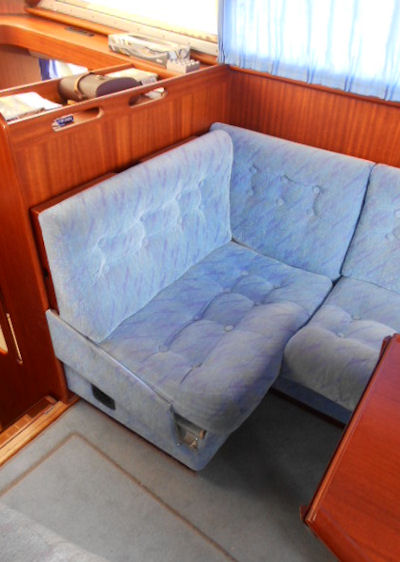 forward starboard side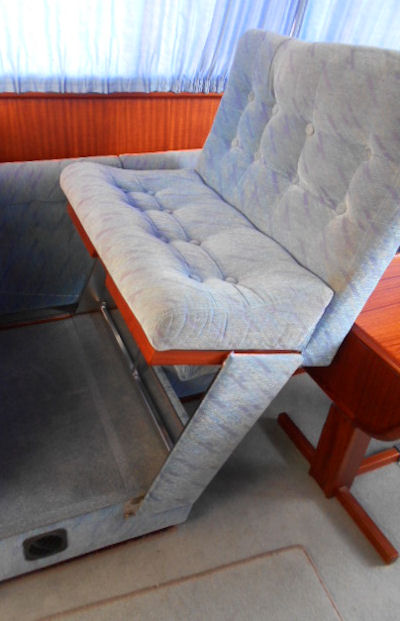 and again beautifully engineered, easy fold aft to sturdy two person co-pilot seat.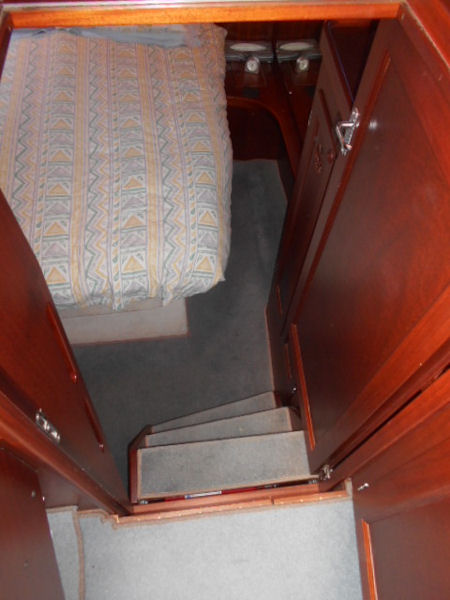 looking down aft cabin entry steps,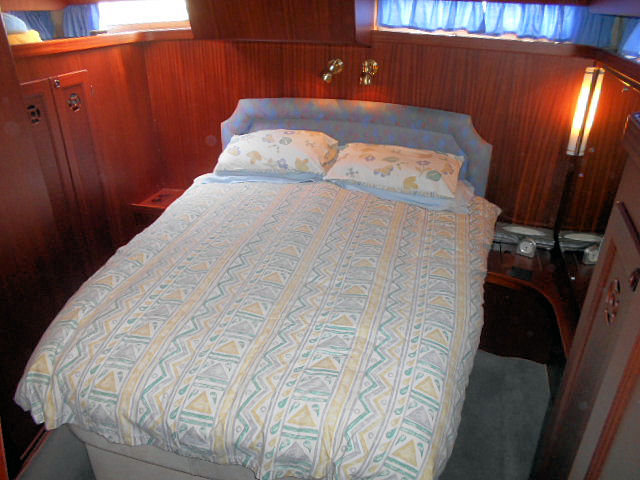 centerline berth,
starboard looking forward at En-suite ( sliding door) and hanging lockers aft,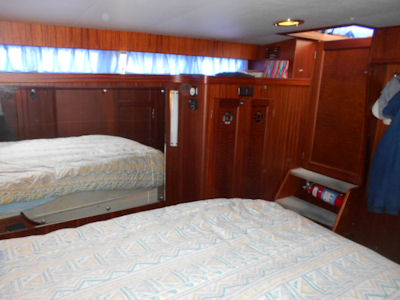 and looking forward to starboard, another good hanging locker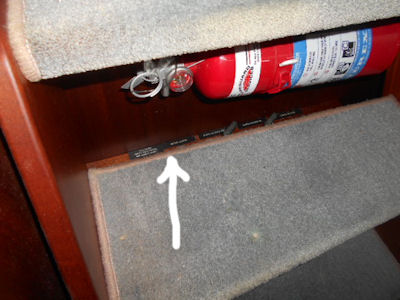 battery Switches under the cabin entry steps.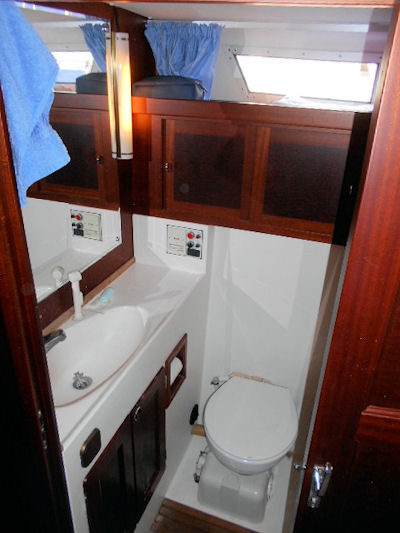 en-suite, electric with shower right of shot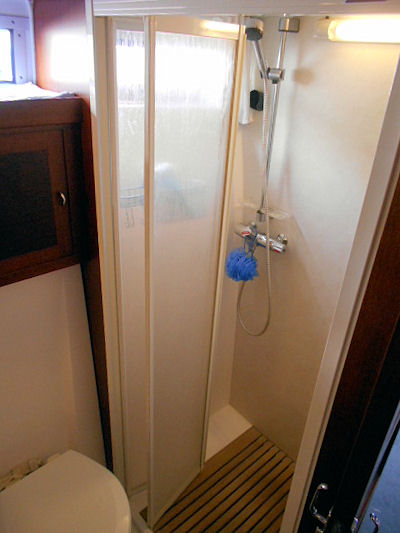 behind a trifold door,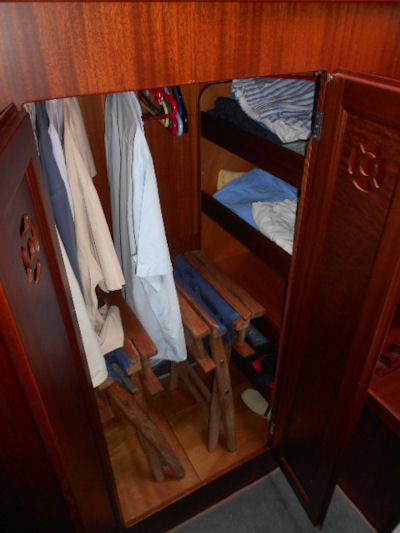 in the aft starboard hanging lockers, also neat shelves, "Flower cut" door vents rather atractive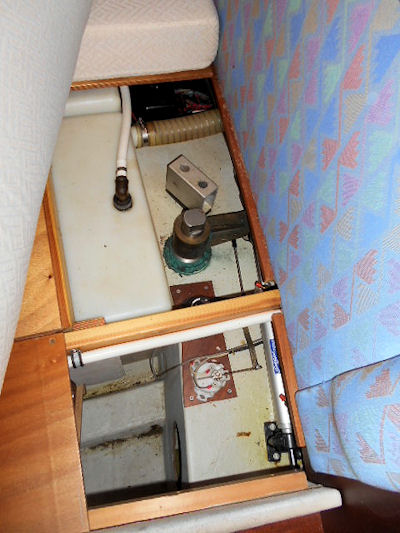 quick peep under head of bed with matress rolled forward, white Nylon Water tank, and easy access to stern streeing gear, , thgis is port side.
NOW from forward ;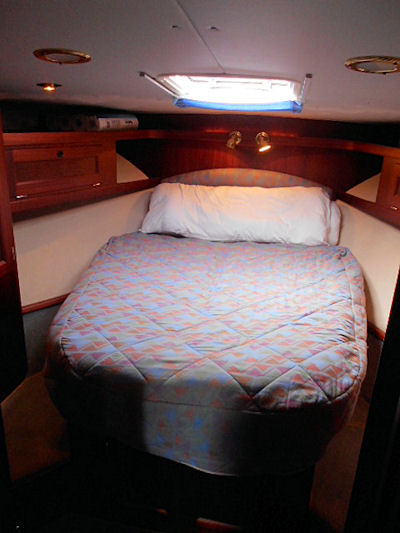 decent double again on centerline, Various lighting options with hidden under bed and pelmet Rope lights as well as various others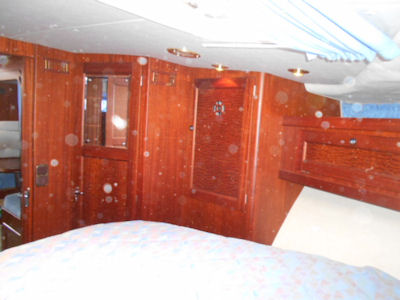 sun and dust on lense here sorry, view back to port side units and door to forward shower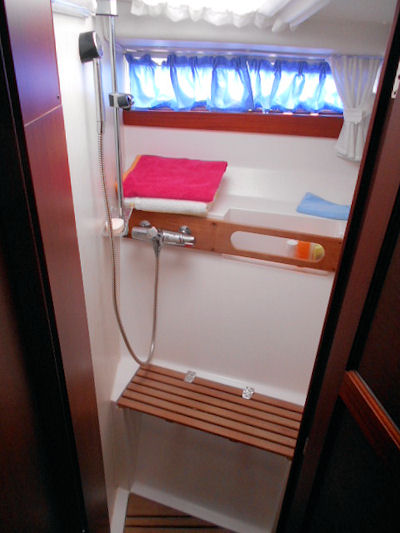 Nice shower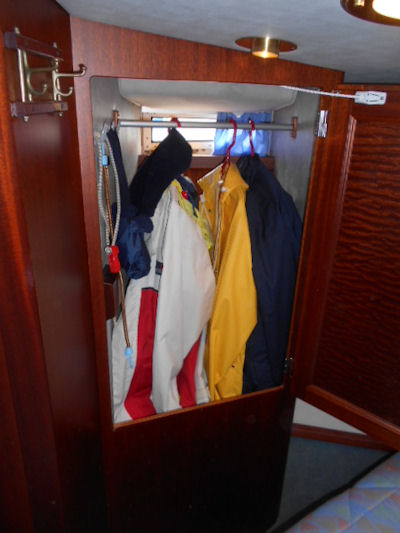 hanging locker with natural light behind as well as auto lights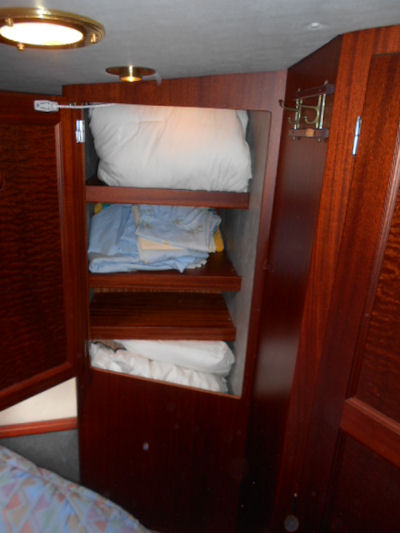 starboard side, nice shelf units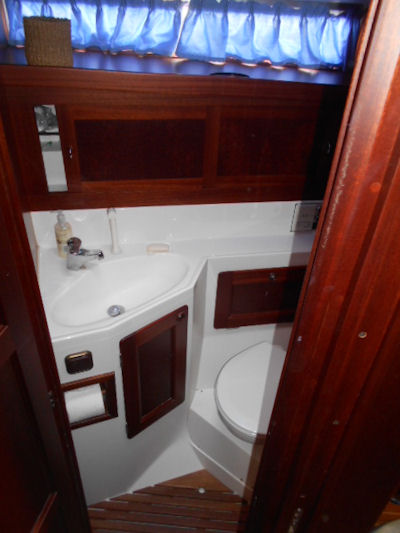 heads on starboartd side with two door access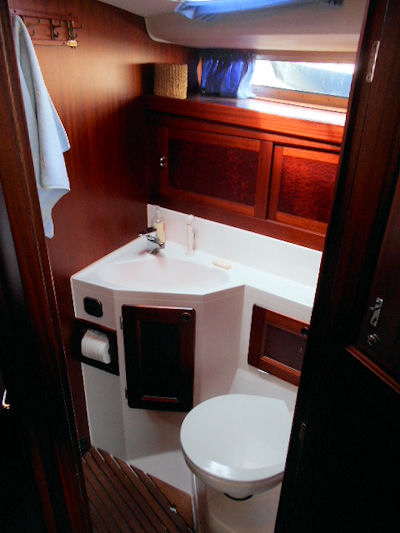 view in from aft (galley) access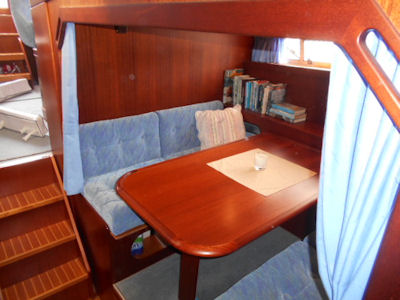 dinette set over to starboard, ( will drop to a berth.) steps left lift to access engine space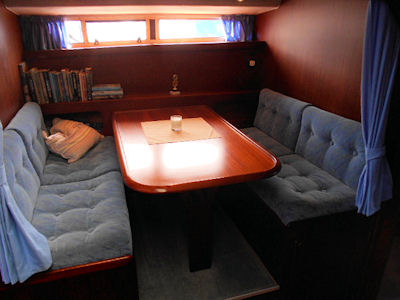 such a nice "Snug" big lockers under seating
said stowage, note smart teak/Holly floor throughout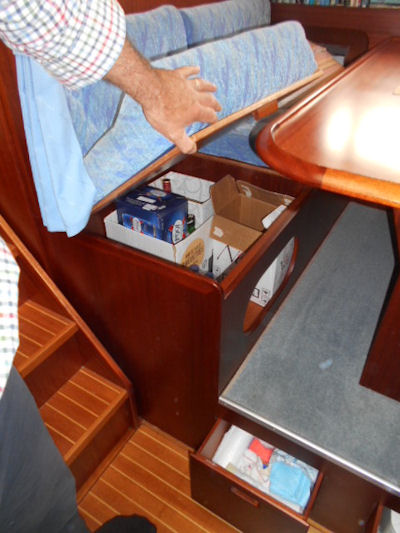 drawers under dinette floor, and again more locker under both seat bases
all these drop out pieces are also beautifully finished and varnished.. Quailty build..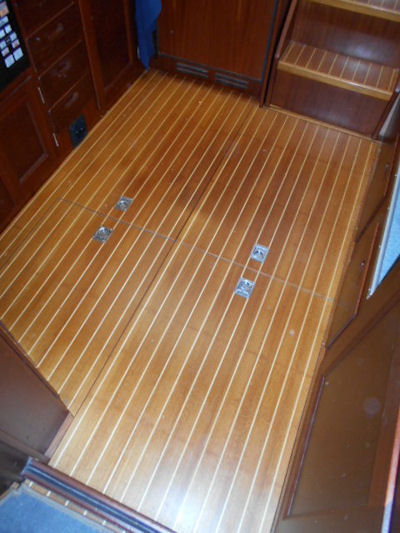 galley ? dinette area, note drawer unit under forward seat with heater outlet under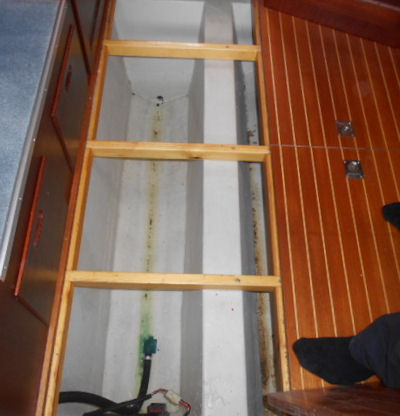 Floor out, nice heavy GRP girder system in these hulls.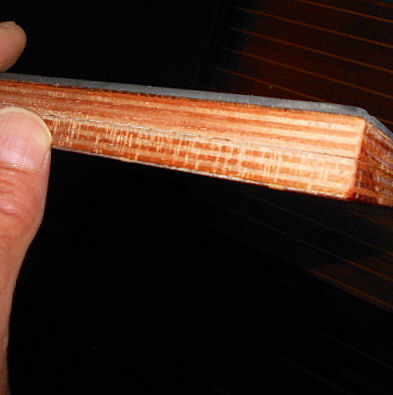 Storebro had special Plywoods made for them with Heavy dense rubber layer one side, and a lead layer just a few laminates in to reduce noise transferance . makes the boards slightly heavy,, but amazing attention to design etc..
galley set to starboard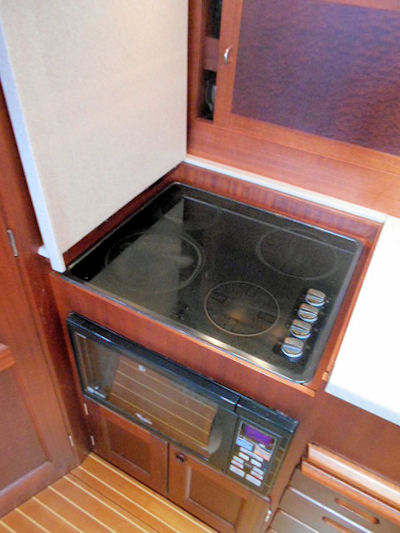 All electric cooking, ( generator)
galley looking forward, decent freezer as well as fridge,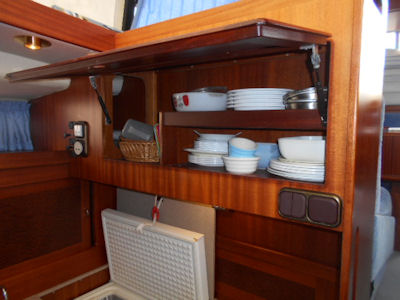 neat crockery stowage.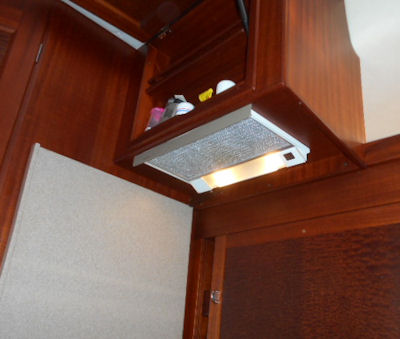 extractor over hob
sound reduction drop out panel behind steps hinges up to access engines
neat and clean in here VERY,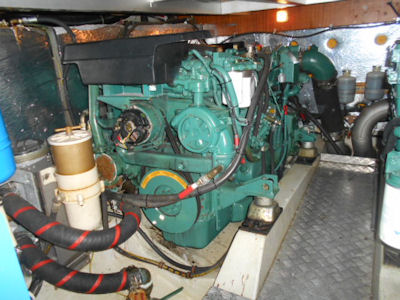 the engines have an excellent history with local Volvo Dealers. All the floor above can be removed if required, but lots can be done down here without the needs for that.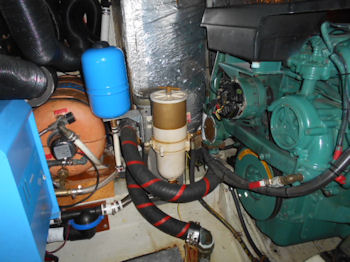 front starboard side, big easy primary fuel filters, Hot water tank, and blue pressure accumulator, left blue battery charger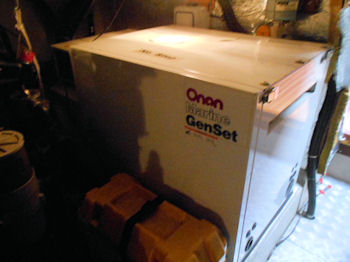 Nice cacooned Onan 8 KVA generator.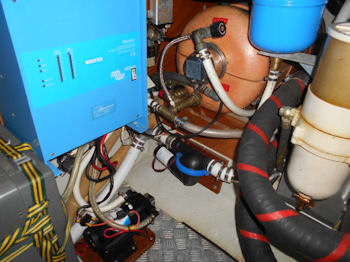 better view of the decent Charger system, and domestic water pump below,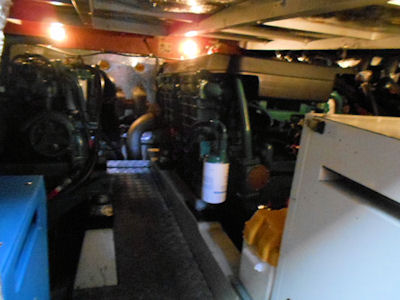 Reasonable lighting in here also, made my camera struggle !
now outside,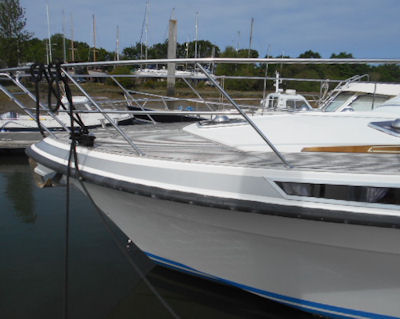 Fore deck, note heavy D rubber fendering all round.. so practical. The teak forward could do with a slight "Knock Down of the Caulking rubber which is now a touch proud here and there, but really I am being a bit critical as that is easy enough to do, and is only a cosmetic issue at worst. the teak in laid in boards on top of GRP deck, it is not structural and I would probably just leave it alone ! The rest of the boat decks are good.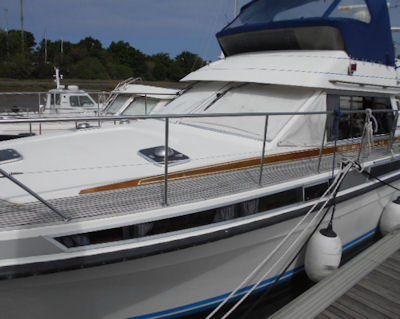 screen covers on, and note flybridge return screen, and canopy aft of that..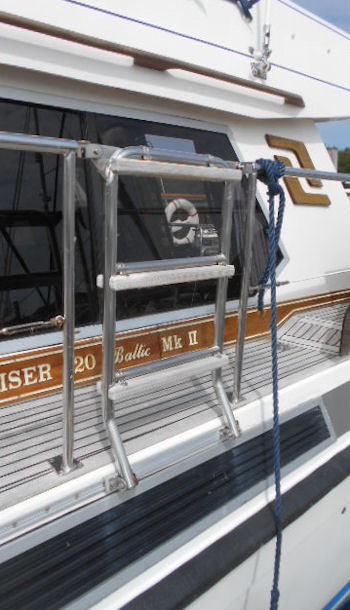 Side ladders each side built in to rails.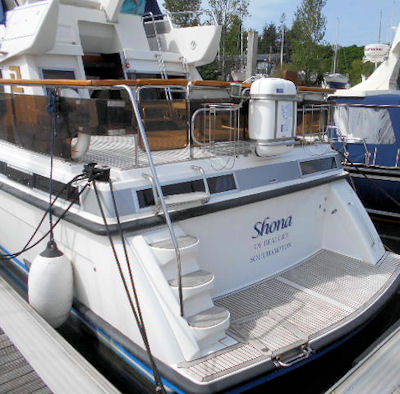 aft end, nice platform, with moulded steps to port, note Smoked perspex dodgers,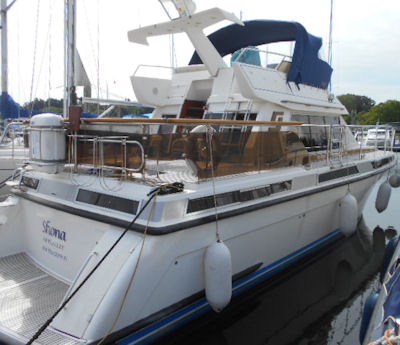 starboard quarter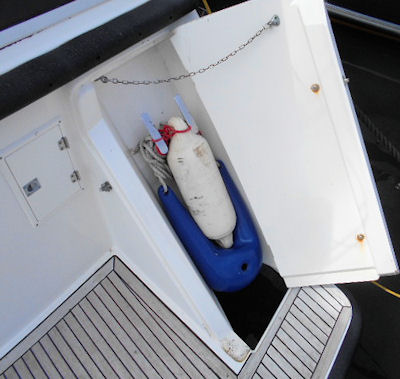 on scandinavian boats they often have the option of a stern windlass, as they often tie bow to a "Rock"/ Island, and then pull back with stern anchor, this locker would have housed a roller, anchor windlass etc.. to the left in transom is a fresh water shower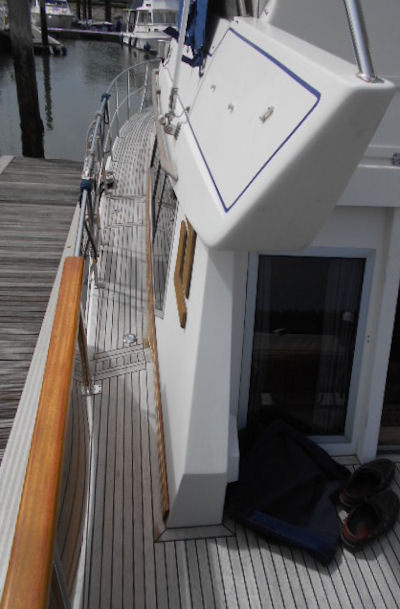 port side deck,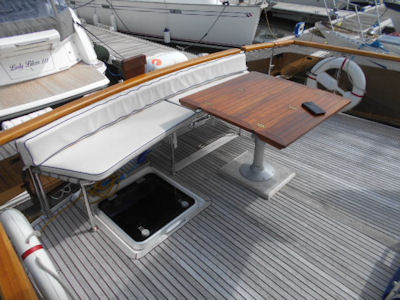 Aft deck, recent option of smart S/S seat fitted with upholstery, and smart double folding Table..
Both Owner additions over the years. Neatly done.. (I thought they were originals)
Escape hatch to aft cabin obvious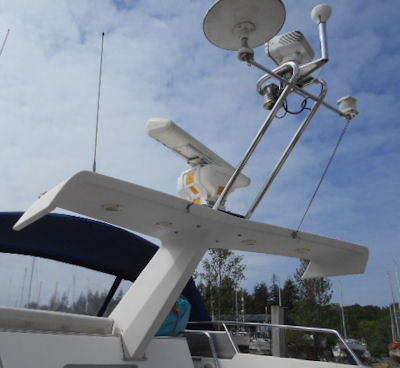 Stylish mast design, and rather nice open array scanner, lights to deck in mast platform
Mast is hinged aft..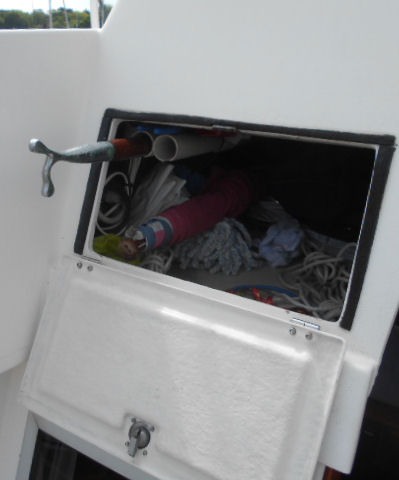 neat detail, POLES are stowed in tubes fitted in this locker, clever..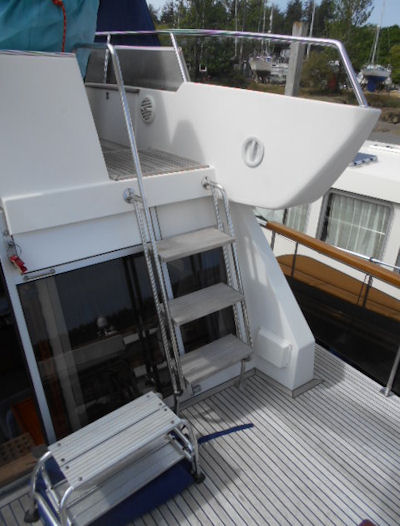 easy steps to fly bridge..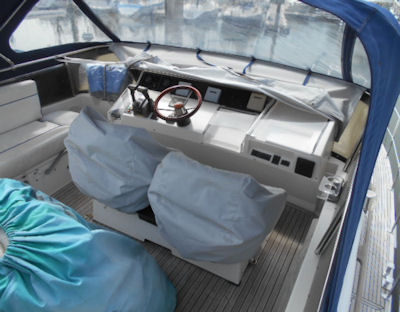 fly bridge station with the full canopy in place.. this can dropped , but works really very well indeed,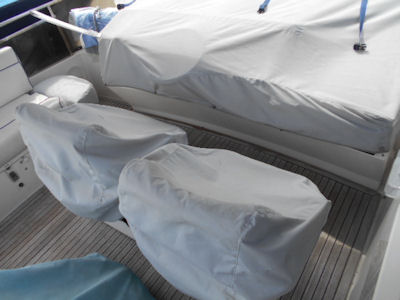 nice covers to everything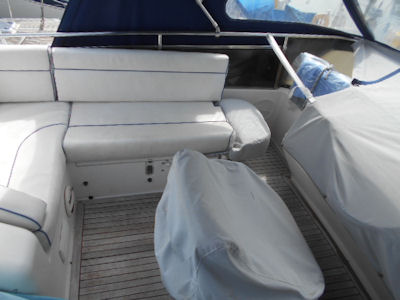 seating port and aft, has lockers under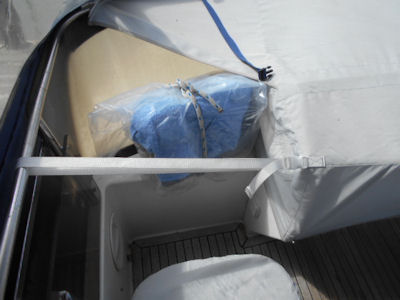 plotter up here is a C120,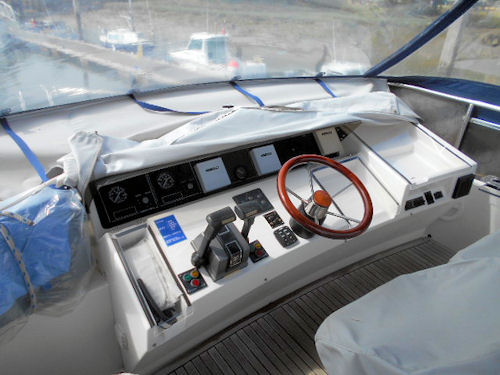 all in clean bright order, a fabulous craft well worth a look.