"THE SPEAR HERITAGE Alan Burnard, the former Chief Designer and Technical Director of the Fairey Marine Company, is the brains behind the design of the Solent Spear. Utilising a lifetime of experience gained in the design of the legendary Fairey powerboats as well as high speed racing boats, Alan's speciality is the production of deep-V hull designs capable of operating in rough weather conditions whilst retaining the comfort and performance expected of a modern high-speed powerboat. This experience has been put to good effect in the design of the Solent Spear and Alan has produced a truly exceptional boat. BUILDING A NEW LEGEND The structural engineering and laminate specifications have both been undertaken by High Modulus Europe, a well-known structural engineering company, based in Hamble, with an enviable reputation for the highest quality yachts and powerboats. They have specified a strong but modern building structure. Casse Tête Marine is responsible for the development and construction of the Solent Spear combining their extensive experience and workmanship with modern techniques and materials to create a truly remarkable product. Jim and George Webb, who formed Casse Tête Marine in 1978, have established an unparalleled reputation for traditional craftsmanship. The company has built and developed many one off and production boats including the largest epoxy wooden boat ever built and a range of workboats, some of which were special designs for HM Coastguard. George was also involved in the development of the original Fairey Fantome in the 1970's."
Original Build Specification; CE APPROVAL HULL RCD Code of Practice for Small Commercial Vessels. Light gelcoat finish. Deep-V hull laminated in polyester resin with foam core topsides. All longitudinal stringers and frames and bulkheads specified by High Modulus to commercial standards. ENGINES AND MACHINERY Two Cummins 370 hp turbocharged diesels with down angle gearboxes driving handed bronze propellers. 40 mm stainless steel shafts. Bronze flush P-brackets. Racor fuel filters. Seawater strainers. Full sound insulation. DECK Light gelcoat finish. Polyester resin with foam core reinforcing for rigidity and sound insulation. Non-slip finish with optional teak deck. Custom polished stainless steel windshield surround. Laminated glass windscreen. 11 ⁄4 inch stainless steel pulpit. Stainless steel rubbing strake with rubber insert. Six mooring cleats with pop-up cleats as option. Three fenders. Anchor fairlead on bow with optional foldaway stainless steel anchor roller and under-deck self-draining anchor stowage. Optional electric anchor windlass, 15kg anchor and 20 meters of chain. Three polished stainless steel hatches with two extra on hardtop version. Stainless steel water and fuel deck fillers. Navigation lights. Steaming and anchor lights. Stainless steel ensign holder and staff. Gas locker. Wichard flip rings for fenders. Mooring lines. .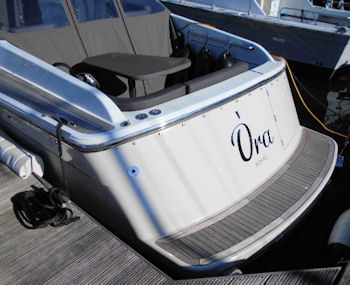 aft end, with enough platform to make mooring up either side easy, Note the hooks for full length cockpit cover, also note cover to cockpit table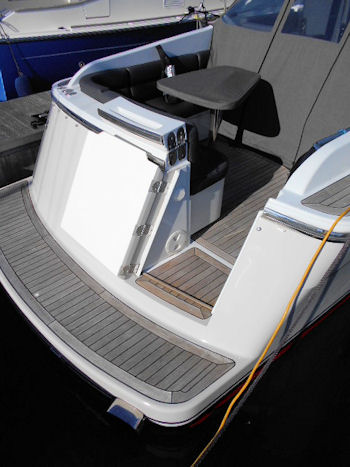 Big easy Transom gate for access to starboard side,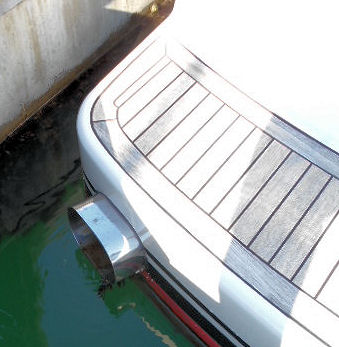 rather smart exhaust detail, either side..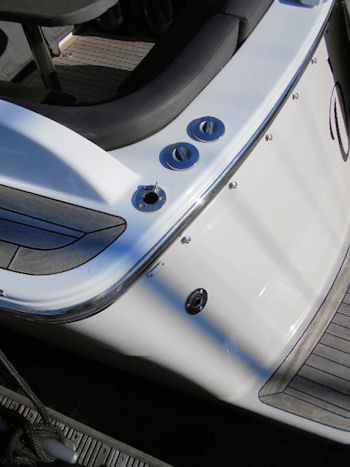 port aft, Heater exhaust outlet , Flag staff socket above, with Fuel fillers together aft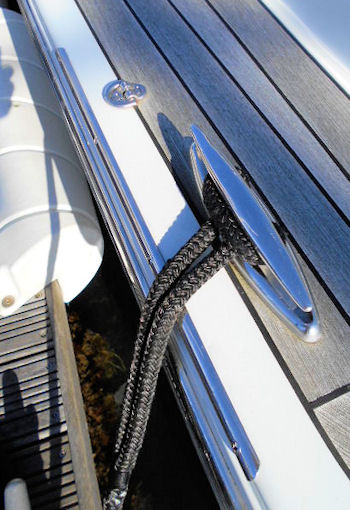 Beautiful Pop up cleats with wear plates to deck edge, note in situ berth fenders..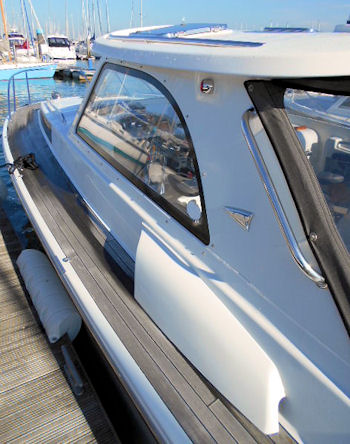 port side deck, clear decks, lovely shapes, engine air scoops, Falt side windows with black out covers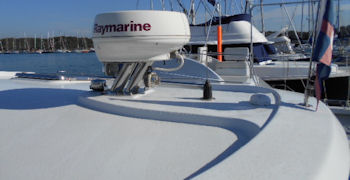 Radar mounted up on a recent S/S cake stand,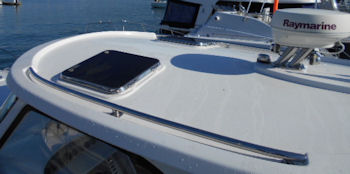 two deck hatches with smart Stainless frames, now hinged at after edge so they open fully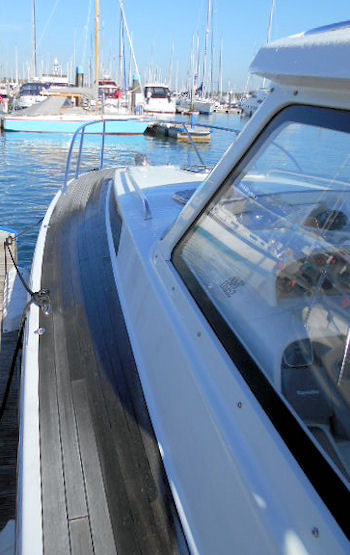 deck teak is flat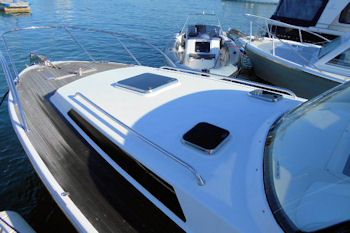 fore deck and coachroof with three more deck hatches,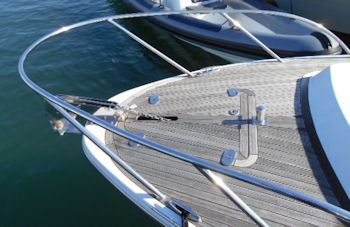 fore deck,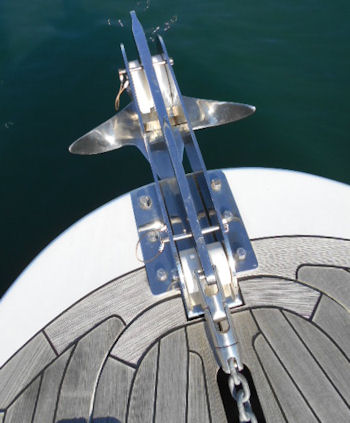 anchor detail, smart Stainless bruce,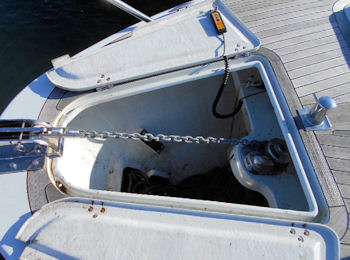 twin hatches give good access to locker, and under deck windlass, note yellow remotes on deck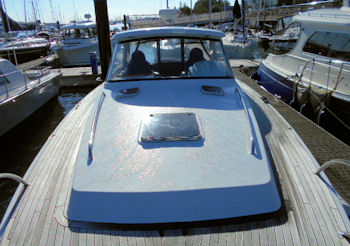 uncluttered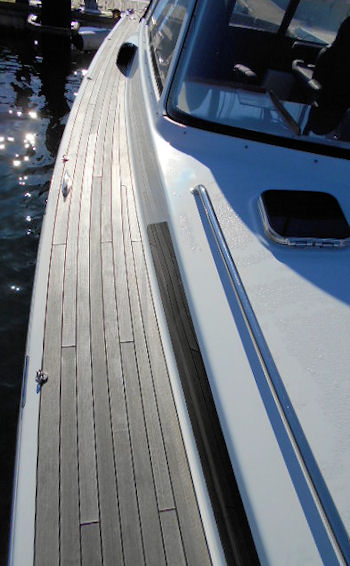 starboard side deck,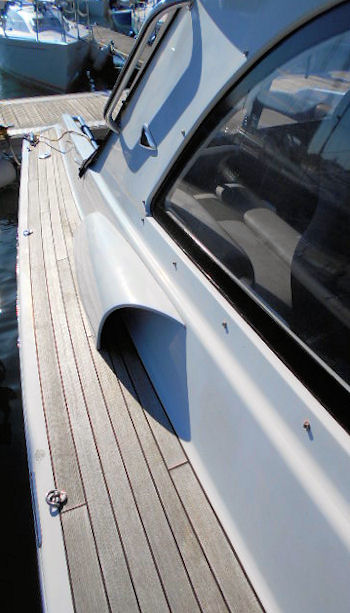 actuall intakes are duraded so as not to take in water!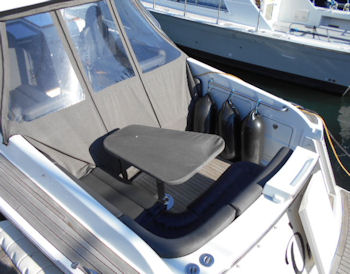 social after cockpit,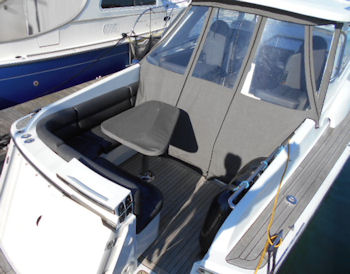 new upholstery all through exterior .shorter cover fitted to wheel house roof in this shot,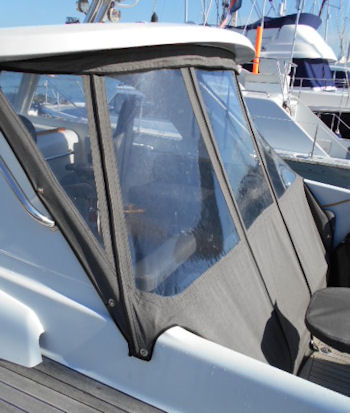 which encloses wheelhouse and side facing seating,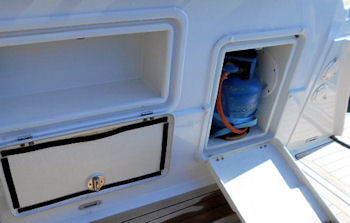 starboard side in cockpit, gas and general locker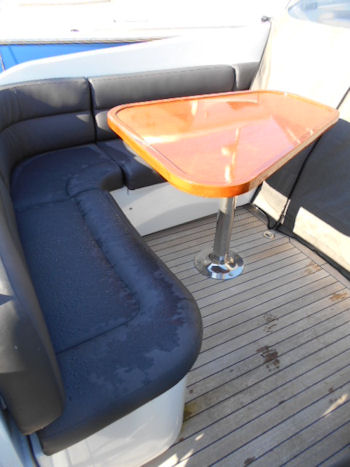 high gloss table , The whole cockpit deck area is a hatch.. two bolts under port seat unit, once released allow the whole thing to be opened up,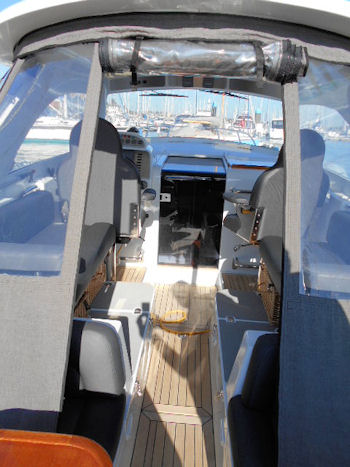 neat canvas work is recent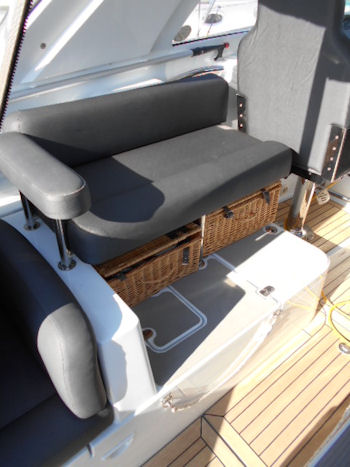 port side, with Oh so neat picnic baskets!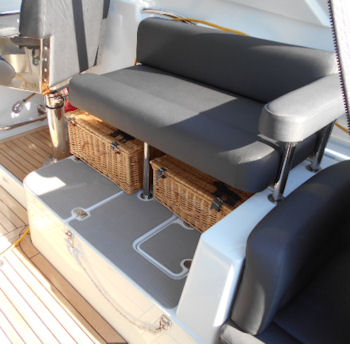 Both sides, and the grey non slip to engine box lids is new,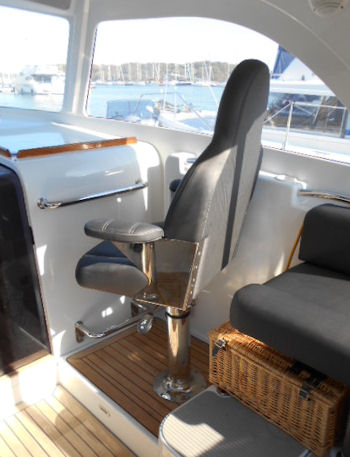 copilot seat, fully adjustable, note grab bar and foot rest
helm station to port,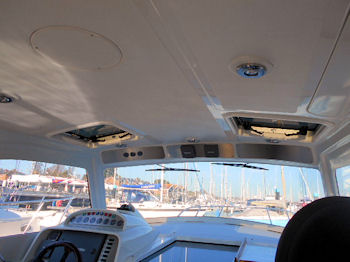 neat roof linings, and all new brushed Stainless dash panels upper and lower..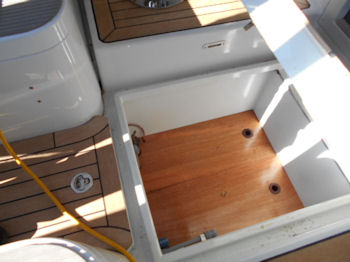 under floor lockers, and remote sfat greaser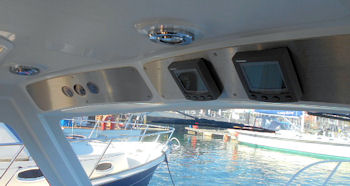 overhead panels,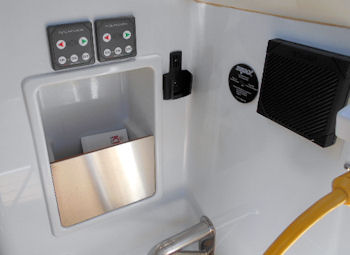 bow and stern Thrusters !! very nice , if using the boat alone..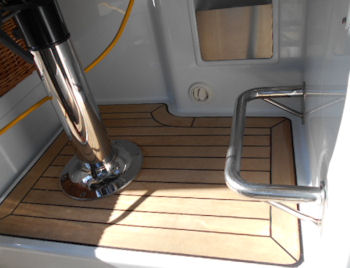 heat out at the helm feet, quite right!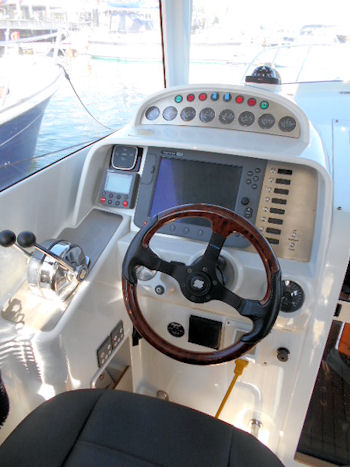 Nice displays, and great vision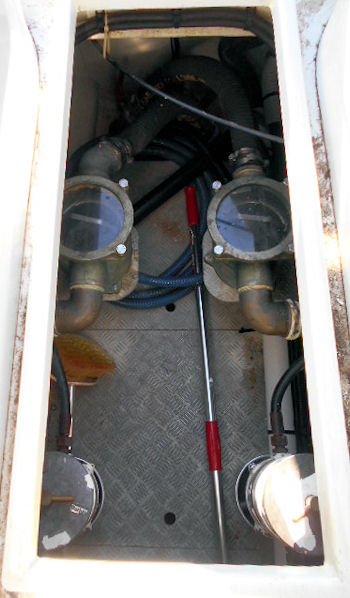 aft central floor lifted, strainers, and primary filters..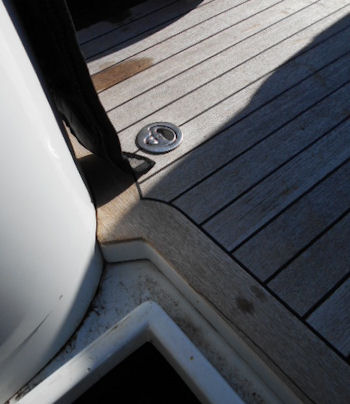 that is the after section clips that release the whole area once seat unit removed..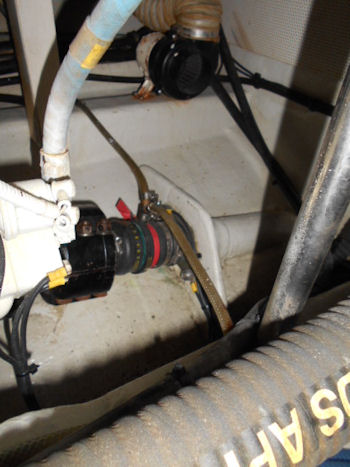 Shaft logs,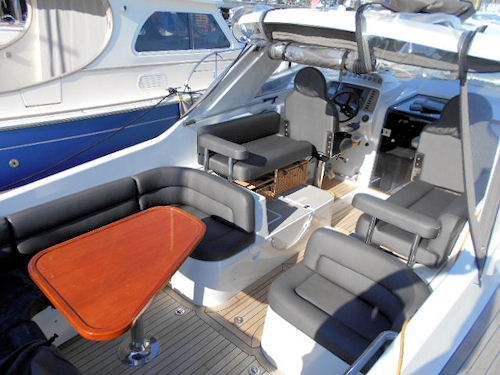 ready for a day out with Friends, what a social set up, and depending on weather can be adapted..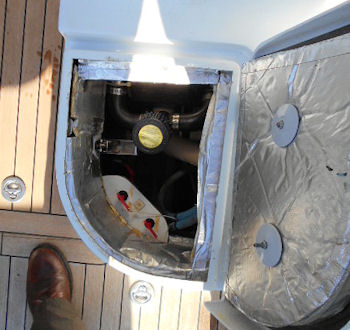 battery switches easy,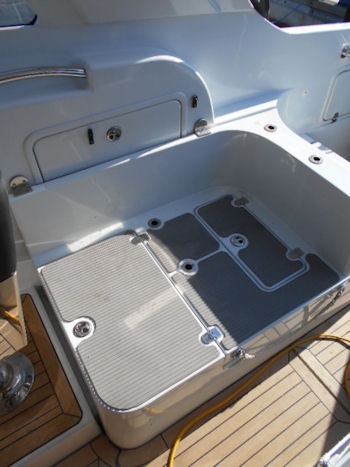 side facing seats all lift out easily,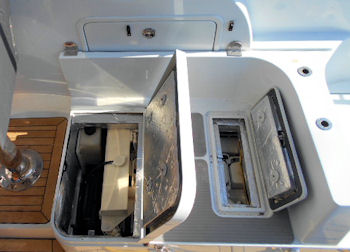 and have day inspection hatches..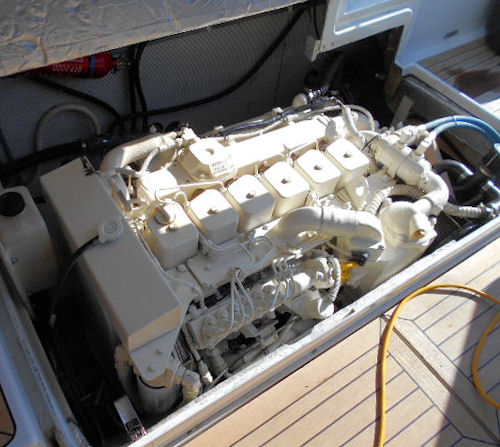 as well as easy side lift, to gain full access, to these wonderful Cummins!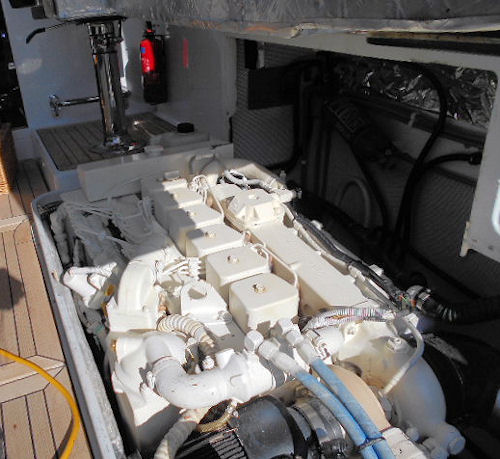 Looking forwards, youyr servcie engineer will be happy with access for a change!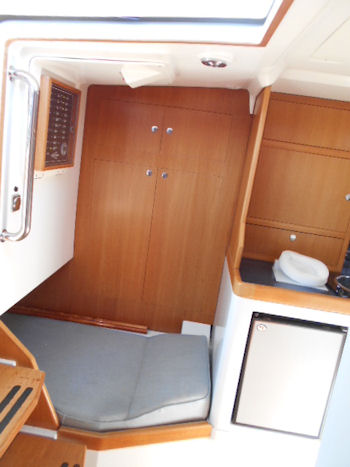 inside cabin to port, cabin entry steps left of shot, port quarter berth, with lockers over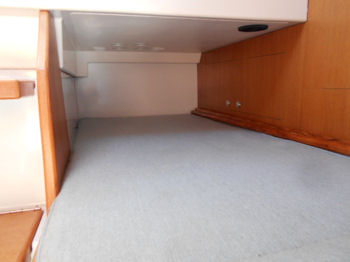 full size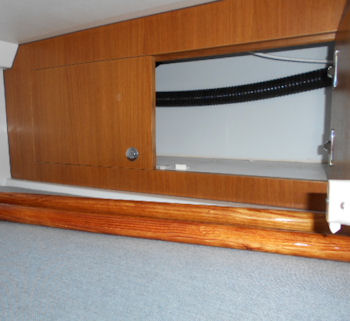 useful side lockers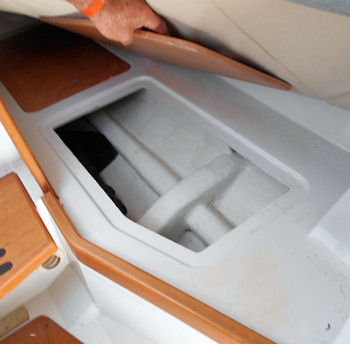 quick under bunk lift, hints at strong build spec...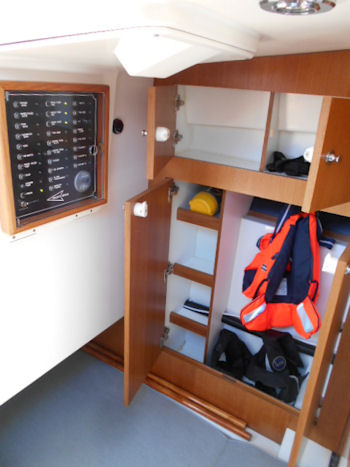 domestic panel above, with webasto diesel fired central heater control right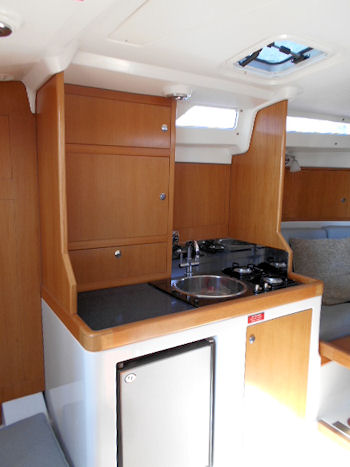 port side galley, two burner gas hob, hot and coild at sink, with fridge under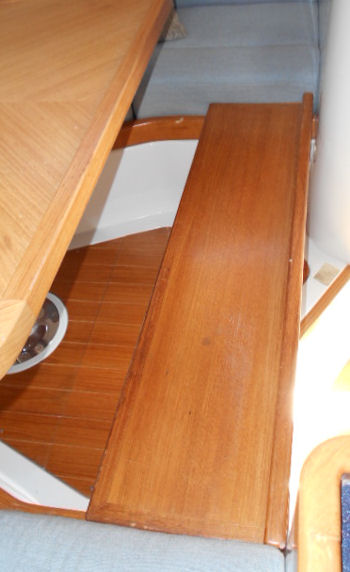 infill "Thwart" at aft end of vee berth forward, makes up huge double berth, teak floor usually has bound loose Natural Berber carpet , which is just being replaced!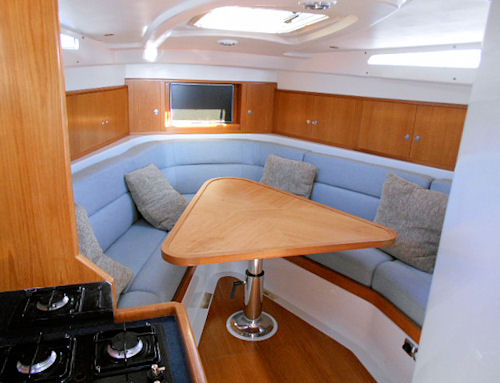 forward, nice and light, TV forward neat under deck lockers all round, and under seat lockers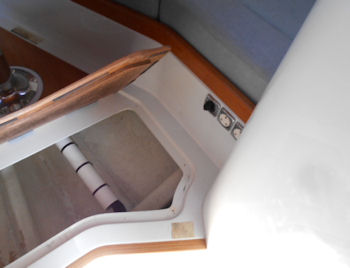 and under floor, note 2 x 240 sockets forward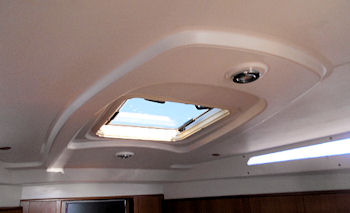 neat headlings detail,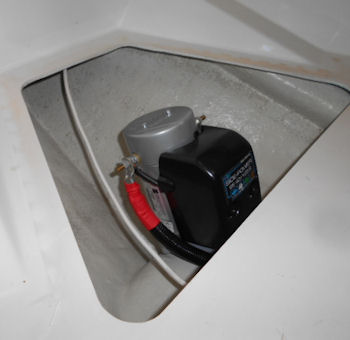 Bow prop easy to access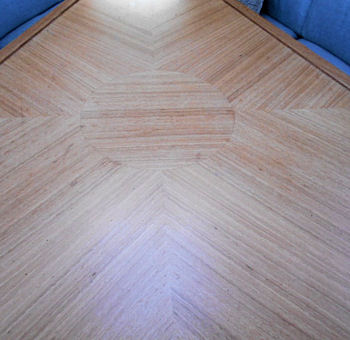 nice Marketry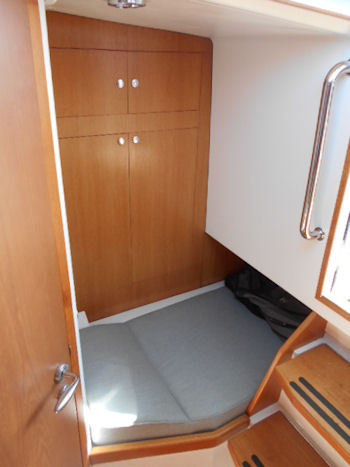 starboard aft quarter berth, similar lockers to port,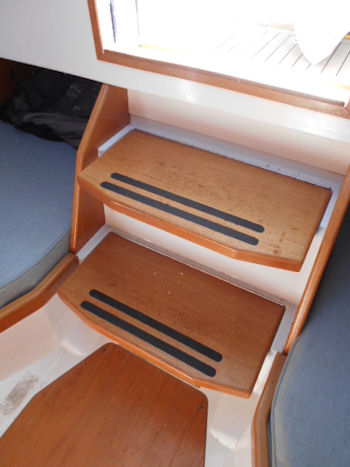 these cabin entry steps, are hinge top to lockers ( again carpet removed from floor at present, new being fitted)
Electric heads, with pull out shower head
sorry bad focus,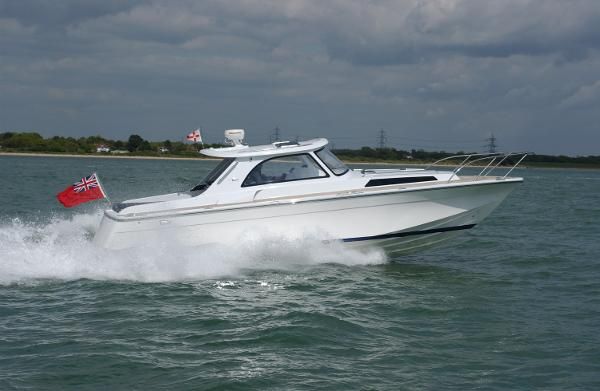 WHAT a great looking craft, and , will always be so!