More shots to come shortly but here are a few to start with..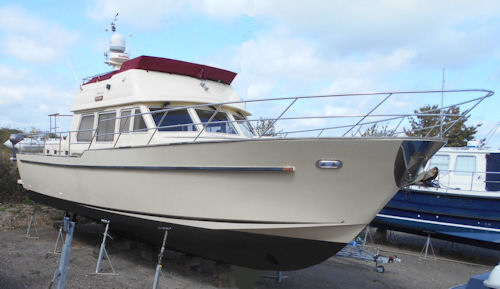 ashore 12th September 2019 at Hythe, what purposeful lines.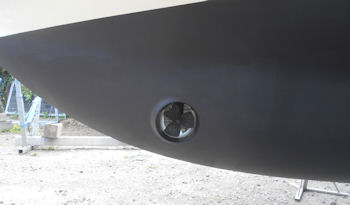 few had the bow thruster fitted, so thats a nice addition on this one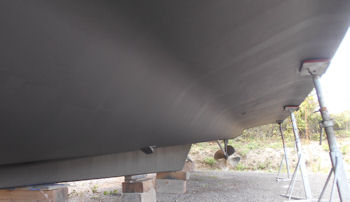 Deep skeg keel with interesting central Canoe hull and flatter sections outside.
This shape was proved so successful in the Corvette hull, it was bound to be even better when scaled up.
I have moved a few of these boats in horrible weather, including waiting for force 7 off the needles, so
commercial pilots could evaluate the hull for use off Harwich docks. They loved her, and especially her stability at slow speed in big seas.
Sadly they wanted too many alterations to the deck arrangement to make it financially possible for the builders, but the performance in bad weather they loved!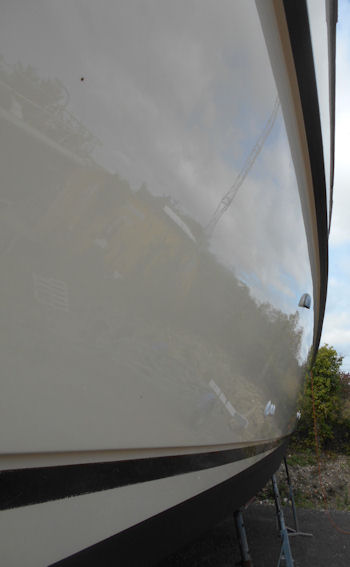 Hull Polished , smart off white gelcoats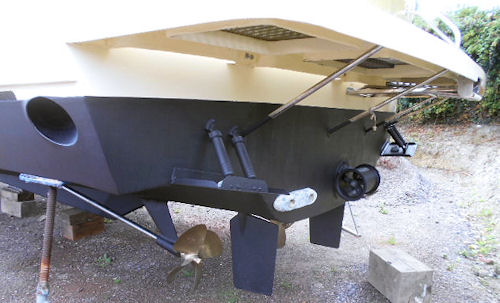 bigger shot of aft end, exhaust outlets kicked out so most exhaust does not vortex up behind the transom .
Twin ram tabs. very nice extra to have a stern thruster as well..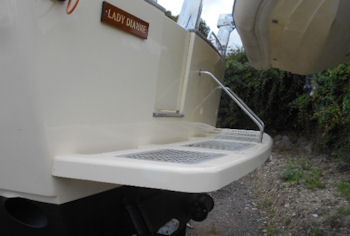 aft platfrom with smart drop in Teak grates, note transom gate access and extending arm davits
(The dinghy Shown is not included)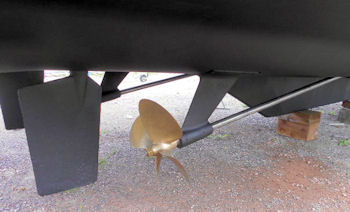 clean stern gear,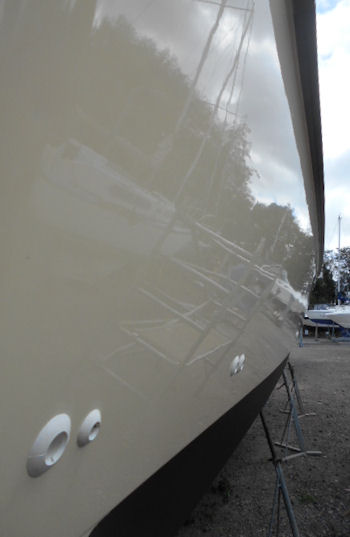 starboard side,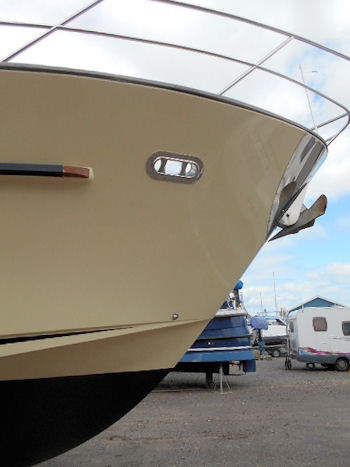 wonderful Bow , big stainless cheek plate round anchor roller, Tall Bulwarks,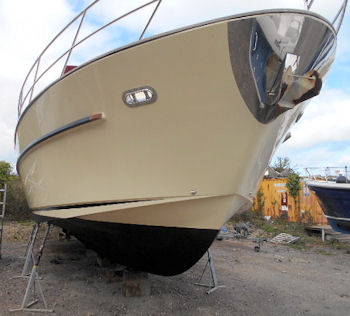 and with huge knuckle she is a very "Dry" boat.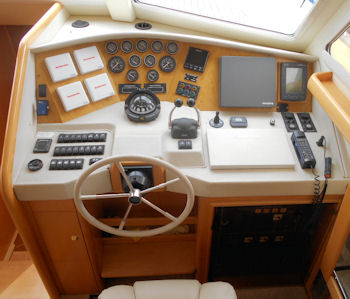 internal helm, all at easy read angles set over to starboard, and note the heater outlets under the screen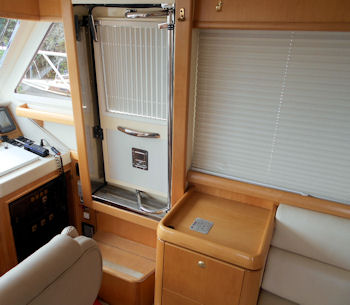 air craft style door, at helm station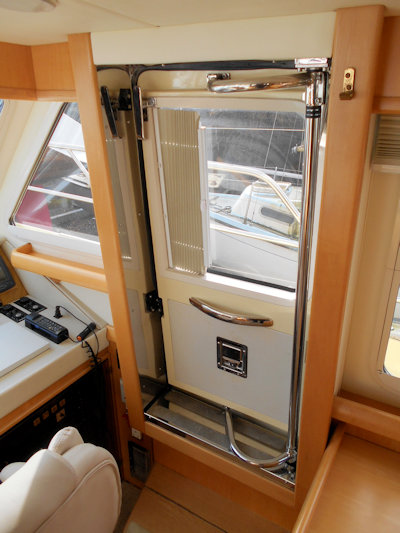 recent NEW door locks fitted Feb 2020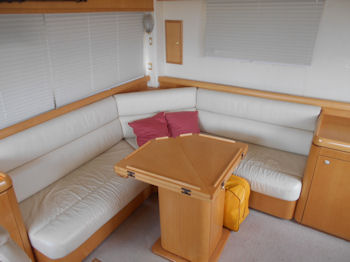 starboard aft in saloon, blinds at all windows, , Life raft valise included, the table has fold out sections,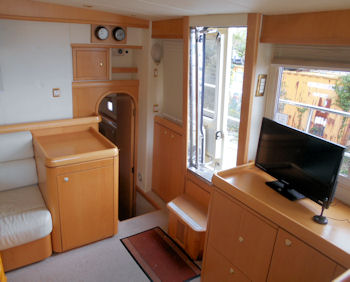 port aft entry to saloon, door onwards down to aft cabin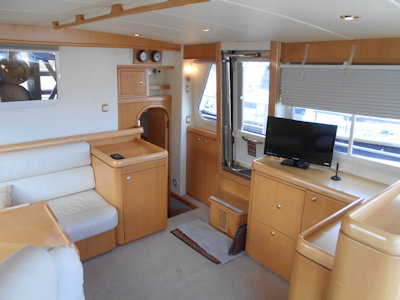 slightly wider shot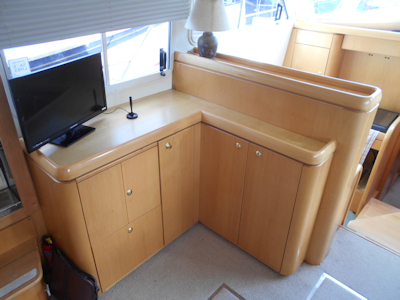 port side saloon unit, re vaneered after a slight leak from Fly bridge...( flybridge drain pipe became detatched ! Sorted now..)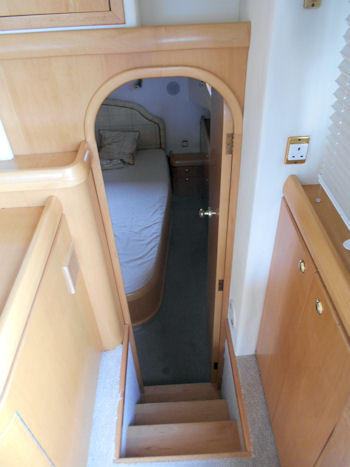 aft cabin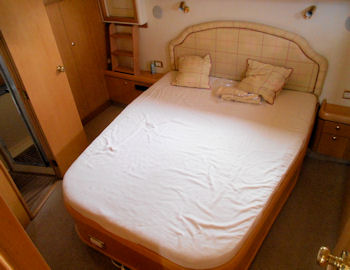 Good size bed,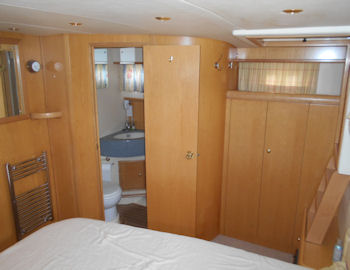 lockers and heads / shower set over to starboard, wet heating system has rads around the boat.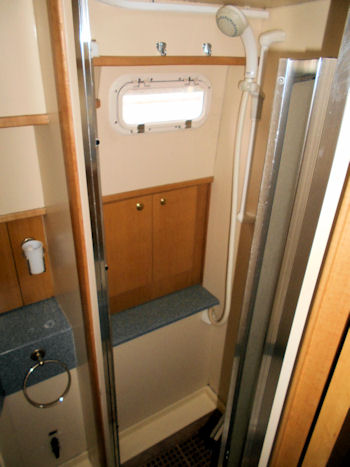 shower cubicle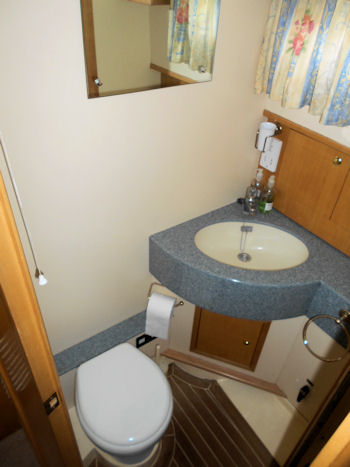 with folding screen to heads, (electric)
aft exit hatchway,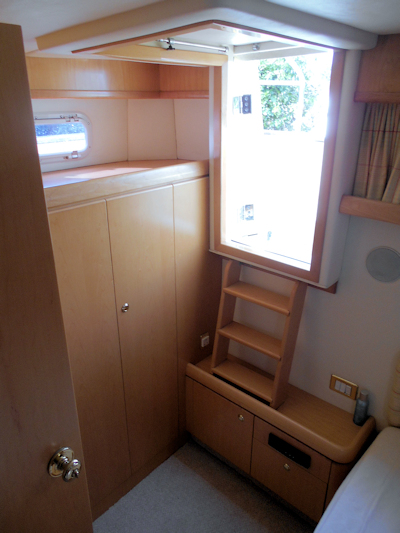 Opened up , Note personal stereo at bed head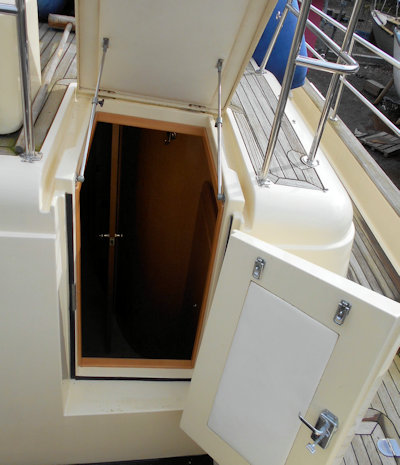 (From Outside)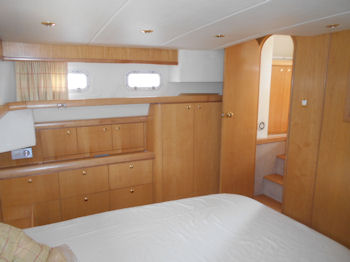 lots of stowage over on the port side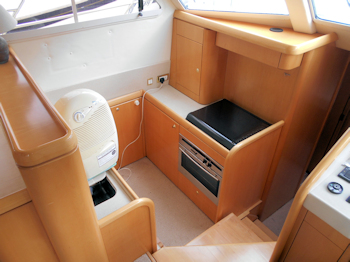 galley to port,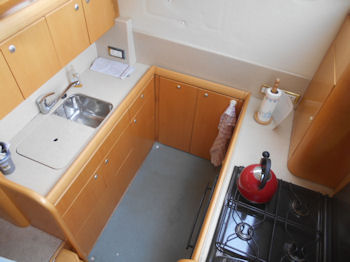 twin sink, Gas hob, Combi microwave under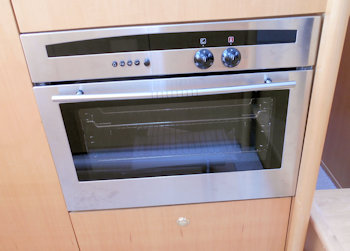 Fitted new feb 2020,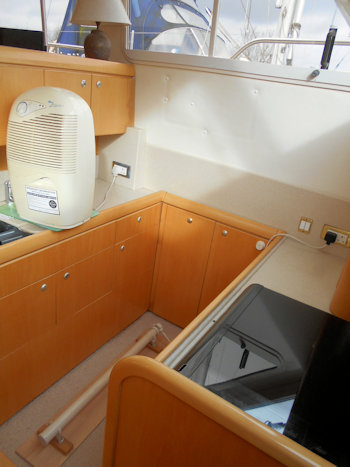 #
Note heat and dehumidifier always aboard.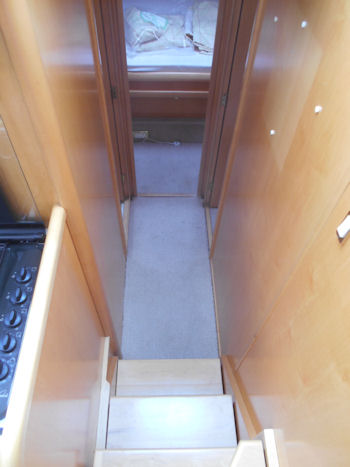 Looking forward, the steps lift on a ram, to access watertight bulkhead door to engines, and a services area.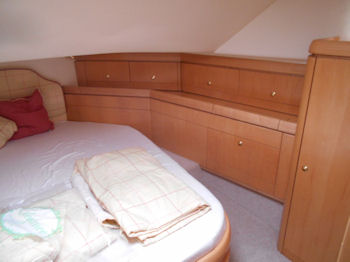 central double berth forward, again lots of great lockers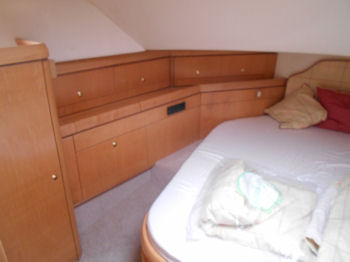 both sides,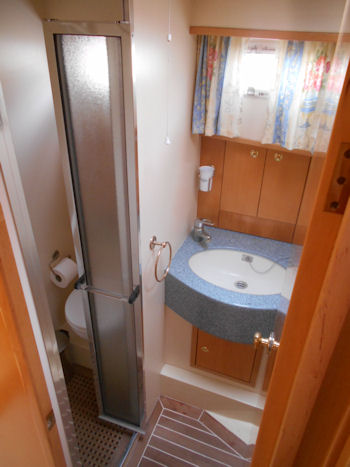 heads set to port just aft of fore cabin,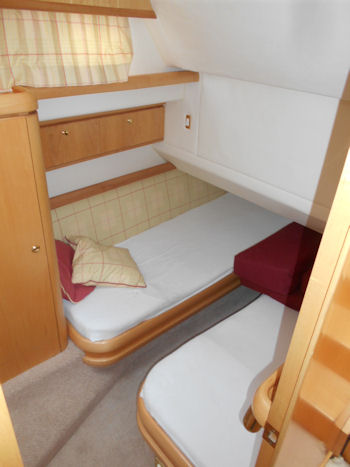 twin guest cabin set to starboard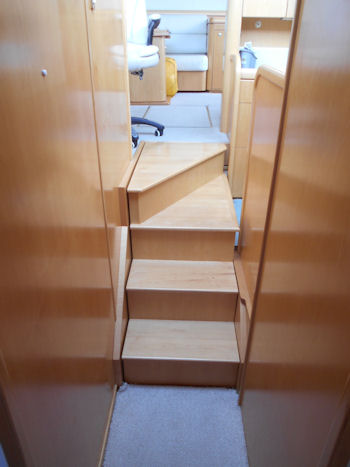 looking aft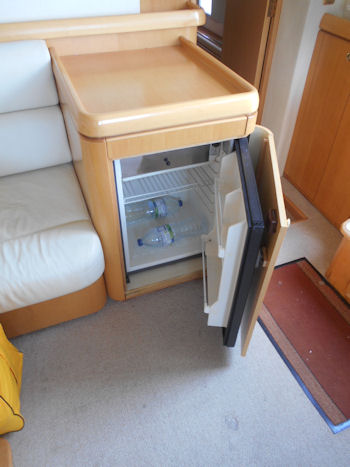 second drinks fridge in saloon,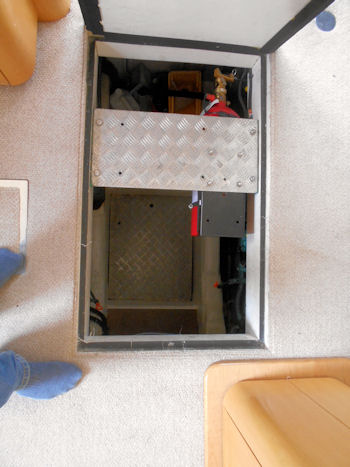 top access as well as the forward door,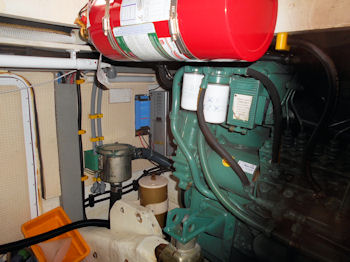 looking forward, you can just see the access door from the forward end
all pretty clean in here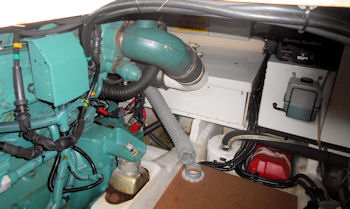 batteries in central box,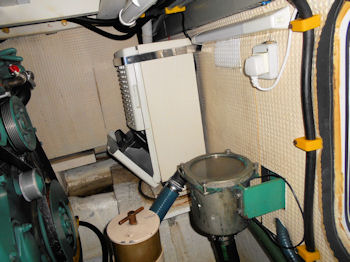 forward end of engineroom, clear top raw water strainers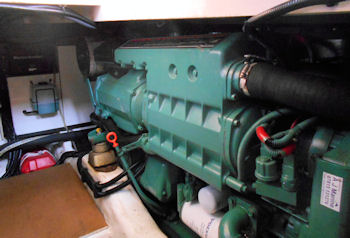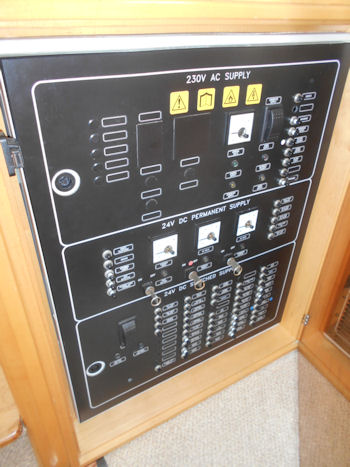 main control panel up by helm.
From the test report;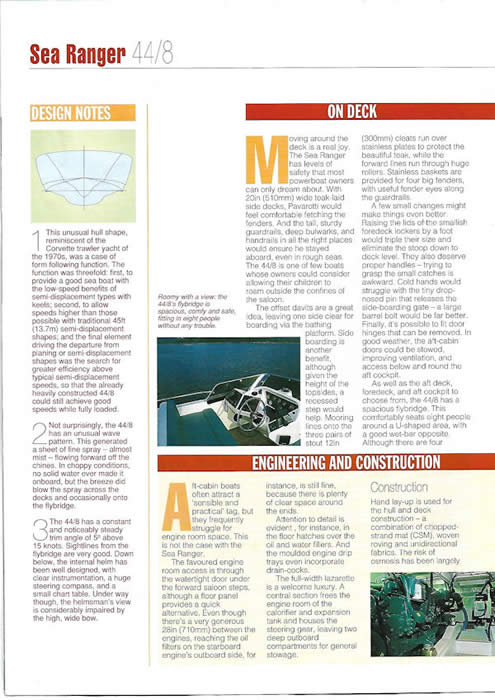 Below is from the general information from brochure not particular to this boat ... but useful none the less.