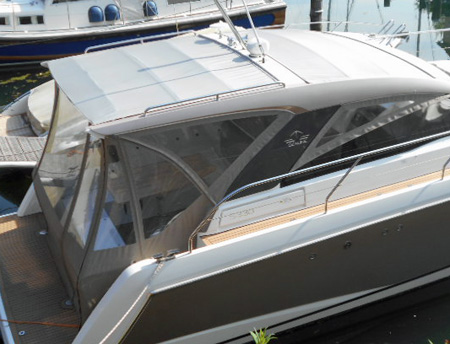 New May 2018 all covers re-newed, originals are 8/10 and make a perfect "winter set"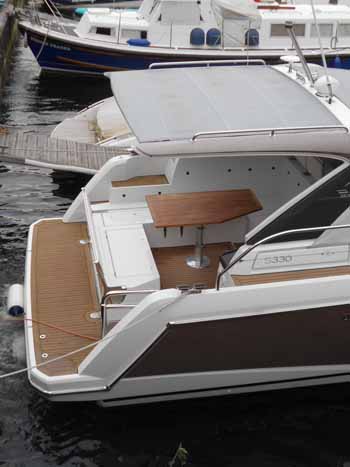 aft end, nice easy access either side from alongside berth, cockpit cushions in store, also aft canopies removed for new ones being made, ( photos to follow)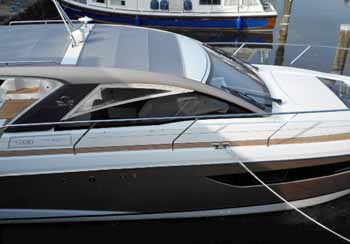 smart sharp styling,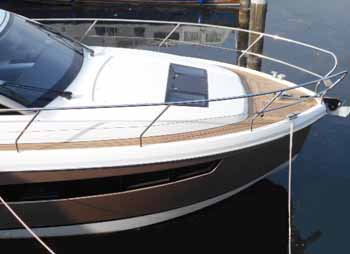 plenty of light in fore cabin with this double hatch panel.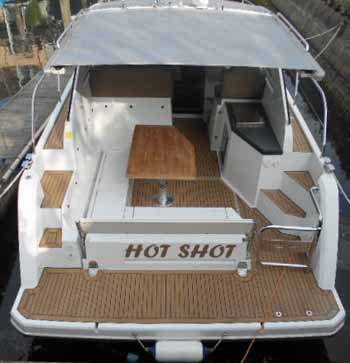 steps to both side decks gate entry to starboard, note the hook points for swim ladder to starboard,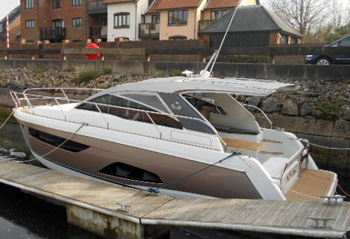 the aft cabin window allows plenty of light and a great view out from inside!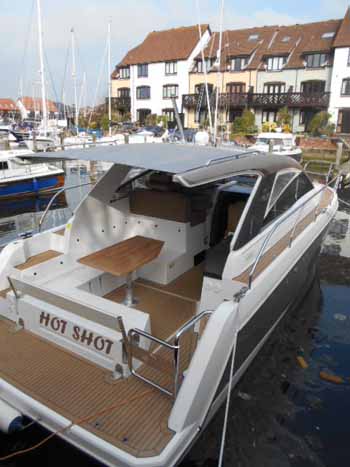 side deck has rails at shoulder height to left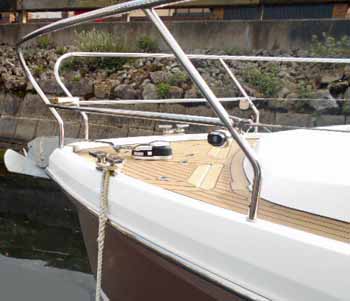 step through Pulpit, and electric windlass with local as well as dash controls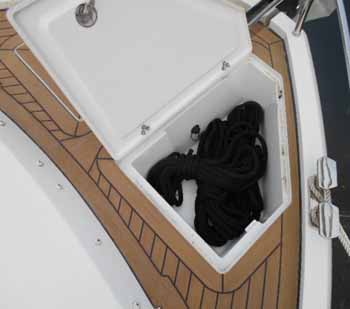 good bow lockers each side, ( note plug/ Socket for windlass controls)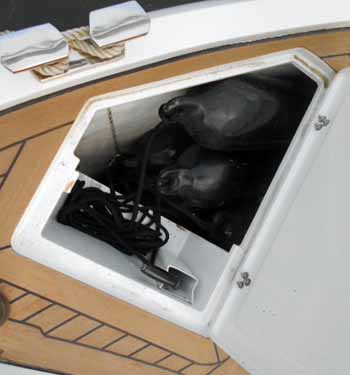 port side, room for several fenders and warps, and windlass handle if required.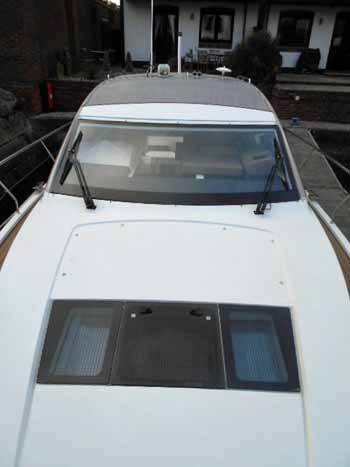 wonderful clean screens give super view. and easy with little shape to wipe successfully.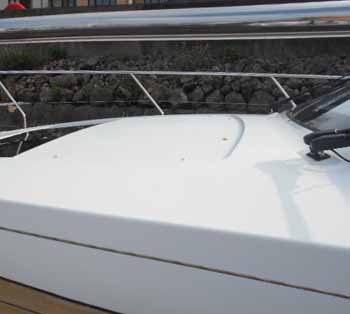 Note the sun pad cuchion poppers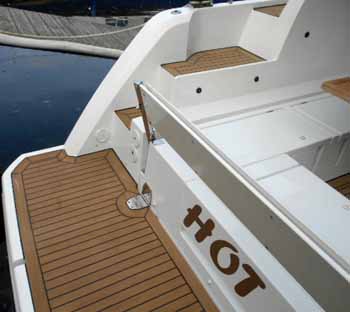 back aft, note the hinges in to teak, that allow the whole engine bay to be exposed, also note fresh water shower left,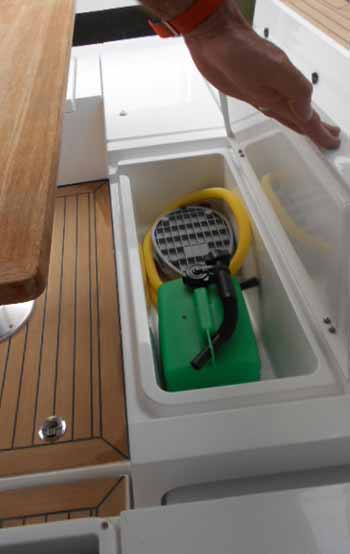 lockers all round under seats,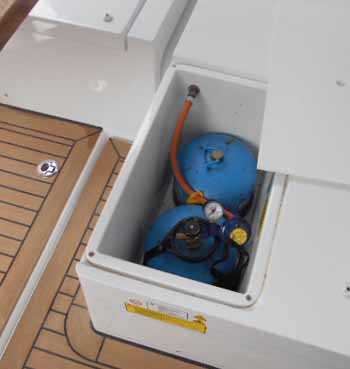 gas locker forward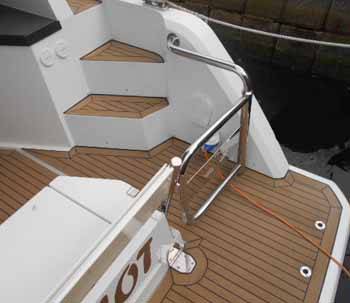 nice S/S tubing work on gate and support rail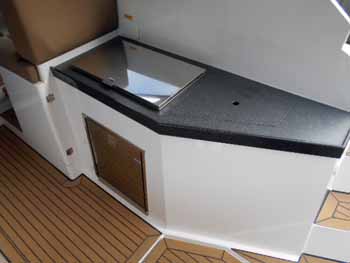 set over to starboard, smart wet bar and BBq/Grill with fridge drawer under, also note LED lights dotted about,
big enough units to be really user friendly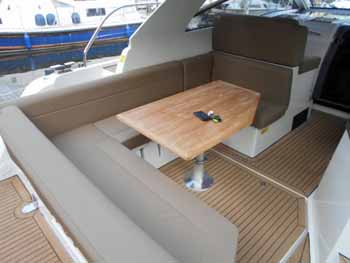 cushions dropped in to place, ( "Sardinia Ratten"), Raw teak table, mounted in the powered engie access hatch.
batteries over to port aft,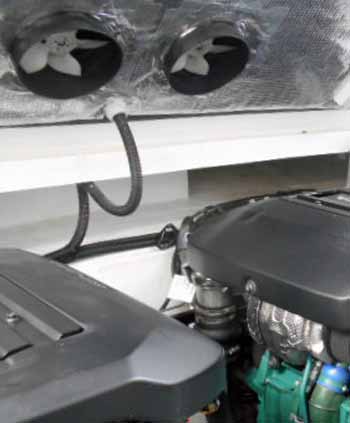 extractors fitted in hatch aft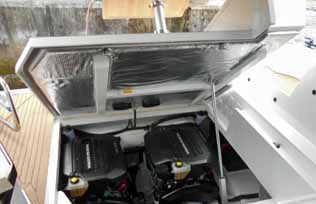 engine hatch (electric)

beautifully clean in here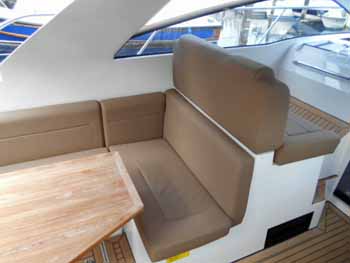 aft facing seat has gas locker under, forward facing copilot seat has opening window hatch to aft cabin,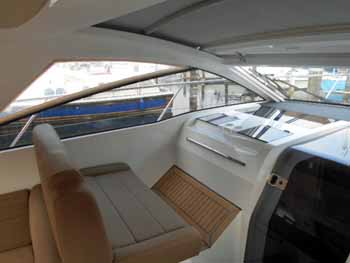 nice big chart area ahead of it, and when weather allows both this section and aft cockpit section of overhead
covers slide open and gives the boat awhole different OPEN TOP feel.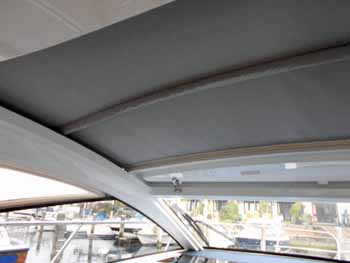 note the clips at forward end,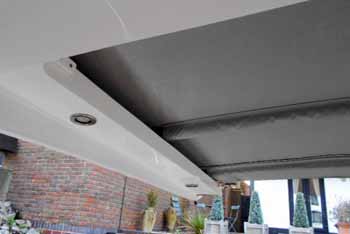 and aft section slides forward, Plenty of LED downlighters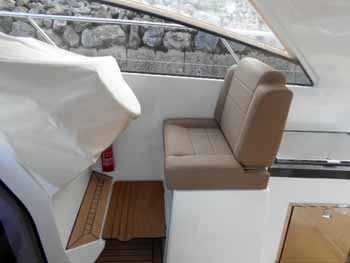 helm set to starboard, with drop down teak step, dash cover keeps sun off everything,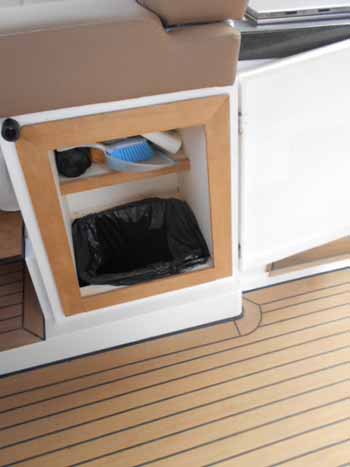 under helm locker has had a Good sized bin cut into the base, ( sealine would do well to copy this owner alteration,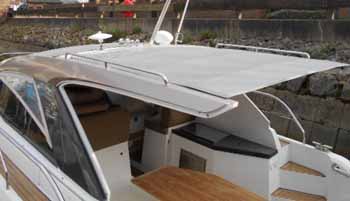 you can see that with this section slid forward it will become very much a "Targa" , open boat.
and in this climate, it is as important that in a minute you can slide it all shut again!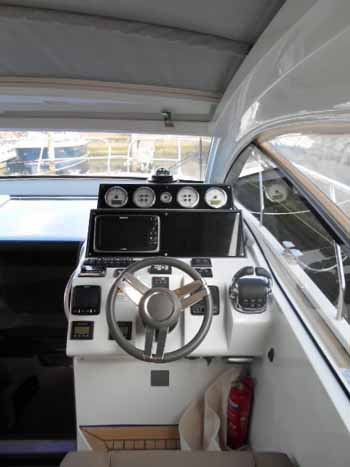 neat dash, and room to fit another screen should you wish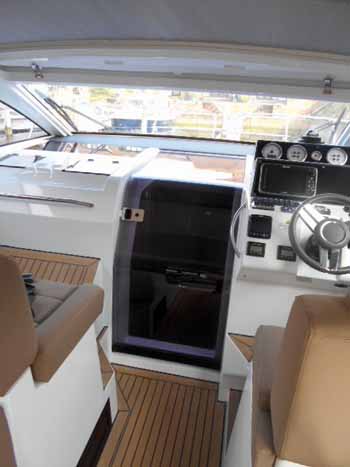 cabin entry via smoked perspex sliding door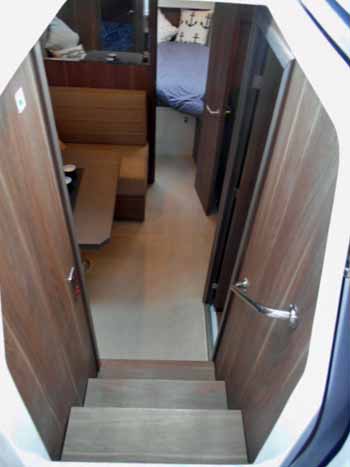 Washed walnut finishes , dinette to port, galley to starboard and heads starboard aft.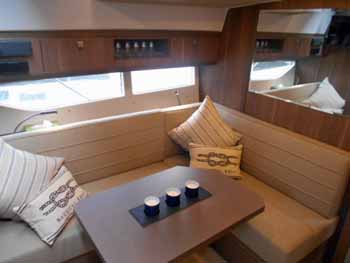 light floods in from the big side windows,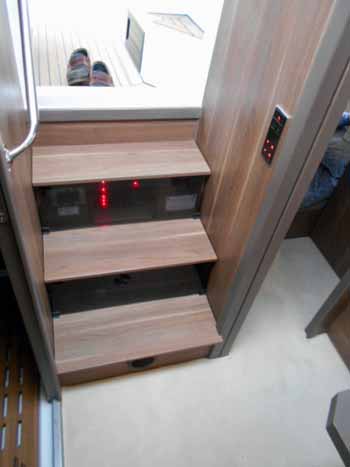 all domestic electrics under smoked perspex panels with Touch pad lighting switches, etc.
very neat, and heater controls to right of shot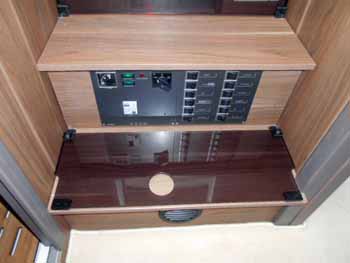 240v distrubution with breakers under bottom step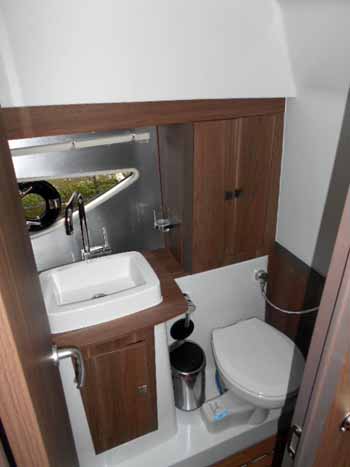 heads and shower aft to starboard, blinds fitted, S/S bin fitted, electric heads,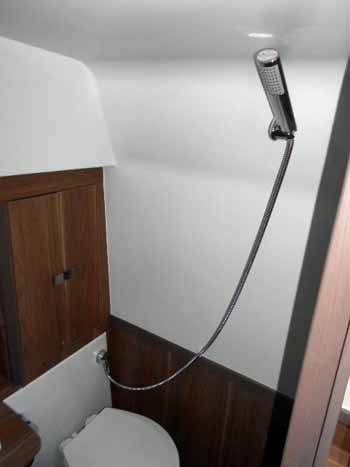 shower over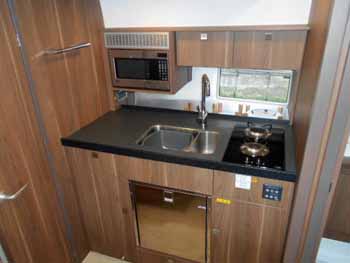 Galley to starboard, extra crockery stowage, two burner gas hob, microwave over combi, and fridge drawer under,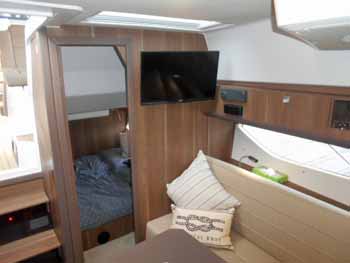 aft to port, decent TV , with Fusion stereo unit right of shot, door to aft cabin, Sliding screen over light panel over head from under screen area.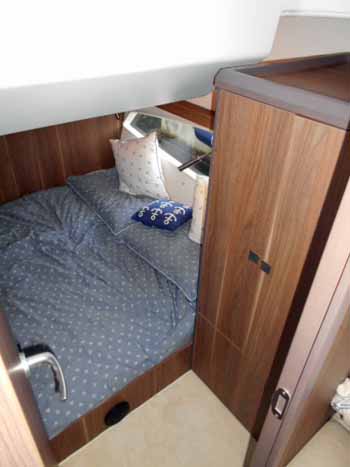 double berth runs across boat, great view out of smoked glass side window, heater outlet under bed,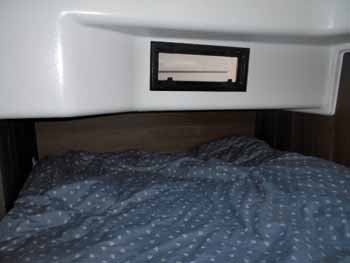 opening port to cockpit at base of bed, and services access panel at end of bed
forward cabin, two huge singles, shaped bedding included, huge light hatches overhead
hanging lockers each side, smart red/white reading lights,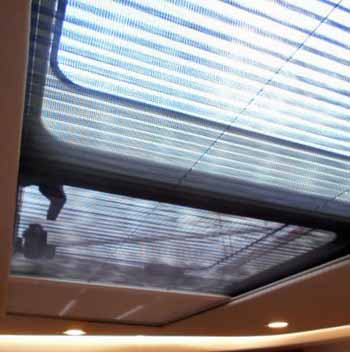 black out or insect screen pulls across hatches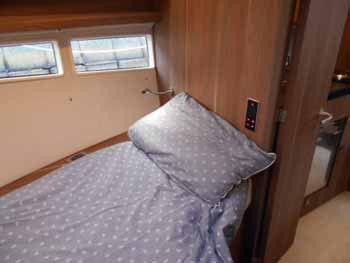 starboard bed head, blinds on big window area, and again touch light switches
and a few more ashore May 2018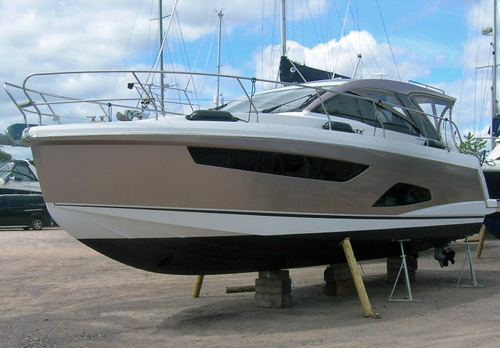 clean and smart awaiting re launch Mid May 2018..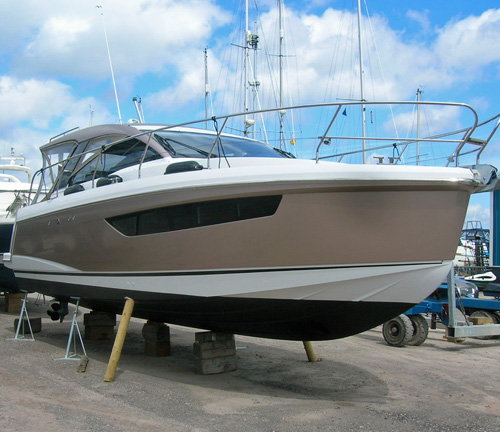 all new antifoul and a coat of polish..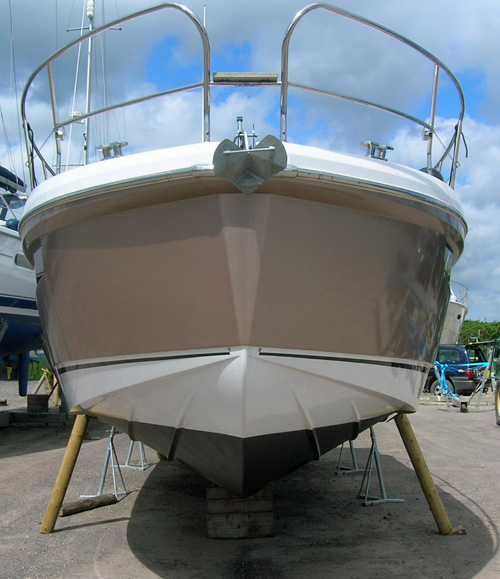 hull shine ..
distinctive stem shape..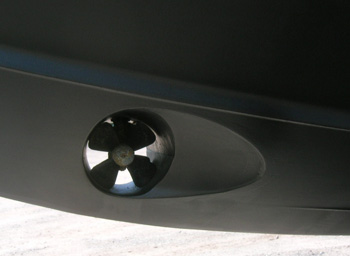 Bow thruster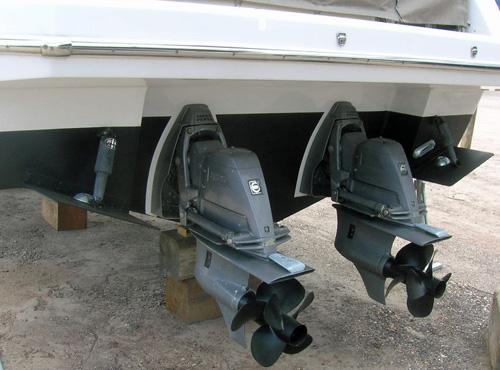 outdrives fully serviced and re antifoulled ( nice to note correct antifouling gap around Saddle)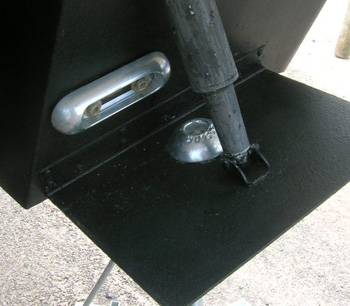 New anodes all round..