THIS IS RATHER FUN and a good way to get an Idea of her condition click this link to see a walk around 3D camera presentation,
https://my.matterport.com/show.?model=uczQK8f4hin&utm source=4
Bow prow, with Anchor roller cut forward away from stem, note deck switches local as well as remotes at helm stations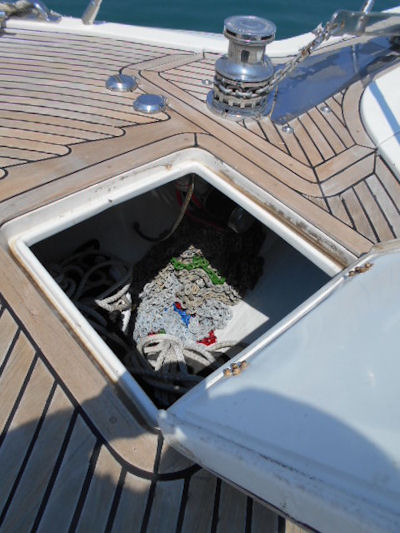 anchor locker and warp store, note cable is marked in paint at various depth markers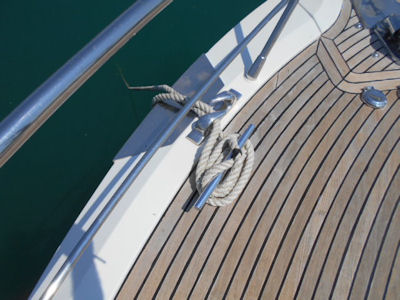 S/S wear plates at each cleat and fairlead.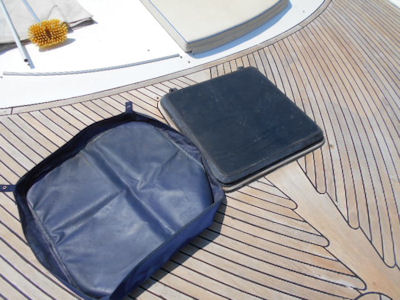 Nice king plank Teak deck overlay forward, this forehatch goes over forward berth, and has a canvas cover to protect from U/V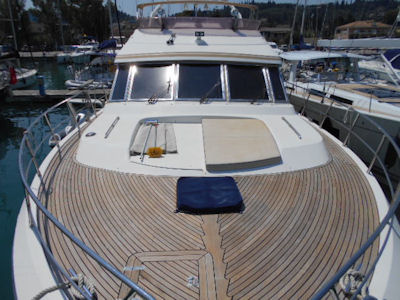 Great Rails , and note sun pad, just one cushion in place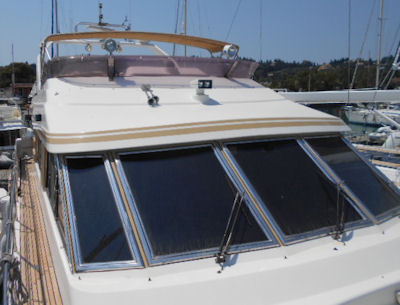 Solid Stainless window frames, with Double glazed panels, each flat so reducing any distorion to view .
poppers fro a sun net screen cover, also note serious remote search light, with two highre up on fly bridge,
all faded Blue decal stripes have been renewed recently with sand coloured wrap. together with singage good professional job
side gate each side midships with break in top rails,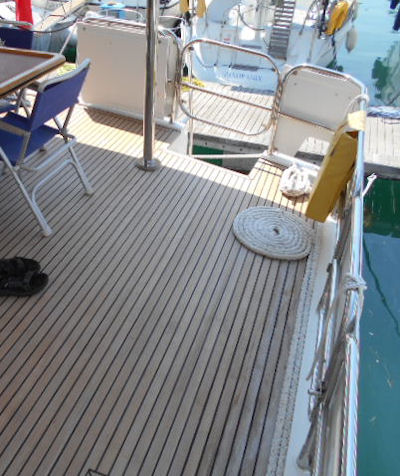 looking aft starboard port transom gate to teps to aft platform, side gate right of shot, Teak all good and flat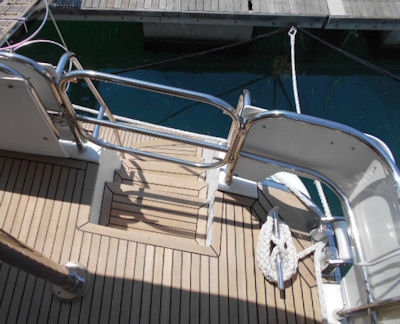 aft step/gate to aft platform,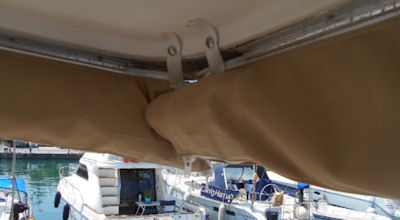 New curtain set just fitted, in neat overhead pouches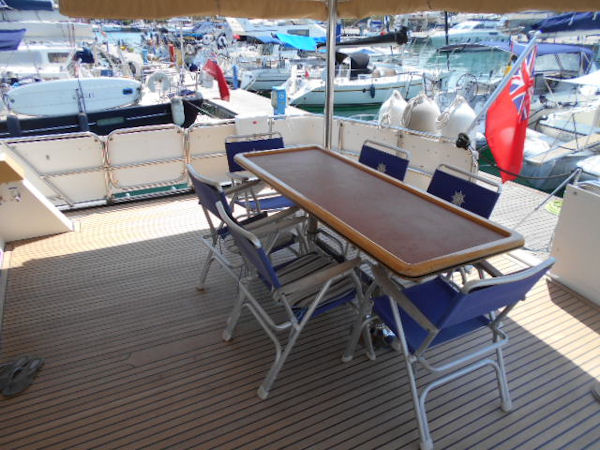 what a wonderful Alfresco aft deck, fixed table has height adjustment,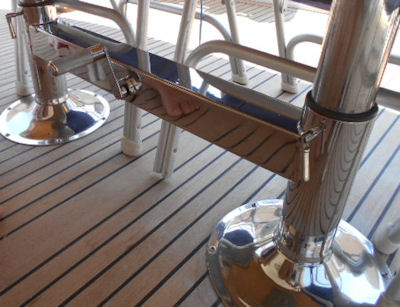 nice engineering.
aft entry doors, double sliding Stainless door set, and flybridge access steps left,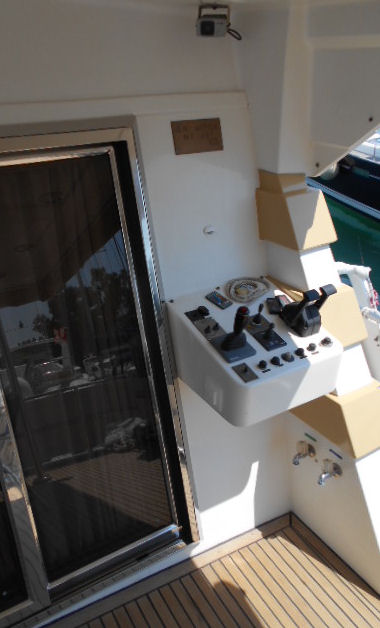 aft deck control station, can be handy when reversing in if short crewed..note fresh water tap points under, microcommander electronic controls with Joy stick steering here. remote
panels for aft LED lighting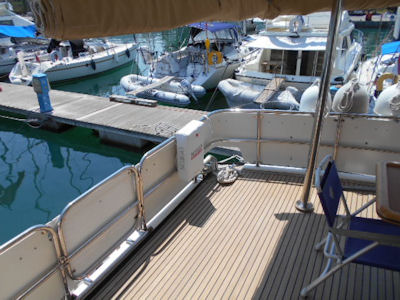 looking aft starboard side,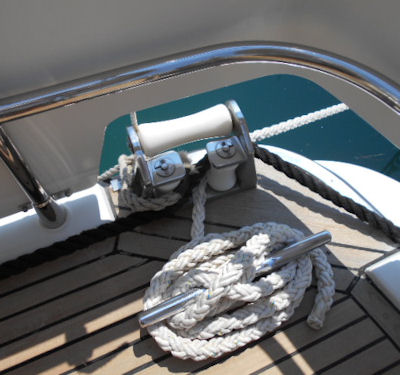 bothe aft quarters have these rather nice roller set ups,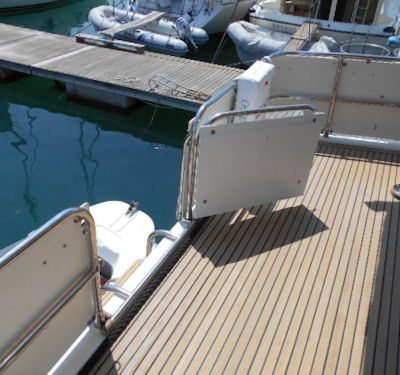 side gate open and then drop in side boarding ladder ( either side of boat)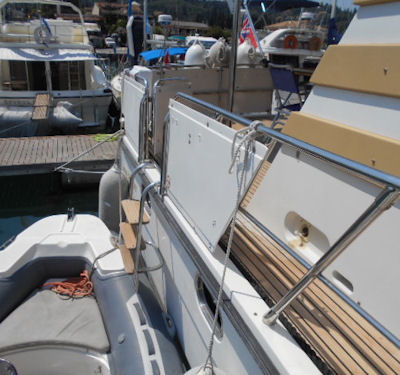 Makes tender access easy.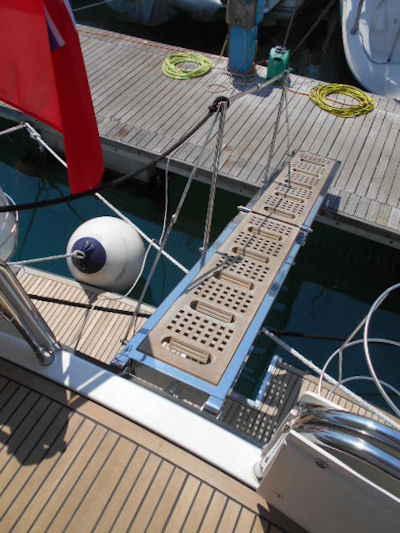 Electric passarelle aft,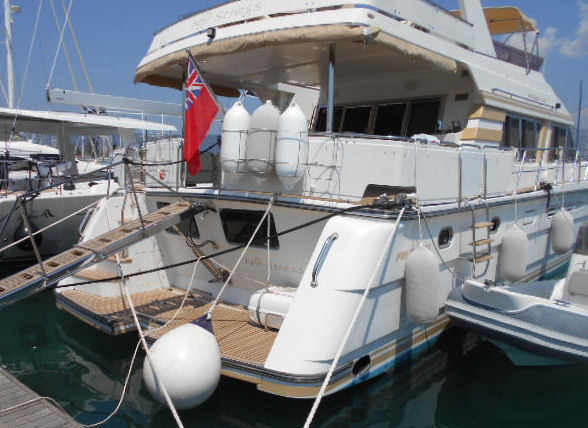 general arrangement aft, wonderful big overhang completly covers aft deck area, note two hatches,/ windows to aft cabin,
life raft in cradle on aft platfrom,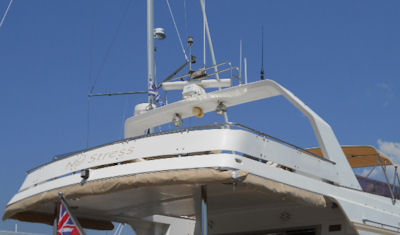 Radar arch with all antennas etc, over upper aft deck,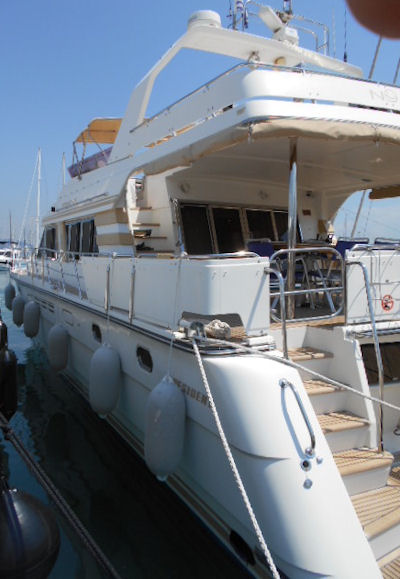 port side,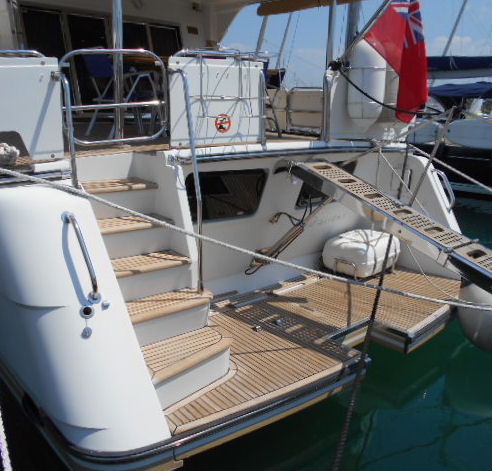 the passarelle folds in half then drops out of the way into the cut out of platfrom, fresh water filler left is open..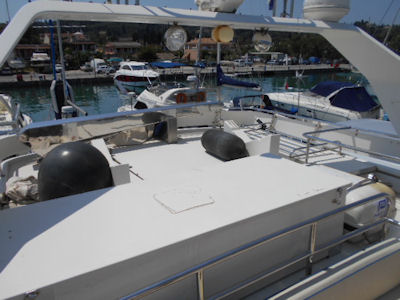 aft upp deck,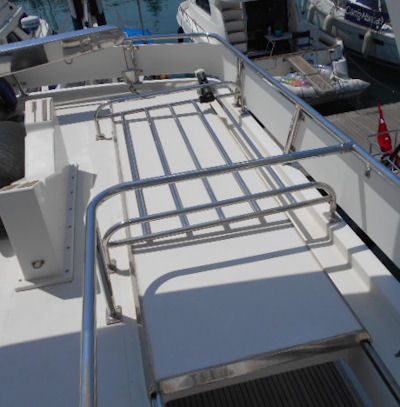 long hatch on rails covers the steps up to fly bridge, show here slid aft, with a storage rack built over it so its not wasted space, note left the dinghy chocks,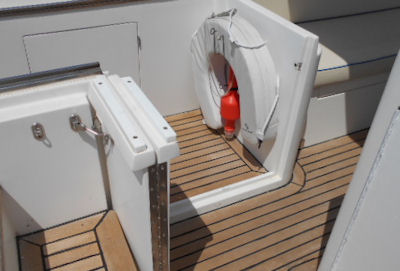 at top of steps there is a folding solid door, so the flybridge can be totally safe for "Little People"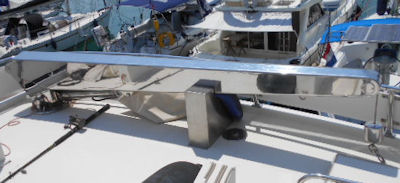 Decent size Crane.. Not suer of capacity as yet, but in the past they have had a 3.1 m Avon with 15 hp two stroke outboard up here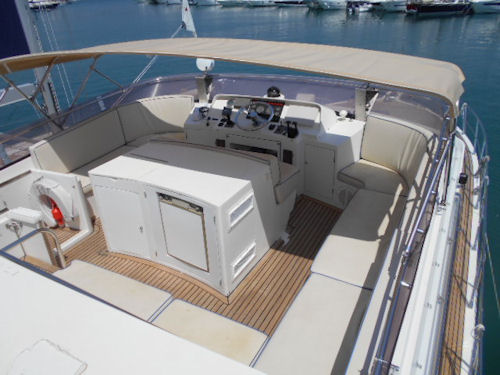 Wonderful socialspace up here, new bimini canvas, wetbar, fridge etc, seating for a party of 10 with ease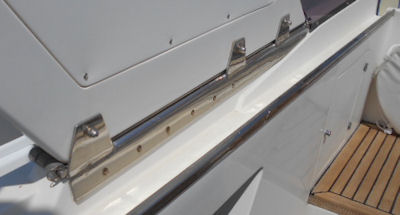 Radar arch attachment, Can be removed if required to ship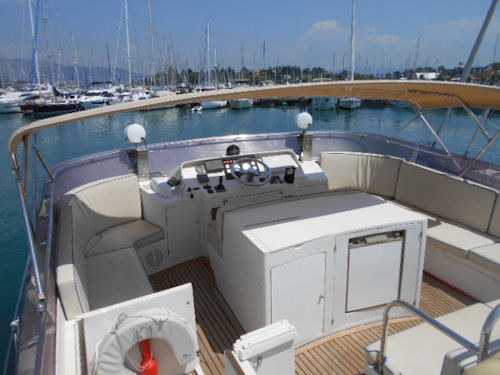 The two searchlights must be fun/ useful at night..
sink with lockers under, also fridge under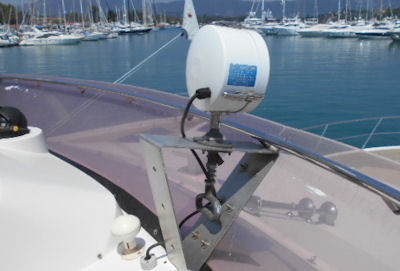 Proper lights! big return screen up here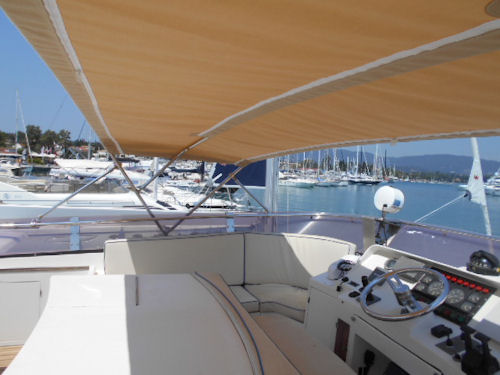 new bimini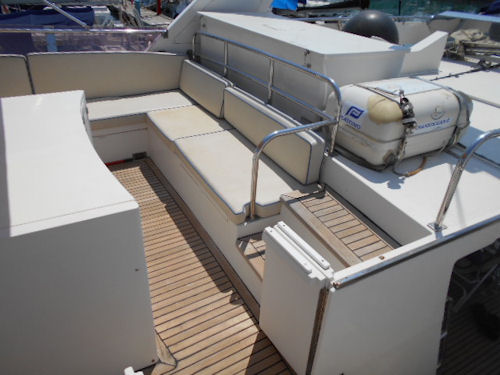 aft end, Note big locker box on aft deck with another liferaft
Now below;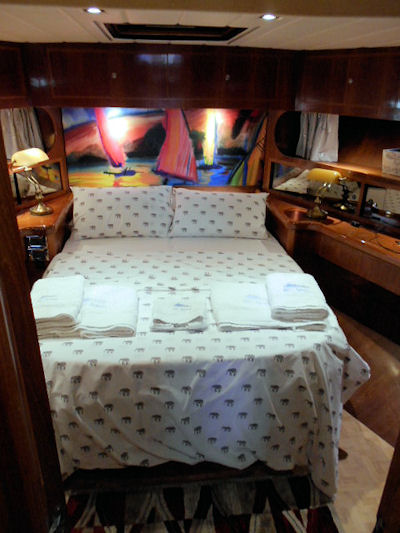 Fore cabin, Beauitfully appointed, and the coloureful artwork is fun, Lockers everywhere..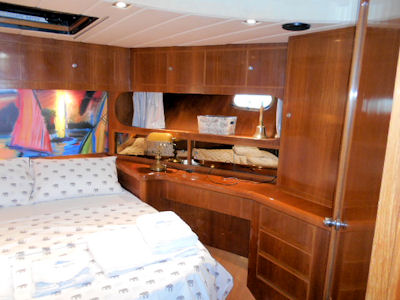 High Gloss finishes, endless lockers, and storage, Door right of shot to Ensuite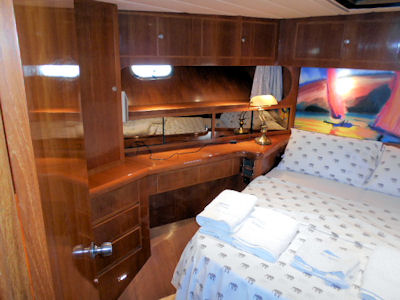 dressing unit left behind door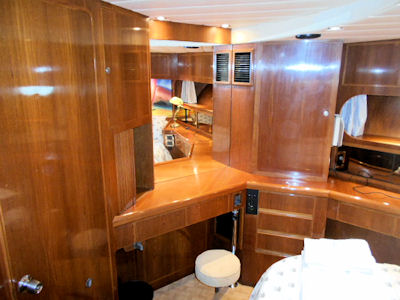 note aircon outlet, the owner kind let us stay aboard and we used this cabin, the 37 Degrees outside was dealt with
and we had a very comfortable 20 degrees in here.
for deck escape hatch,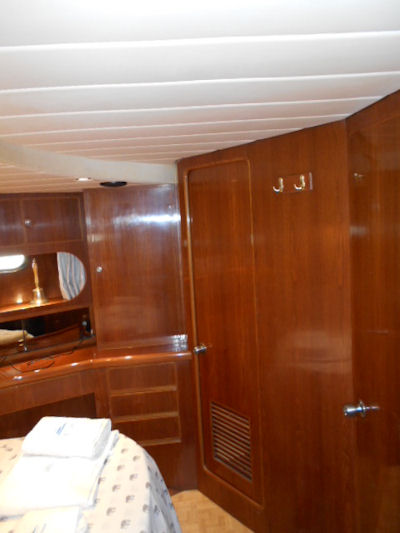 door to ensuite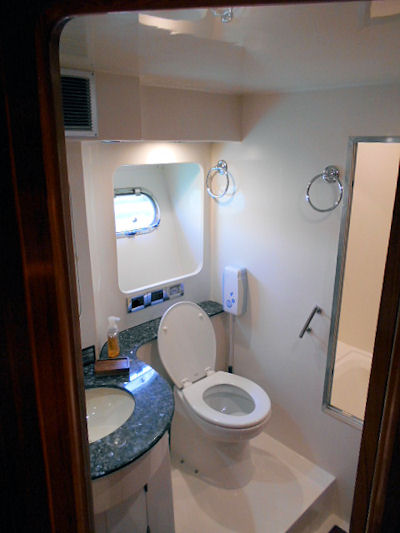 electric toilets with Head treatment system, and beyond into a decent shower space (and a bath)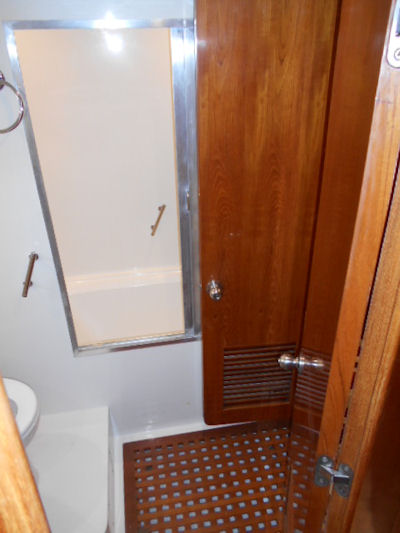 door in from corridor also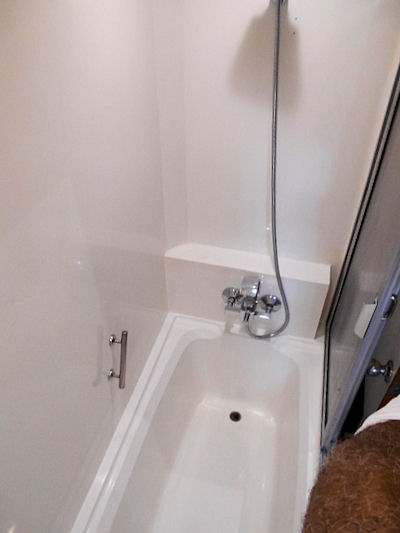 you know you are ina 60+ foot boat when there are two baths aboard.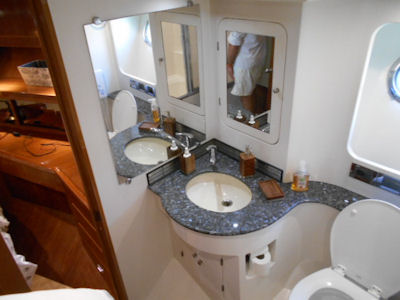 nice corian worktops, and again lots of storage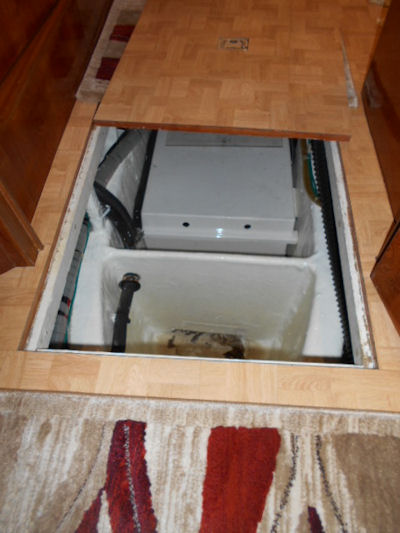 easy access to most services under central corridor floor,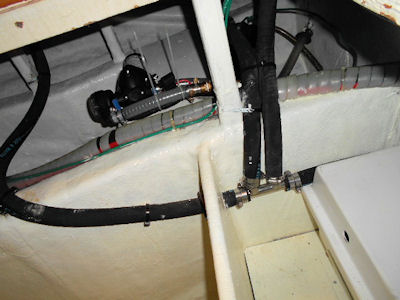 recent pumps and much replaced pipe works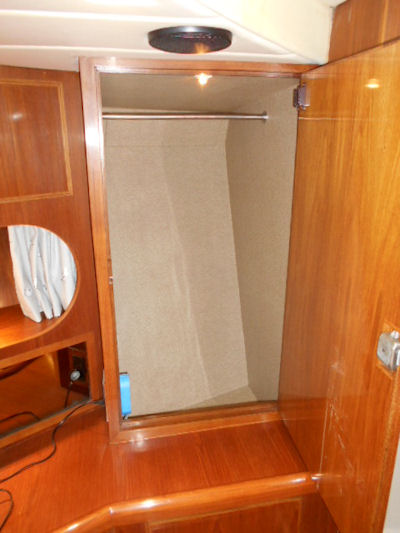 deep self lit wardrobes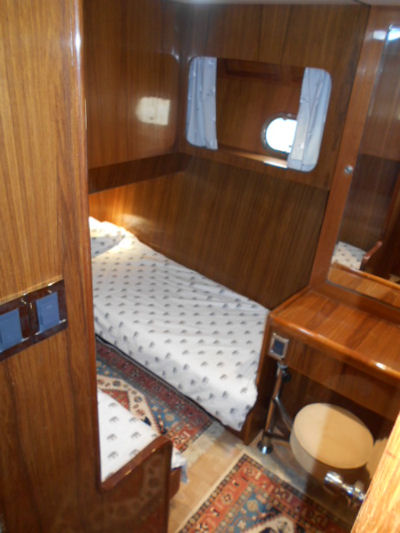 port side guest cabin, with dressing unit, pull out stool etc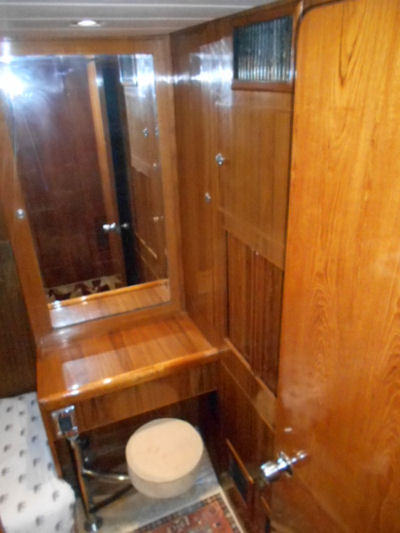 air con at top,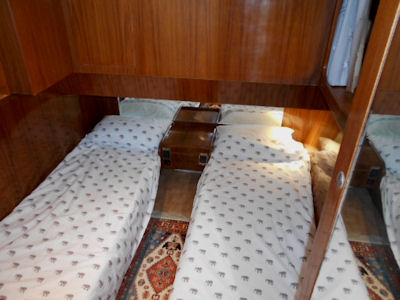 two good singles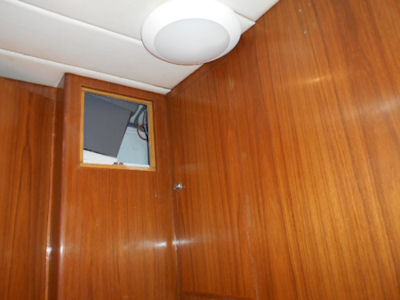 access under dash console
more lockers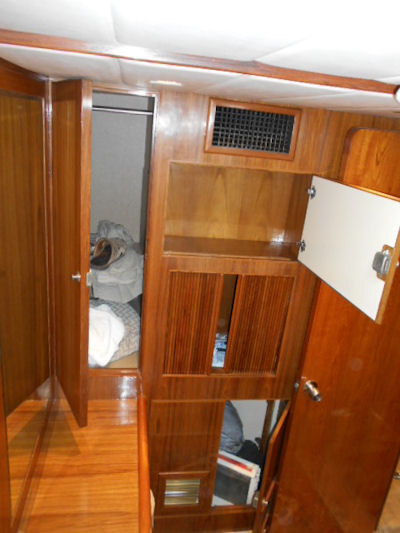 forward end, LOTS of storage,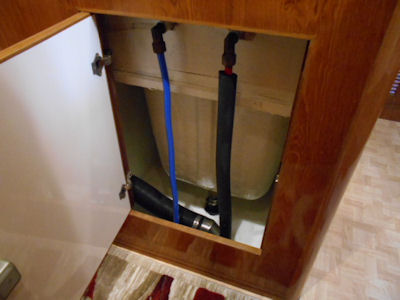 access to back of bath plumbing, lots of good access again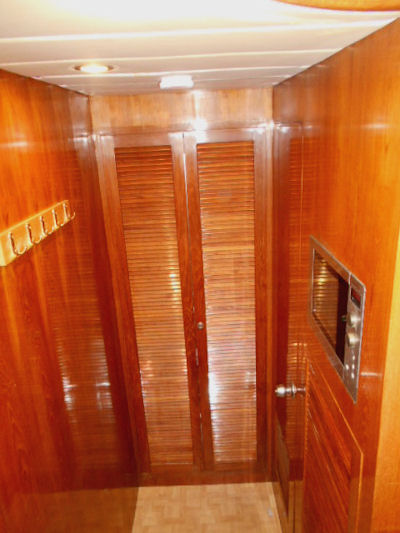 lower galley store/ pantry area, and microwave right of shot,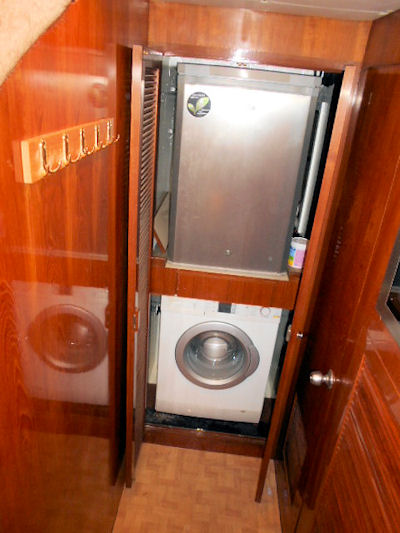 with fridge and washing machine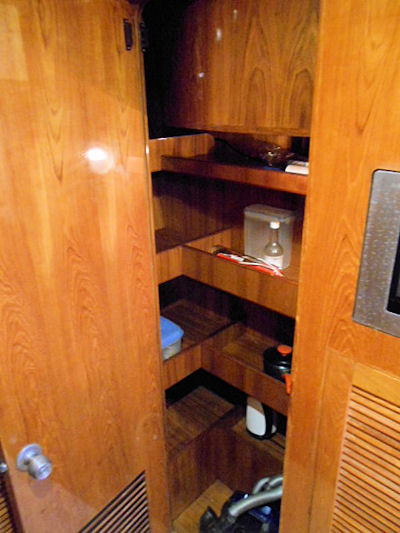 decent pantry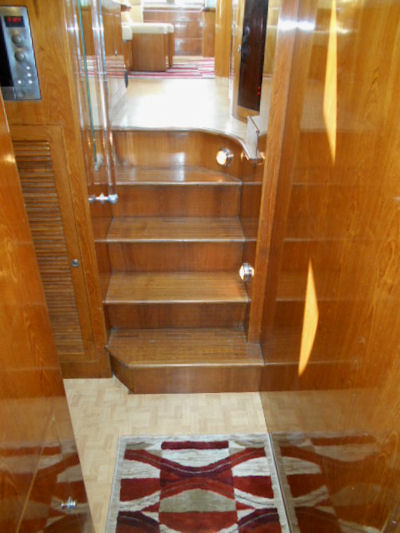 steps up to wheelhouse/ saloon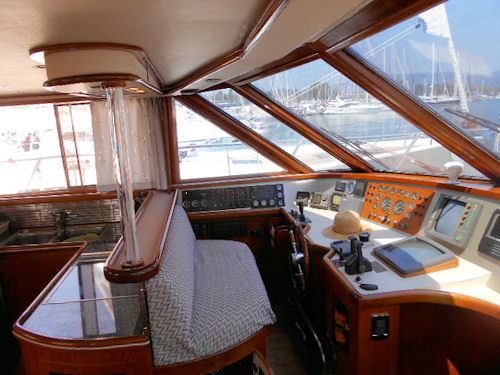 internal helm set to port,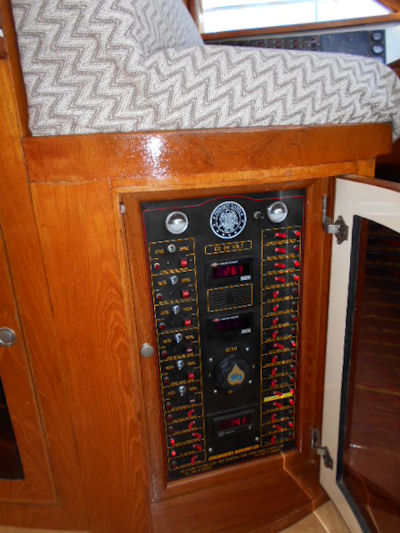 all domestic switches and breakers one for 24v systems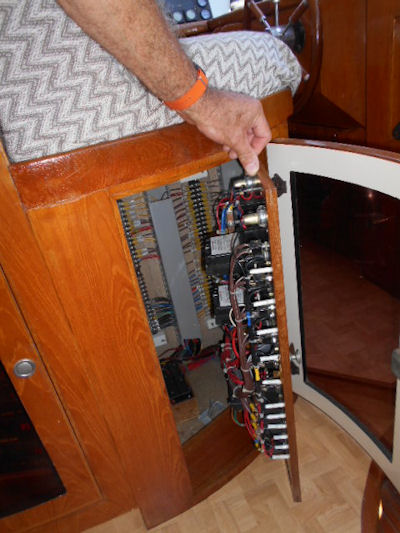 with hinge out access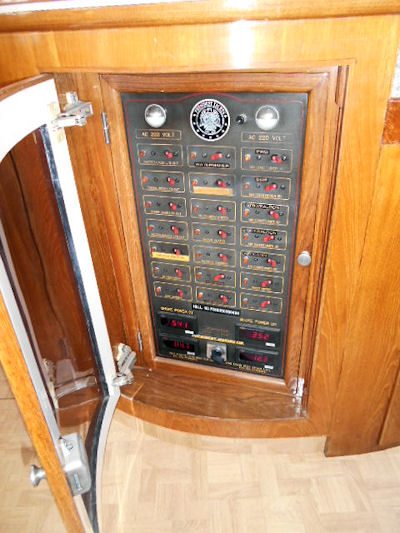 one for 220V systems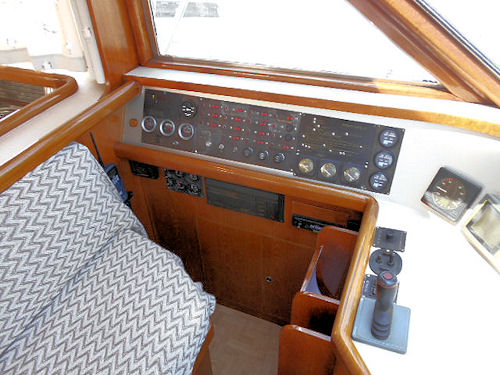 ships systems all well laid out, and generator start panels note joy stick steering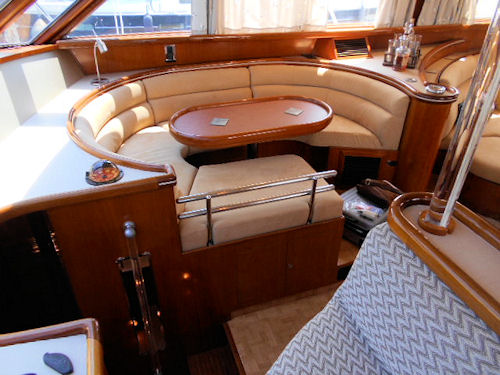 lifted small dinette to starboard with electric table adjustment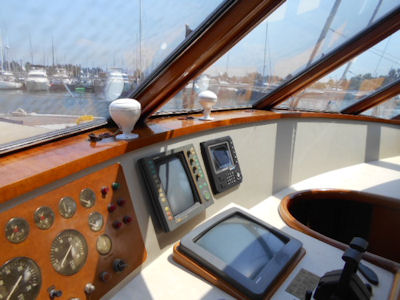 double glazed glass.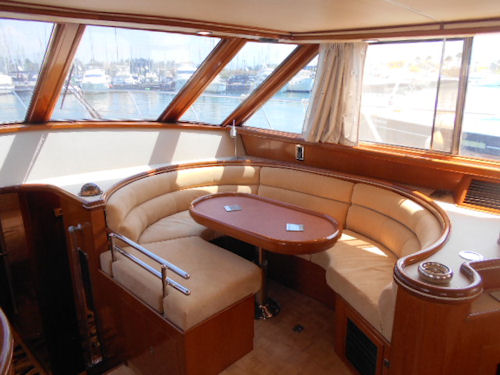 better view, lovely laminated curves in timberworks ALL new upholstery 2018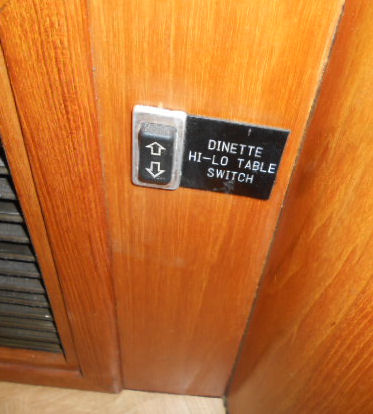 table control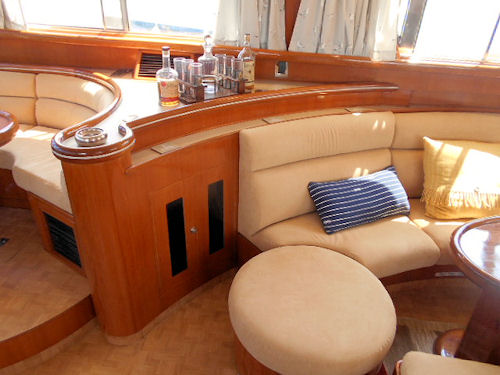 further aft, drinks, locker, and front end of huge sofas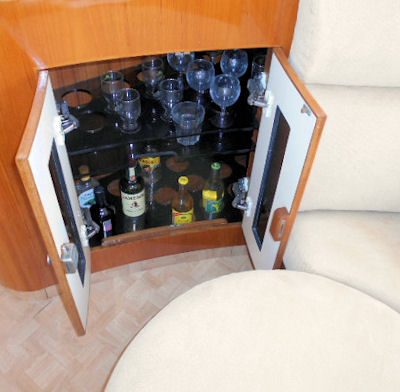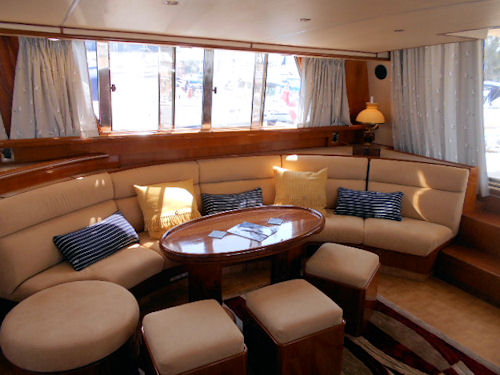 superb comfortable area to sit and tell stories, the new upholstery is very smartbig opening windows two each side, with sliding S/S mesh insect frames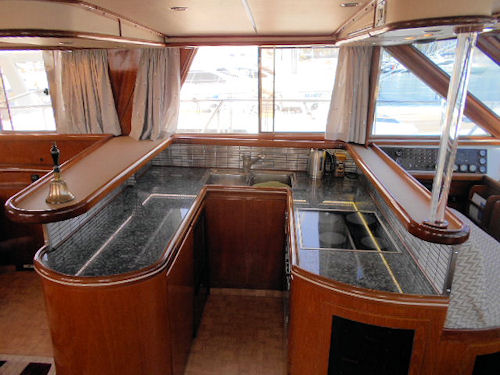 galley "Up" aft of helm,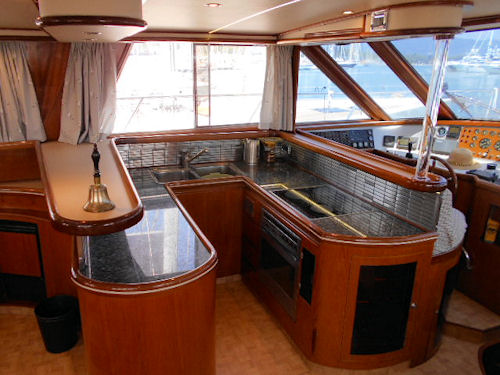 again beautiful details and curved Timber moulding edges are pleasing all electric cooking ( no gas aboard)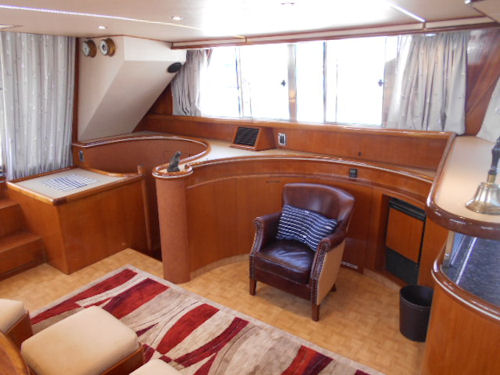 saloon port side, ice maker next to loose reading chair, and aft cabin access stairs left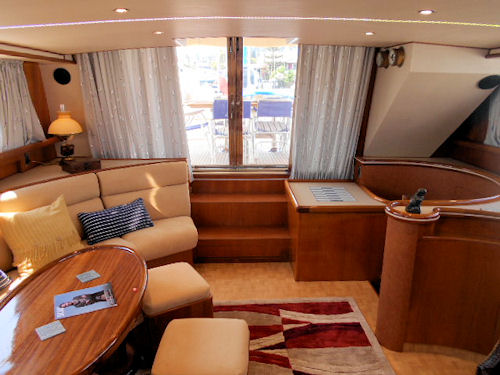 cabin entry/exit, One LED full width light strip visible, there are several, and all bulbs in saloon are now LED,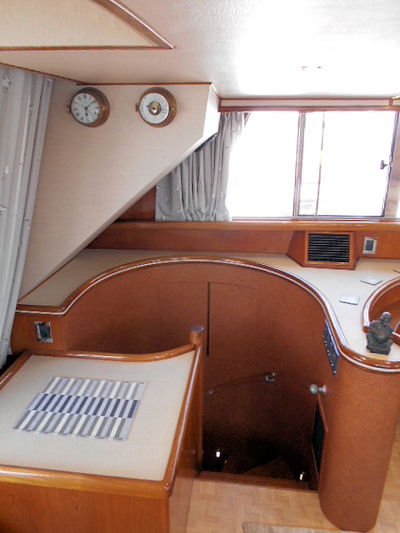 more curves,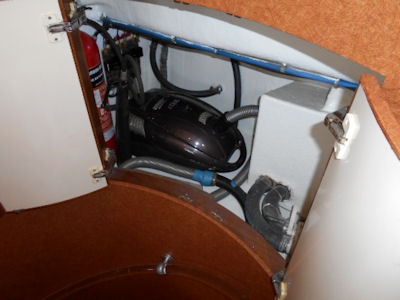 more good storage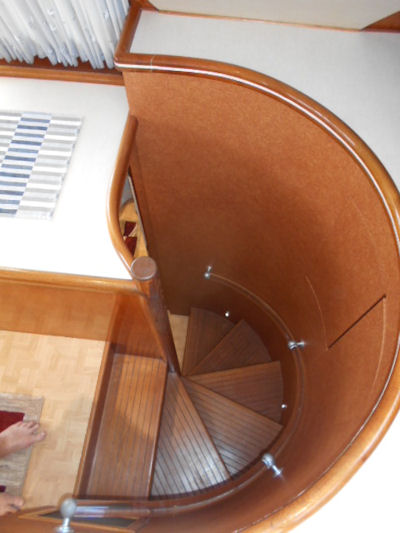 curved hand rails in solid Perspex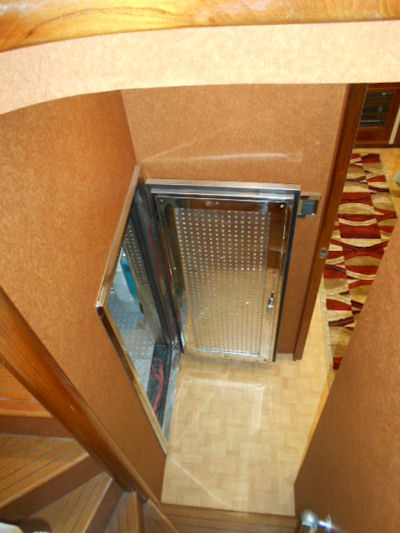 engineroom access fire door, left, cabin to right,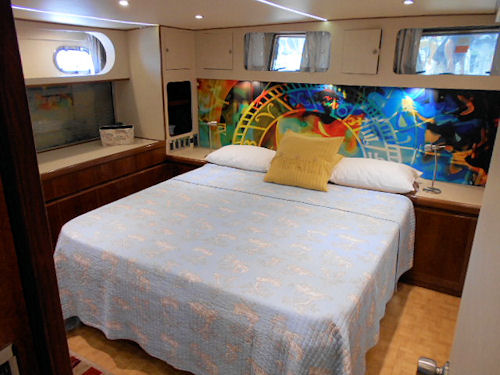 HUGE bed, and great floor space..bright and light ( Note down the centreline a New LED strip built in to headlining,)
There are all sorts of rather nice "Mood Lighting" combinations with low level and concealed lighting etc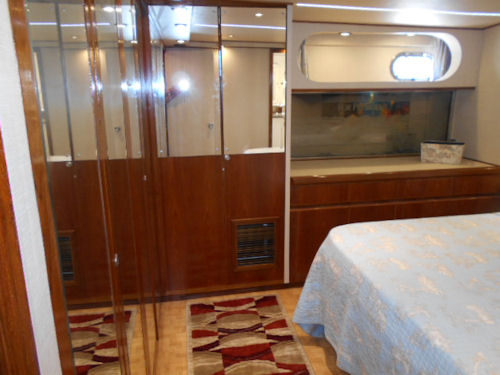 and enough good lockers and stowage to live on the boat for long periods should you wish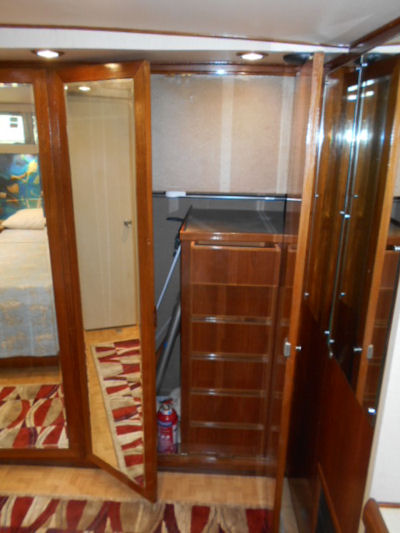 drawer unit inside one area,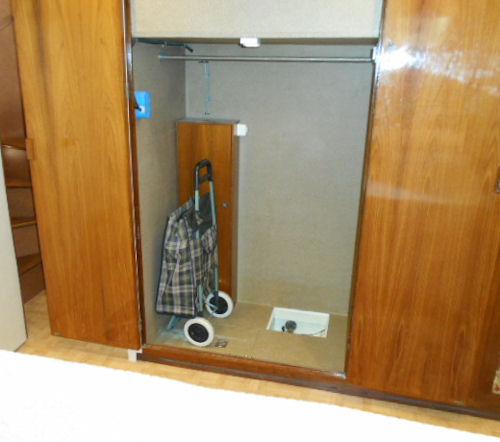 huge hanging space
under floor access to water tank inspection hatch and servcies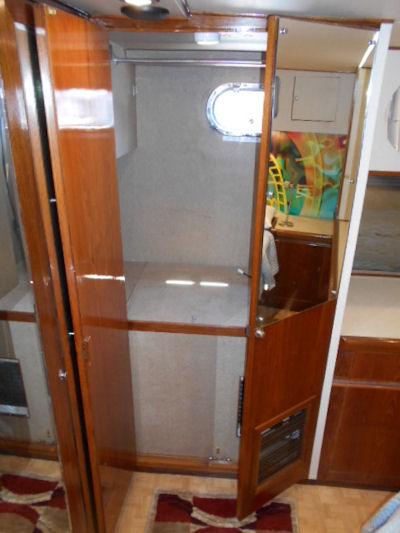 starboard side, more hanging rails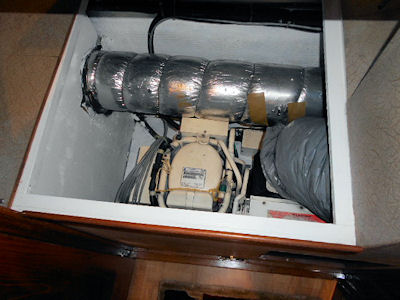 with air con plant access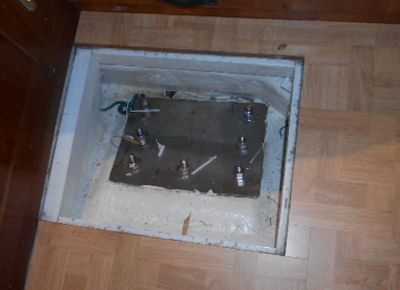 "P " bracket Palm bolt access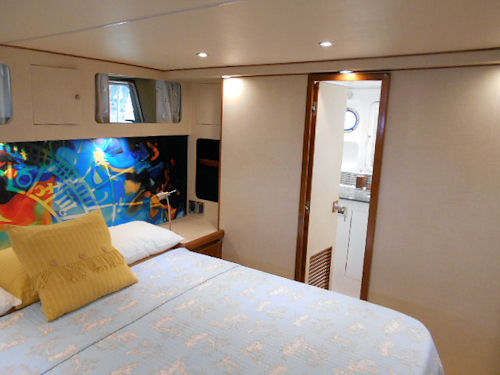 heads ensuite set to port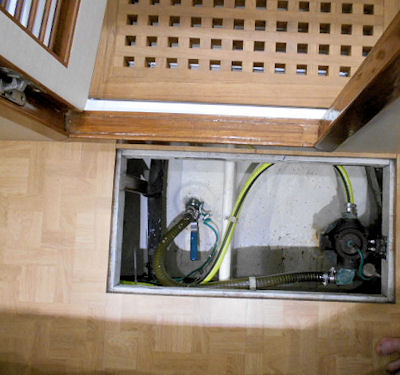 under all flors appears clean and dry .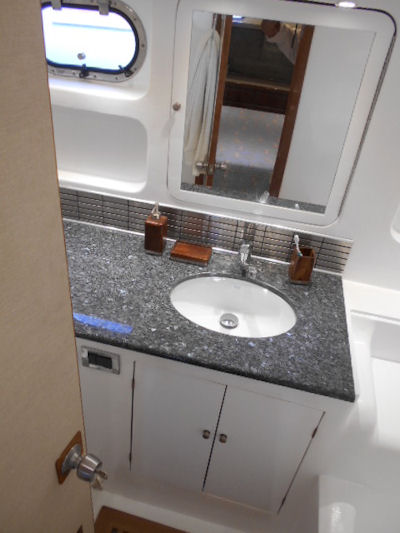 more smart corian,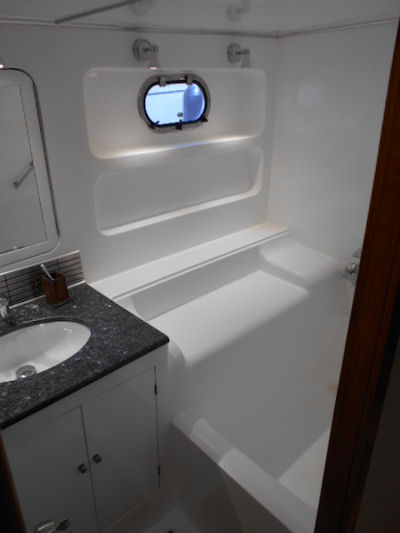 recent lighting , mostly leds through whole boat now. big moulded bath right of shot with shower over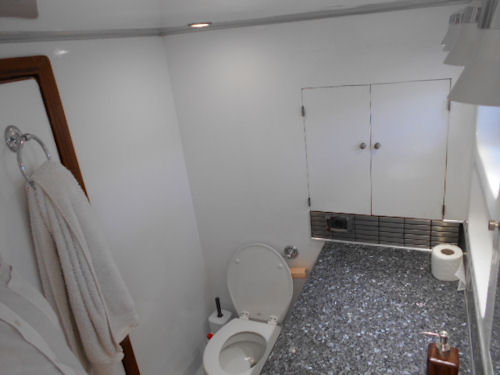 aft face,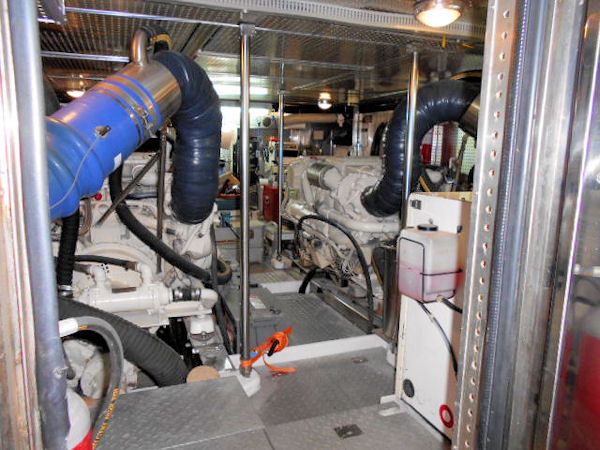 and businesslike engine space, excellent lighting both 24v and 220v systems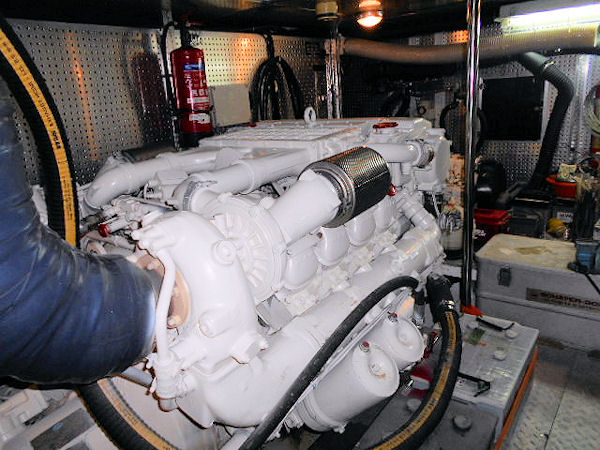 port, old batteries just being removed, on floor by engine, all new 2018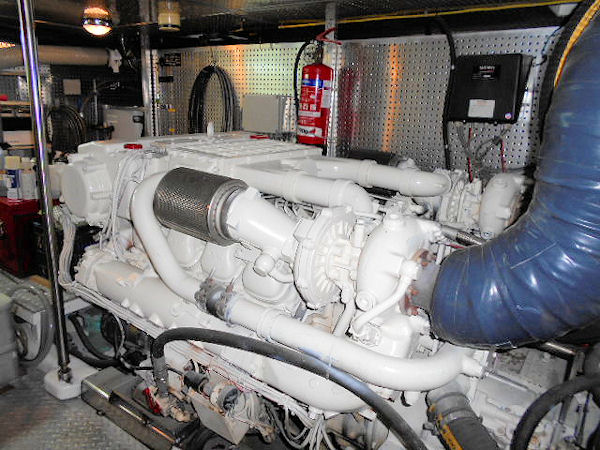 starboard, full service to both engines 2018, fire system all up to date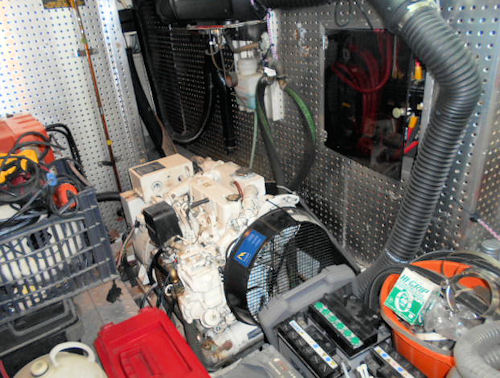 smaller 6 Kva Mastervolt generator port front, just being serviced,,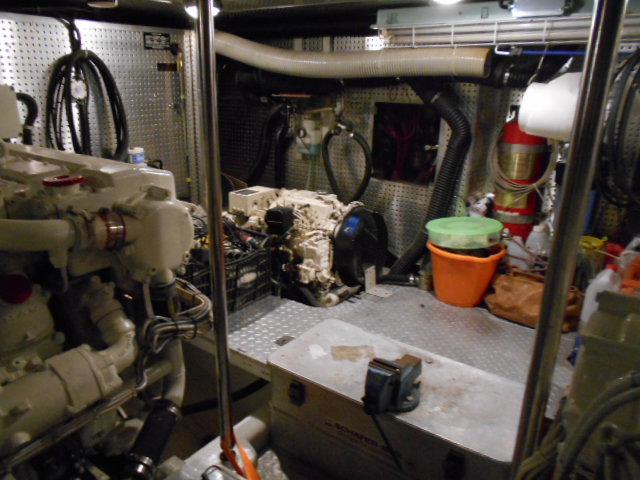 sensible work space with ample space to work on things down here when needed
starboard front of engine space,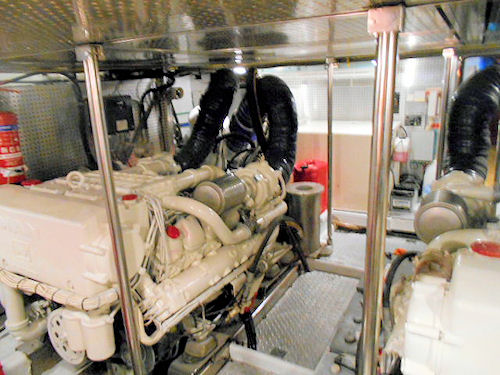 looking aft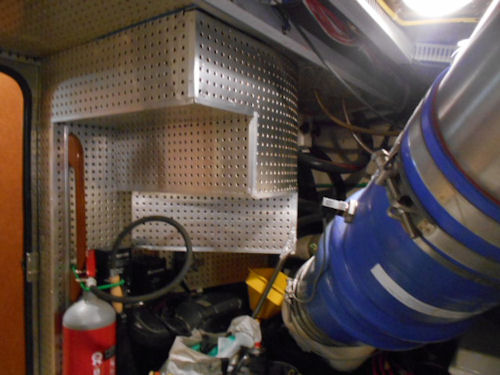 aft end just inside door, neat sound proofing work, note temperature sensors on exhausts,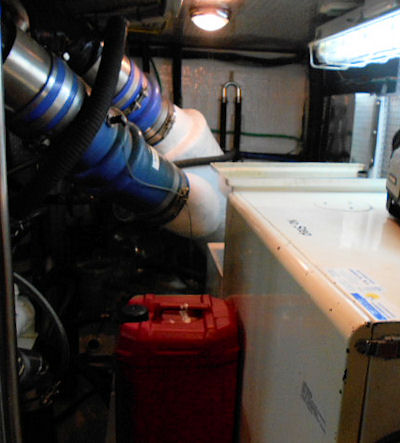 Onan 16 Kva generator sits across aft end of engine space
note the twin exhausts ( V8 engines) couple together before exiting, ( Mostly under water)
Old running shot BEFORE her recent refurbishment.