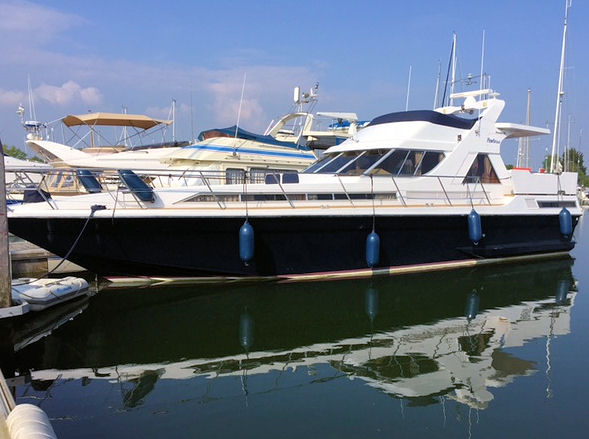 Rather Nice Owner supplied shot, May 2019 .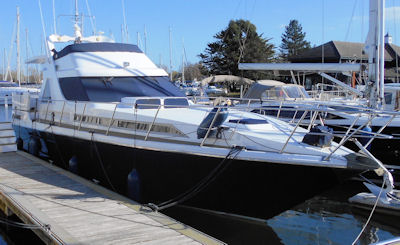 screen covers are kept on to reduce fade to her smart new interior,
fine entry, nice decent sized Fender baskets.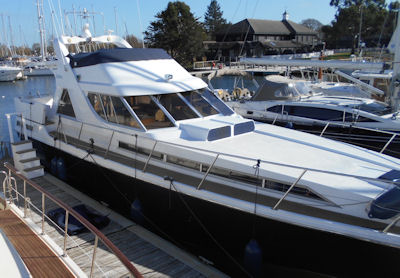 screen cover off, elevated view shows off her Recent TecDeck better,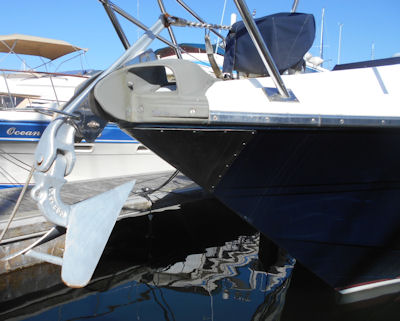 S/S cheek plate keeps Stem protected, from her Plough style anchor, rather nice custom stem roller, fitting with fairleasd built in,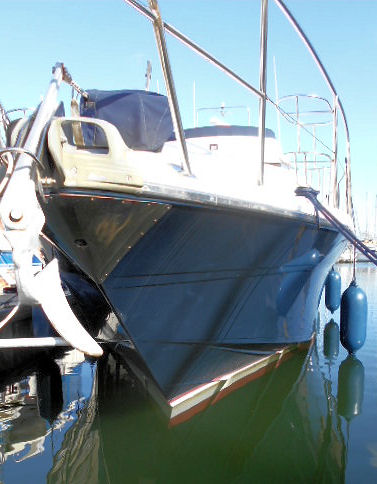 clean lines, good deep chines and knuckles shows her pedigree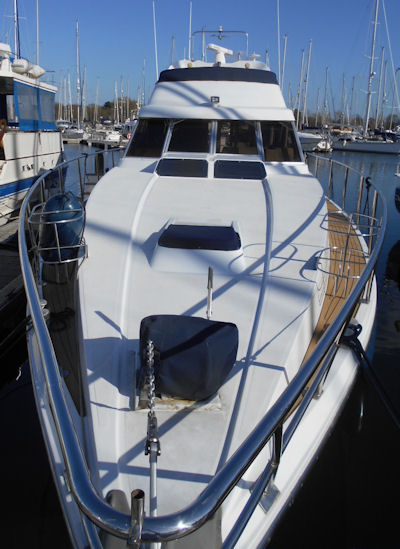 rather exaggerated at this angle, but a wonderful shape none the less, note windlass cover, fordeck hatch covers, socket for centreline forward flag staff..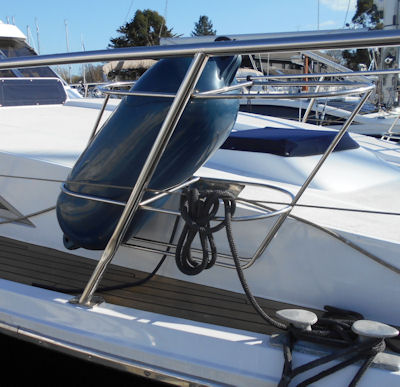 FULL recent set of fenders that fit the decent baskets, note again good size deck furniture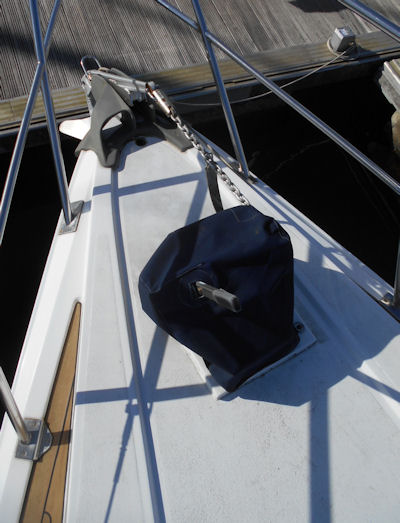 Top view , Nice to see a decent swivle on the anchor Cable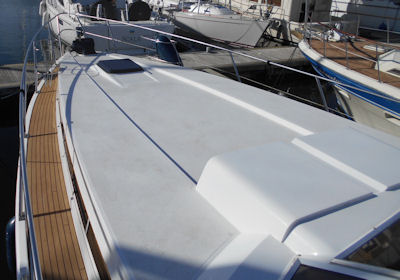 clean deck forward, the Tec Deck does look and perform well.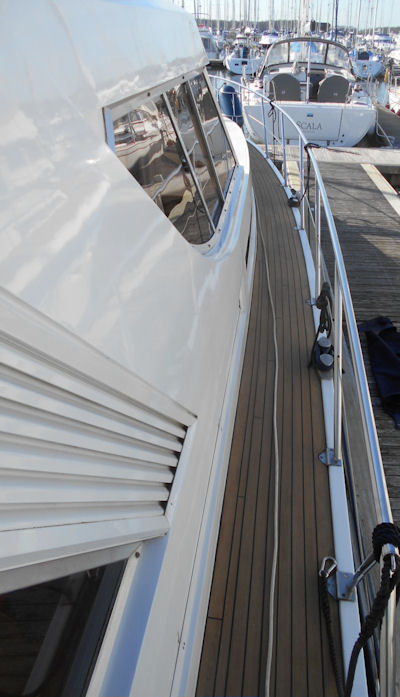 coachroof sides are in good order, as you can see from the shine,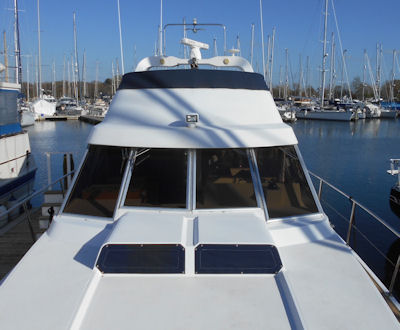 remote searchlight ( recent) three wipers, canvas covers to forward facing vents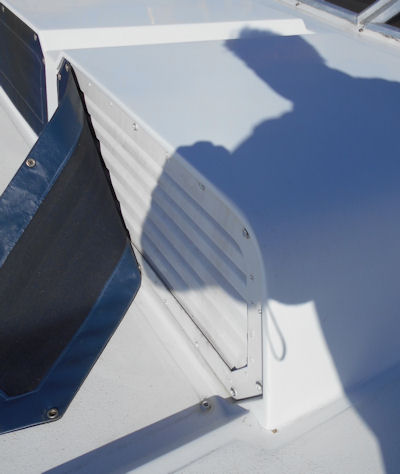 Extra air taken down to engine space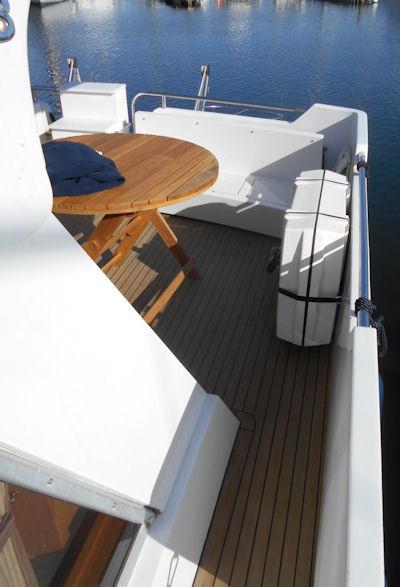 port aft, seats notice with no cushions shown, and life raft ( probably out of sueful service date)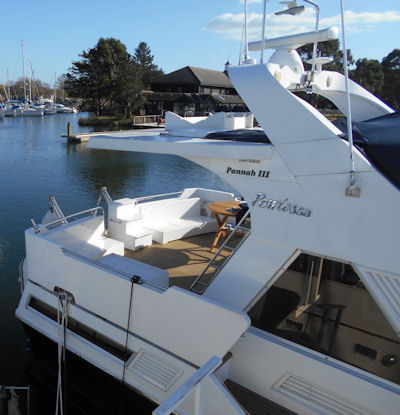 elevated view of aft deck from boat next door, Timber overhang has a dinghy cradle on it, note loose boarding steps aft travel with the boat,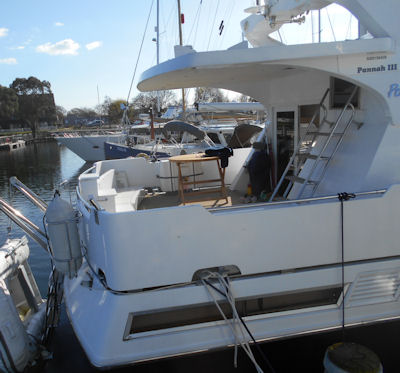 fender baskets aft, davits original, (Dinghy not included,)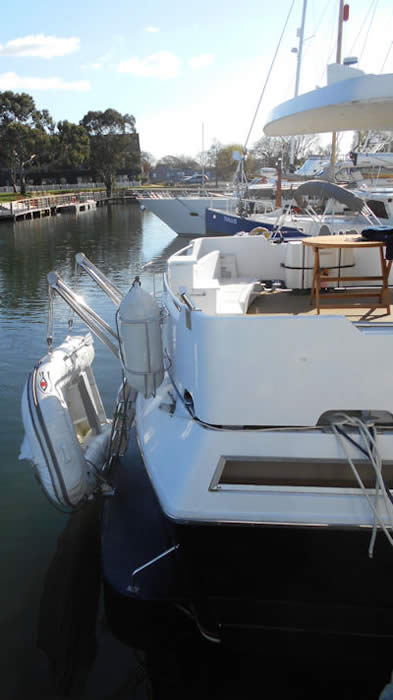 better view of aft platform, with drop down swim ladder inside of dinghy,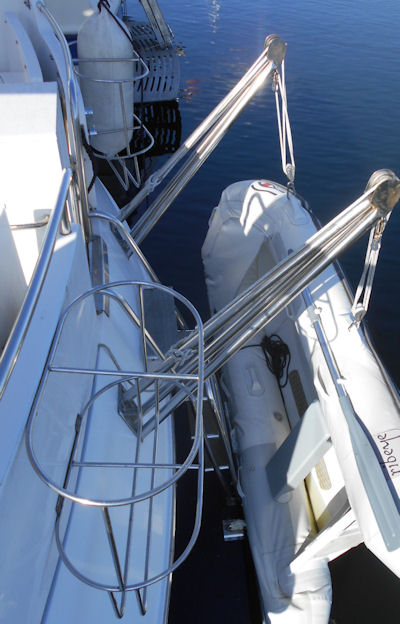 even better view of davits, and fender baskets aft,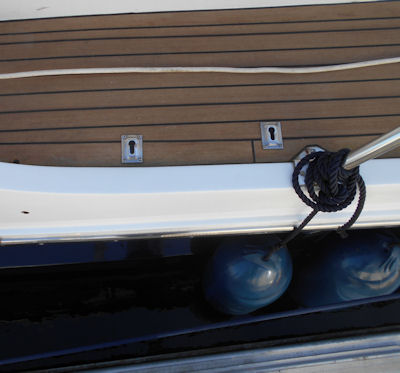 keyhole fittings for side ladder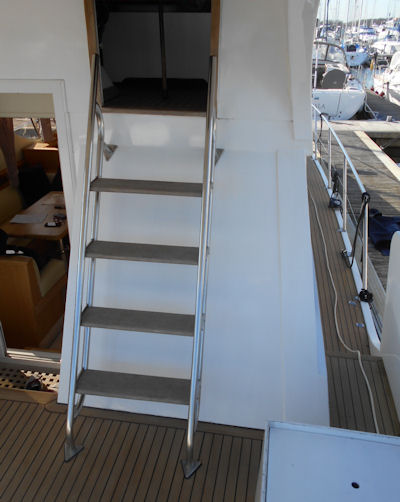 flybridge access steps, and loose locker boxes right fo shot ( similar on flybridge)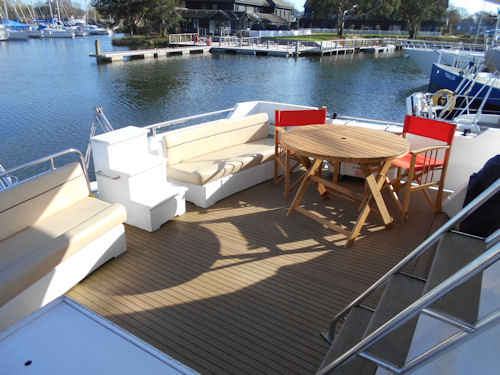 fabulous entertaining area out here, new vinyl cushions and smart recent teak folding table and four chairs included,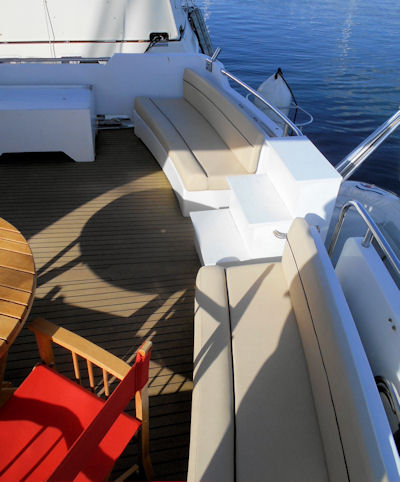 lockers under seating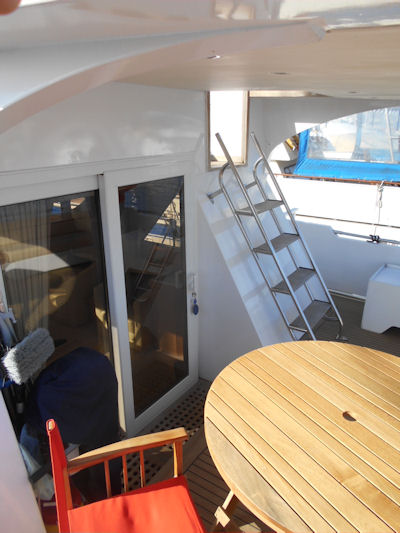 recent lights under deckhead, vertical sliding door entry to saloon,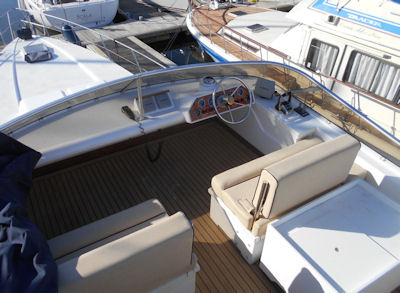 smart new seating aloft as well, new dash, recent instrumentation etc all very nice,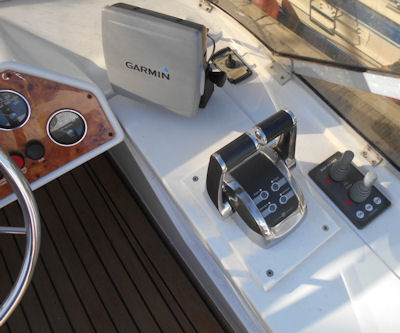 note the new Dash, recent Garmin plotter, Recent anchor windlass controls, VERY recent throttle / gearshifts, from Vetus 2017
RECENT Thruster controls bow and stern, and there are some remotes you can hang round your neck,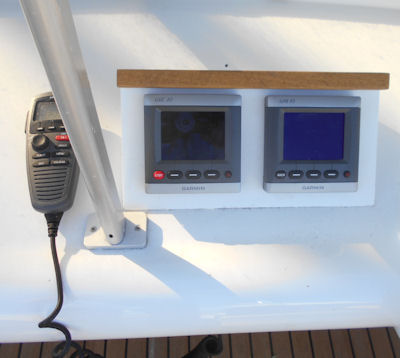 Recent Log echosounder, as well as VHF hand set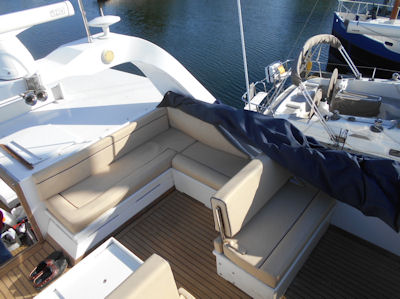 portside cover just rolled aside,, ( lazy Broker), The forward seats can tip and so face aft,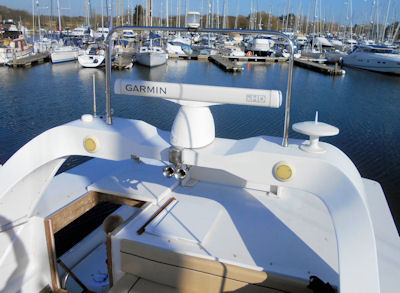 led lights, Wonderful Open array scanner, note TV omnimax scanner note also the drop in panels as wash board to help make fly bridge safe for kids ( well all )
flybridge locker box is handy,
Right now from inside, starting forward,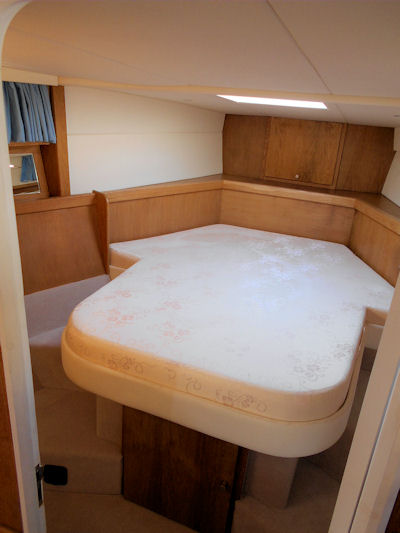 all new forward cabin, recent matresses, smart new linings, etc etc forehatch over,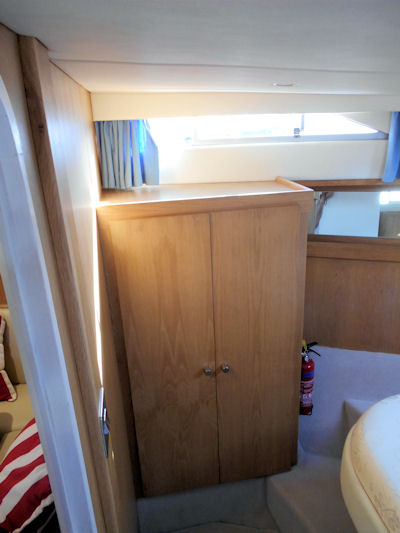 cupboard / Wardrobe set to port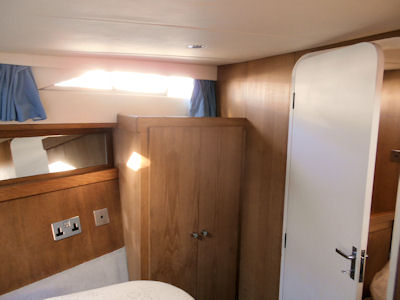 Looking back at cabin entry, and another wardrobe set to starboard, new face plates, and tv point,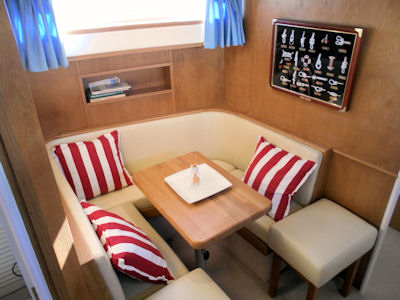 snug dinette set to port, note the two smart loose stools, the table will drop and infill,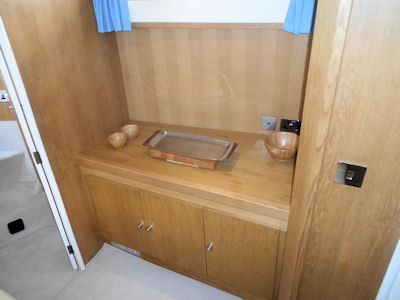 Starboard opposite dinette, nice storage side unit, The pale Oak finish is very light and warm and with the nice Satin finish it looks as new.
drawer unit built in...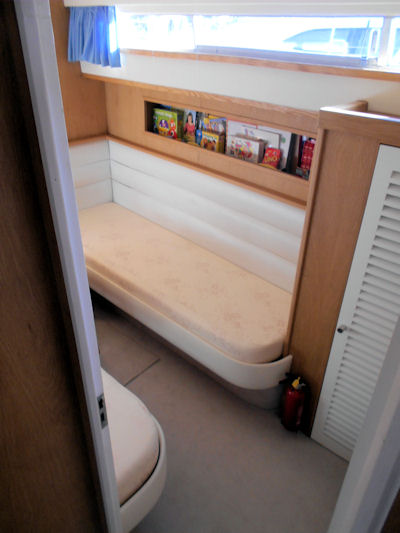 port side cabin, looking aft,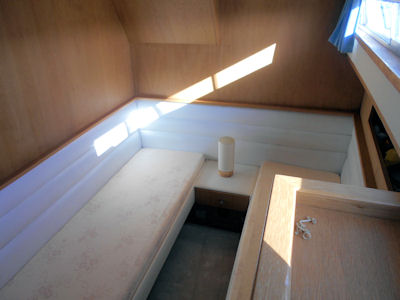 looking aft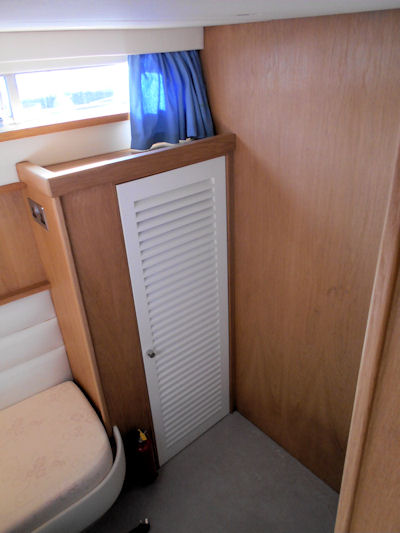 forward outside, hanging locker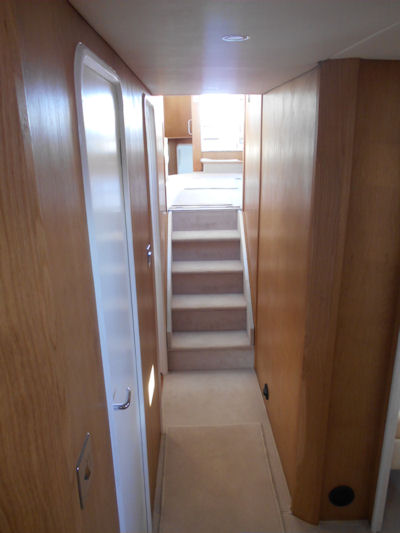 Looking aft , to steps up to saloon, first door left of shot to heads, note heating outlets at floor,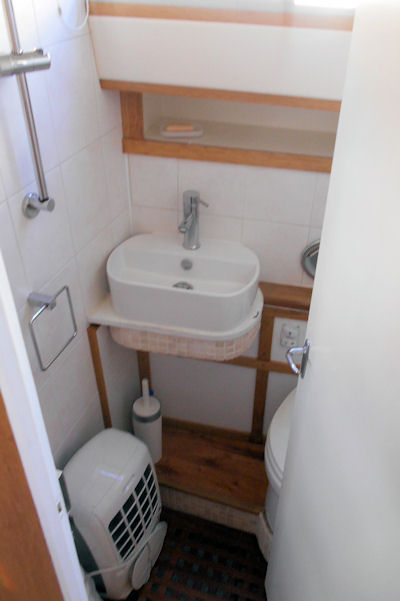 forward heads, fully refitted ,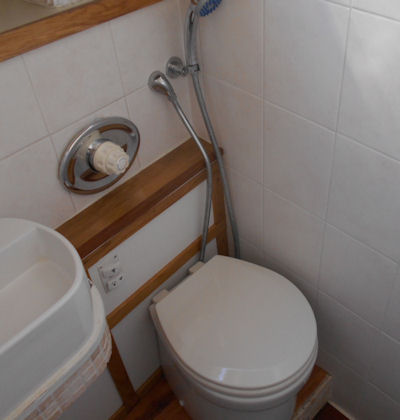 including Electric toilets and shower unit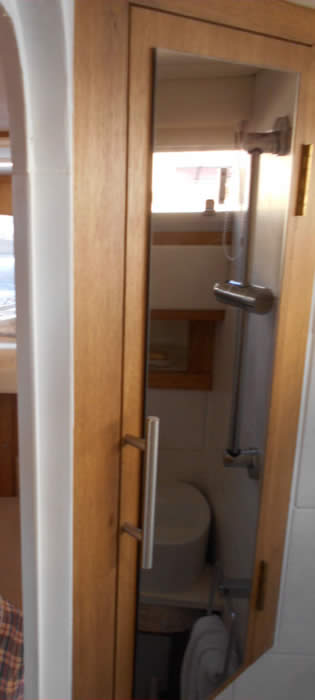 mirrored corner locker in Heads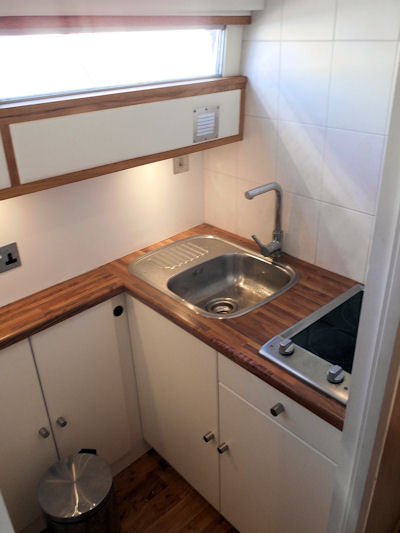 galley set to starboard looking aft, twin burner electric ceramic hob,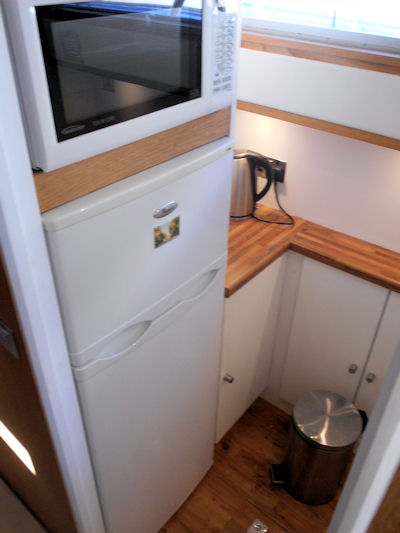 fridge freezer forward , with Combi microwave oven above etc new floor, new worktops, all very smart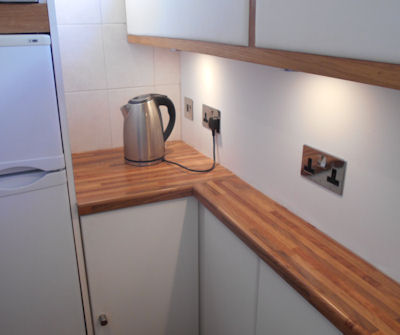 neat simple Bright, not a huge Galley, but Really all that is needed,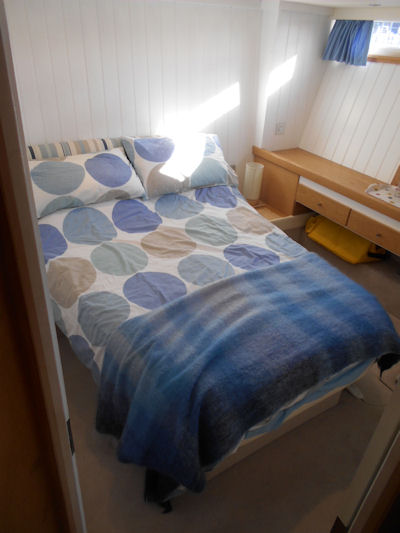 straight down to aft cabin, re lined out with contoured panelling, island berth, lots of light,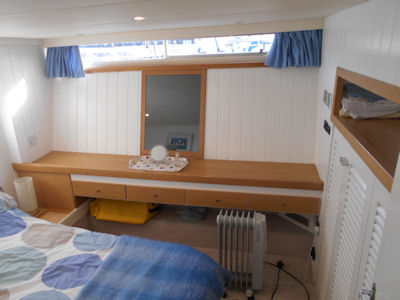 port side dresser, with hanging locker across forward end,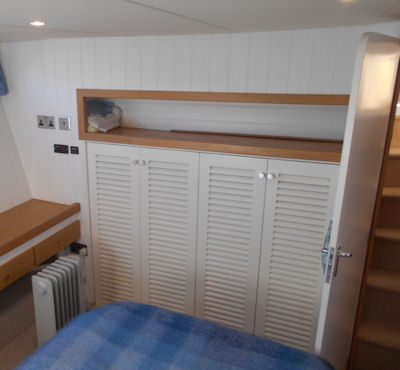 forward bulkhead, heater controls left of shot ( new) cabin door ajar right of shot,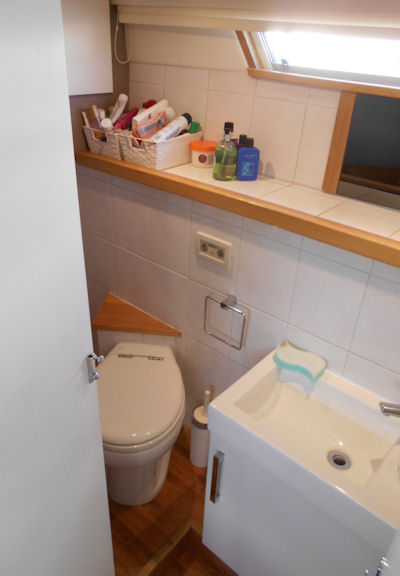 aft heads set to starboard, ALL new in here as well,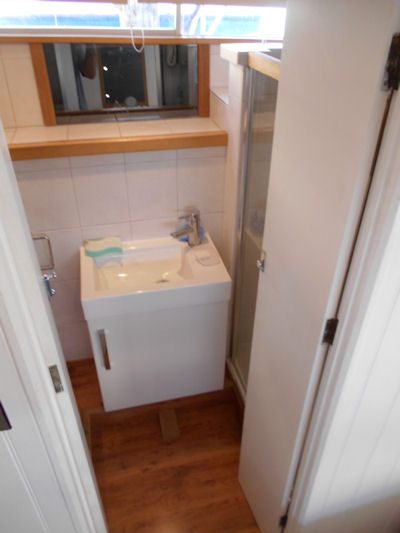 new floor, modern Bathroom fixtures and fittings take "years off her" ,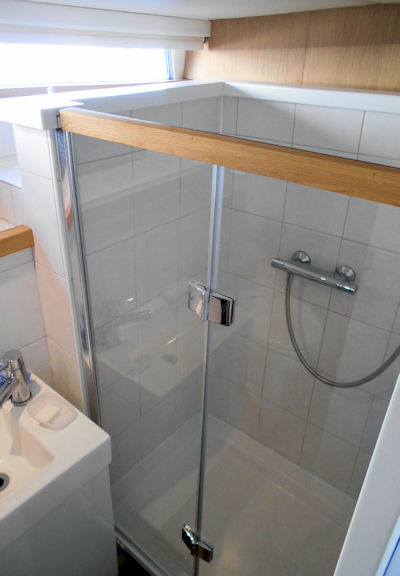 Fabulous shower, roller blinds at windows, and worth a mention ALL the ships windows were removed during her refit and refitted,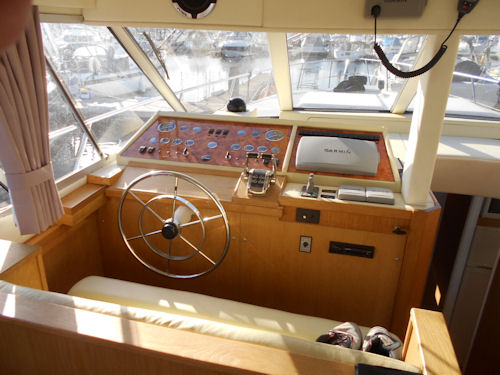 Now some around her main saloon area,
starting with the all new dash area, which looks light new, Great vision out of her flat glass screen panels,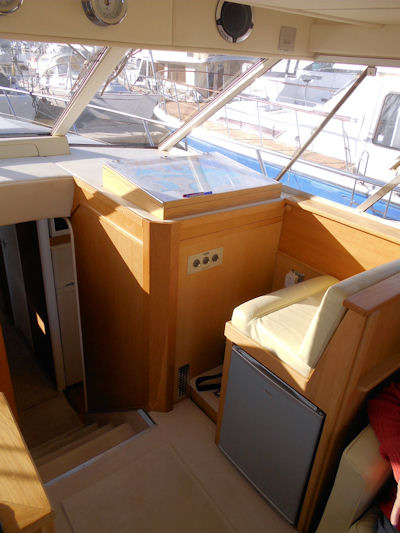 Starboard side , new fridge under copilot seat, recent stereo, with new speakers, note aircon controls ahead of copilot, new leather upholstery through out at refit,
dinette set to port, this will drop and infill to a berth if required, Beautiful professionally made lined curtains
and smart Carpets ( as Fairline Squadron specification)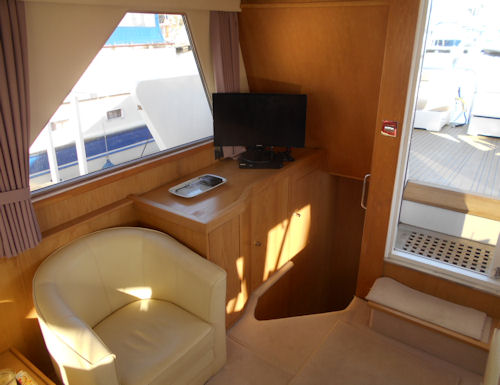 starboard side aft, tv included , safe fitted in unit under, note teak drained grate at outside threshold,
steps down to aft cabin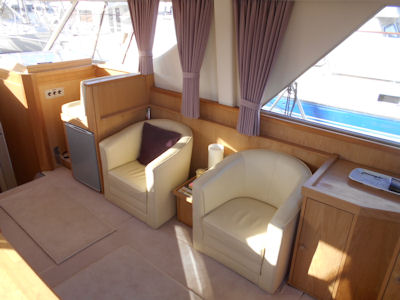 full starboard saloon side view Two smart leather loose chairs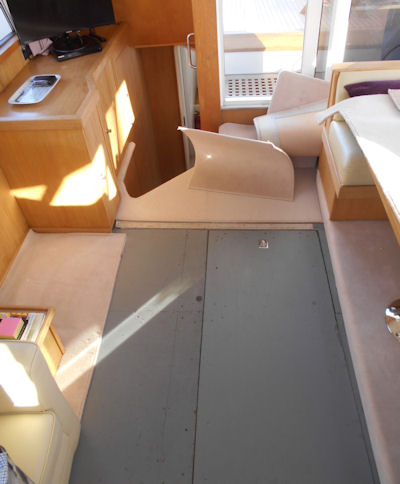 main engine hatch access under loose bound carpets,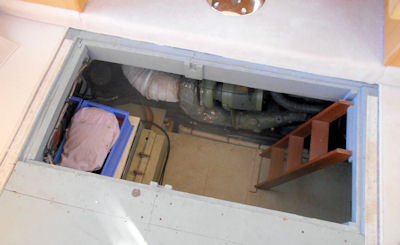 plenty of access, more floor can be removed if required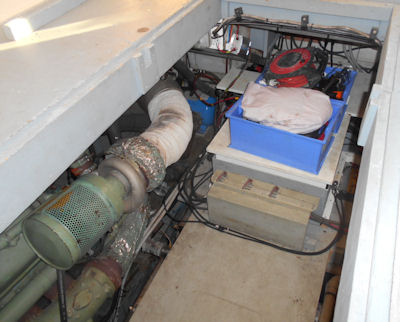 looking aft, note three battery switches, with tool boxes atop
Engines run beautifully , it is true you could make them a bit smarter cosmetically, but do not be put off by some simple surface rust here and there , these units have been cared for in the same way as the rest of the boat, and the owner would not skimp if anything needed doing. an excellent engineer is retained to keep a watching brief . They started and ran without fault on my quick visit, and with virtually no smoke!, any sale would involve a decent on load trial in any event, but these V8 Detroits are very well respected lumps,
with a good reputation for not Breaking ! and parts are still easy enough, with just 1300 odd hours run, In terms of wear, they should have many many hours left in them. The wonderful characteristic two stroke exhaust note is something I know well having driven many GM Detroit 2 strokes in Birchwood 54/57's in years gone by, (all of which were loved by their owners.)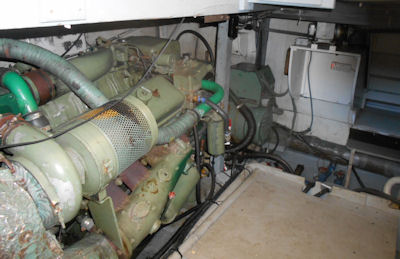 looking forward , port engine,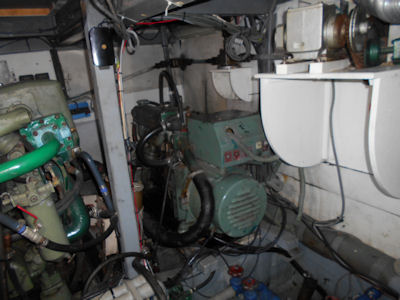 Generator is exposed out of any cacoon, nice for access, no doubt makes it a touch noiser in use, this is a Diesel Perkins based Onan 9KW, note solid Rod steering system powered by the hydraulic pump up on the shelf right,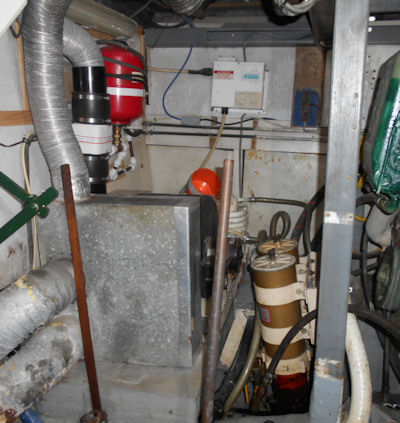 starboard in front of starboard engine, air mixer box, for aircon, primary fuel filters easy to get at, water pressure accumulator (red, )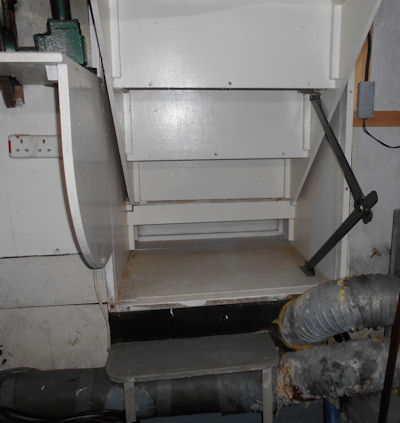 forward bulkhead, this is the back of the lfit up steps from the saloon to forward that can gain reasonable access without having to lift saloon carpets,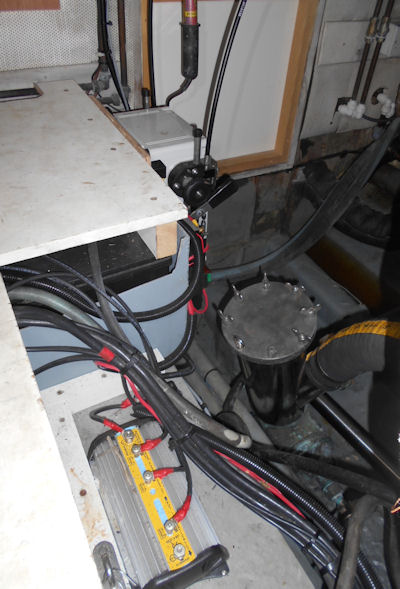 aft end starboard, raw water seacock and wonderful Stainless strainers, with new turned Valve nadles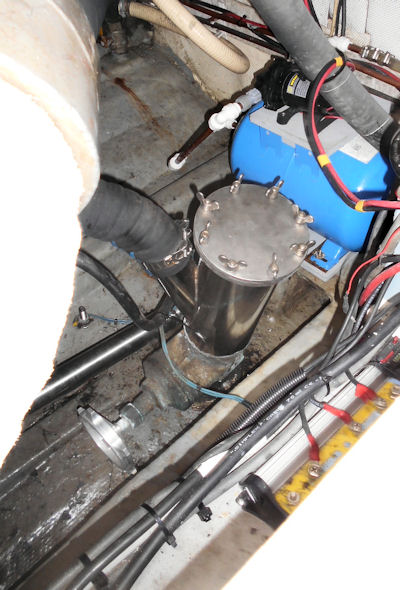 the new handles have been turned in alloy, and the seacocks have all been overhauled. note more evidence of general refit and care with recent aft pressure accumulator, and new water pumps etc etc.
What a wonderful craft, I guess the fact I was 17 years old when I saw one at the Earlscourt Boatshow may have something to do
with why I still think this boat looks impressive and "Classy" I very much doubt there is a better one elsewhere worldwide.
Recently lifted for underwater service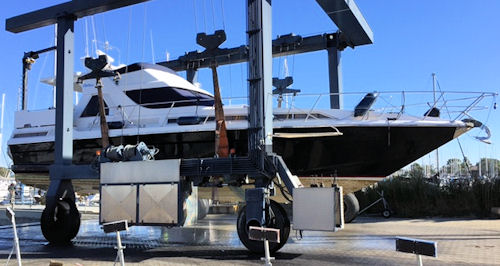 great shape..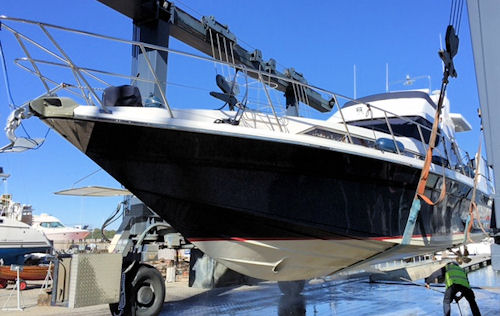 bow prop tunnel and nice spray rails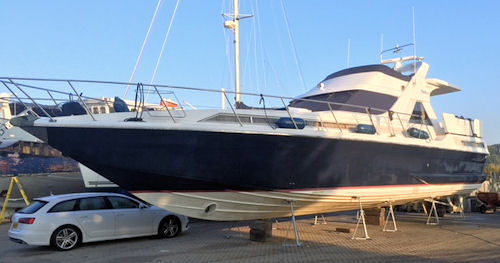 Sat ashore prior to new anodes, stern gear clean, new antifoul etc late 2018..
you would never guess her as 1997 built!