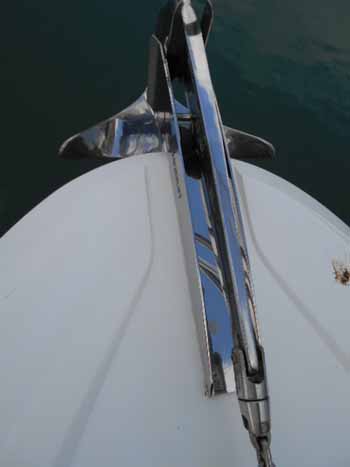 Nice Detail, S/S bruce anchor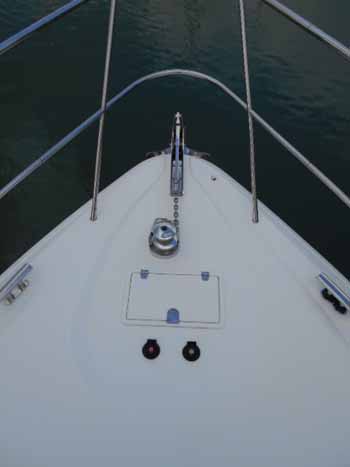 electric windlass (Anchorline) with Rope drum on top, note deck as well as remote controls at both helm stations, and top access to chain locker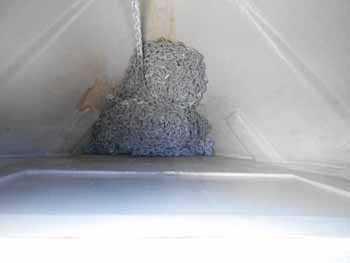 30+ m of cable. (plenty of room for some more)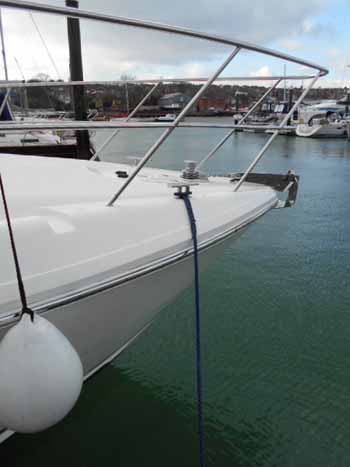 clean simple bow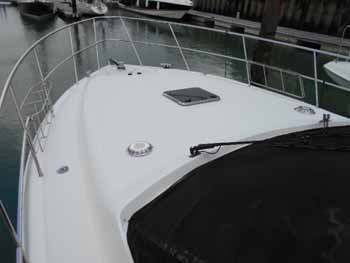 Fore deck, static cabin vents amd opening forehatch, Triple fender baskets built in to rails each side)
View aft, note the screen have "Netting sun covers" and the flybridge has a full supported cover.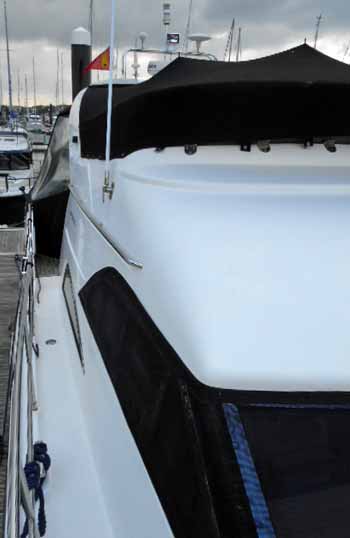 starboard side deck , with grabrails at shoulder height,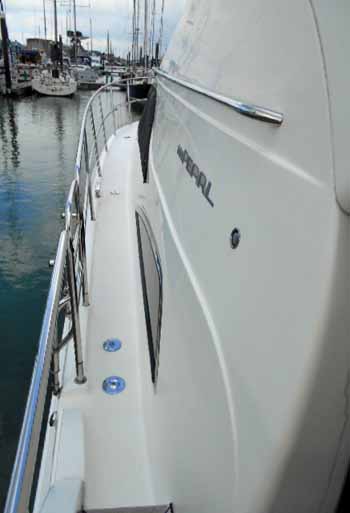 port side looking forward, deck fillers for fuel and waste pump out from aft holding tank ( there is another forward)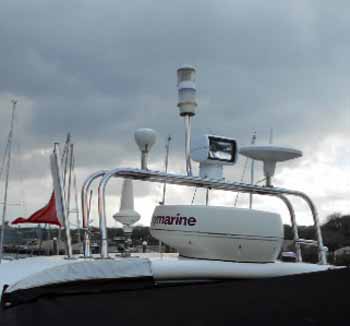 stainless support hoop over radar dome, carries the TV antenna, Remote searchlight, Nav lights, and GPS antenna, note the Nav tex receiver is left of raydome,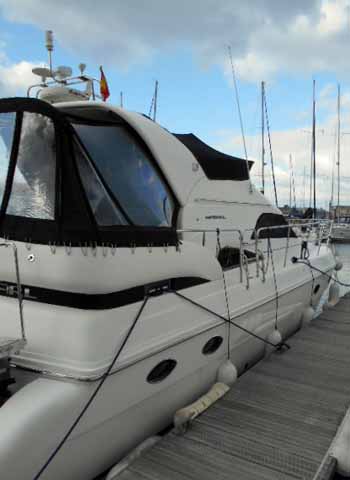 starboard aft quarter,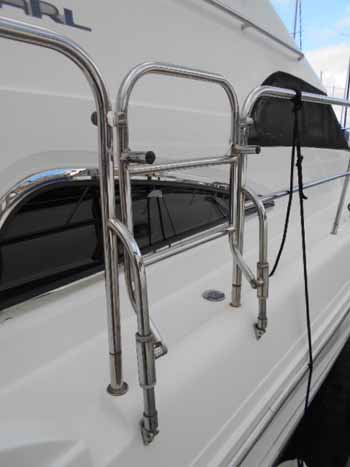 very nice detail the built in boarding ladders each side built in to rails.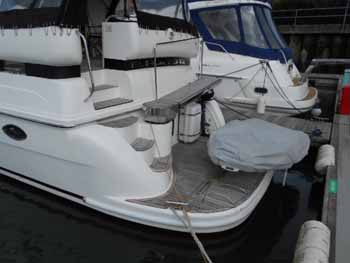 Good size platform, carries small rib, which is handled by the hydraulic Passerelle , canister liferaft under, ( service date TBC)
low level Cleats are useful ,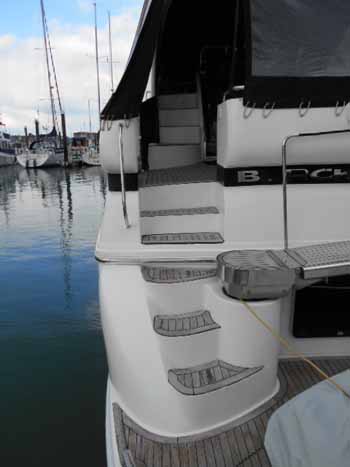 easy boarding steps on port side, there is enough room even with dinghy in place to board from either side, Steps to fly bridge beyond.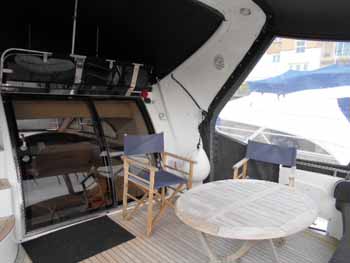 great aft deck,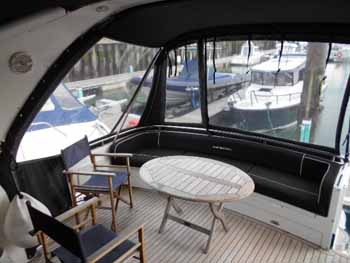 Teak up here in super order, and the full canopy enclosure has enough windows that you are very happy sat here even with the whole thing in place, transom seating has lockers under.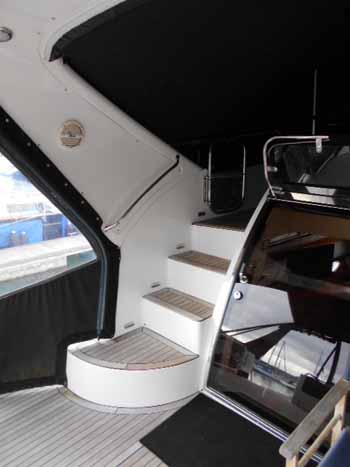 steps to arch, note neat deck lights all around. and gate to flybridge at top.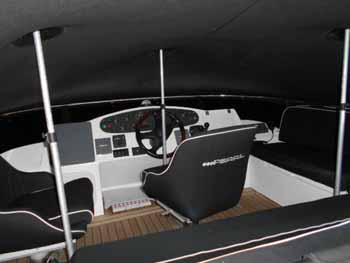 Full flybridge cover, seating for 8 up here!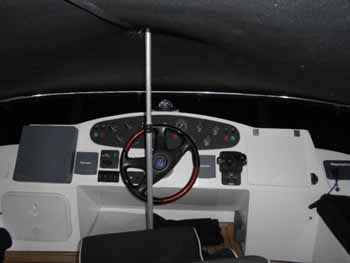 all main nav kit is duplicated, recent Raymarine DSCVHF to right of shot,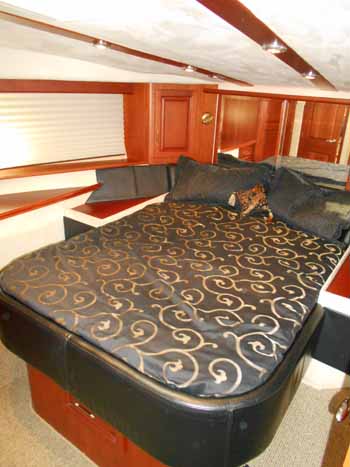 Interior, starting forward, centreline berth, lots of lighting over and some hidden. Blinds over ports,
easy access to bow thruster,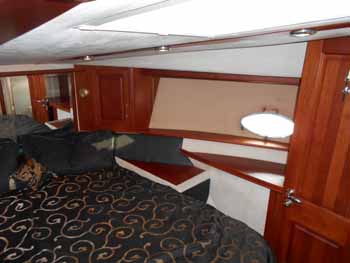 beautiful woodwork, and "Alcantara" linings, door right to en-suite heads and shower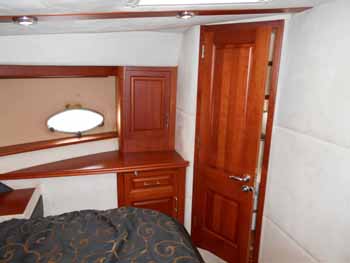 ample locker space
electric heads ( jabsco Quiet flush) with both straight to sea or holding tank options, right of shot is Shower with solid Perspex screen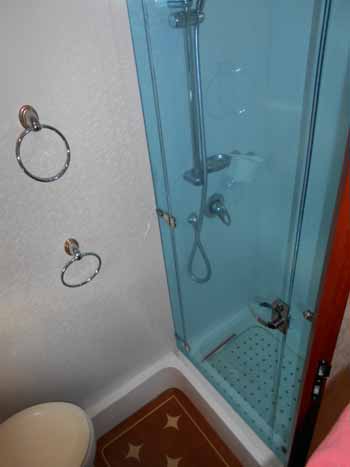 which does make life easier.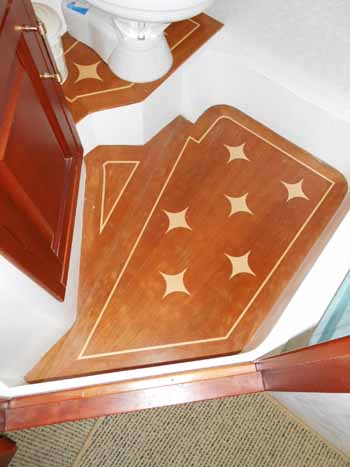 Nice detail to the floors, note the loose bound carpets throughout the boat ( where there is carpet)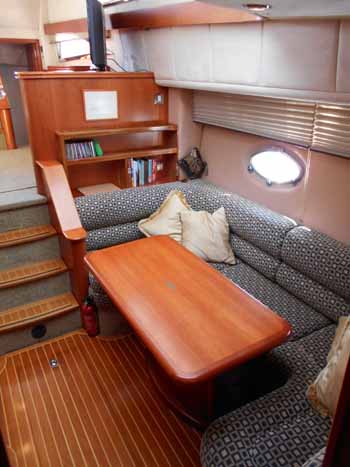 dinette set to port, ( looking aft) smart Teak and Holly floor, Heater outlet in bottom step,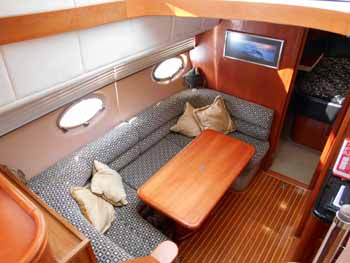 looking down from helm station, note the blinds at ports, Galley opposite to starboard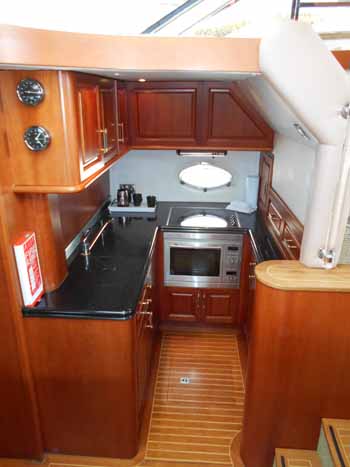 again beautifully finished, ALL electric Combi microwave, Ceramic hob and fridge etc..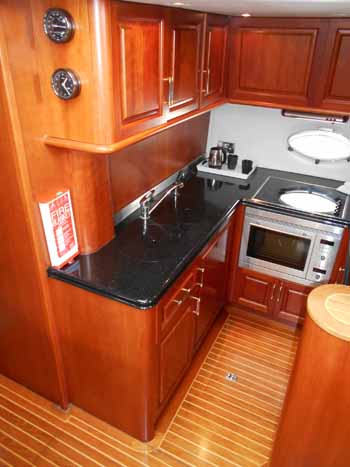 Twin sinks with infills in Corian worktops,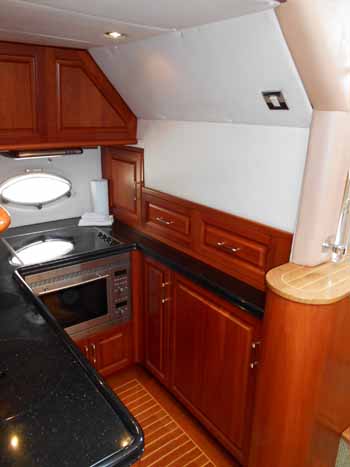 great lockers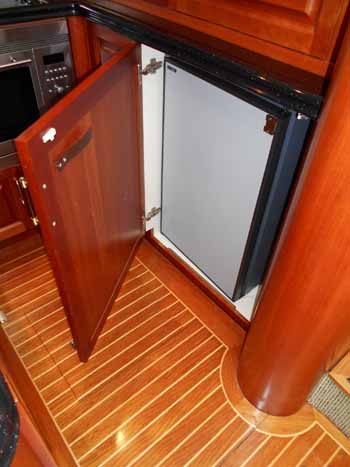 fridge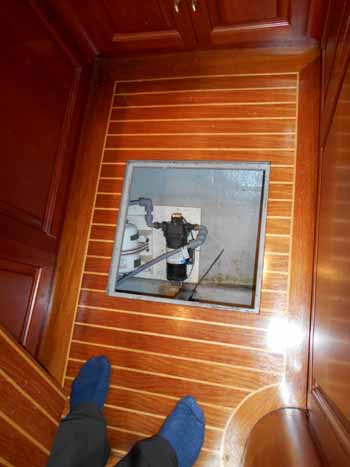 water pump access easy,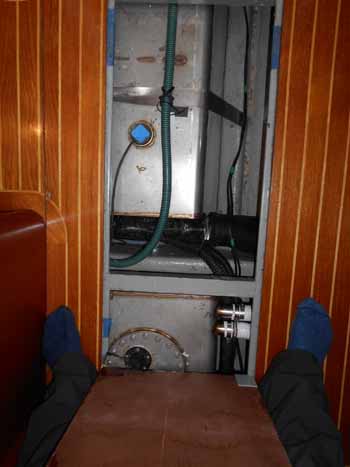 water and holding tank access, both stainless forward, ( NEW aft tank is a "Tektank" with new pumps etc.)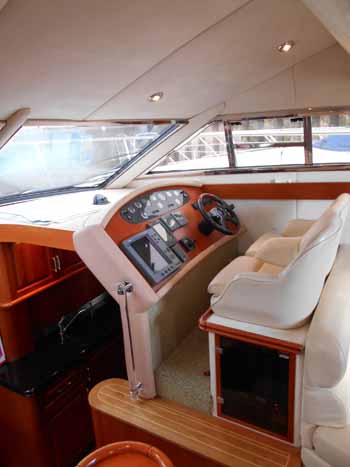 helm station, set to starboard and elevated, two bucket seats, Nice half drop windows each side, ( I like these as they rarely seem to give leak problems, and the tracks don't bung up as badly as horizontal sliders.)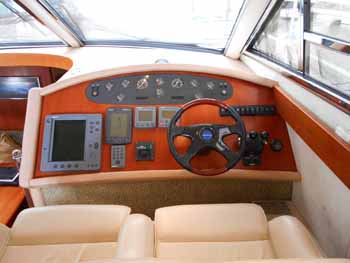 simple neat dash with good read angles,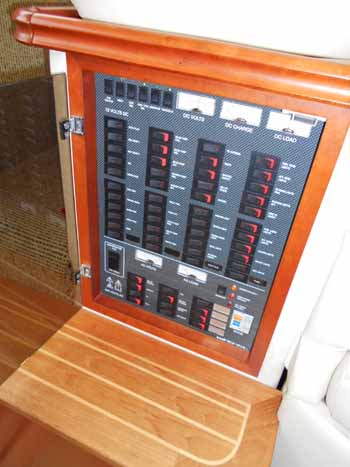 Domestic panel under helm seat covered with smoked perspex door
easy access to the back of domestic panle if required, as well as hand locker,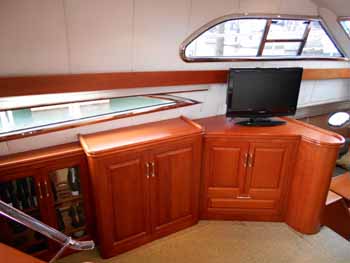 port side saloon, Beautiful timberwork, TV,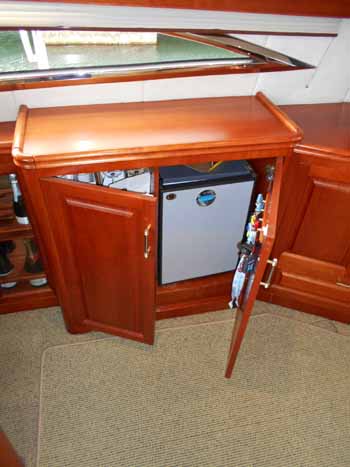 with second drinks fridge and general lockers in units,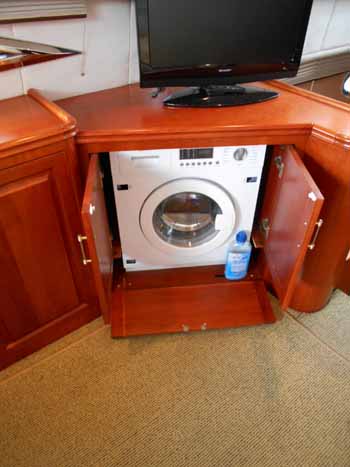 and a washing machine under TV..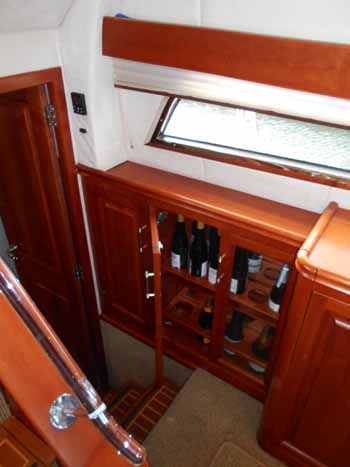 drinks locker just aft, note heating controls just by door frame, steps down to aft cabin set to port. Perspex Grabrails
on steps down from aft deck entry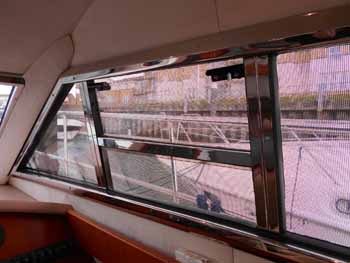 better shot of the side windows, ( same both sides, ) nice stainless frames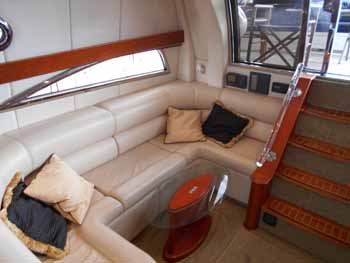 upper sette area, with stylish glass coffee table, This area can be converted with an infill is required. Cream leather upholstery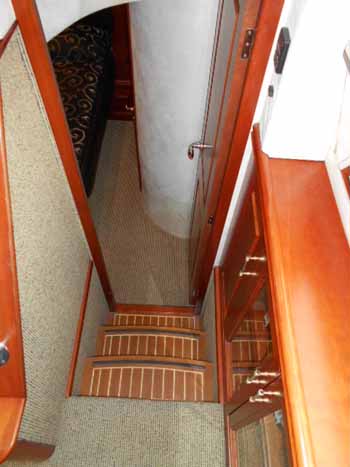 steps down to aft cabin, smart Teak and Holly again with rubber grip strips fitted,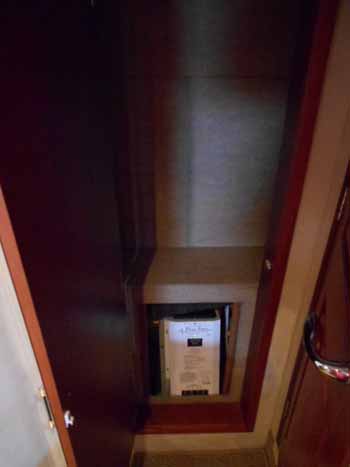 port behind cabin door, is first hanging locker ( Mirrored door) with access to battery charger, ( new unit fitted 2016 ) (shown pulled away)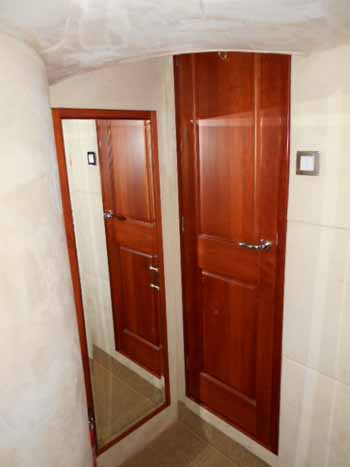 cabin door from inside cabin
aft berth sat on centreline, beautifully appointed cabin.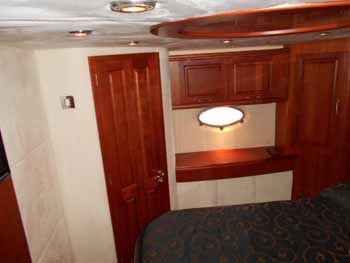 heads set over to starboard forward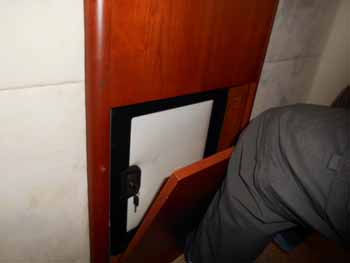 on forward bulkhead is a drop out then a locked soundproofed door that lets you in to aft end of engine space.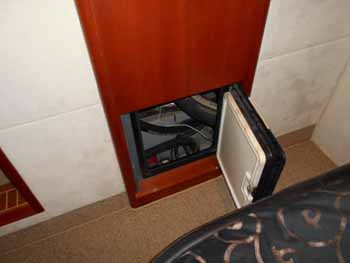 nice to be able to access stern glands, gearboxes etc and have a general look with out floor up,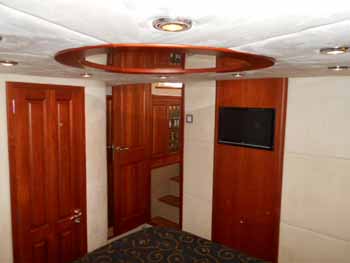 cabin entry door open door left to shower, Flat tv ,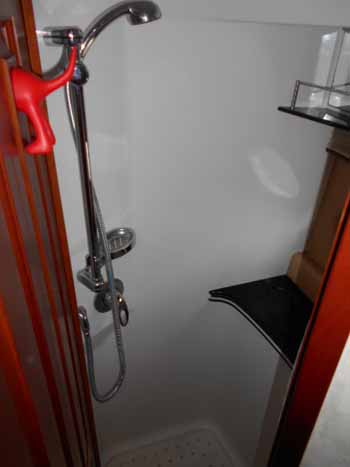 decent shower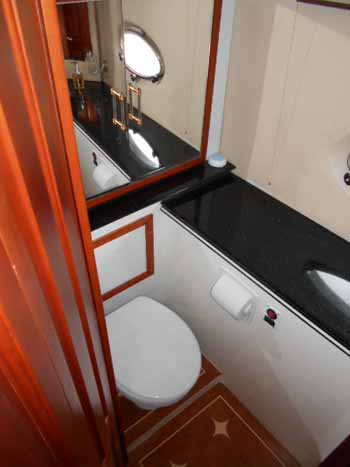 and decent Heads, again very nice floor detail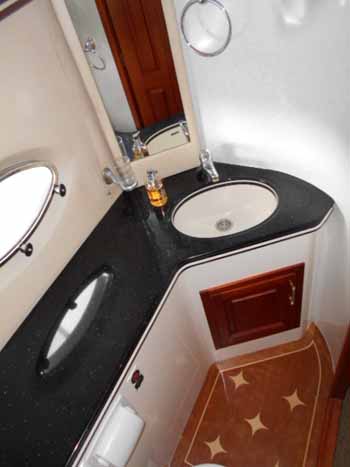 corian worktops, mirrored lockers,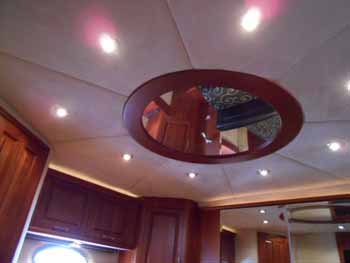 lots of light, and mirrors.. even over the bed..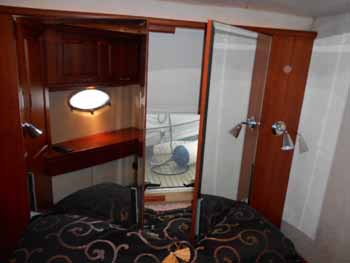 hard to make this photo out !
at the bed head is a padded black leather headboard, lift that away and the mirror panel behind are actually doors which open to allow access to transom escape hatch. so here I have half opened themand you can se the fender on the aft platform.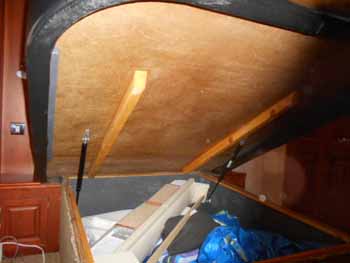 the whole bed is on gas struts and will lift to access storage,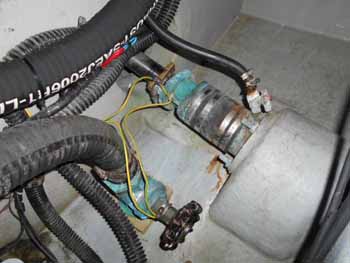 starboard shaft exit, viewed from the previously mentioned aft access door. Sea cocks and shaft are bonded, Note water lubricated
shaft tube bearings, The glands themselves are convetional stuffing type, which like they have lots of room to adjust.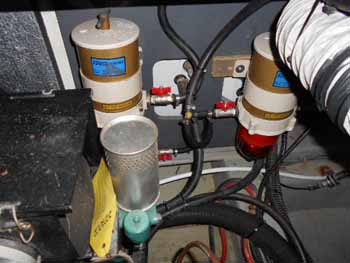 Big fuel filters and water seperators mounted starboard side aft of engine, (with some change over flow switching )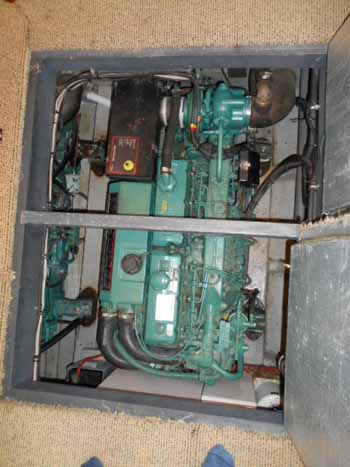 Volvo Penta 63P 370hp six cylinder Turbo Diesels NON electronic engines ( they do have electronic throttle / gear shifts at helm)
these have run just 285 hours from new!!. They have run few hours since they had a big service and check out around a year back. (october 2017)
port engine , the cacooned generator is mounted ahead.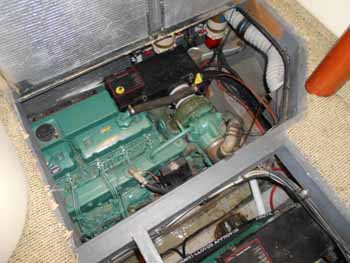 looking aft across from port side of saloon,