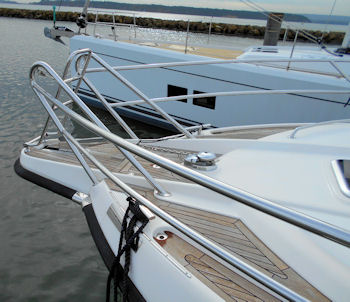 Smart Stainless Rails, in good size, note walk thgrough Pulpit with drop down ladder for boarding over the bow, common in Scandinavia.
obvious Electric windlass, with deck, fly and lower helm controls, deck hatch access to chain locker, upgraded to Stainless Bruce anchor with 50m Stailess chain.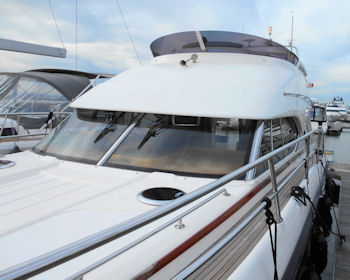 clean lines, note deck grabrails on coachroof,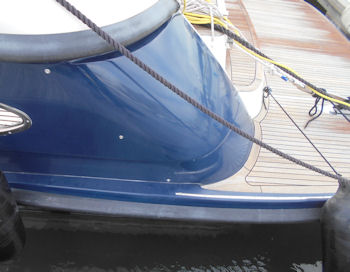 nice detail, aft corners always take the worst of the suns UV rays at that angle, to reduce fade etc, the owner has some fluffly lined covers which clip
on each side. ( common in S.O.F),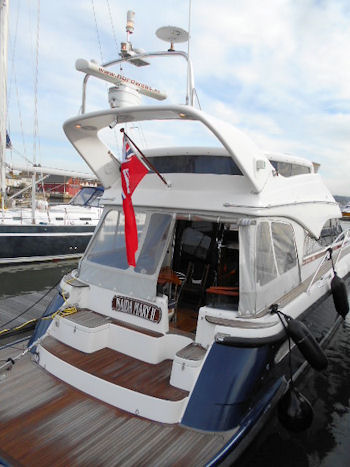 Nice big aft platform makes boarding either side too easy, as well as carry a dinghy etc. note left of shot the aft anchor, again a stainless bruce, on to nylon Multiplait
which come up in to a roller and has a windlass port side locker, great for kedge situations. Fabulous big oppen array scanner obvious
The arch is fully hinged aft with gas assist rams each side
taking her air draught down to ( being measured !!)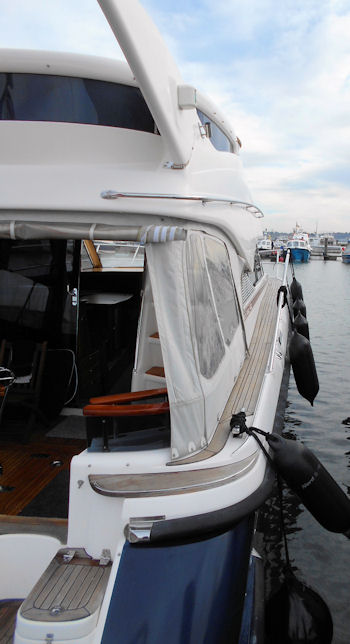 nice rails at shoulder height going forward, and note the rails comes round aft corner making walking aft outside cockpit cover quite possible, and stepping down to teak locker tops aft each side not scary !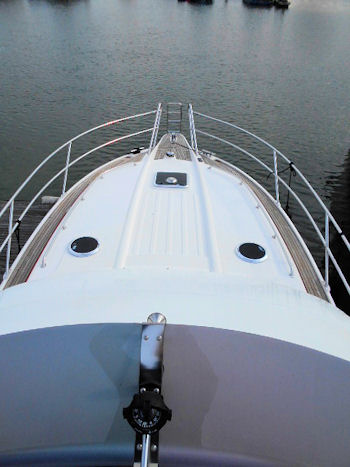 clean fore deck,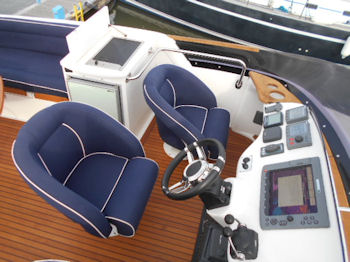 nice helm, note gridle on top of the drinks fridge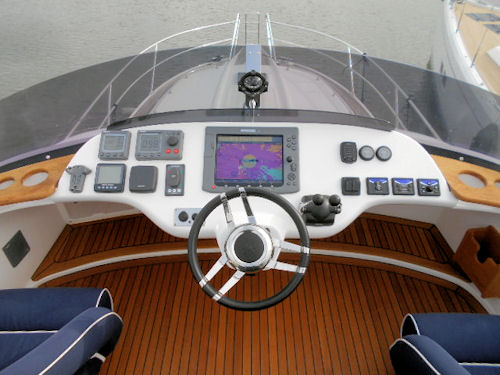 Neat displays, Teak in "As New Order" always nice to be helming on the centreline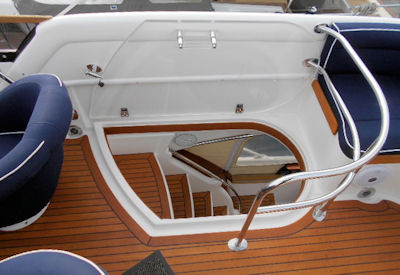 flybridge steps, with nice crash bar rails. and note the clear hatch that closes off deck underway. ( near an inch thick!)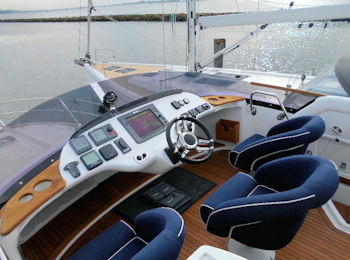 seats are on tracks, good deep return screen knocks the air overhead underway at speed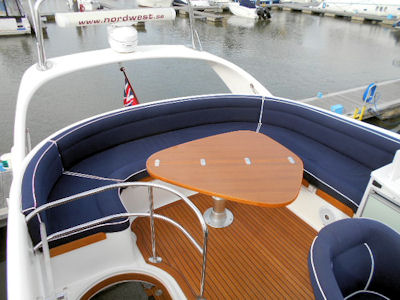 great social area aft, high gloss table is as new order , note the waterproof speakers right of shot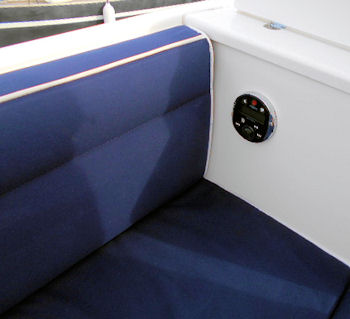 Hi Spec Fusion stereo system with remote controls up here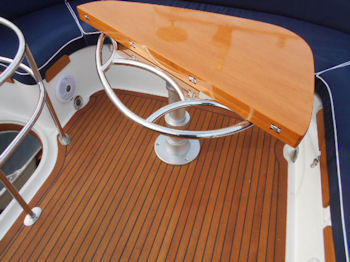 table folds and table frame makes nice grab rail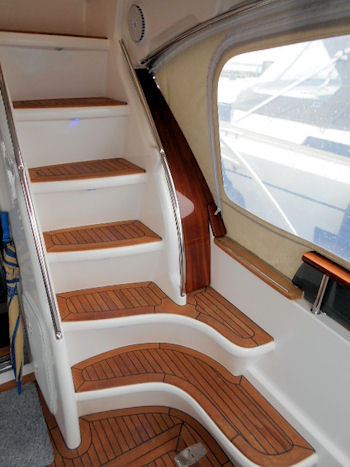 starboard side of cockpit, more speakers to stereo system,
Grab rail under deck edge..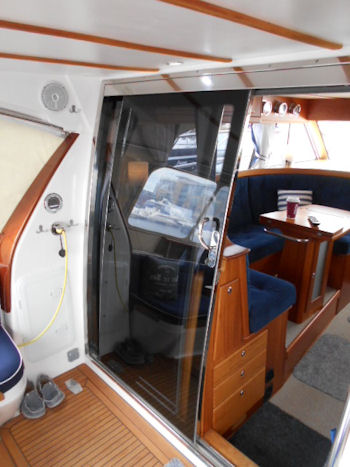 curved sliding doors, overhead timber detail helps the whole feel gas locker under the shore power lead socket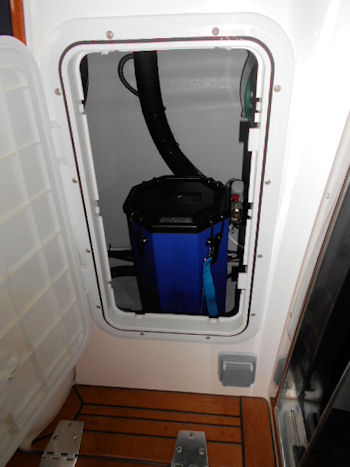 Gas container in locker, waterproof 240v soscket just outside..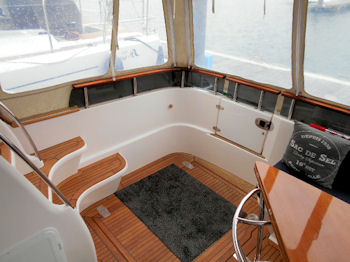 looking at starboard aft corner, transom gate , good view of the smart smoked perspex combings with high gloss varnished Mahogany Cappings,
note as on the flybridge the table folds in half and the frame makes a useful grab hold.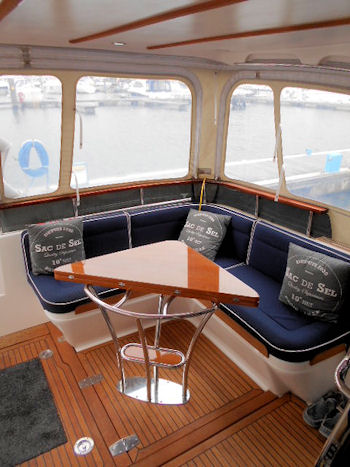 port aft corner, all clean smart and looks near new in condition. The table sits on the port engine access hatch, all three hatches are lifted with an electric ram
the port one lifts including the table and the grp moulding giving great access.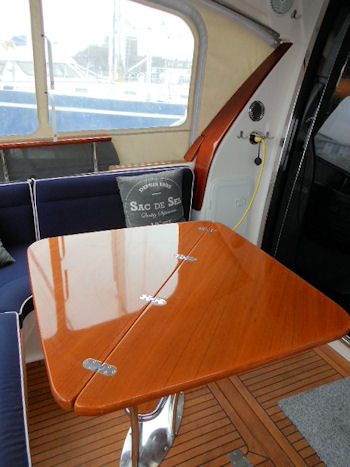 table stiunning, and I love the curved cover cappings behind on the aft face of the grp saloon side,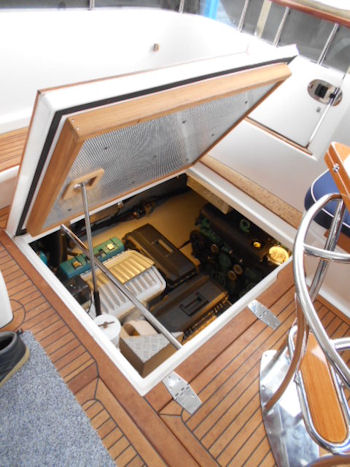 consider the detail of finish on the underside of the engine hatch..quality.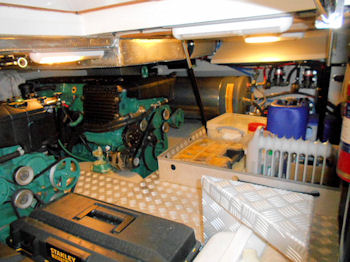 so clean and tidy in here, well lit, nice alloy checker plate floor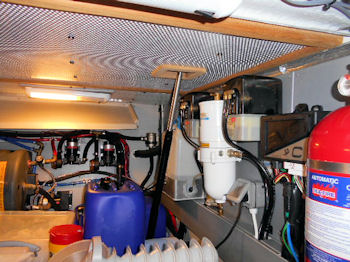 looking across the ship from starboatrd to port, ahead of the engines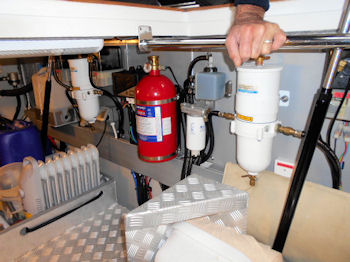 note the triangular checker plate step..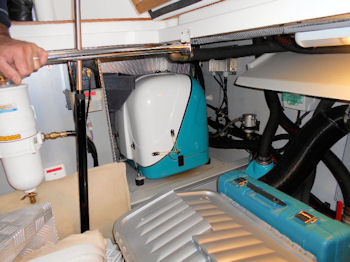 looking forward starboard side, wisper generator 3.5KW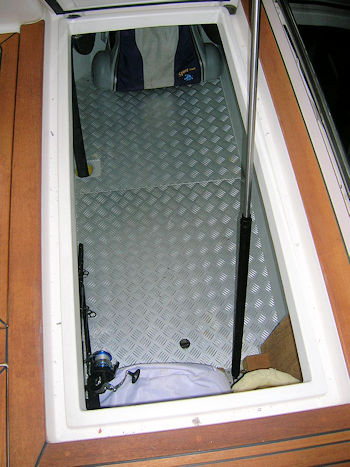 just forward of the engine space is a super Lazarette store , again on an electrical ram assist,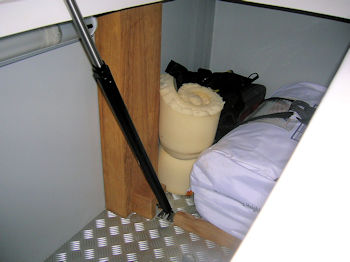 Life raft in a Valise is included in the sale.
looking forward in saloon, galley set to starboard, helm ahead,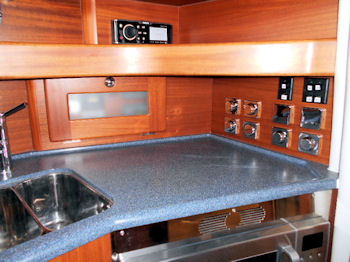 aft of galley, array of various lighting options, and three black rocker switches for the aft hatches,
fusion stereo main control above, small locketr door has generator and 2.5KW inverter controls inside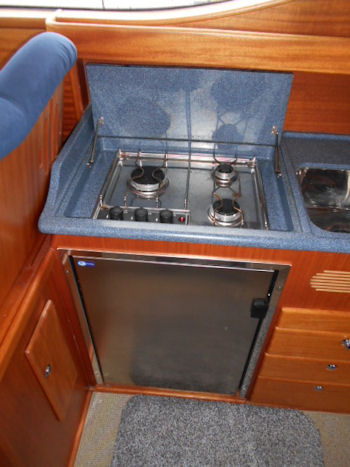 three burner gas hob, fridge with ice box .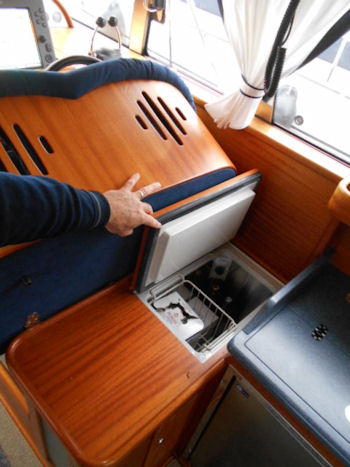 very nice feauture, top loading Freezer below hem seat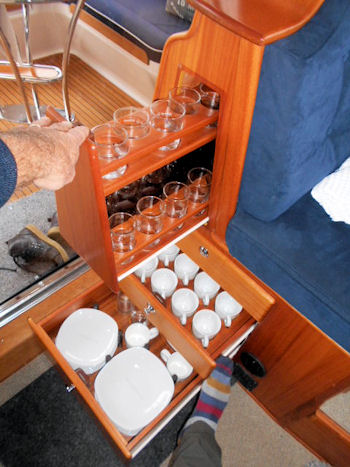 aft under aft saloon seating, great crockery and glasses storage ( all Nordwest original)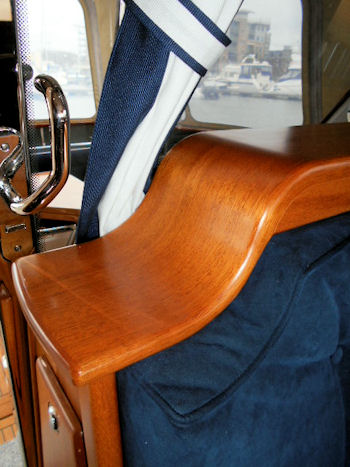 MORE simply beautiful Laminated woodwork,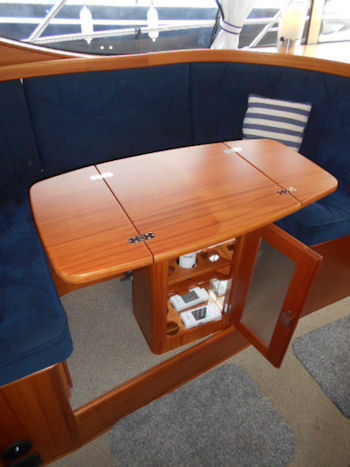 dinette table area, drinks locker below,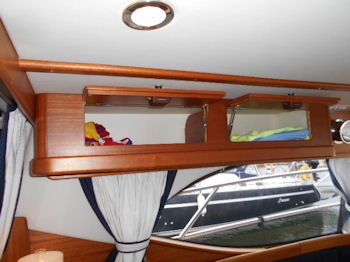 overhead lockers with neat stainless rams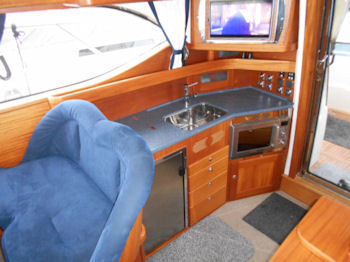 Combi Oven / Grill under counter and Advex TV above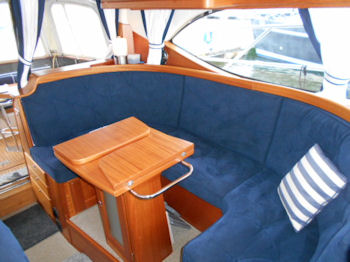 dinette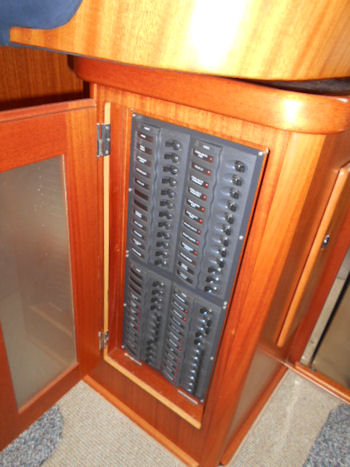 neat domestic panel beneath helm seat end,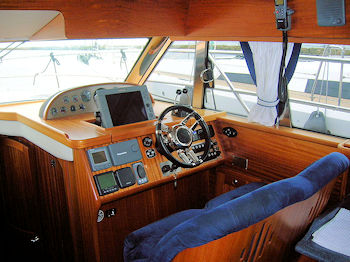 twin seats at helm, opening window alongside,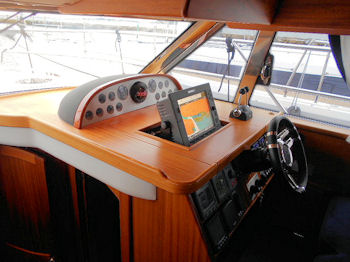 clean simple dash design,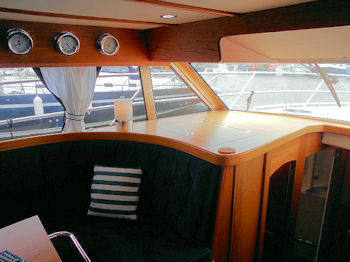 port side,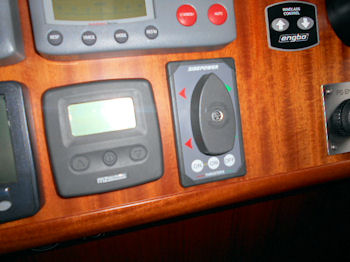 dash detail, combined thruster control, loose remote controls as well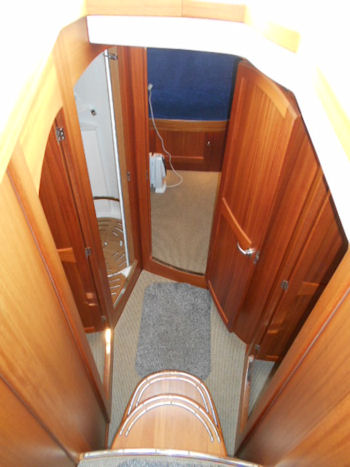 lookinhg forward down from saloon,
centreline double wonderful lighting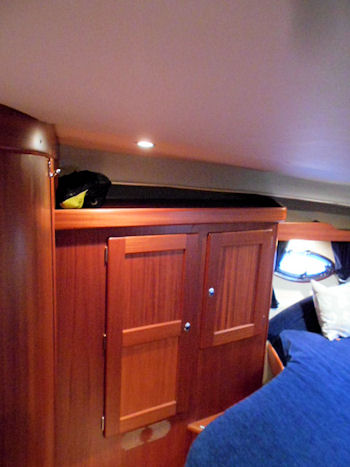 port side , self lit lockers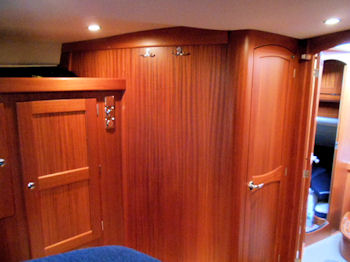 starboard side, door in to forward cabin en-suite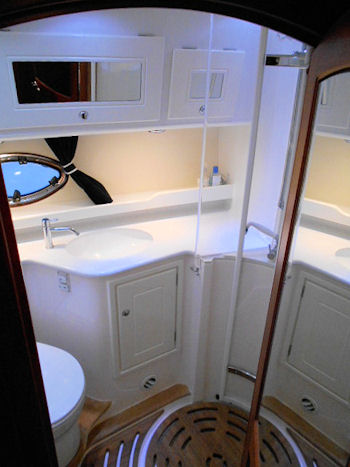 nice clean with curved clear shower screen,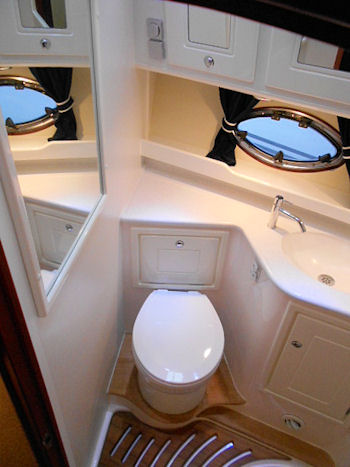 electric heads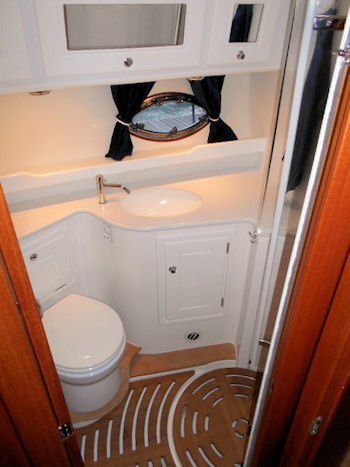 port side "Day" heads almost identical with access to lobby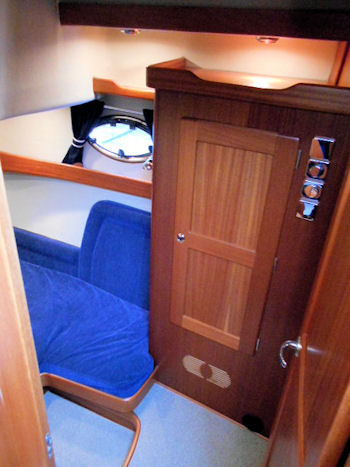 port side cabin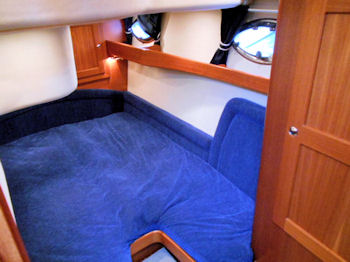 looking aft,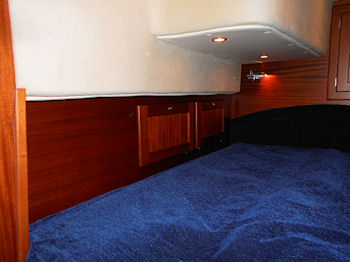 side lockers , and aft door lets you in the the beautifully organised servcies area and battery access etc,
( I must add a photo of this!)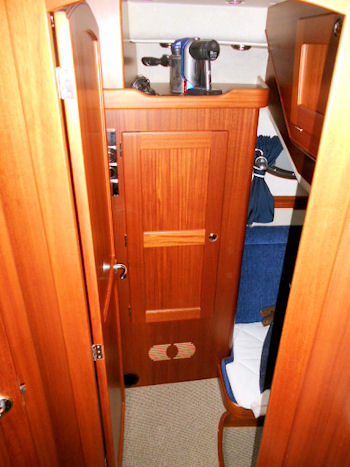 access to starboard cabin, locker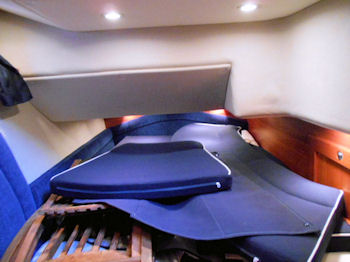 see the Videowalk to see this cabin clear, the owners use this cabin for storing the fly bridge cushions, and cockpit chairs