RECENT PHOTOS FIRST, TAKEN 14th January 2020,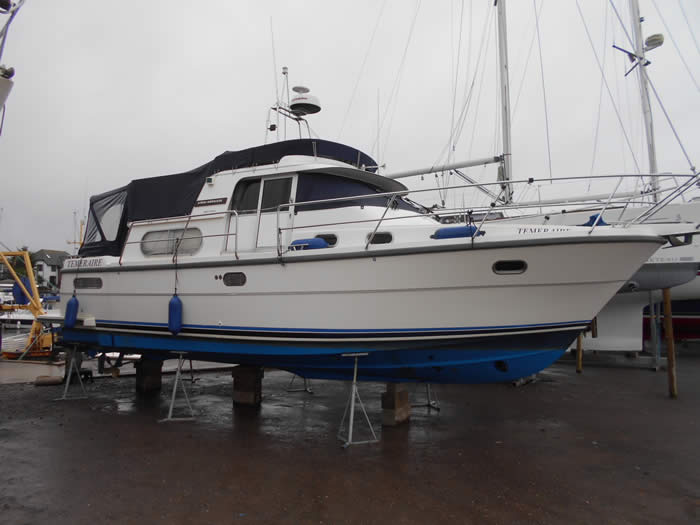 ASHORE Hythe Marina
Bow prop
Bruce anchour underslung Bow platform, note bow roller ahead to hang on a swinging mooring etc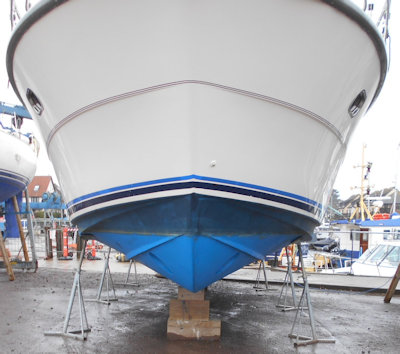 medium Vee hull form with retutrne spray rails and deep chine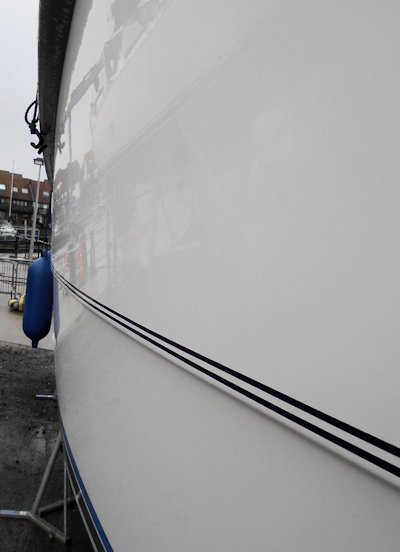 Topsides in generally good state of shine !
stern gear detail , starboard side,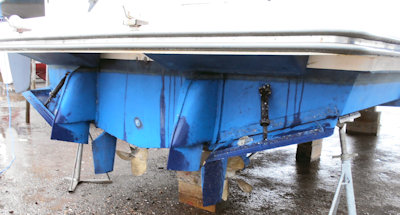 Aft end, Note The twin Underwater exhaust pods, these reduce noise and smoke dramatically. also note the large Trim tabs.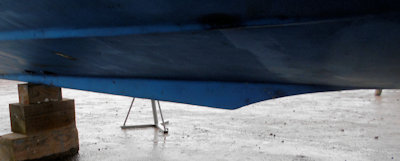 Note Shallow Keel which is roughly half length, this adds an amount of directional stability at slow speed.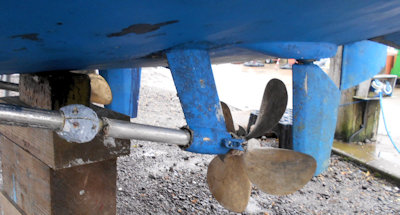 starboard side looking aft, stainless shaft with Anode ( note clip behind anode to stop it sliding down shaft), then through Bronze "P" bracket
Note rope cutter ( Harold Hayles type, ) ahead of four bladed Bronze "Equapoise" style propeller,
You can see the Exhaust pod "Fishtail shape" aft of the Rudder.
BOAT RELAUNCH 16th Jan 2020 NOW back on her berth, having engines serviced
NOW shots from December 2019 when still afloat at her home berth Hythe Marina
neat new all over flybridge cover adds on to the cockpit framed tent cover.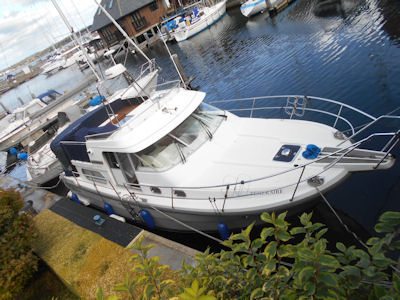 front view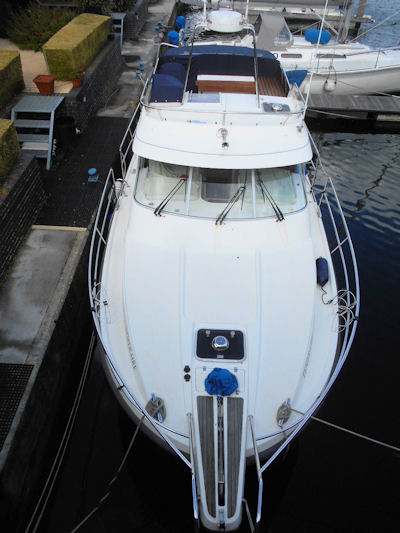 nice view showing rail on outer edges of boat, also the decent screen wipers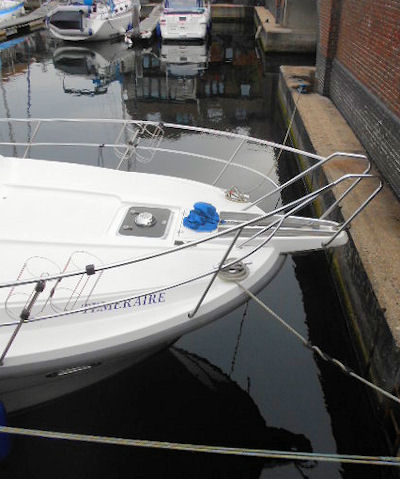 walk through Pulpit allows access over the nose,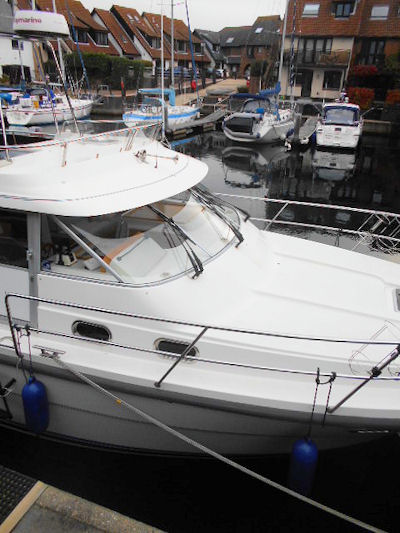 nice overhang to screen reduces sun glare, note return screen on flybridge to knock wind over head when under way
Lovely "ERTECH" toughened glass screen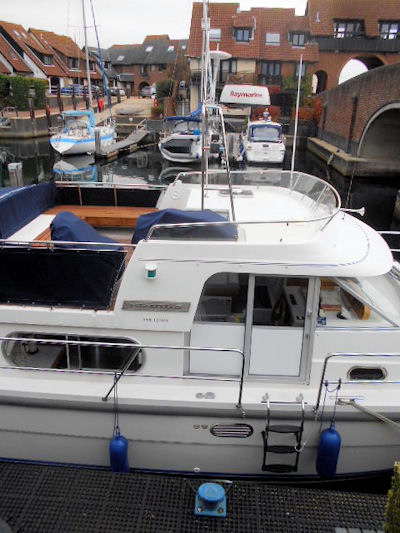 Side access doors each side of the boat with a side ladder that can be placed either side.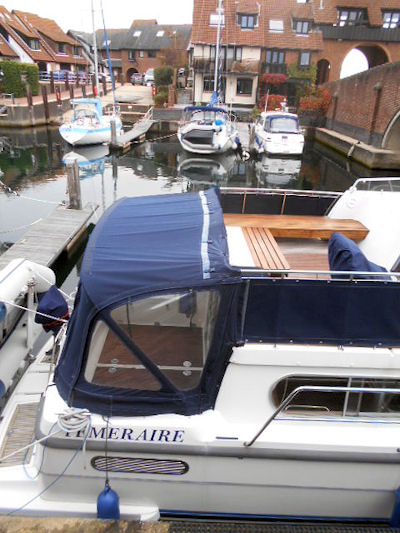 Aft cockpit canopy, great addition,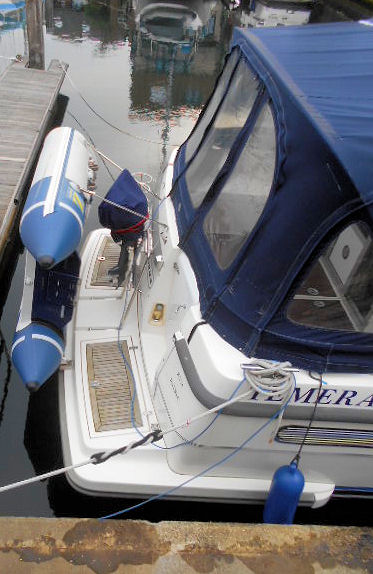 Dinghy sat on snap davits with stand off arms, note also Outboard motor on auxillary bracket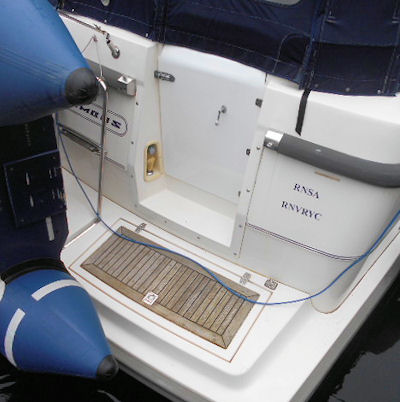 aft access, note freshwater shower left of gate, lockers in the aft platform for kit you dont mind getting wet !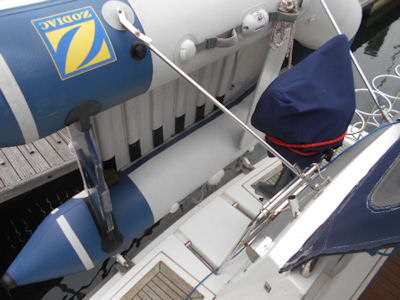 Nice view of Dinghy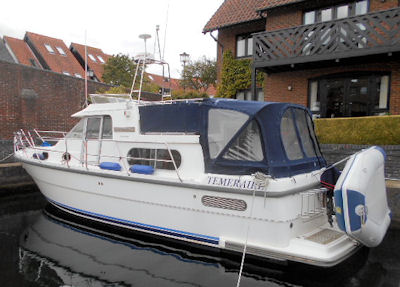 port aft quarter
Recent Digital Radar on a stainless Hoop.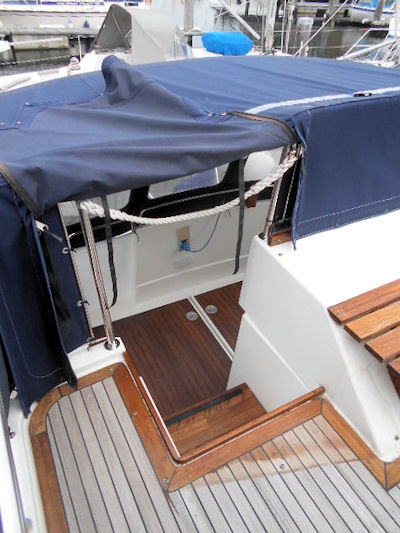 looking aft from flybridge down steps to cockpit,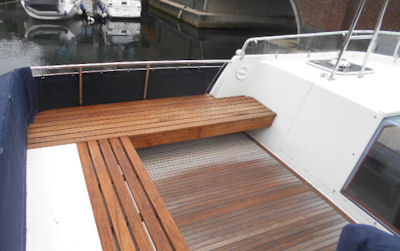 across to port side seating, There is a full set of cushions for up here
deck area forward on the flybridge with sliding door and short steps to lower helm,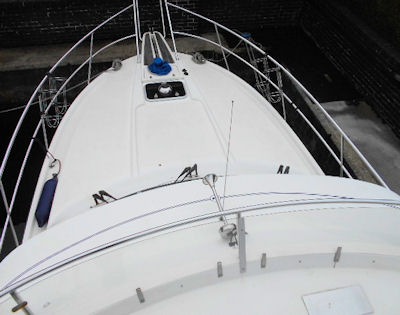 looking forward over return screen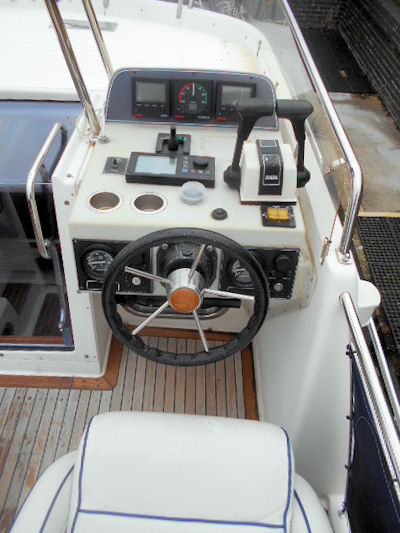 helm set to starboard, bow thruster joy stick ahead of U/S autopilot head. ( the autopilot does work from lower unit)
trim tabs, Remote on anchor windlass, speed depth etc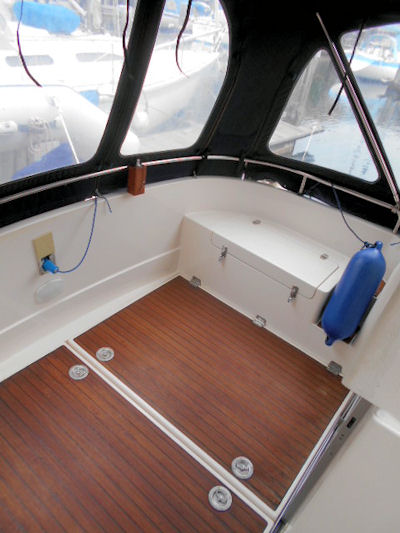 aft covered cockpit area, with teak in super order, these hatches lift to access the engines, shore power point aftwith manual bilge pump point below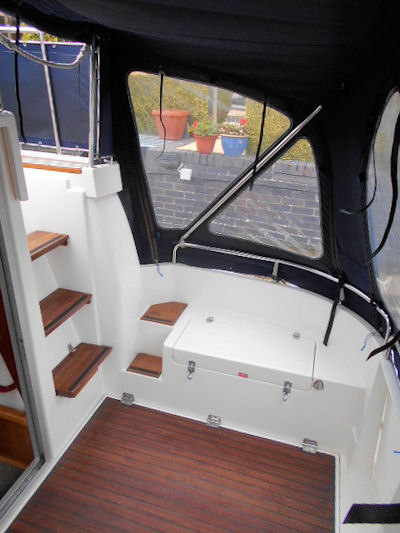 This aft canopy makes this a very useful space when cruising,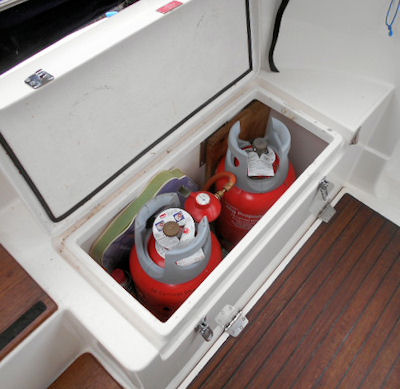 UPGRADED gas installation far better than Nimbus standard fit,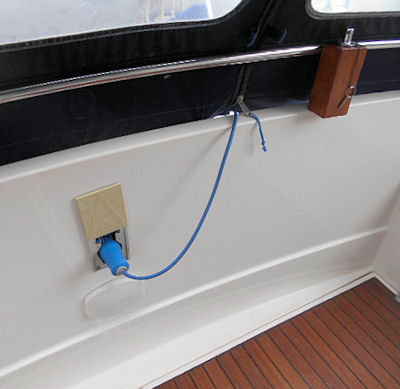 note smart Flag staff socket on block with pull pin, nice detail
Neat stowage port seat lcoker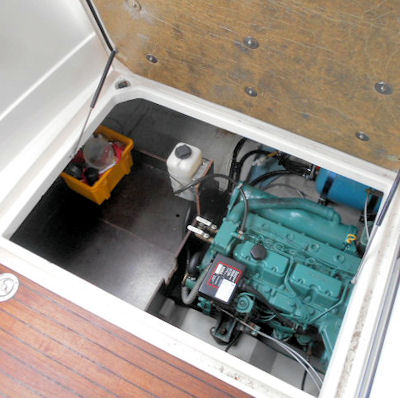 neat and tidy everywhere in fact, port engine, note these engines are "reversed" so the front of the engine, belts pulleys water pump etc is left of shot, at the aft end , the gearbox on the right of shot has a reverse angle , so the shaft exits under the engine,
This makes working on these engines a joy in most circumstances, and also means the engines are not under the saloon floor,
you can just see the hot water calorifier outside the engine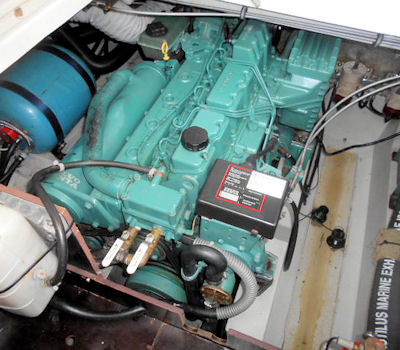 looking forward on port side,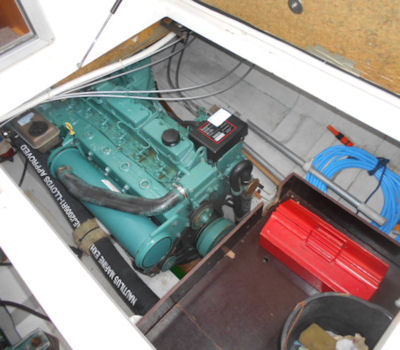 looking forward at starboard engine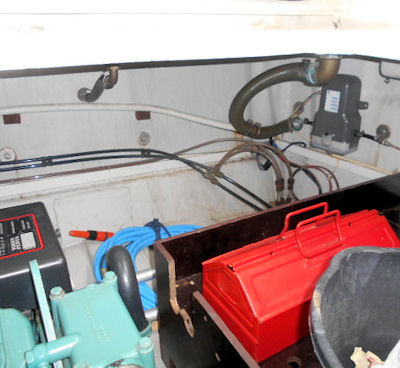 aft starboard corner of boat, trim tab hydraulic motor in shot, and piping below for Autopilot pump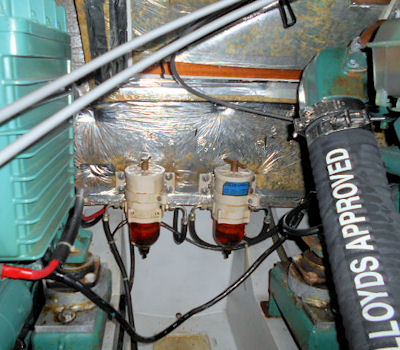 fuel priamary filters are midships forward, hatch above can be removed from inside the aft saloon steps, to help access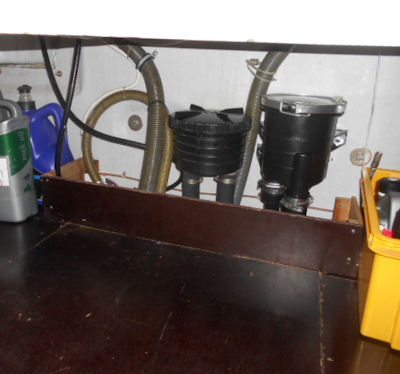 raw water strainers aft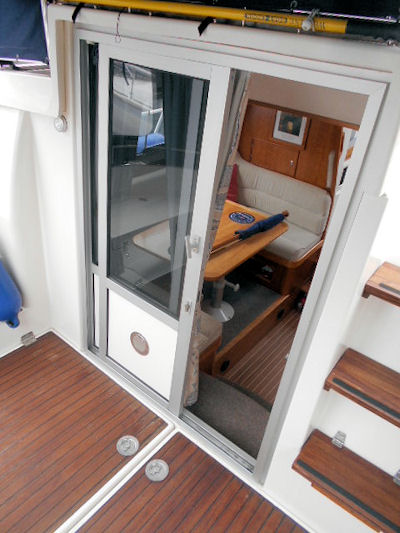 hatches closed again and aft cabin access sliding doors,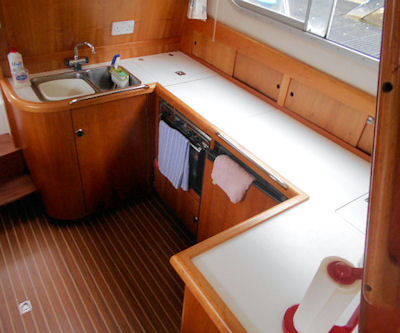 Great galley set to starboard, laminate "Teak and Holly" floor
under sink access to MRC box, and pressure accumulator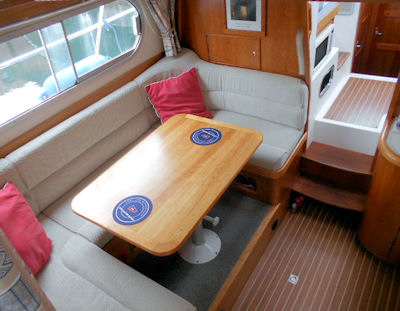 dinette set to port, re upholstered few years back but still looks smart, this will drop to a double berth, lots of cave lokers behind and under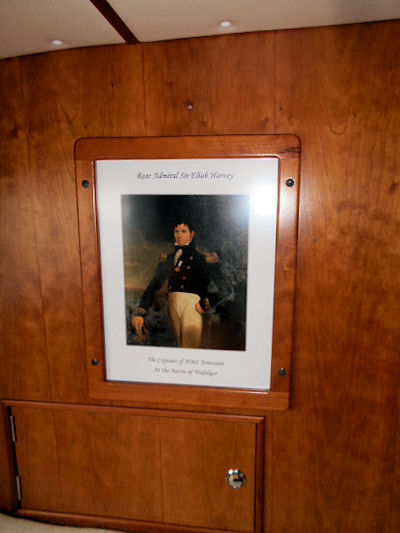 Colourful character... Not sure the woenrs will be leaving this rather smart Print.
The warm Cherry woodwork is still full of colour.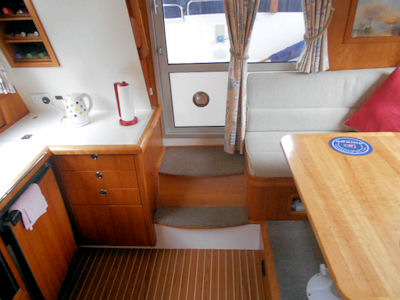 Looking aft, those steps can be removed to get in engine space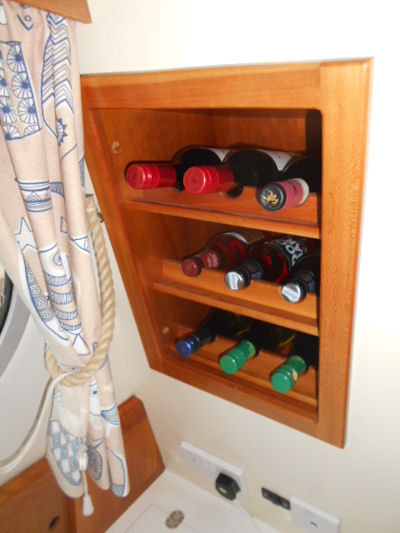 Neat built in wine rack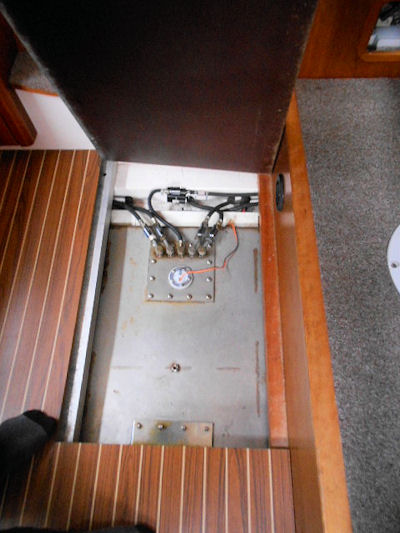 Stainless fuel tank under floor,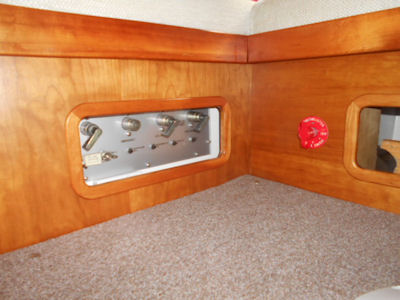 Battery switches and bow thruster breaker under aft dinette seating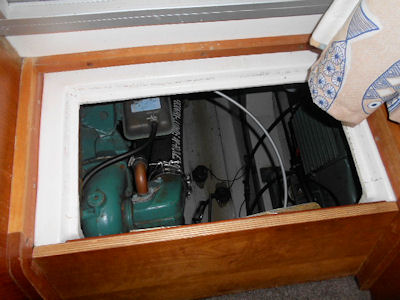 step removed and more can be removed..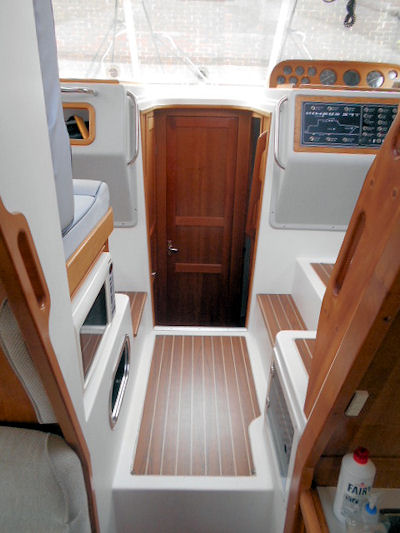 Looking forward nice all the grabs built into the timberwork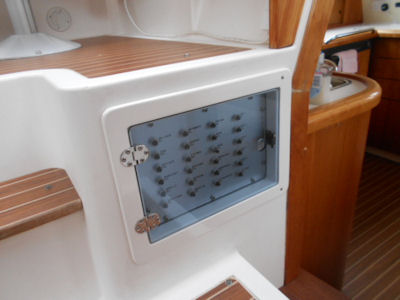 Domestic breaker panel set to starboard
main helm, with opening side door alongside, recent upholsetry still very smart.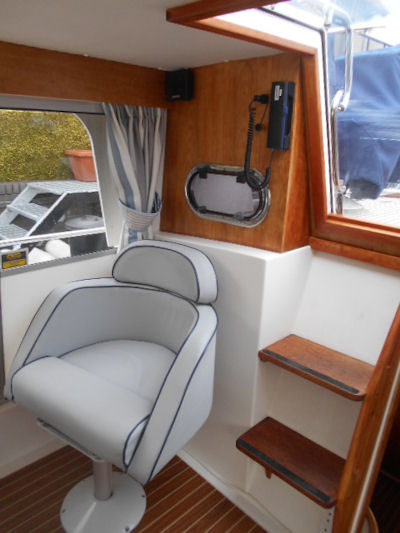 opening aft window , give a little glimpse aft under way, VHF hand set can be reached from either station,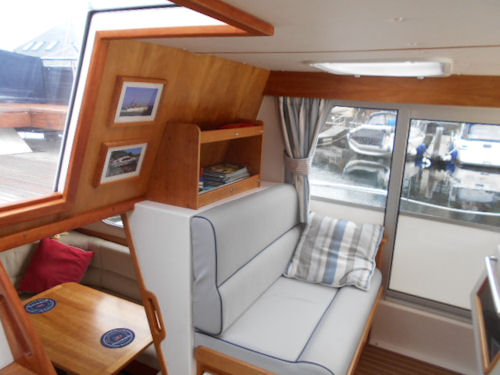 Co-pilot seat to port , easy for two, three at a push, big locker under, opening hatch over, and side door,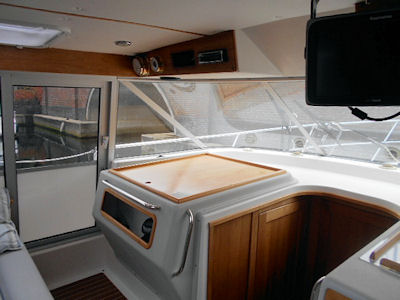 with decent chart area, and stowage below, Good rails, again and odments cubbyhole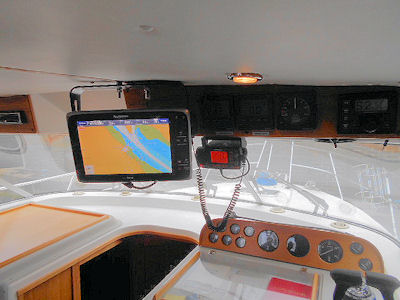 recent Digiatl Quatum Raymarine Radar with Hybrid touch E 125 screen ( PLotter and AIS) and recent DSC VHF,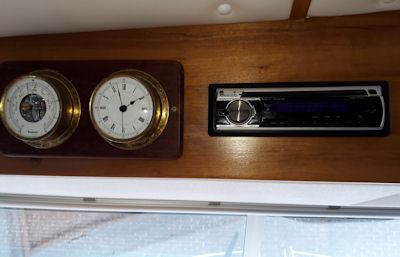 Decent Cd Stereo,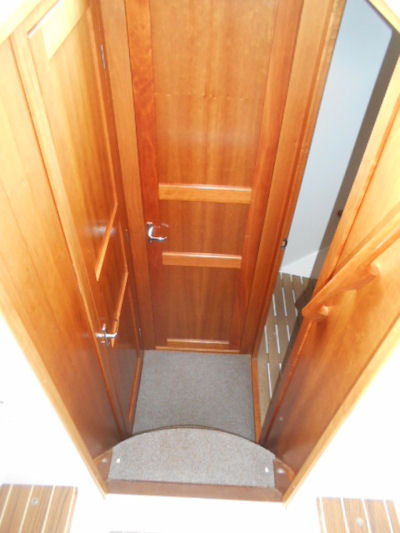 forward lobby, heads/shower right of shot, port cabin left door, and double fore cabin straight ahead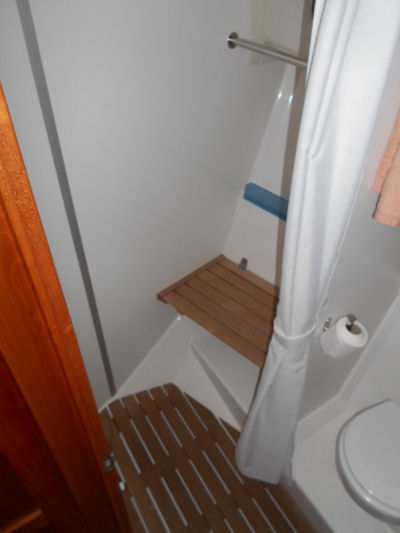 shower space forward in heads compartment with functional seat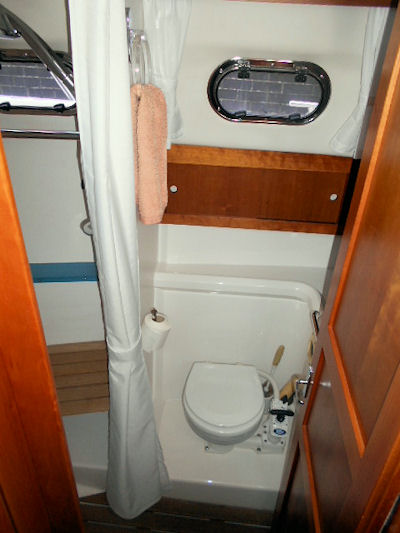 Manual heads,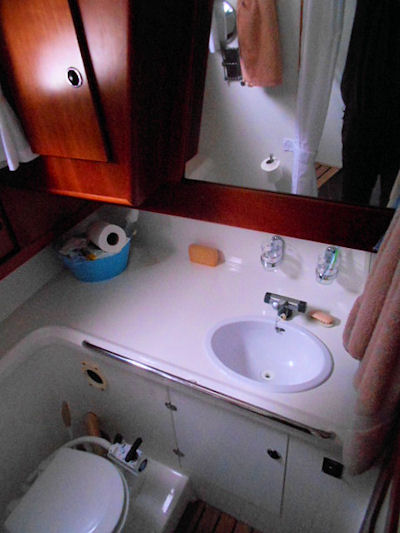 aft behind door, sink unit with high level lockable locker,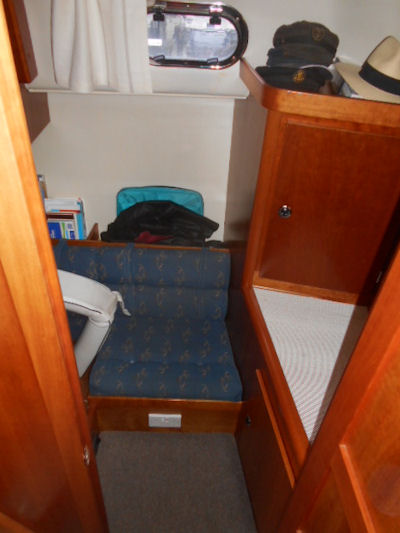 port side cabin with hanging space and dressing seat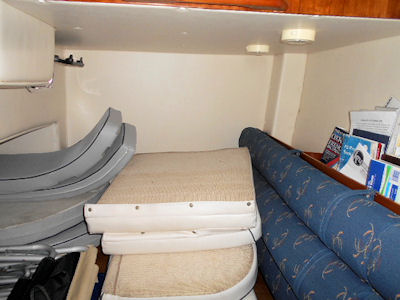 Lots of space to stow cushions in here during winter,
there is sitting headroom in bed with good length down the bed, ( across the ship)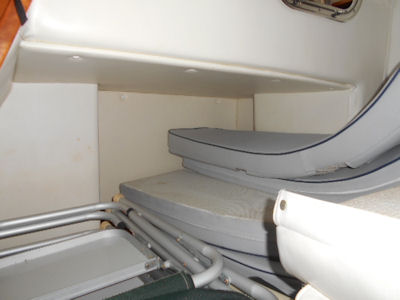 looking down the bed, across the ship, the aft and flybridge cushion sets can be left in place usually as they
have good covers on this boat.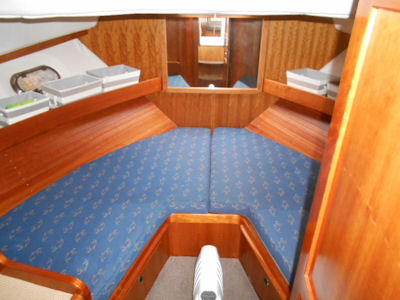 fore cabin, two great big single berths with option of infill, which makes a huge berth,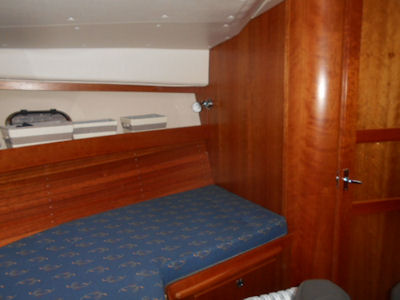 aft starboard side,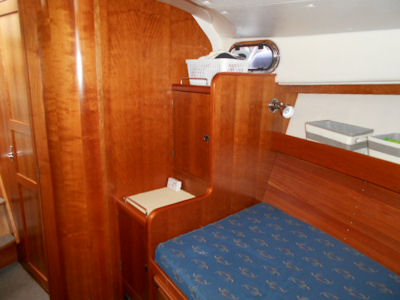 and port side, with hanging locker etc,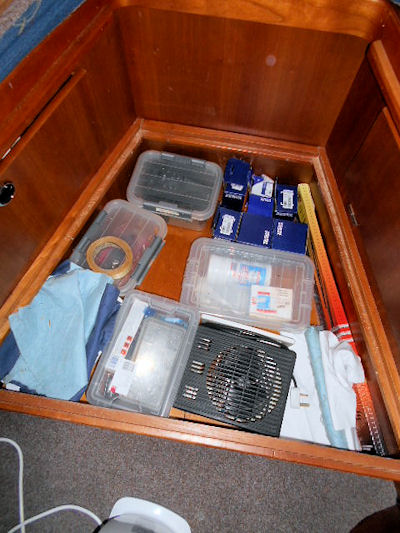 Neat typical well organised spares stowage by this owner, under the floor step,