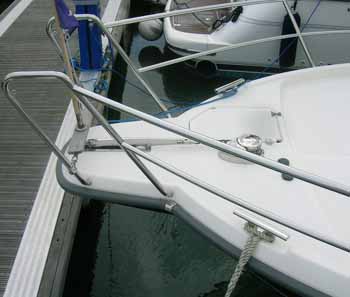 bow arrangement, Bruce anchor through Platform slot to electric Lewmar windlass, Walk through Pulpit, Deck switches as well as at both helm stations.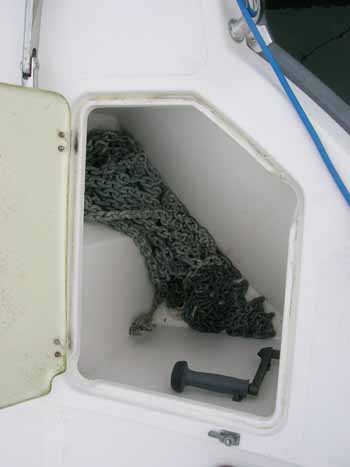 deck access to chain locker, note emergency windlass handle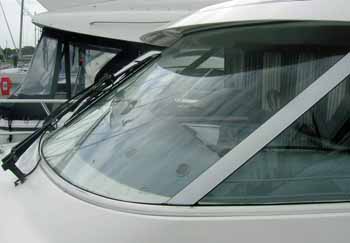 good overhang over screen, and note nice slim pillars with the toughened Glass "Ertech" screens.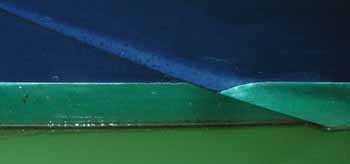 "Copper Bottom " Coated Hull,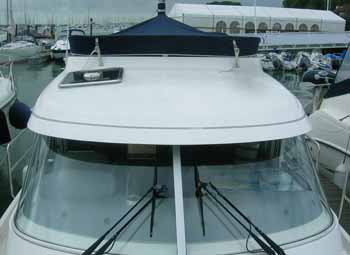 Decent Double arm wipers. with fresh water wash,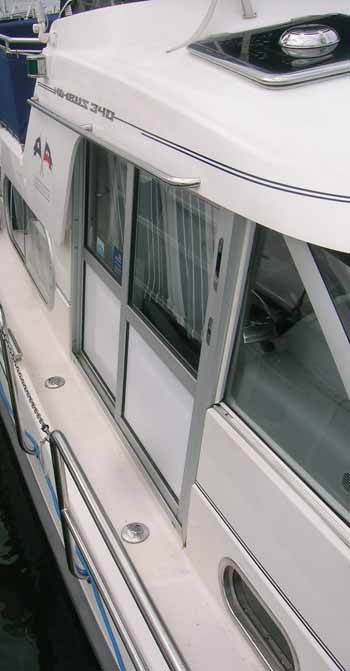 Starboard side door to helm, and gate through rails adjacent.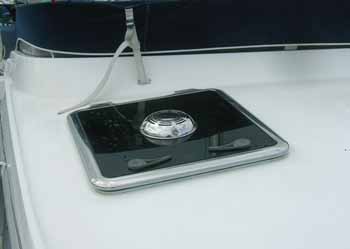 Hatch straight over helm station.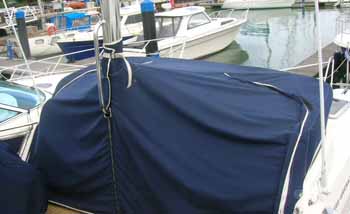 upper helm area covered,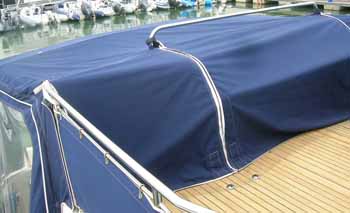 Rear of flybridge and cockpit canopy complete, Note Teak deck option.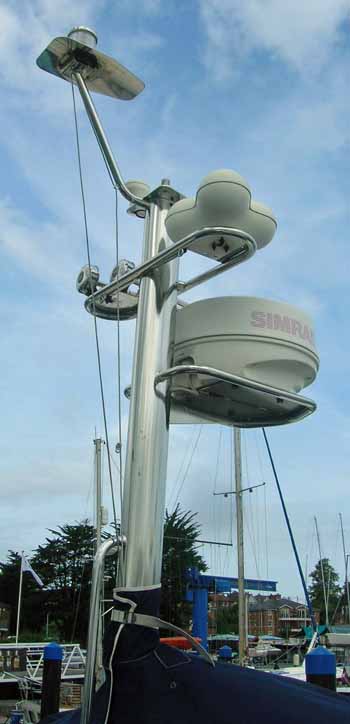 Smart Stainless work to drop aft mast, Radar reflector,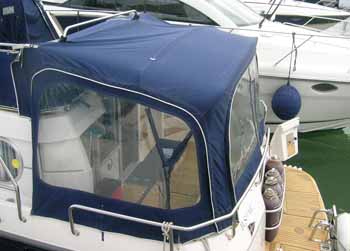 full cockpit canopy make a whole room out here..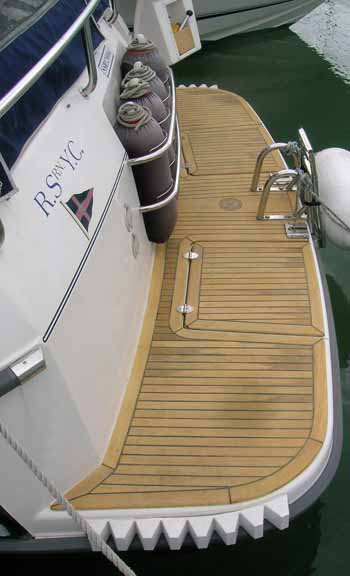 big aft platform makes berthing easy and boarding from either side,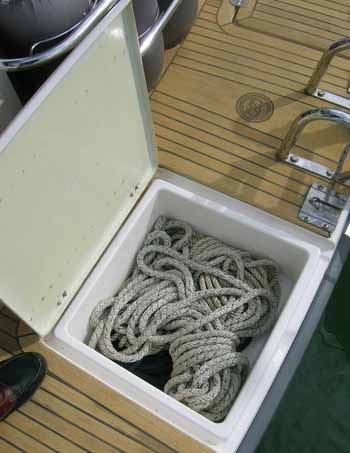 handy lockers aft in platform, note the snap davit slot brackets, so the snap hooks can be removed when not required. Nice "NIMBUS" Lodestar inflatable dinghy included with Honda 2.5 hp outboard ( hardly used..)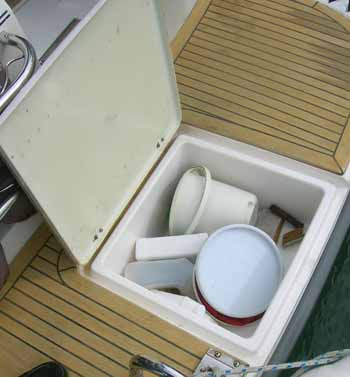 starboard side, Locker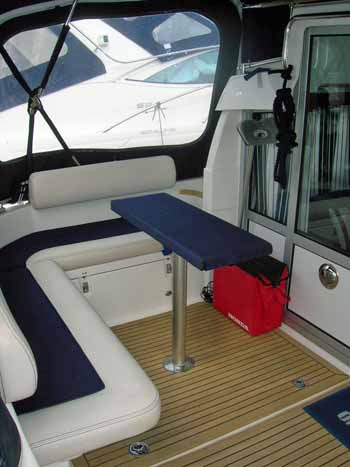 neat cockpit table with cover, nice seating area to port, locker under , Deck lifts to access engine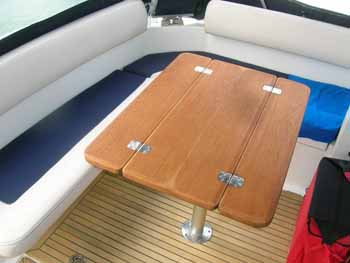 Fold open table, , aft seat left of shot folds down to gain access to engines
like that..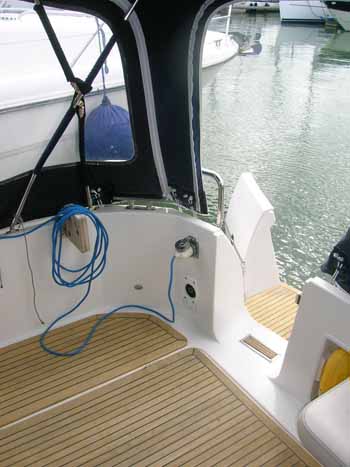 aft gate,, easy aboard. manual bilge pump, and shore power socket..wire hung on OUTboard stowage bracket, ( extra)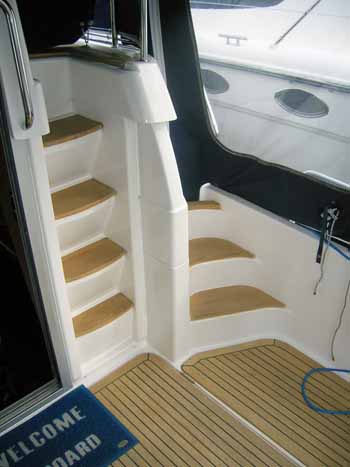 steps to flybridge and side deck..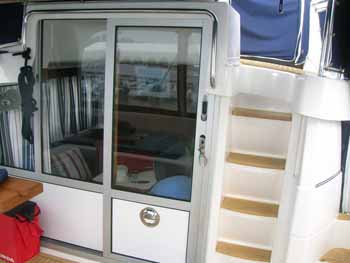 vertical sliding door to saloon,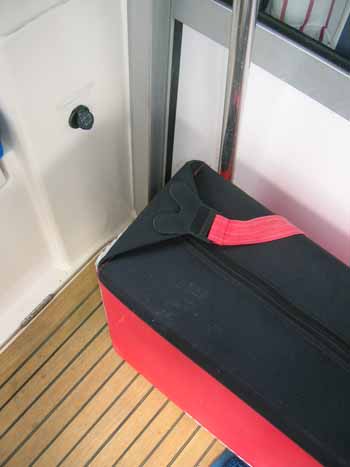 extra 12v socket for cockpit, red box is Owners own cool box..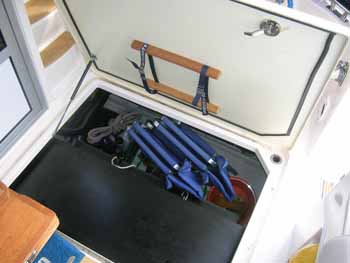 starboard side hatch open, cockpit table stowage position, two big fold up chairs fit here easily.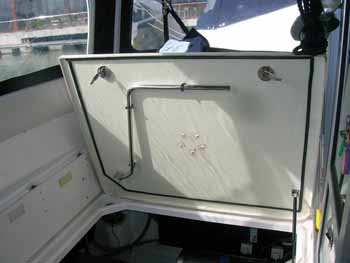 port hatch has emergenecy tiller strapped to it.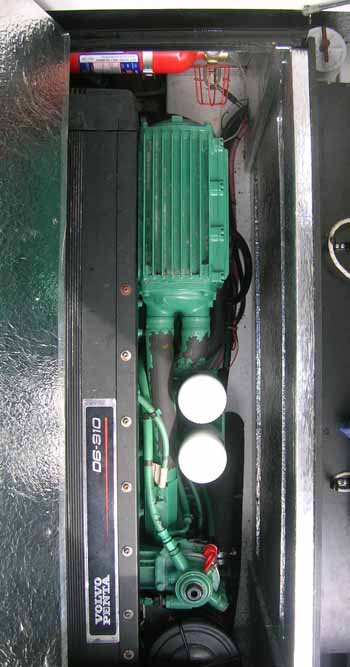 The engine is "BOXED" in this is starboard side looking forward,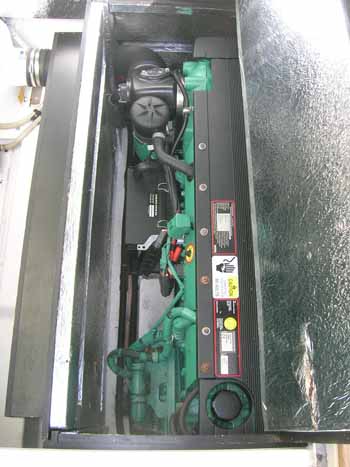 and port, The idea is that with the engine boxes in and fed with required air, it is far quieter whislt running. and certainly MBM DB levels in wheelhouse underway support that that works..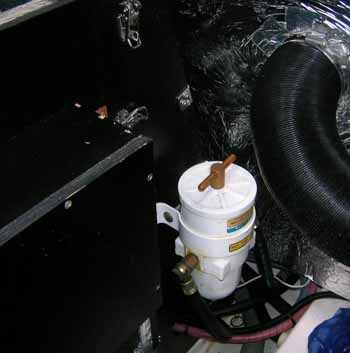 primary fule filter is mounted outside the "Box" so its easy to get at..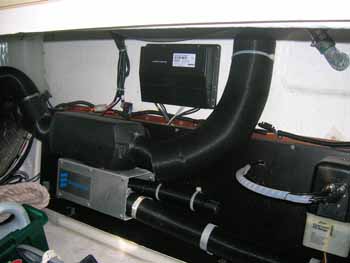 starboard side, Eberspacher Diesel fired central heating unit, with simrad electronic box over, and trim tab motor right of shot, ( the owner had the Bennet "AUTO" system fitted)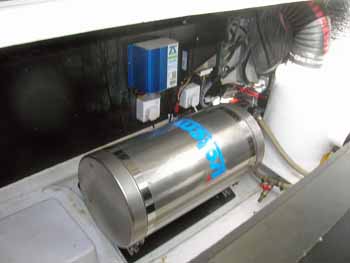 port side, battery charger, hot water tank with calorifier as well as 240v immersion,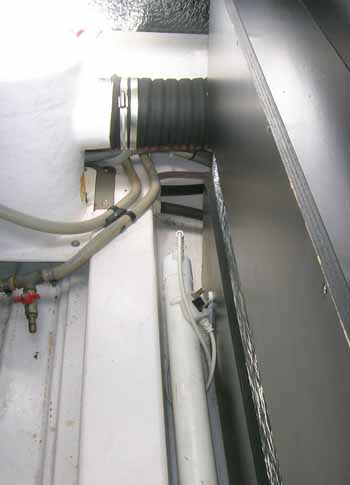 240v tube heaters installed each side in engien bay..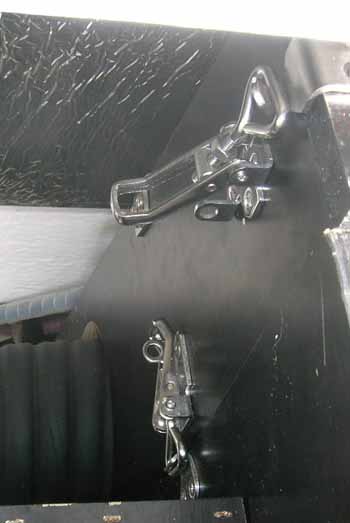 The whole box sheilding can be removed for proper service works by removing all the clips.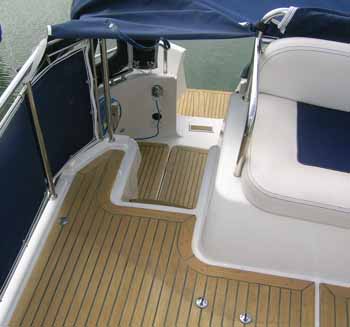 flybridge looking aft at steps , note the key hole slot fittings on the deck are what the cover bungees fit to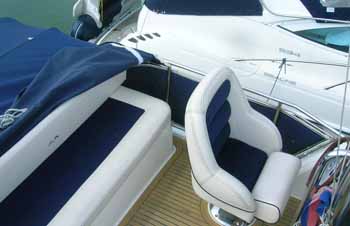 port helm, and seat behind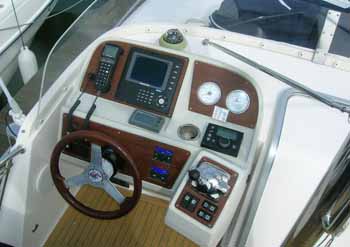 helm, Sun view radar/plotter, Autopilot, DSC/VHF, and echosounder, ( extra) port s/s support to mast.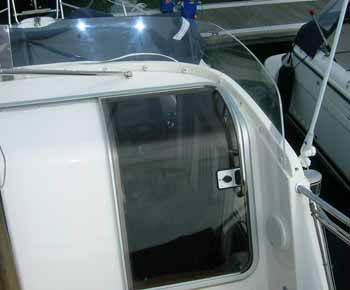 starboard side support bar to mast. ( Nimbus used to use wires, but this Bar support is far better, when released the mast can fold down aft for low bridge work, )
entry door to lower helm., note return screen helps knock wind over your head underway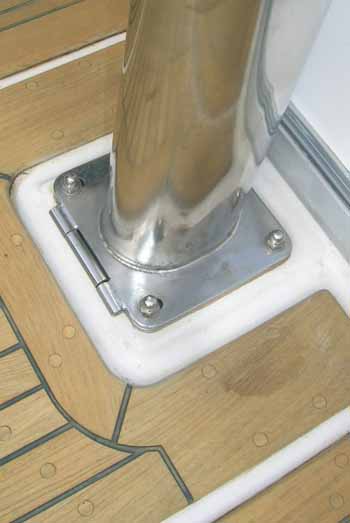 hinge at base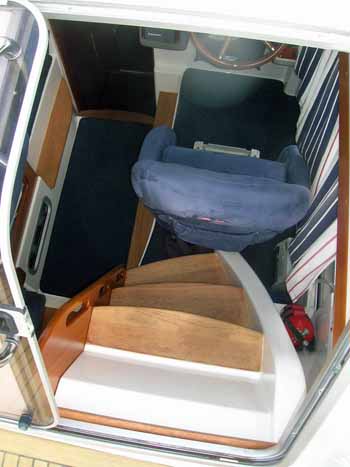 view down with door opem, note the helm seat is slid fully aft in this shot, Great ability to be able to get in and out from here as well as aft..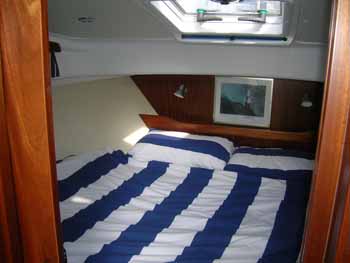 forward offset berth to port, hatch over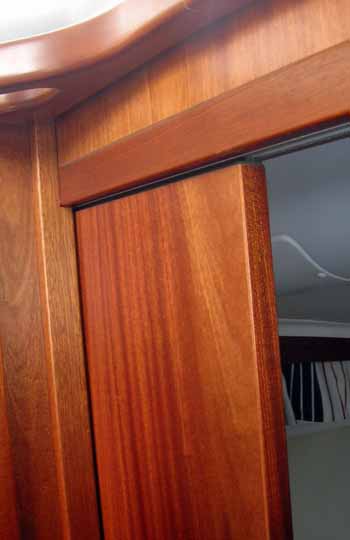 sliding cabin entry door, ( nice woodwork finishes)
starboard side, lockers, and small dressing seat, Hot air outlet..additional alrge Mirror fitted here,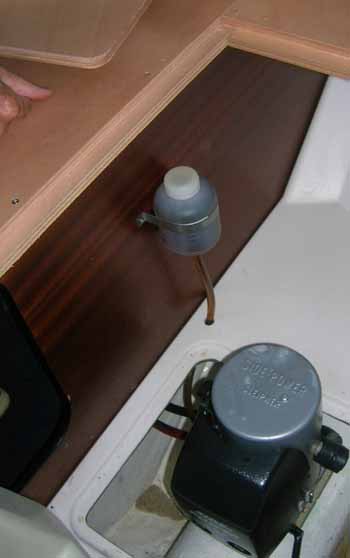 access under berth to side power thruster,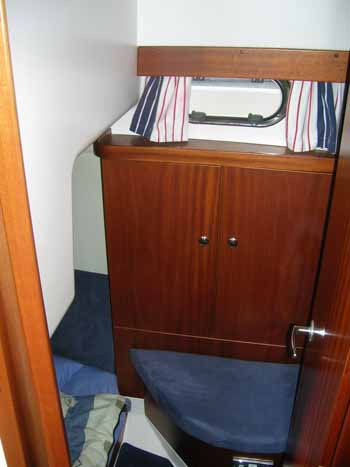 port side cabin,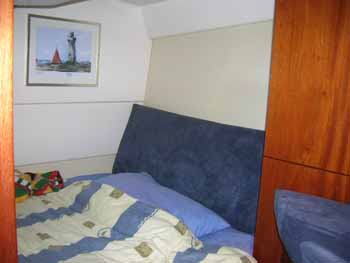 good sitting headroom at hull side,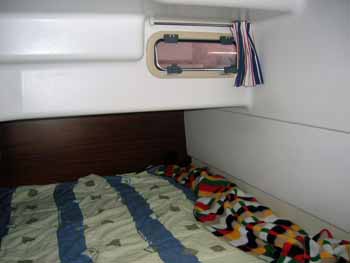 opening port to saloon, adds air and some light, berth extends under helm area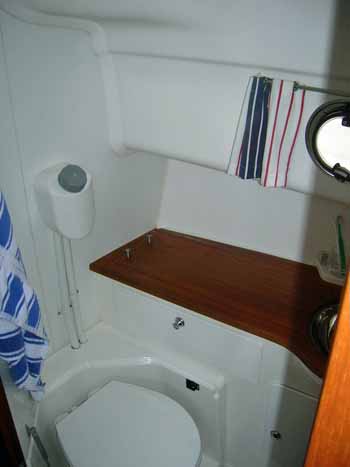 Heads set to starboard, note fresh flush system added..Toilet has a hinge down GRP cover , in shot folded up againstbleft hand side, Mahogany work tops are rather nice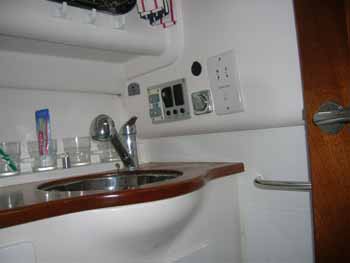 pump and lighting controls etc, behind the door is a door to services..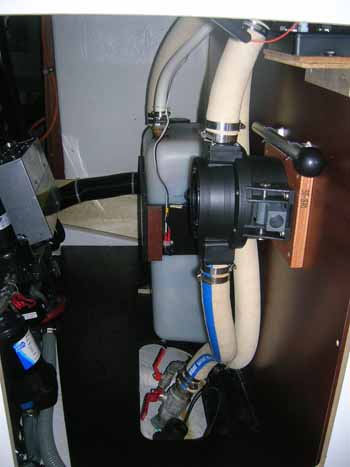 looking in to that door, you can see the manual pump out, water pumps, and various seacocks etc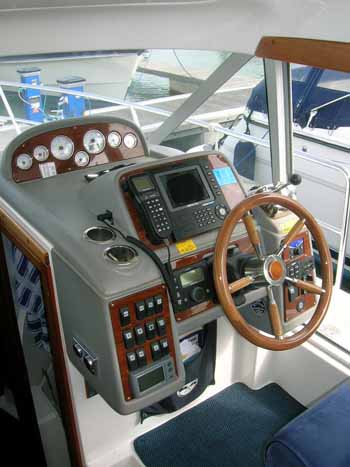 lower helm set to starboard with opening door alongside,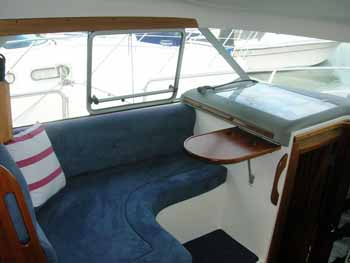 port side of "wheelhouse" neat little drop down coffee table, large opening window,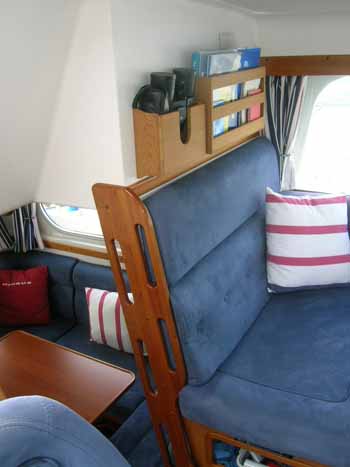 the owner has had extra Teak units fitted to take charts, and Binos, nice detail the grab routered out of the side timbers.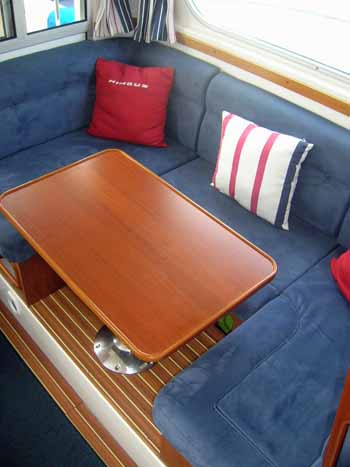 lower dinette set to port, the table will drop and infill if required. locker under all seating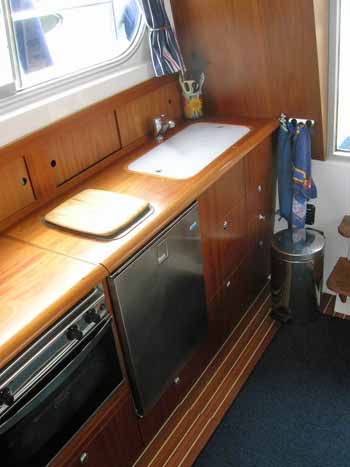 Galley set to starboard, Gas hob/oven, fridge, twin sink. and cutting board in worktop.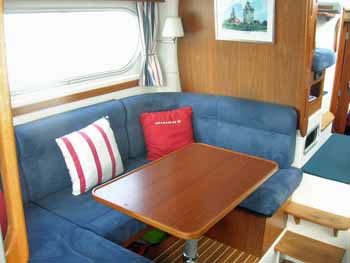 looking forward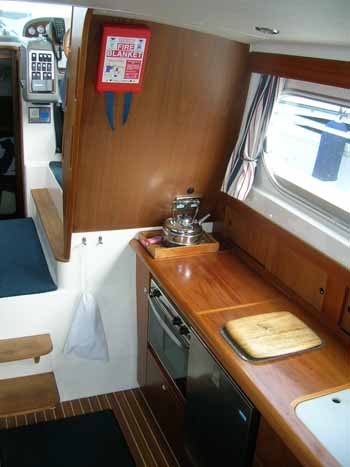 Looking forward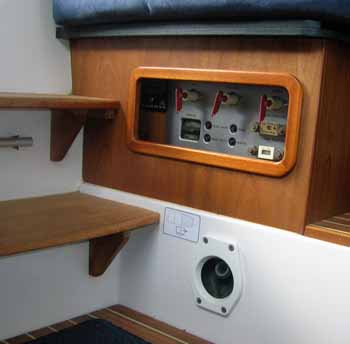 main battery switches etc just inside door to port under seat.. as well as another manula bilge pump..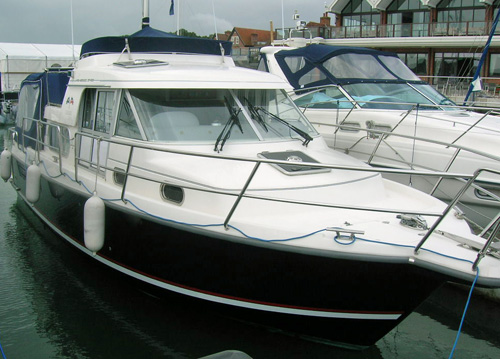 well proportioned looks "Quart in to a pint Pot" I think MBM said.. very clever design.