aft end, Nice Teak option to platform and step lockers, ( gas locker to starboard step.)
note fender baskets, fishrod holder to port, with fuel filler just under,
easy to step off either side when backing into your berth, and a decent High rail to hold whilst doing so.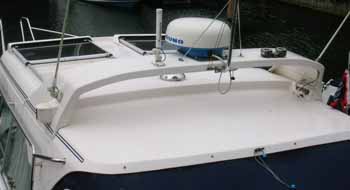 GRP radar arch, is attached by Machine screws and silicone so should you wish to drop her air draught further than just dropping the nav light mast, it is possible.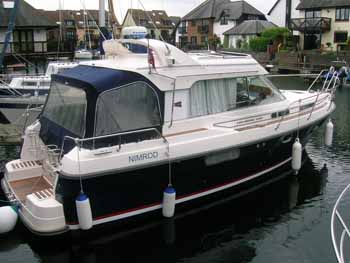 Framed aft canopy, and note good grab rails.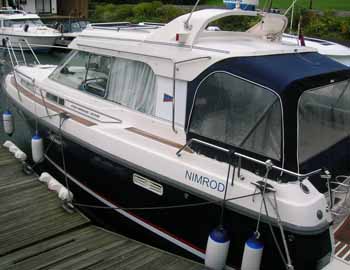 port side, She has the Teak deck option,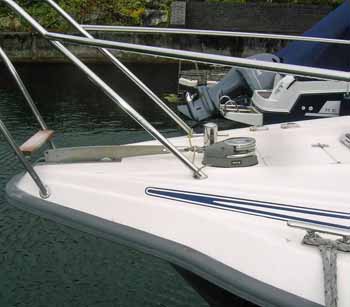 Electric Lewmar windlass, and bruce anchor, she has an additional Sampson post bollard by windlass, Step through Pullpit, common on Scandinavian craft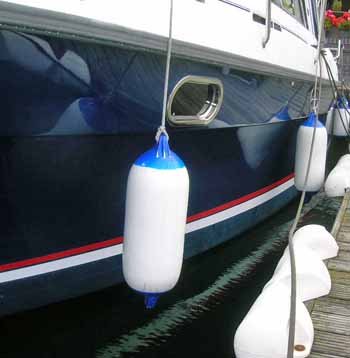 Hull recently polished..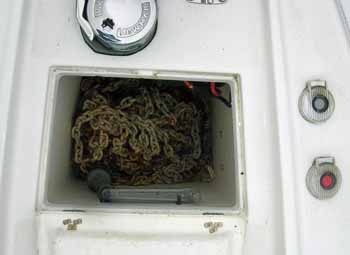 chain locker deck access, emergency Winch handle , deck switches to windlass as well as remotes at helm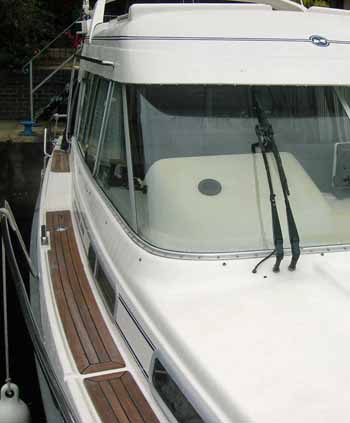 starboard side, deck, note Screens are by "Ertech" in Norway, Toughened Glass, so, narrow pillars and little distortion of view through them,( unlike Perspex), you can see the demister hot air outlet at helm, there is one to poprt as well, so when running you dont need to fire up the heating,,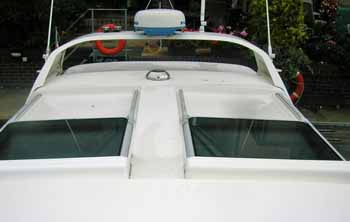 big roof hatches slide open aft, and as well as light and air, often is the time I have stood up here, in bad visibility, or entering an unknown port, River, Lock or what ever, and if navigating through a patch of Lobster pots,, very handy.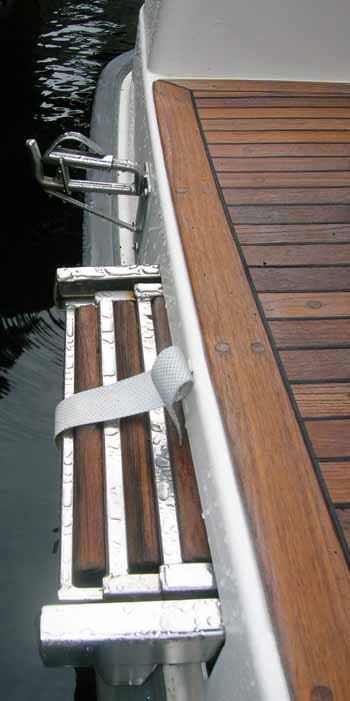 Swim ladder slide out of platform and note Snap davits fitted, Teak on platform is in good order,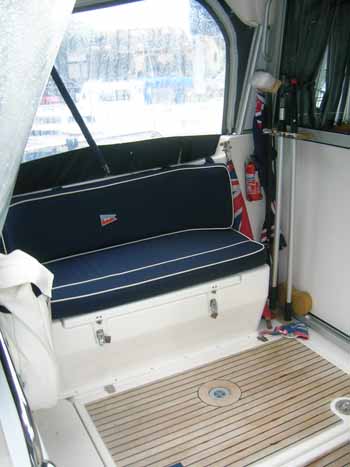 port cockpit, Big locker under seat, Cockpit table stored in locker sits in base, cockpit hatches lift to good store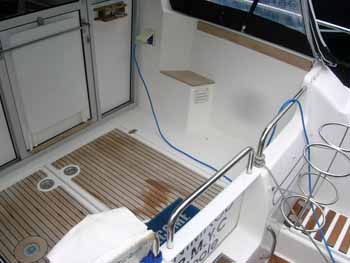 starboard side, step to side deck, power point,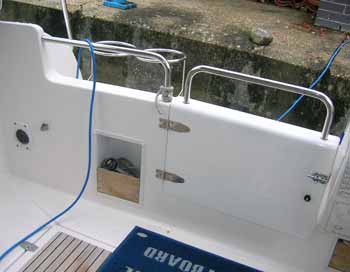 big aft gate, makes berthing and boarding generally easy. Manual bilge pump left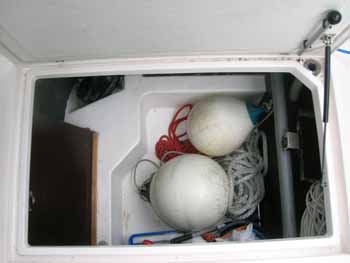 Handle for bilge pump stored. Moulded liner makes it easy to keep neat in here, access panel left in to back end of engine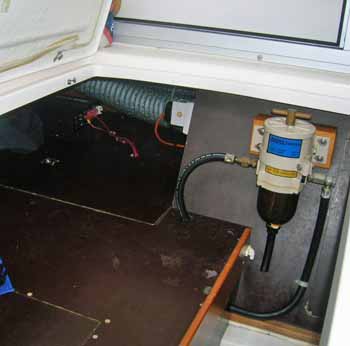 easy access to Primary fuel filter, battery storage left forward under lift out panel.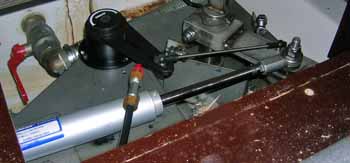 aft access to steering ( Hydraulic) rudder reference unit to Autopilot, emergency tiller drops on Rudder top.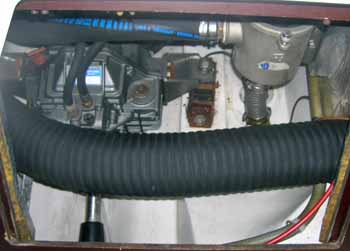 view in to aft end of engie, allow east access to water stariner, seacock etc, as well as Shaft gland, and gearbox checks.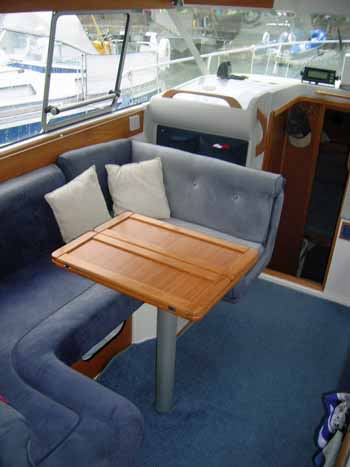 dinette to port, double fold table, seat "rolled" to face aft.. large opening window lift out carpet to get to engine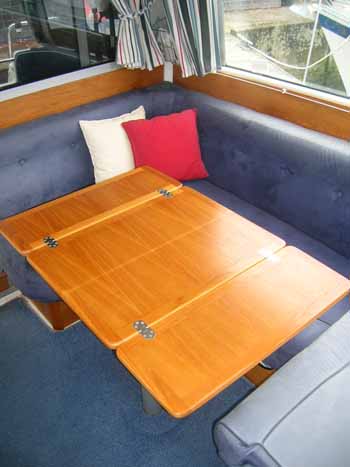 looking aft, table opened, TEAK interior woodwork.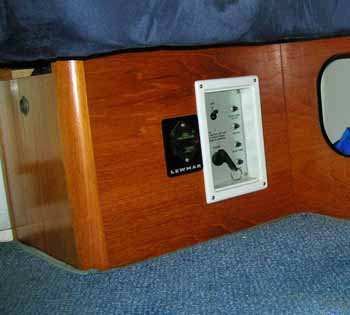 Main battery switches , and windlass breaker etc.drawer left pulls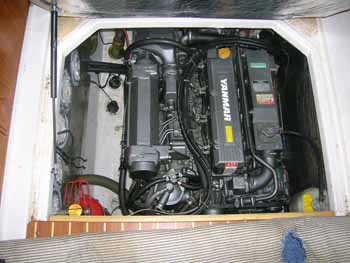 Engine hatch on Gas strut, you can see the air inlet pipes left, Nimbus BOX the engines in and feed them with air, which reduces the noise dramatically..you can see the log transducer and echo sounder left of shot, Great Engines the 4LH, this one has been well maintained by Dealers, even though The owner has done few hours in her since we sold her to him a couple of Years ago..
She now has 1900 hours running showing on her remote hour clock,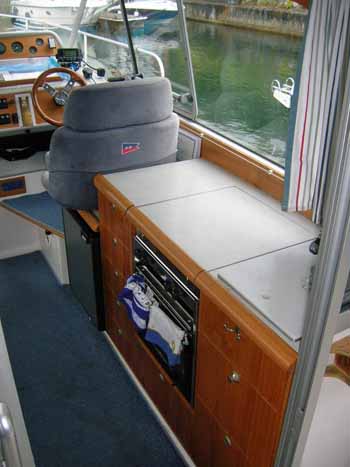 Galley set to starboard,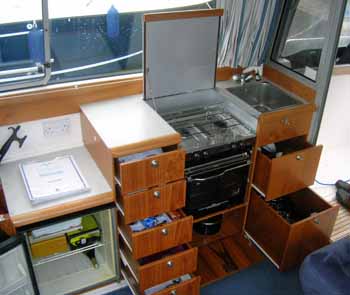 Offers better practicality than you might imagine, fridge left, with worktop above, and double 240v socket,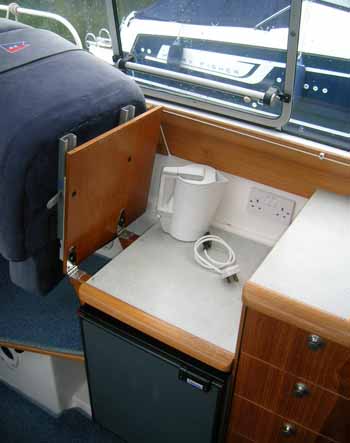 Helm seat tips away..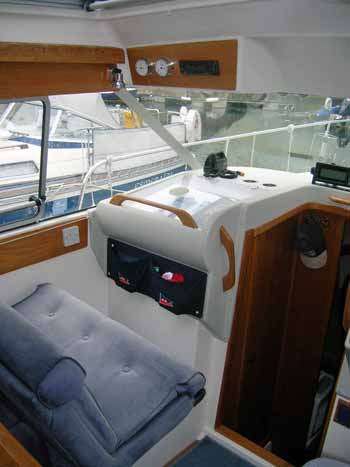 Co Pilot seat "rolled " to face forward.., good grabs, and small paper chart area,
Upholstery is a little sunfaded , but otherwise in perfectly good useable order.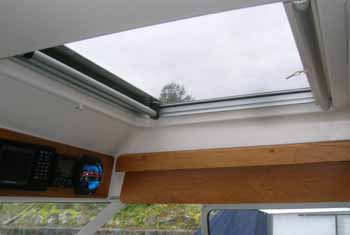 Both Hatches have pull out blinds,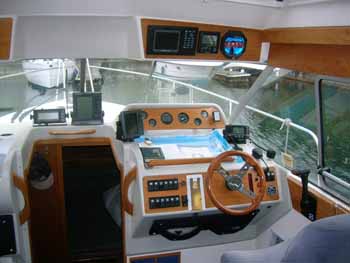 very well equipped helm station, and note what a great vision through these "Ertech" screens,
Nice to see a DECENT magnetic bulkhead compass in addition to all that technology!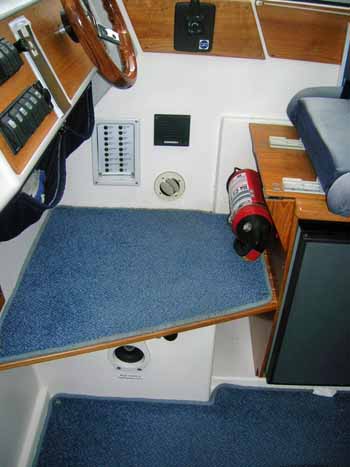 Hot air out at feety, VHF extension speaker, next to domestic breaker oanel, Holding tank manula pump out under step.Fridge under helm seat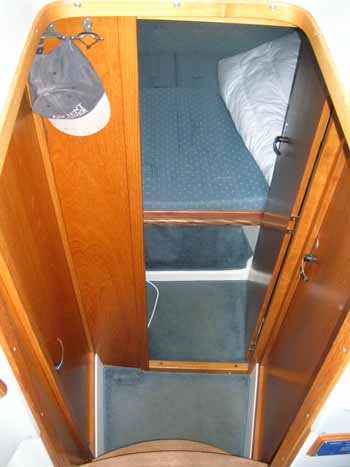 looking forward from saloon,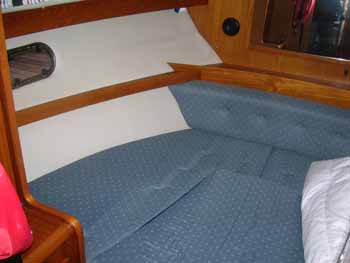 double made up forward with infill, the cushion at end lifts away also to make berth even longer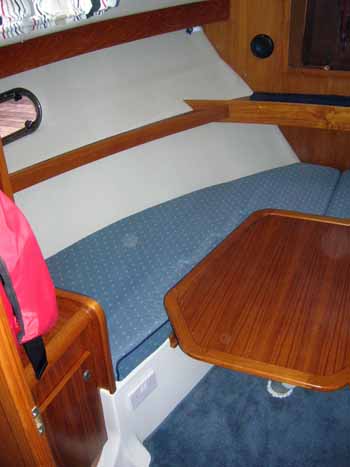 table on gast strut, note 240v soskets, hanging locker port,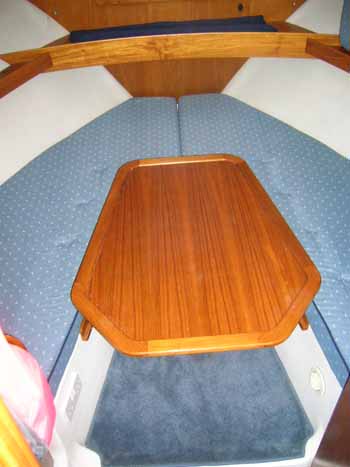 the table can turn to make it easy to sit round it, lockers under both berths,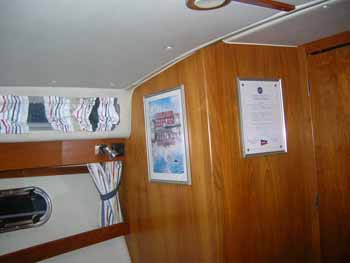 starboard side, reading lights, Heater controls, and NImbus builders certificate in a frame..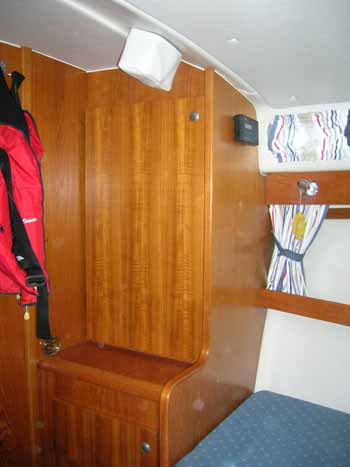 port side,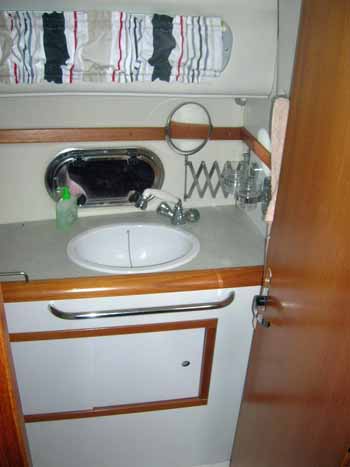 heads, tap lifts out as shower head,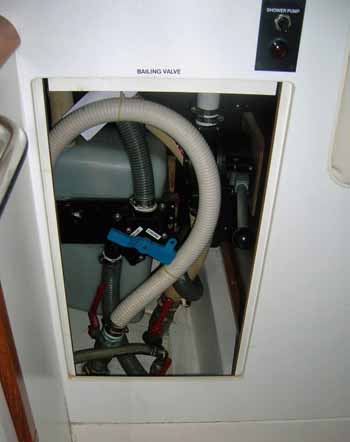 locker behind cabin door, give access to all servcies, and "Y" Valve to toilet tank.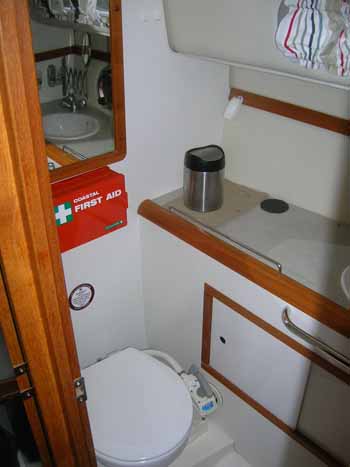 manual toilet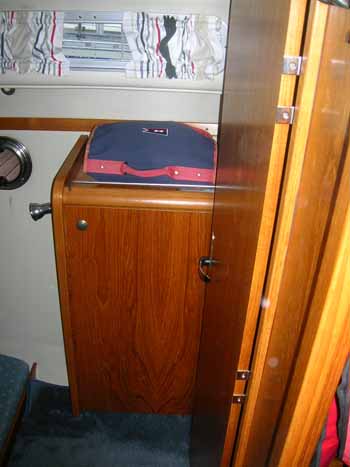 port side cabin, hanging lcoker as you enter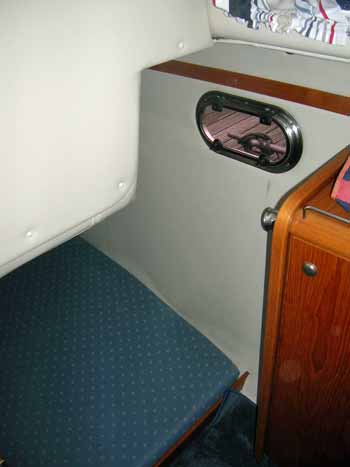 opening port, and good sitting headroom at bed head,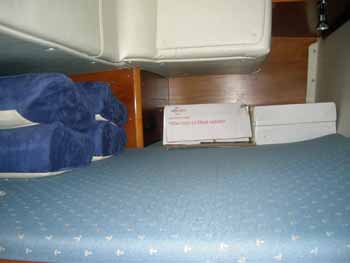 cushions left of shot are from forecabin , berth extends across the boat, Boxes in shot are two oil filled rads, being included,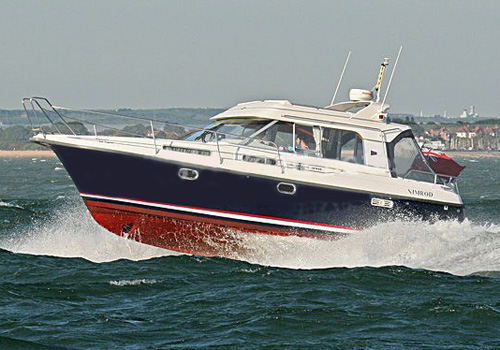 Great Running shot taken a while ago in the boats life.. Bashing along, which they do rather well with great fuel figures.. with 4 GPH at 19+ knots being VERY good indeed, so That even in these times of High fuel costs, this is a boat you can USE and go places, without being scared too much by the fuel bill.