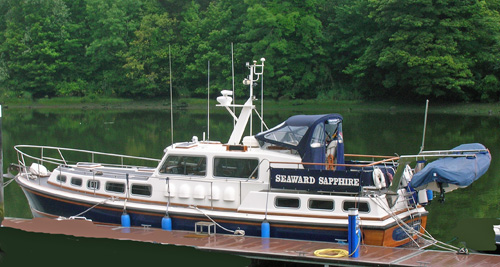 Sat at her pontoon berth near Colleraine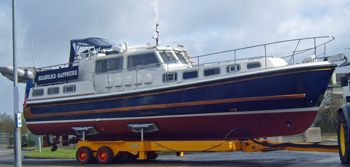 on her way from the boat lfit to her storage shed..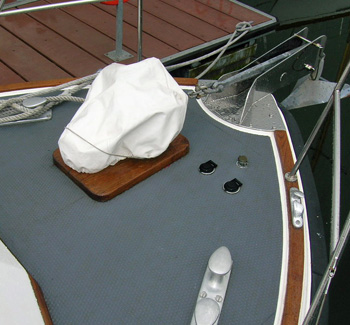 neat details forward, big solid bow roller , CQR anchor, deck switches to electric windlass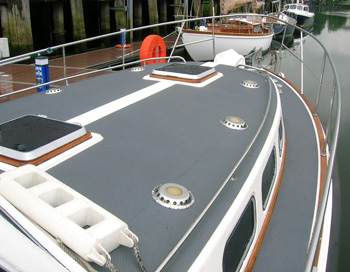 nice grab rails all along coachroof top, twin deck hatches..note lots of nice static s/s vents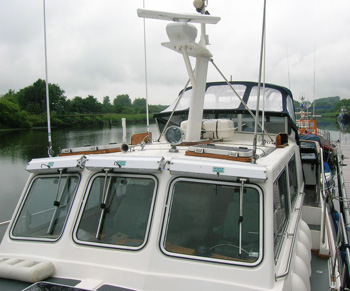 wynn straight line wipers to each of her flat screens.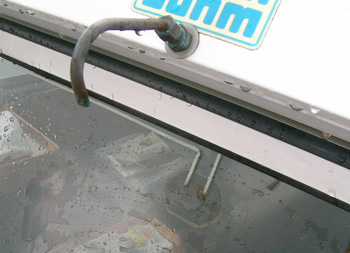 close up on the screens, note the decent fresh water screen wash delivery tubes, and you can also see the screen demister heater element connections..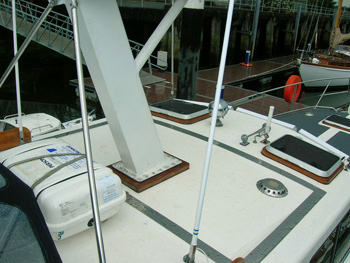 wheelhouse roof, looking forward, twin deck hatches.. nice tall mast well supported.., note there is a full deck hatch that would allow an engine out if ever required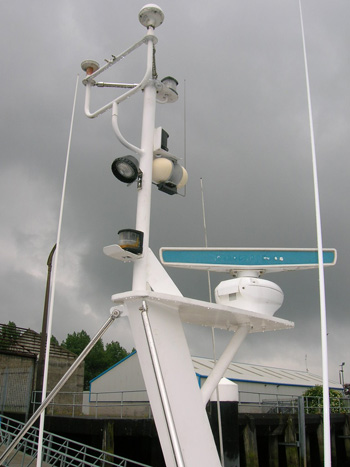 Great Mast with struts at the aft end, open array scanner on the platform forward, nice mast to carry the nav lights, GPS antenna, "visiball " radar reflector, deck flood lights,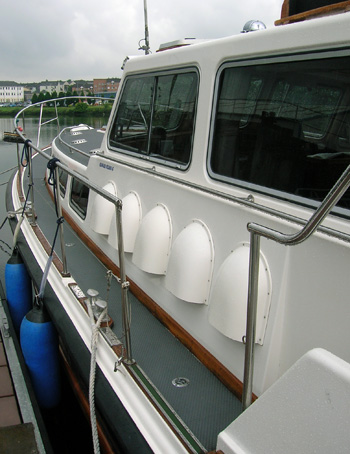 port side deck, wonderful air intakes.. and up here means there should be less chance of the taking salt water spray in, gate in the side rails..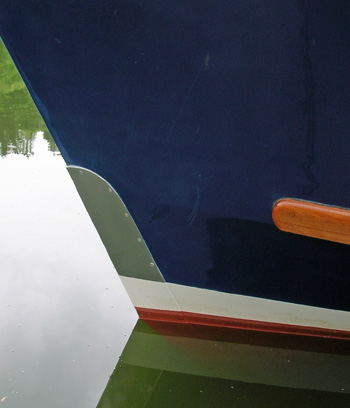 stem , note the nice stainless cheek plate wrapped round the stem, see also how clean the waterline is..and the teak rails are in beautiful order
aft end, big extending arm davits, carrying a rib with recent outboard, the swimming ladder drops down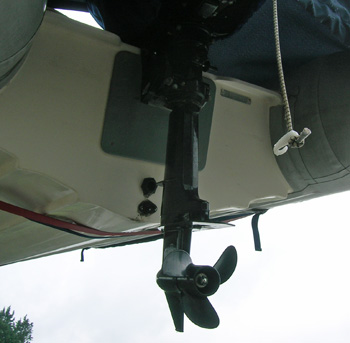 recent , in fact barely used the small four stroke sits on the avon rib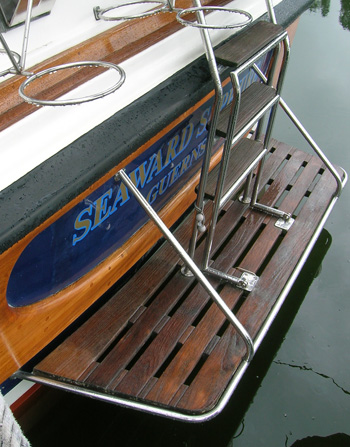 solid swim platform aft, fender rings top of shot, again note the Teak badging is immaculate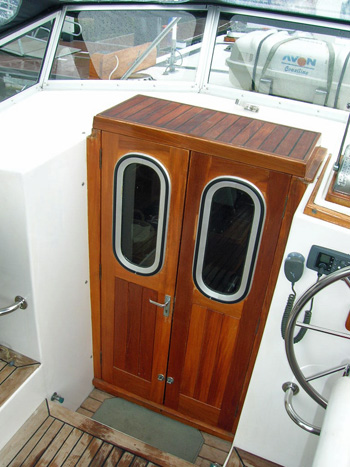 cabin entry doors from aft deck, helm to stb, forward facing screen,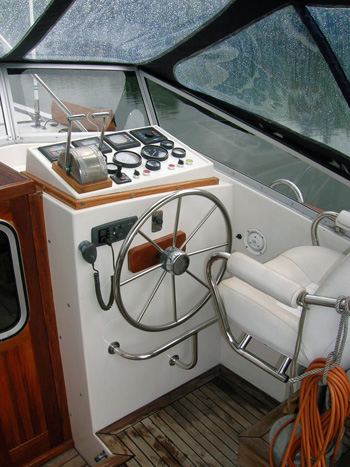 nice controls, recent dsc vhf, canopy over makes running her from up here fine in a variety of weathers,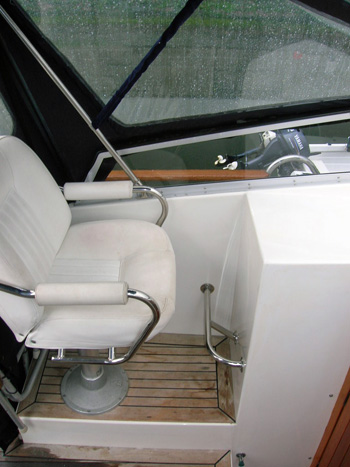 co-pilot seat to port, nice teak deck,,
aft deck lcoker boxes,, with cushions ( in the boat ) here she just has covers on, teak deck,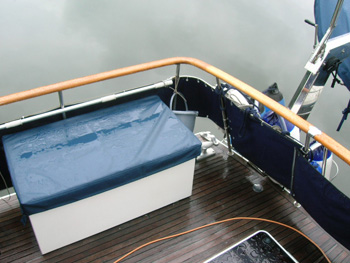 stb side, teak cappings all round,
nice view of the dinghy in her davits and you can see the gate in the cappings.
port side detail, decent size alloy cleats with two fairleads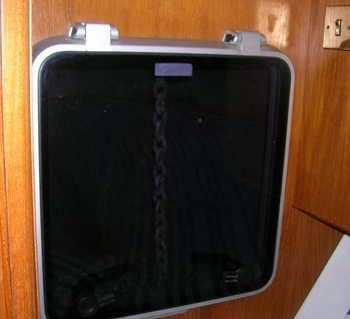 so starting from forward in side, smoked perspex hatch to chain locker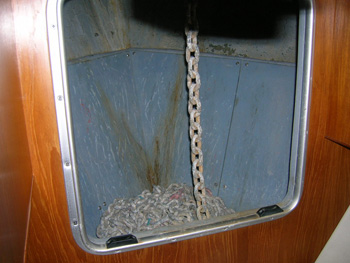 easy access and easy to get at base of windlass. Smart Teak based interior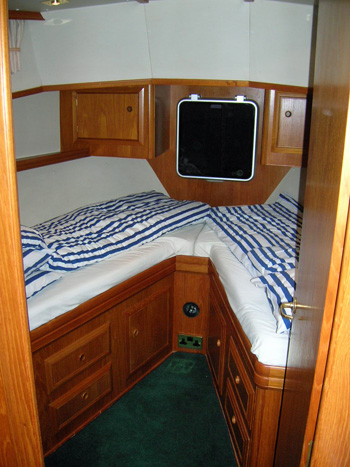 twin vee berth layout, beautiful details, hot air outlet forward, nice drawers and lockers under and over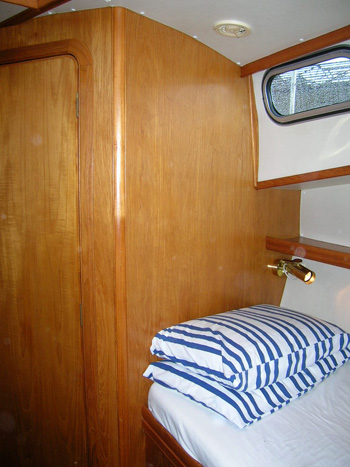 stunning woodwork, deck vents in all areas..
looking aft in fore cabin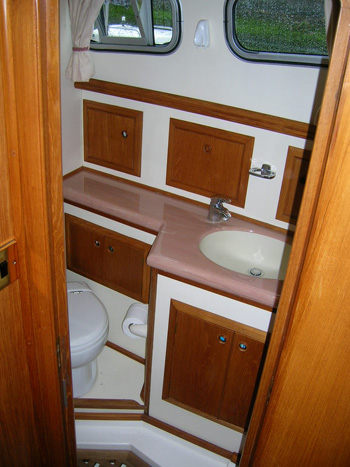 forward heads / shower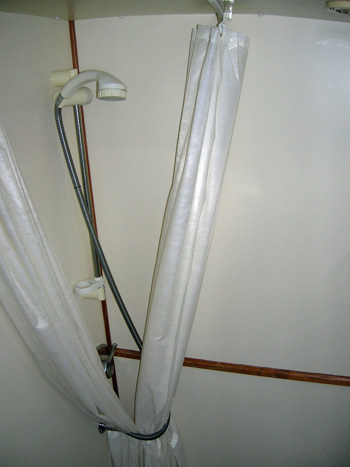 good space for the shower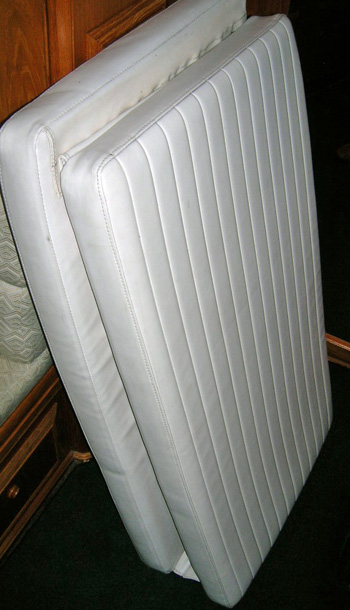 these are the cushions for the aft locker boxes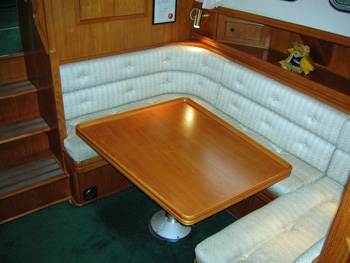 dineet set to port, will drop to a berth if required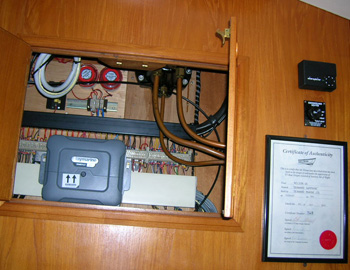 look at the neat systems, behind the dinnette access to under steering and various electrics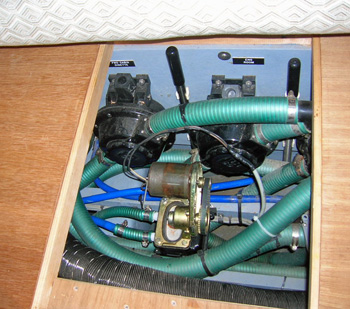 under the aft seat base. easy access to water pumps, waste tank pump out etc..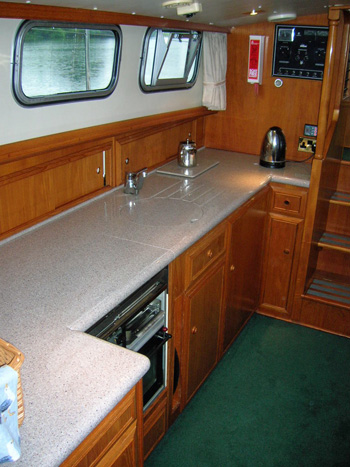 galley set to stb side, corian work surfaces..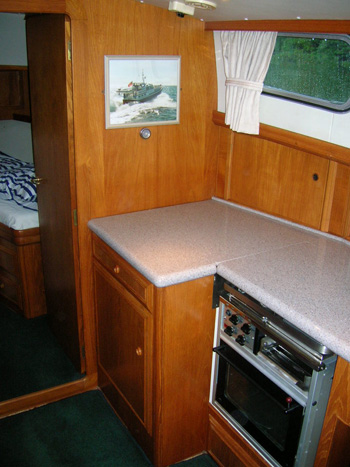 looking forward to stb,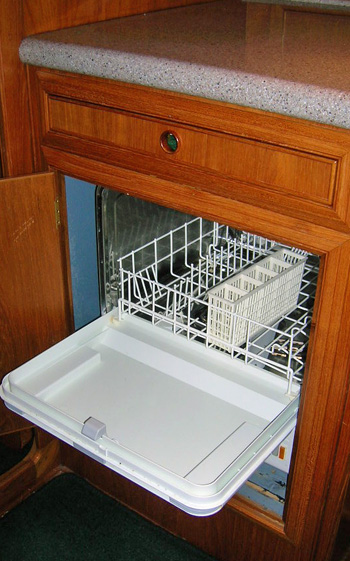 dishwasher...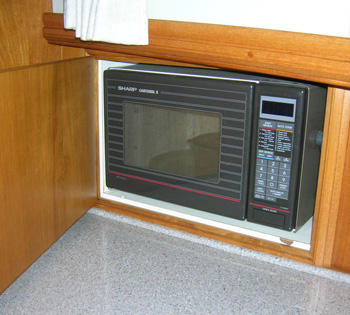 microwave...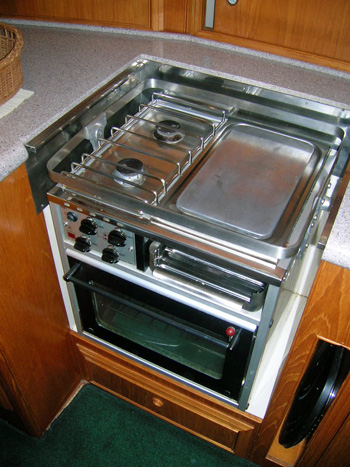 great cooker, grill and oven...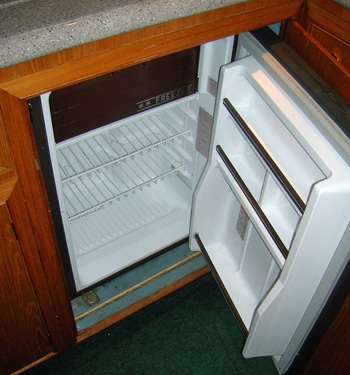 fridge with freezer/ice box,,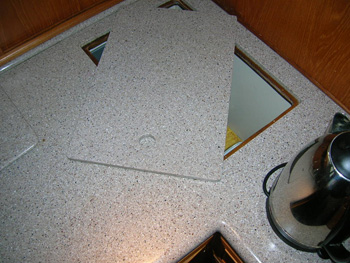 cool storage lockers under surfaces..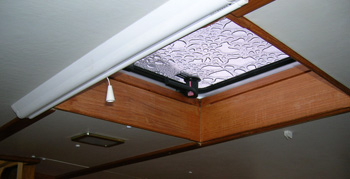 hatches over saloon, sun blinds..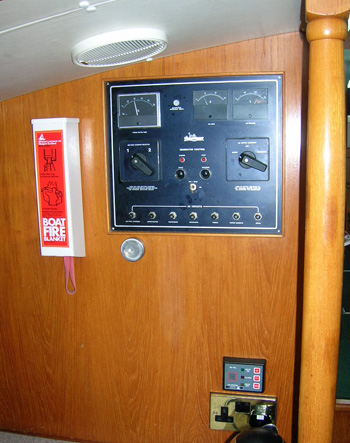 aft bulkhead galley side, battery controls and generator selectors..etc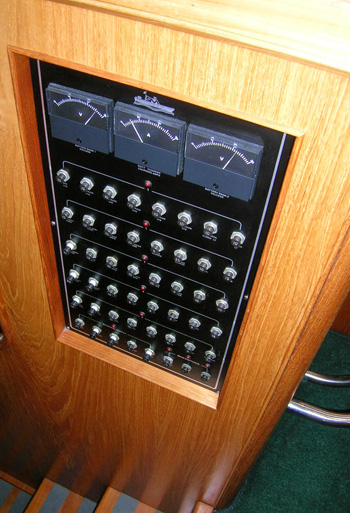 domestic panel of breakers on stb side by steps..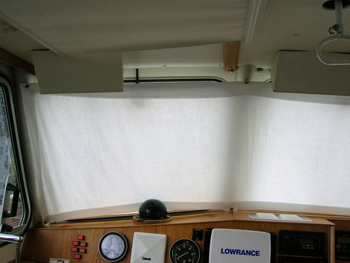 there is a screen sun blind in side the screen,,to keep fade to a minimum.
helm set to port,
excellent view through the flat screens and side windows.. (opening)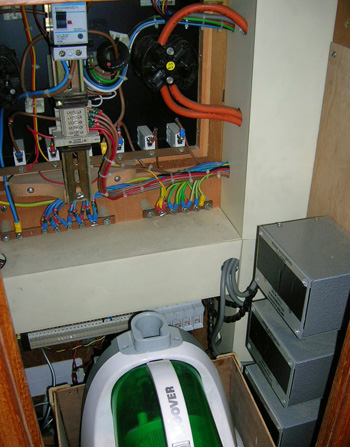 stb side access t back of selector panel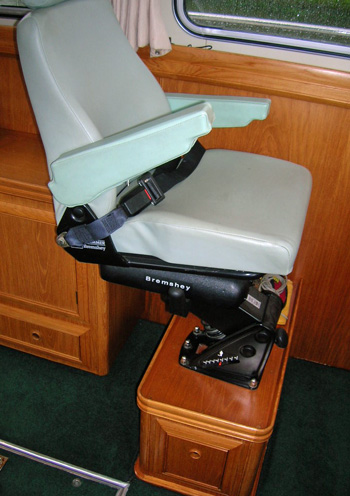 Fabulous damped seats, serious ability in a lumpy sea.. the boat slices through all but serious seas..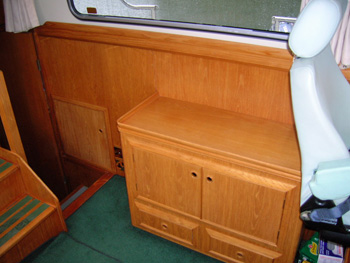 port side locker in saloon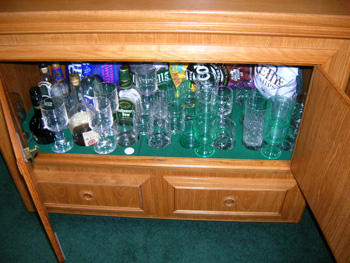 houses the drinks locker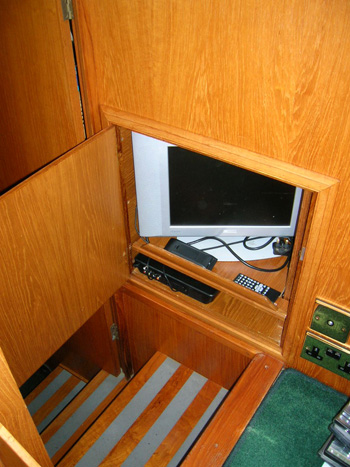 locker aft house the flat screen and dvd etc..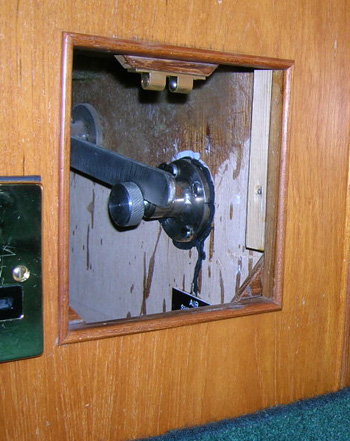 access each side low down lets you get to the fuel shut offs..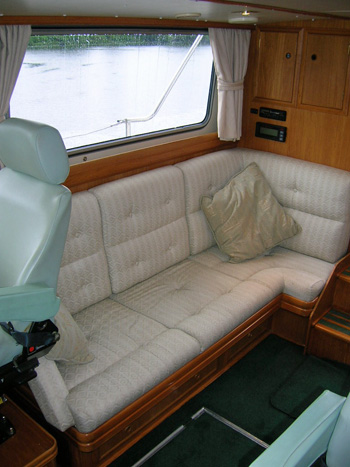 settee stb side,, very nice..
chart drawer under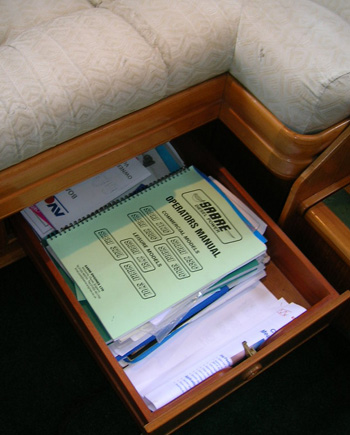 all the original engine books, etc are aboard..
looking aft down the steps on the port side,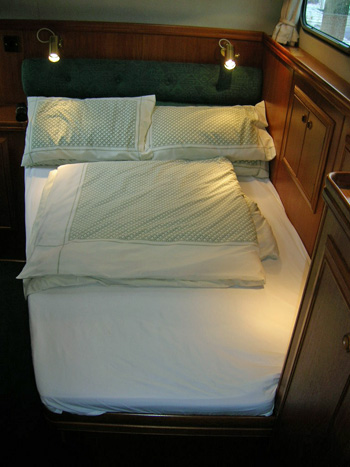 wonderful aft double bed.. set over to the port side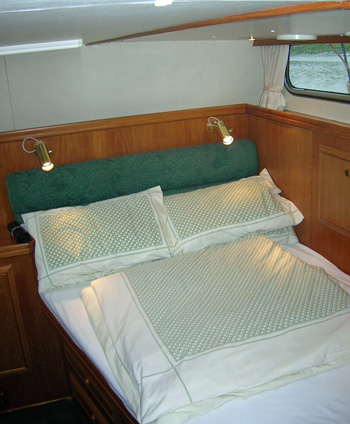 better view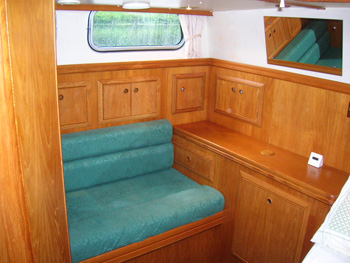 dressing seat set to stb aft corner great stowage
easy access to aft steering gear, note the bar heater in here
fuel tanks under bed and seat each side, huge inspection hatches..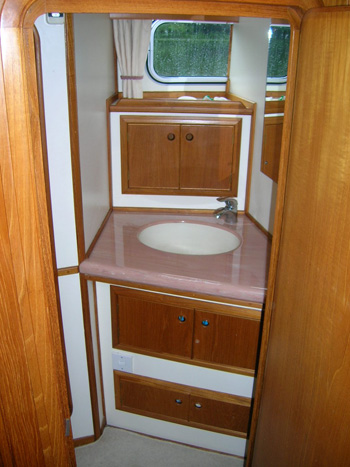 en-suite set to stb side..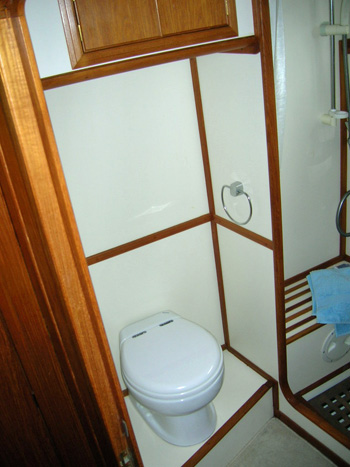 electric heads..
seat in shower cubicle.. all clean and very smart in here..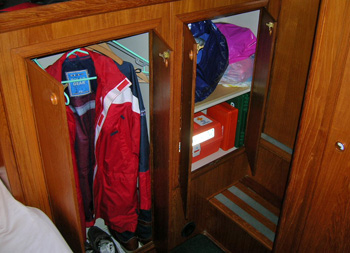 hanging lockers port side by steps up to saloon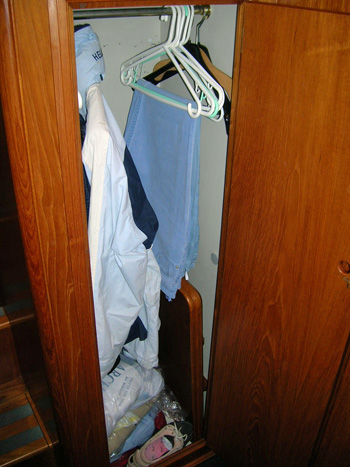 and another set to the right of the steps..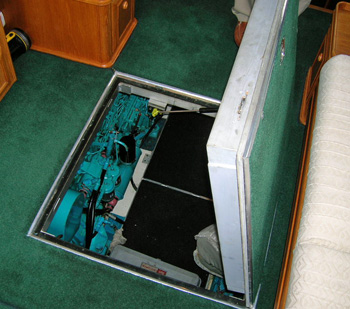 daily access to immaculate engin eroom..gas strut on hatch
clean units inspire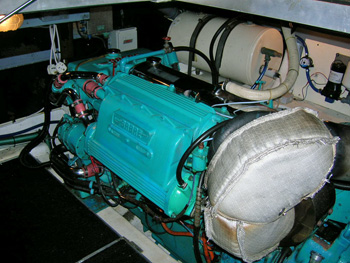 all clean and tidy in here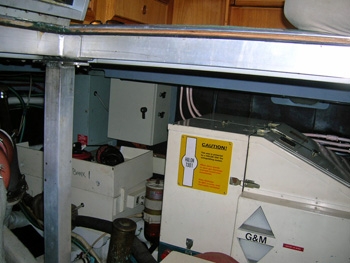 generator set aft on the centreline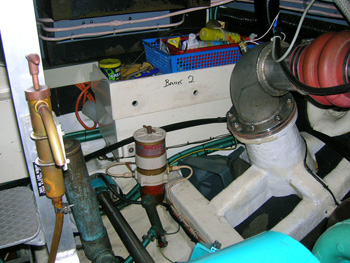 port aft behind engine.. note fabulous frames .. huge strong build, note the underwater exhaust exits, and easy acces to water strainers and fuel seperators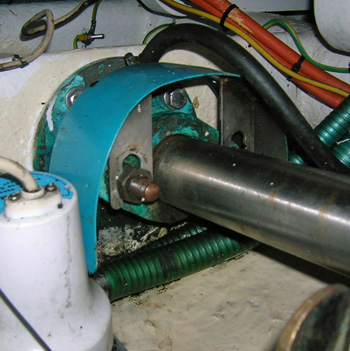 packed stern glands with spray covers /protectors..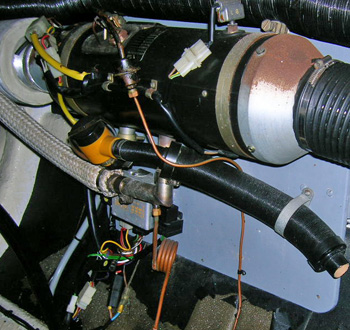 big eberspacher diesel fired central heating unit set up port side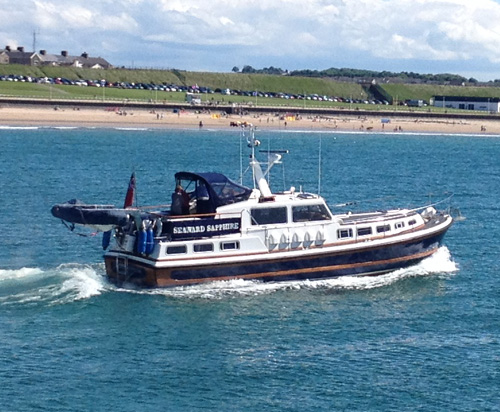 such a hansom craft... happy pootling along at 8 knots sipping fuel.. or pushing through the rough stuff at a powerful 18 knots .. she will push on to over 20 knots if required..
Ready to Go...