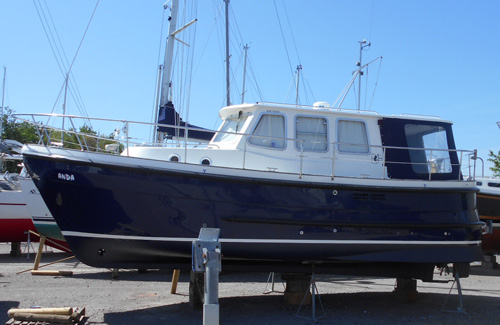 Sat ashore Hythe just had new polish, new antifoul, anodes etc,, and prop polished.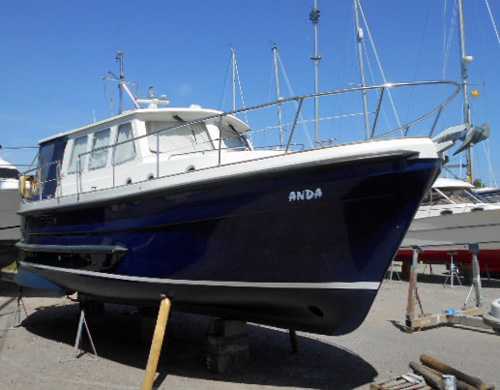 super "Tug Boat " style. and the lower rubber D fendering looks perfect for lock work etc.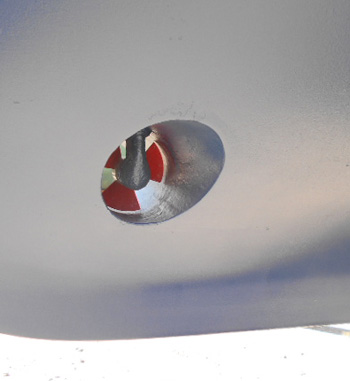 Bow thruster Vetus 85 Kgf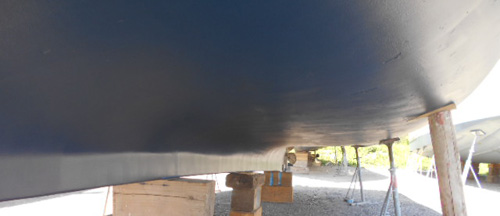 full length shallow keel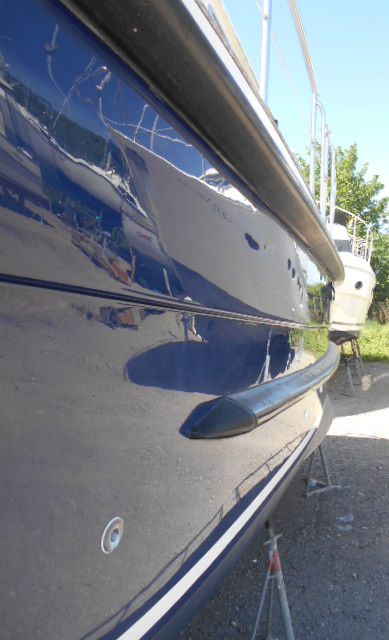 port aft, note the shine,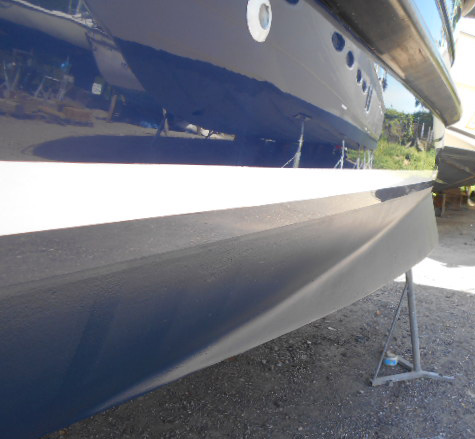 and the clever wedges out of each chine section aft, which widen her buoyancy platforms aft, and apparently help reduce Wash.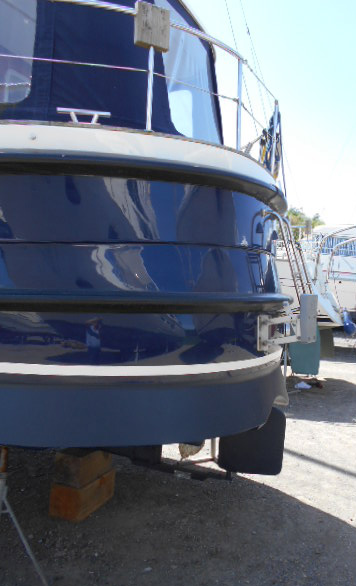 wide canoe stern, with swim ladder just the other side of the auxillary bracket, Note auxillary bracket up on aft rails also,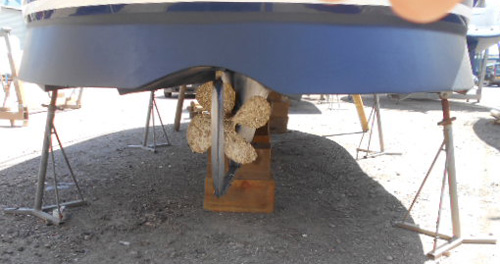 semi tunneld drive helos reduce down angle to shaft and increase efficiency as well as keeping draught to a minimum.
this shot taken just before prop was cleaned off!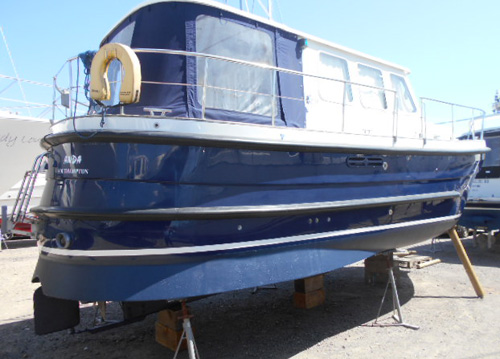 a good angle to see her flat section aft,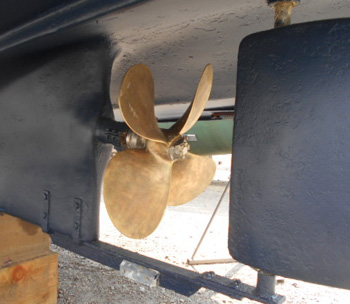 stainless steel shoe under prop from keel end to rudder helps prevent rope or weed fouling,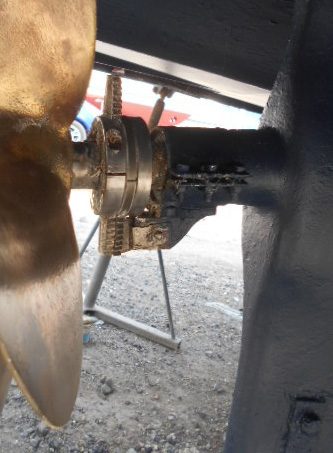 But there is a decent Ambassador stripper fitted as well.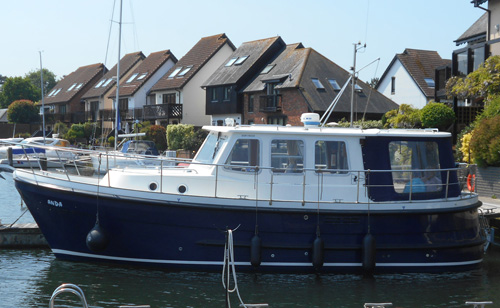 NOW 24th May 2018, afloat,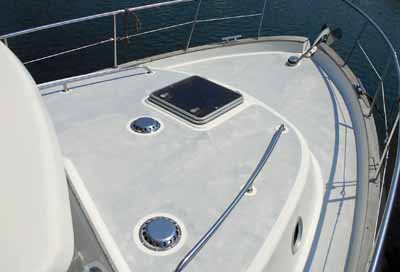 nice easy decks electric windlass, controls at helm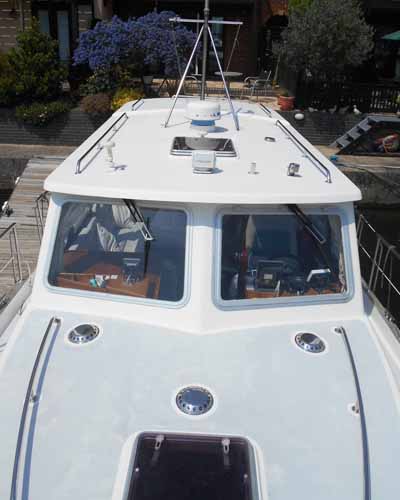 plenty of static ventilation, and wheelhouse roof has opening hatch, and you can see the grab rails along the wheelhouse roof extend right aft on the cockpit canopy.
good rails all round in fact, note the hinges on the screen top so windows will open out forwards,, They are perfect while pottering along a warm canal at helping a pleasant draft through the boat under way .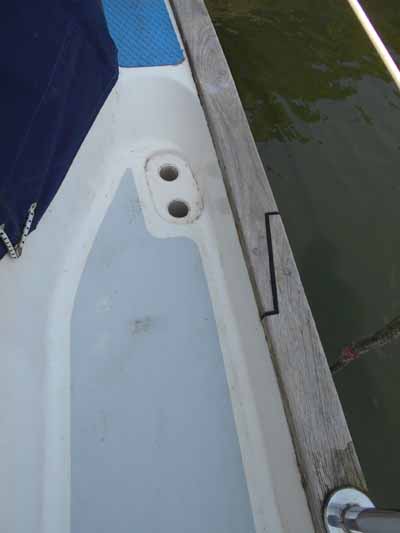 nice detail , decent Scafe hook joints to solid Teak cappings, and also I like the drains that ure moulded under flussh to prevent puddles.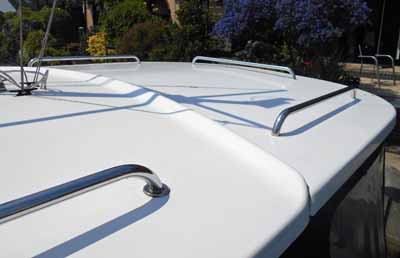 aft solid canopy, EXTRA by factory.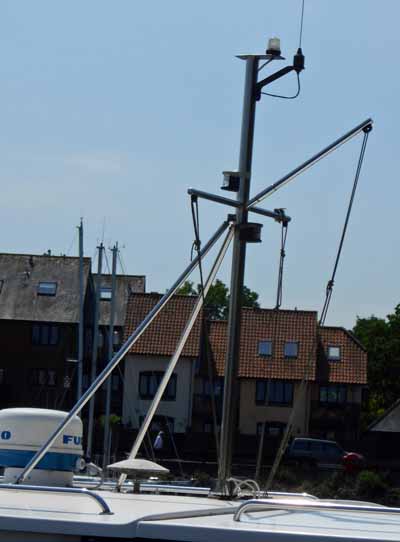 nice Stainless mast, which drops,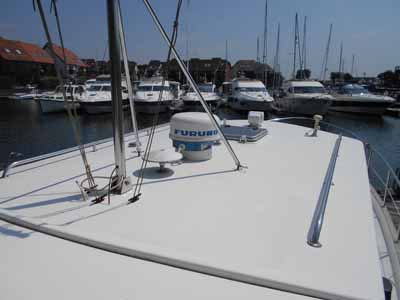 forward view,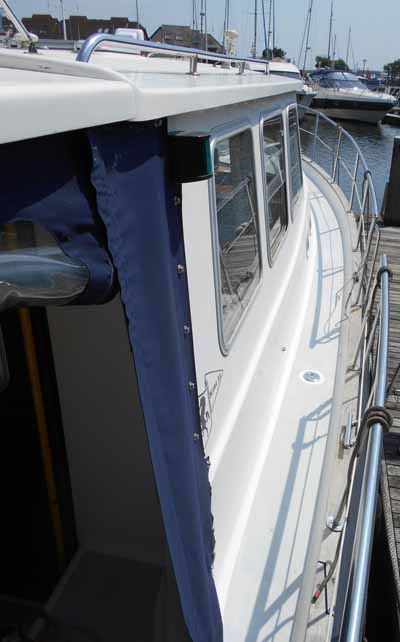 starboard side deck looking forward, gates in rails each side,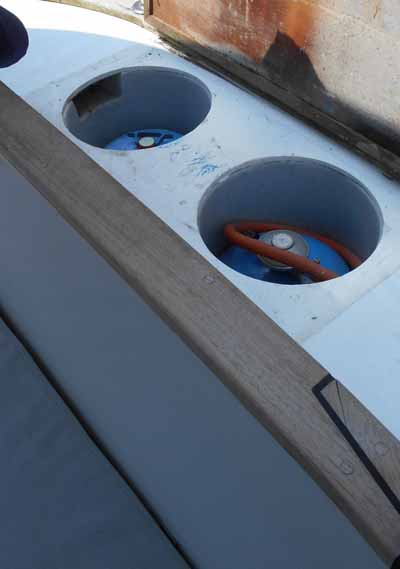 gas stored in drained locker on aft deck behind cockpit ( outside the canopy)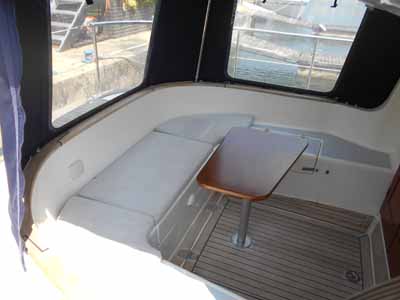 cockpit, good social space, and cushion set aft, drop in socket for saloon table to move to,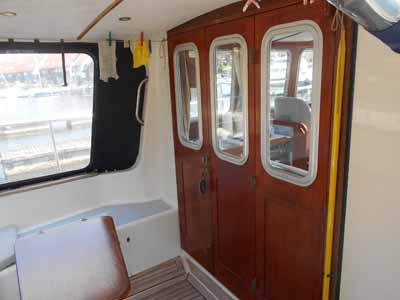 smart Teak folding tripple doors aft in to saloon / wheelhouse,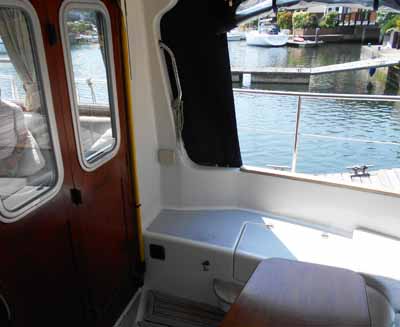 shore power point above seat ,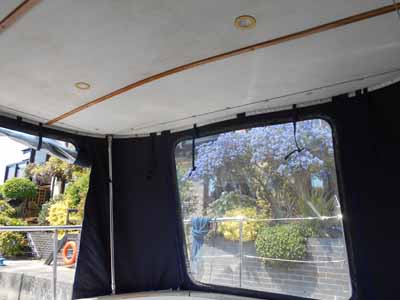 lights overhead,
very smart recent canopy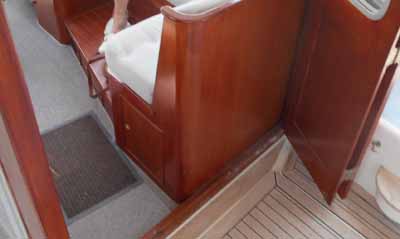 double door to starboard, single to port, but with all open it creates a good big open living area.. note Teak cockpit sole.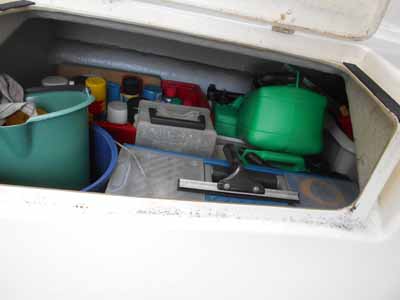 deep lockers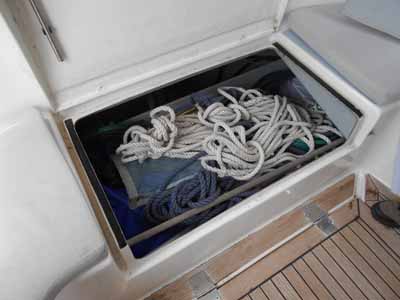 both sides, as well as aft,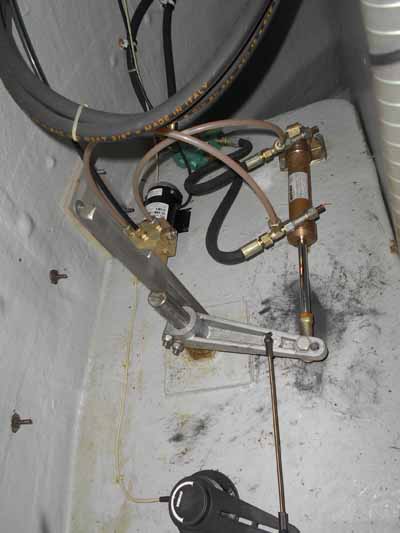 Simple steering kit with Hydraulics, ( autopilot pump) note rudder reference unit bottom for autopilot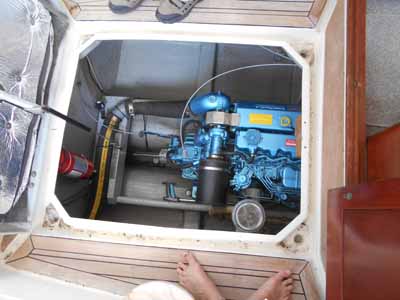 great big access hatch in cockpit to get to engine, and its all nice and clean in here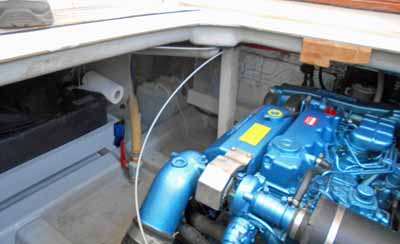 looking forward to port side, holding tank , black box left,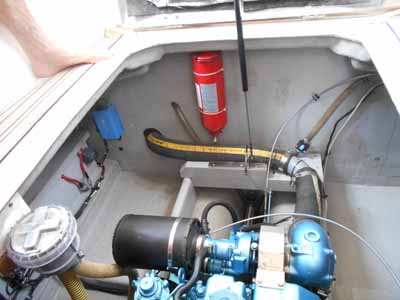 hatch gas strut has been vastly improved over standard fit, with solid Stainless plates etc. batteries left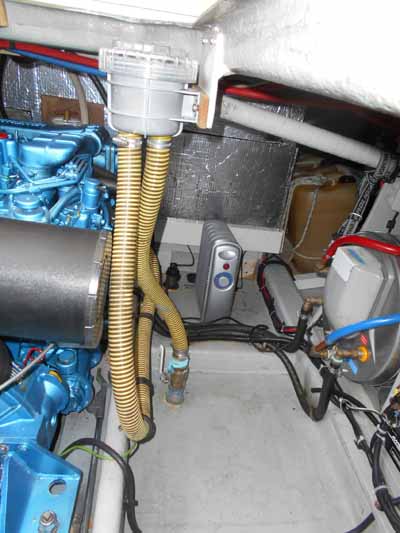 looking forward down starboard side, access ti calorifier and immersion on hat water tank, loose oil rad not included, easy seacock access etc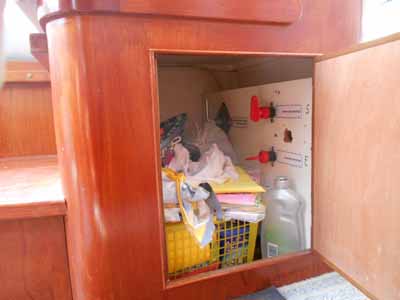 first seat inside door to starboard houses the battery switches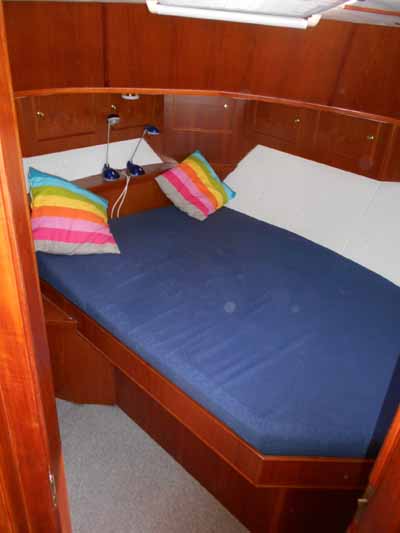 Then starting from forward, good offset double berth great lockers under deck, hatch over
chain loocker access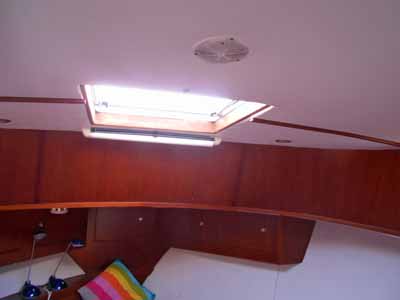 insect and black out blind on hatches
port side, dressing table/vanity / desk, with neat drawers, two opening ports as well as hatch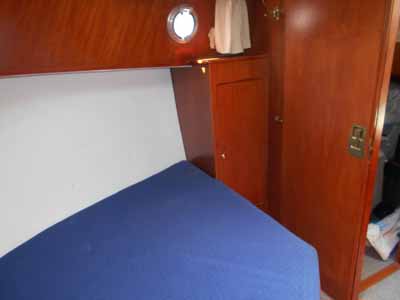 head of bed, with Hanging locker, note cabin door is sliding across the ship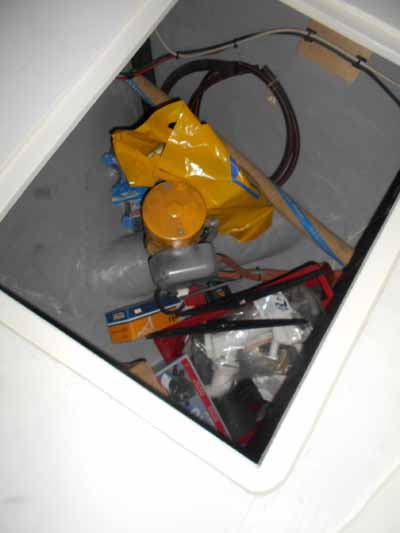 vetus Bow prop access easy under berth, many spare included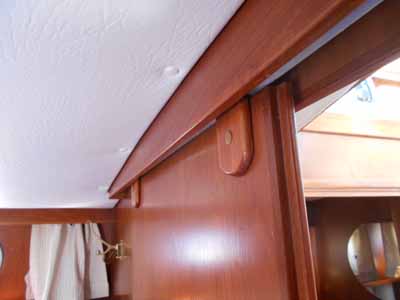 door track over head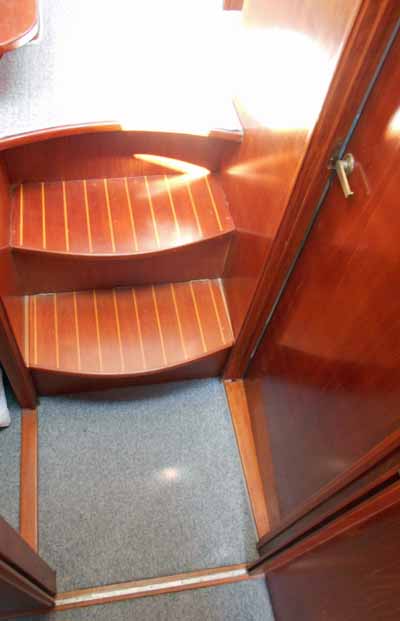 looking aft out of forward cabin, up steps to saloon, or right to heads/shower , and left to twin cabin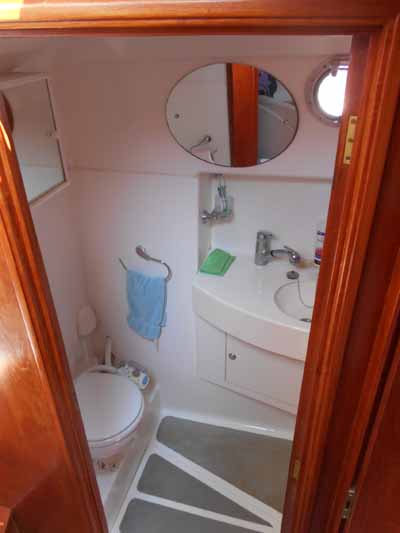 Moulded lining in here helps cleaning, manual heads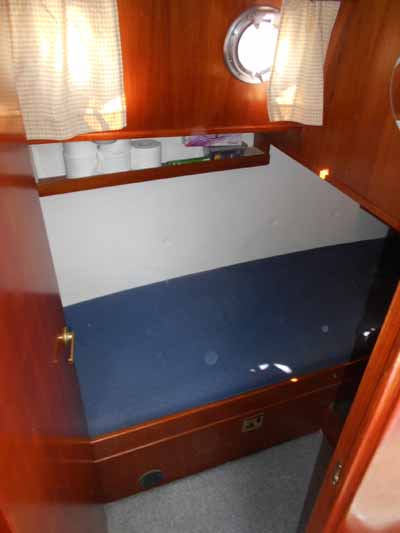 hull side berth with lockers under, two opening ports, heater outlet at floor,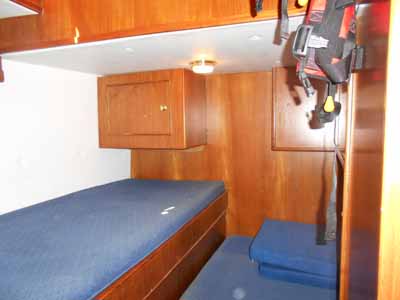 looking aft, note under deck locker useful, and also note head of athwartships berth with infill cushions stowed in here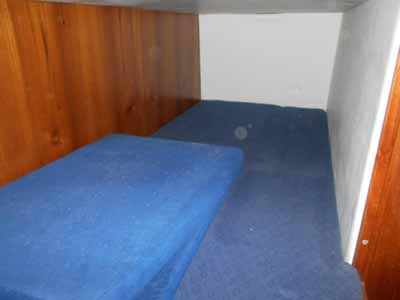 looking across the ship down second single berth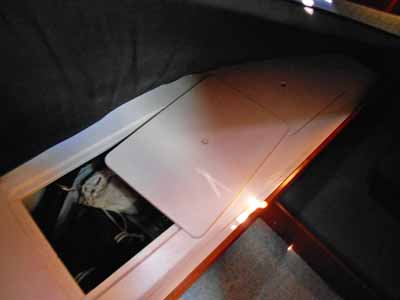 lockers under both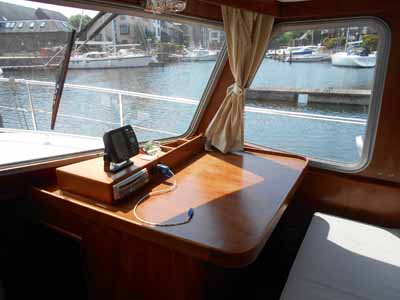 copilot chart table, the owner has a laptop with navigation software, which he will include, (that is the lead from dash) connecting to Garmin GPS map unit, ( stereo under)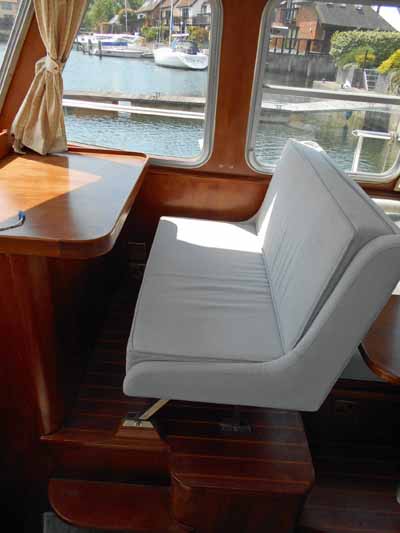 twin/3 seat co-pilot seat facing forward or...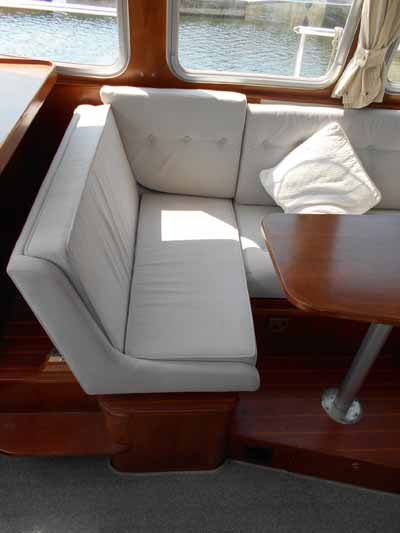 aft towards dinette,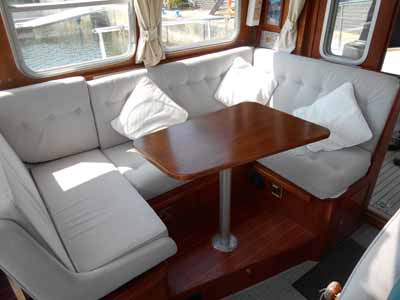 and you are well up sat here with a good view out, this will drop and infill to berth,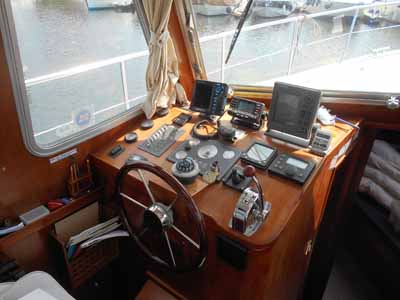 simple businesslike dash to port,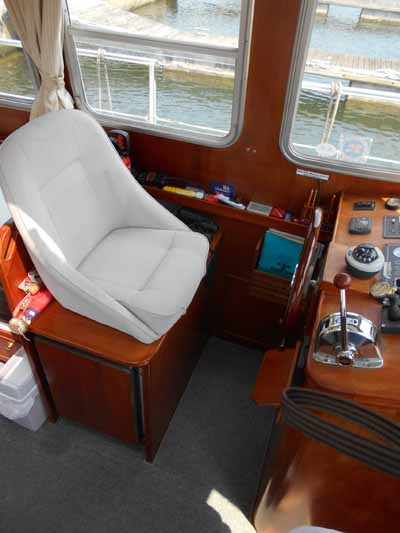 seat sat attop Fridge,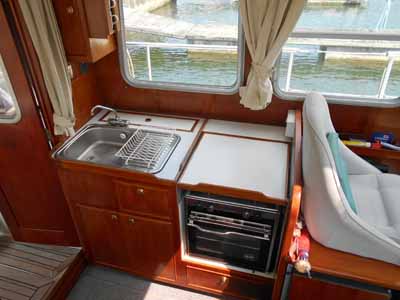 with galley aft to port, two burner, grill and oven,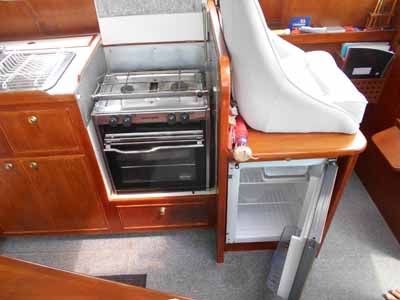 both look in nice order ( Teak and Holly Floor under carpets)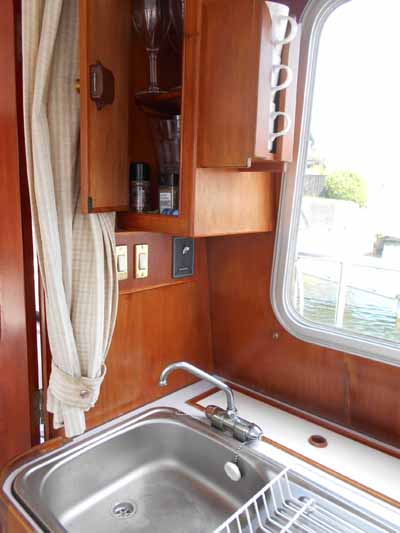 aft galley, note ater tank guage, and some crockery store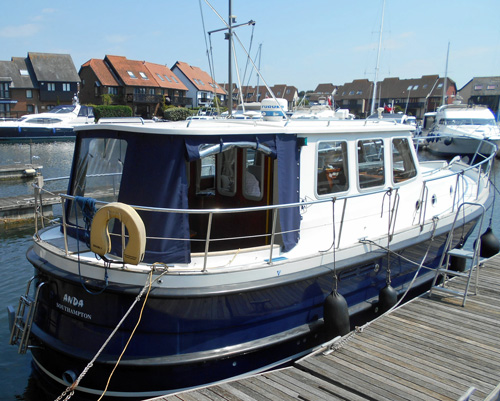 a very Dutch feel to her design and shape etc. very well worth a look!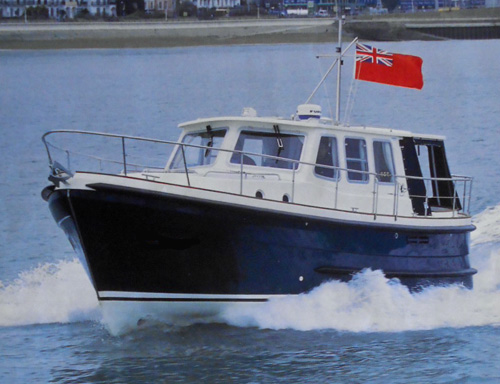 bashing along at displacment "Plus a Bit" as the builder / designer put it, very smart, approx 9 knots in thi shot.
TEST REPORT I have copied the text beneath from the 2004 PBO test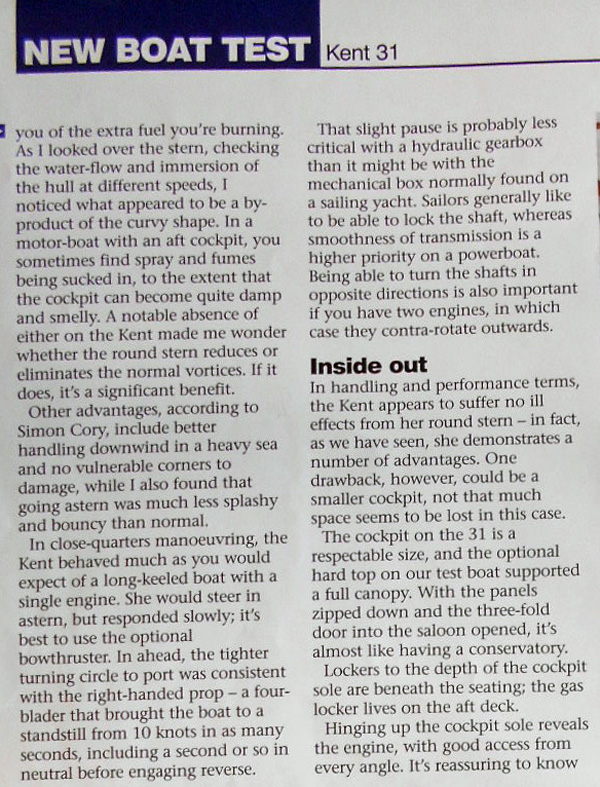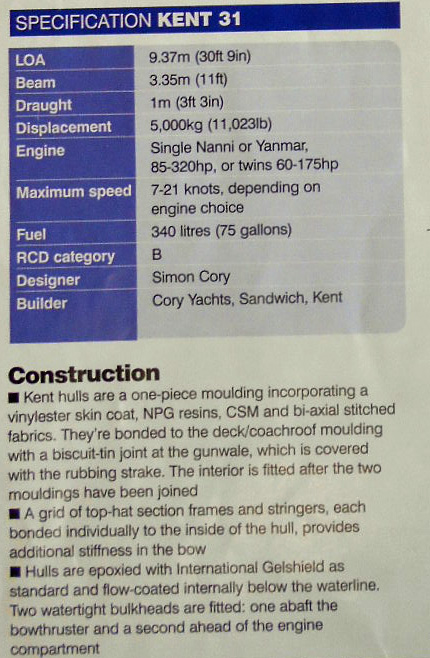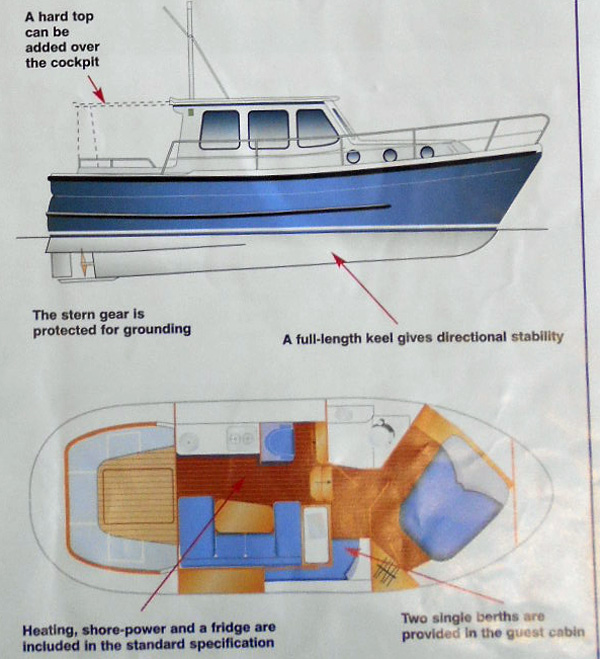 We hope you can read it !! if you want a better copy let me know,, and we can email at larger resolution.