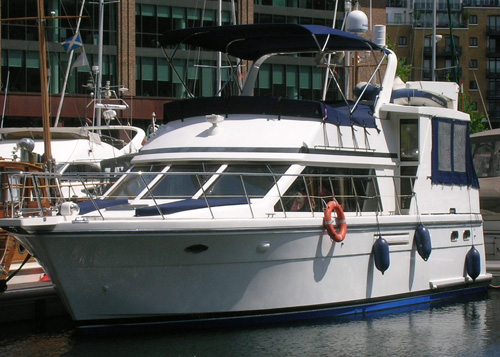 What a great berth, and this is included in the sale for first season.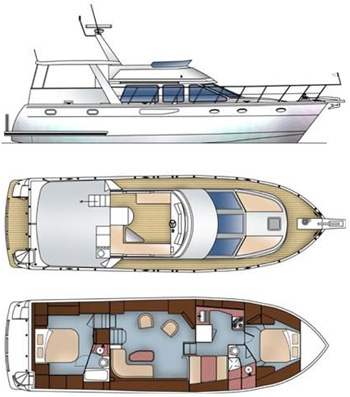 general arrangement , the aft deck is a huge plus with the solid cover.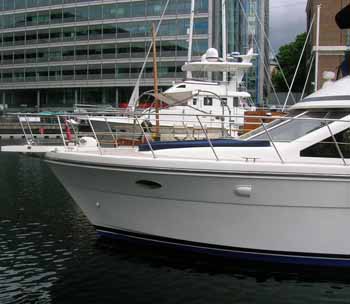 the bowsprit, platform takes the acnchor well forward and helps keep the chain etc clear of the boat when weighing anchor, nice tall life lines, shell vent cover over an outlet to the galley area, with one of many deck cleats above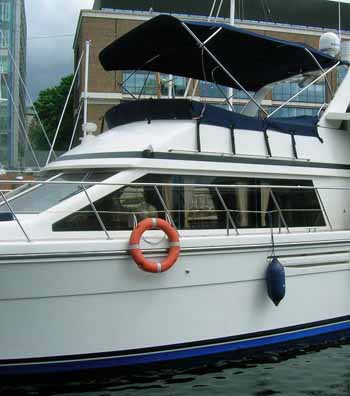 Mid ships, neat flybridge cover, with decent framed Bimini cover over, lots of light to main saloon through those big side windows, and two large openers,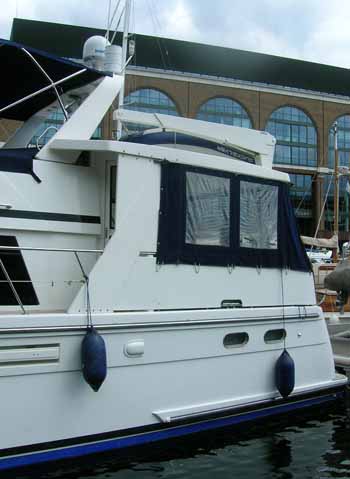 aft deck enclosure, uprated dinghy crane set on roof, will handle 350 KG, recent antifoul is still clean.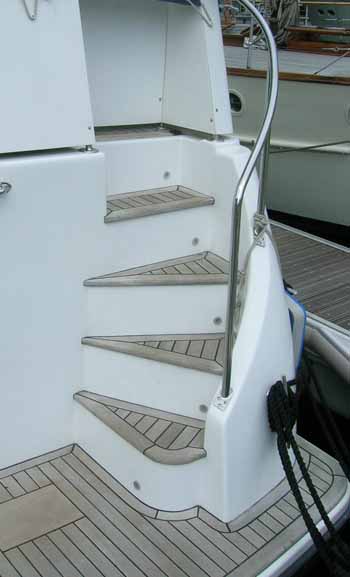 nice easy boarding steps starboard side, teak all good and flat nice lights on each step. again plenty of cleats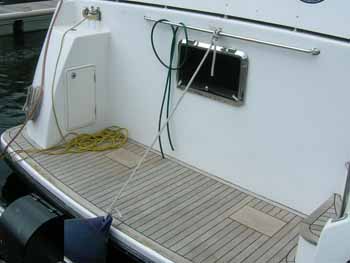 aft platfom, could have ( and indeed has in the past) Jetski in blocks on here, opening windo to aft cabin, fresh water shower in locker left of shot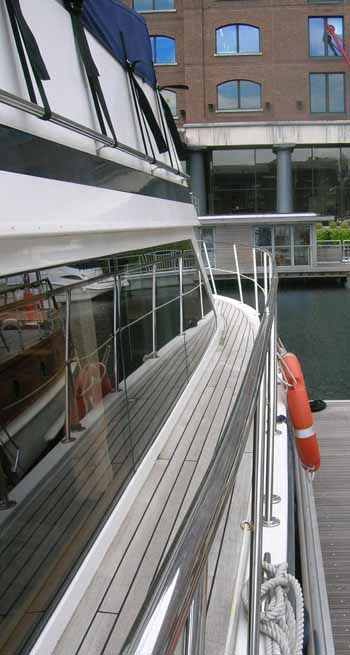 starboard side deck, great easy access, and nice high level grab rail all round,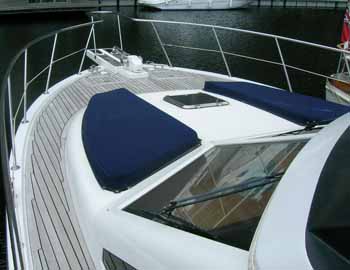 covers over the two sun pads on foredeck,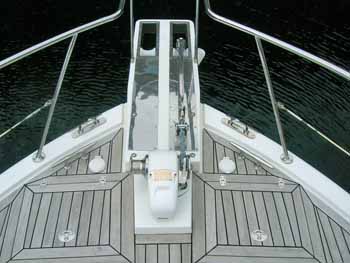 bow arrangement, very "BIG BOAT" feeel, with two good big rollers, allowing easy swinging morring pickup, two big deck lockers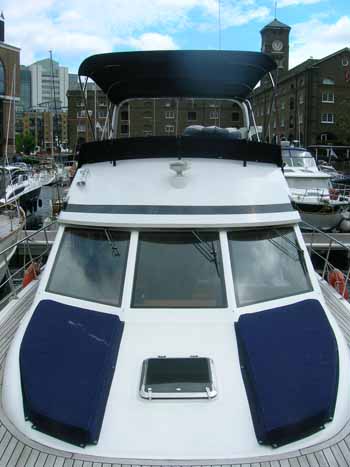 fore hacth over forward cabin, remote halogen searchlight,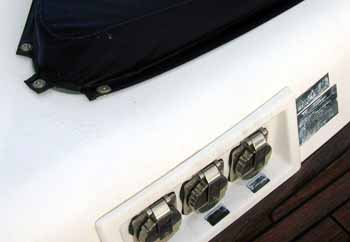 starboard side deck, teher are two socket sets, one here and one aft, so you can choose which suits best depending on berth, ( aircon will run from generator, OR from Shore support line, )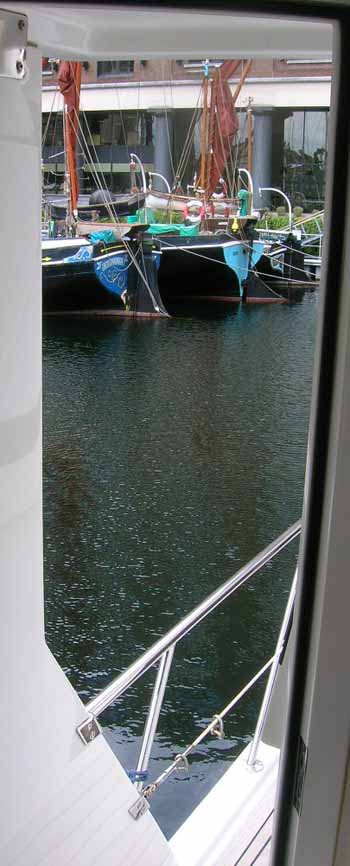 port side deck solid door from aft deck area forward, nice view on her current berth, St Kaths dock is a bustling place to sit and watch it all going on, so a very pretty and interesting place to base the boat for a while anyway.
and the berth has been included for the 2017 season.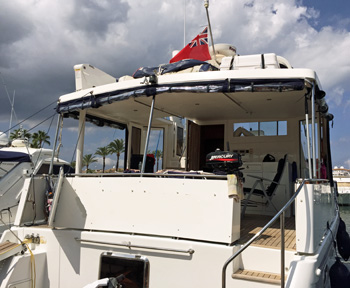 in the sunshine you might lift all the aft canopy "Curtains" so you have breeze across the deck whilst still being in the shade,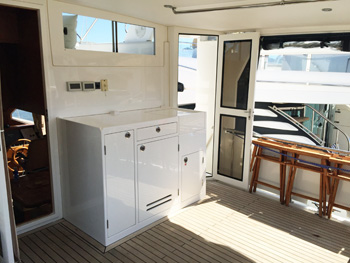 forward end of aft deck, cabin door open down in to saloon, cockpit galley unit, contains fridge and wet bar and lots of lockers, with slide opening window / Hatch above to pass the cocktails up to the fly bridge, !! note starboard side deck access door shown open, Teak on aft deck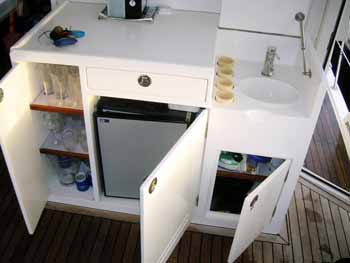 better look at that aft "galley" unit,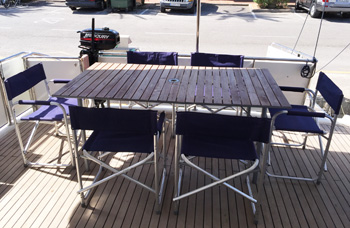 fabulous space to have your alfresco meals, it is so nice up here that even in British rainy weather you find you gravitate up here with your coffee.. as you can all going on around you.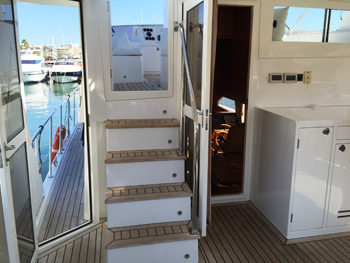 steps up to flybridge, through solid door, again note neat step lights,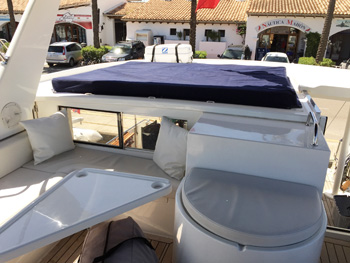 aft sun pad on top of the canopy, has a cover, flybridge seating with drinks table,
seating both sides with lcokers under, and huge storage lockers under dash mouldings,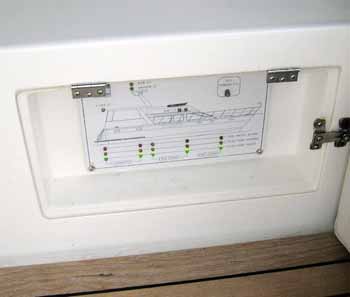 Domestic consumer light indicator map,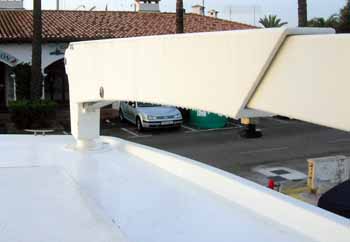 Crane,
Now down into cabin/ saloon,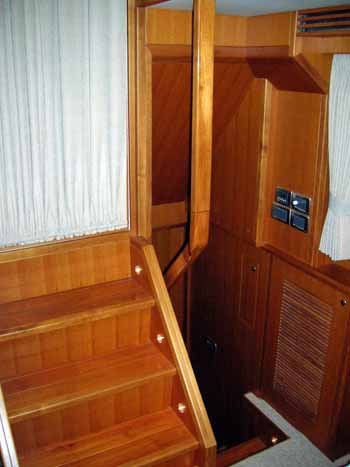 lights on steps again, Beautiful woodwork throughout!.. right of shot leads down to aft cabin,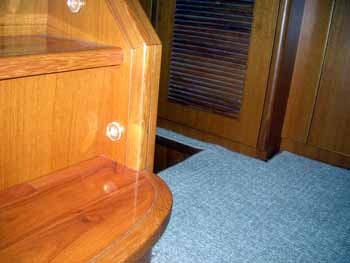 Natural Berber carpets, note louvered doors,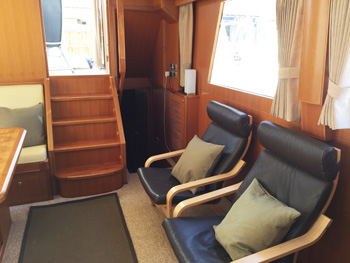 port side looking aft, loose chairs, infront of massive lockers,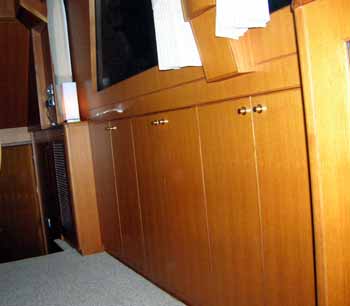 chairs pulled away,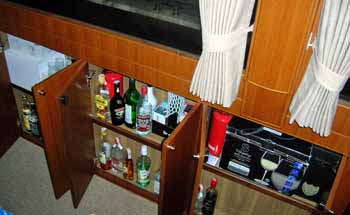 Lots of deep lockers,,, note neat curtains,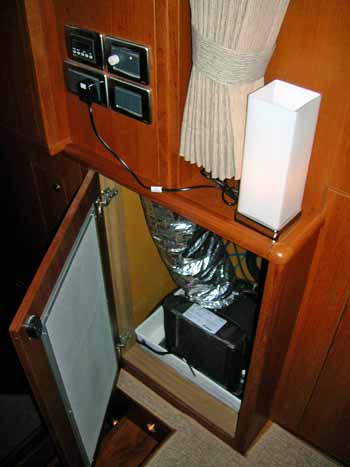 Easy access to saloon air con air mover unit, and note one of several controllers above with 240v sockets and lights with dimmers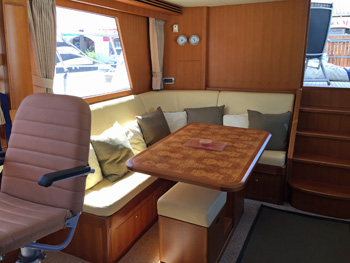 dinette in saloon, aft of main lower helm station,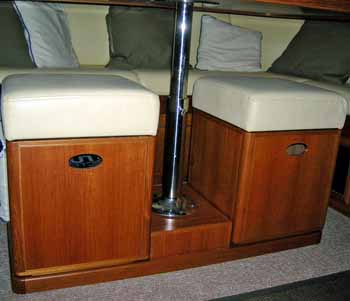 two neat lift out stools stow beneath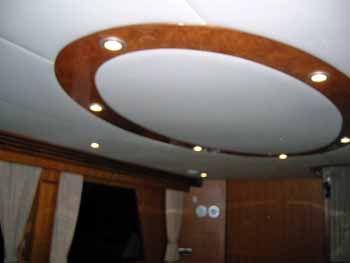 lining details, very smart,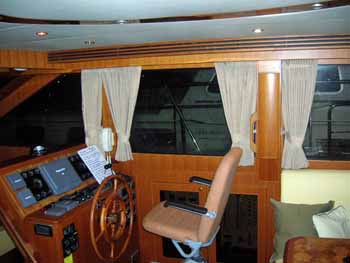 main helm,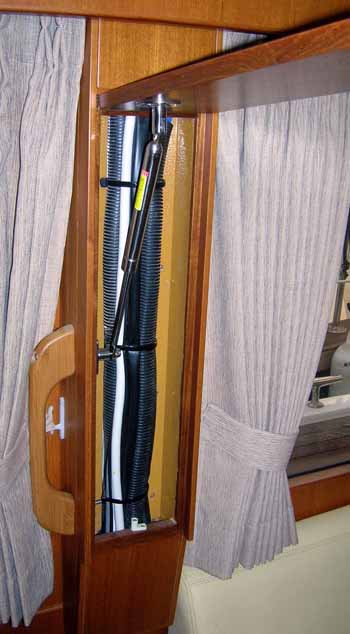 neat detail, each side of saloon these access panels lift to get at all wiring etc as required,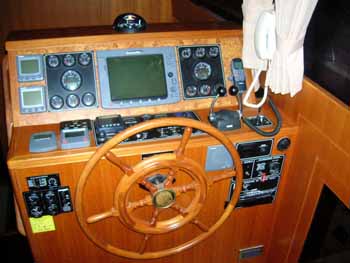 easy read angles, on well kitted helm, note intercom top right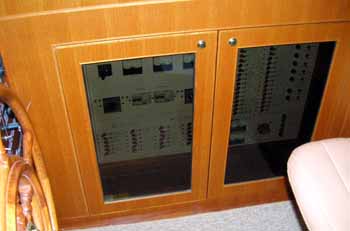 main switches breakers etc in this unit to starboard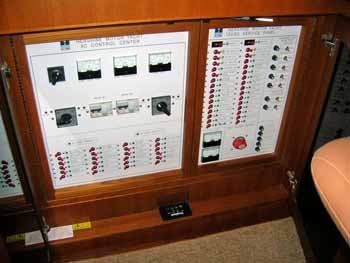 beautifully doen, and each panle will hinge out as well for access to connections.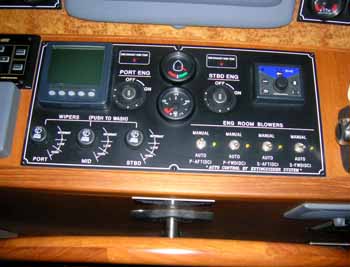 Volvo info screeen on D9's combined witb other kit ,
port side, TV and entertainment locker you can just see the smart timber floor under the loose bound carpets, along the edge,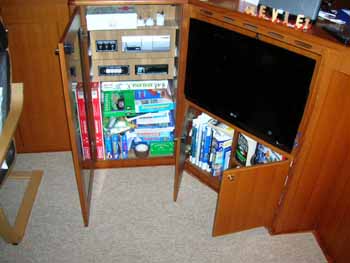 LOTS of space again, Decent stereo, system with DVD and BOSE surround sound,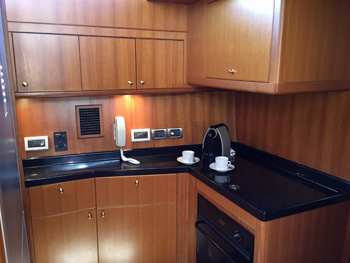 beautifully appointed galley corian worktops, combi microwave hiddedn, and hob under counter,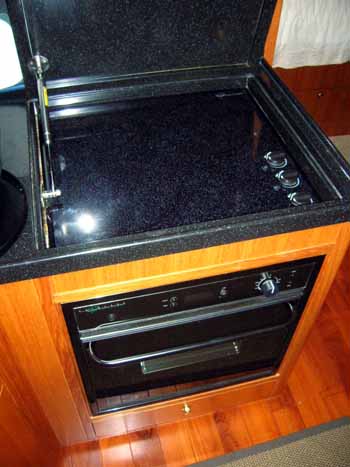 electric cooking,, NO gas aboard,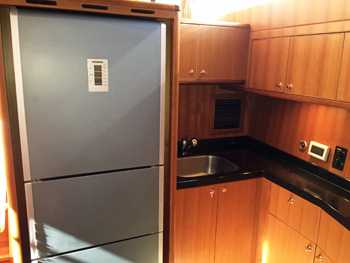 aft end of galley, note smart low level lighting as well,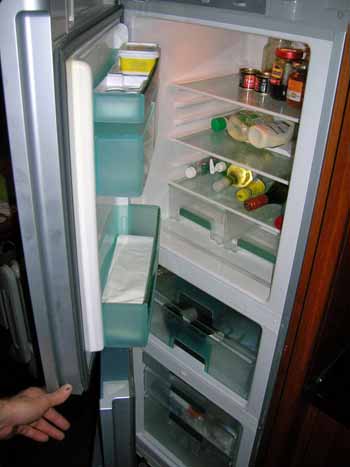 fabulous domestic size fridge, freezer and wine cooler,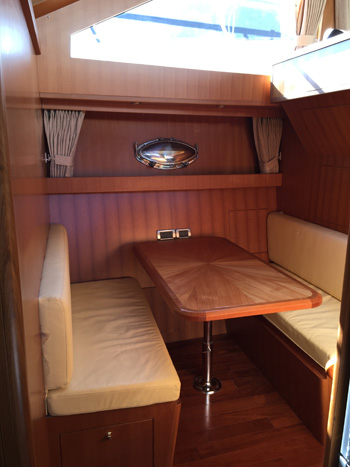 lower dinette area set to stb, beautiful marquetry to table, lockers under seating, and the table will drop and infill to a double berth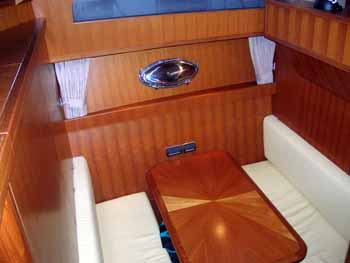 power sockets at table side, very sensible, note stainless sheild covers on inside of ports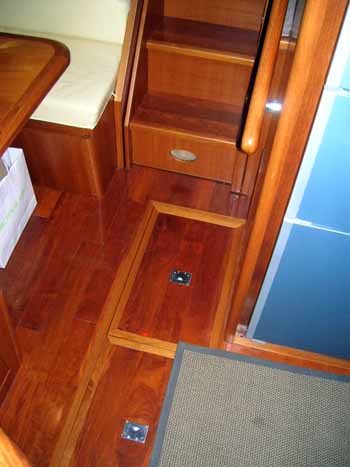 varnished floors exposed in galley area, hatches in to blige access and holding tank take offs etc, steps lift as forward acces in to beautiful bright engineroom,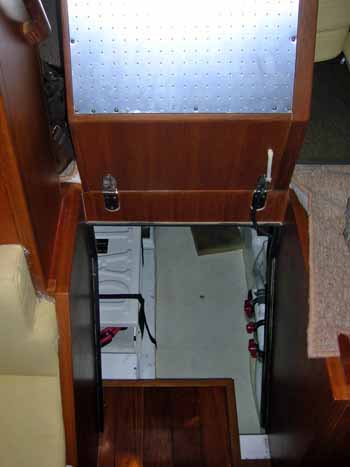 There are Huge floor hatches through the saloon, but most times there is plenty of access through this entry.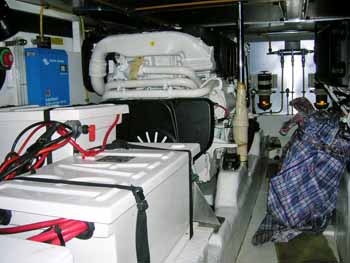 White Option on the Volvo's assists the feeling of light and space in here, batteries easy in nice smart GRP boxes, looking aft ( fold up bikes wrapped right of shot,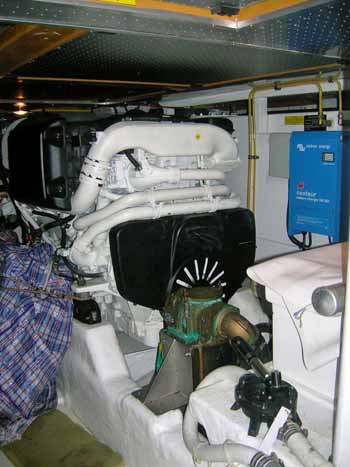 port engine looking aft, various inverters, battery chargers etc, all easy to access, Heafty GRP structure evident,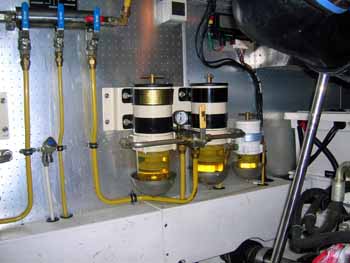 primary filters with switch lever change over ability on each diesel supply, VERY nice addition.
full cacooned Northen lights 12 KW generator, at front port of engine space.,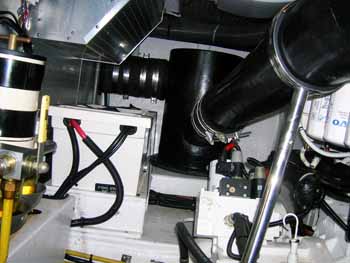 aft of engine, looking out to port hull, well supported Exhaust routes, easy gearbox access etc,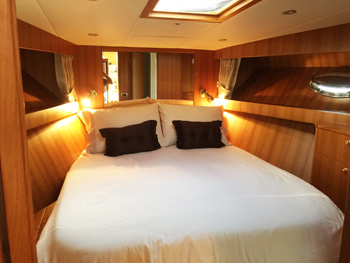 Back in the accommodation, Guests need not feel like the poor relations in the forward cabin, centreline double
with beautiful timber work make this a very warm place, lots of hidden lighting, lots of stowage, hatch has insect screen built in a swell as black out blind,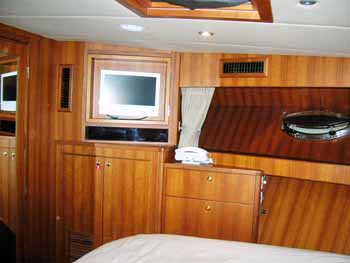 flat screen tv with DVD set to port aft, note aircon inlets high level.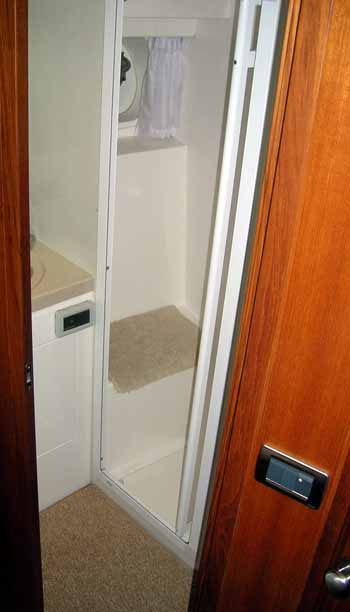 ensuite set to stb, shower cubicle with moulded seat and folding screens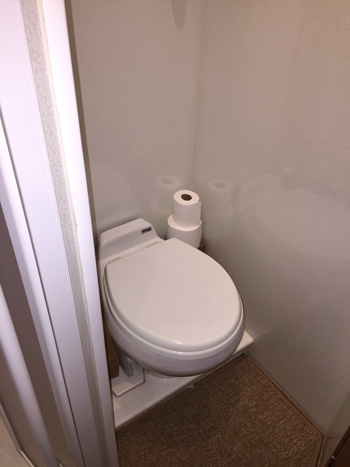 Electric heads just in corner behind cabin door,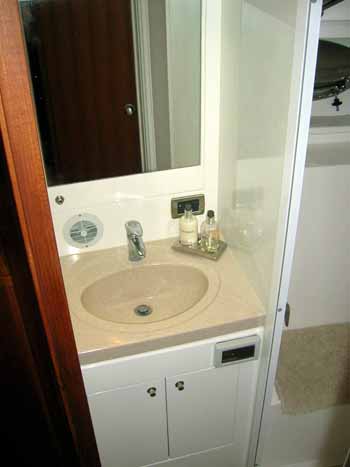 and basin on outside of ship, all simple, clean and functional,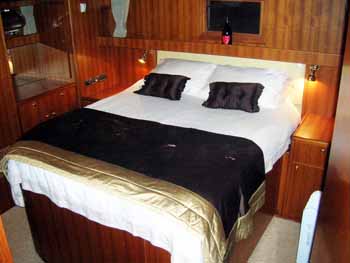 as for the aft cabin, well that would be a nice room in any hotel!, huge centreline bed, gorgeous warm woodwork, with again lots of hidden lighting, Four openings to air, lots of stowage.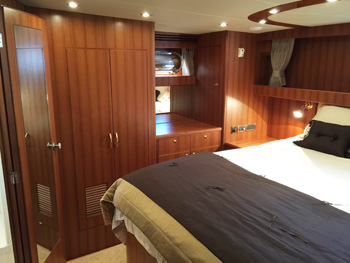 stb side, mirrored door to heads, shower/ BATH room,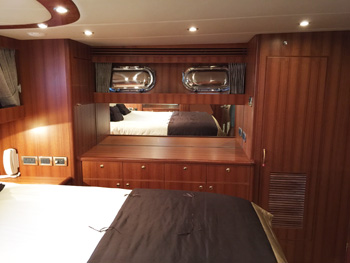 port side, intercom by bedhead, air con grill bottom right, lots of overhead lighting detail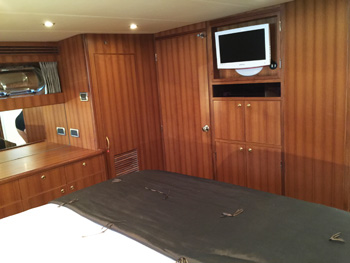 cabin door shown closed left of TV,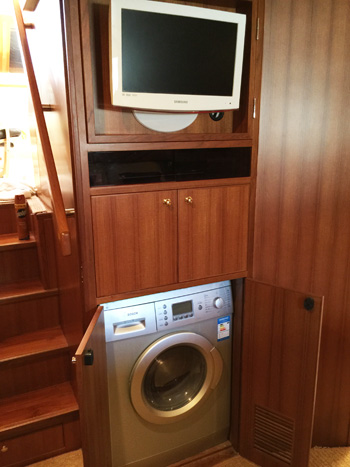 which has a full washer drier beneath,
set to starboard forward is the Heads,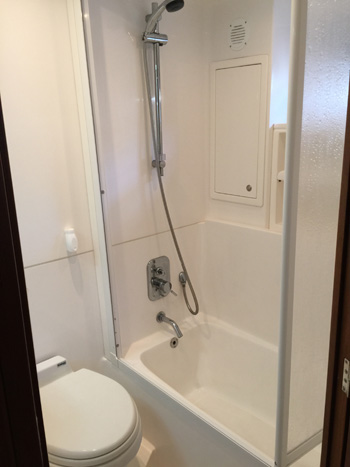 shower over half bath . nice detail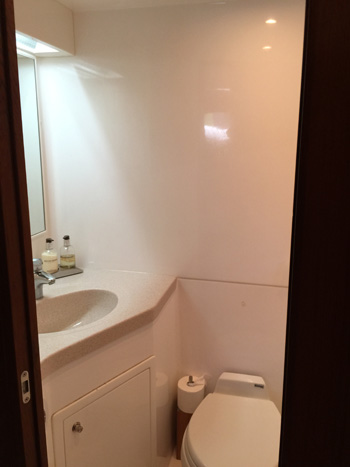 with basin and vanity unit to left