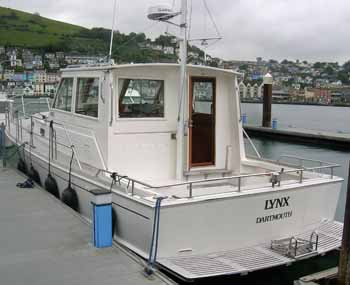 Aft end, with Big aft platform in Teak, nice rails all round her.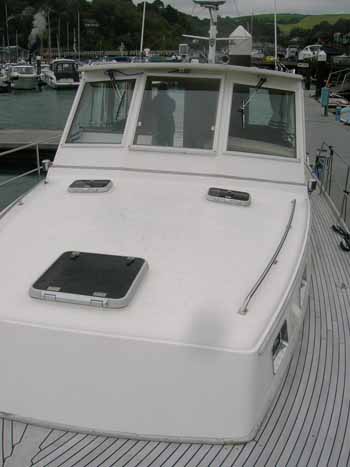 no nonsence look about her, and those big screens are Flat Toughend Glass so visibility is good.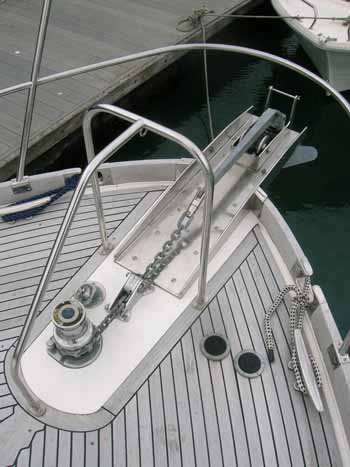 very nice Teak deck work, and big Windlass with deck as well as Helm controls, nice crash bars around the bow area, helps feeling of security is setting the anchor in a big of sea.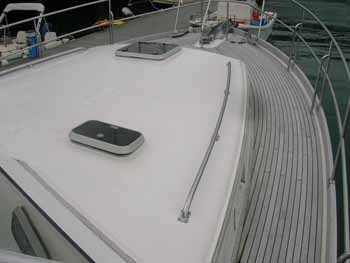 rails allround coachroof, forward,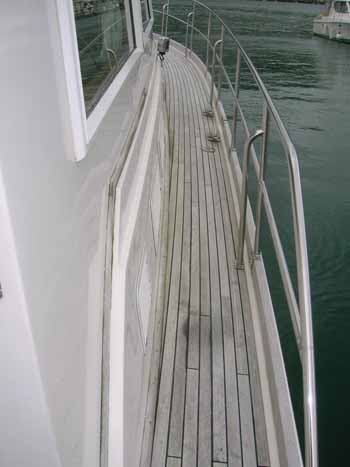 starboard side deck,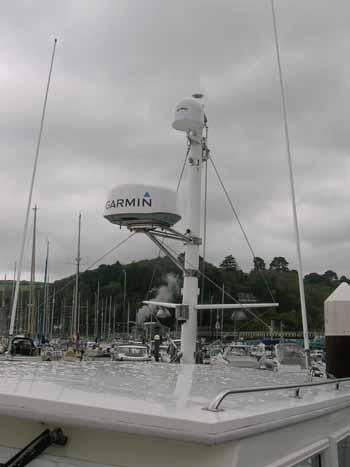 wheelhouse roof, recent Garmin Digital Radar and new TV dome at top,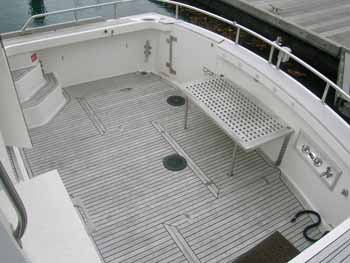 wonderful Deep self draining Cockpit,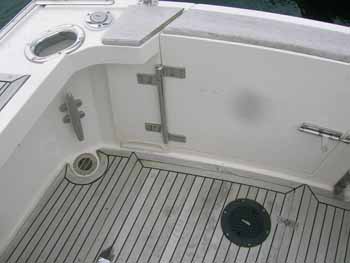 Super solid S/S work to transom gate hinges, you can see the under deck cleats and fairleads through deck.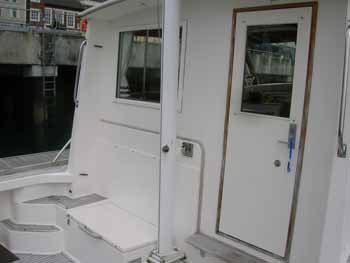 The back end of the wheelhouse / saloon, with big opening sliding window and full size cabin entry door, Gas locker under window,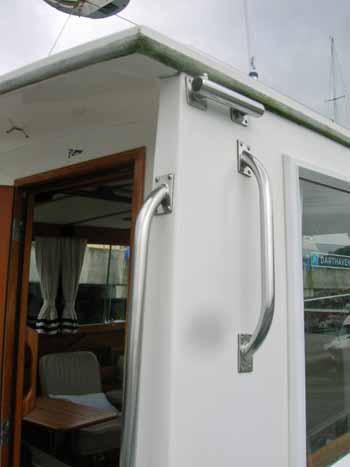 Great grabs everywhere, and the top tube takes and extension to aft cockpit cover tube.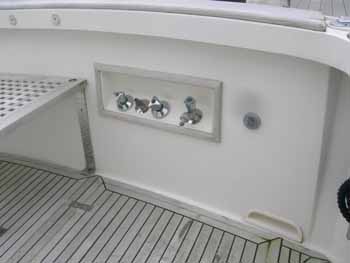 Fresh water hot and cold aft, as well as deck wash ( right)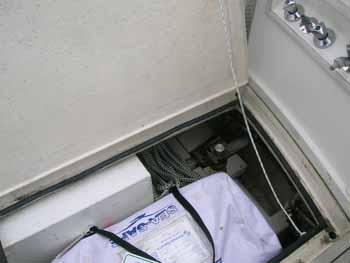 Deep under deck lockers with easy access to steering kit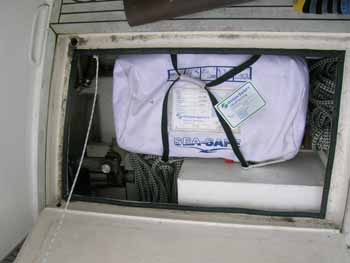 Rdcent Valise Life raft is included,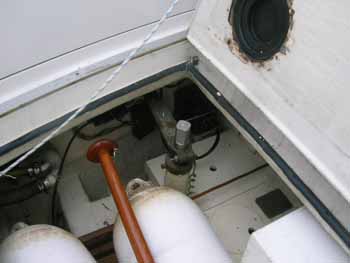 starboard side also easy access to rudder tops, note the black inspecion hatch above allows fittment of emergency tiller if required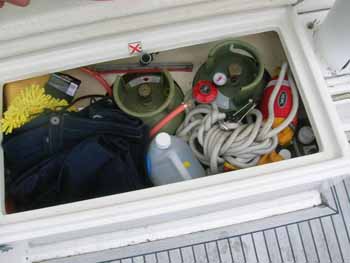 Gas locker mast base right of shot,
Mast release point, to allow it to drop aft if low air draft required.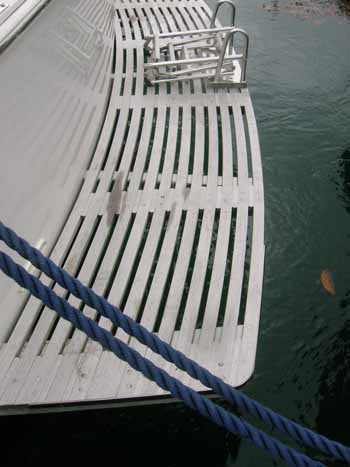 Wonderful Teakwork is a feature of these boats. and that swim ladder looks deep enough to actually use.!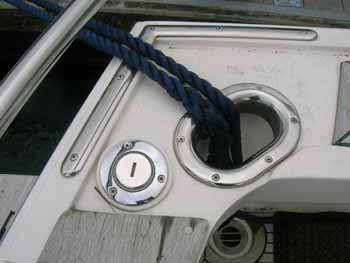 port aft corner, notice the solid wear plates around the fairlead.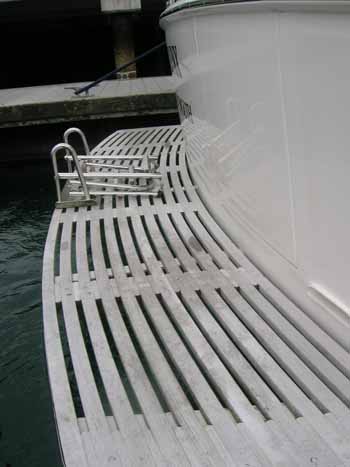 Refelction to transom visible here,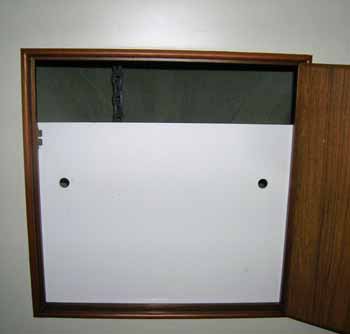 INSIDE, starting forward, chain locker access door,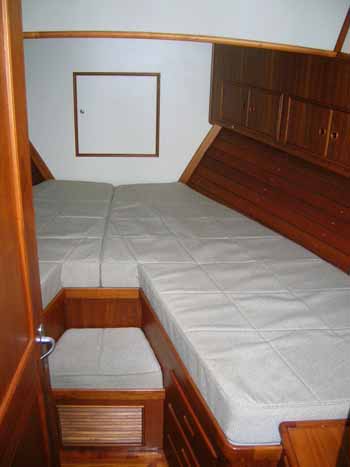 Fore cabin, Beautiful Teak woodwork throughout, excellent under deck lockers,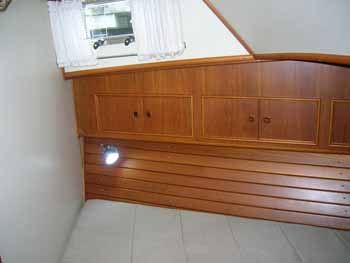 port side,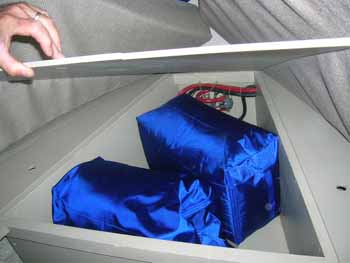 and under berth lockers, wires to windlass,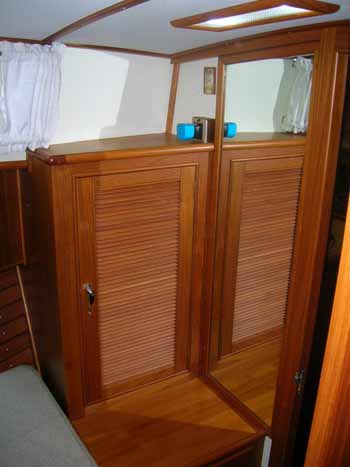 Hanging locker set to starboard,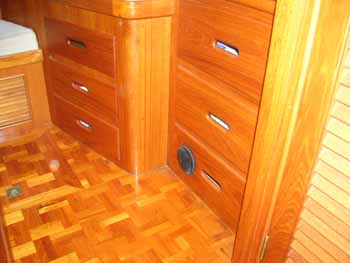 with solid lift lock Drawer sets, under, also note central heating outlet, and stunning "parkay" flooring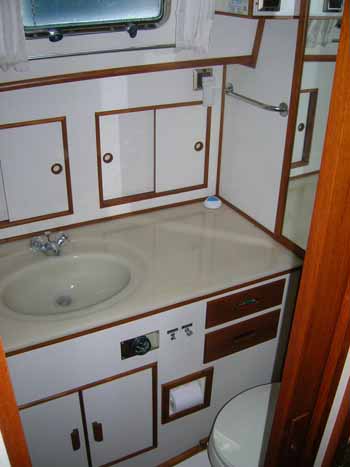 heads/shower set to port, again all lovely simple solid build, Corian shaped worktop, and big opener window , holding tank guage above paper holder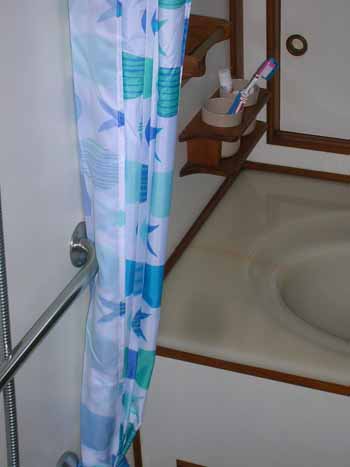 shower head aft, with curtain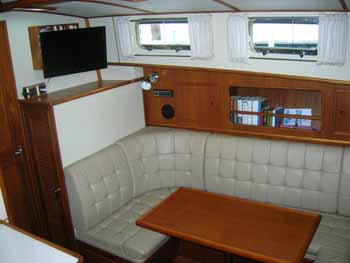 saloon starboard side, Flat screen TV (recent) Neat Pin Buttoned Leather upholstery
has held up very well indeed, and must have been well cared for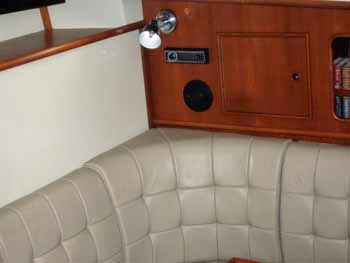 stereo ,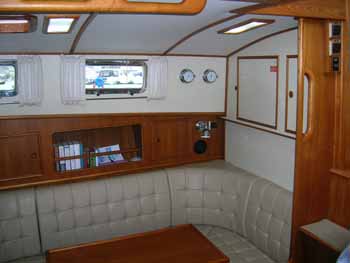 aft end of dinette , look at all thise grabs built in,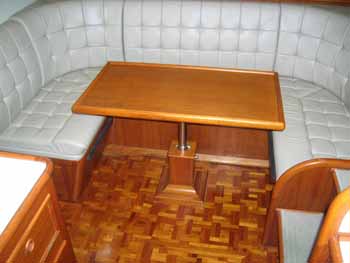 table is STRONG, and will drop and infill if required,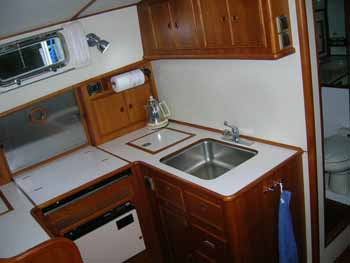 Galley set to port,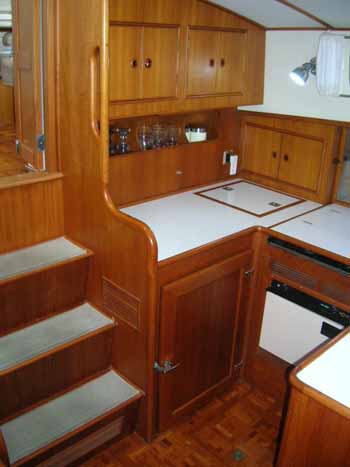 Galley aft end, steps up to wheelhouse, Fridge with decent closer, Belling Oven and grill ( electric under)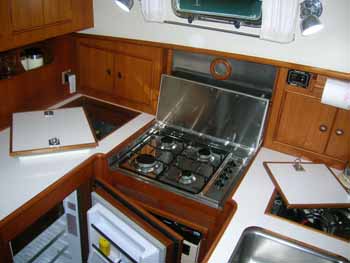 Big four burner hob, with heat sheild, cool box top loader through surface as well as fridge left,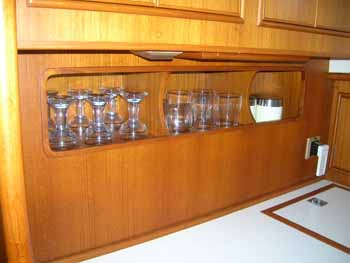 aft bulkhead, neat glass storage.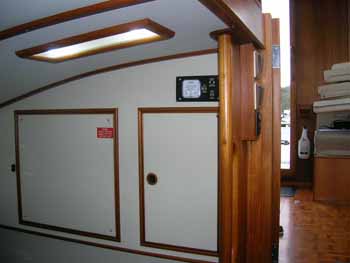 Access doors in to back of helm, and (redundant) battery control top right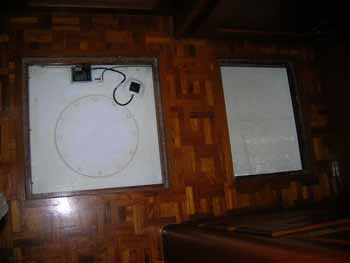 Water tank inspection hatches under floor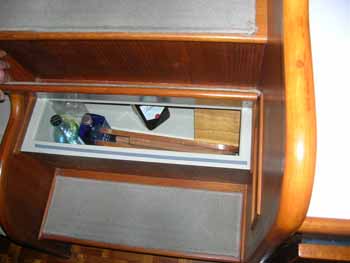 access to step lockers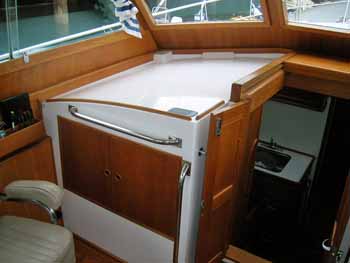 port side of Wheelhouse, big Chart area, more grabs,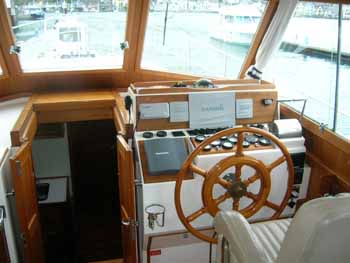 Helm set to starboard, low window line aids vision Middle window opens and hinges forward from top, note big sliding opener right of helm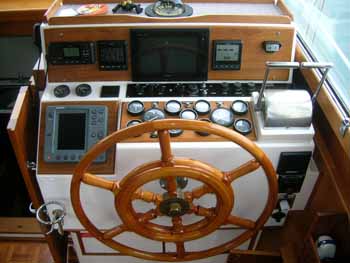 NEW POSH Garmin kit ! neat simple layout, Single lever setups on Throttles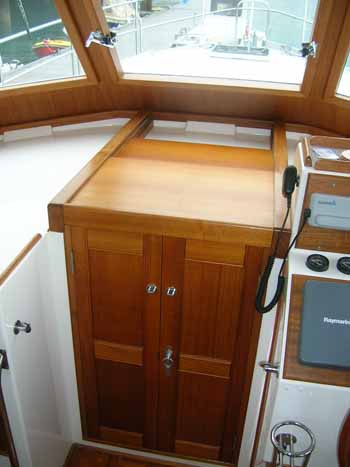 Saloon entry doors Typiaclly solid simple and beautifully crafted in Teak.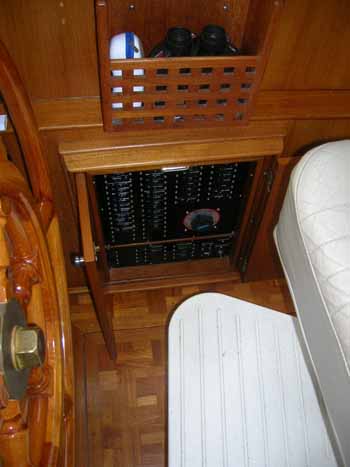 domestic control panle by helms right knee..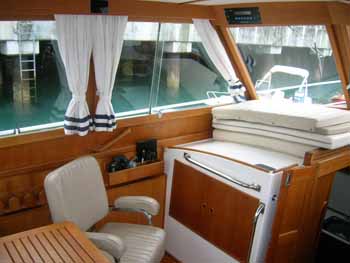 port side again, showing stacked cockpit cushion set, and swivel seat.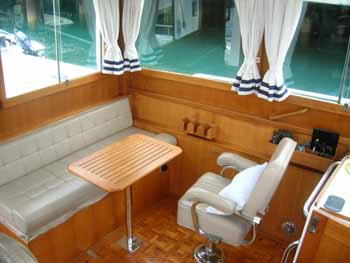 that will face aft to small wheel house table and forward facing bench, (locker under)
aft of helm,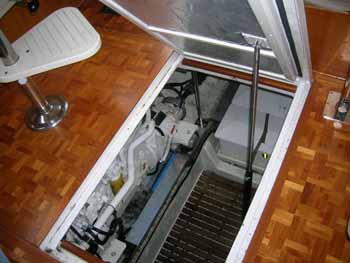 Engine hatch is electric Hydraulic,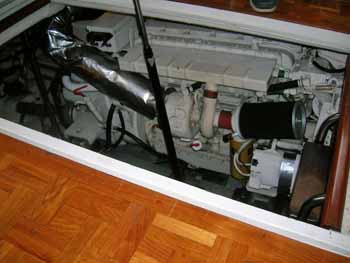 looking at port engine, White Painted Cats.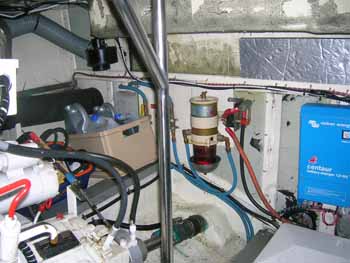 aft end starboard side, nice big easy access fuel primaries obvious, (blue) Centaur 12.60 battery Charger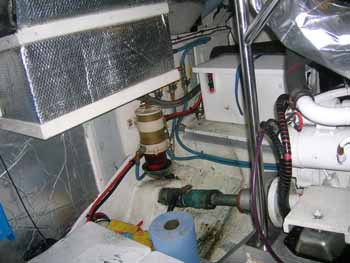 aft end of port engine, having shaft exit so easy is nice 3 x Varta 625 12v/200 AMP batteries are 2015 vintage.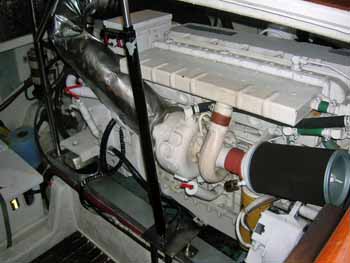 port engine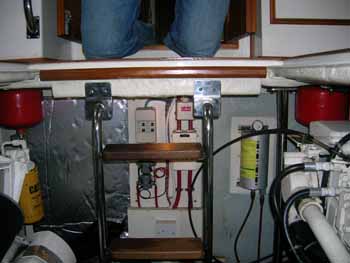 steps down front Bulkheadm steering Hydraulic pressure accumulator right of shot with guage, extinguishers each side,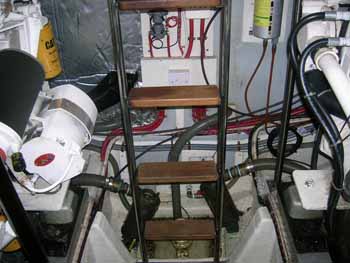 further down, water intakes and main seacocks, again simple easy, tube gauze strainers,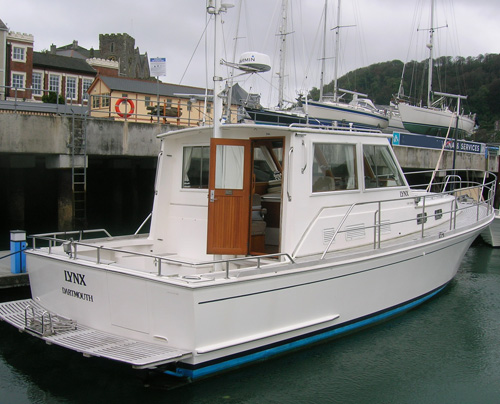 Handsome , solid, able, well built, Nicely maintained, very appealing.