at the end of this photo collection are some rather good owners shots.
Coming..watch videowalks for now ; exterior :https://youtu.be/_HR_nQFVErQ and interior at https://youtu.be/oe0Y4Unr5UA
Pleasing Lines and nice sweep to bow,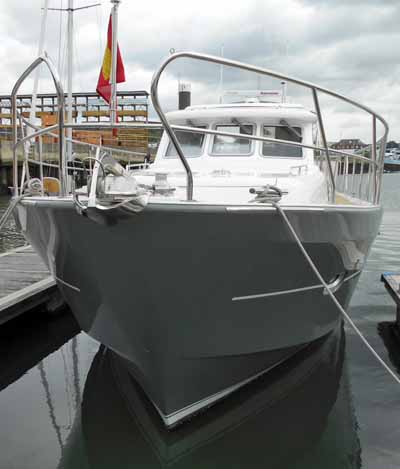 Good tall rails, note wear plates at Fairleads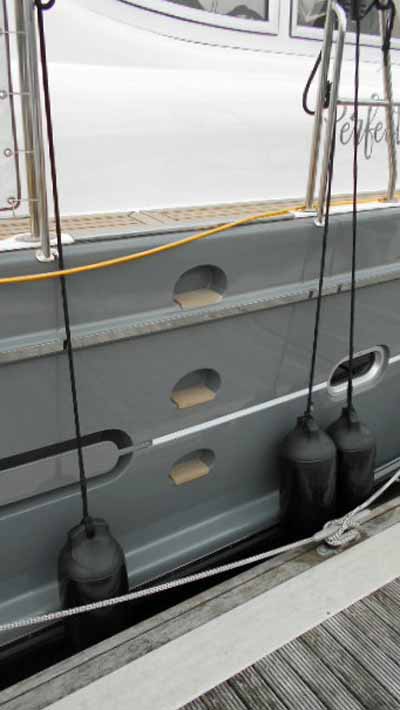 Moulded side steps each side with rail gates above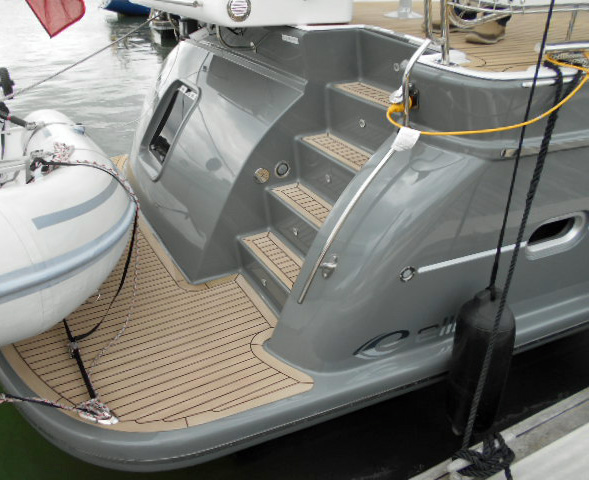 easy steps to good big aft platform, even WITH the dinghy in place you can get to either corner
which is very nice whilst berthing up. Note pop up cleats on aft platform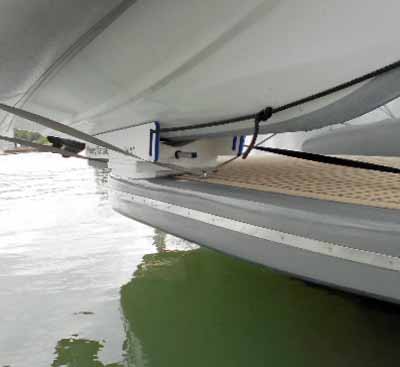 Hurley Marina davit flatform for the rib ( rib is not included)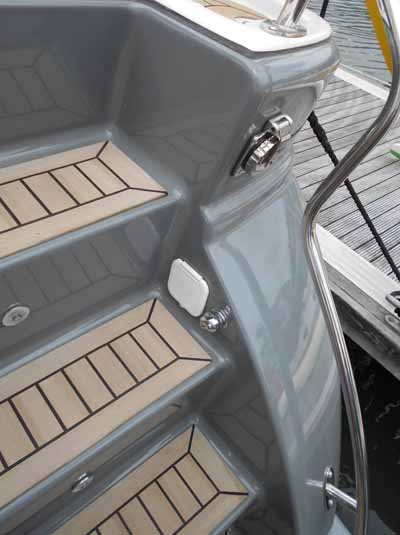 Freshwater shower, hot/cold, shore power socket top right, and led lights on steps,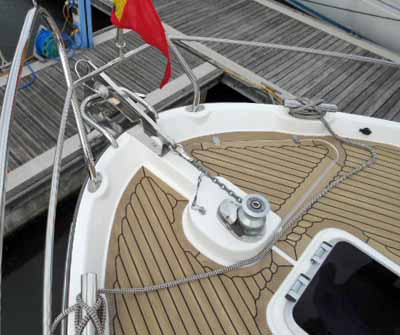 Easy foredeck area, the owner has a bruce as well as a new BIGGER Delta anchor which should then allow
the owners to sleep easy at anchor, ! a common problem, a bigger anchor is often a suggestion by surveyors , who know that whilst boat builders "just" meet the requirement minimums,,
bigger anchor, and longer cable ( twice original in this case) is a huge saftey item when cruising.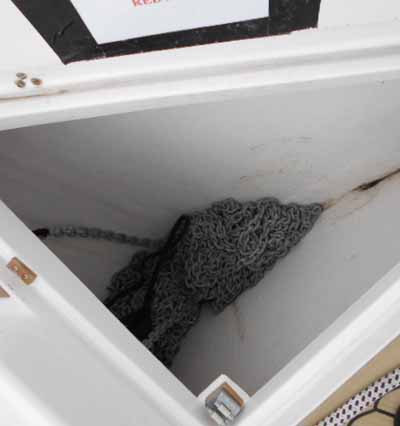 Lots of space in locker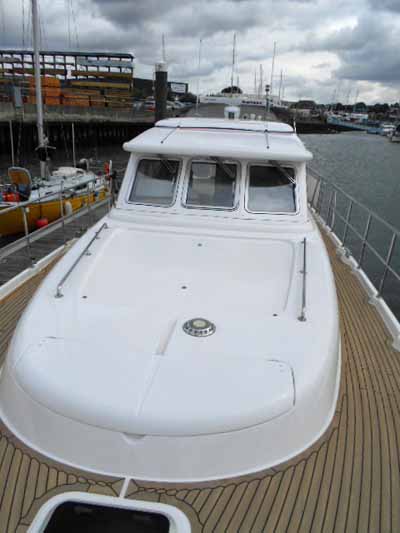 foredeck, easy side decks, sun pad area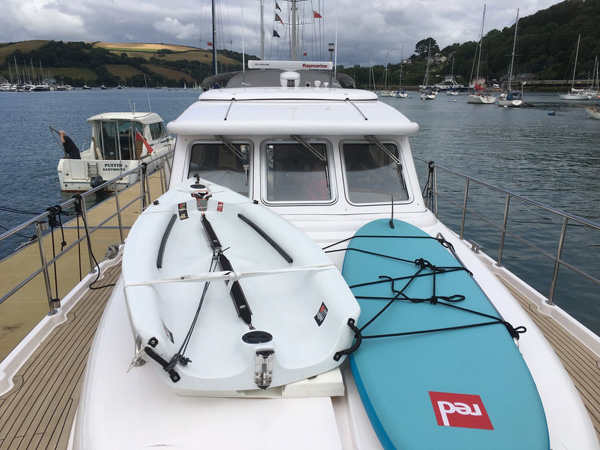 alos a handy area to store the water toys!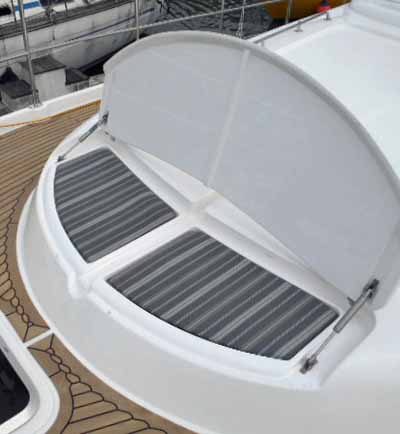 pop up bow seat, with cushions set in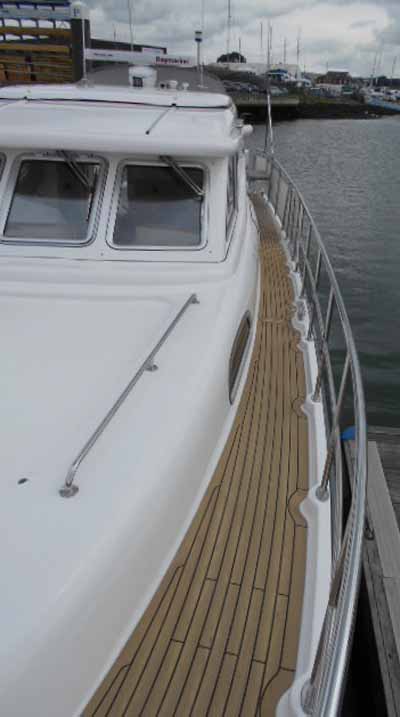 port side deck,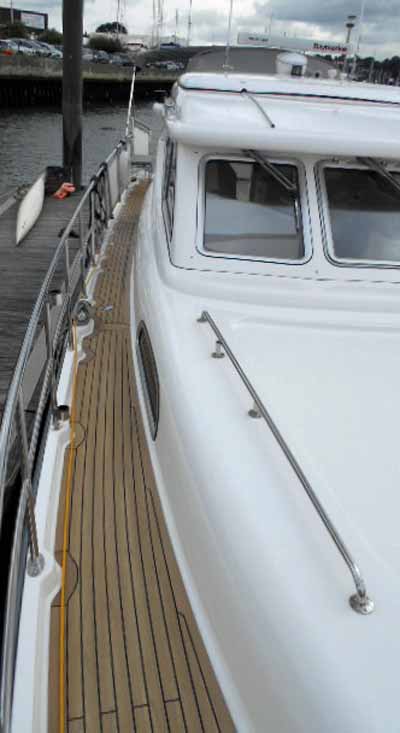 Starboard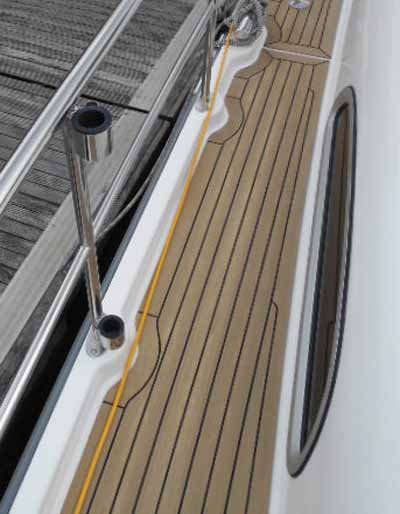 dinghy hoist sockets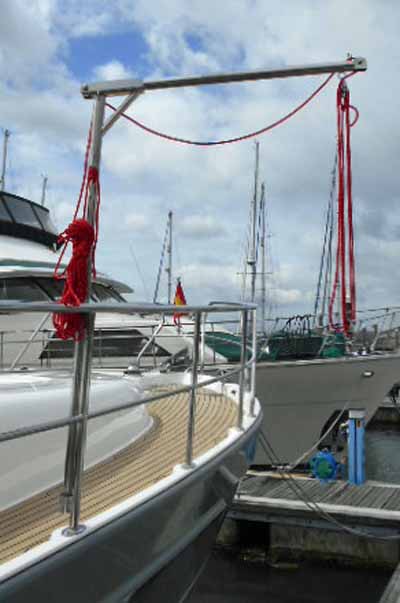 drops in when required, simple /clever, not heavy weights but takes the hard work out of paddle boarsd and small sailing dinghy..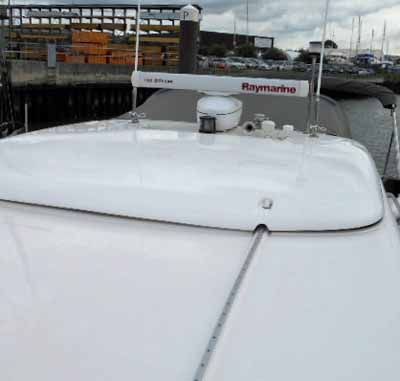 saloon/ wheelhouse hatch tracks run forward, open array radar 4 KW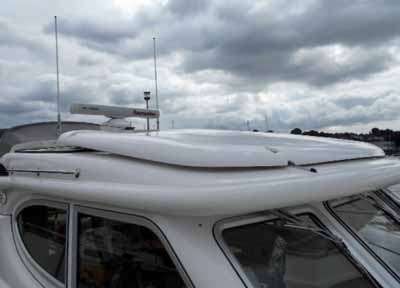 hatch fully open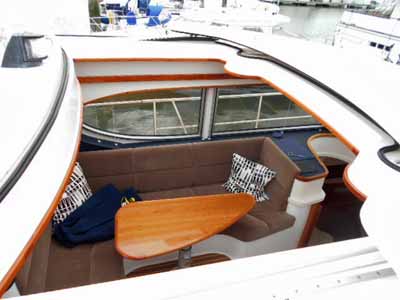 really does make the wheelhouse feel different, black rubber strip is an inflatable seal system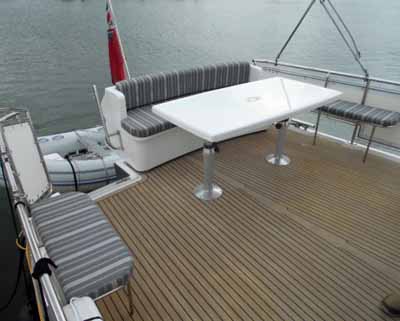 super aft deck area, and decent solid twin leg table,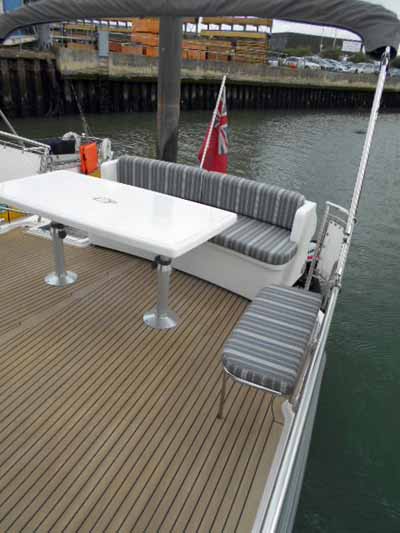 fender baskets double as side seats,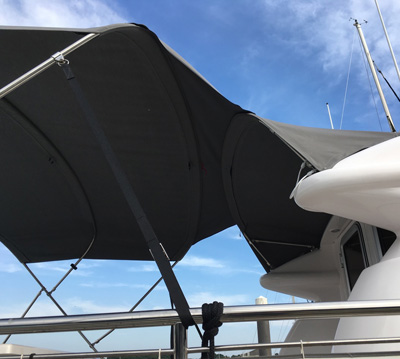 Bimini cover, has an infill piece that connects up to the aft eyebrow cover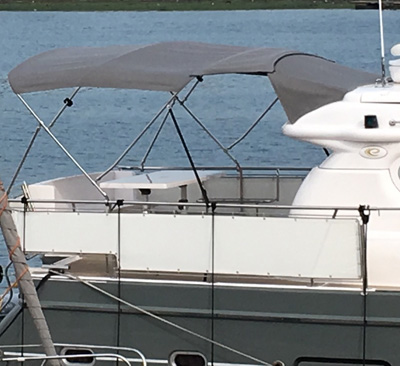 VERY useful in sunshine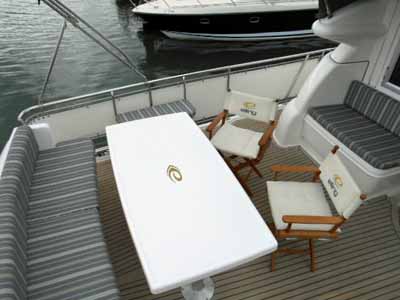 two smart "Elling " teak directors chairs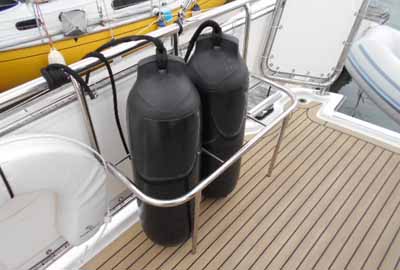 fender baskets
aft facing seat with locker beneath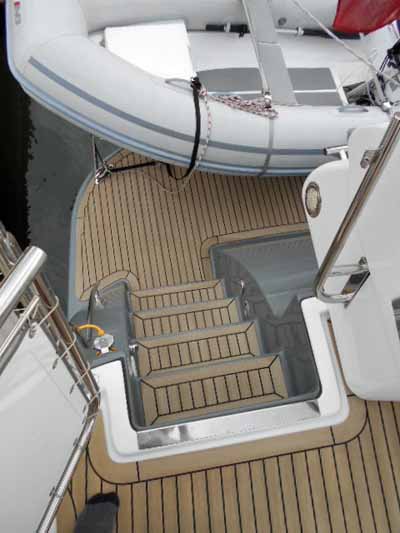 View down steps aft set to port, plenty of room to board even with dinghy in place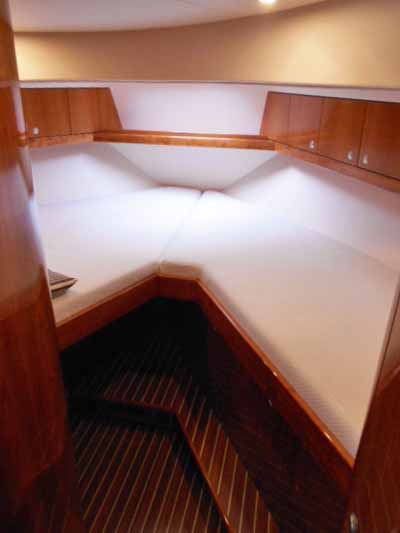 twin cabin forward, lots of stowage,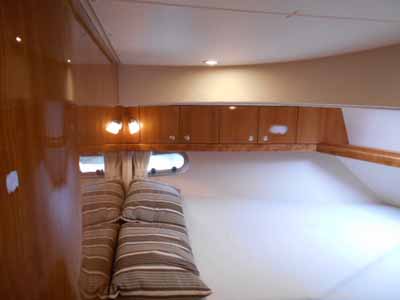 port side ,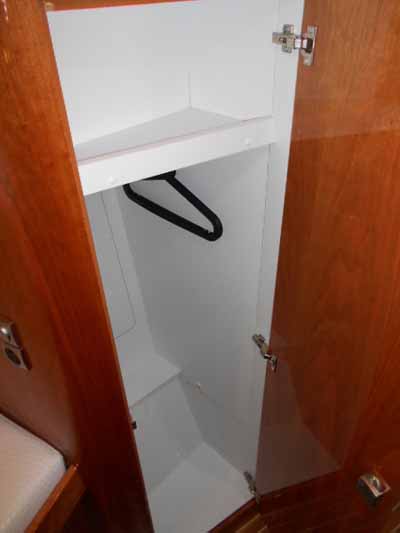 hanging locker to starboard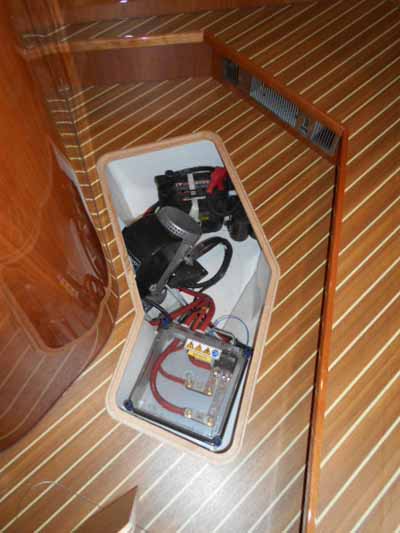 access to decent bow thruster, with local battery, laminate "Teak and Holly Flooring is smart and very hard wearing
heads shower set to port, with full shower right of shot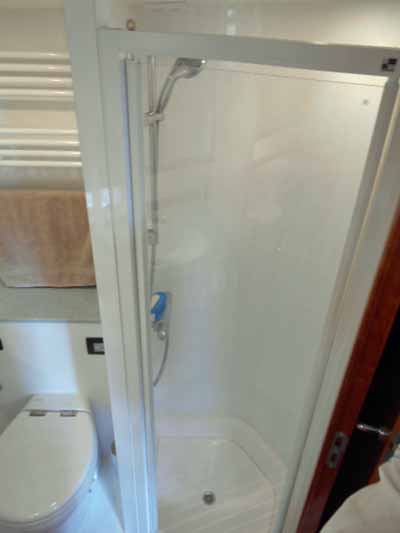 shower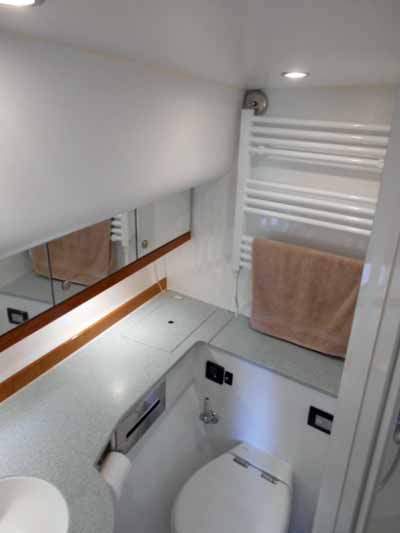 electric heads, wet heated towel rails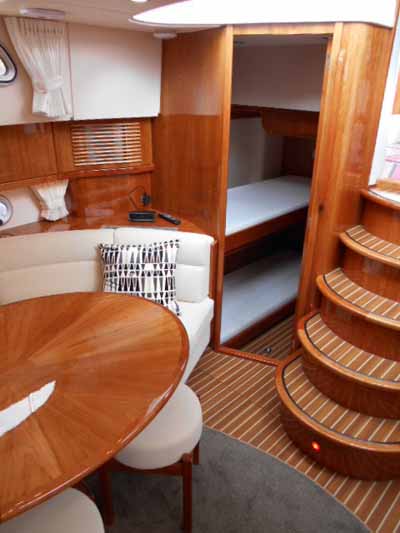 looking aft at mid cabin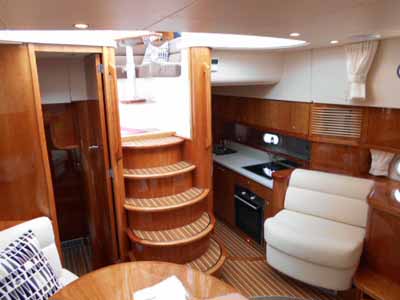 galley down port side,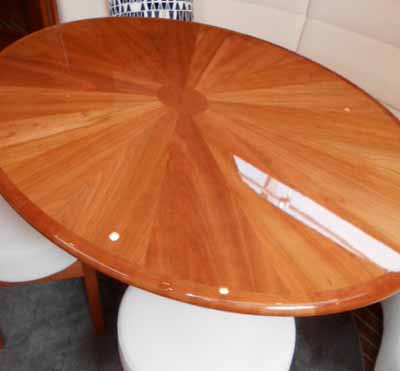 Stunning Table,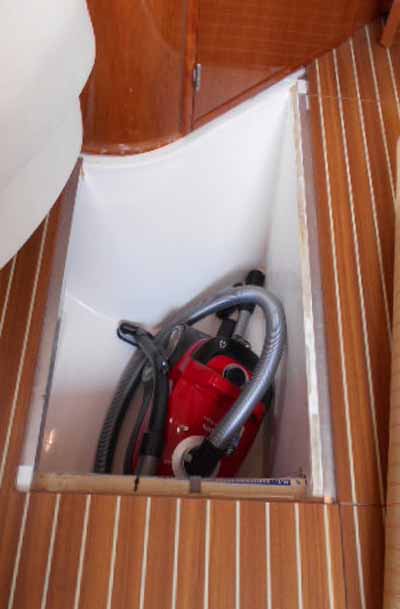 Useful underfloor lockers
Pop up TV between arm chairs each side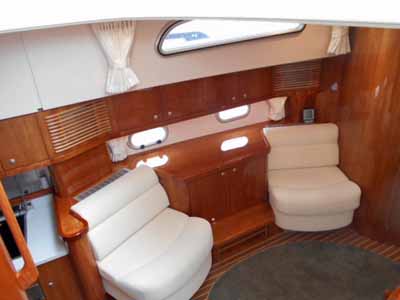 wonderful space and comfort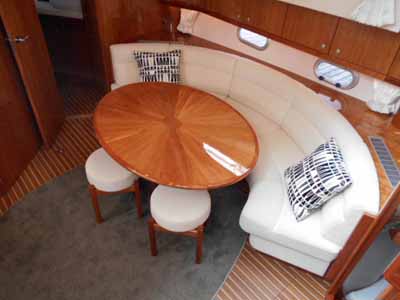 dinette set to starboard, two smart stools, lockers under all seating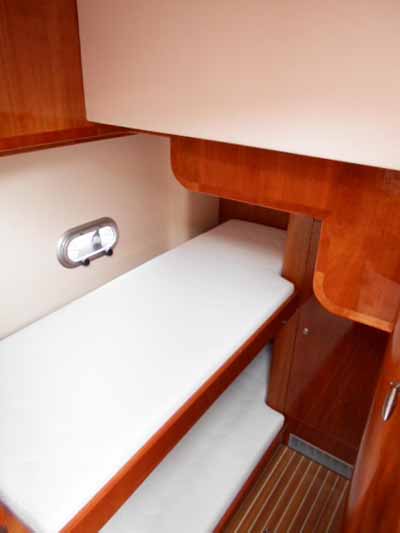 twin bunk cabin, The top bunk will tip up to leave a work surface "desk" if required.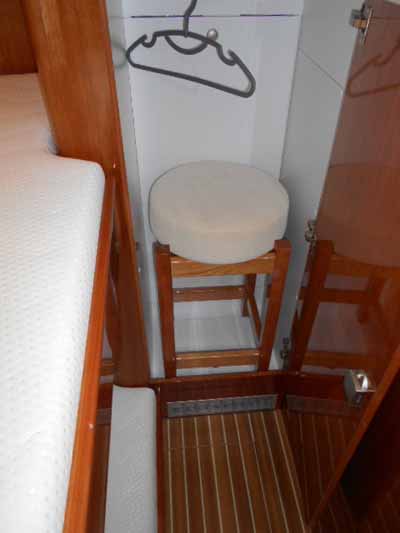 and the Hanging locker has a tall stool which is just right if using this space as an "Office"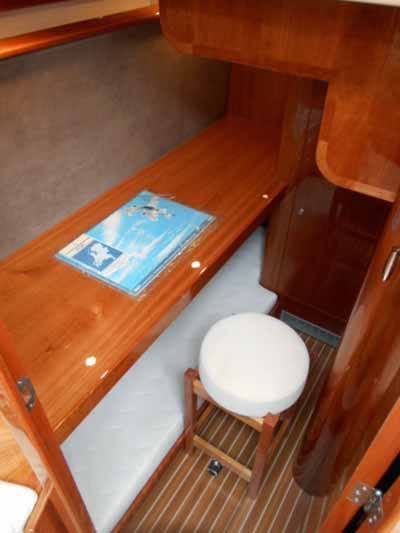 Just Like That ! ( nice place to plan a route, and mark up charts etc..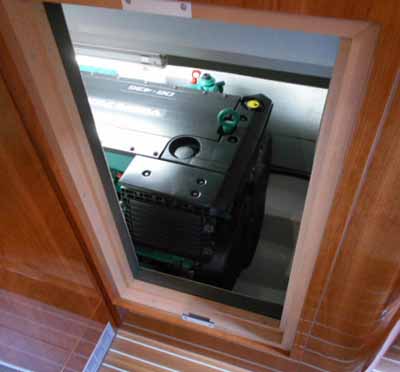 access to starboard side front of engine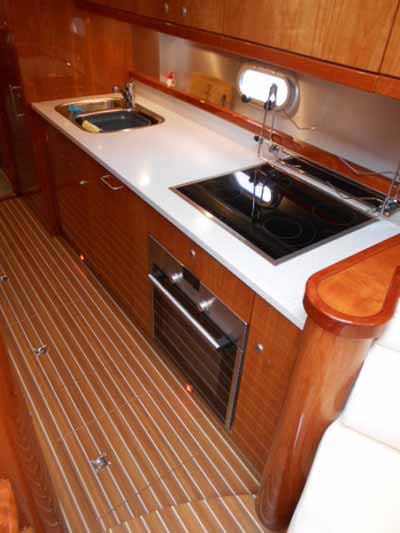 light spacious Linear Galley Four burner Ceramic hob, and oven/grill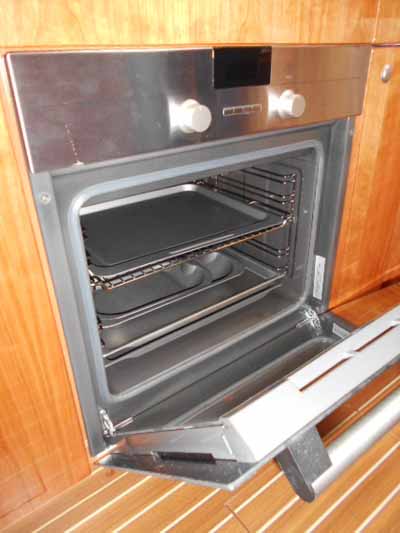 used twice we think !
inside , more work surface and lockers, generator controls behing kettle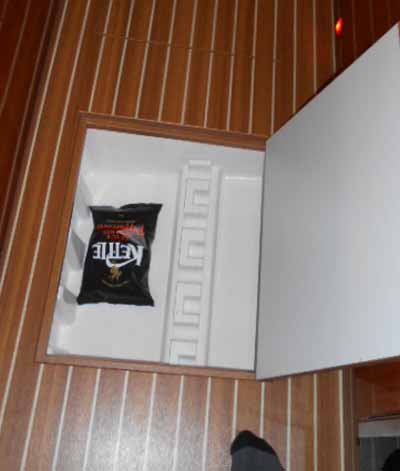 wine racks under floor,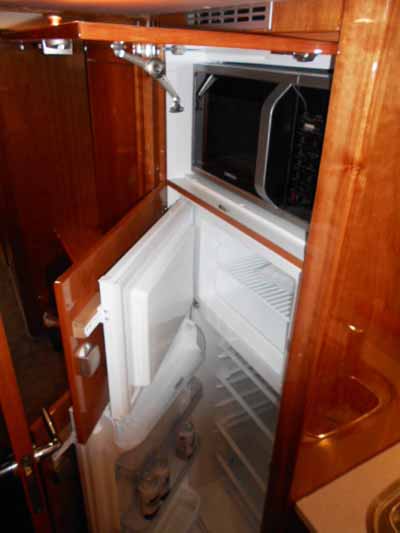 combi microwave oven , then Freezer , then decent fridge, aft in galley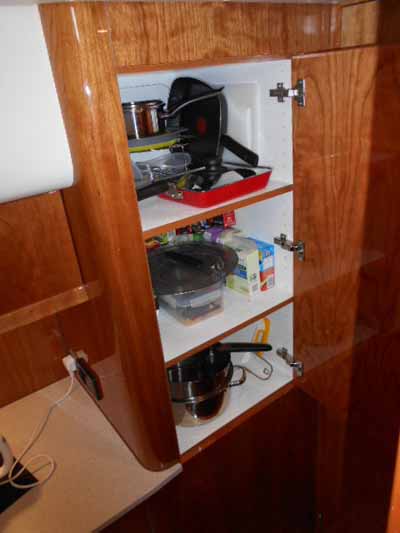 opposite, more lockers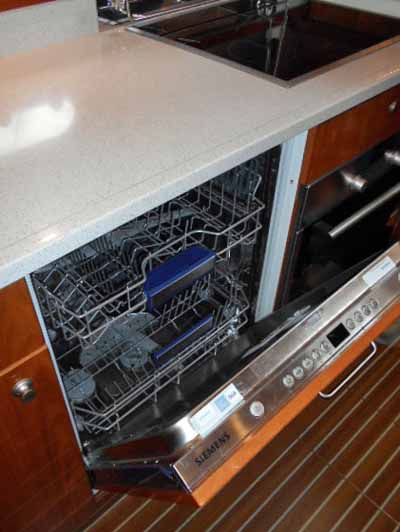 dish washer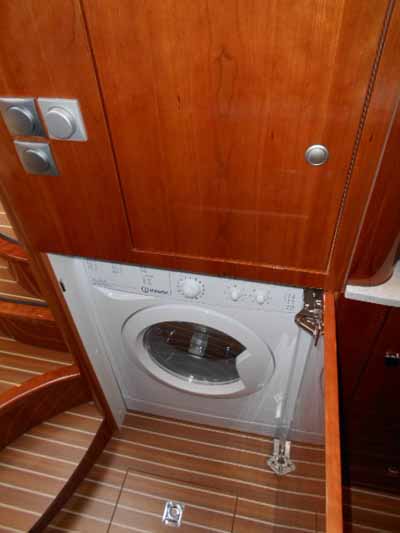 washing machine,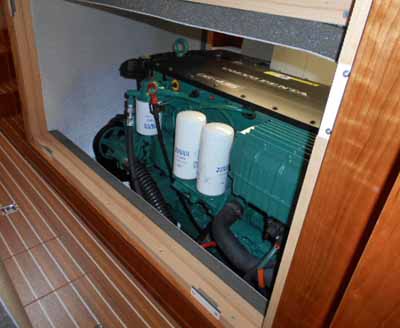 lift off panel to port give great engine access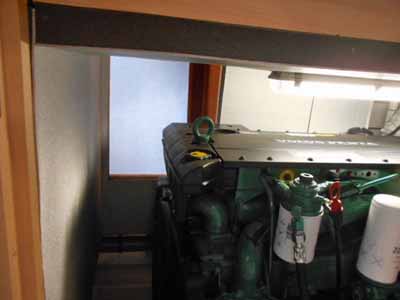 looking across to open panel in "Office/bunk cabin"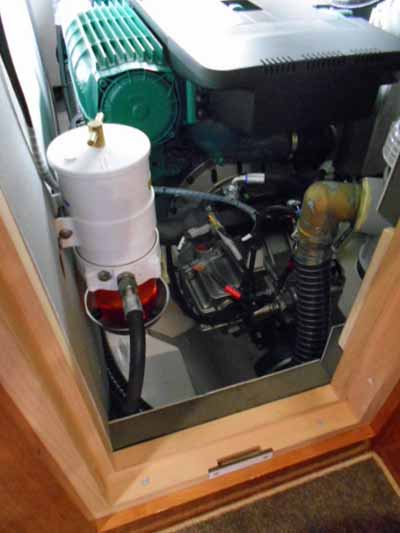 access in from aft, direct to fuel filetrm water strainer etc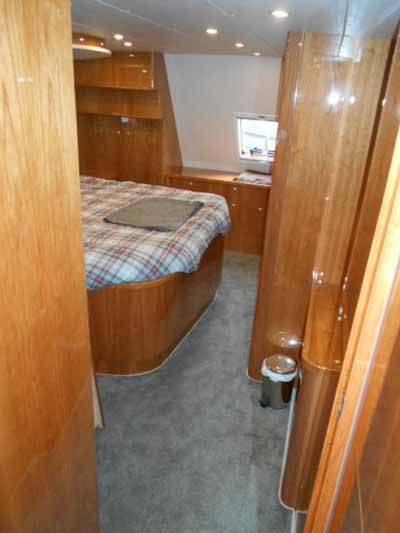 looking aft in to aft cabin, stunning Pale Cherry in high gloss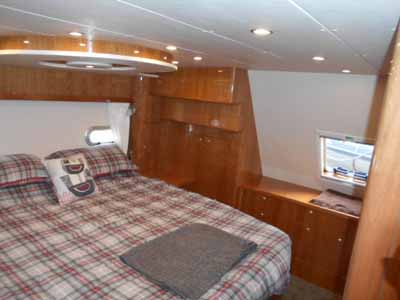 bed is set athwartships, head to starboard,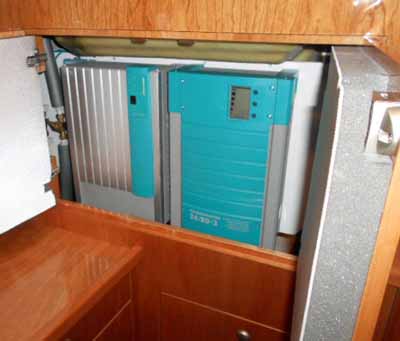 easy access to servcies , common theme, these are charger and inverter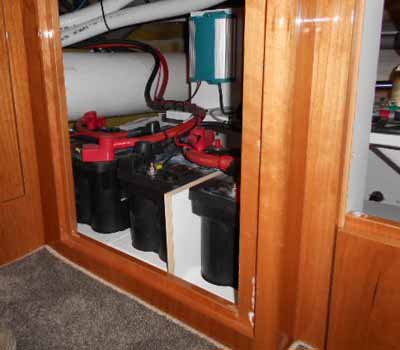 batteries,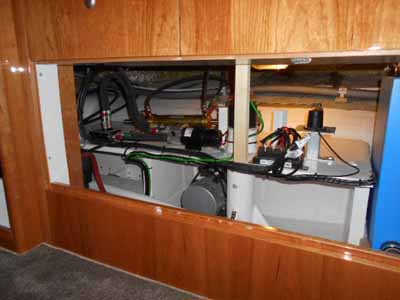 all steering kit, and stern thruster, water tank to right of shot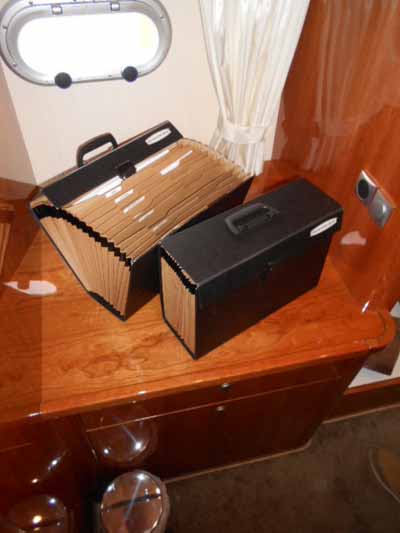 original papers from Elling , complete,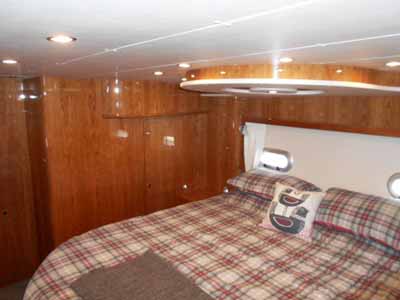 looking forward, locker door right of shot,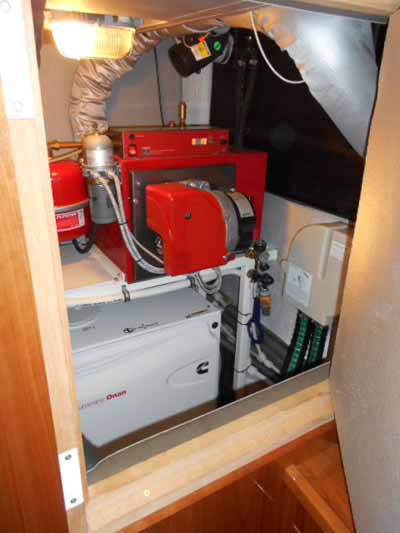 give access to heating, generator etc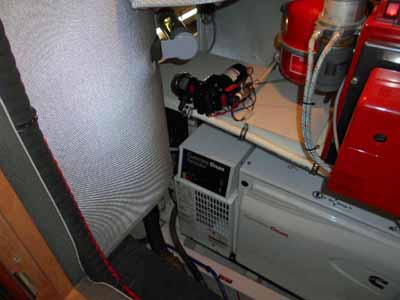 Onan in a cacoon,
beautfully laid out and labelled,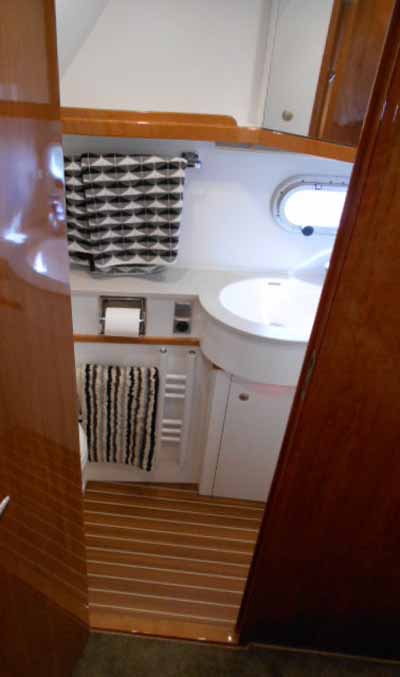 looking in to heads set in port aft corner , wet heated towel rail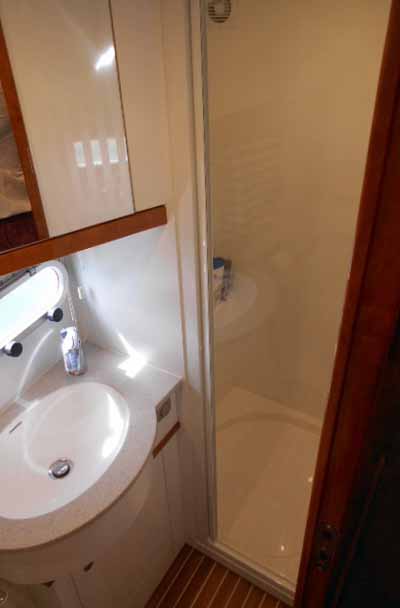 and this boat went for the extra Shower option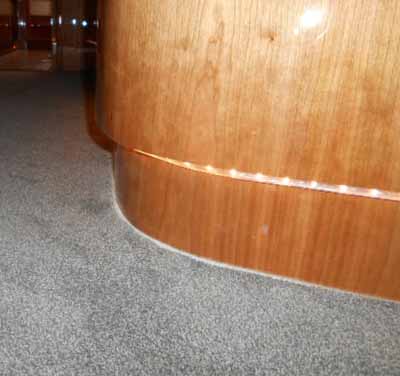 low level lighting ,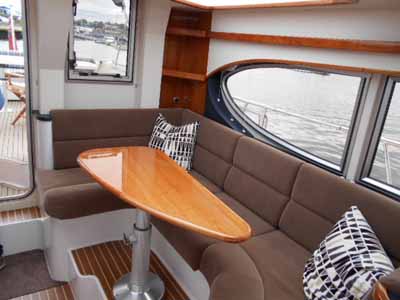 up to upper pilothouse, looking aft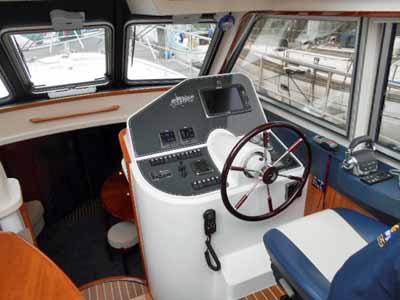 simple easy helm set to starboard, Double glazed Toughened Glass in here. centre window opens electrically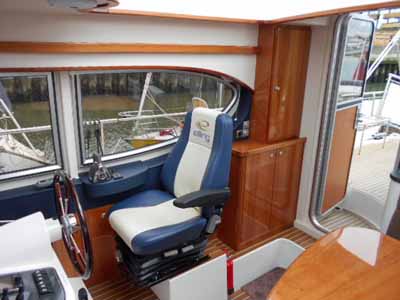 Air damped seat, services lockers behind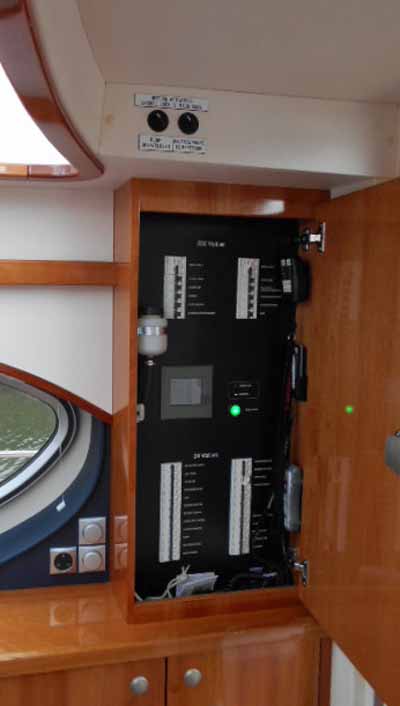 with hatch opening controls above
And now a few great shots from The owners showing her in use..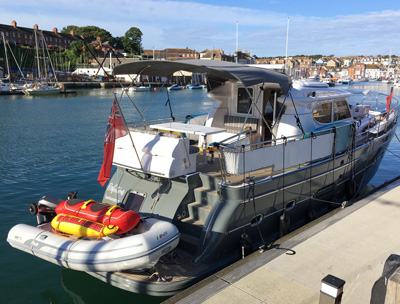 Weymouth I think, toys for the kids..forward and aft..
Where you may have seen her before, at the Southampton Boat show as an example of Ellings good work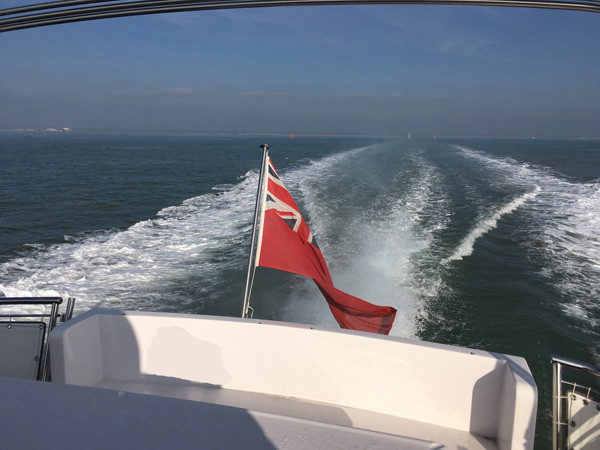 Here is a great aft show of her sat at 19-20 odds knots, at a guess. proving she can "pick her skirt up"
and travel if required. and some times to make a crossing easy on everyone, a couple of hours in the middle
at high speed, whilst obvious;y heavier on Fuel, can make channel crossing a far more acceptable plan.
lifted for wsh off, up the Hamble, you can see her big four bladed prop and the fact that it is well protected by the long keel ahead of it, You can also see the drop down swim ladder port under the platform so it can be used from the water.
Stern Thruster pod just visible.
Fine entry and great stem, dose give a great feeling of ability in a seaway. Bow prop tunnel just visible
clean lines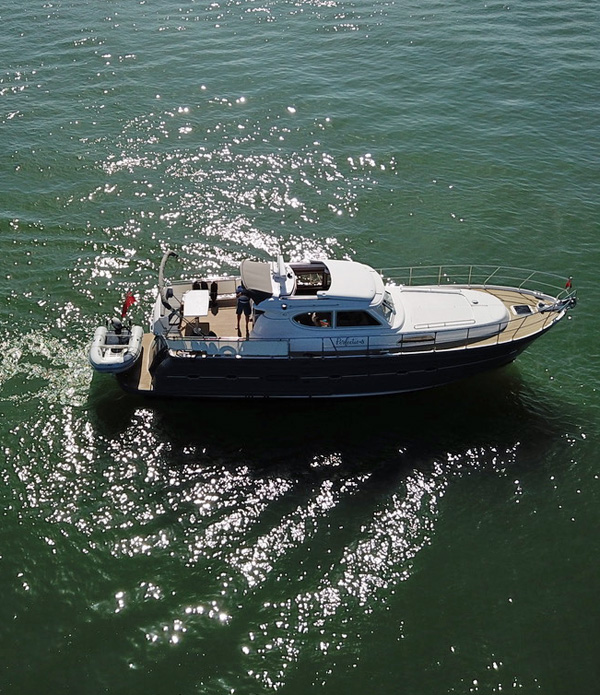 Could be a Holiday Brochure shot, pottering at 4 knots with very little wash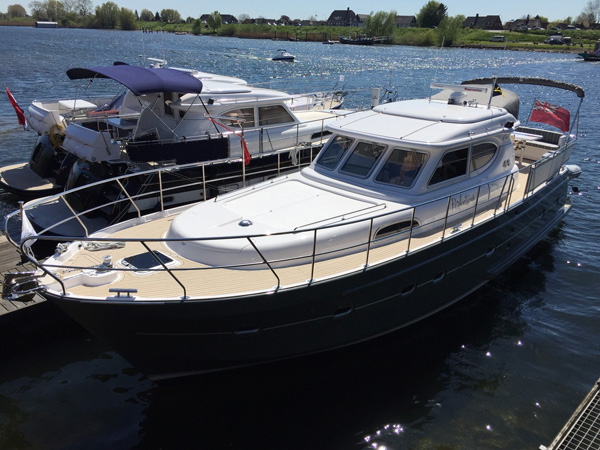 In Holland
Will Bash along and chop easily through a Solent "Chop" with soft landing slicing through waves untill they get rather bigger, then you have that nice tall stem and freeboard,
very nice proportions, and the Mouse grey is very smart option,
And this one , just because its a stunning shot,