The E 4 has a far larger aft cabin than the E3, and this one has the fullwidth cabin with offset aft berth, the sense of space and light aft is in a whole different leauge .
The extra length also means a decent sociable aft deck area. This one has a full Bimini cover, Electric wheelhouse roof shown open.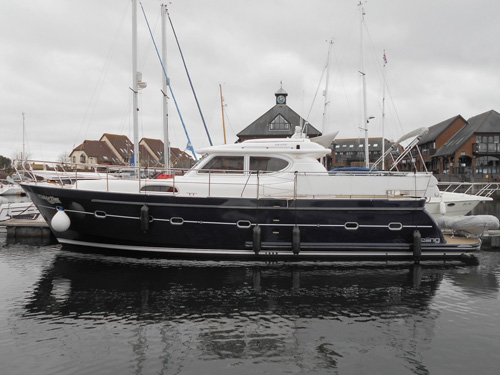 Port side, Dull Day,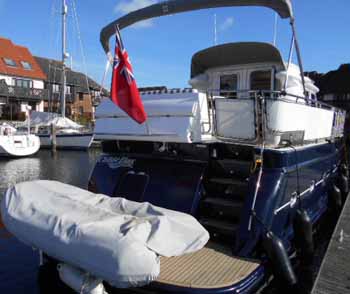 Bit more sunshine now hull looks as it should, ! nice big aft platform makes side boarding aft easy, and accommodates a smart Alloy rib in laucnh/stowagfe cradles.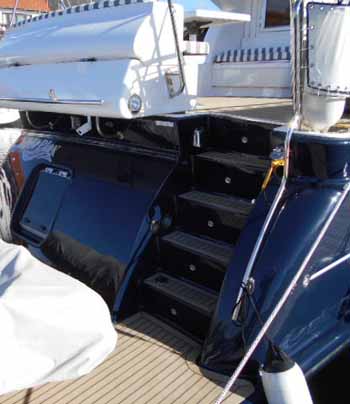 Aft easy steps, with LED lights, note aft camera top of transom, water and fuel fillers easy to access back here.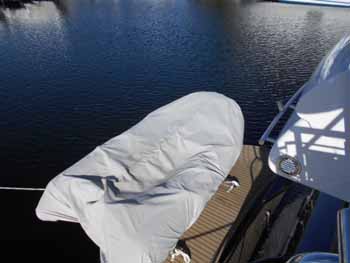 the rib is within the width of the main hull, so should sit there happily even on a grotty day!, and you can see there is room ahead of it to access pontoons either side even when the rib is there.

neat cradle/launch roller system.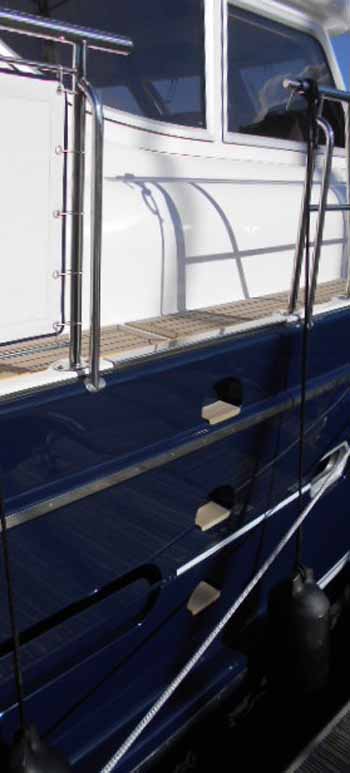 side access steps moulded in to hull, and opening top rail. There are also some chains at lower level which were not in situ when I looked, very smart spray dodger set.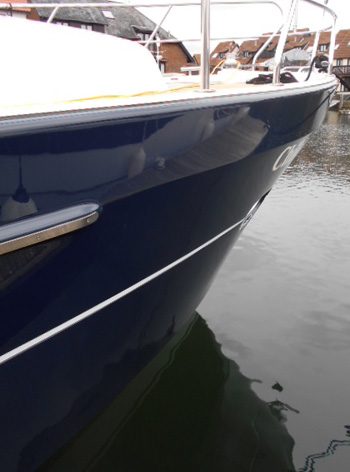 Reflection on polished hull, also note the flair on hull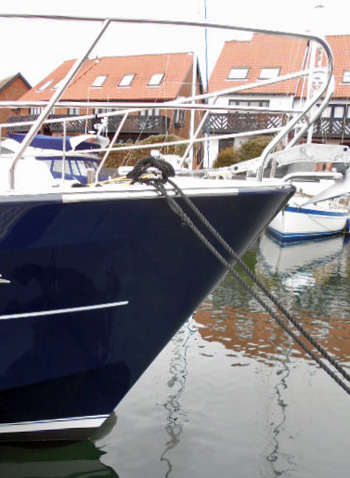 bow, note nice wear plates at each fairlead.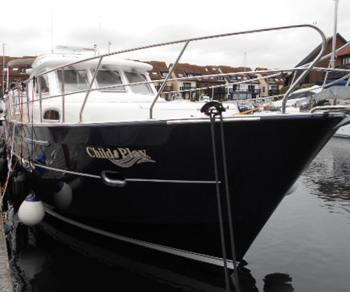 Fine entry, should find "Slamming" very rare indeed!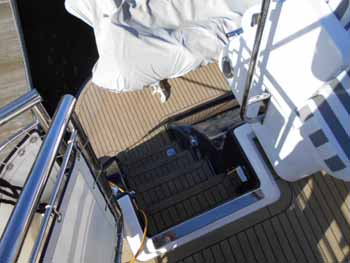 looking down aft steps,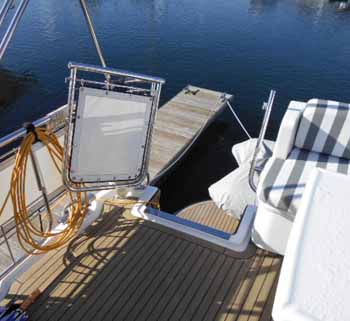 gate clips back, Decking is VERY realistic,.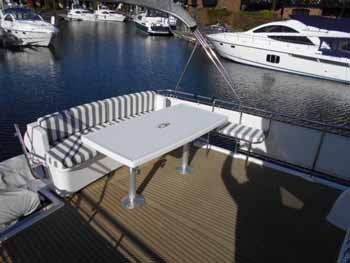 cushion set in place. Unmarked, big locker under seat,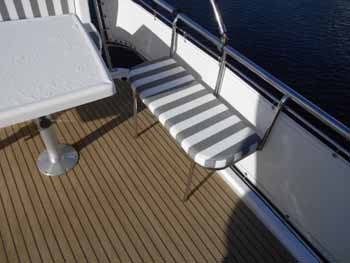 and fold up extra seats on legs each side,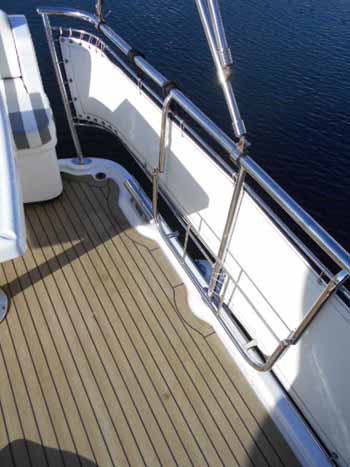 that drop away..note bimini frame ends,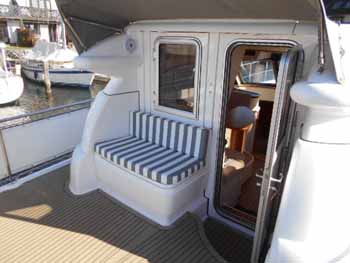 and nice eyebrow cover over aft door, again locker under seat, and window above opens out,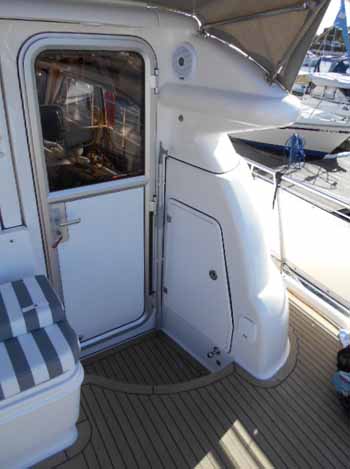 waterproof Stereo system, draining well at door entry, locker right,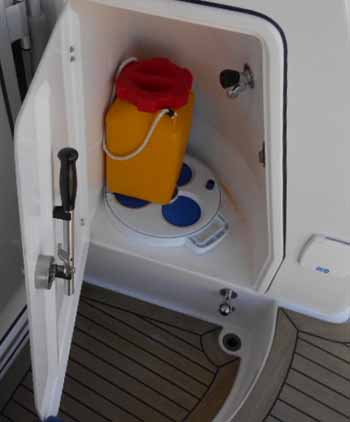 holds handle for manula pump, ( there are three electric..) and note fresh water tap point and hose,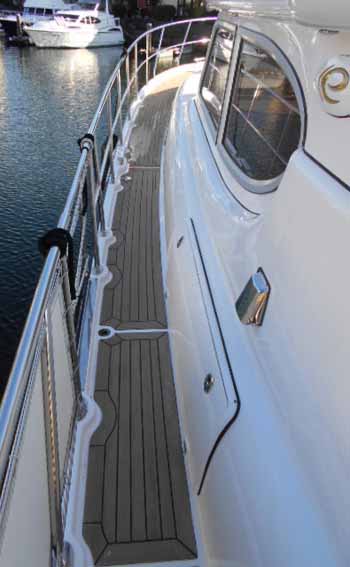 port side deck, Nice margin board work to "Teak decking"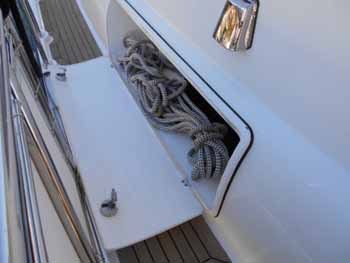 warps and some fenders in here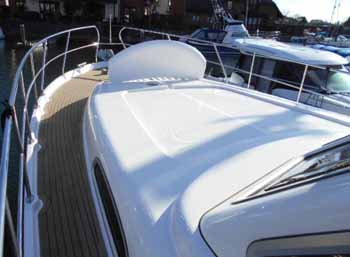 big fore deck area. seat back moulding lifted in shot ( sun cushions can be made for up here)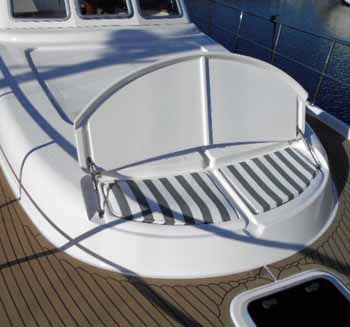 very popular spot when pootling up river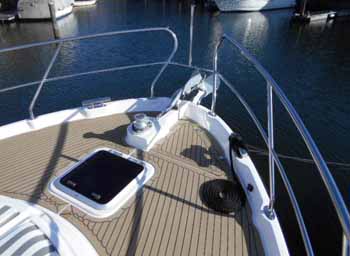 windlass lifted , Hatch to forward cabin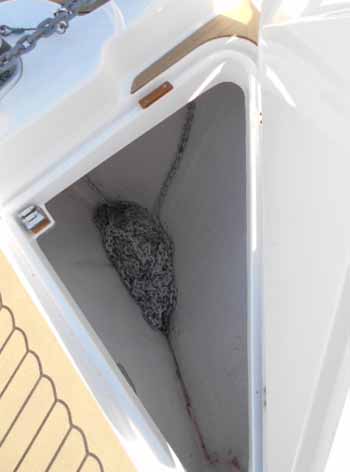 easy access to Chain locker, she has standard 30m at present.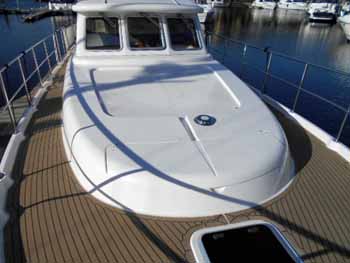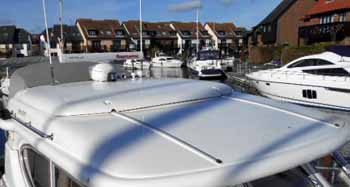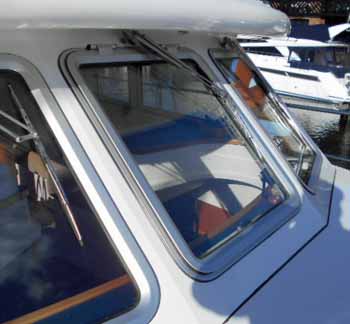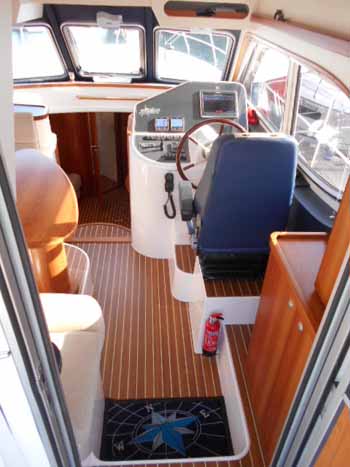 Upper saloon/ wheelhouse, ( under floor heating, all double glazed windows,)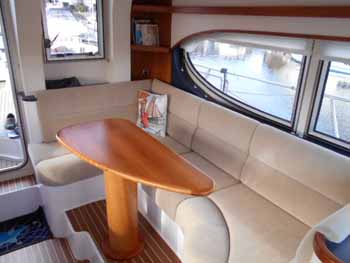 smart "alcantara" type upholstery, Note "Oceanair" blinds fitted extra to whole saloon, aft window open outward.
Air damped helm seat,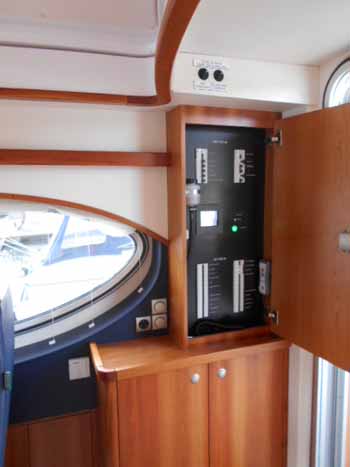 ships electrical systems locker, note controls overhead to electric hatch and powered seal system. ( superb feature)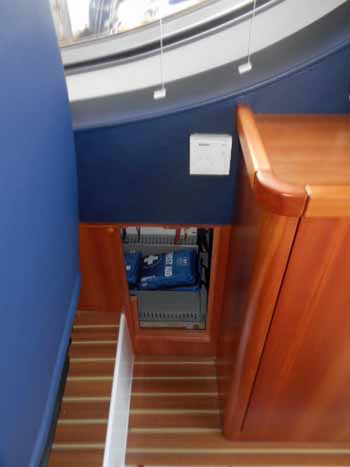 central heating thermostat, wonderful system. and drop out panels where ever access MAY be wanted .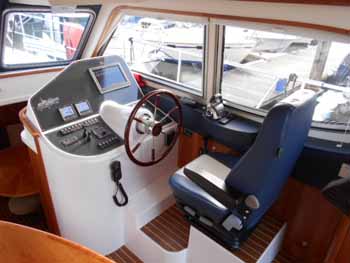 neat simple dash with nice read angles,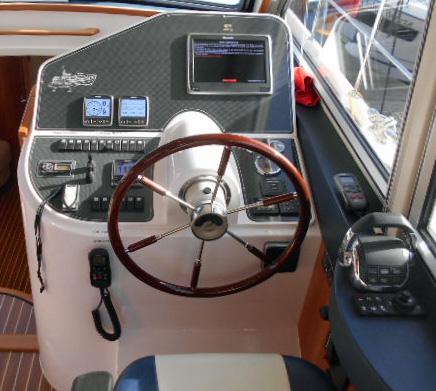 simple layout,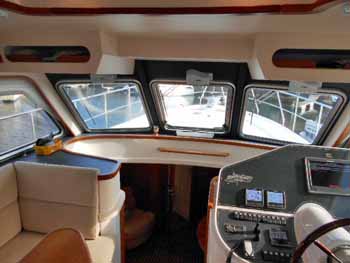 middle window opens outwards electrically,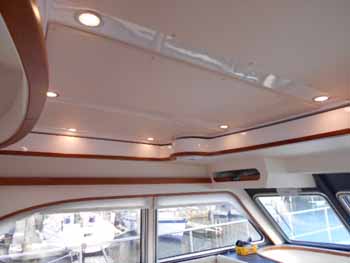 overhead, huge hatch slides forward at the press of a button.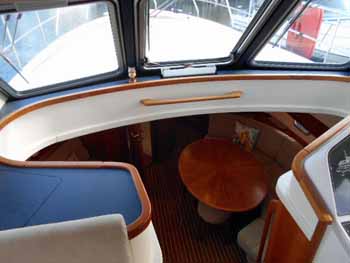 Key hole shape to deck cut out, very "Superyacht" style.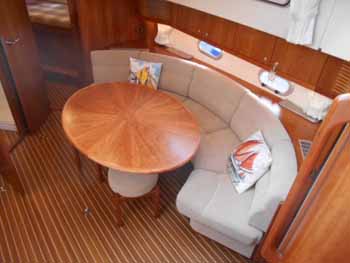 dinette set to starboard, stunning table, , lots of under deck stowage, as well as under seating.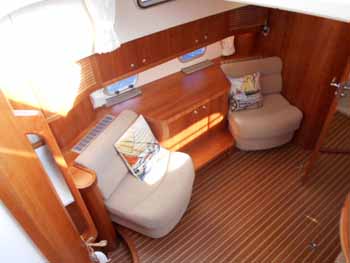 Port side, two nice big seats, with Tv and entertainment systems between,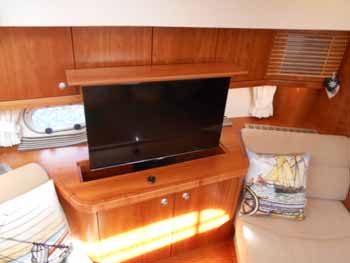 POP up TV, with remotes,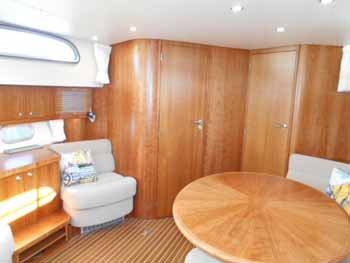 looking forward, ( Bit over exposed!) door left to heads, and right to fore cabin, note ample overhead lighting (LED)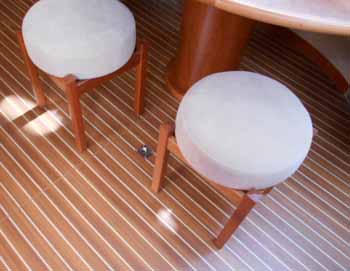 neat extra stools, note all floor panels lift easy for underfloor access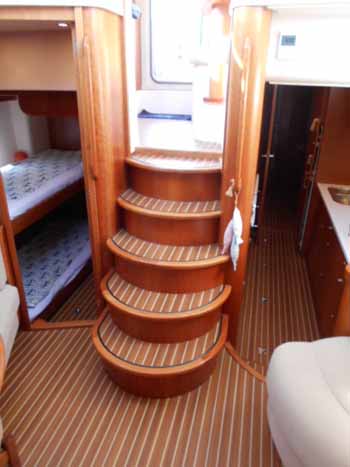 looking aft at steps in to saloon, bunk cabin left ( starbaord side) and galley right of shot,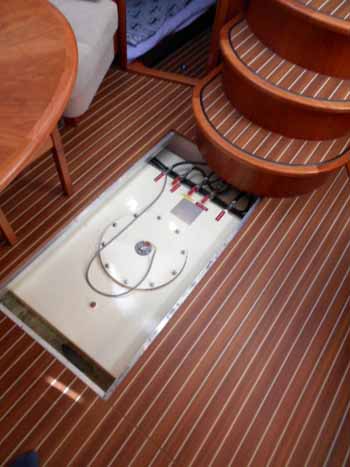 Tanks easy to access.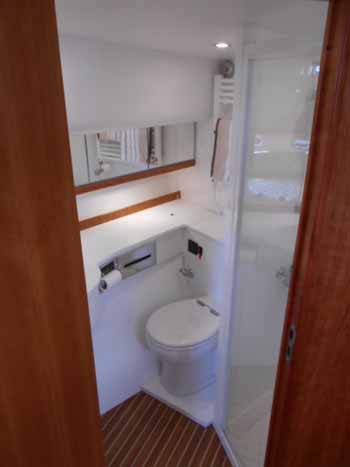 bright heads, with towel rail wet heated from boiler system. shower right of shot,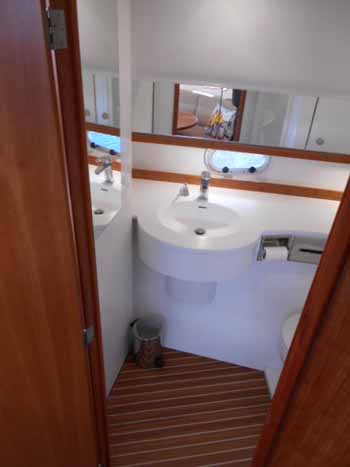 mirrored lockers along under deck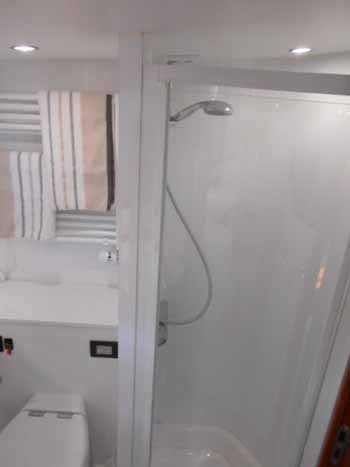 good shower space.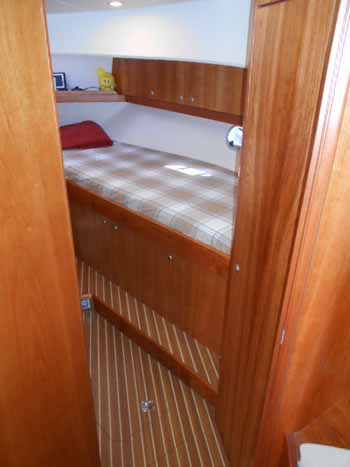 looking forward in to fore cabin, lots of lockers.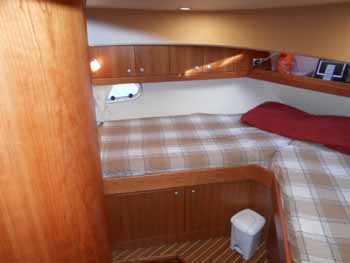 port berth slightly shorter that starboard.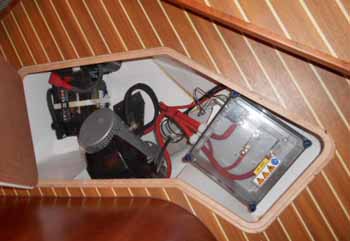 example of good installations all through the boat, 8 hp bow thruster,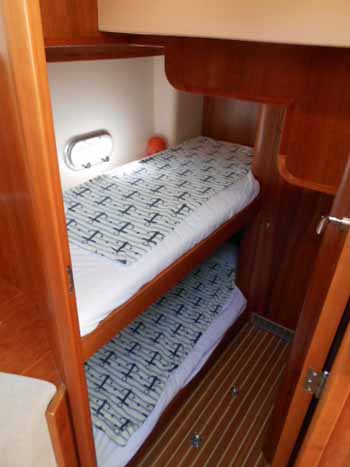 full size berths in here, with hanging locker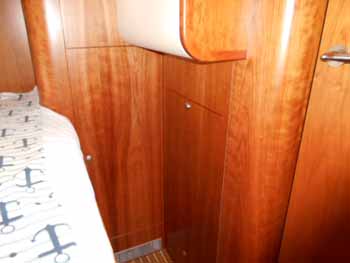 righthand panel drops out to aid access to starboard side of engine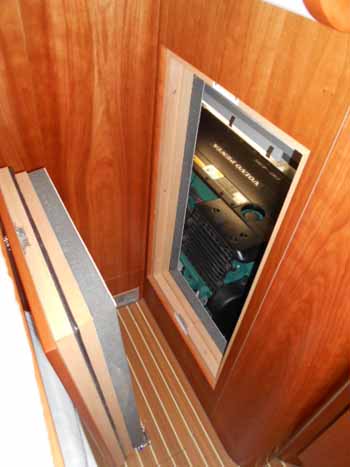 heafty sound insulation, and well lit engine space evident.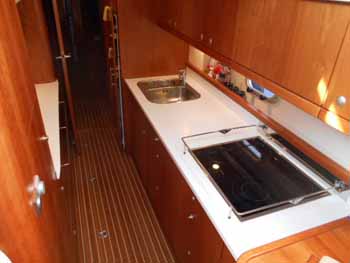 galley all down port side, four burner ceramic hob, extractor over, Corian worktops,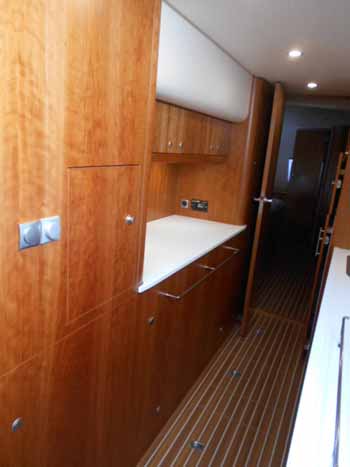 extra work surface over engine.. lockers everywhere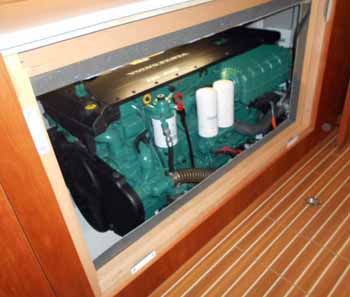 good access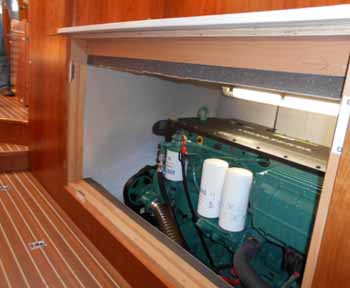 and good lighting , there is also access from aft,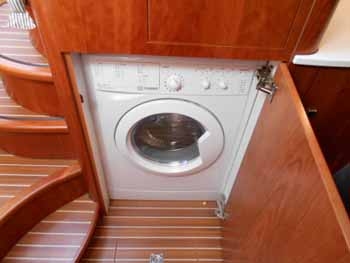 washing machine has never been used..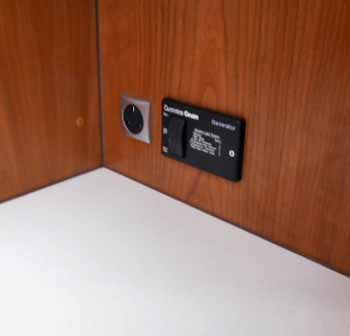 Onan generator start buttons in galley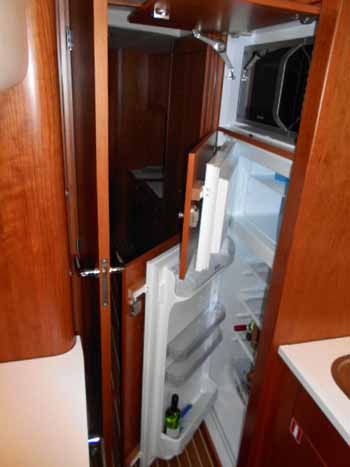 combi microwave oven above Freezer, above fridge, aft end of galley.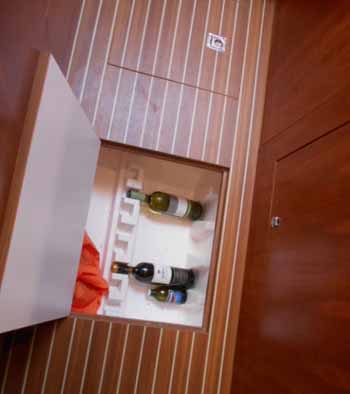 with at least three racks of wine.. under the floor.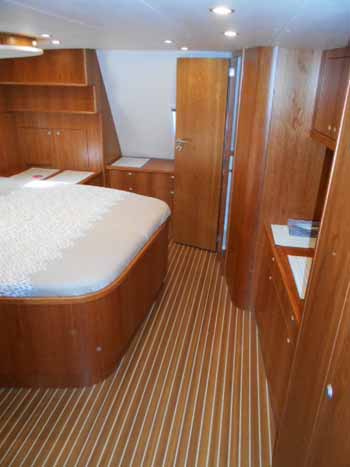 HUGE spacious light aft masters cabin, ( So different to the E3)
LOOKING AFT, open door is covering transon escape hatch, with blind and insect screen etc, ample overhead lighting,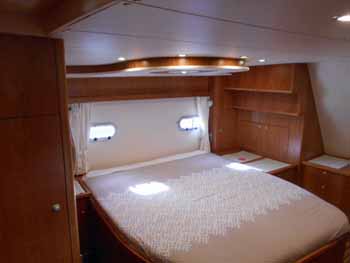 excellent Bed, again makes the E3 look small, nice with lots of opening ports and endless stowage,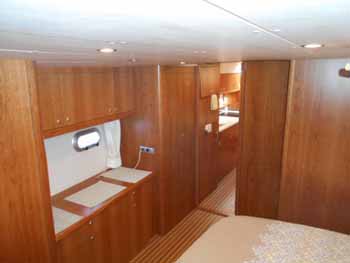 looking forward at cabin entry, dressing table/vanity unit left of shot, or desk space..big hanging lockers ahead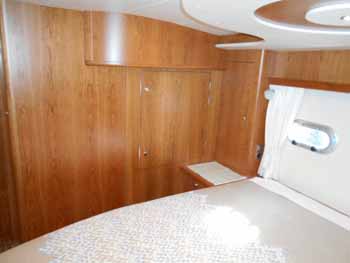 forward starboard side,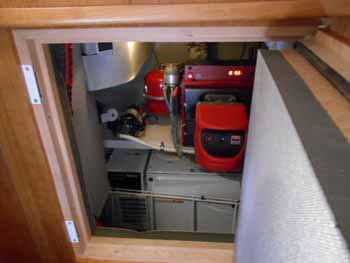 services access door,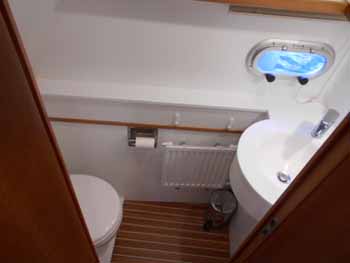 heads en-suite port aft corner of cabin., note wet radiator,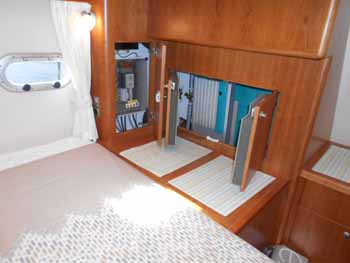 again easy access is affordeed to all main servcies, electrical replays, and battery charger inverter system right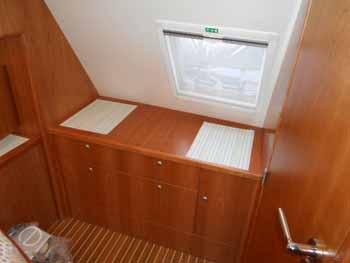 aft unit, insect screen closed on hatch..
again access to important servcies , rudder, pumps, stern thruster, etc etc.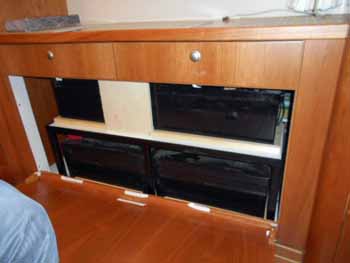 some batteries are stowed port aft under "desk"