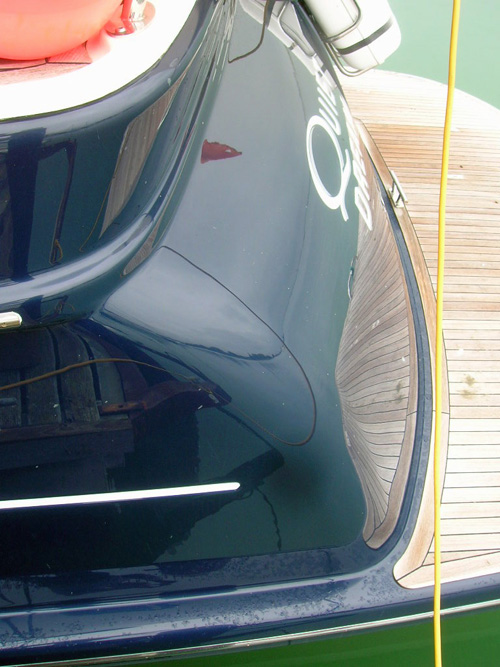 aft Quarters, Note reflection,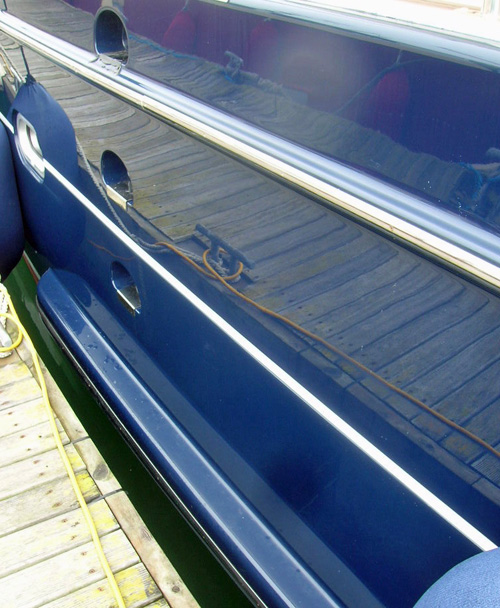 port side, The grey fuzzy bit is My camera! the paint job is excellent, note the boarding steps in each side of the hull,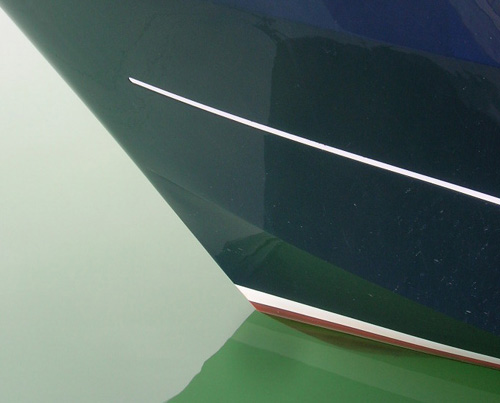 Hazy day, and we will get some better shots showing her hull condition shortly, Note clean antifoul, RECENT.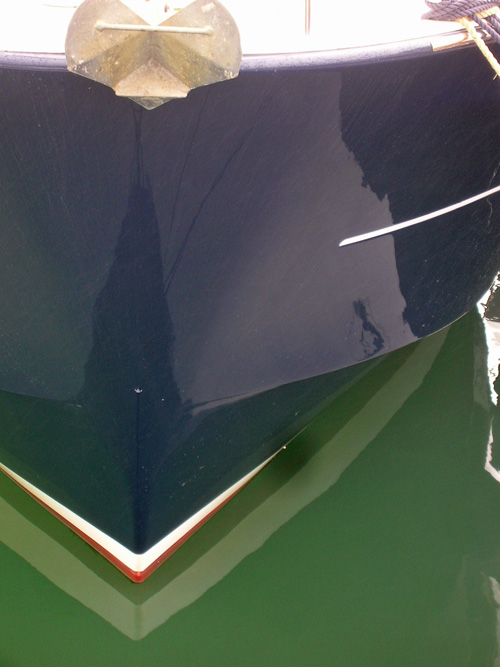 again you get some idea of the reflection, and fairness to topsides here,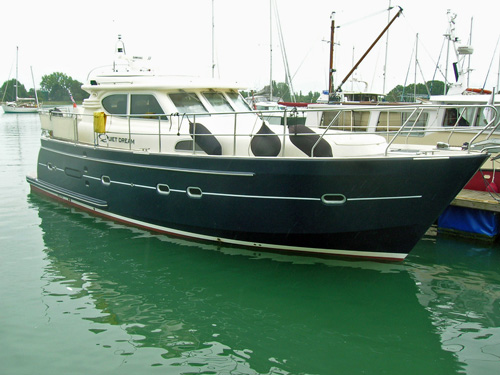 She will be across the Solent in the next few days. So should you want to see her afloat , you best be quick, she will be in Hythe approx August end..( NOW IN HYTHE ASHORE 8th SEptember)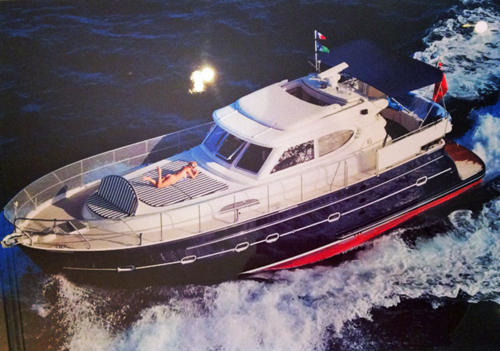 Brochure shot, of similar craft.
NOW ASHORE HYTHE MARINA SOUTHAMPTON 8th September..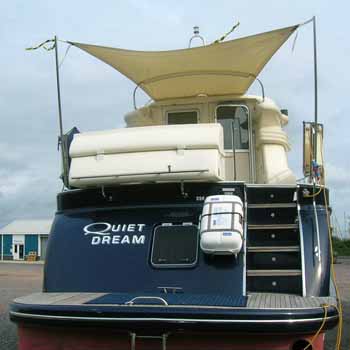 New aft sun. cover,,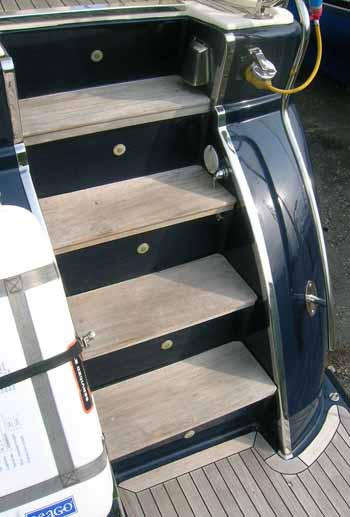 step lights, nice shine to the aft corners.. note shower top right step.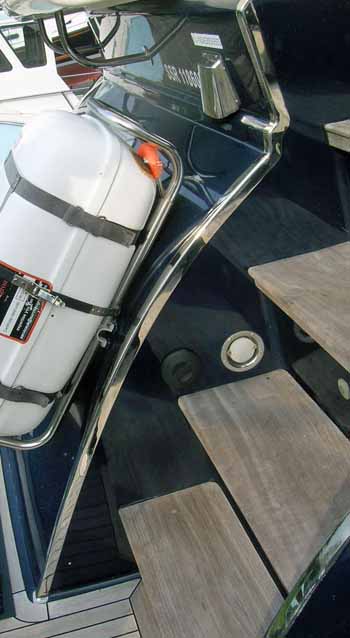 Water filler cap left, by breather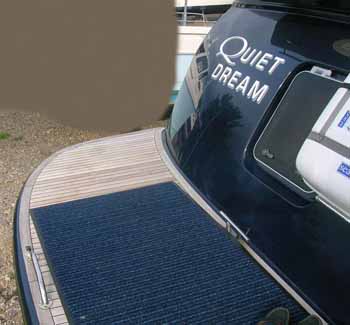 nice big aft platform could easily take a tender, it has pop up cleats each aft corner
aft locker / seat moulding, has grab rail on the back of it,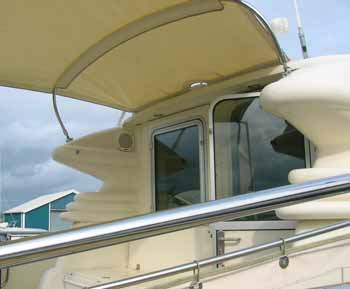 the cover offers the Door well area some extra protection,, NEW August 2017, window left of door opens fully,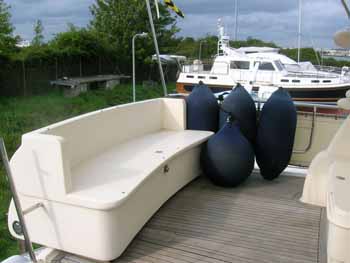 Aft deck seat, has big hinge lid to access locker within, all the cushions are inside on the Bow cabin.. in nice order, Decent Fenders. there are two more in locker, all recent fender socks..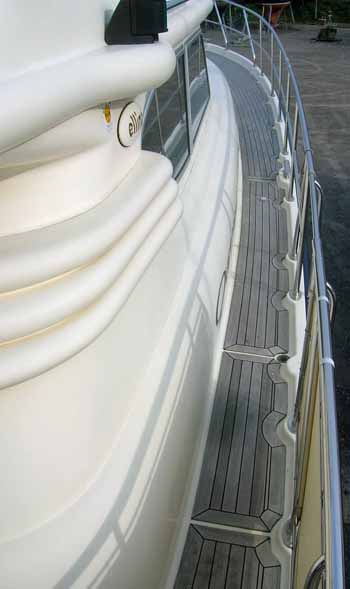 starboard side deck, all the Teak is good, and Not all SCRUBBED out .. its still good and near flat!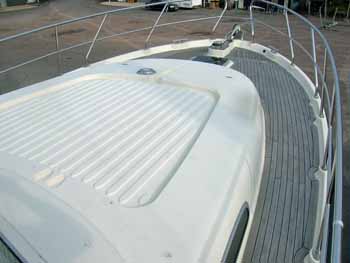 Fore deck area, this one does not have the sun deck cushions, ( easy to get)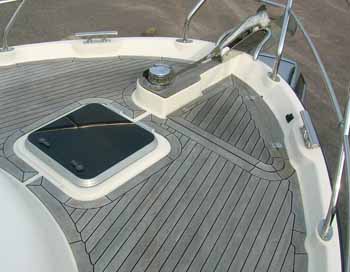 Forehatch over forecabin, electric windlass with remote control set, as well as controls at helm, Deck locker to starboard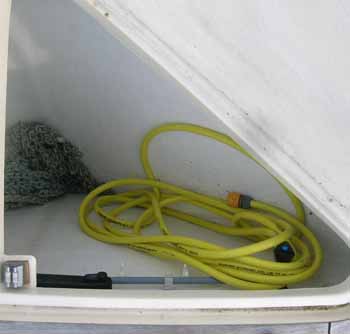 also has deck wash tap and hose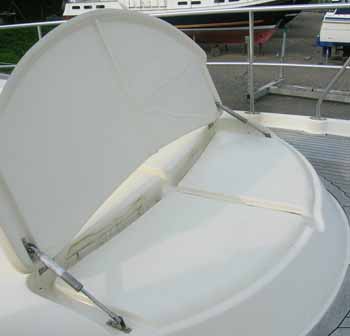 fold up seat back. on front end of coachroof, is a bit of fun, I am not sure there are any cushions for this seat?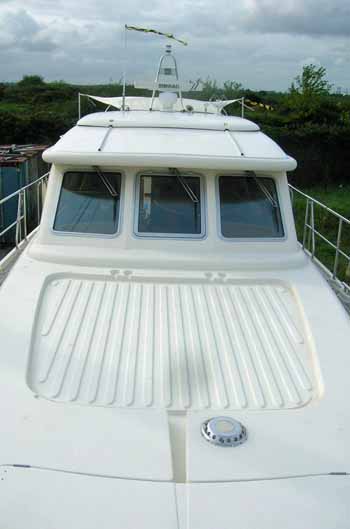 deck well. note the middle wheelhouse window opens from hinges on top edge,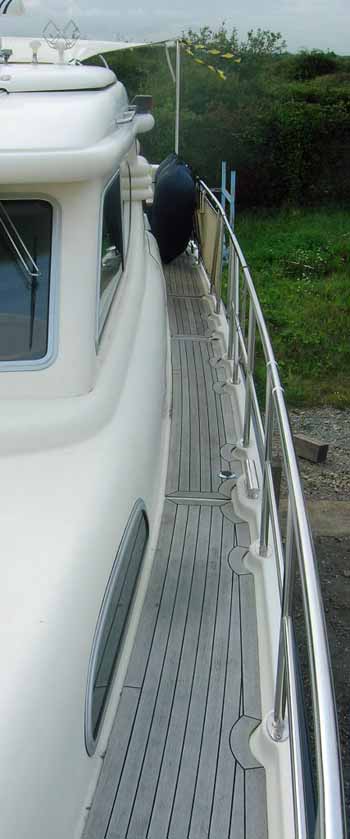 Port side deck, slide open gates in top rail each side, above moulded steps in Hull side.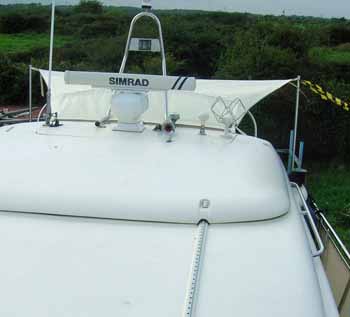 The big roof hatch is electric and the excellent powered blow up seal all works, Nice open array 4KW Simrad radar..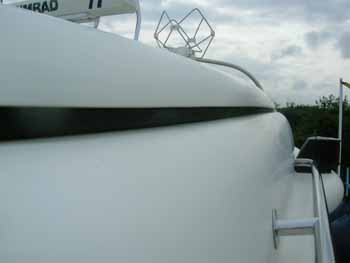 The seal around the hatch is clever.. you delate it before opening.. then once you close again you press buttons that inflate this seal. and it does a very good job of keeeping Water OUT.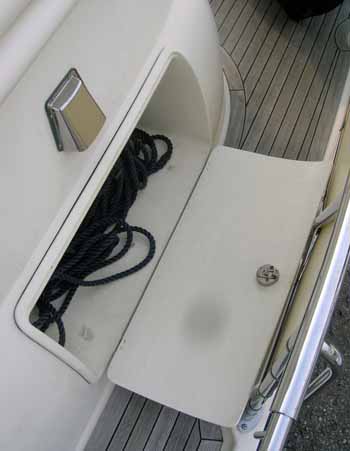 warp/ fender side locker. ( you can just see the slide out section to the top rail Here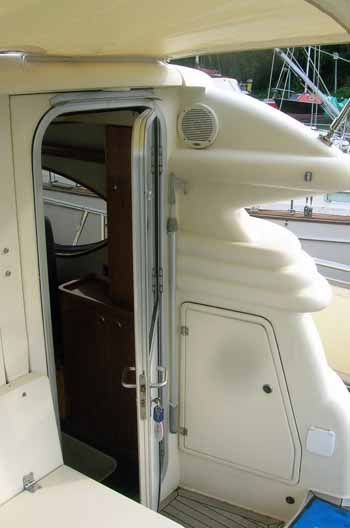 cabin door, top moulding and mast... all drops ELECTRICALLY .. all works..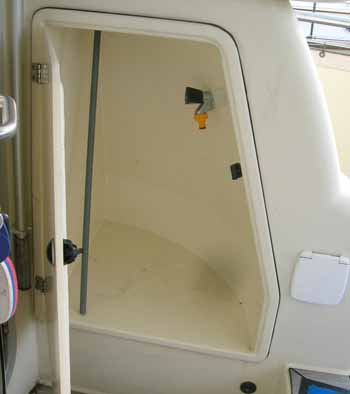 another deck wash tap.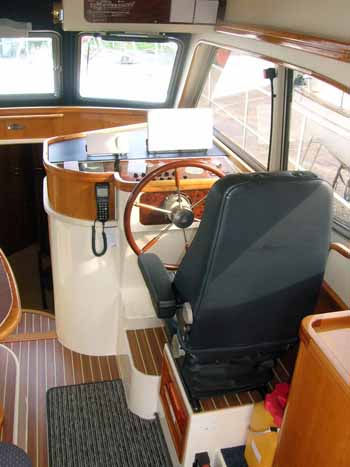 helm set to starboard, Beautifully clean and tidy throughout inside.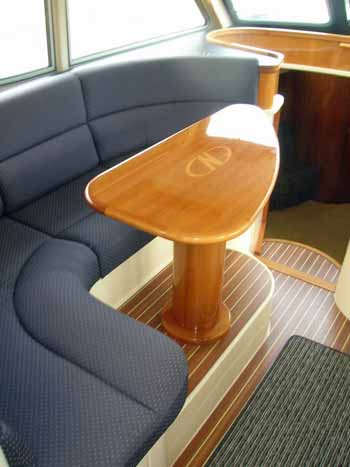 The table had a soft cover on it which I removed for photos.. it is as new..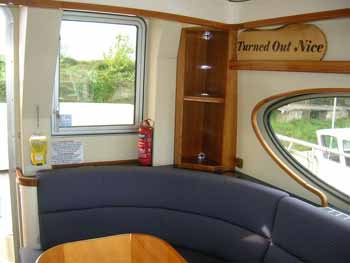 looking aft, written instructions next to EPIRB, to opperate roof hatch/ seal arrangement and drop mast section aft..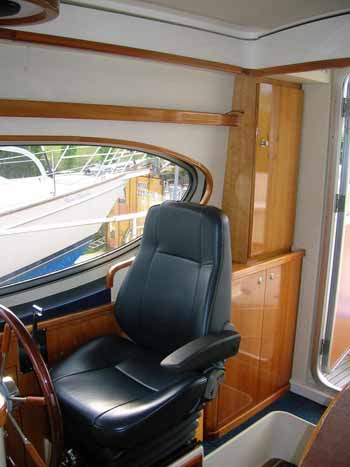 Nice air damped seat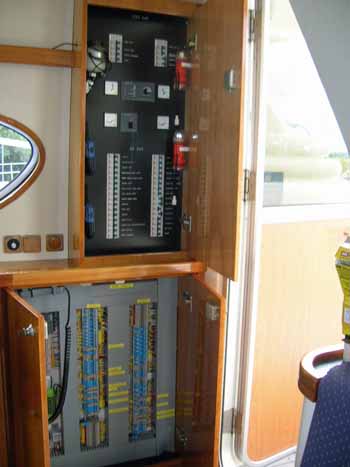 all domestic electrics and controls in these cupboards by back door,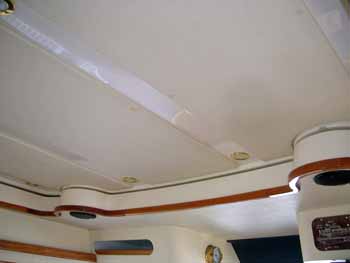 Hatch over Saloon, is huge and will sldie forward on tracks at the push of some buttons,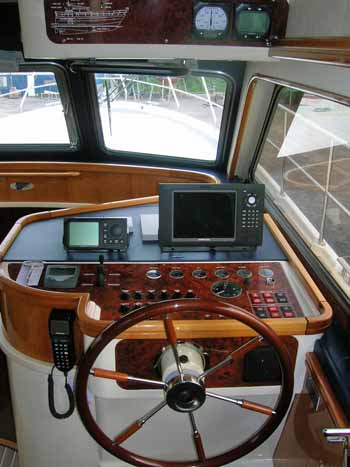 simple neat helm,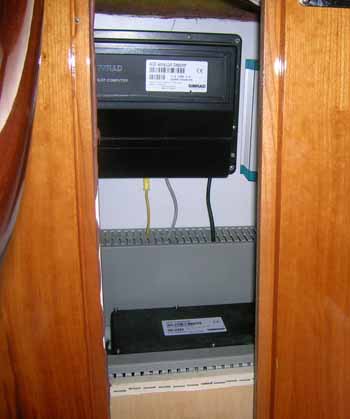 easy access to Autopilot computer and VHF unit etc.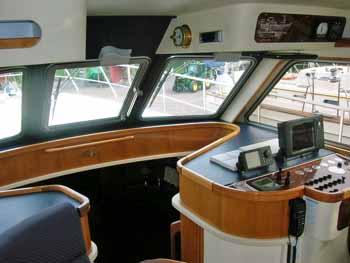 Beautiful "Key Hole" opening in to saloon below, Typical of Interior designer Ken Freivokh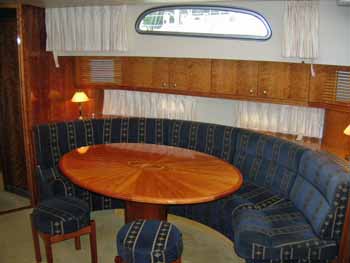 Stunning Table, also has covers over and is as new... Lower curtains cover two opening Ports,
Starboard side,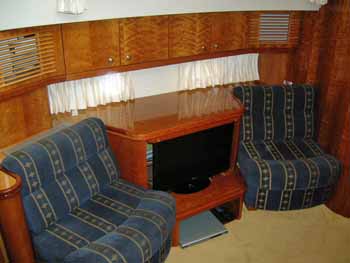 Port side saloon, again all surfaces are un marked.. Flat screen tv, and dvd player etc.
again Lower curtains cover two opening ports,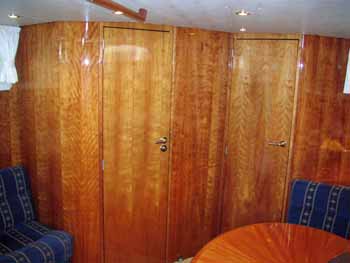 Stunning woodwork and high gloss finishes throughout, door left heads, door right forward cabin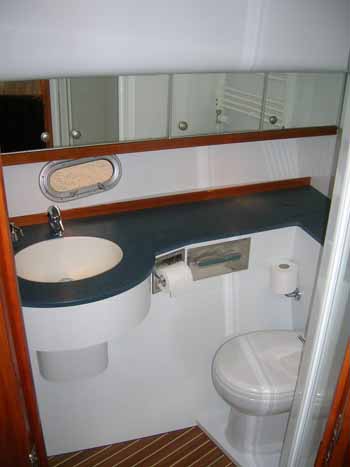 plenty of room, mirror lockers, electric Toilets, shower right of shot,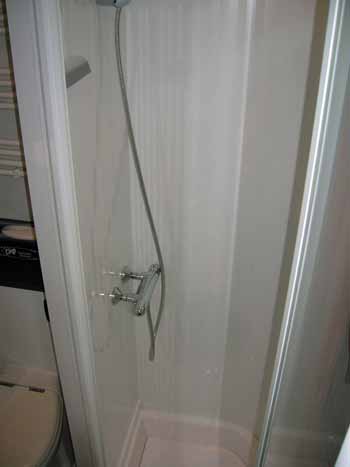 with solid glazed door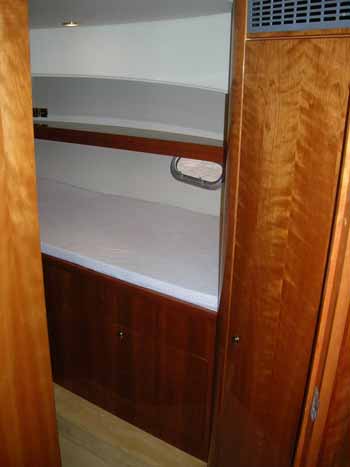 large door to forecabin, hanging wardrobe right, materess has a Memory Foam topper, in fact they are on all beds, cut to shape. very nice..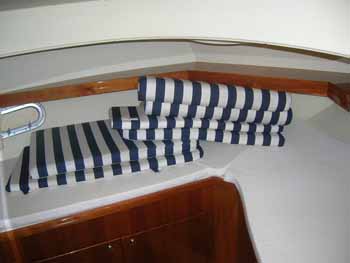 port berth forward, lockers under, un marked woodwork, Those are the aft deck seat cushions..
Close up shows memory foam "topper,"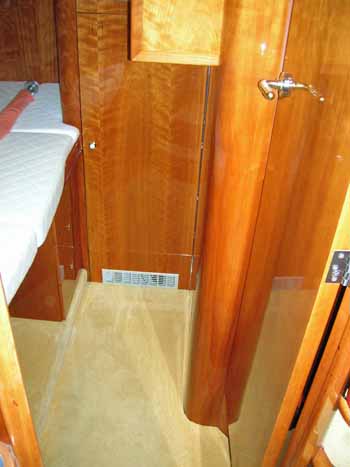 back aft in saloon, starboard side is a "Captains Cabin/ Office space, lots of stowage lockers, and there is a removable access panel to right behond door in to the engine space.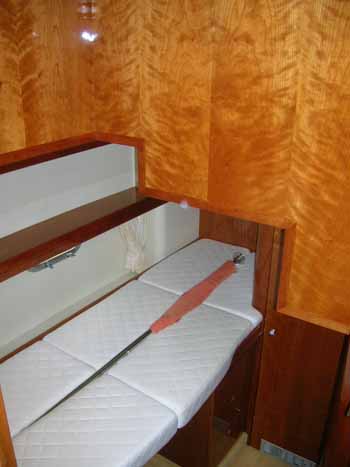 there are a setof infill cushions to make a good single berth in here, or it can be a desk top with drawer set..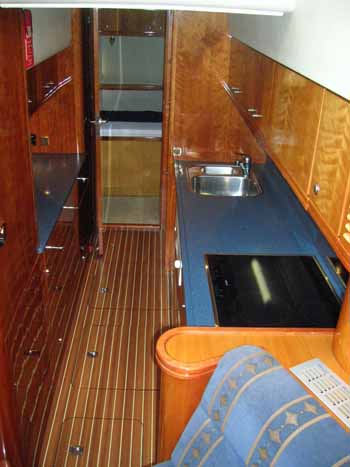 Galley runs down to port side , looking aft, all in beautiful lightly used order.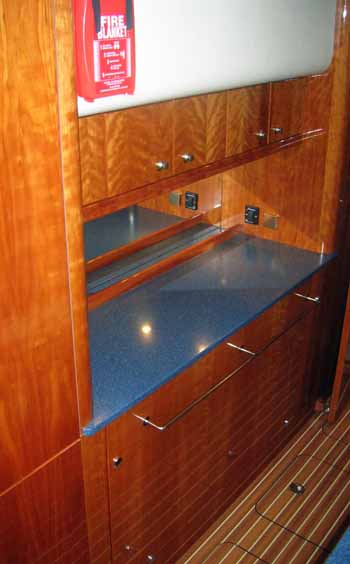 engine access through side panel ( generator start button aft Black box.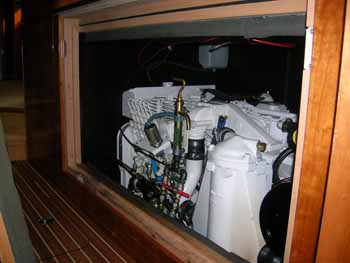 all just serviced,, July 2017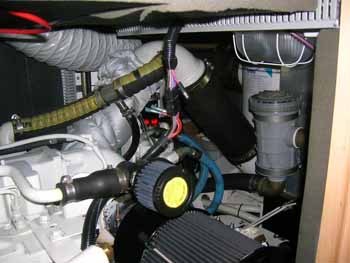 There are good l;ights in here.. I Forgot to turn them on! all clean in here.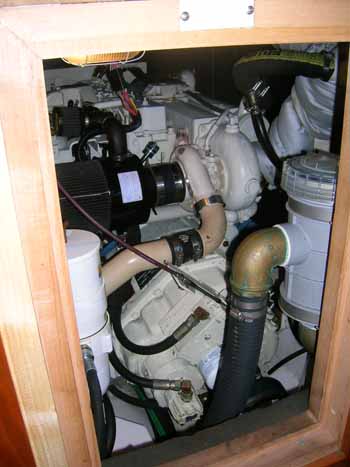 and there is a rear access panel from aft cabin,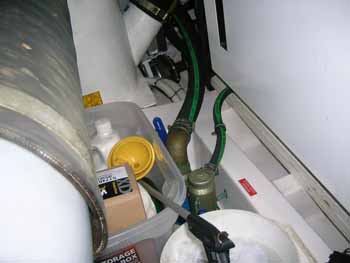 all generally clean and tidy in whole engine space, this is by the Generator, in Cacoon right of shot,
Microwave, at top, then Freezer, then Fridge..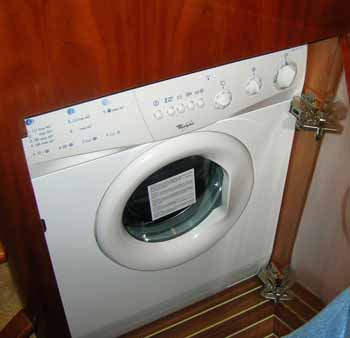 washing MachineForward of engine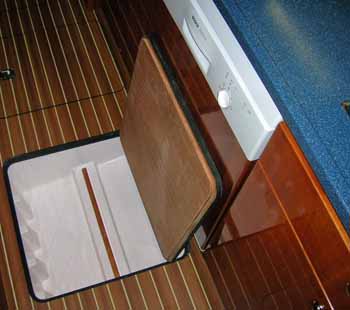 very nice under floor stowage, with rubber, seals to stop noise and vibration, note Dish washer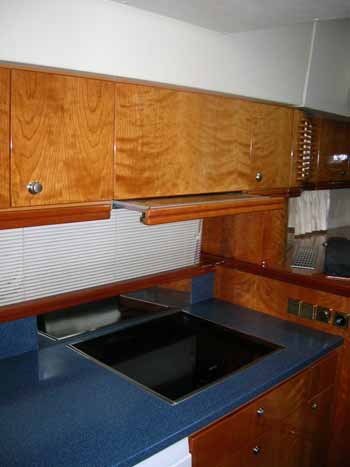 four burner Ceramic hob has pull out extractor hood, Blind over another opening port,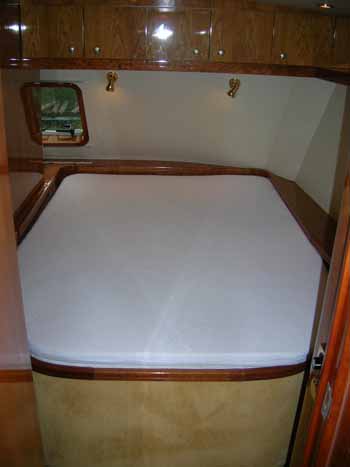 Full size aft double ( again memory foam topper, ) aft opening hatch, beautiful lockers over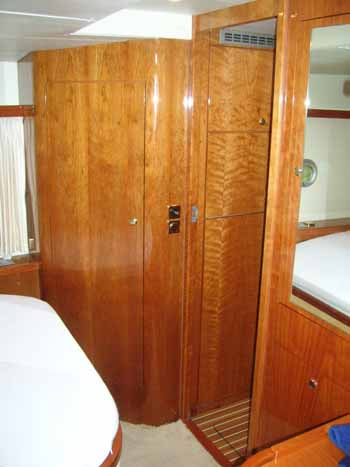 hanging locker, door right to galley, panel under mirror pulls out to access back of engine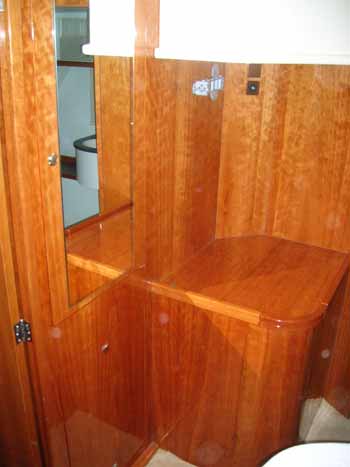 TV point over the unit surface..
en-suite heated towel rail from wonderful Oil Fired wet central heating system. electric heads right and shower cubicle right behind door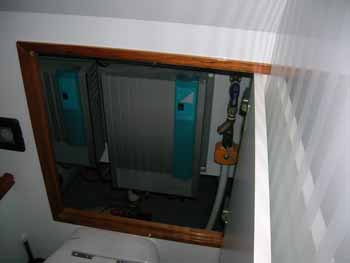 aft access to charger, inverter etc..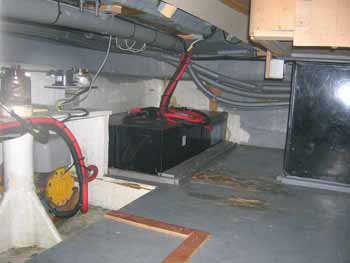 huge space to access aft thruster, battery sets, etc, there is a hatch through aft berth ,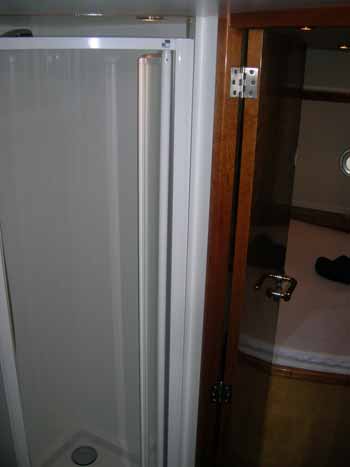 Shower with solid gladed screen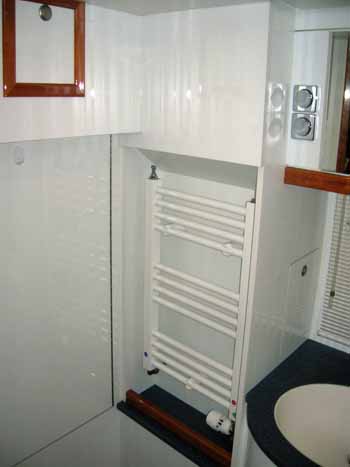 access door to more servcies in back of engine space.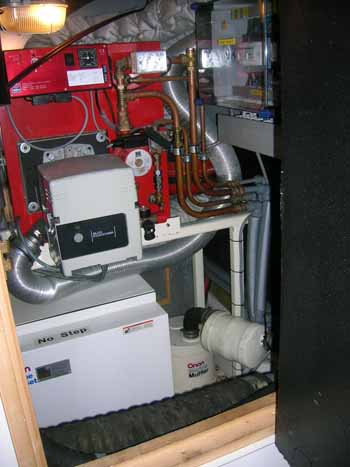 Red Diesel fired Boiler / heater unit, above wonderful Onan generator in a full cacoon, , all services look near commercial specification,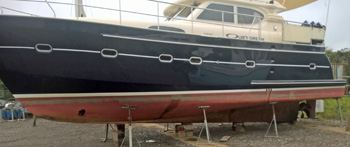 Bad Photo Sorry.. You can see the reflection on the side, The boat is being washed.. and will have fresh antifouling, and stern gear cleaned etc..Taken 7th September 2017
CLICK the following link to see VIDEOWALK around the Hull September 10th 2017