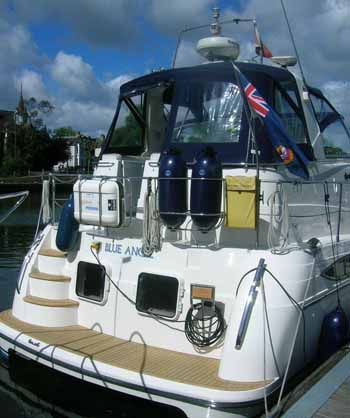 Aft end, You can see the "Glinting sun here, the boat is beautifully clean!, Extra Teak (real) on the aft platform and steps, note the extra auxillary pad to stb, decent liferaft in cradle ,
There are fender baskets round the boat to cope with 8 of these big fenders, two opening hatches into the aft cabin, flood it with light and air when open.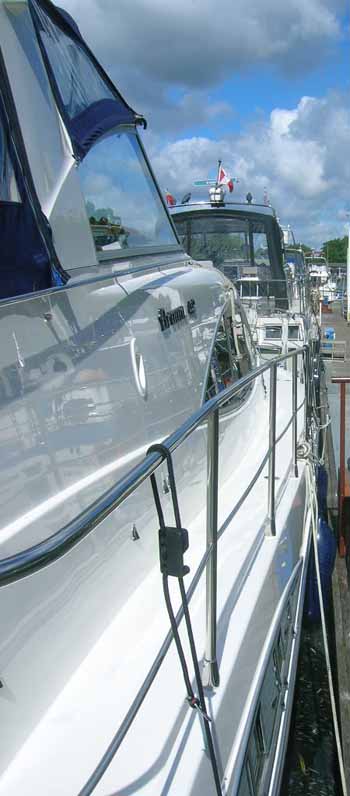 stb side deck, great rails all round the boat, no step in the deck run so she is a delight for crew to walk round, Note reflection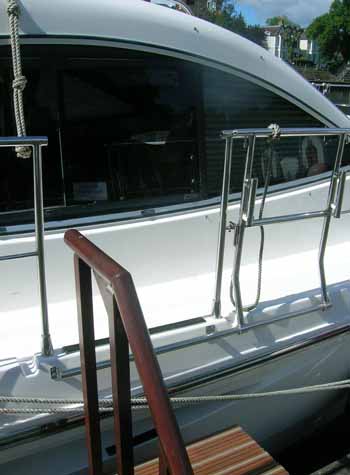 another good factory fitted extra, side gates/ ladders, Shown slid forward, it can be dropped down instead and with the fold out legs becomes a good side boarding ladder,
note the owners have a Large Knotted rope, hanging from top rails , this helps getting aboard without heaving on the staunchions so reducing stress on the sockets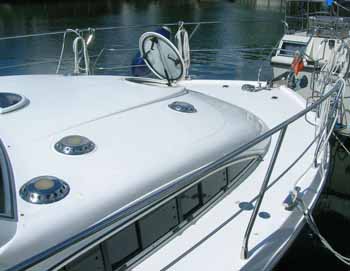 forward deck, lots of static vents, and two hatches, note the deck waste tank pump out down by cleat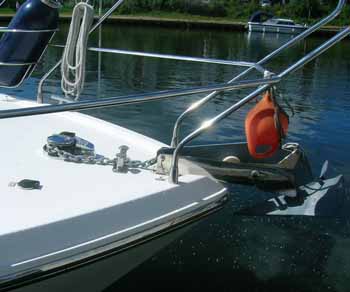 slef loading bow roller, with Delta anchor is standard, approx 30 m anchor cable, also note the Bollard to take weight off windlass or attach to if at swinging mooring,
deck switches to windlass as well as Dash.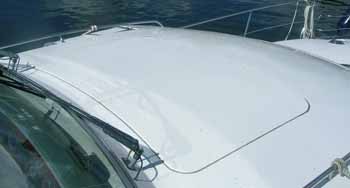 FULL engine hatch over saloon, Not that you hope to get an engine out , but it is "easy" on any Broom, I have seen this happen in an afternoon, and some owners choose to return the boat to broom after 20 years or so, take engines out, and have a clean and re paint, etc, Not a cheap way to build a boat, but this was why owners, engineers, surveyors etc, love dealing with Brooms, practical well built boats.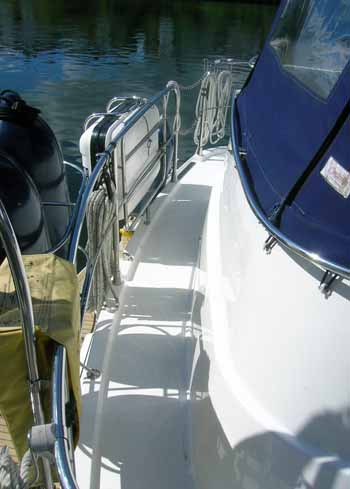 aft deck , you can walk a full lap of the deck with ease,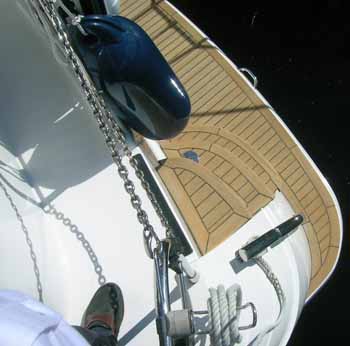 chain gate to aft access steps on port side,
port side deck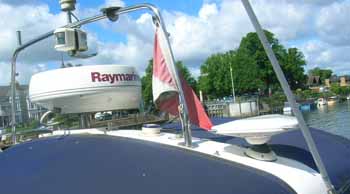 aloft, amplified TV antenna, Alarm siren, Raydome, nav light hoop, horn on port side, The whole arch drops at the press of a button, taking her air draft down to 3.3m so allowing French Canal system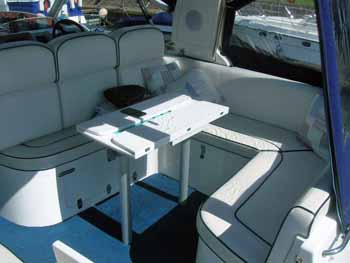 cockpit with double leaf table, lockers under,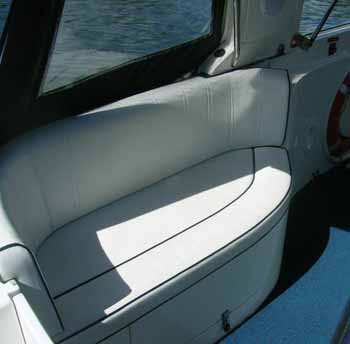 port side seat with locker under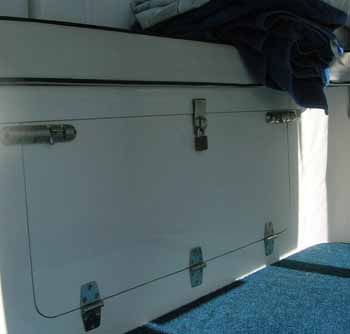 The factory altered the forward locker to ease stowage of a folded dinghy,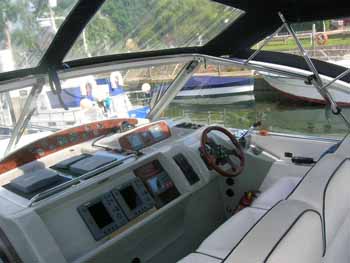 Fabulous Helm position, tall glass screens mean you are looking through glass not plastic..note the folding canopy is easy to open and fold back giving the boat a very different feel
Its easy enough that you actually bother! the electronic screens are covered by a hinge over door/cover,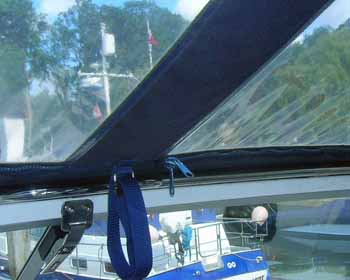 The recent canopy has been modified so that a 6" slot remains open across the width, which is great in hot weather,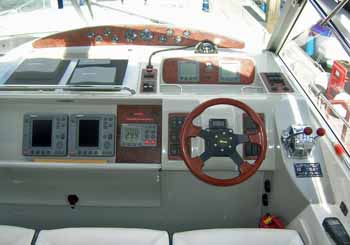 easy read angles on instruments and a good size Paper chart area,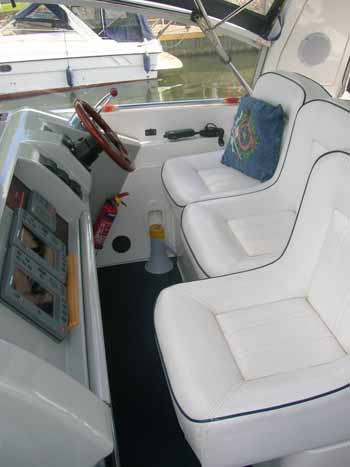 Hot air outlet at your feet, and note the three seats are adjustable on tracks,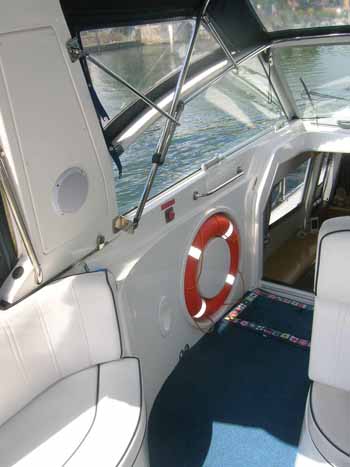 port side, you can see better the folding canopy frames, and red emergency stop on the electric arch , waterproof stereo speakers as well as VHF extension speaker at helm, cabin entry clear door slides right under dash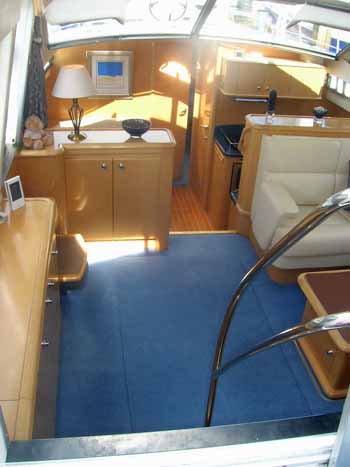 view in, Beautifully light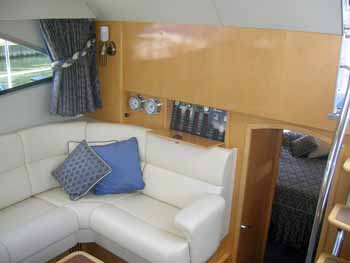 aft stb side of saloon, Domestic panel open to show, Nice leather upholstery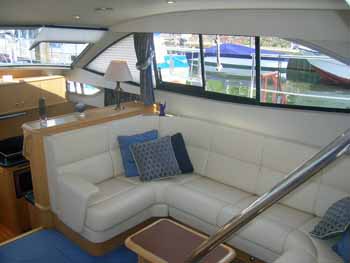 stb side, note big opening window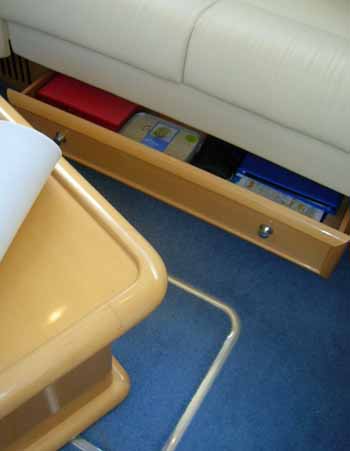 Loose coffee table has soft cover, note Chart drawer shown open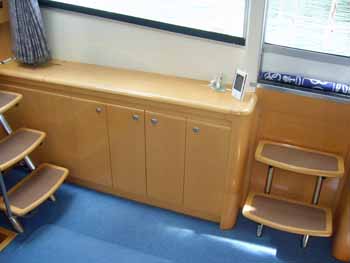 port side locker unit, and steps to port side deck door,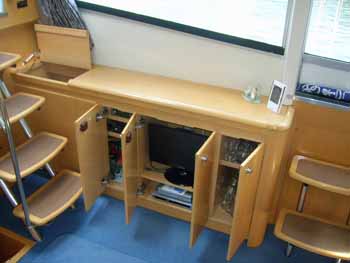 deep locker top opening left, then Tv cabinet etc,, Nice detail the treadmaster antislip on step treads is Routered in so it stays put!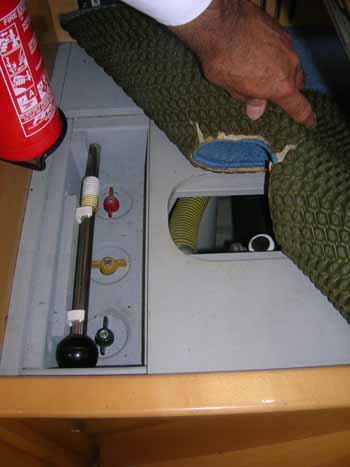 under the cabin entry steps, is the fuel taps, and cross on Fuel feeds, as well as big manual bilge pump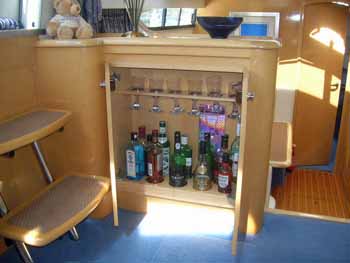 Drinks locker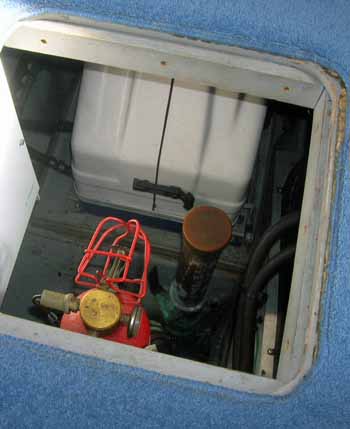 forward floor hatch access to seacocks, battery charger, and view of cacoon round 4KVA Fisher Panda generator.
General note, the carpets are Loose bound, with recent underlay under, the floor boars are all stamped with position, the framework is all slot together
so if required in 15 mins you can have both engies sat full exposed, even the settee area is all lift apart, fanatastic,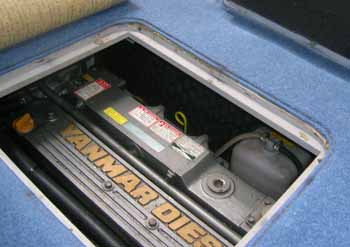 Lift out day hatches expose oil dips, water top ups etc,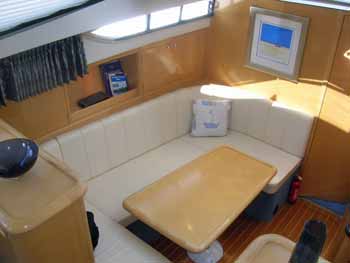 Dinette set to port, The table slides athwartships on tracks on table base, beautiful order, I have removed the usual soft cover on this table.
all looks in superb order,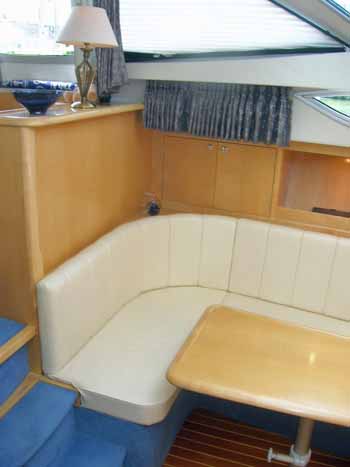 aft end of settee area, note "Oceanair Blinds" on forward screen and side windows,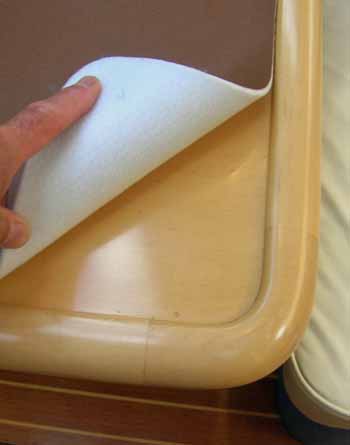 Table is unmarked,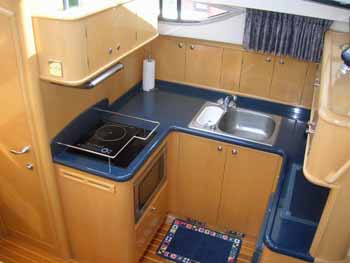 galley set to stb, Blue avonite, the boat was fitted with gas, three bottle stowage locker in cockpit, to usual Oven and Three burner hob, THIS owner prefered to have electric cooking
so has fitted an Induction hob and microwave under, HOWEVER he has saved all fittings and units so to retun it to original is straightforward,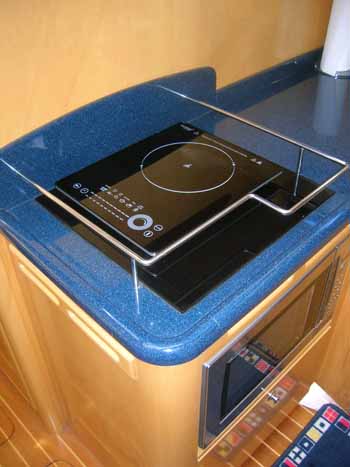 note the teak and Holly floor upgrade here,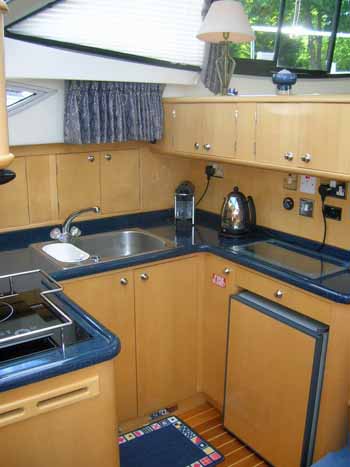 another view of galley, fridge under counter, with various controls over including generator panel, as this area is under screeen it is very light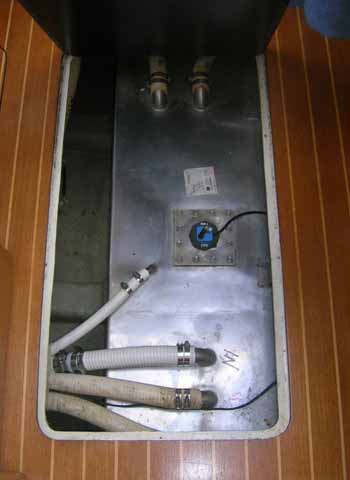 Waste holding tank under floor,
view forward to cabin, BRIGHT day with forehatch open hence SUN.. drawers under berths with lift locks, extra lockers built under side decks, (factory)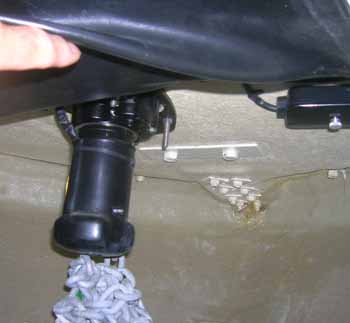 easy access to chain locker, note the condition of the motor and deck fastenings,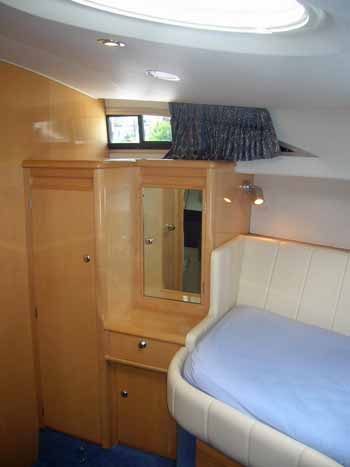 port aft in forecabin, nice hanging locker and lockers, opening hacth over with fly screen, shaped bedding will remain if required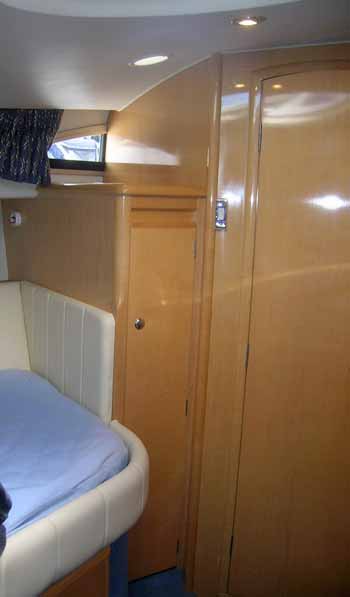 stb side, another hanging locker, and en-suite door to heads,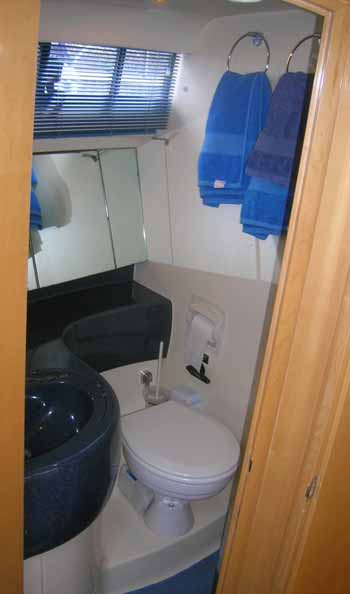 Elcetric heads, with "Y" valve on discharge, mirror lockers under deck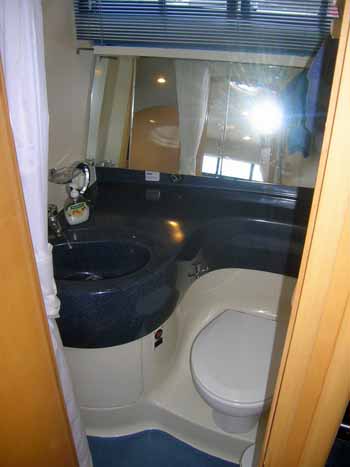 view in to same space from Dinette area, ( drop in carpet)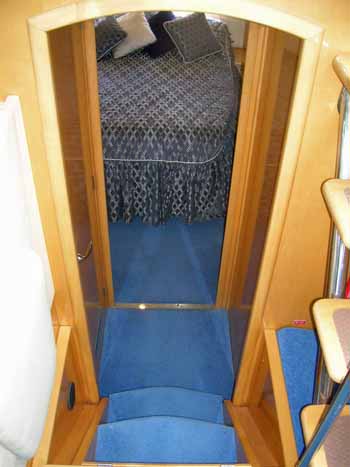 looking aft from saloon, to aft cabin,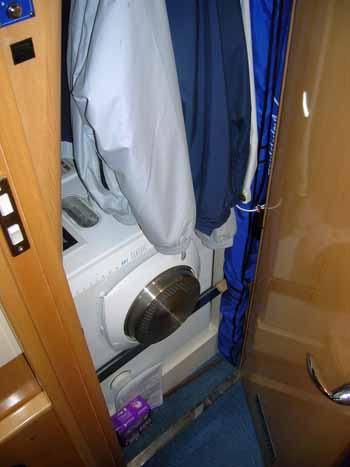 big locker on left as you go aft, contains Washer drier, as well as hanging room,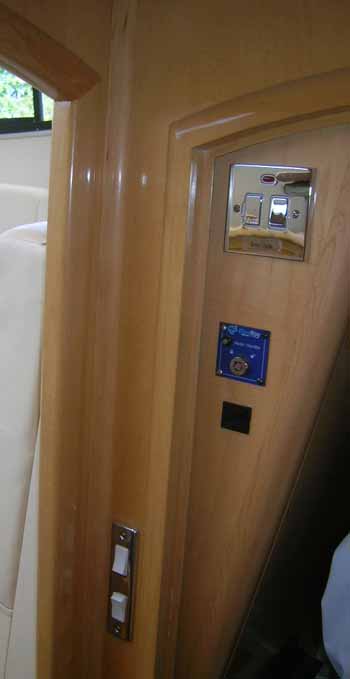 and controls on alarm system, ( new owner would have to enroll) it is a clever 3/4G system using phone signal that allows remote activation of various systems as well as alarm and PIR sensors etc.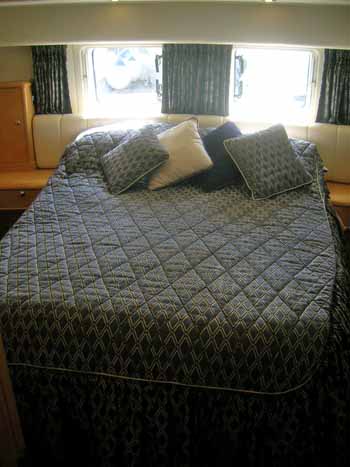 good size berth, insect and black out blinds on hatches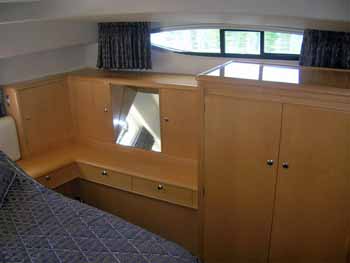 port side, Fabulous stowage, and beautiful woodwork,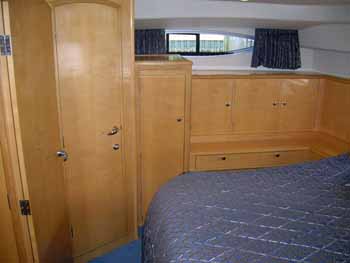 looking over to stb side, again amzing stowage, and door left of shot to heads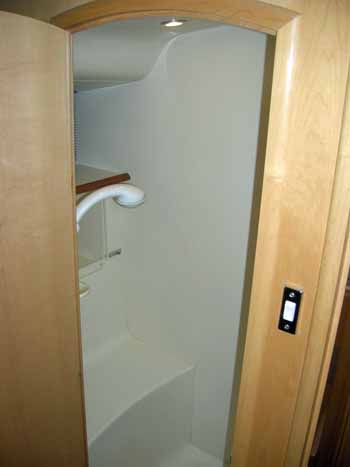 separate shower cubicle set to port side,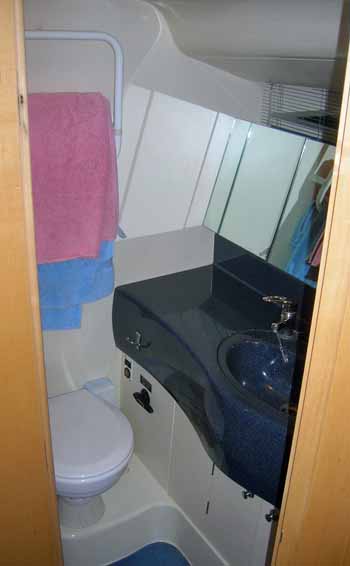 view in to heads stb side, heated towel rail ( factory fitted)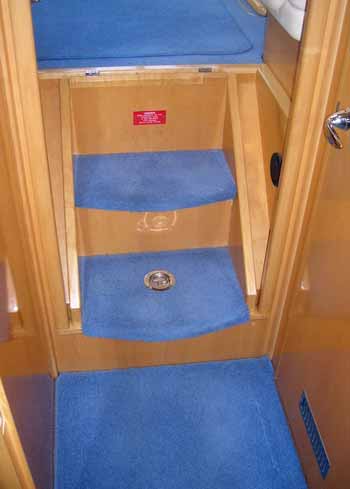 these steps, lift to access aft end of engines,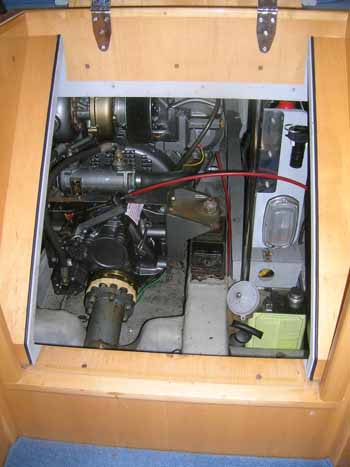 allows you to access Log, shaft logs, deepest part of keel bilge, gear boxes etc,