aft stPe access from the aft Platform, of note, shore Power socket,under the big s/s shoes to take the extending arm davits, I Dont think these still exist, as the second owner did not need them and so the were simPly removed, they would be a simPle bolt on job to rePlace..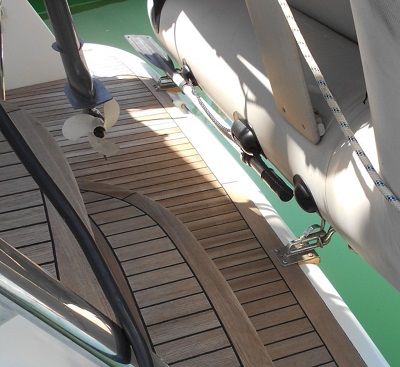 The neat snaP davit arrangment works well and there are a set of stand off arms fitted, note the small outboard has a factory fitted bracket to stand on.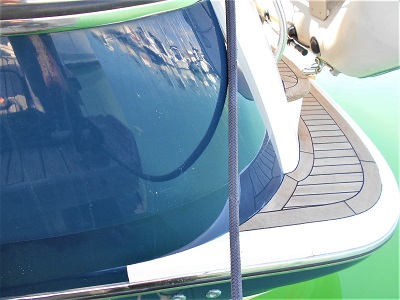 Dark Navy gelcoat is often hard work to kePe smart , this boat has had a great deal of care, and some sPecial Polymer U/V filtering waxes used over the years to very good effect, so, at what are usually the worst areas ( aft corners) she is very good indeed.
side access gates each side, with a steP moulded in the hull, Duraded engine air intake slots under the steP
waste water deck ePmty Point and rinse
Anchor arrangement, rather better than standard anchor fitted ! electric windlass with remote switches also at helm
extra roPe wear Plates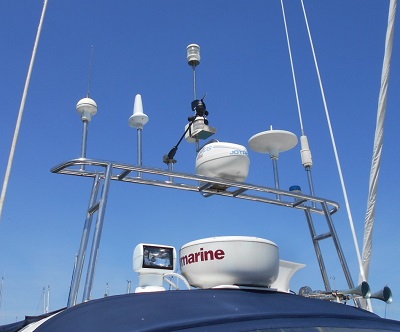 custom factory toP antenna mast / frame.. with as you can see, great kit, of note, auto fog horn system, active radar SEE ME, wind sPeed and direction etc.. extra atennas for FAX. weather system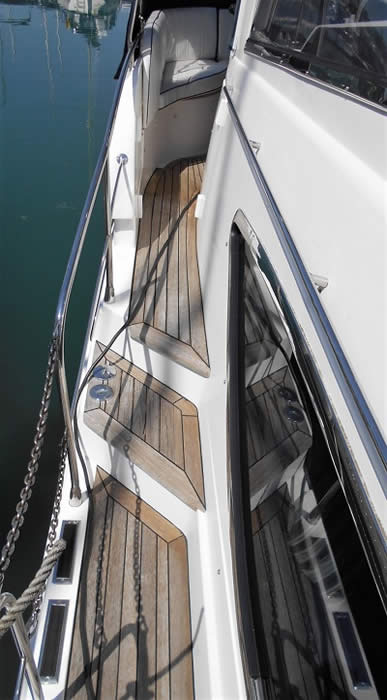 aft starboard side stePs uP
, note the wonderfull grabrails that run full length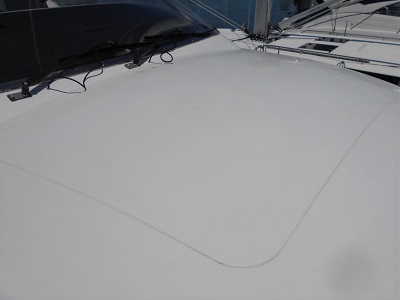 Full engine removal hatch ( as all Brooms)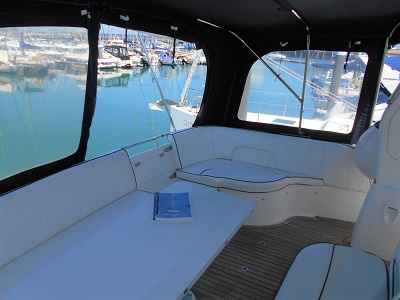 huge extra aft deck framed canoPy makes this a great social
sPace , note the gate to aft stePs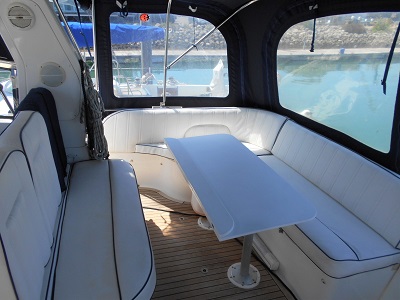 looking at starboard side, big custom factory fitted double leg table,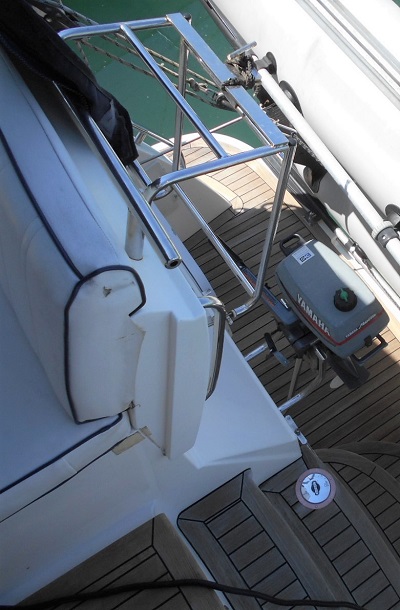 life raft cage,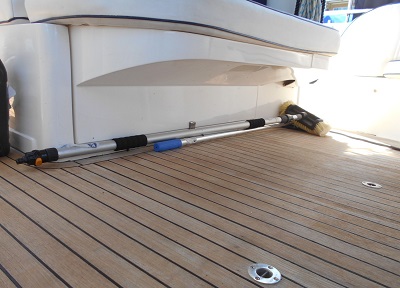 big locker udner aft facing seat. in forground the deck rings to attach the standard cover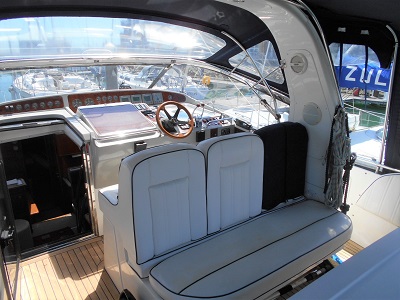 helm area set over to starboard,
cabin entry to Port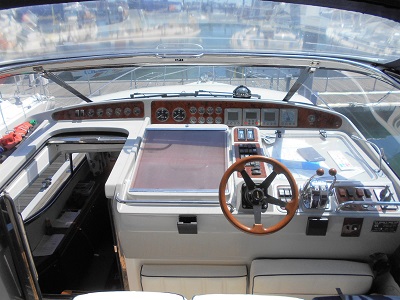 fantastic array..with a neat aer chart area still retained.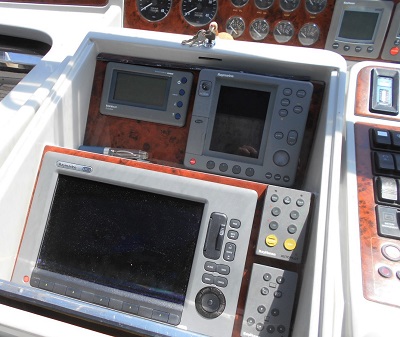 main screens beneath Persex cover
The EPoxy based "Walnut" dash is in amazing order for its age.. again signs or great care of ownershiP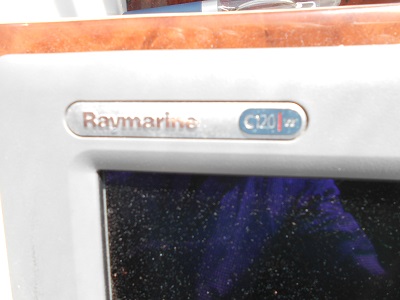 more recent kit fitted
From aft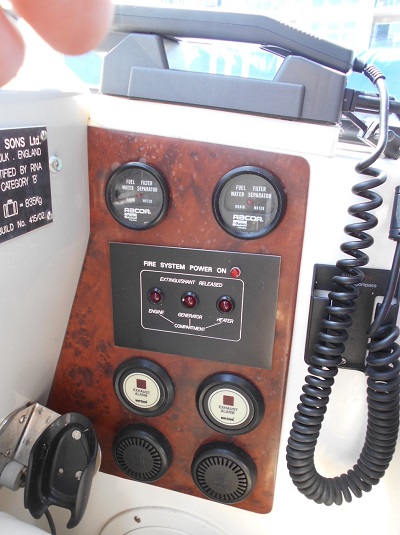 Racor, fuel filter water alarms, Fire system, exhaust heat alarms, all good sensible additions.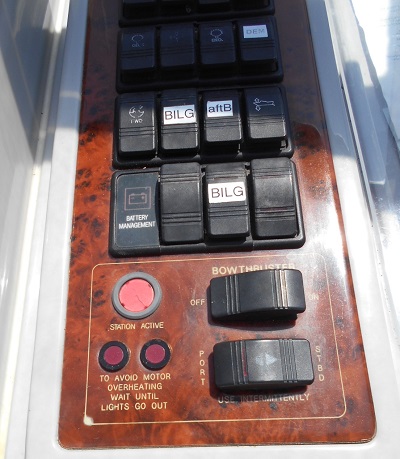 Bow thruster controls and again dash anel in good order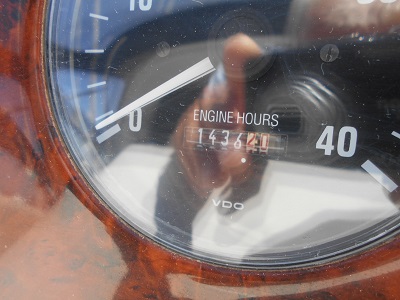 starboard engine hours ( Port less)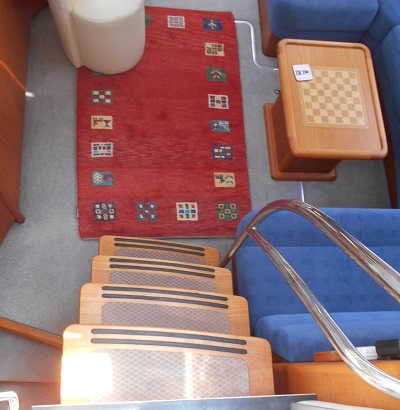 view in to saloon,
custom chess board in coffee table , Note engine hatch surround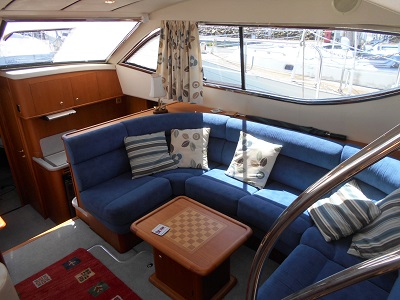 Alcantara uPholstery is in suPer order,
Port saloon lockers, leather bucket stool extra from factory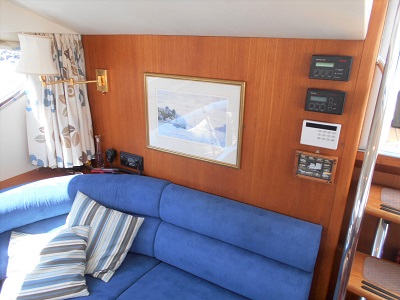 aft saloon bulkhead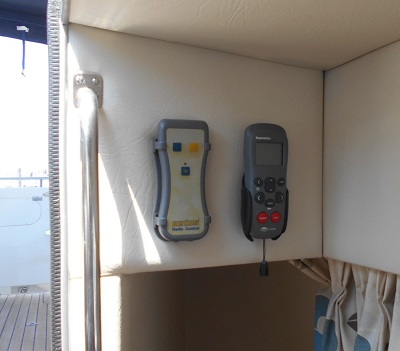 Port aft, remotes for bow thruster and autoPilot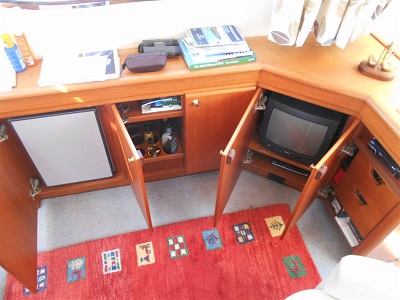 second drinks fridge in saloon,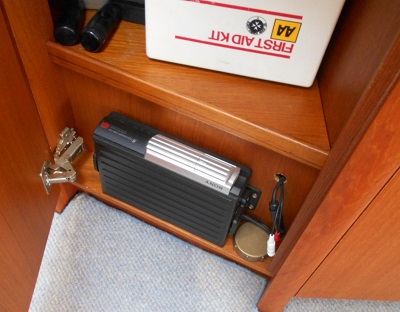 stacker CD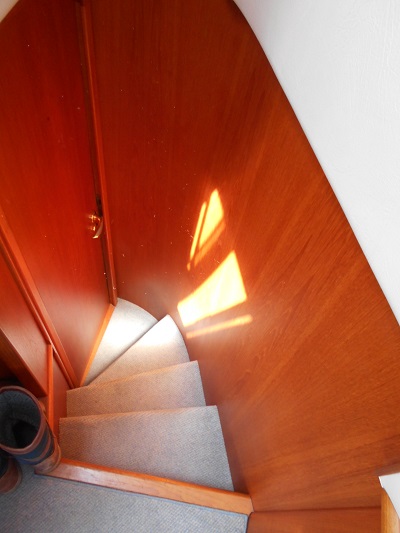 stePs down to aft cabin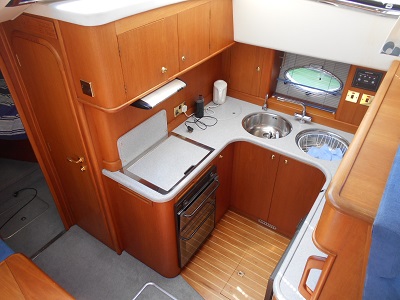 galley set to starboard,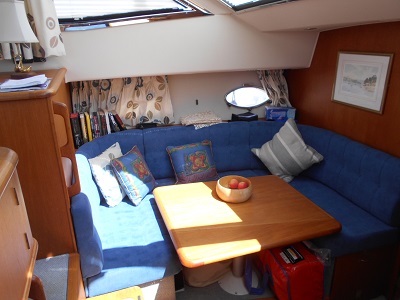 dinette set to Port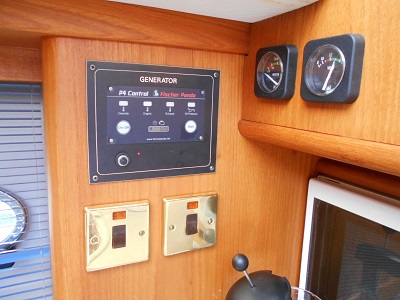 HFL generator controls in galley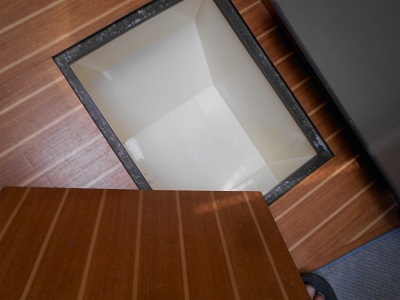 neat GRP
lined lockers under floor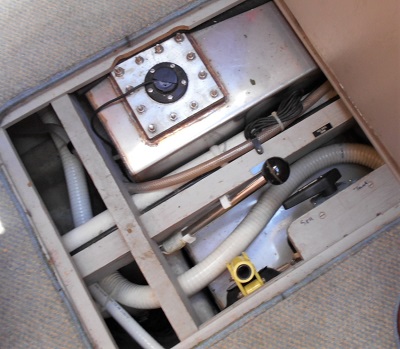 Waste holding tank with simPle decent manual discharge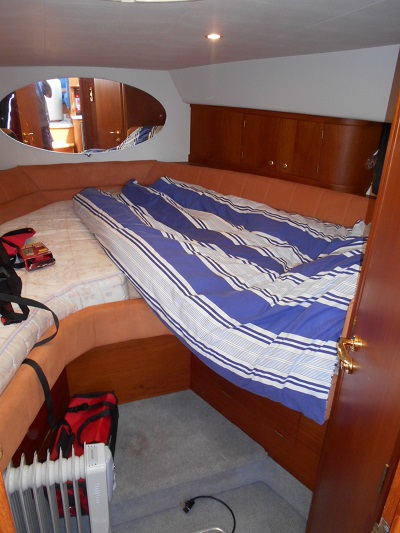 fore cabin additional over head lockers (factory)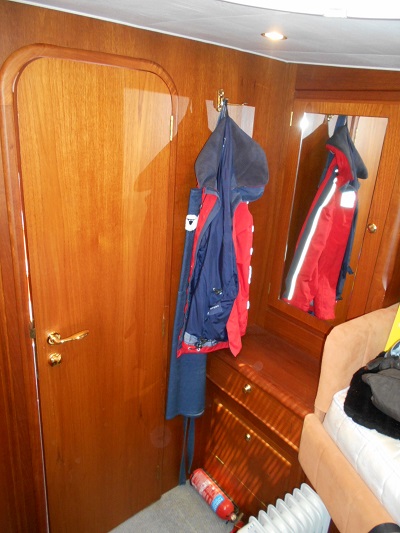 Port hanging locker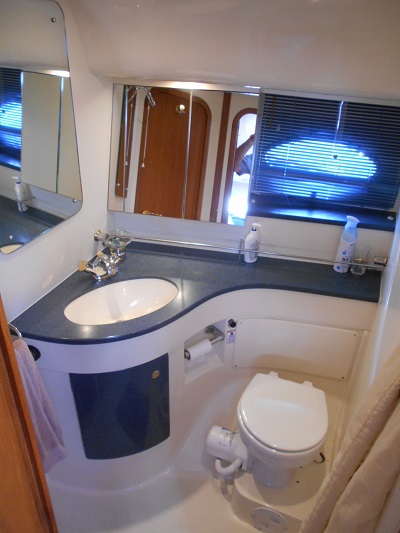 heads/ shower electric forward, (manual aft)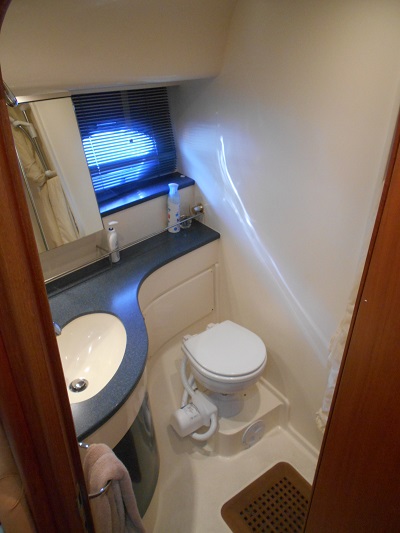 door in from forecabin,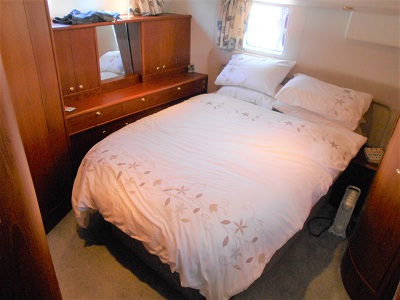 aft cabin,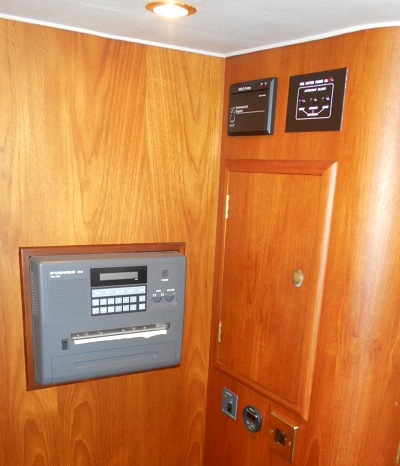 MORE amazing extras ..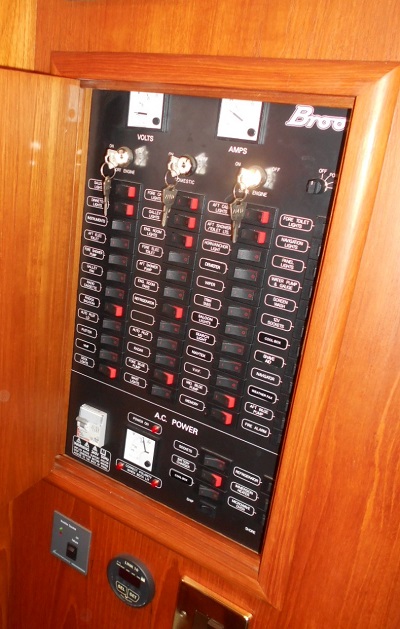 and the usual highly Professional job done of the electrical systems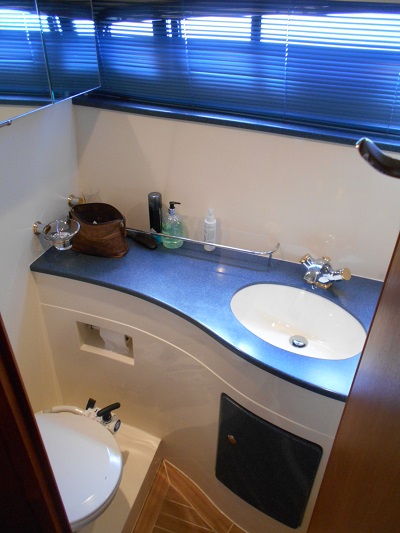 aft heads set to starboard, ALL the Bathroom fittings are massive uPrades on standard,, AND as a result they still look like new!
Port side lockers and shower cubicle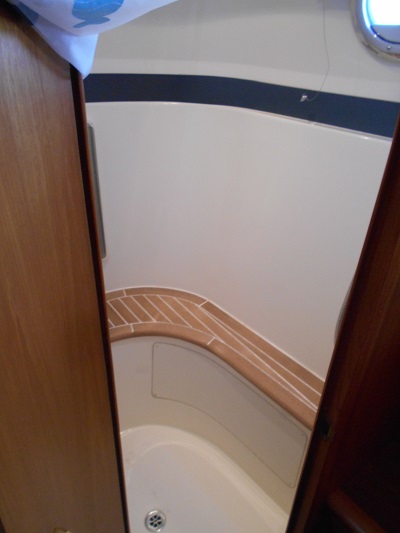 neat and clean with teak seating area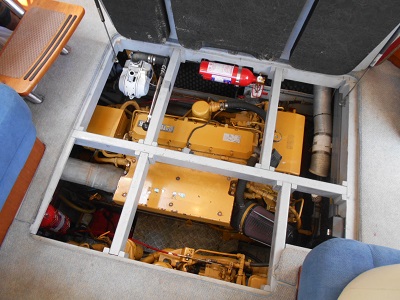 Gas struts on custom engine access hatch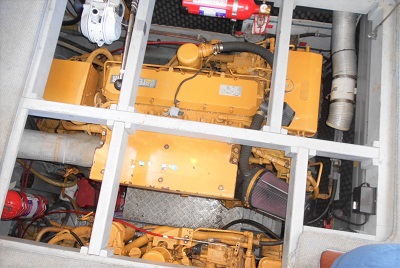 all looks nice and clean in here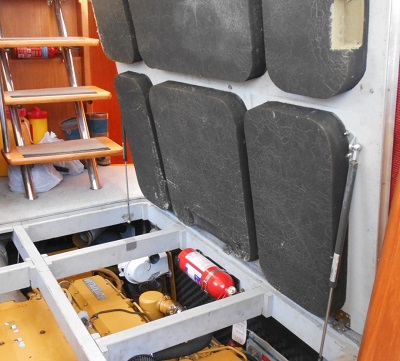 note the cross member can be removed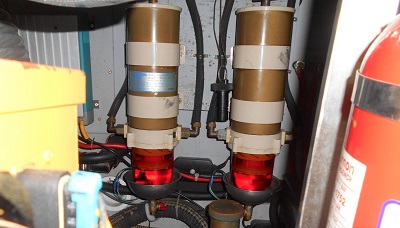 far better than standard fuel filtration system.. note the fire Prevention stainless sheilds on the clear bowls.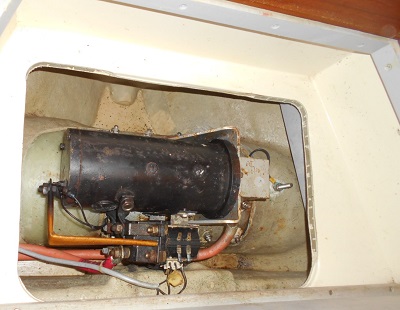 Bow thruster access is easy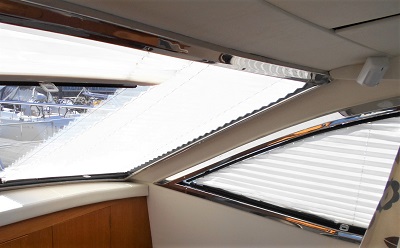 all stainless steel windows and covers in 316 stainless. alos the custom fitted "Oceanair" blinds all round