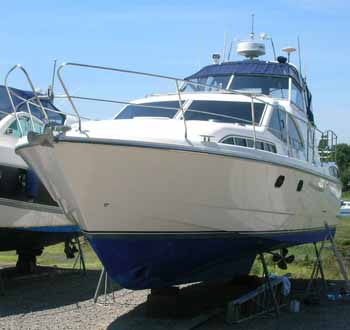 This angle shows the fine entry, Note hull reflection,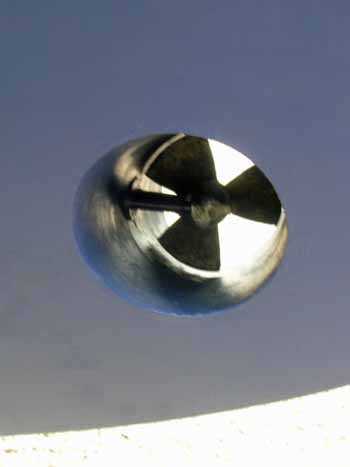 7" Bow thruster,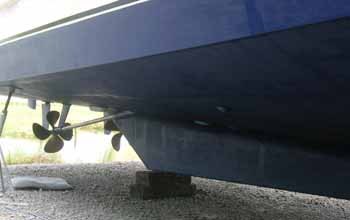 deep three quarter length Keel offers excellent directional stability at slow speed, and also good protection for stern gear, (We have actually fitted Beaching legs to these boats in the past.
aft quarter stb side, just polished
and forward stb side,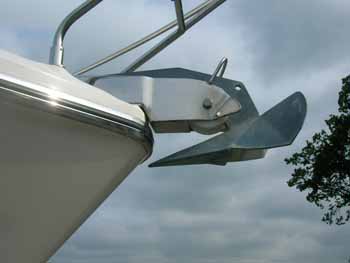 Anchor sat in roller with 30m Chain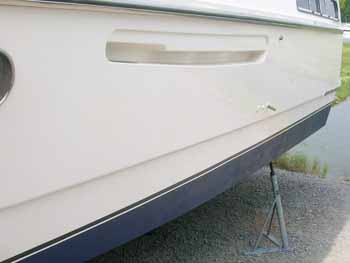 air intakes each side, also have a step tread in way of side deck access gates.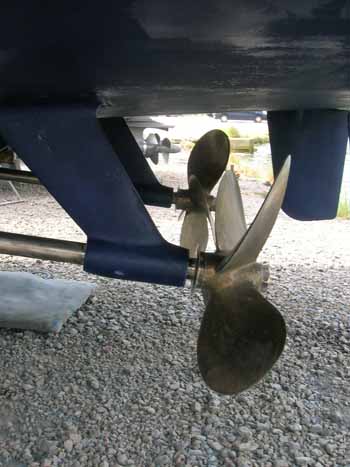 Razor cutters to each side, the props are nice and clean and YELLOW.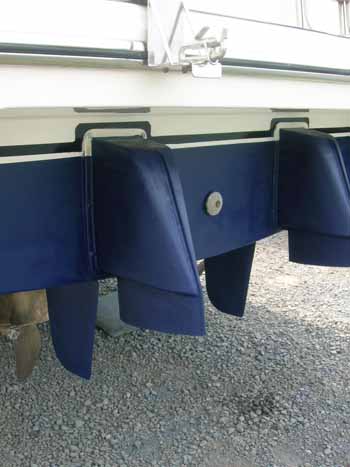 under water exhaust pods, reduce alot of noise and also reduce any soot from exhaust to a minimum,
These bolt on units are not made of quite the same quality of Resins as the Hull, and as the laminate has water both sides, after 18 years ..they have some blisters, Frankly this is of no structural concern at all.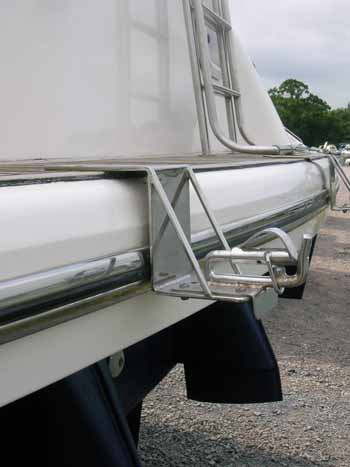 Snap davits mounted on step down brackets to make the dinghy Attachments points just the right Height..Drop down swim ladder in background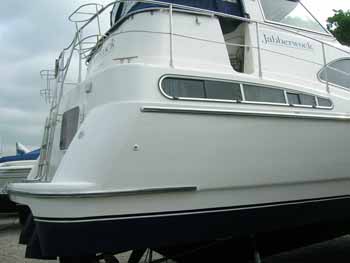 stb aft ,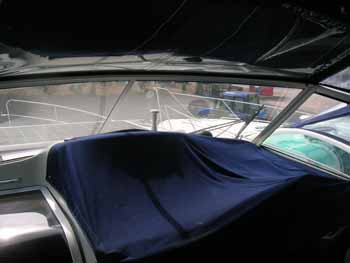 the dash has a canvas shaped cover, and you can see the recent covers above have external solid canvas over clear window panels that have helped reduce sunshine in and degrgation of the clear panels by UV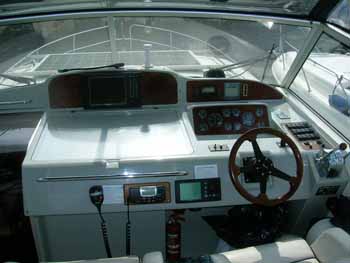 excellent dash layout with great paper chart area, and good reading angles on most instruments. The screen is tall which means when sat you are looking through Glass, not plastic!!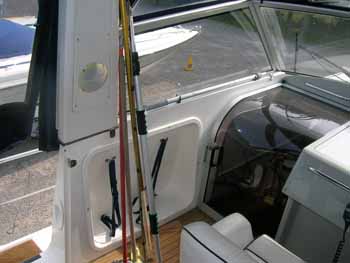 port side, side access gate open, and moulded recess takes a life raft, you can just make out the hinges on the arch..Clear cabin entry door slides away under dash area.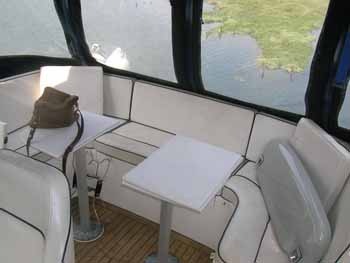 seating round aft twin leg table, lockers under,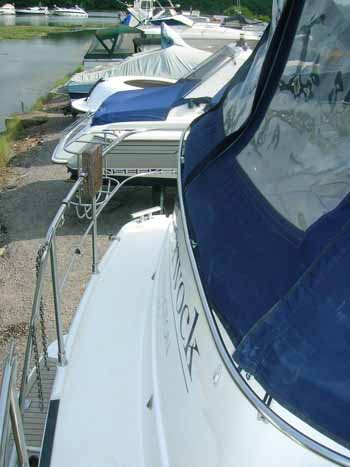 aft deck, one BIG feature of the Broom 38Cl is her full easy walkaround decks, loved by Crew!, and great grabrails everywhere, note dinghy auxillary pad on rail.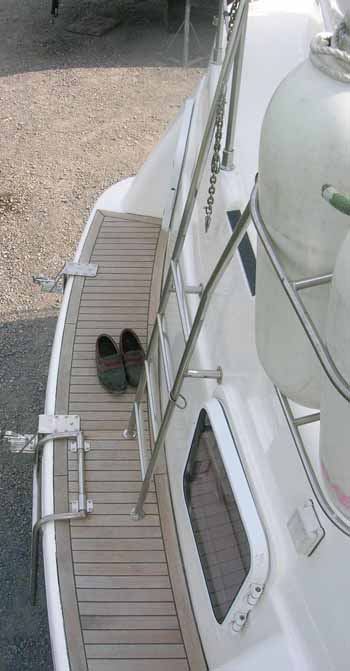 Teak on aft platform, note, twin aft hatches flood aft cabin with light and air..240 socket bottom right of shot, decent fender baskets,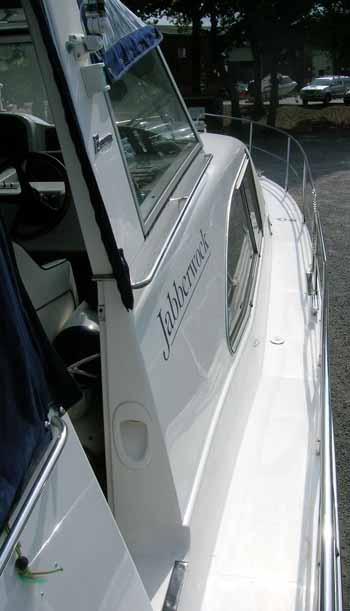 side deck stb side, note the vent in gate opening, this is duraded down to aft shower cubicle, and there is one the port side as well. , slight slope to side deck, but again easy walk round with good rails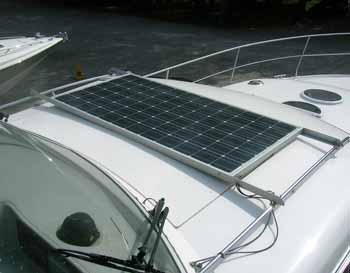 DECENT solar panel, not sure what size yet, but my GUESS is approx 100+ watts, this has a controller and reportedly has always done a great job of keeping batteries topped..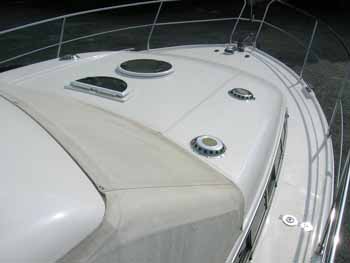 forward area, note four static vents, again Broom are good at this.. also note the suncover on the forward windows, has always been used and there is very little sun fade inside.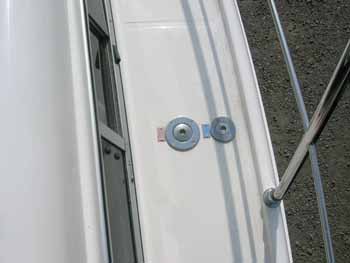 deck waste pump out point, with a "rinse" connector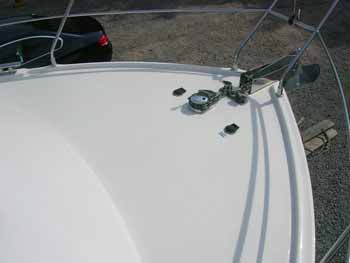 easy flat foredeck, electric windlass has deck switches as well as controls at teh helm, there is a deck Bollard forward of the windlass that takes the load off the windlass at anchor.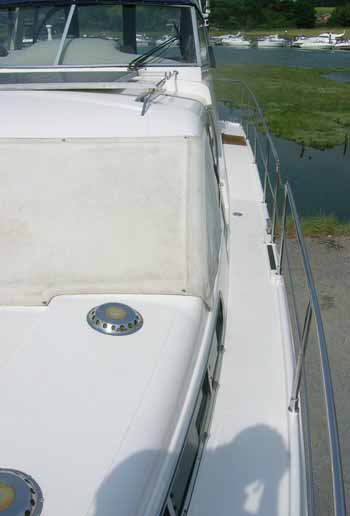 port side deck,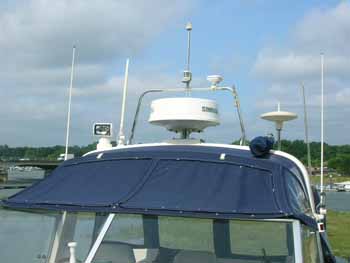 aloft, Simrad Radar on cake stand, 4KW CR40 DTFT Plotter, GPS antenna, Remote searchlight, TV antenna, Navtex antenna, as well as VHF and Stereo Horn under canvas cover bag, here you can see the zip over covers to the clear Plastic windows in front of Canopy.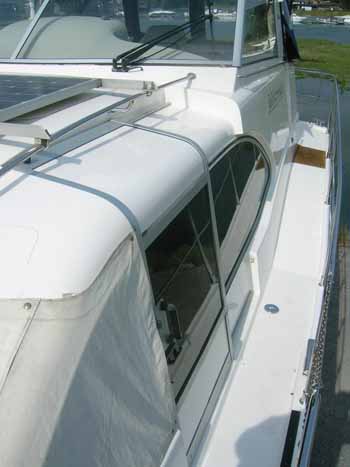 Slide open door port side, Great and Popular feature with owners, adds ability for lots of air through saloon, as well as easy access aboard and loading bags etc from Pontoon, Note the solar panel is mounted on the grabrails so it is not touching the GRP at all.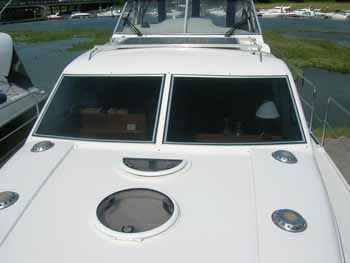 screeen cover off,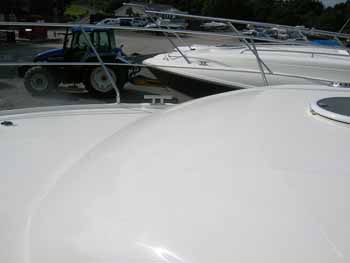 Well polished Coachroof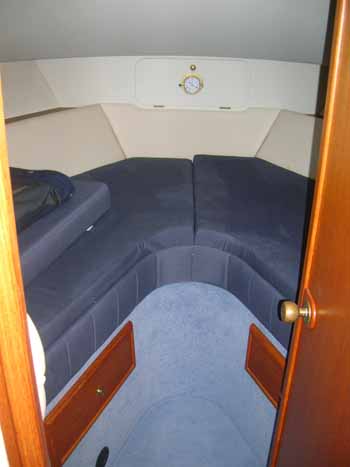 so starting forward, Twin BIG singles 6'6" each side, the clock is on an opening Door to chain locker. NEW upholstery throughout 12 months back..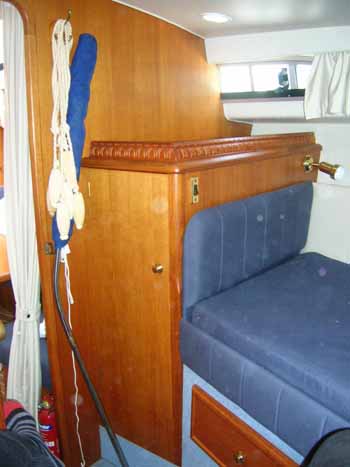 port side bed head, neat Ornate timber fiddle tops keep stuff from falling off,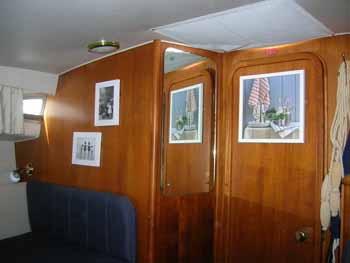 stb side, bed head, tall mirror and cabin door right, note under sun cover on all hatches which have also allways been used reducing timber fade inside,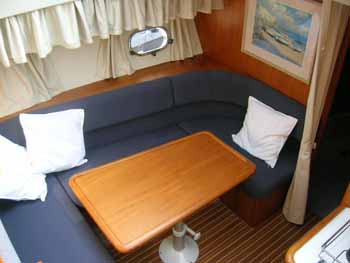 Dinette set to port, and fabulous Dinette Port holes , this area will drop and make a reasonable double, Teak and Holly Floor through whole area.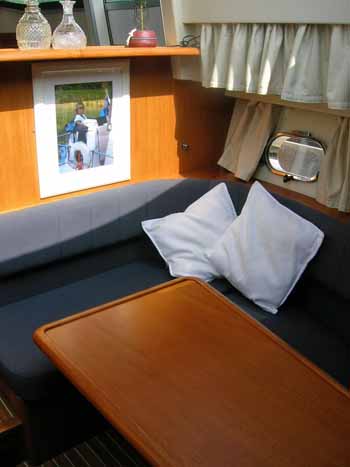 aft end of dinette , ALL new curtains 2016
Galley , sun flooding in with screen covers off!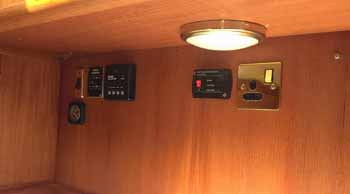 water guage, Windlass overlaod breaker, Gas detector, 1800w Inverter control, and inverter fed socket alongside.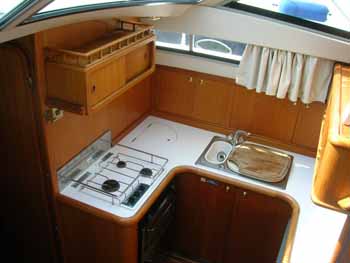 galley from above, gas hob, and grill and main oven, with additional plate locker over,
Main seacocks have been replaced. note the underwater discharge to the Holding tank has been sealed with lead as she was on the French Canal system, ( easy to remove obviously)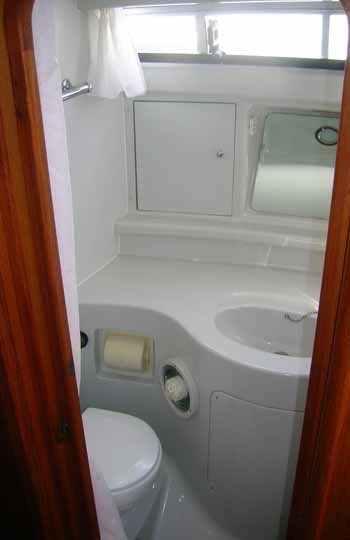 Forward heads set to stb, she has the additional forward shower fitted,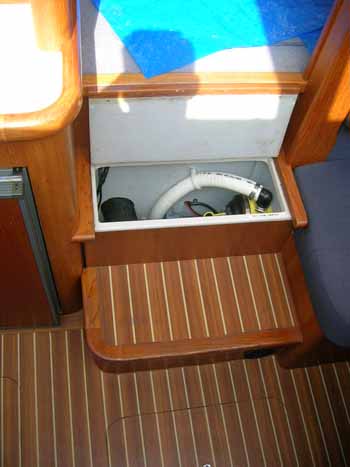 nice job of the Teak and Holly floor by Factory, step lifts to access Manual tank discharge pump.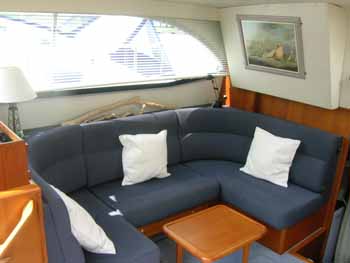 saloon stb side, "C" shaped sette, loose coffee table,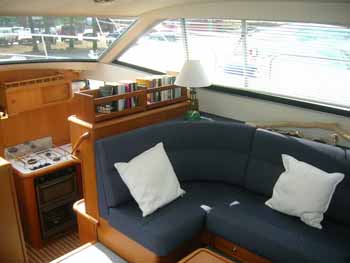 additional book shelf units forward,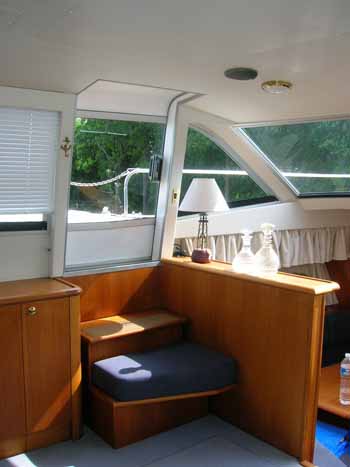 inside port side, step has cushion made as "Everyone sits here",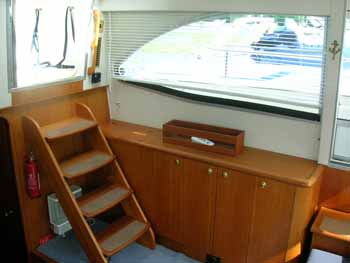 cabin entry steps, with good locker units all down side. drinks locker, TV unit etc Stereo etc all in here heater controls black box up by door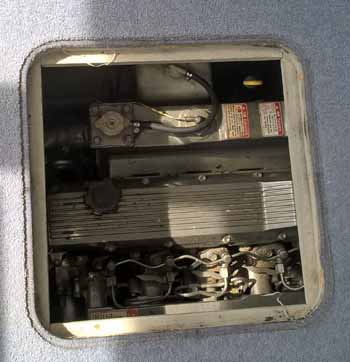 daily check hatched, dips, and top ups, ALL the floor is loose, and carpets are loose bound so can all be removed when you need proper access to anything.. it can be done!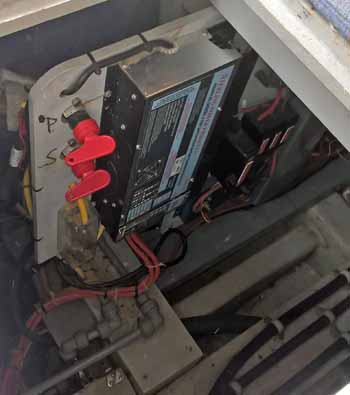 forward end, Battery switches, next to Battery charger,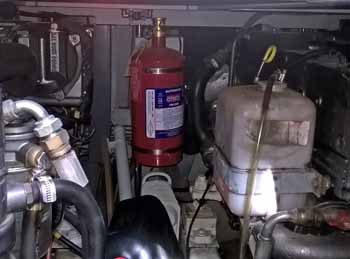 Firemaster fire system, looking aft in engine space.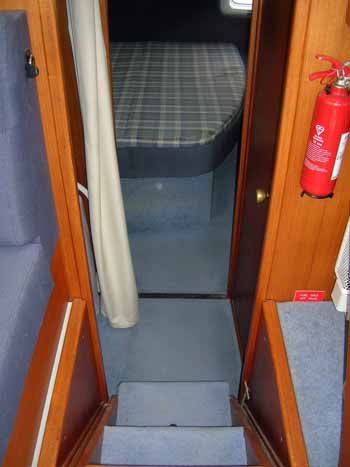 Steps down aft , left of shot is a 12v outlet in settee back, left behind curtain is entrance door to aft shower.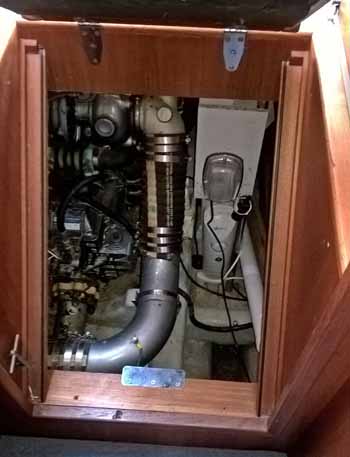 These aft setps lift to get in to the aft end of the engine space,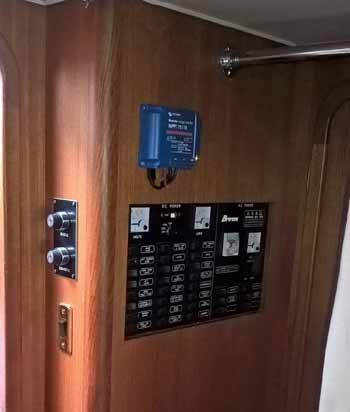 and this area has a hanging rail above, and the main domestic switch panel Blue unit is Solar controller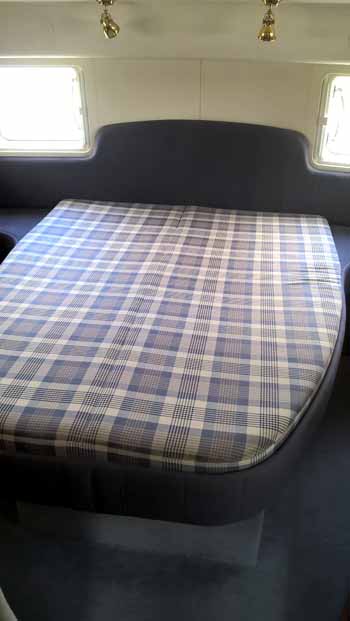 great aft bed, new upholstery at head, and black out and insect screens on both hatches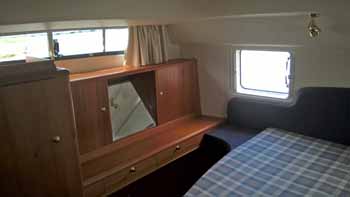 stb side, superb lockers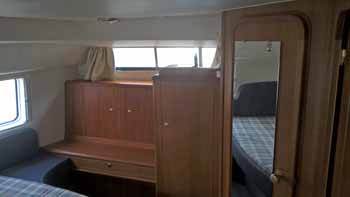 same to port, mirror on door to heads set to port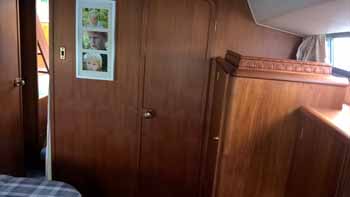 forward bulkhead and door into shower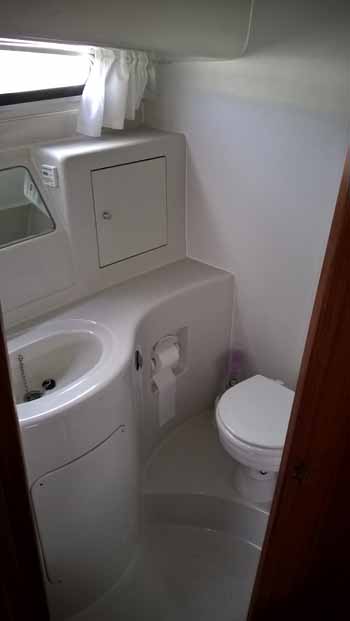 electric heads,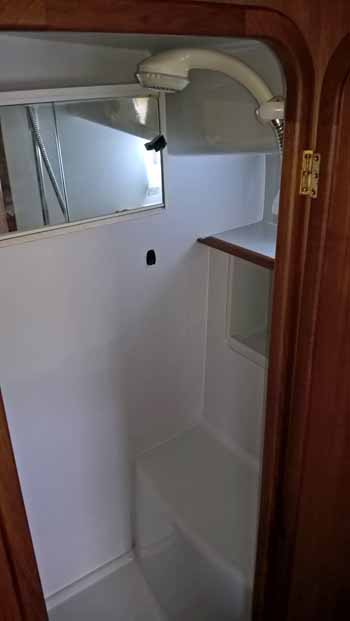 Moulded shower lining, with seat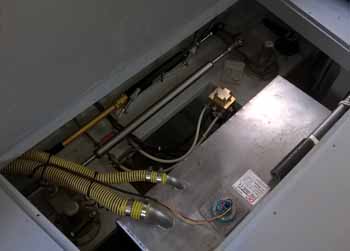 steering gear etc accessed via hatch under head of bed, water tank , emergency tiller stowed, all clean and tidy in here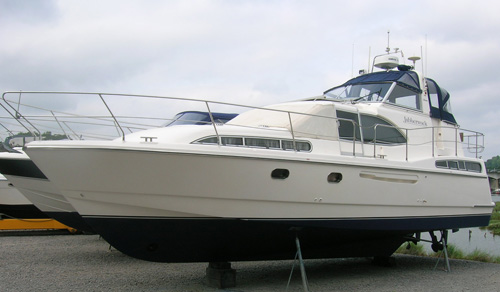 good example, and the dinette ports are a very nice addition ( factory fitted)