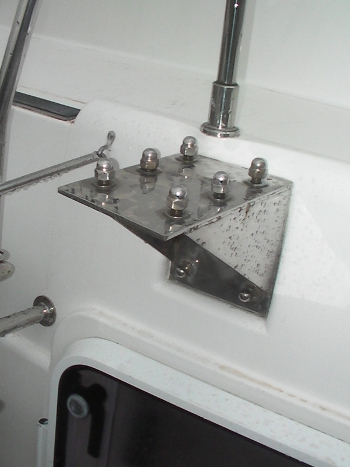 she has extending arm davits which are in store. these heafty shoes make removal easy . the owners have chosen just to use the snap davit arrangement on the aft platform

wonderful "walkround" decks. are a feature that all crew like about these boats. and solid rails.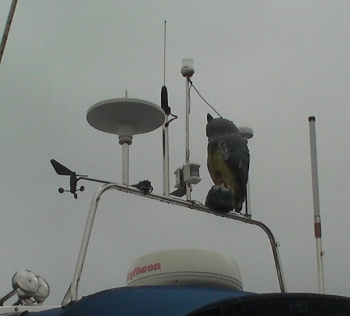 aloft from aft,
aft command bridge / cockpit, with two side access gates . the canopy solution works well at sea being very stiff with short unsupported panels only. the forward one will fold up to the arch and the aft one will fall aft to the back rail making her an open boat. fabulous when cruising in nice weather ..at sea or up the river taking in the views. The GRP arch is hinged allowing the airdraught be brought below 3.3 m So allowing exploration through Europe.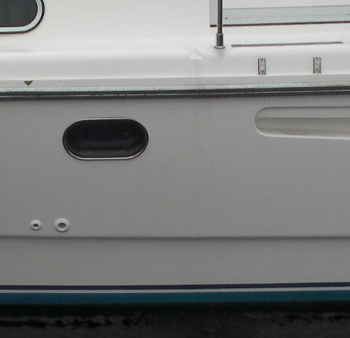 port side additional porthole at dinette area. few have this . very nice to see out whilst sat down inside . also note the two side ladder attachment fittings at side gates.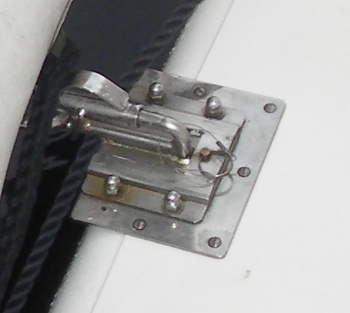 removable snap davit fittings.
fore deck area. four static vents, and two opening hacthes forward as well as side windos so good light and air . flat deck area round windlass.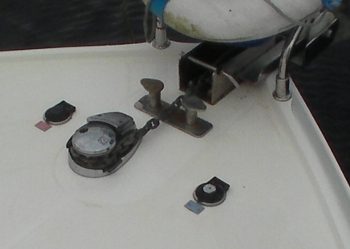 "Sprint windlass, has controls here on deck as well as remotes at helm, the deck bollard takes weight off windlass if at anchor,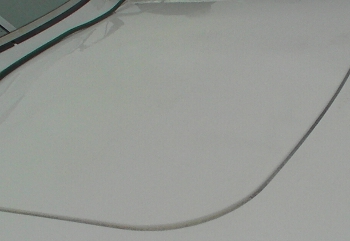 engine removal hatch.. standard on all Broom boats.. not that you WANT to take and engine out , but if required it is an afternoons work not a nightmare..
looking aft down port side deck, screen covers keep the sun off timberwork inside.
nice view showing easy aft deck, note grab rails all round her
lots of light through upper and lower screens.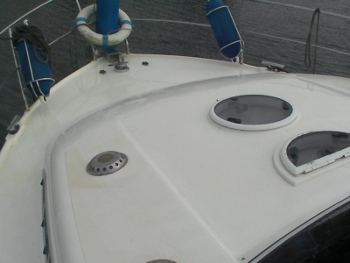 forward,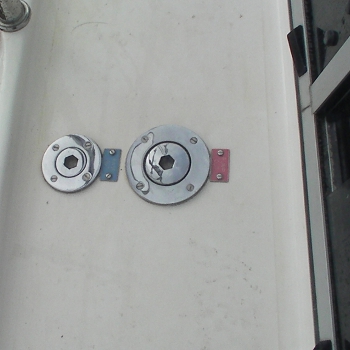 waste tank point with rinse stb deck ( under water discharge as well)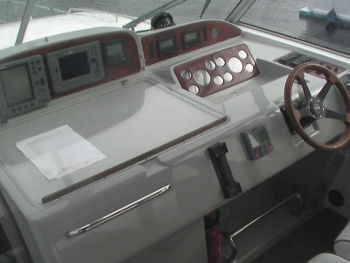 fabulous helm station with great chart area. tall near flat glass screens make vision excellent and protection good. s/s foot rail extra, and bottom right of shot...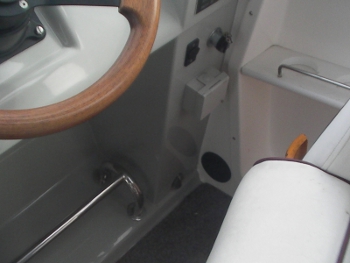 HOT AIR at your feet, perfect on a winters cruise.. also note the water proof 240 point. and high current 12v point .
aft seating round Nylon table, side gate to deck area means quick access either side whilst mooring.
port side, life raft stowage, custom factory fit, note strap hinge on arch, cabin entry door right of shot is clear curved perspex which slides under dash area.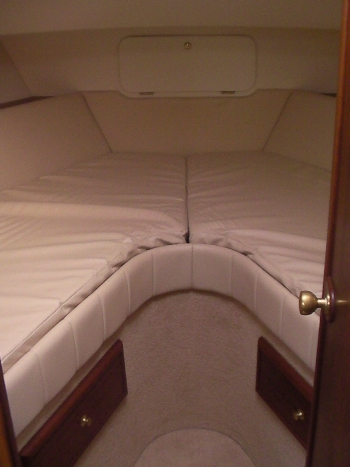 so starting from foward, twin singles 6'6" berths, lockers under,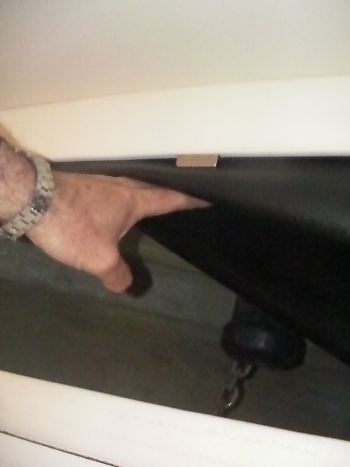 chain locker access behind weighted curtain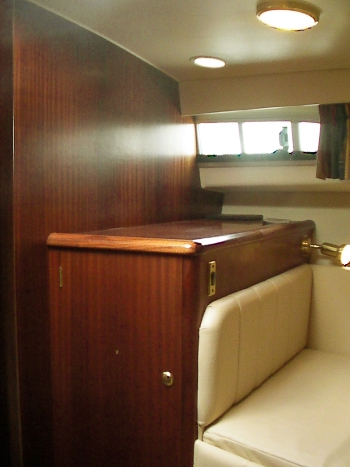 hanging lcoker to port, mahogany timberwork still very nice indeed, many brass sfitting have been renewed over the years.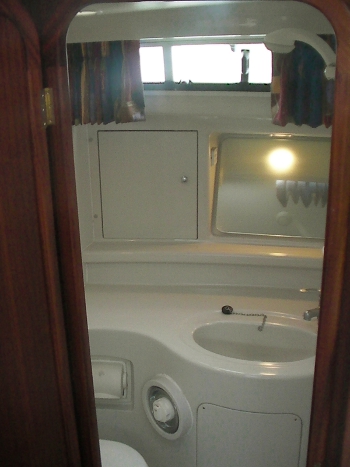 stb side heads with second shower option on this boat,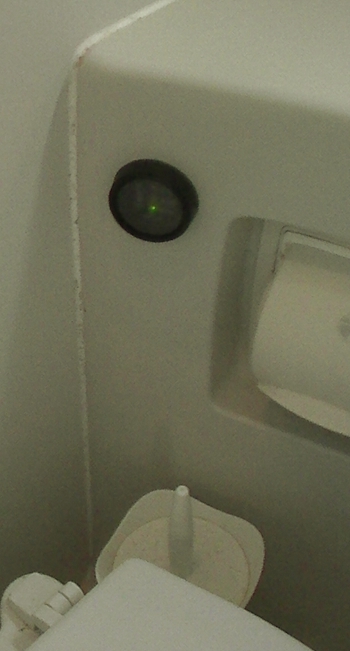 waste holding tank guage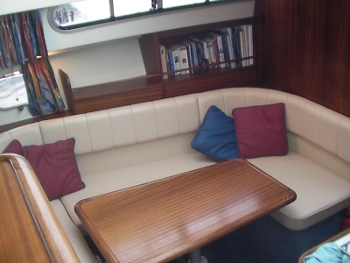 lower dinette port side, table drops to make double berth, factry fit extar porthole and book shelf unit,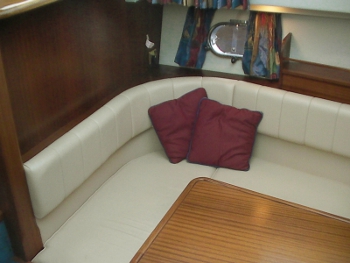 aft end..of dinette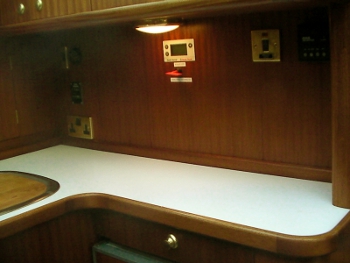 aft face in galley ( set to stb) showing generator start panel, ( recent fit)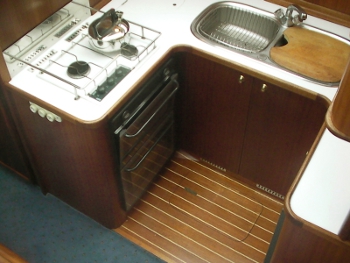 galley from saloon, Teak and Holly floor extra, three burner hob, grill and oven all gas. twin sinks.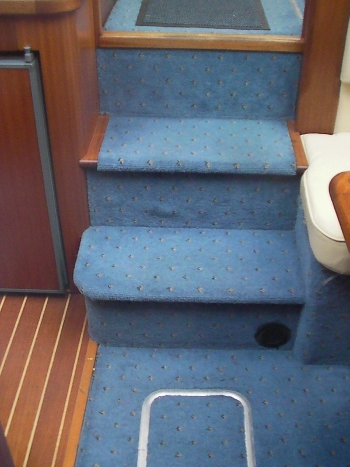 steps up to saloon, hot air at foot, step lifts for access to pumps etc. fridge left of shot
side access door to port side deck, very popular feature , and a place where "everyone" sits...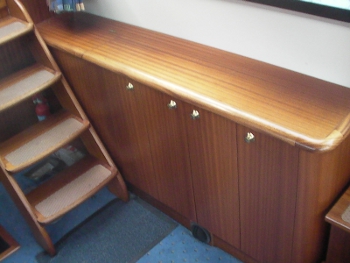 lockers port side, drinks, TV etc , steps up to cockpit,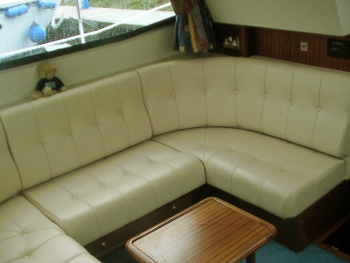 saloon settee set to stb, with coffee table. upholstery still looks fresh,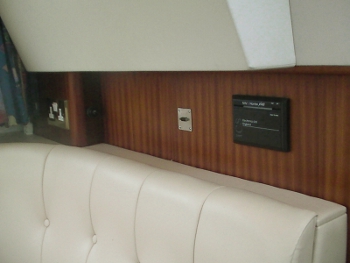 nav fax, and extra 240 power points, ( several round boat)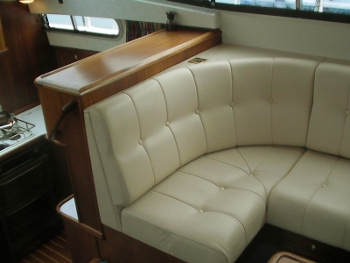 forward end of saloon stb side, extra 240v point top edge.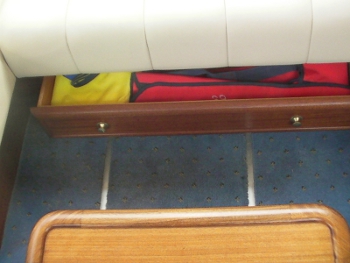 chart drawer under settee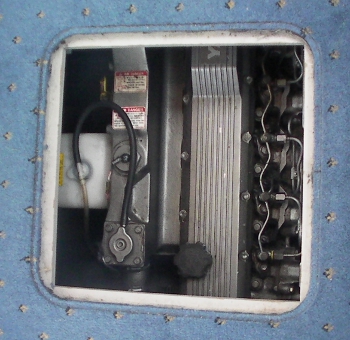 day hatches to each engine for oil, water, top ups and dis.. the WHOLE floor area is "Loose" and with the loose bound carpets rolled back engie access is actuall as good as any aft cabin bioat and better than most!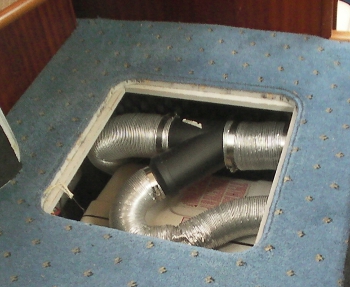 forward access hatch to generator cacoon and heating pipes..again for real access you simply roll back the carpet, and lift sections of the floor out. Carpets were replaced with this high quality patterned one back when she had her big make over and again are still smart.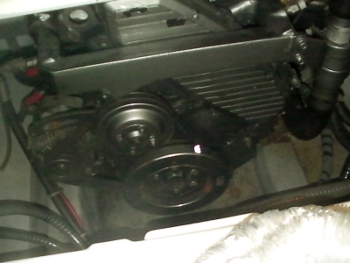 looking aft at front of engine through forward floor hatch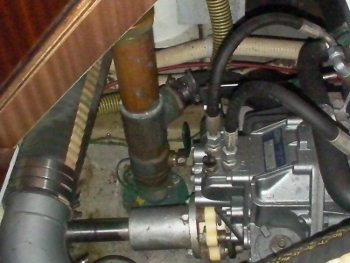 aft steps to aft cabin hinge forward and allow access to back end of both engine. seacocks, and gearboxes etc,,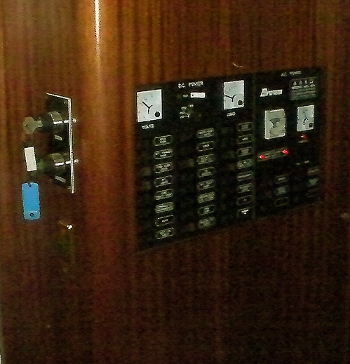 grotty photo, but domestic panel in aft lobby with key solenoids to battery switches.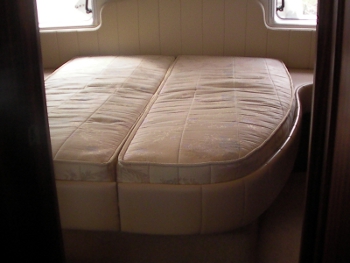 double aft berth on centreline, twin aft hatches flood light in here. ( water tank under berth)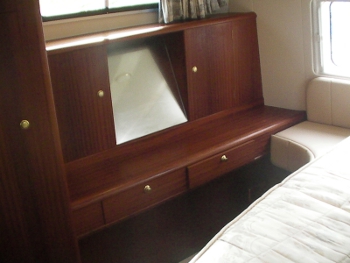 stb aft lockers , and left, hanging locker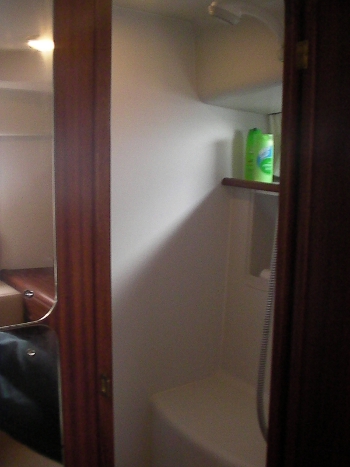 shower cubicle forward on stb side in aft cabin has two doors so any crew can use it..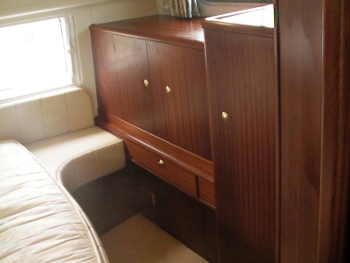 port side lockers and again hanging space,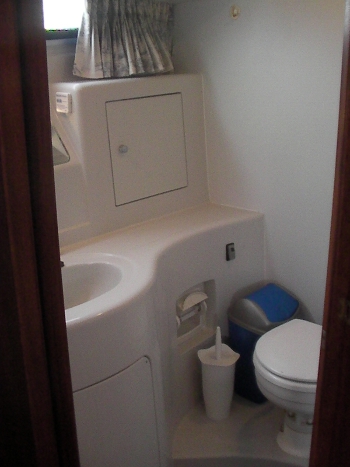 heads set to port , electric heads,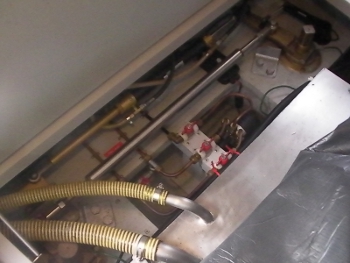 access under bed head to steering lit and emergency tiller/ rudder hydraulics etc.. note stainless water tanks. ( as are fuel tanks)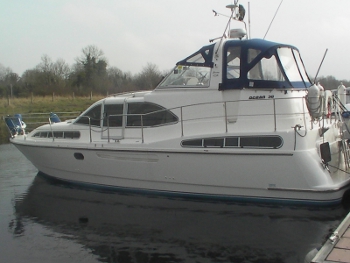 nice example of this ever popular boat with great spec, at sensible asking on purpose.. worth a trip as its just a two day trip to get her back on a truck.. or why not explore the Shannon a bit first , when else will you do that?
RECENT 2017 JUNE shots follow. that the owner took for us..at launch out of boat shed..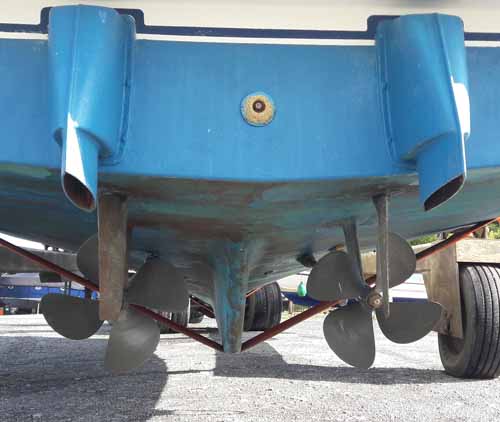 nice deep keel and the under water exhaust pods, are well shown here.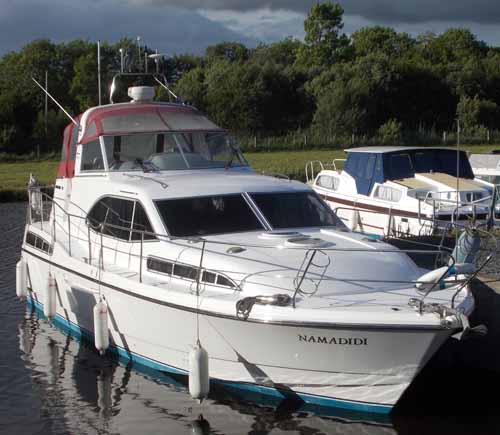 back on her berth..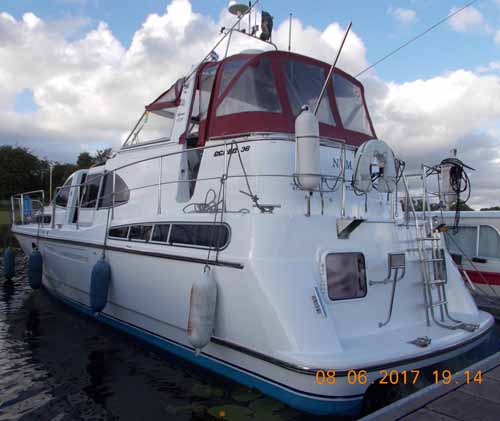 WINTER COVERS ON...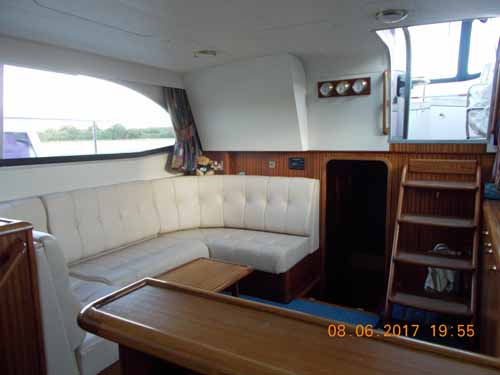 inside back together after Big Service, replacement Leather Upholstery still looks good.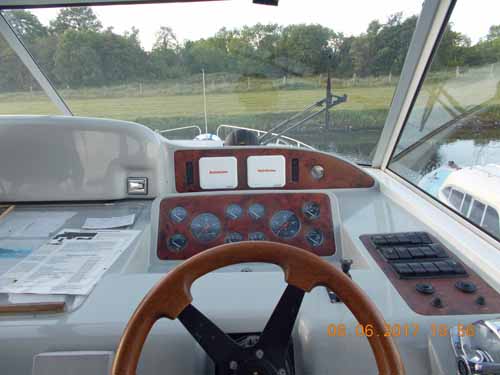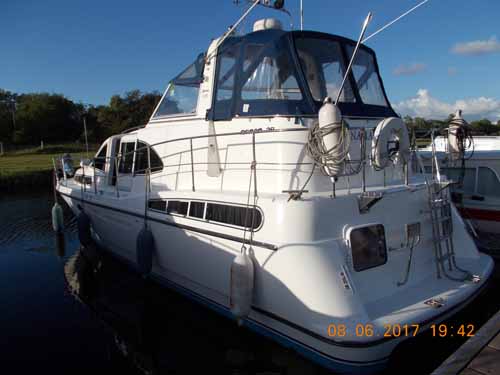 NAVY Summer Covers fitted.