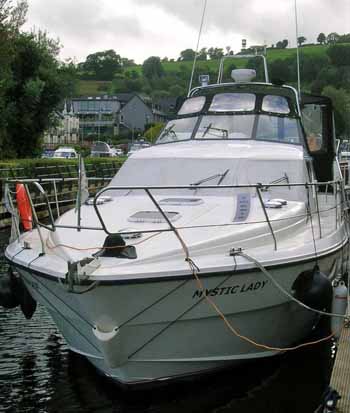 Afloat at her berth, in Ireland.. just 25 Mins from Shannon Airport.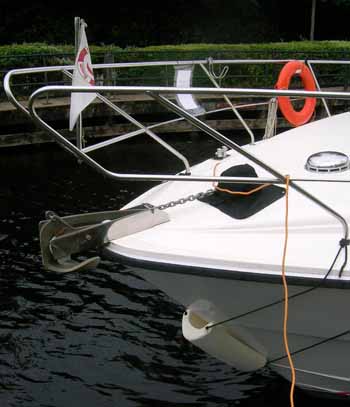 Nice details of care, with cover over windlass, ( Lofrans) and Bow stem fender, note bruce anchor in self loading roller.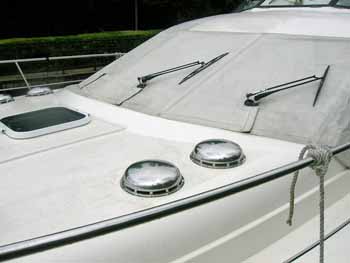 Nice detail with Broom build, they are very concious fo static venting of all areas of the vessel, and have always fitted really good deck vents, note also that the screen cover has virtually always been deployed when stationary and so sun fade is minimal inside.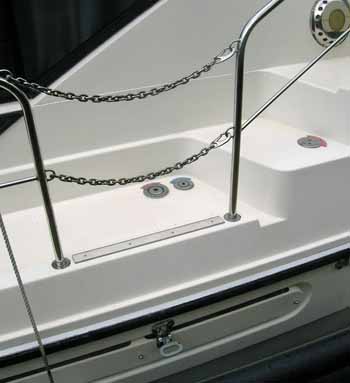 side access is aided by drop down steps on each side. note at deck waste tank pump out point and "rinse" point, with port diesel filler up on the next step,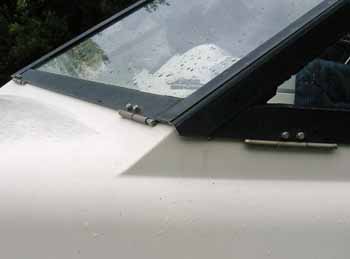 This boat has the rather useful option of hinge down screens.. this drops the air draught right down to 9'6" which is far better than the 11'1" (approx) typical and so allows many small side canals to be explored around Europe.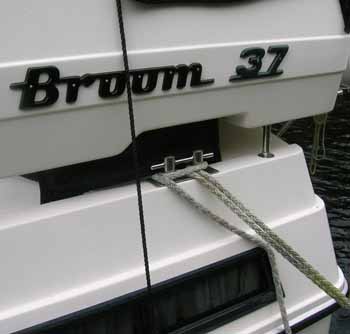 aft quarter, smart Grp Combings, with decent aft cleat access,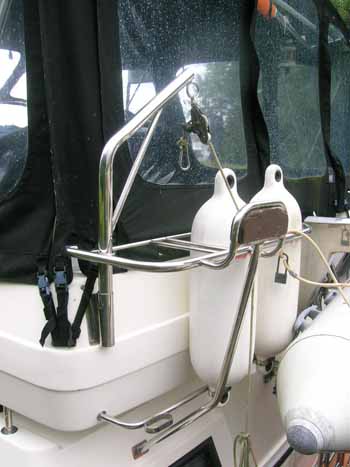 the first owner had the factory build and fit an Auxillary crane..and bracket on the port aft fender basket, very neat..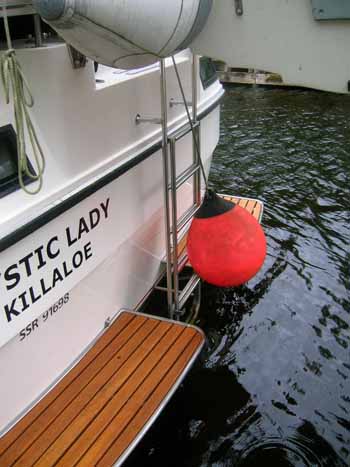 two aft plaform each side of the good deep swimming ladder ( the teak is immaculate)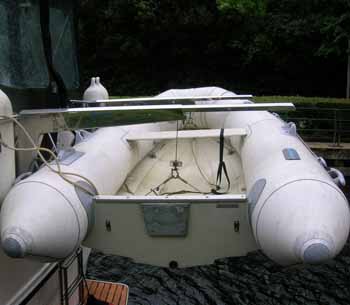 Manual Simpson extending arm davits carry the Avon Rib, 2.8m (I THINK, )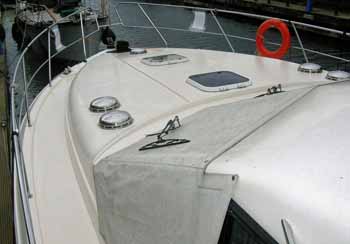 grey day, fore deck, note two deck hatches,

as usual with Broom boats good wide easy side decks, with good grab rails on coachroof, and note the guard rails are solid Stainless ( not wires)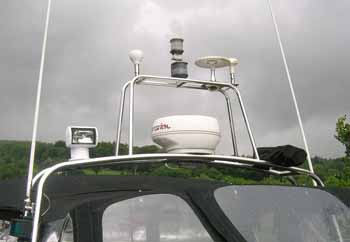 Aloft, the whole Stainless Radar arch hinges down, she had remote searchlight, Two GPS anttennas, vhf and stereo aerials, Tv omimax antenna, and nav lights, Horns under canvas bag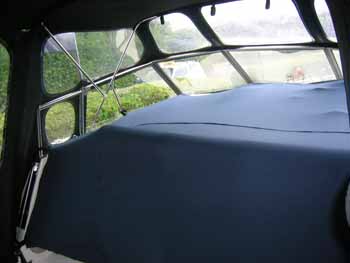 This owner has had a complete cover made to the dash area,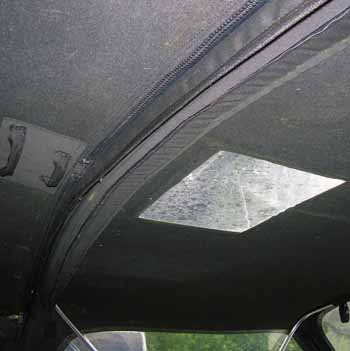 year old canvas is in super order, and has Window panels fitted where useful.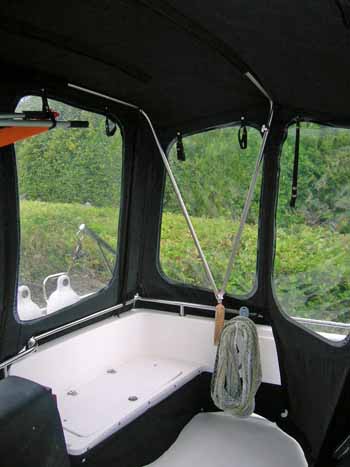 port side aft, locker under seat, ( all new stainless work 2016)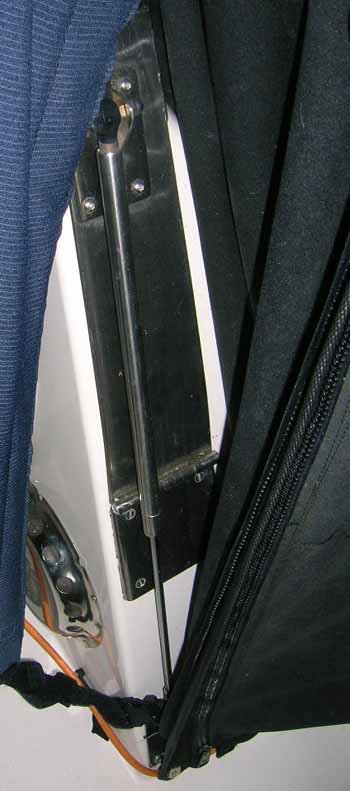 Gas struts make raising and lowering arch easy,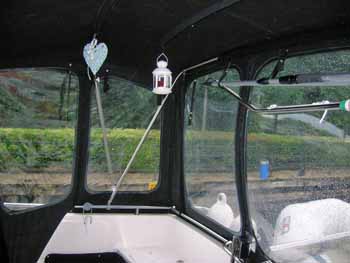 looking across to stb side, BIG window panels make it a great place to spend time up here.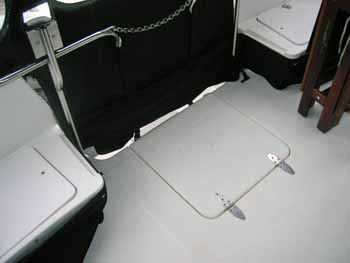 aft cabin escape hatch, by gate to aft ladder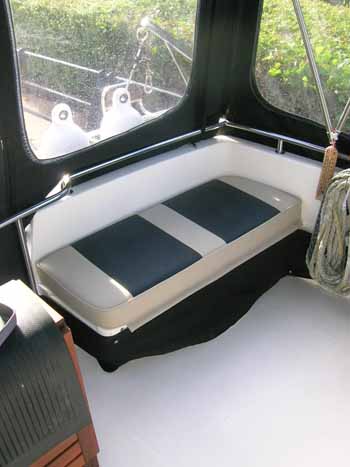 Smart cockpit upholstery is in excellent order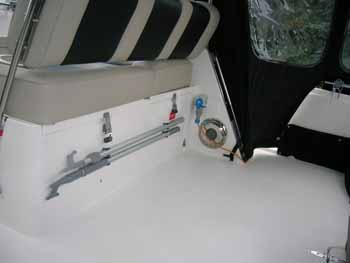 lockers under helm seat unit, vent is piped down to aft cabin heads,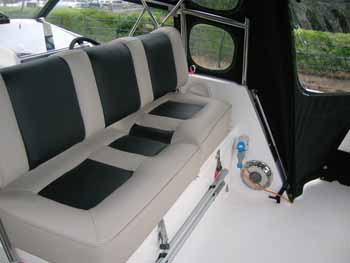 and the backrest folds forward to be useful in harbour,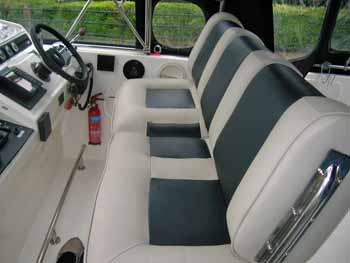 or tipps back for use underway, note stainless foot rail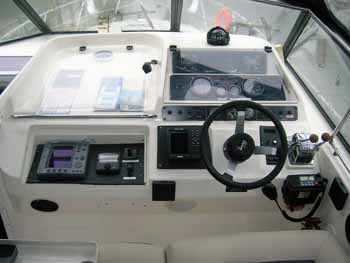 romm for paper chart,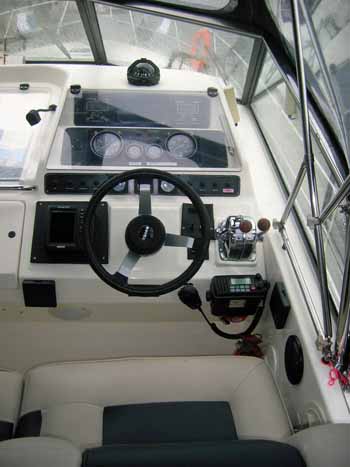 Recent Garmin GPS and forward facing "Sonar" echo sounder from Echo pilot, hand for watching changes in gradient on the sea bed ahead.
recent DSC VHF, and simple single lever Morse controls,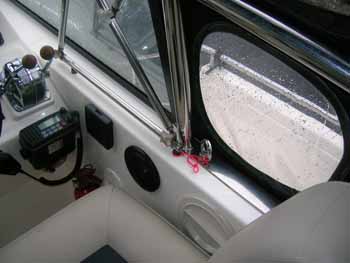 extesion speaker to VHF, and neat extra clear panel to canopy,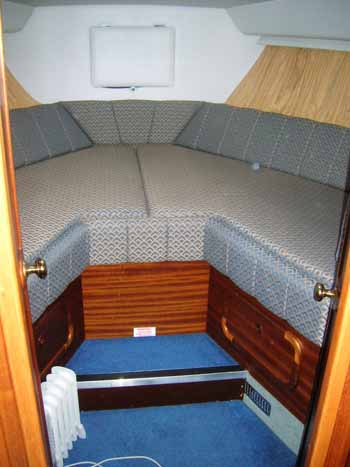 Starting forward down below, two really good sized berths, big lockers under and two drawers with Lift drop locks on them,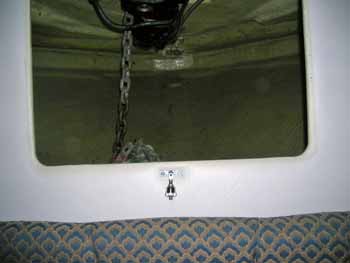 access to under windlass and chain locker,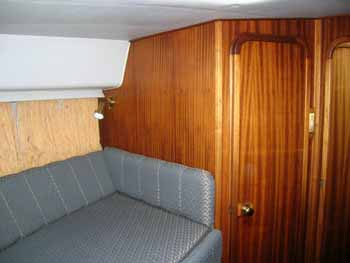 aft stb side, reading light, note en-suite door to foward heads/shower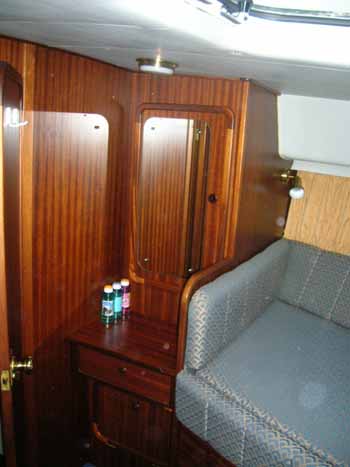 port side, nice hanging locker ( mirrored door) and drawer/lockers, clear hatch over, beautiful wood work has stood test of time very well.
The finish is simple Satin varnish from Ronseal, so any repairs are easy. Original upholstery has also stood up very well indeed,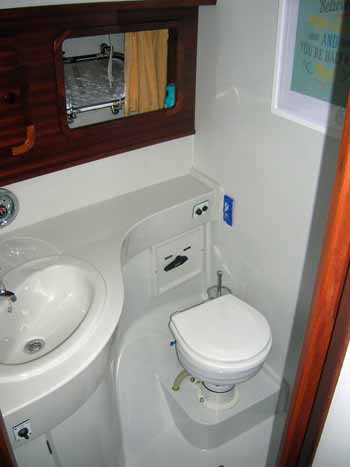 heads through en-suite door, Electric heads with change over lever behind, ( sea or Tank) opening prot, and vent over,
looking in from aft door, simple clean mouldings, all fittings in clean order, including mirrors, so all looks fresh.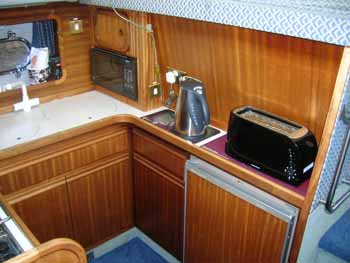 aft bulkhead in Galley, microwave built in by factory in corner,
twin good sinks, with cash bin to left, three burner gas hob , with grill and oven under,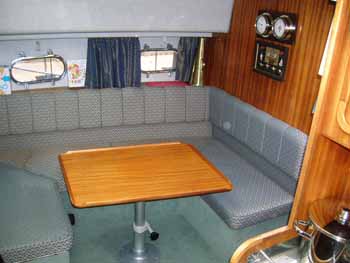 dinette to port, two opening ports, and table will drop an infill to reasonable double berth,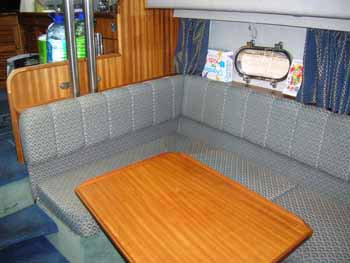 looking aft, the twin stainless poles support the Inner helm position, there is a water stain on the corner base seat cushion, MAy clean out,, may not, No leak overhead, (this must have happened long ago, )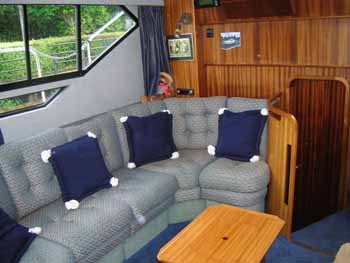 settee area set to stb, looking aft, loose coffee table,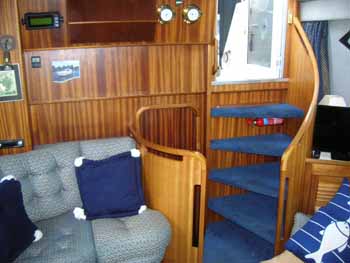 rather nice curved step surround, is typical "Proper" boat building detail with these sections cold molded over a jig at the factory, so making them stable and strong, for the boats whole life,
note also the hand hold slots cut into top rail
ALL the carpets throughout were renewed in 2016 ,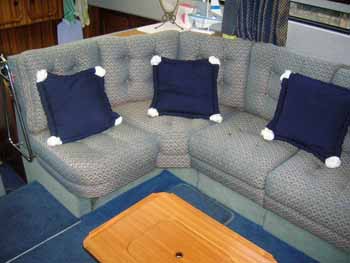 forward stb corner,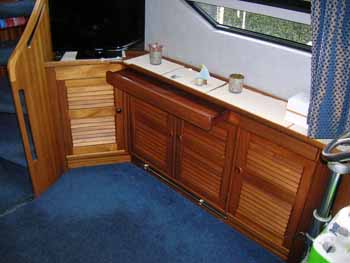 saloon unit down port side, smart Louvered doors, and clever slide out chart drawer/table has clip in support legt, ( stowed beneath in photo) , The top is covered with mats, but is unmarked,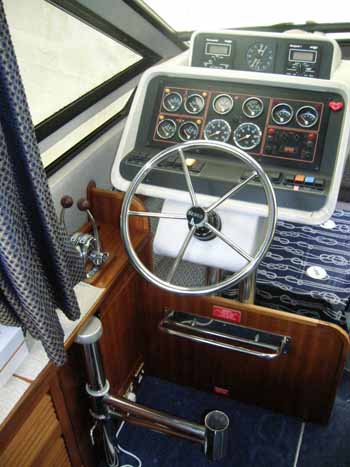 rare internal helm station, set to port, used little frankly as upper helm so good, and vision better still you can see the helm seat support swinging bracket, the seat has been removed to the owners house, to save e space, but does exist, The way broom have lifted this whole unit up on the stainless tubes is very neat, and uses very litle usable space inside the saloon, clever.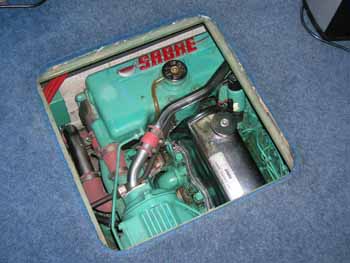 daily checks hatches over each engine, for oil and water, and again like most Brooms the WHOLE floor area is actuall demountable with loose bound carpets so in ten mins , you can have two engines fully exposed and easy to get round,
whether you look after the engines your self or have an engineer visit, it means access around the awkward bits is all possible!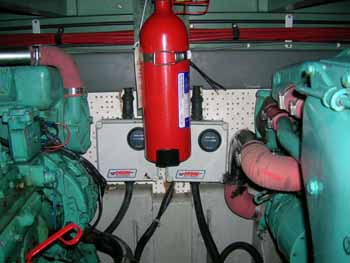 remote hour clocks, forward, with fire system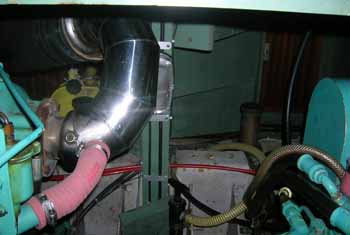 looking aft,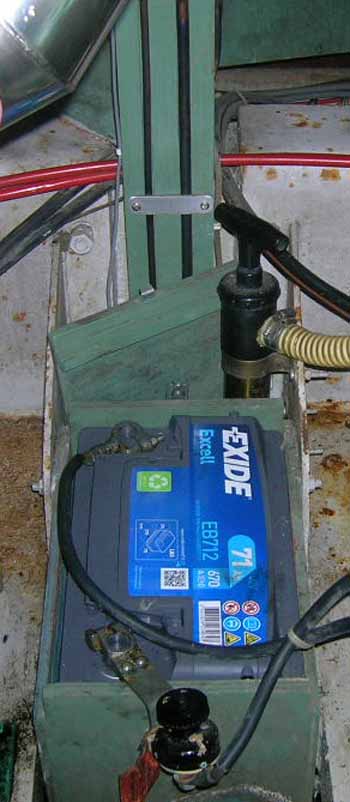 recent batteries, manual sump pump in here,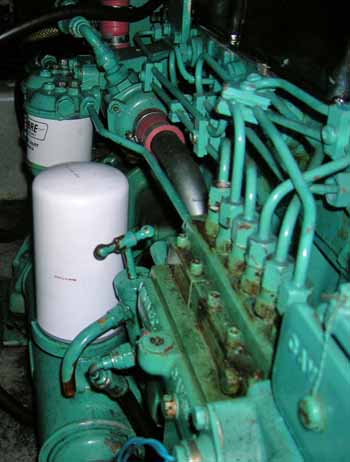 all new filters ( 2017 full servcie) and oil sump pumps fitted on these engines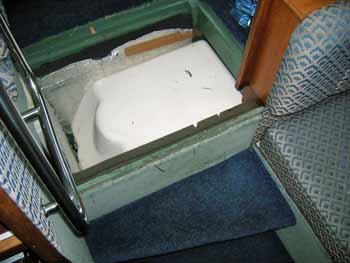 farryman diesel generator, size TBC (but assume 3-4 Kw) fitted in a cacoon under floor forward of engine space, this was also servcied fully spring 2017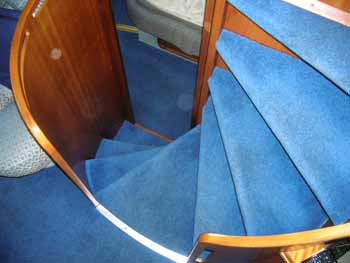 steps to saloon from cockpit, and onwards to aft cabin,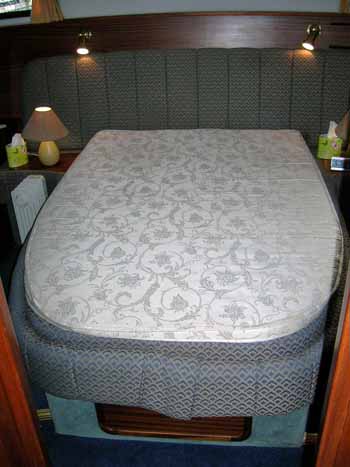 Fabulous aft cabin berth,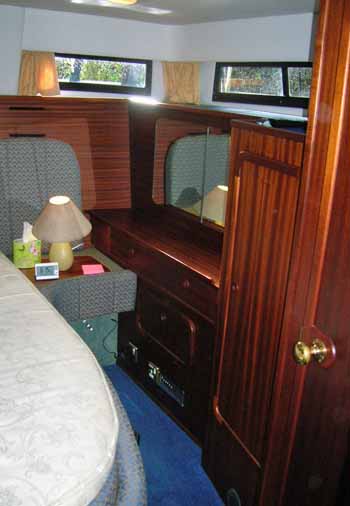 port side , beautiful woodwork and great stowage, door right to shower cubicle,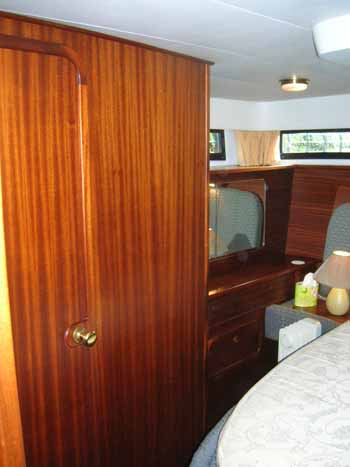 stb side, door to Heads compartment, note headlinings all clean,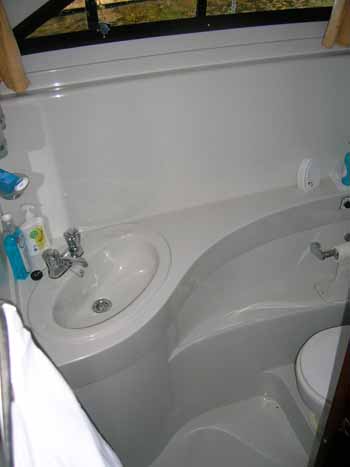 simple clean molded liner,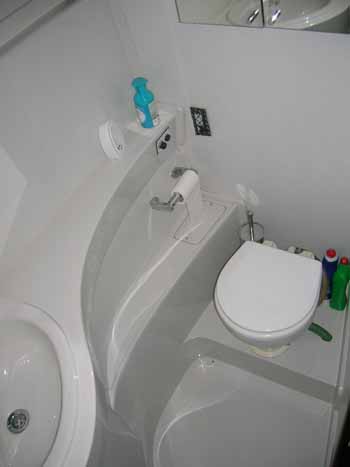 and again electric heads, with option to tank or sea for discharge.
molded seat in shower cubicle,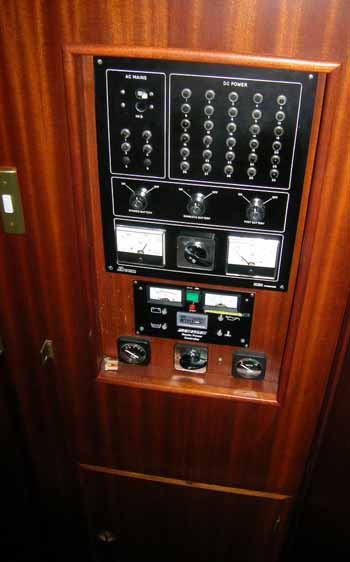 forward bulkhead in aft cabin, has domestic panel built in, and generator start panel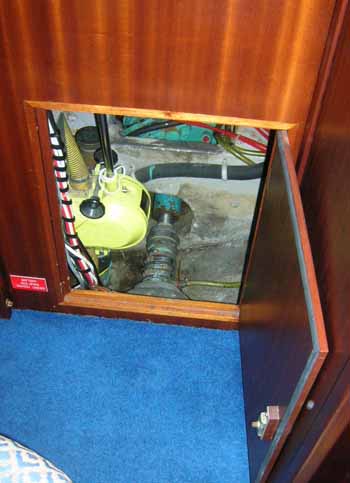 great feature, there are access doors both sides into aft end of each engine, waste tank pump, and shaft exit points and seacocks all easy to access through here,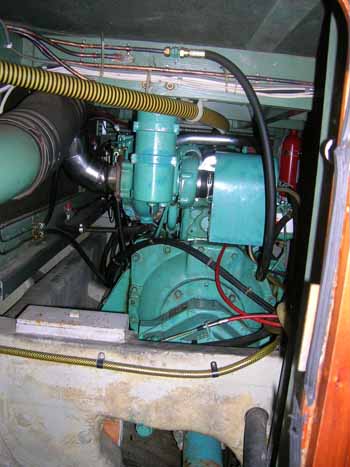 looking forward at stb engine, you can get in here to access gearbox etc
and shaft exits, and NEW transducer for forward facing echosounder ( 2017)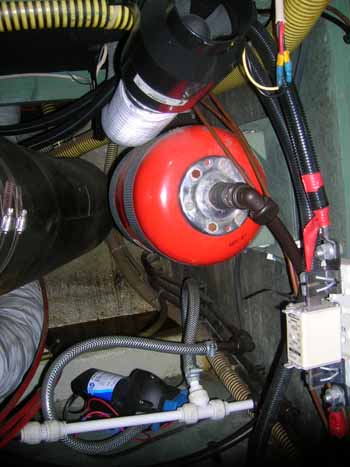 new domestic water pump ( Black) with red pressure accumulator under engineroom fans unit,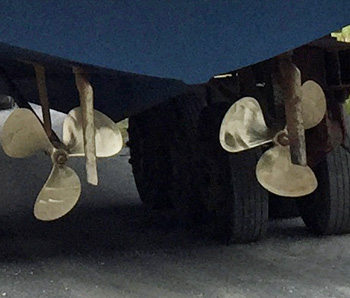 just at launch April 2017 the props were sent for rebuild, polish and re balance, by this owner and so they are in super (as new order)
note solid Bronze rudders, you can just see the line of the keel, sloping up from the deep point ahead of the props, (top right blade of port prop, )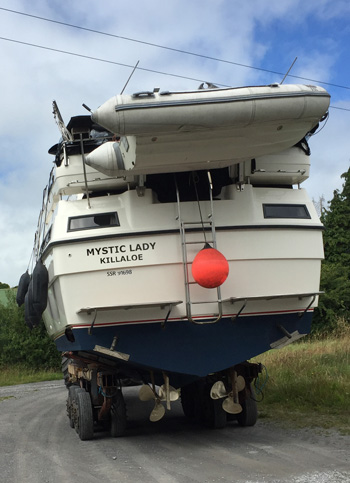 here she is at launch day this spring, all new antifoul, anodes etc etc Hull Polished, etc,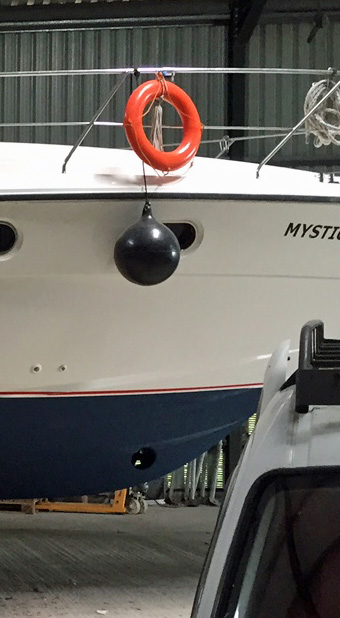 " Max power Twin Prop" bow Thruster ,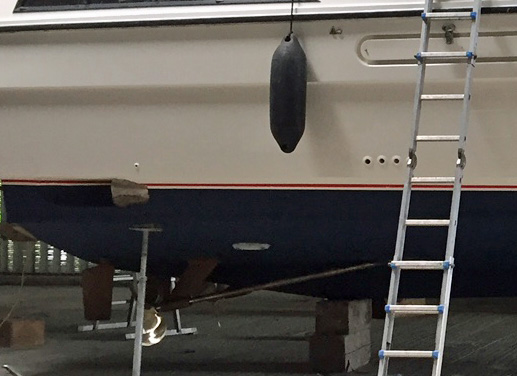 skeg keel, not quite deep enough to allow her to take the ground, but this keel gives great directional stability at slow speeds, and is also used to soften landings and reduce slamming at sea,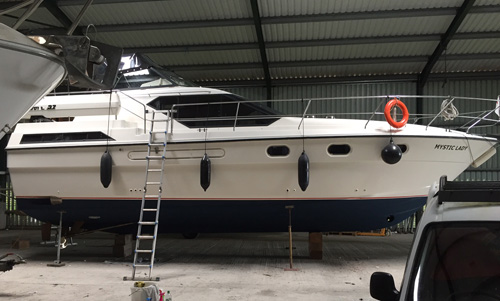 sat ashore in the boat shed winter 2016-17 having " the full works" ( fresh water anodes...fitted) It is of note that this boat was epoxy coated from new, and that no doubt has stood her in good stead , as she surveyed well just a year ago,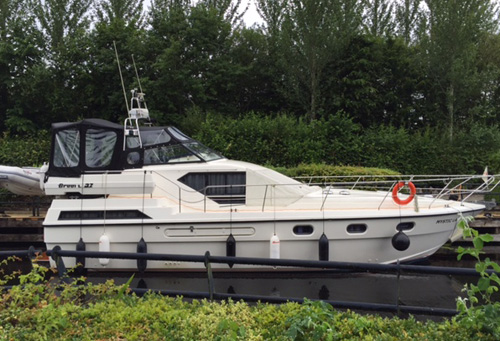 back at her berth, a VERY up together boat, and for her asking price represent amazing boating value in a real quality built sea / inland boat the like of which
is not easily found today.